Update: The Flaanimal is now live at www.rodeo-labs.com/flaanimal3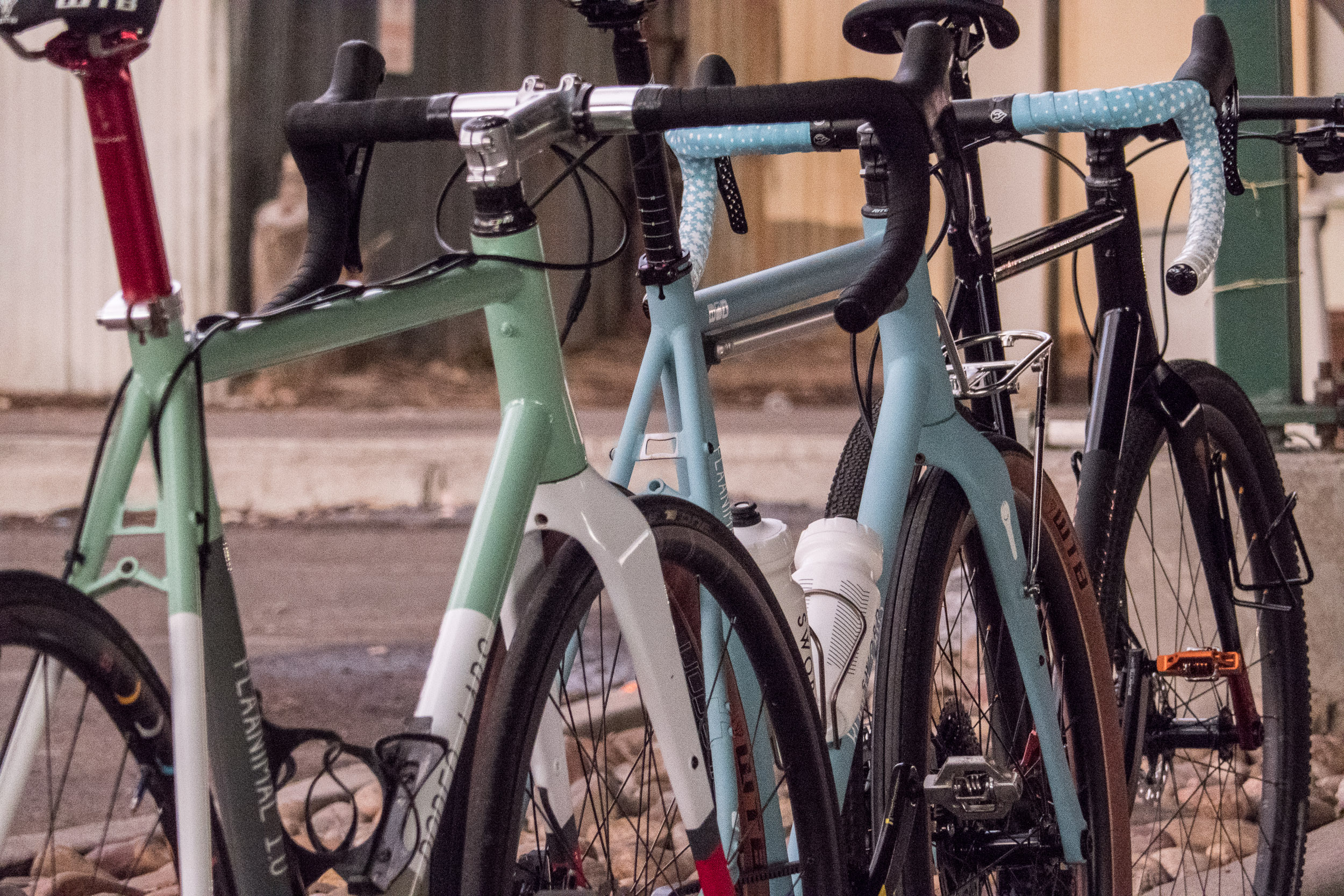 We promised we'd do this on January 31st, so it is time to spill the beans on the production spec Flaanimal 3.0 adaptable frameset.
Let's start with an overview and recap. The Flaanimal adventure bike project has always been a bit of a younger sibling project to the Traildonkey. Insomuch as we never intended to release a carbon adventure bike, and then we did, we also never intended to release a steel adventure bike, but now we are.
One of Rodeo's biggest goals is to never release a product that isn't inspired by how we truly ride. "We" in this case refers to the Lab Techs, The Team, and The Community we've built. Traildonkey was inspired by our forays into the Colorado Front Range mountains on our cyclocross bikes. Flaanimal was inspired by people asking, and then nagging for something similar, but made out of metal.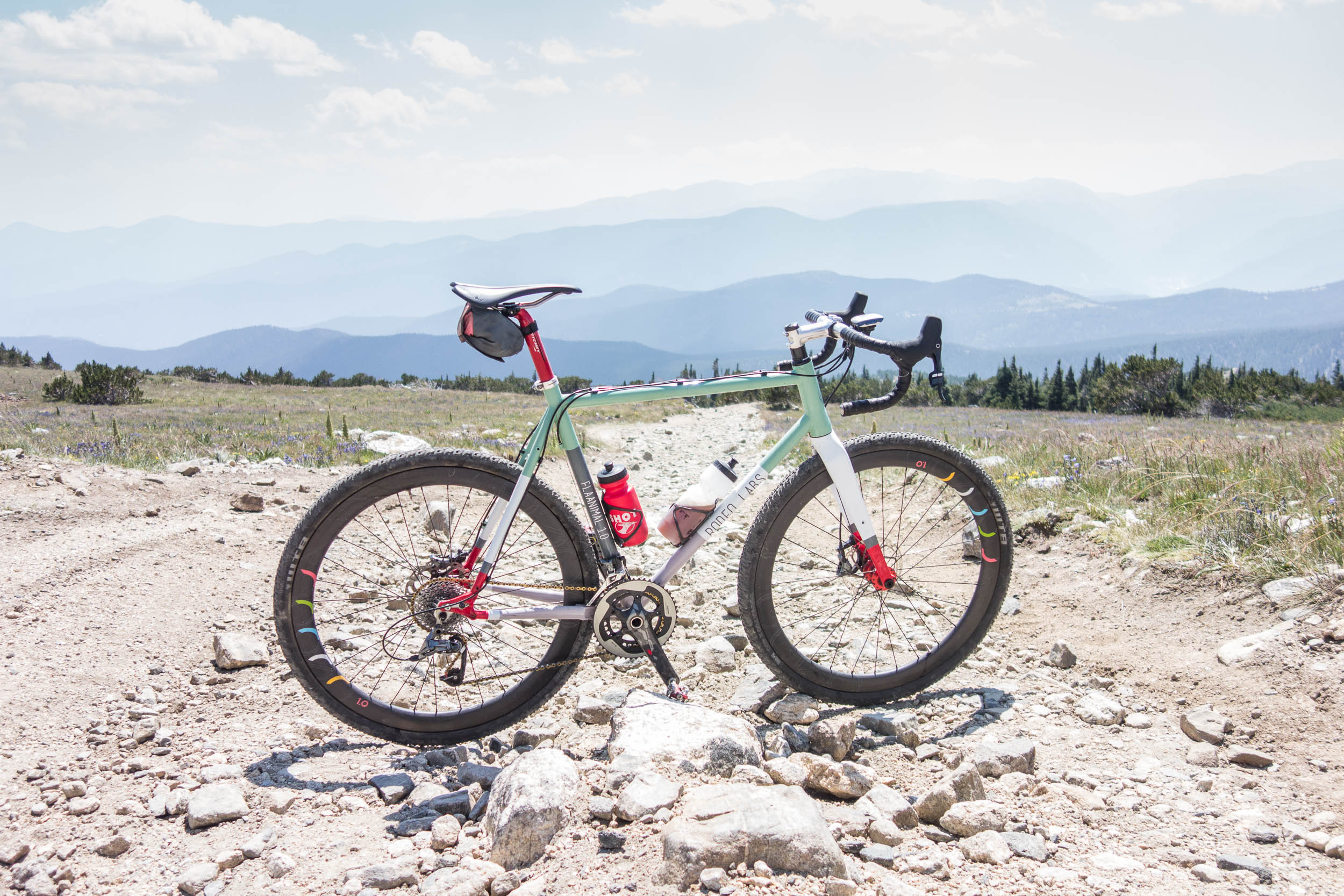 Initial discussions about the bike revolved around single speed build, but a single speed framset is very specific to one type of rider, and Rodeo doesn't tend to ride bikes only one way. We tend to plow through as many genres and conditions as possible on any given ride. Flaanimal needed to follow that ethos if we were going to put the effort into making it, so we started with a blank sheet of paper and asked "how can we do that".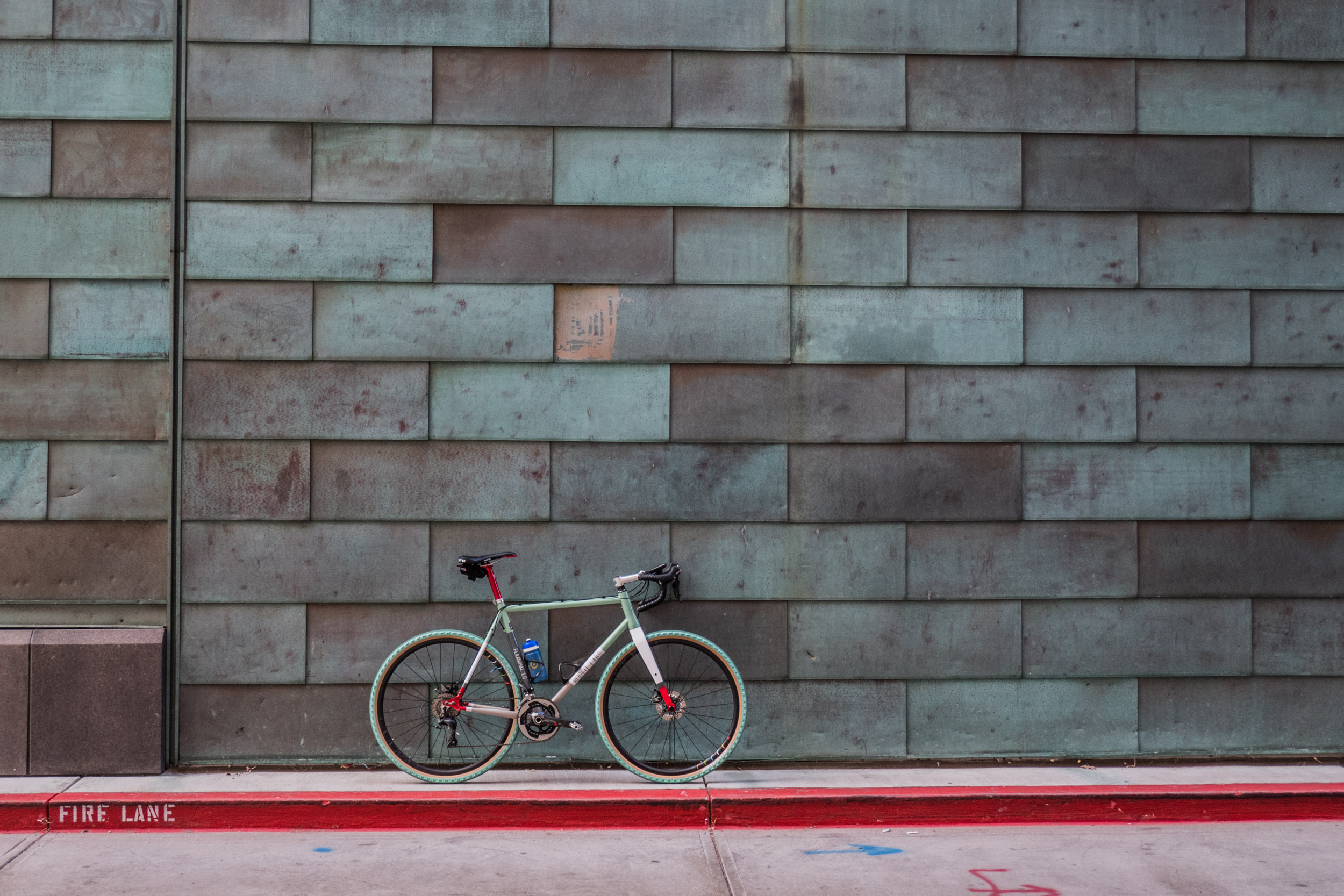 The result was Flaanimal 1.0. On 1.0 we built twelve framesets for Rodeoers all over the country. They later ended up hopping the pond to Europe as well. 1.0 was a great way to test our ideas about frame materials, geometry, tire clearances, headset specs, cable routing, dropouts and of course the Rodeo Spork as well. On those first twelve frames we tested four different types of steel in order to compare weights, feel, and cost. You can always just spec the most expensive tubing on a bike, but are you really giving your riders added value or ultimately just costing them more? That was an important question to explore.
We got a lot of great feedback on those first frames. Some were totally happy with them, some said they were too heavy, some said they clipped their heels on the rear dropouts, and some said they wanted to see the compliance tuned more.
So we did!
Enter Flaanimal 2.0
On Flaanimal 2.0 we made a lot of revisions to the bike both visible and invisible.
We decided on Reynolds 725 as an excellent steel alloy to work with.
We revised butting on all tubes on the bike in order to tune the feel.
We removed the steel yoke on the drive side chain stay. The yoke was originally designed to allow triple chainrings. Exactly zero people in the test group or entire internet wanted to run a triple, so we refined that area of the frame and ditched the yoke.
We more precisely machined the tapered head tube in order to leave material only where it was needed for welding and strength.
We revised the seat stays for more vertical compliance.
We added a pump peg.
We also added a bottle cap opener.
The result was a great improvement over 1.0. The frame lost 480 grams and felt a lot more lively. We put thousands of miles on 2.0. We climbed dirt road mountain passes on it, we took it to the local roadie group rides. We rode all day on roads so straight that all hope of seeing a curve was seemingly lost.
We spent a lot of time asking ourselves "Is this it? Is this done?". 2.0 was an excellent bike, but there were a few bits left to refine.
Enter Flaanimal 3.0
The first was cable routing. On 1.0 and 2.0 we routed everything along the top of the top tube for a very specific reason: Water drains better with top tube routing. This mattered when using a rear mechanical rear disc brake. But top tube routing was also visually cluttered, interfered with some thighs, and also conflicted with some frame bags. We also got a lot of input from people watching the project that down tube routing was almost always preferred. So for 3.0 we switched to down tube routing. What about that rear mechanical disc brake? We decided that hydro works so much better than mechanical and are fully sealed against the elements so it was worth dropping consideration for a legacy system in favor of improving the rest of the bike. We're thrilled with the results. And seriously, you should just run hydraulic disc brakes. They work roughly 100x better over the long haul.
Having switched to down tube routing we also revised the routing hardware in general. Flaanimal is meant to adapt to the build goals of the owner, so we made sure the style and quantity of routing hardware that hang from the frame never exceed the needs of the build. Our goal is that Flaanimal is as lean and aesthetically efficient as possible no matter what way you build it. You'll never have to much or too few routing points on a Flaanimal build.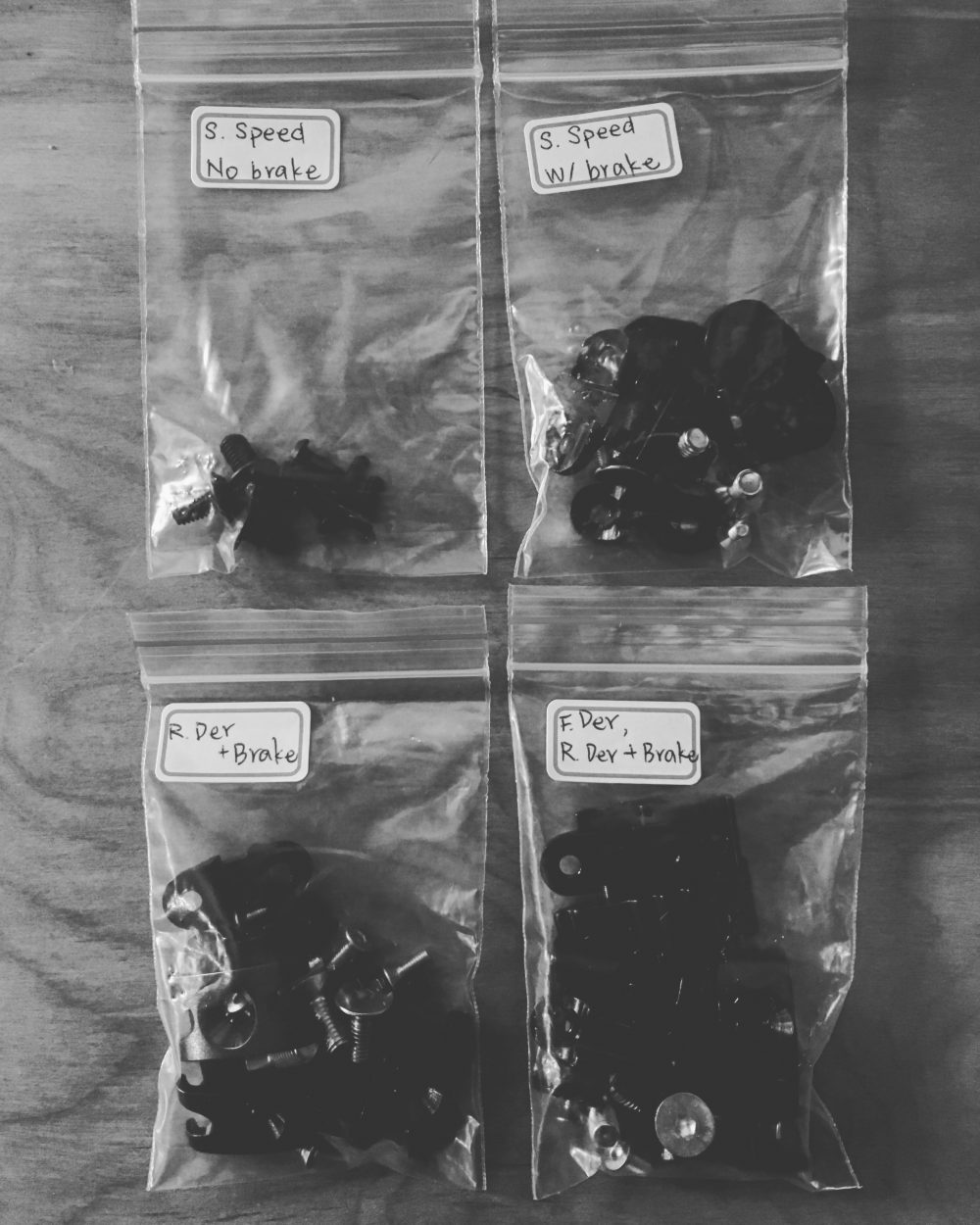 Another final revision on the frame was chain stay shaping. We cleaned up heel strikes at the rear dropout with some more careful tube shaping.
Tire clearance got a HUGE boost on 3.0. 1.0 and 2.0 didn't really pay much attention to 650b and the clearance topped out at 40mm at both 650b and 700c. That may have been fine in the early days of the project but we've spent enough time on Traildonkey 2.0 now to know that we love a bit more rubber on the rim sometimes. For Flaanimal 3.0 we upped the clearances to safely fit a 47c 650b tire and a 45mm 700c tire. We've ended up with a frameset that still looks composed on standard 25c road tires, but stands ready for you to ask more of it.
Dropouts and rear brakes got a big boost in 3.0. We use a fairly open model sliding and interchangeable dropout system on Flaanimal 1.0 and 2.0. This lets the owner convert from geared, SS, fixie, etc hardware without much fuss. The sliding dropout system hardware was a bit dated though. While our Spork is totally current with the flat mount and 15mm through axle standards, the rear of the frame was stuck with 5 year old (and older) post mount and ISO disc brake standards. So we parted ways with open models and designed our own flat mount and through axle dropout systems for the bike, a first for sliding dropout systems in general. The new hardware is quite svelte and keeps the aesthetics and function of the frame up to date and on point.
The resulting rear dropout, brake, and rear axle options on Flaanimal are almost absurd in number, if absurd means giving the bike owner freedom to chose the setup that suits them best.
Due to numerous requests from testers and people following the project we also modified Flaanimal to be Gates Carbon Drive compatible. Gates Carbon Drive is a quiet, simple, reliable, and light drive train solution that offers an excellent alternative to traditional chains. Gates Carbon Drive can be combined with internally geared hubs to create a system that is much less susceptible to the elements.
With the main frame getting so many updates we didn't want to leave the fork behind. Inspired by the adaptability of the frame we added a second mid leg eyelet to the Rodeo Spork with the 1.1 revision. The 1.0 Spork is excellent, but the 1.1 lets you mount a wider array of racks and accessories, such as fork leg mounted water bottle cages should you plan on being on your bike for extended amounts of time.
Last but definitely not least, we decided to fabricate the bottle opener out of stainless steel in order to avoid unfortunate scrapes and chips caused by celebratory drinks at the end of a ride. We quite like this little touch.
Flaanimal is ultimately about adaptation and interpretation. What kind of bike is this anyway? Is this a cross bike, a road bike, a gravel bike, a trail bike, a touring bike, or a city bike? The answer is of course up to you. Flaanimal doesn't specialize, it's a generalist. Rodeo started on the premise that people should be able to ride bikes in any way that made them happy, and Flaanimal lives on the premise that people should be able to build it up in any way that makes them happy, and that it should perform well when done so.
So what's left to do on the bike? Not much, really. There are three minor items we might tweak before going into production:
Changing the seat tube from 31.6 to 27.2 in order to make the feel more compliant and shave a little bit of weight off. Originally we went 31.6 for the sake of dropper compatibility, but we think we should leave that feature for the Traildonkey and let the Flaanimal be its own thing.
We may go with a straight 44mm head tube instead of a tapered head tube. We'd still use the tapered Spork, but riders could chose from a number of compatible headsets from Cane Creek, King, FSA, and others.
We're considering a 3rd water bottle mount under the downtube in another nod to long distance riders. We're just double checking if it will interfere with the downtube cable routing or not.
And that's it!
Pricing: We'll dig a bit deeper into the numbers before we launch our Kickstarter but pricing on the Flaanimal frameset will start around $1200 and top out in the ballpark $1350 depending on paint options. Simpler paint is less expensive.
Sourcing: Flaanimal was born and developed in Denver, CO. Flaanimal is manufactured in Taiwan from Reynolds UK tubing and Toray Asian sourced carbon fiber.
Weight: The Flaanimal frame in size 58cm weighs approximately 2500grams. The 50cm weighs approximately 2350 grams. Weight varies with paint finish. The Spork 1.1 weighs approximately 530gr.
We have in fact prototyped and tested the Flaanimal in titanium as well and plan on offering it alongside the steel frames. The ballpark for that frameset will be around $2600.
Timeline: Now that we've got our 3.0 prototypes built and vetted we can start gaining speed again. We hope to launch the Kickstarter for the project in the week of February 6th. When the project funds it will take approximately 90 days to manufacture our first run of framesets. The bike industry is notorious for having delays but we've done all of the R&D and testing on this project already, so we're confident that few hurdles remain. If all goes well we would expect first adopters to be receiving their framesets in April or early May.
---
In the mean time it's time to spill the beans on our 3.o builds. The goal of these builds was primarily to have a ton of fun while testing the build range of the frameset.
For the blue 3.0 we chose a single speed Gates Carbon Drive build. For utility and comfort in mixed terrain we chose 650b wheels with WTB Horizon 47c slicks. We imagine this bike feeling at home anywhere from urban commutes to prairie gravel expeditions. We wanted to keep this build streamlined and civilized both functionally and aesthetically.
.
We've lovingly dubbed the black and copper Flaanimal the Tractor Pull. The paint scheme on this bike is a Gucci-style mix of gloss black, matte black, copper, and exposed carbon on the fork. The natural thing to do with this frame set was to build a sexy road bike out of it, but that's too obvious. Instead we build a burly dirt rig with a brute 1×11 Box drivetrain. For wheels we specced Rodeo 2.0 prototype rims mated to WTB Riddler 700c / 45c tires (which measure 48c with calipers, for the record). This build is both beautiful and slightly over the top. We love it.
.
Last but definitely not least we wanted to include some comparison to the 2.0 road build that has thousands and thousands of test miles on it. If you look closely you'll notice subtle differences from the 3.0 frames, but this is fundamentally the same frameset as the other two builds and serves to round out the intended use spectrum of the Flaanimal project. 2x, 1x, and Single Speed. Knobbies, fatties, and road slicks. Flat bars and drop bars. Rain or shine, up or down, and anywhere you take it.
The Flaanimal name was coined in 2015 as we rode our bikes for a week in Belgium. The sheer variety and heartiness of the animals that we saw made us both smile and laugh out loud. Flanders Animals seemed a fitting inspiration for a bike that is itself based on heartiness, variety, and fun.
We hope you've enjoyed this project update. We do this because we love it. Thanks so much for the support.
More soon!
Rodeo Adventure Labs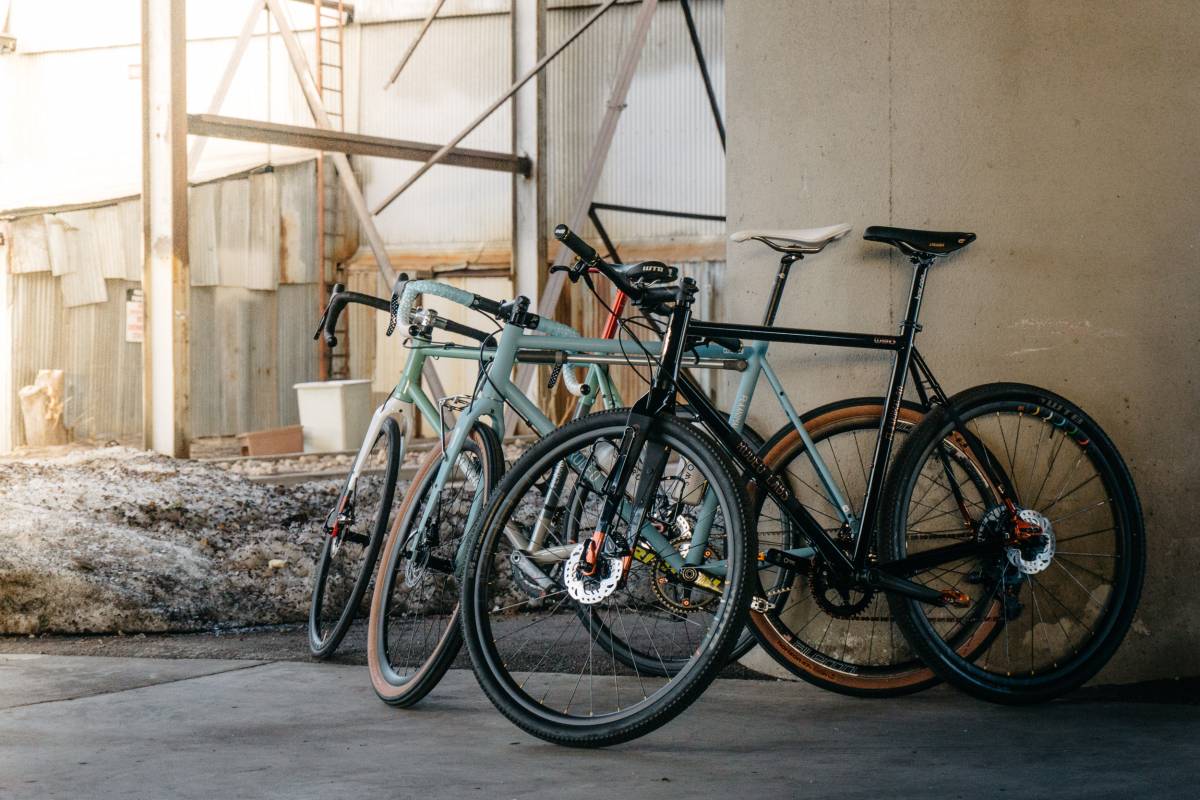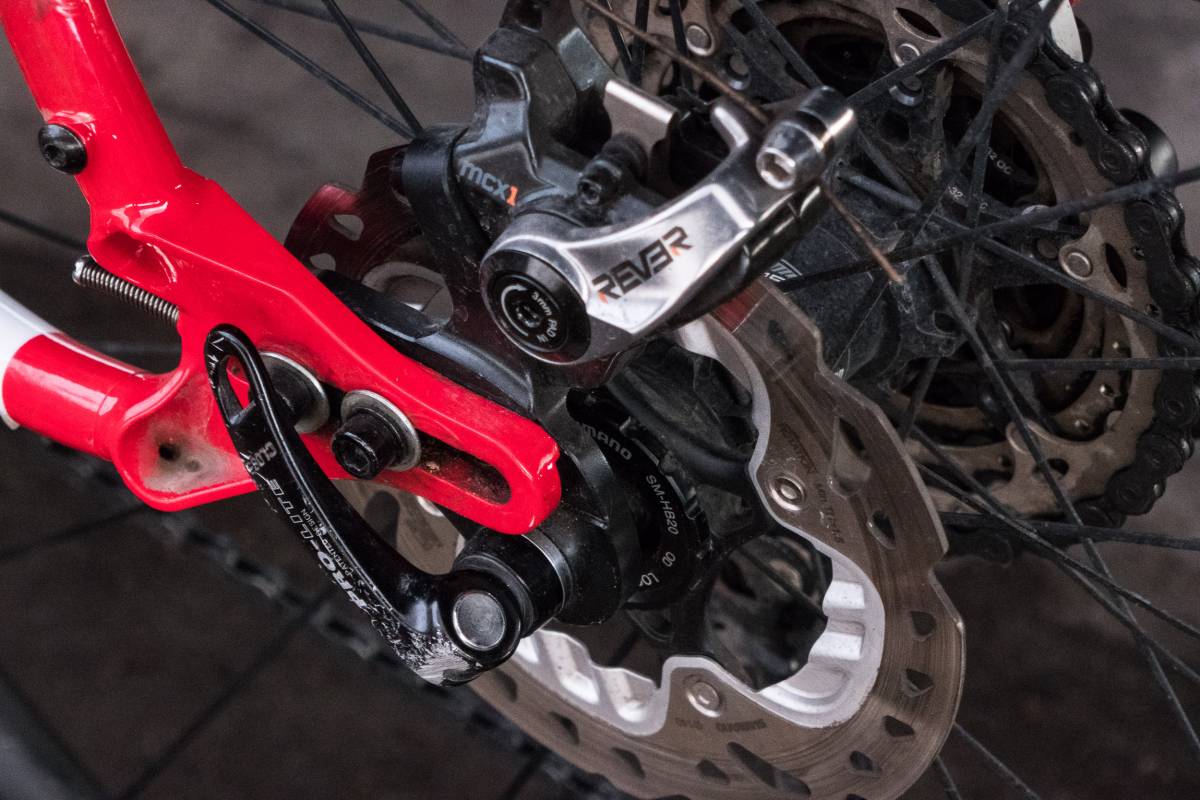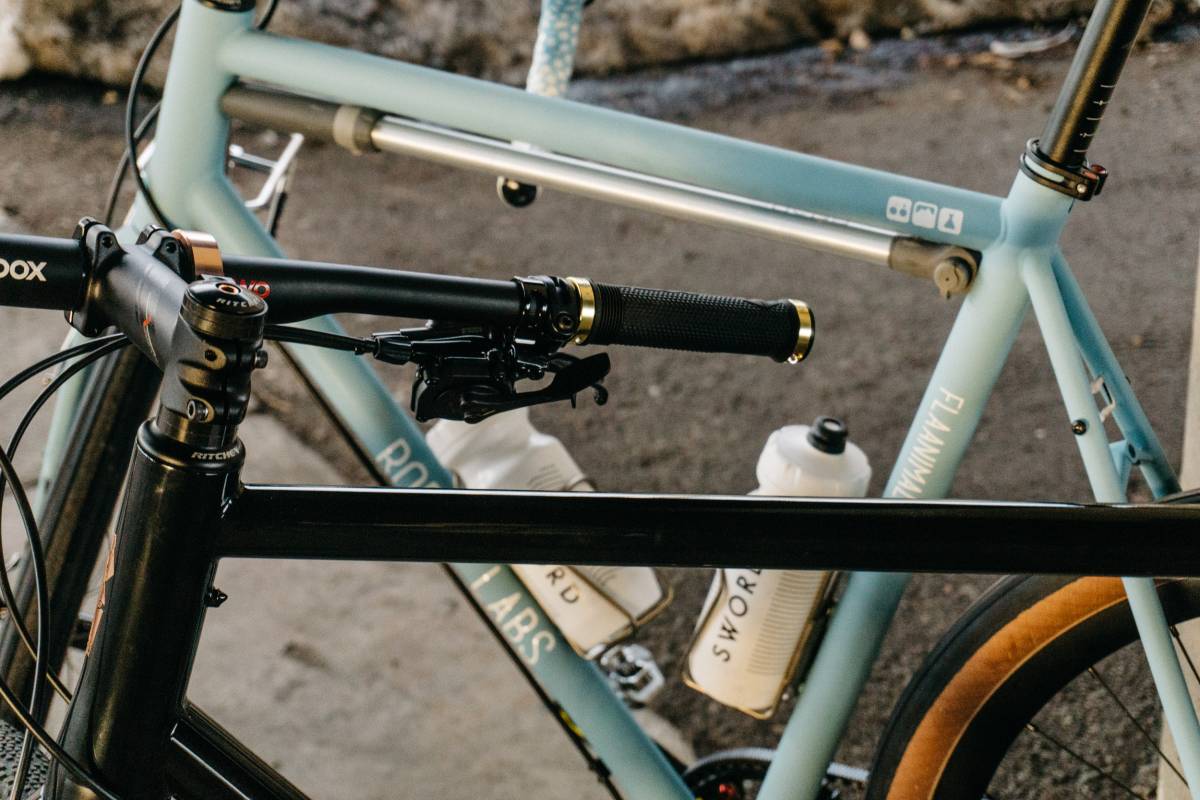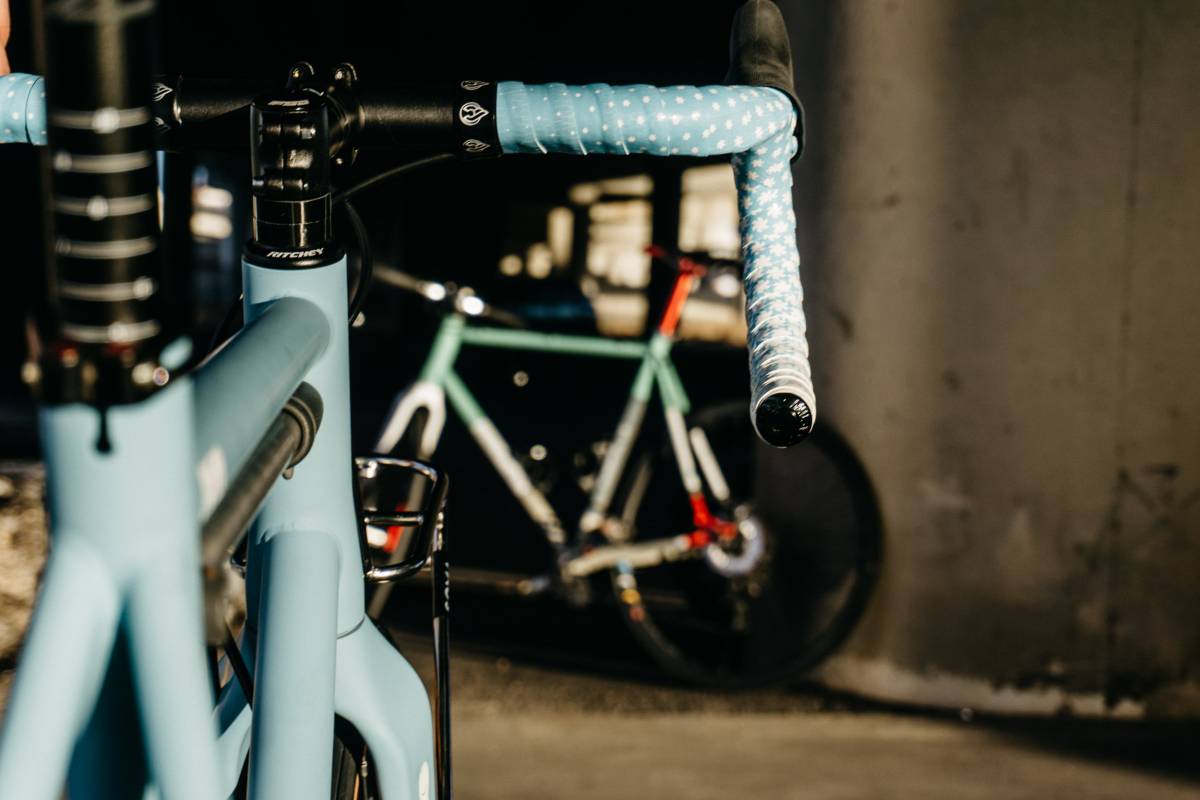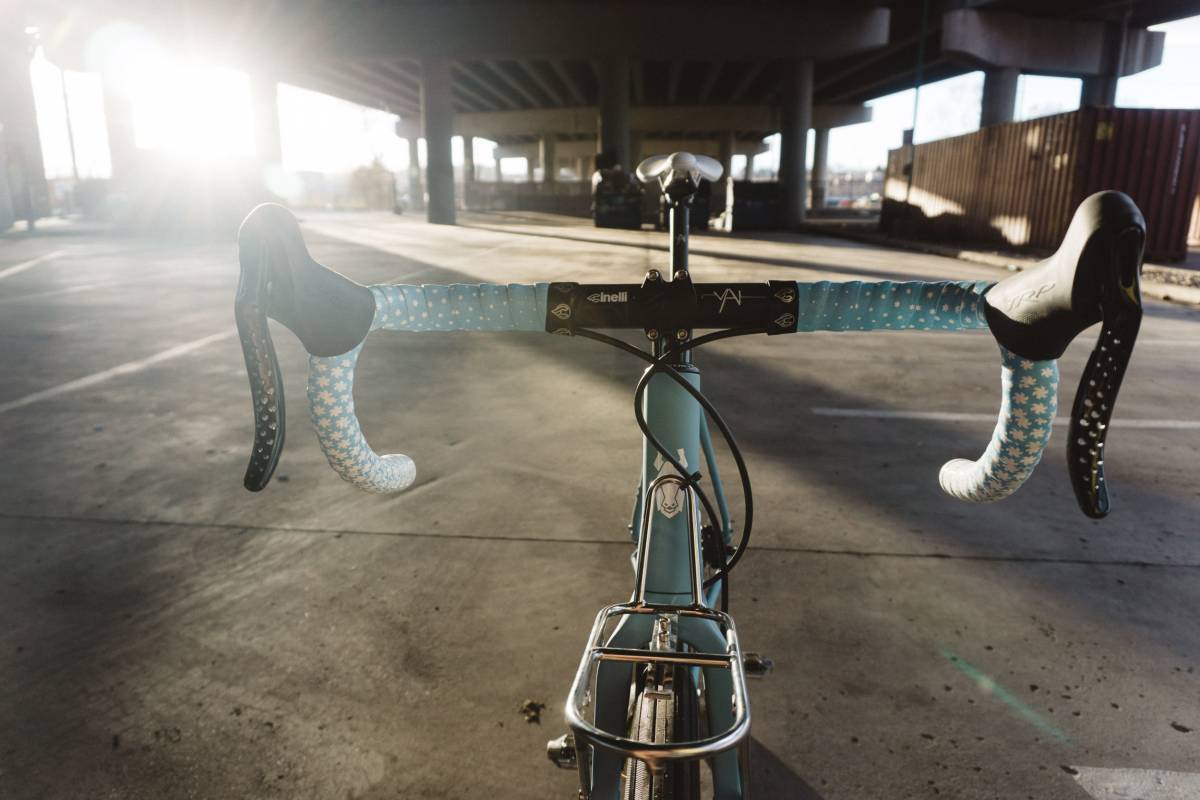 [wdi_feed id="2″]