Now available in 45 or 50mm offset variations.
Spork 3.1 / 3.2 is one of the most proven, functional, and adaptable adventure forks in the adventure cycling space. From it's massive tire clearance, dynamo integration, axle agnostic dropout system, and slender design, the Spork is at the forefront. Our load bearing capacity is also amongst the highest rated adventure forks, and our track record out in the wild is unparalleled throughout the seven year evolution of the Spork.
A Spork purchase includes a fork and axle of your choosing. Compression plugs are not included in a Spork purchase but they are available as an add-on option.
Spork 3.1 / 45mm supports internal routing through the fork leg
Spork 3.2/ 50mm supports internal routing through the fork leg AND integrated internal routing through the steer tube
Spork 3.2 / 45mm will be released this fall to match the intergrated steer tube routing features of the 50mm offset fork.
Builders / wholesalers may purchase Sporks at wholesale pricing, simply drop us an email through our wholesale form.
Objectives
Rodeo Spork has always been designed around three main objectives. Durability, Adaptability, and Utility.
Spork 1.0 was a pioneer in the adventure fork segment and established Rodeo Labs as a trusted brand in the adventure cycling world. 1.0 evolved over time into 1.2 as features were added to the fork by popular demand. Spork 1.2 is an enduring design that remains on the market today.
Spork 2.0 took everything we learned from making 1.2 but added capabilities that required a ground-up redesign. The fork was incredibly successful both on bikes that Rodeo Labs offers and as a part of bikes offered by other builders and brands.
Spork 3.0's main objective was to slim down the design of Spork 2.0 so that the silhouette and profiles would work better visually with the thinner diameter tubing of steel, aluminum, and titanium bicycles. At first we intended to modify Spork 2.0 tooling into a Spork 2.5 design but ultimately we was decided to redesign the fork and tooling from scratch around an entirely new 3.0 design. This all new fork is slimmer, lighter, and boasts even more tire clearance while retaining the same core functions and geometries as previous generations of Spork.
Tire Clearance
Spork 3.0 has proper clearance for tires up to 650b x 2.4″ and 700c x 55mm while properly allowing additional clearance for mud and the elements. You could put an even bigger tire in there but if you do you need to be mindful of mud, side knob profile, and other factors to make sure you don't unexpectedly rub in inclement conditions.
There is no minimum tire size for Rodeo Spork, but with 3.0's generous tire clearance tires smaller than 700 x 32mm begin to look visually undersized.5
Weight
2021 and earlier Spork 3.0 weighed approx 600g. 2022 retail Spork 3.0 are now 125g lighter at 495g.
Spork's primary design goal is durability. In order to to withstand the rigors of gravel riding, ultra distance bikepacking, and trail riding the fork must be designed and built to resist tremendous forces and impacts on both its main structure and its cargo mounting points. Spork 2.0 (which shares its core design with 3.0) has been ridden and raced with loaded loaded with cargo in world class events such as Silk Road Mountain Race, Atlas Mountain Race, Trans Am Bike Race, and countless other punishing adventures with zero failures.
We are proud of the weight that we have achieved on Spork 3.0 while giving the rider maximum peace of mind that they will never be stranded when riding a Rodeo Labs fork.
Rack Compatibility
Spork 3.0 is compatible with a wide range of lowe rider and randonneur style racks.
Our favorite rando style racks are the Rawland Radioverks, Soma Champs Elysees, and Specialized Pizza Rack.
Our favorite low rider style racks are the Tubus Duo and Tubus Tara racks.
Spork 3.0 offers low profile rack and fender mounting versatility right out of the box, but some racks and fenders benefit from more real estate around the lower eyelets. For that, we've created the modular offset eyelet kit. The offset eyelet kit can be added to your Spork at the time of purchase or you may purchase it separately at a later date.
We are not able to test every available rack on the market. If you have successfully mounted a different rack on your Spork 2.0 or 3.0 we would love to hear from you. 
Fender Compatibility
Spork 3.0 improved on the fender (mud guard) compatibility of Spork 2.0 with a more aggressively sculpted inner crown area of the fork. 
The inner dimensions of the fork legs at 650b accept a fender as wide as 77mm.
The inner dimensions of the fork legs at 700c accept a fender as wide as 73mm.
For those running huge fenders over tires as large as or larger than 45mm your biggest challenge mounting your fenders may be the length of the supplied fender struts, not the internal fender clearance of the fork itself.
Spork 3.0 uses a through bolt at the fork crown for fender mounting. We suggest an M6 x 60mm bolt + the thickness of your nut for fender mounting. For instance if your bolt measures 7mm thick use an approx M6x70mm bolt. The low profile crown area of the fork does not allow for recessed bolts to be used on the fork so you must use a nut and bolt to secure the fender to the crown.
We are not able to test every available fender / mud guard on the market. If you have successfully mounted a fender on your Spork 2.0 or 3.0 we would love to hear from you and share your results in a crowd sourced database.
650 x 47
Planet Bike Cascadia ALX
700 x 42
Planet Bike Cascadia ALX
Axle Compatibility
Spork 3.0 continues the proven modular axle design from our 2.0 fork. We designed the fork with a modular endcap system that allows for native use of either 15mm or 12mm through axles with no need for shims or adapters. Simply select the axle spec that you need when adding the fork to the cart and we will do the rest. If in the future you need to change your axle specification we offer both 15mm and 12mm endcap conversions on our store. A specific tool is required for properly installing and torquing the endcaps. It can be purchased and returned for a refund if you only need to use it once.
Dynamo Compatibility
Spork 3.0 is fully dynamo hub compatible and features internal dynamo routing internally along the drive side fork leg. Dynamo wiring ports exist at the lower fork leg, upper crown area, and under the crown to allow for passing a wire internally up the steer tube.
We recommend an M6 x 60mm bolt + the threaded thickness of your dynamo light mount which acts as the nut. The max torque is 5nm and use a nylon washer to protect the carbon from scuffing and crushing. In the case of the Sinewave mount shown a 70mm bolt is inserted through the back of the fork and is threaded into the back of the mount.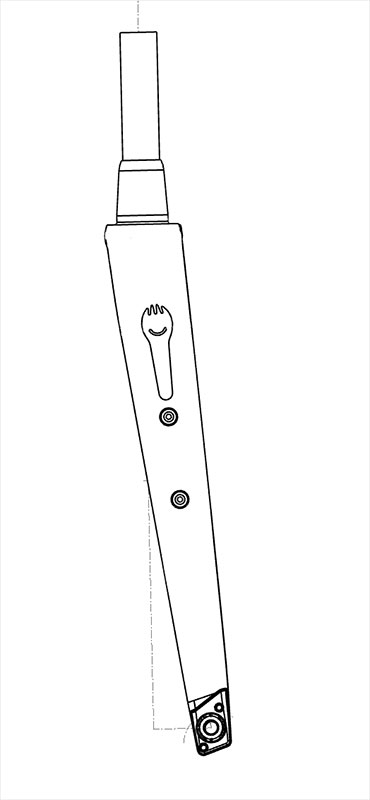 Fork Geometry
Rodeo Spork 3.0 has a 396mm axle to crown and a 45mm rake allowing for compatibility with a wide range of existing gravel and adventure framesets.
Additional Specifications
Max rider weight:  270 lbs / 122.5 kg
Max additional cargo weight:  27.5 lbs / 12.5 kg, distributed across eyelets. When fork mounting loads to the mid leg eyelets that are heavier than a typical water bottle it is best to distribute the load across inner and outer mid leg eyelets with 20-25mm M5 bolts that will distribute the load across more loading points.
Spork 3.0 can be used with 3 bolt cages even though it has two mid leg eyelets, simply attach the 3 bolt cage to the two eyelets that you prefer per position on fork.
For loaded bikepacking it is best to use a small amount of blue Loctite threadlocker on eyelet bolts so that they don't rattle out via surface vibration. Bolt washers are also encouraged for the same reason.
Steerer tube taper:  1-1/8″ to 1.5″
Steerer tube length:  310mm
Inner steerer tube diameter:  23.3±0.2mm. Of note: Cinq's The Plug 5 requires a steerer ID of 24.5mm so we cannot yet confirm compatibility with that particular third party accessory.
Fork crown dimension:  40mm crown seat.
Compression plug:  Required, not supplied
Max headset spacer stack height: 40mm
Axle length:  127mm total length
Axle thread pitch:  1.5mm
Axle inner dimension:  100mm
Axle diameter:  12mm or 15mm convertible. Endcaps and tool required for conversion.
Brake Mount:  Flat Mount native. 140mm / 160mm rotor with standard flat mount caliper mounting plate. Post mount 160mm possible with adapter.
Brake hose routing:  Internal sleeve through fork leg.  
Testing / Certification:  ISO 4210 MTB racing
Warranty:  Lifetime to the original owner against defects in design / workmanship. Damage due to wear and tear, abuse, or neglect not covered by any warranty.
Crash replacement pricing:  Yes, please contact us for pricing.