Features
Spork 2.0 was designed and engineered based on the feedback and feature requests that we've received since we launched our 1.0 Spork in 2015. Spork 2.0 is not designed to replace the original Spork which has since evolved to version 1.2. Instead 2.0 adds to the spectrum of where and how or forks are designed to be ridden. Let's dive in to the full feature spec of 2.0.
Clearance / Geometry
Spork 2.0 was designed to accept larger tires in both 700c and 650b tire sizes without changing the core geometry of the original fork. The existing 396mm axle to crown length and 45mm offset of the fork were both retained. By carefully shaping the leg profile and opening up clearance at the fork crown we were able to create a fork clearance for 650b x 2.1″ tires or 700c x 45mm tires. Depending on tire casing sizes and rim widths tires up to 650b x 2.2″ and 700c x 50mm may fit as well. The actual raw opening sizes of the fork are shown below.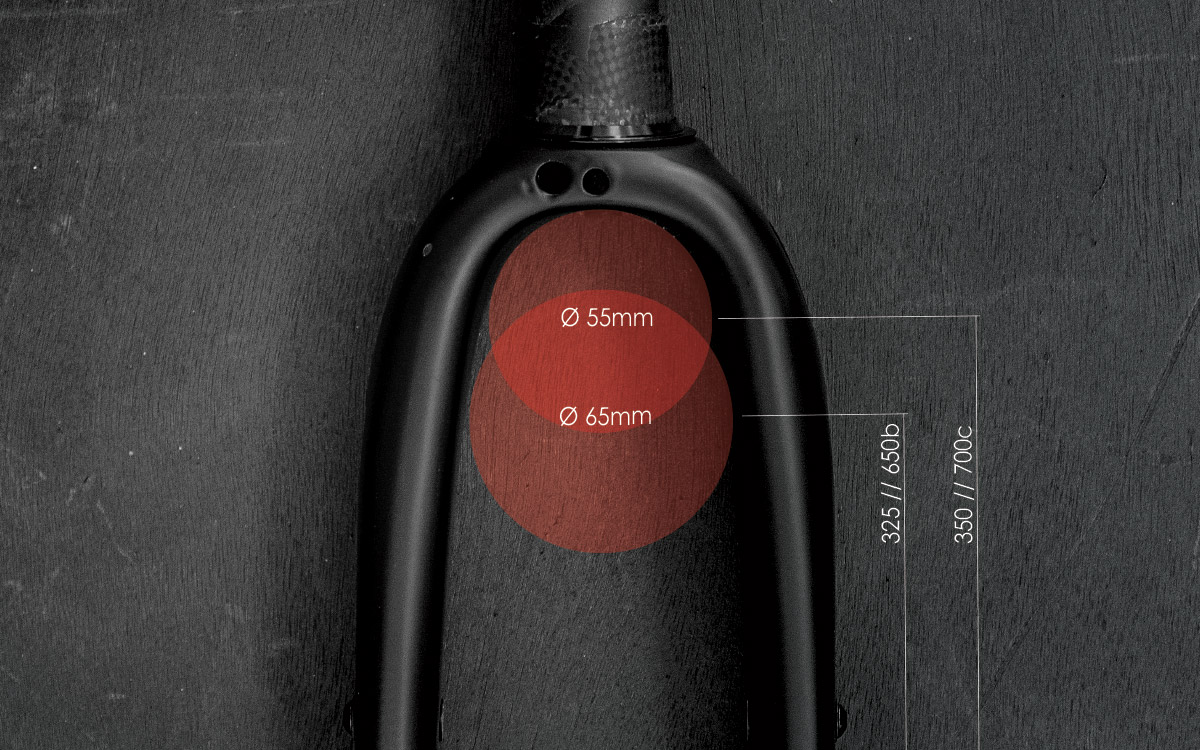 Axle system
Spork 2.0 continues the tradition of accepting 15mm or 12mm through axles but with a more integrated axle system compared to Spork 1.2. Instead of using a retrofit kit to accept 12mm axles the 2.0 fork features an entirely redesigned axle system based around an axle agnostic core fork. Our through axle hardware is incredibly secure and easily replaced of the owner wishes to change to a different axle standard in the future.
In addition to 15mm and 12mm axles we will soon make available an optional 9mm "Through QR" set of axle endcaps which allow the use of legacy hubs such as older QR dynamo hubs that people may already own.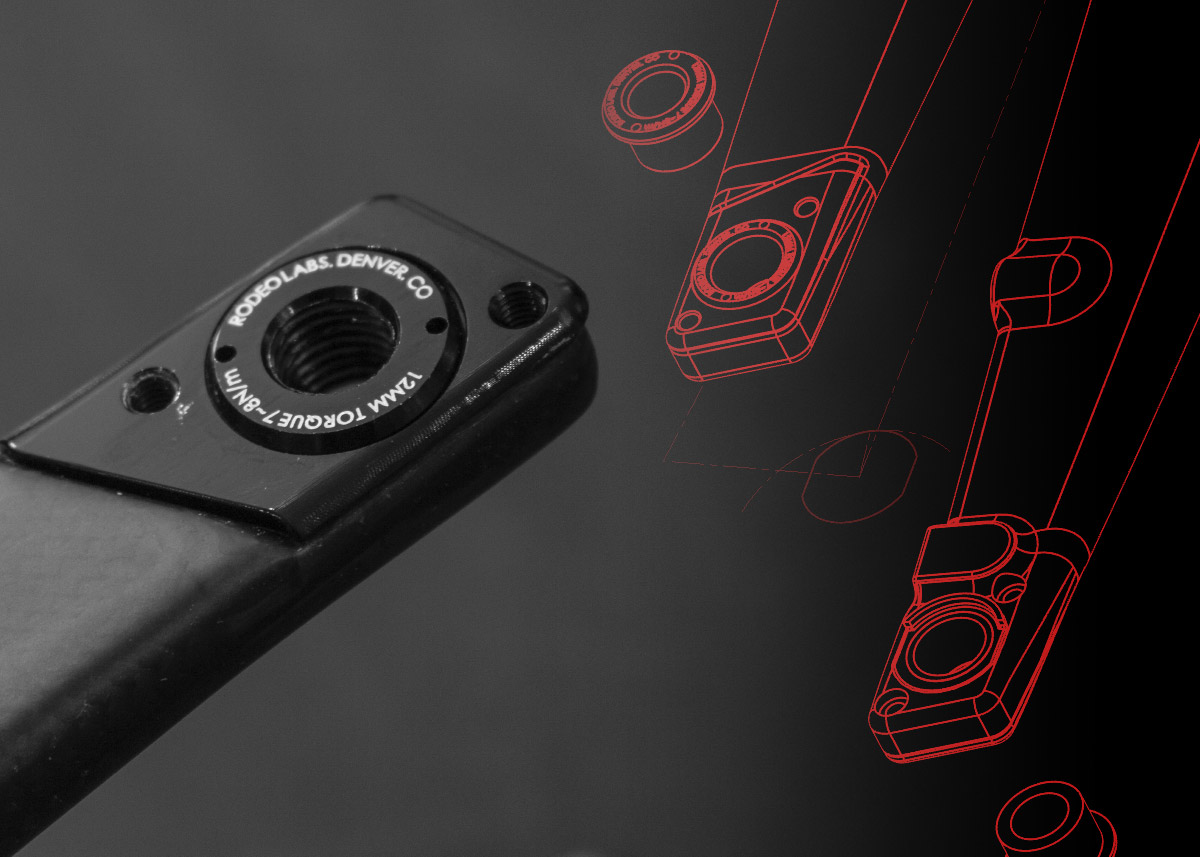 Rack and fender mounting
Spork 2.0 retains the two mid leg eyelets found on Spork 1.2 as well as the eyelet at the end of each leg. We also added a second standard lower fork leg mounting point with 2.0 to add more mounting flexibility. Spork 2.0 will work with a wider array of racks than Spork 1.2 and will radically increase fender size options for owners running larger tires such as 700 x 45mm or 650b x 47mm tires. Stay tuned as we update this page with various racks and fenders including any special notes required for fitting them to the fork.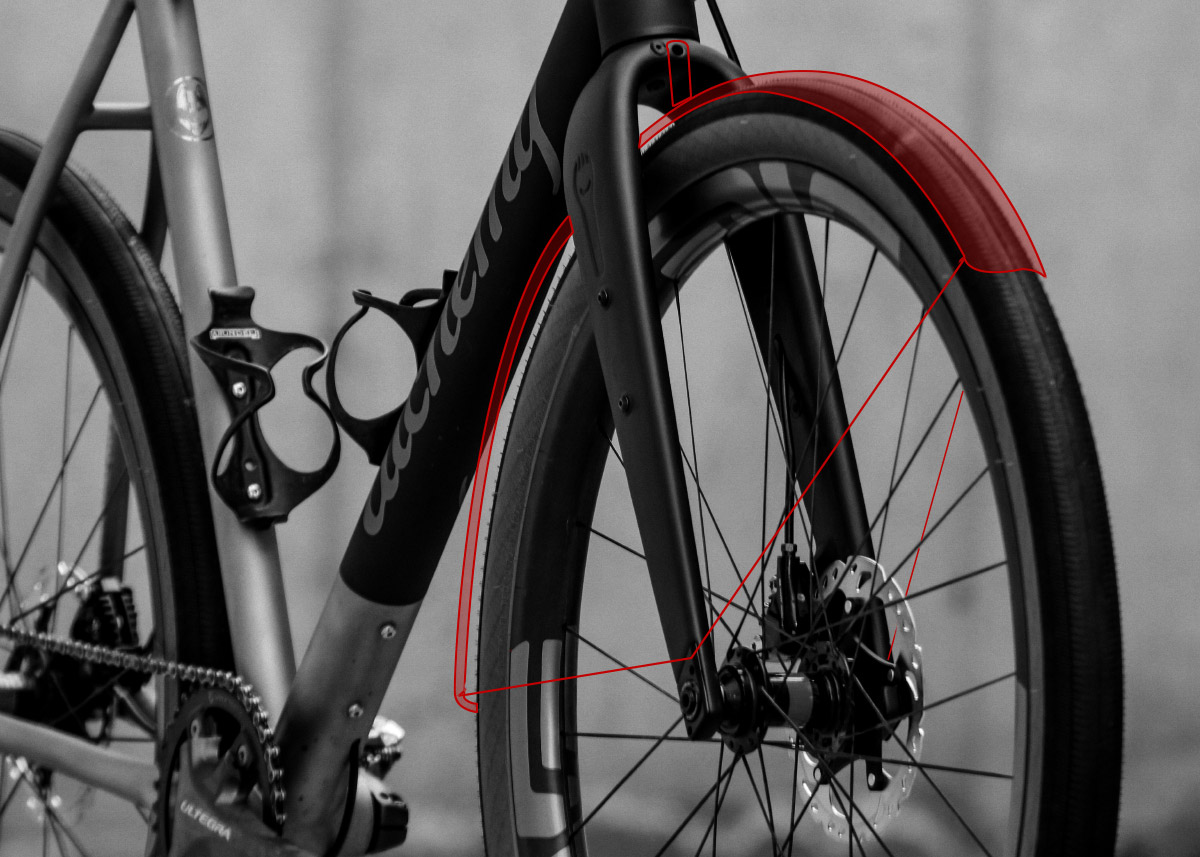 Optional eyelet hardware
We will release an optional eyelet hardware for Spork 2.0 in late December which adds two more mounting points on the end of each fork leg and provides more clearance for some fender and rack configurations. The offset eyelet design recalls the mounting points of steel touring forks. By offsetting the mounting points from the main fork blades, rack / fender / axle interference is minimized or entirely mitigated. Estimated pricing for the optional eyelet hardware is $40.

Dynamo integration
Spork 2.o features fully integrated and internal dynamo hub integration for users who spec dynamo headlights, tail lights, or dynamo powered USB stem caps. The internal routing enters the drive side fork leg near the axle and extends upwards to an exit port near the fork crown mounting hole. A secondary port on the underside of the crown allows for an optional easy routing run internally up the steer tube to the powered stem cap.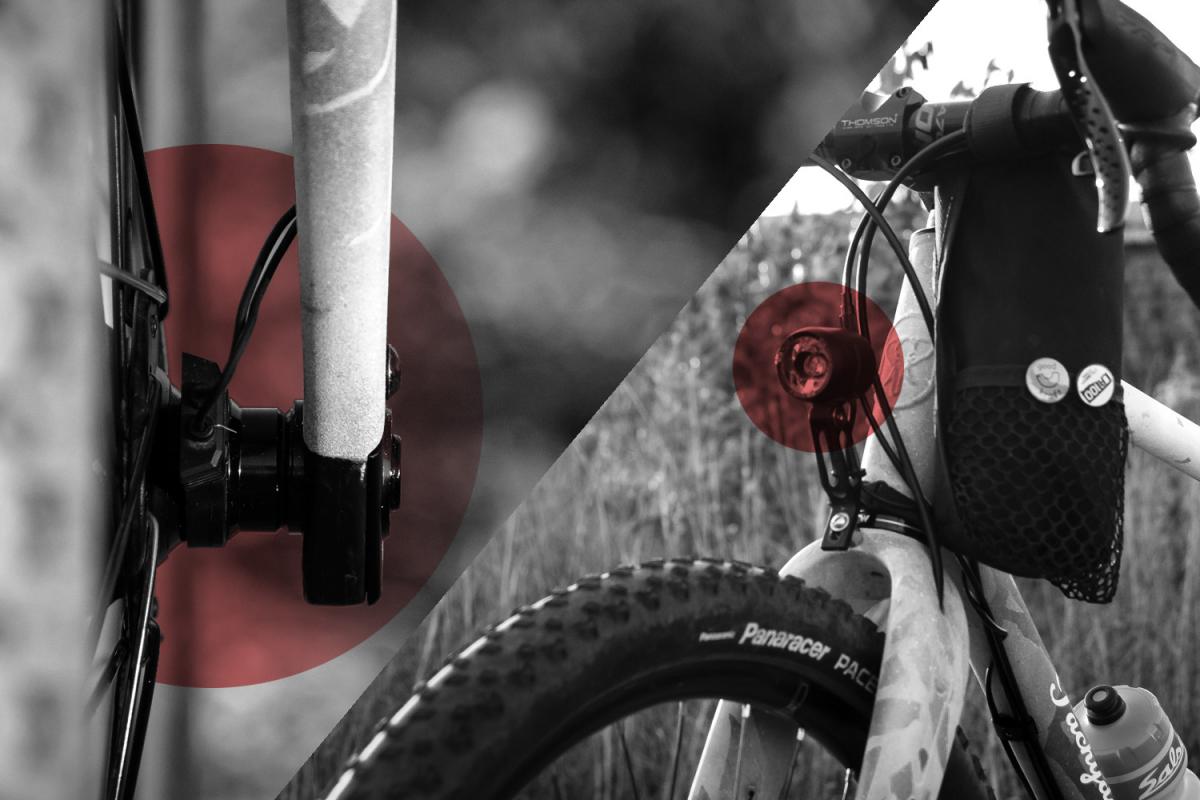 Internal routing
Spork 2.0 has a streamlined internal routing angle of approach for smoother mechanical disc brake performance. The tight proximity of mounting eyelets and the internal routing ports does not allow for an internal brake routing straw but the fork is supplied with lead lines which assist in the installation of brake housing through the fork legs.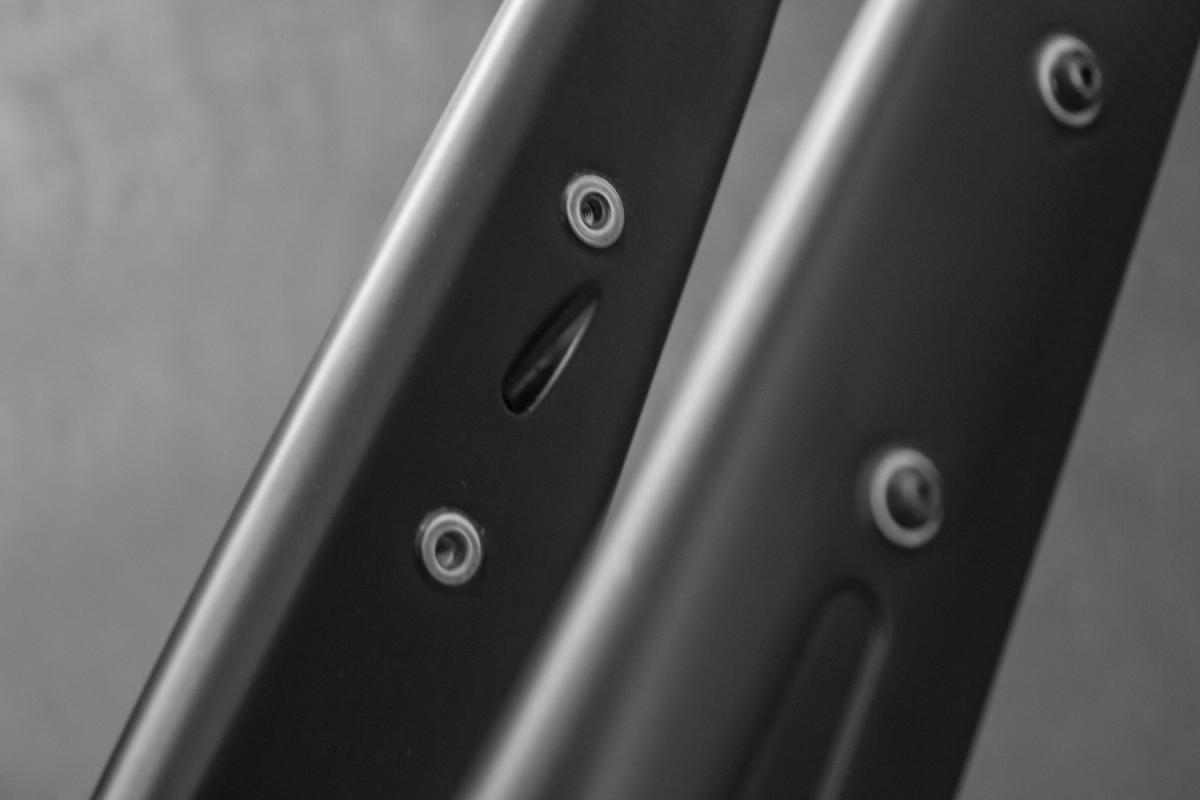 Aesthetics
The original Spork featured a distinctive profile that made it instantly recognizable at a glance. Spork 2.0 streamlines and softens the overall design of the new fork but retains its unique sense of identity with debossed Spork logos on each fork leg. Spork 2.0 is unmistakable on any bike. All Spork 2.0 forks are finished black with a satin clear coat.
Spork 2.0 Technical Specs
| | | | | |
| --- | --- | --- | --- | --- |
| Construction | Carbon Fiber with aluminum hardware |   | Testing | ISO certified for road through MTB uses |
| Fork length | 396mm |   | Mounts / eyelets per leg | 2x mid leg (64mm spacing), 2x on fork leg ends |
| Fork rake | 45mm |   | Crown bolt | Non recessed. M6 x 70-75mm per accessory |
| Steer tube | 1 1/8″ to 1.5″ taper |   | Weight | Approx 620g +/- depending on steer tube length |
| Dynamo routing | Internal |   | Max tire 650b | 65mm opening. 2.1″-2.2″. Varies per tire |
| Steer tube routing | Internal |   | Max tire 700c | 55mm opening. 45mm-50mm. Varies per tire. |
| Brake routing | internal |   | Accepts racks | Yes. Low rider or rando style – Varies per rack |
| Axle diameter | 15mm or12mm, swappable |   | Accepts fenders | Yes. see above tire clearance for max width |
| Axle length | 100 internal 125-130mm total length |   | Steer length | 310mm |
| Axle thread | 1.5mm thread pitch |   | Brake spec | Flat Mount 140 / 160 – Post w adapter |
| Axle supplied | Yes, hex axle design (not QR) |   | Lower crown race | Supplied – notched design |
| Expansion plug | Required. Not supplied. NO STAR NUT |   | Load ratings | No rider weight limit. 12.5kg load rating |
Wholesale
For inquiries on builder pricing please get in touch through our contact page. Spork is available at wholesale to builders and bike shops internationally.
[rev_slider alias="spork-2-gallery"]