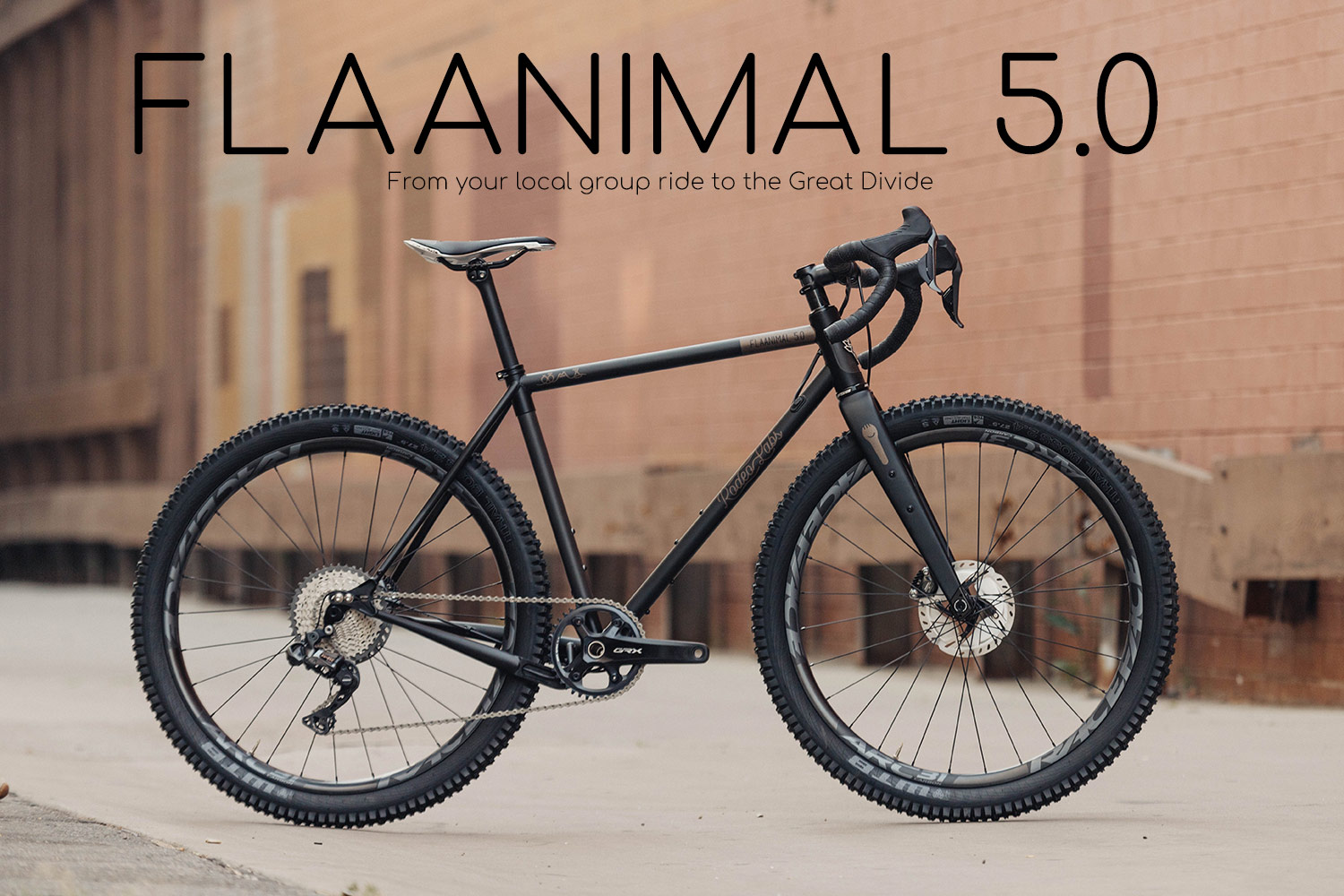 5.0 set a new bar for the Flaanimal platform, one that has been in a continuous state of evolution since its inception in 2015. The innovative construction and massively adaptable feature set of this bicycle platform represent what we consider to be a new high water mark for a production steel (and carbon) gravel / adventure bike. Flaanimal is meant to be built and ridden in any way that its rider imagines. It can be blisteringly fast on pavement on skinny slicks. It can be smooth, efficient, and competitive on gravel. With it's win at the 2021 Tour Divide as piloted by Jay Petervary, Flaanimal has added bikepacking racing to it's list of proven accomplishments.
Many build configurations for frames that show as in stock can ship as quickly as 3-5 days from ordering. Framesets that show in stock ship within 24 hours. Custom finishes and custom build specs add to that time, but if you are in a rush to get a bike just shoot us a note at bikes@rodeo-labs.com and we can put hot sauce on a build for you.
To learn more about the Flaanimal 5.0 platform please check out our in-depth detail breakdown and features overview lower on the page.
For a completely custom configured Flaanimal 5.0, use this form to tell us what you would like.
See this page for custom finish info and pricing.
Flaanimal 5.0
Since its first iteration in 2015, Flaanimal has always been a bike that is fundamentally about versatility. The idea that the owner themself is allowed to interpret the frameset and turn it into their dream build is paramount. Whether ridden on road or dirt, the frameset strives to feel stable, efficient, quick, and at home wherever you take it. When considering where we wanted to take the platform next for 5.0, one objective stayed front and center: Flaanimal must stay true to its adaptable roots while at the same time offering each owner even more versatility and function. Meeting that objective was not at all simple and required some out of the box thinking. No detail of the 5.0 design was left unconsidered. Flaanimal 5.0 isn't a "steel bike" or a genre bike. Its design is the natural result of setting tradition aside and endeavouring to build the best and most capable Flaanimal yet.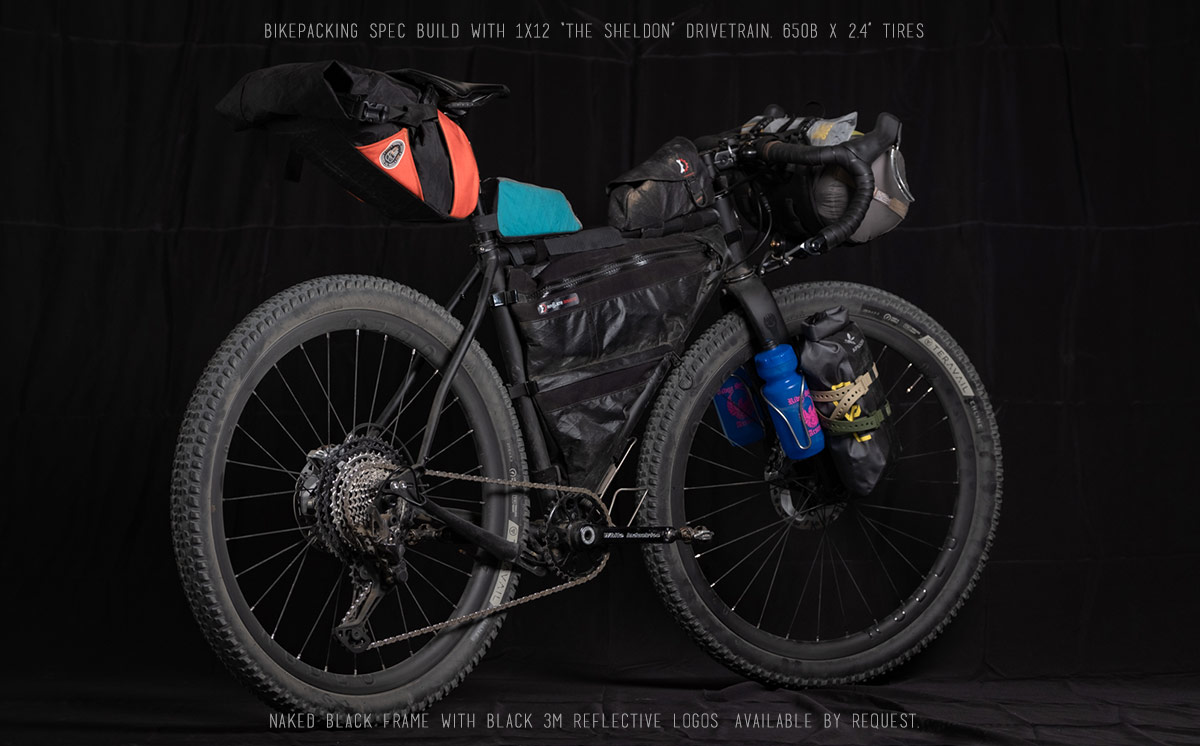 CNC Machined Yoke / Dropped Stay
Our quest for increased Flaanimal function led us first on a search for more tire clearance. Not every Flaanimal owner needs more tire clearance, but every Flaanimal owner can potentially benefit from it over the ownership life of the bike. Tire clearance isn't just about cramming huge tires into a frame though, tire clearance also relates to increased mud clearance when not running huge tires. An easy solution for increasing tire clearance would have been to shift the q-factor of the frameset to a MTB q-factor, allowing the chain stays to be spaced further apart thus creating more room for bigger tires. Going to an MTB q-factor also would have resulted in us deviating from Flaanimal's road-oriented roots, which was something we were not willing to do. The solution for increased tire and mud clearance was to design a steel yoke for the drive side chainstay. Starting from scratch, we worked up an entirely new yoke design that solved our clearance needs and allowed Flaanimal 5.0 to retain its road q-factor. The yoke contributes to Flaanimal 5.0's ability to run 700c x 50mm or 650b x 2.4" maximum tire sizes. Slider position is adjustable for tuning chainstay clearance per tire size. The max 1x chainring size on Flaanimal 5.0 is 46t. 2x cranksets as small as 24t/36t up to 34t/50t are also possible on the frameset.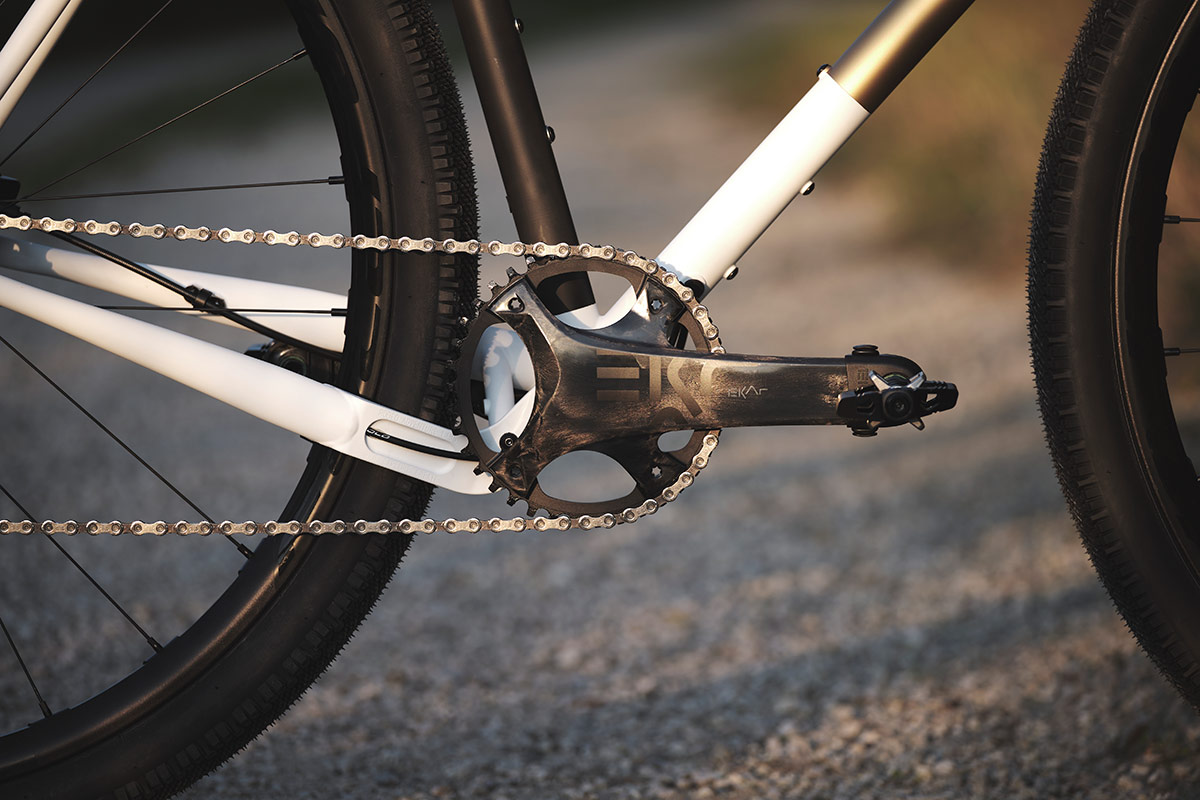 Integrated Carbon Seat Tube
Even with diligent CNC machining our chainstay yoke added weight to the Flaanimal frameset. Our next step in the design of the bike was to search for places to offset that weight without compromising strength or ride feel. The seat tube is the least stressed tube on the bike, and while doing some calculations we discovered that we could shave approximately ¼ pound off of the frameset by replacing the steel seat tube with a carbon seat tube. (Weight savings will vary per frame size / tube length ). Not only does our custom rolled unidirectional carbon seat tube "add lightness", it also adds a distinctive technical note to the frameset's visual style. We love it when our bikes stand out from the crowd.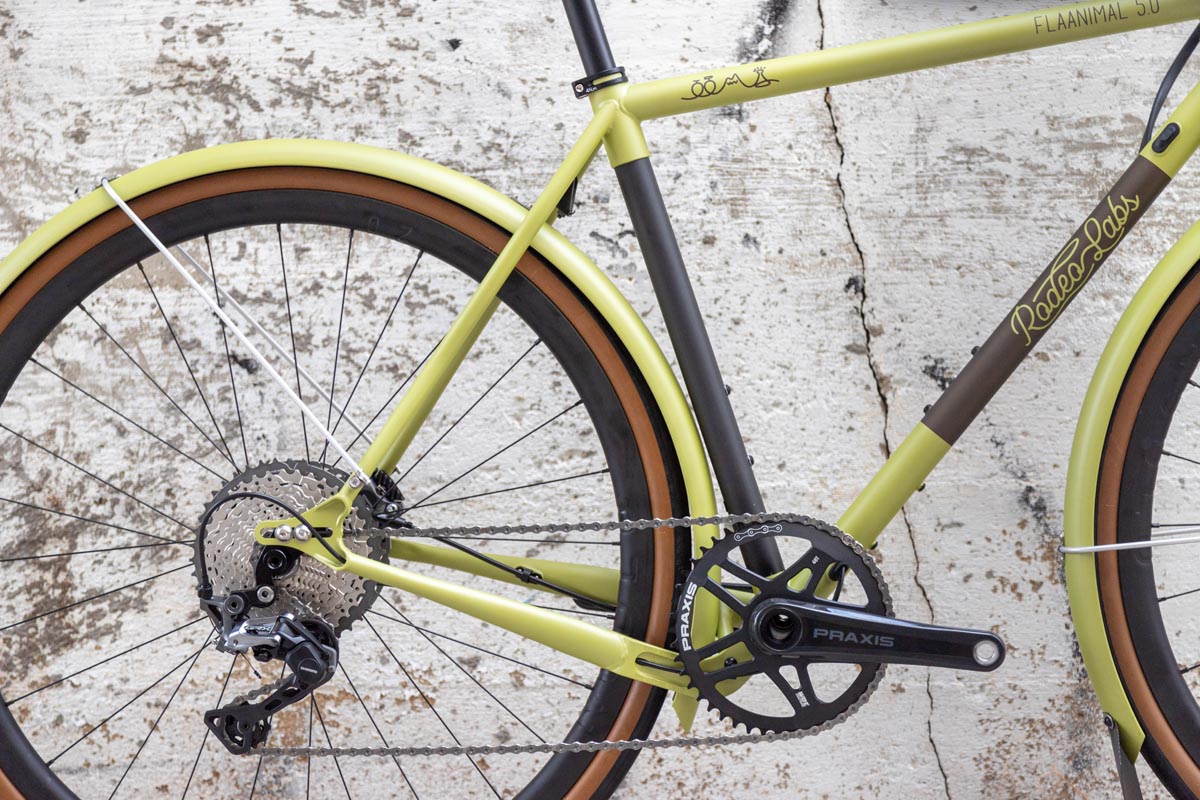 Japanese Custom Butted, Heat Treated Tubing
Flaanimal 4.0 was built with Reynolds 725 tubing, but with the change to a weight saving carbon seat tube on 5.0, we removed one of the three main steel tubes from the frame that Reynolds requires as a minimum to carry the Reynolds badge. Instead of seeing this as a liability, we saw an opportunity to entirely re-evaluate the tubing spec of the frameset. We worked with a longstanding tubeset supplier in Japan that allowed us to custom draw size-specific tubesets for 5.0, and also heat treat it for equal or better strength to weight characteristics as compared to 4.0. With the addition of tire clearance on 5.0, we see the potential for riders to take on even more aggressive terrain so we increased wall thickness of key sections of tube to add strength in critically stressed areas. As with every bike and component we make, Flaanimal 5.0 is certified to ISO 4210 standards.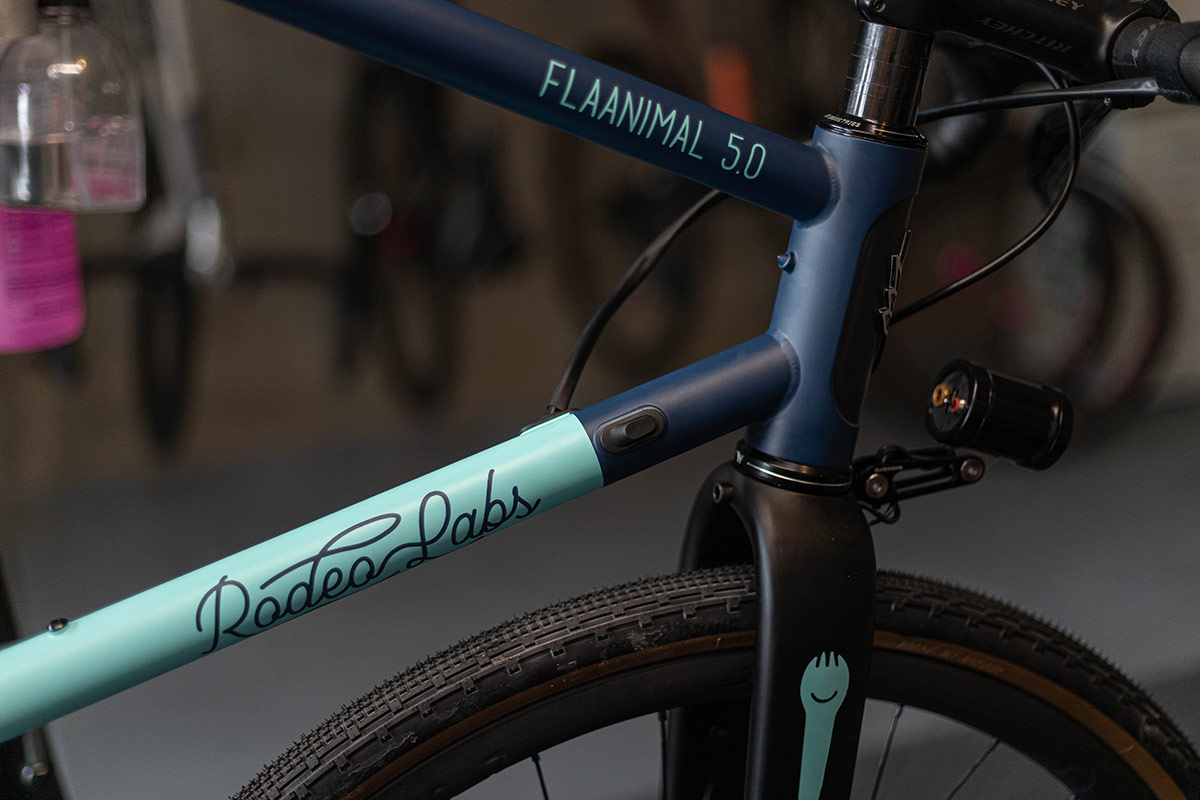 Shaped Rear Stays
Flaanimal 1.0 started with non-butted rear stays and this continued through 3.0. From 4.0 onward we used butted rear stays for weight savings and compliance. On Flaanimal 5.0 we are once again custom butting every tube in the rear triangle and we are for the first time shaping the rear seat stays with curvatures that will add compliance to the overall feel of the bike. Flaanimal 5.0 is the most comfortable Flaanimal to date.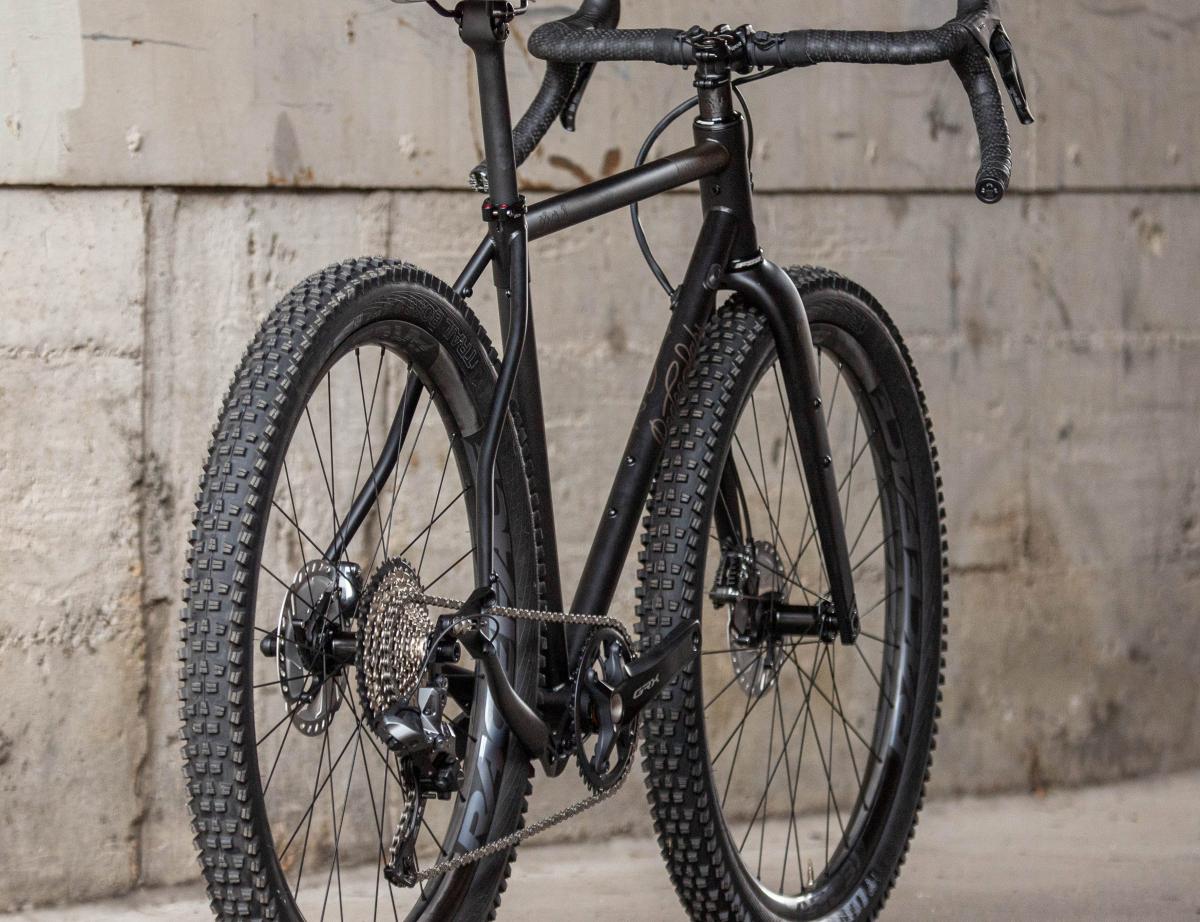 Increased Slider Range
Starting with Flaanimal 3.0 our sliders were designed from scratch and were unique to our bikes. We were and still are the only company making a tucked in flat mount caliper compatible sliding dropout. Once again we've raised the bar on our own designs with an updated sliding dropout design. Our revised and backwards compatible sliding dropouts now allow for an additional 10mm of slider range fore / aft compared to 4.0 and older sliders. More slider adjustability allows for proper tensioning of single speed chains as well as tire clearance tuning should you choose to run massive tires on your 5.0, not to mention being able to tune the handling characteristics of the bike. Chainstay length can now be as short as 415mm with sliders fully forward, depending on your tire choice.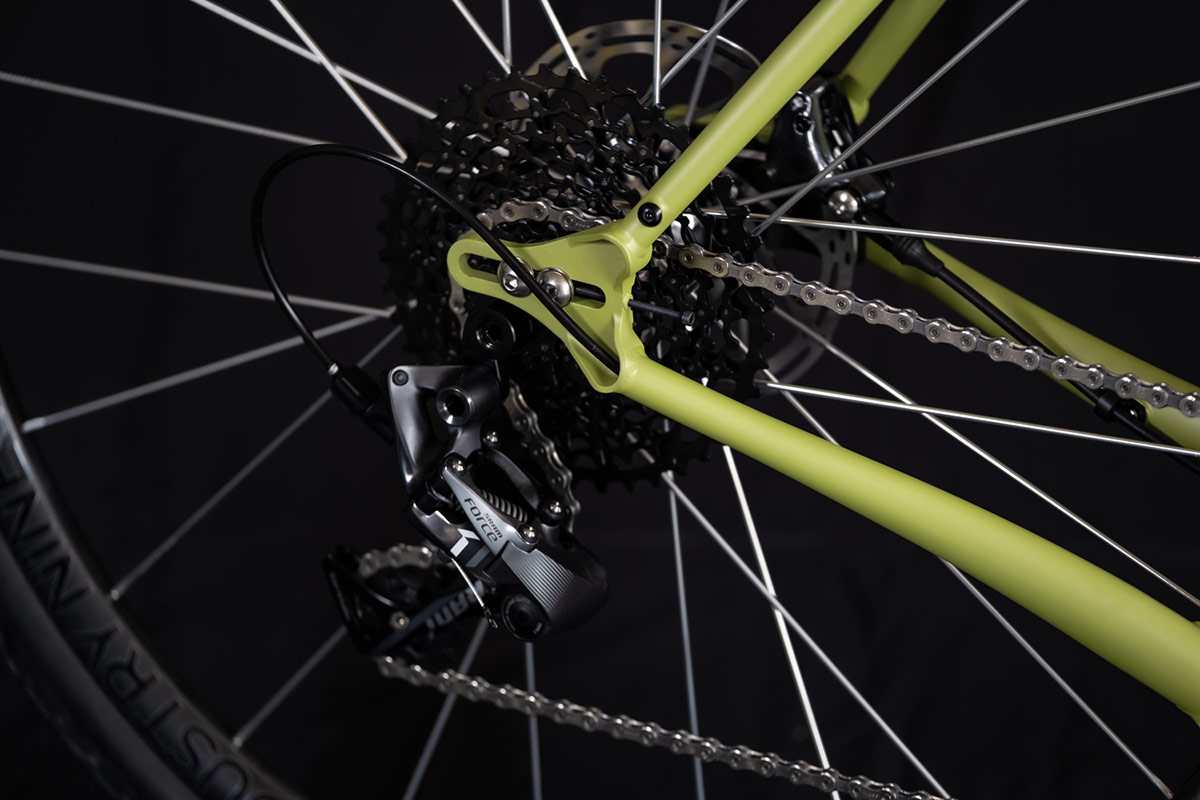 Modular Internal Cable Routing
Flaanimal has always been designed around modular builds. 5.0 is no exception and carries forward the successful internal routing design from the 4.0 series. Tightly sealing rubber routing port plugs allow for fixie, single speed, 1x, 2x, Di2, and AXS builds to be aassembled without cluttering the frameset with unused external routing points. Nuanced routing guide locations on the BB and chain stays allow for more tidy aesthetics compared to 4.0.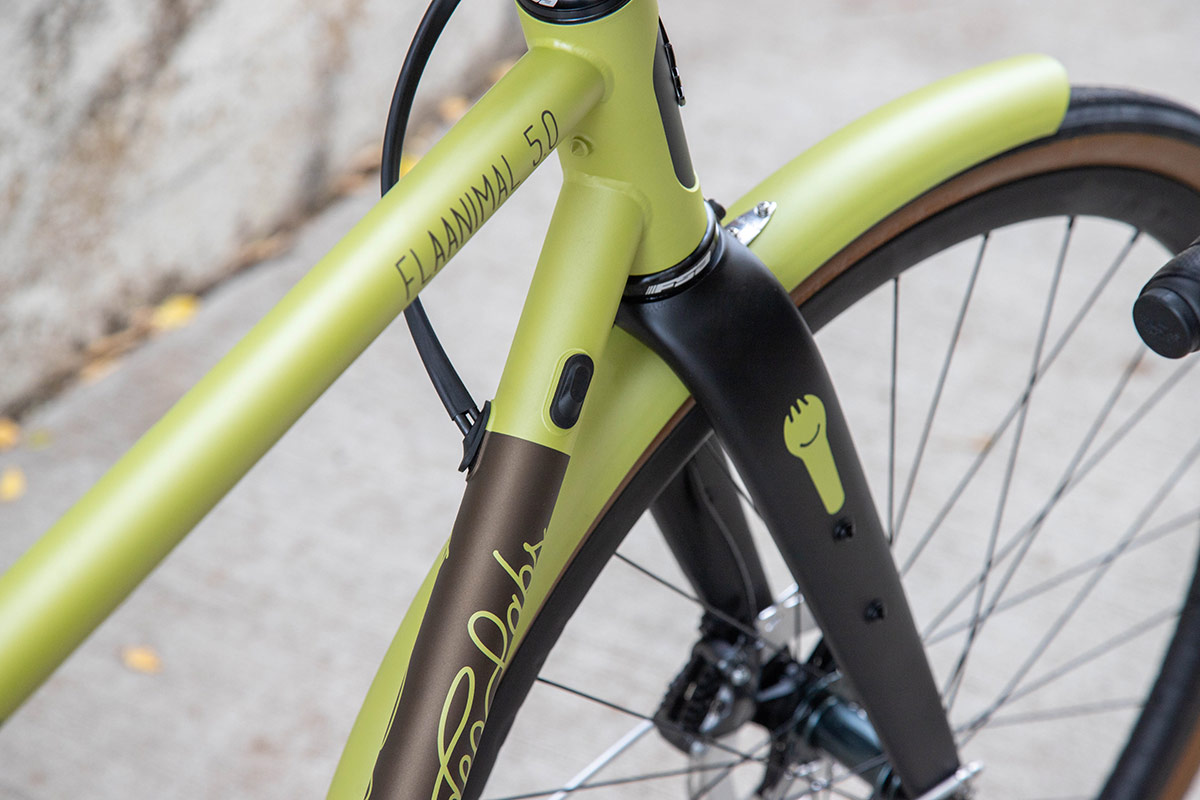 85.5mm T47 Bottom Bracket
Flaanimal 4.1 was the first generation of the frameset that moved to the T47 threaded bottom bracket standard, and that was one of the best spec decisions that we've ever made.The threads allow reliable quiet operation over the life of the bike, and the 47mm shell allows compatibility with all crankset spindle diameters as well as also leaving room for internal Di2 and dropper post routing. Yes, of course Flaanimals and dropper posts get along! We did change our BB spec on Flaanimal 5.0 to inboard bearings compared to the outboard bearings that 4.0 required. We aren't big fans of 86mm T47 inboard bearings because their thin flanges make installation difficult and durability less than stellar. With the introduction of the 85.5mm bottom bracket shell width, BB manufacturers are able to design more robust T47 internal bearing BB cups. It's a very small change that makes a big difference. Most importantly, there is no change to the crankset itself: any cranks that are compatible with outboard cups on a 68mm shell will fit perfectly in Flaanimal 5.0. 85.5mm T47 bottom brackets are available from Praxis, SRAM, and others, and we also recommend White Industries as a go-to bottom bracket for Flaanimal 5.0.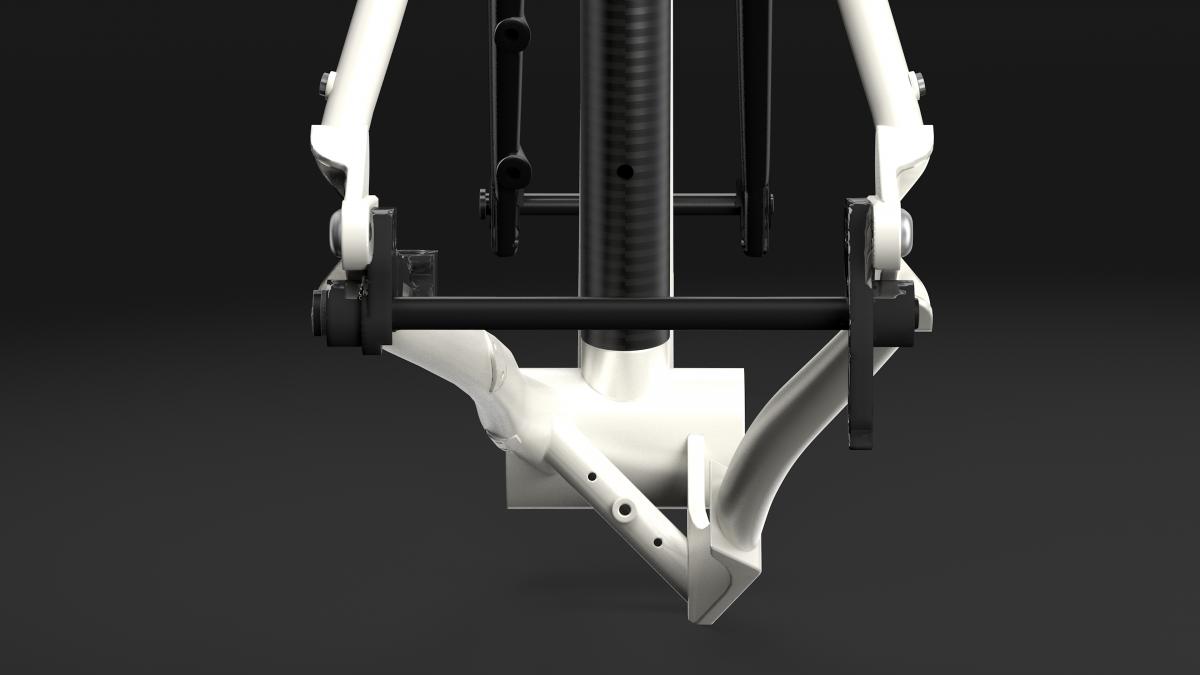 1. Naked plus Decals
All Flaanimal 5.0 frames are anti-rust treated with a black ED dip which coats all surfaces of the frame, both inside and out. Flaanimal 5.0 will be available with satin clearcoat over the bare ED finish, plus your choice of vinyl decal color for the ultimate in minimalist design. Keep it stealthy, change your colors every year, whatever you want to do — this frame is your canvas. Let us know what color decals you want applied off the bat from the colors below and we'll let you take it from there.
2. Two Color Cerakote finished in USA (+$504)
Flaanimal 5.0 will be available with an upgrade option to give it a full, two-color Cerakote treatment. Cerakote is a ceramic and liquid polymer coating that is thinner than liquid paint at .001 inch thick. That means a bike coated in Cerakote will be 100-200g lighter (on average) than the same bike painted with traditional paint. It's abrasion / wear resistant, corrosion resistant, chemical resistant, and impact resistant – which makes it ideal for the tough environments our bikes are ridden in. Cerakote is also friendlier to workers and the environment with its exceptionally low VOC characteristics. What's more, Cerakote finished Flaanimal 5.0 frames will be coated domestically by USA hands. Cerakote finished frames will be available in one of four design options: Super Seven, Sunflower Sky, Northern Lights , or Concrete Orange, and Blue Iceberg. For more information, check out our Cerakote Journal Entry.
3. One Color Cerakote finished in USA (+$400)
New for 2022: Our one color Cerakote options allow you to personalize your frame at a lower price point. All frames are hand coated at Rodeo HQ in Denver, Colorado.

Frame Material
Custom drawn Japanese steel with size-specific butting profiles.
2020 frames: Unidirectional carbon seat tube and head tube.

2021 frames: Woven carbon seat tube and head tube insert.

Country of manufacture
Taiwan
Design / Tooling
100% proprietary
Tire clearance 650b
Max width: 2.4″ | Min. recommended width: 48mm | Varies by tire / rim / conditions
Tire clearance 700c
Max width: 54mm / 2.1″ | Min. recommended width: 28mm | Varies by tire / rim / conditions
Frame weight
Raw frame: 49cm – 2223gr, 52cm 2271gr, 54cm – 2312gr, 56cm 2360gr, 58cm – 2405gr, 61cm 2488gr.
Fork
Rodeo Spork 3.0 / Full carbon adventure fork
Fork weight
Average 600g
Cable routing
Mechanical, Di2, eTap. Convertible or cappable endcaps.
Dynamo routing
Internal fork. Front and rear light, USB stem cap, dynamo hub compatible.
Brake Standard

Flat Mount, 140mm front & rear.  160 with mounting adapter plates.

Rear brake bolts- M5x20mm (with 160 adapter)

Fork brake bolt- M5x15m

Bottom Bracket
T47 threaded, 85.5 mm width
Seat Post
27.2 mm post / clamp size 35mm
Dropper post
Internal, cable routing through BB shell.
Seat Clamp
35 mm (6066 aluminum clamp included)
Thru Axles
12 x 142mm rear. 12 x 100mm front.
Front optionally convertible to 15 x 100mm.
Headset
44mm head tube, 1-1/8″ to 1.5″ tapered.
EC44/40 lower, ZS44/28.6 upper.
Headset not included.
Chainring compatibility
2x: max 50/34, min 36/24.
1x: max 46t, min 32t (smallest tested. smaller may be possible but has not been verified).
Singlespeed: max 46t, min 42t for chainstay yoke clearance, half link chain recommended.
Front derailleur mounting

2020 frames: Low-mount 31.8mm band clamp, requires braze-on FD. Clamp supplied at no charge upon request.

2021 frames: standard 31.8mm band clamp + braze-on FD.
Additional housing stop clamp required for FDs without integrated housing stop (available by request).

Rear derailleur hanger / slider

Aluminum, replaceable.

Slider bolts:  M8x15mmx1.25 thread pitch (15nm torque)

Slider set screw: M3 x 45mm

Di2 battery position
Battery mounted. Sometimes mounted inside steer tube as an alternate position.
Fender mounts
Frame and fork. Removable seat stay bridge. Max 65mm outer fender width at 700c.
Bottle mounts
2 inside main triangle. 1 on outside lower down tube. 2 on fork. Bolts: M5 x 10mm
Rack mounts
Frame and fork. Optional offset eyelet kit available for fork. Bolts: M5 x 10mm
Fork mounts

2 mid leg eyelets per fork blade. 2 eyelets on each blade near axle. Optional offset eyelet kit for increased mounting options.

Standard bolts: M5 x 10

For loads heavier than a water bottle use M5 x 25 bolts to anchor load to both outer and inner mid leg eyelets.

Fork crown bolt
Not included. 85mm length typically needed for lights / racks
Fork cargo capacity

27.6 lb / 12.5 kg total cargo weight, evenly distributed.

For loads heavier than a water bottle use M5 x 25 bolts to anchor load to both outer and inner mid leg eyelets.

Headset spacer max height
4cm between headset and stem
Frameset rider weight limit
251 lb / 113 kg
Chainstay length range
Thru axle slider: 415 mm – 445 mm  |  QR / IGH slider: 420 mm – 440 mm
Frameset specific component notes
Flaanimal 5.0 maximizes tire clearance at the chainstay via careful tube shaping. This results in a tight tolerance on the non drive side chain stay that is not compatible with some crank based power meters such as Stages. A 4iii power meter can work on a Praxis crank if a 2mm spacer is used on the non drive side of the spindle. This installation method has been approved by Praxis. Other cranksets have not been tested so proceed with caution.
The dropped chainstay design also results in tight clearances with some singlespeed chain / chainring setups. 38T chainrings will cause the chain to hit the dropped yoke. 40T is very close and not advised. 42T or 44T offer good clearance.
Flaanimal 5.0 is fully anti-rust dipped prior to painting. The ED black layer is an excellent deterrent for rust, and in most environments rust will not be an issue with the frame over its lifetime. However, if you own a Flaanimal and live in a wetter or salty air environment an extra anti-rust treatment applied inside the bottom bracket area and in the lower seat tube area will help your Flaanimal better combat the elements long term.

General Sizing Guidelines
| | |
| --- | --- |
| Frame size | Rider height |
| 52 cm | 5'4"-5'6" |
| 54 cm | 5'6"-5'9" |
| 56 cm | 5'9"-6'0" |
| 58 cm | 6'0"-6'2" |
| 61 cm | 6'1"-6'4" |
Size

52 cm

54 cm

56 cm

58 cm

61 cm

Virtual Seat Tube (C-T)

520

540

560

580

610

Seat Tube (C-T)

488

508

528

548

578

Top Tube (effective)

535

545

560

580

605

Chain Stay (actual)

425

425

425

425

425

Seat Tube Angle

74

74

73.5

73

73

Bottom Bracket Drop

65

65

65

65

65

Head Tube Length

107

132

147

162

197

Head Tube Angle

70

70

71

72

72

Reach

382

386

390

399

414

Stack

532

556

574

592

625

Fork Length

396

396

396

396

396

Fork Rake

45

45

45

45

45

Front Center

604

616

616

621

645

Wheelbase

1020

1032

1033

1038

1063

Stand over height, at center of top tube,
700 x 38mm or 650b x 2.1″ tire

765

790

803

827

849

Stand over height, at center of top tube,
650b x 48mm tire

755

780

793

817

839

Lengths listed in millimeters, angles in degrees.

Flaanimal 5.0 can be ordered either as a frame and fork module (at the top of this page), or as a complete bike. Soon we will add online purchasing for any of the complete bikes detailed below. In the meantime, we recommend pre-ordering a frameset to stake your claim and we will follow up with you directly to work through the details of your Flaanimal's build. Feel free to send in a build form in addition to your pre-order to get the ball rolling: BUILD FORM
Every complete bike is built to order in-house and, because we can source from a wide range of components, we are proud to offer a huge range of pre-configured and fully custom builds. One of the build configurations listed below might suit your needs exactly. Or, it could be the starting point for further customization if you have specific components you'd like to see on your Flaanimal.
The GRX-600 2x listed below is different in that, at this price listed online, it is a special value build we created for maximum performance at lowest cost. This exact GRX-600 2x build cannot be customized beyond a choice of basic component dimensions and wheel size.
Click any of the sections below to collapse / expand for easy spec comparison.
COVID-19 notice: we are continuing to see disruption to availability of specific components within the U.S. As a result, the exact specs and price may vary from what are listed below, but we will always get your approval on any necessary substitutions prior to beginning your build. 
SRAM Apex1 1x12 / Ratio Alloy
Campagnolo Ekar 1x13
SRAM Rival AXS XPLR 1x12
SRAM Rival AXS Mullet 1x12
SRAM Force AXS XPLR 1x12
SRAM Force AXS Mullet 1x12
SRAM Force AXS 2x12
SRAM Apex1 1x12 / Ratio Alloy
Our Flaanimal 5.0 SRAM Apex1 build is one of the most popular builds that we do. The Apex1 groupset is proven reliable over a wide range of conditions. We've added the Ratio 12 speed kit to this offering this year to increase the versatility and gear range. What was once only available with AXS builds can now be had with Apex1. The Ritchey cockpit and alloy wheelset are designed around gravel and adventure riding and the Praxis Alba crankset shaves weight off the standard Rival offerings.
$4150 complete bike with Naked or Naked + Decals color options. Cerakote colorways additional. 
COCKPIT
 
Handlebar
Ritchey Baquiano comp
Stem
Ritchey 4-Axis / 6deg
Headset
Rodeo Quite-Nice Headset
Headset comp. plug
Included
Headset spacers
Carbon
Seatpost
Ritchey 2-Bolt Alloy / 27.2mm
Dropper lever
None
Seatpost clamp
Rodeo 6066
Saddle
Rodeo / WTB Volt
Bar Tape
Black EVA
 
 
DRIVETRAIN
 
Shift / Lever – Front
SRAM Apex 1 HRD
Shift / Lever – Rear
SRAM Apex 22 HRD
Shifter only – Front
None
Shifter only – Rear
Ratio 1×12 Wide / fwd exit
Front Derailleur
None
FD band clamp
None
Rear Derailleur
SRAM GX Eagle 12s / 52t
Crankset
Praxis Alba X / 172.5mm
Chainring
Praxis DM 1x
Powermeter
None
Bottom Bracket
Praxis T47 / 85.5mm / internal / M30
Chain
SRAM GX Eagle 12s silver
Brake Caliper – Front
SRAM Rival HRD / flat mount
Brake Caliper – Rear
SRAM Rival HRD / flat mount
Brake adapter – Front
Included
Brake adapter – Rear
Included
Brake Line – Front
SRAM hydro / incl.
Brake Line – Rear
SRAM hydro / incl.
Shift housing / cables
Black
Axle – Front
Rodeo Thru Axle / 12 x 100mm
Axle – Rear
Rodeo Thru Axle / 12 x 142mm
Axle – Lever
3.0 bottle opener / 6mm hex
 
 
 
 
WHEELSET
 
Rim Front
Alloy Tubeless Compatible / 700c or 650b
Rim Rear
Alloy Tubeless Compatible / 700c or 650b
Hub Front
Included
Hub Rear
Included
Spokes
Included
Nipples
Included
Build
 Pre-Built
Valve
Tubeless, black
Rim Tape
WTB
Tire Sealant
Orange Seal
Tire front
Panaracer GravelKing SK / 700 x 38 / brown
Tire rear
Panaracer GravelKing SK / 700 x 38 / brown
Rotor front
SRAM Centerline centerlock/ 160mm
Rotor rear
SRAM Centerline centerlock/ 160mm
Cassette
12 speed 10-50 or 10-52
* We reserve the right to make parts substitutions at equal or better quality in order to prevent substantial delays for any given customer.
Campagnolo Ekar 1x13
SRAM Rival AXS XPLR 1x12
SRAM Rival AXS Mullet 1x12
SRAM Force AXS XPLR 1x12
SRAM Force AXS Mullet 1x12
SRAM Force AXS 2x12
Flaanimal 5.0 frame bag templates:
If you are working with a custom bag designer to create perfectly fitted bags for your Flaanimal 5.0's main triangle, please send the designer one of the frame size specific PDF templates linked here. PDFs are to scale in millimeters so measurements can be taken from the file or a printout of the file.