A lot has happened at Rodeo Labs since my first review of the Trail Donkey 2.0, but most notably for me is that I now have a Donkey of my own (and only have to borrow one from Stephen when I visit him in Denver). This week my Donkey crossed it's 1,000 mile milestone so figured I'd give an update on how things have been going.  The TL;DR version is I couldn't be happier.
I had been following the Donkey through it's initial iterations and made up my mind pretty early that I wanted to get one.  Riding the loaner herd in Denver only solidified my decision, and I made sure to get in on the first order.  My build choice was somewhat conservative due to cost constraints, but I made sure it was solid enough to ensure I'd be happy with the performance and durability.  I decided to center around a Force Hydro group for compatibility's sake as I've been running Sram Force for the last few years .  I've also been running single chainring on my MTB and cyclocross bikes for a while and convinced myself that a 1×11 was the right set-up for the Donkey–a decision which I've been totally thrilled with.  Paired with a 11-44 XT cassette, the 44T Wolftooth ring has been the right fit for our undulating Northern Virginia roads.  (However, I might end up adding a few teeth to the front when the faster group rides start up in the springtime).  A Zipp cockpit and Rodeo 1.0 wheels make for a bike that turns heads and starts conversations.  Especially when I run the dropper post.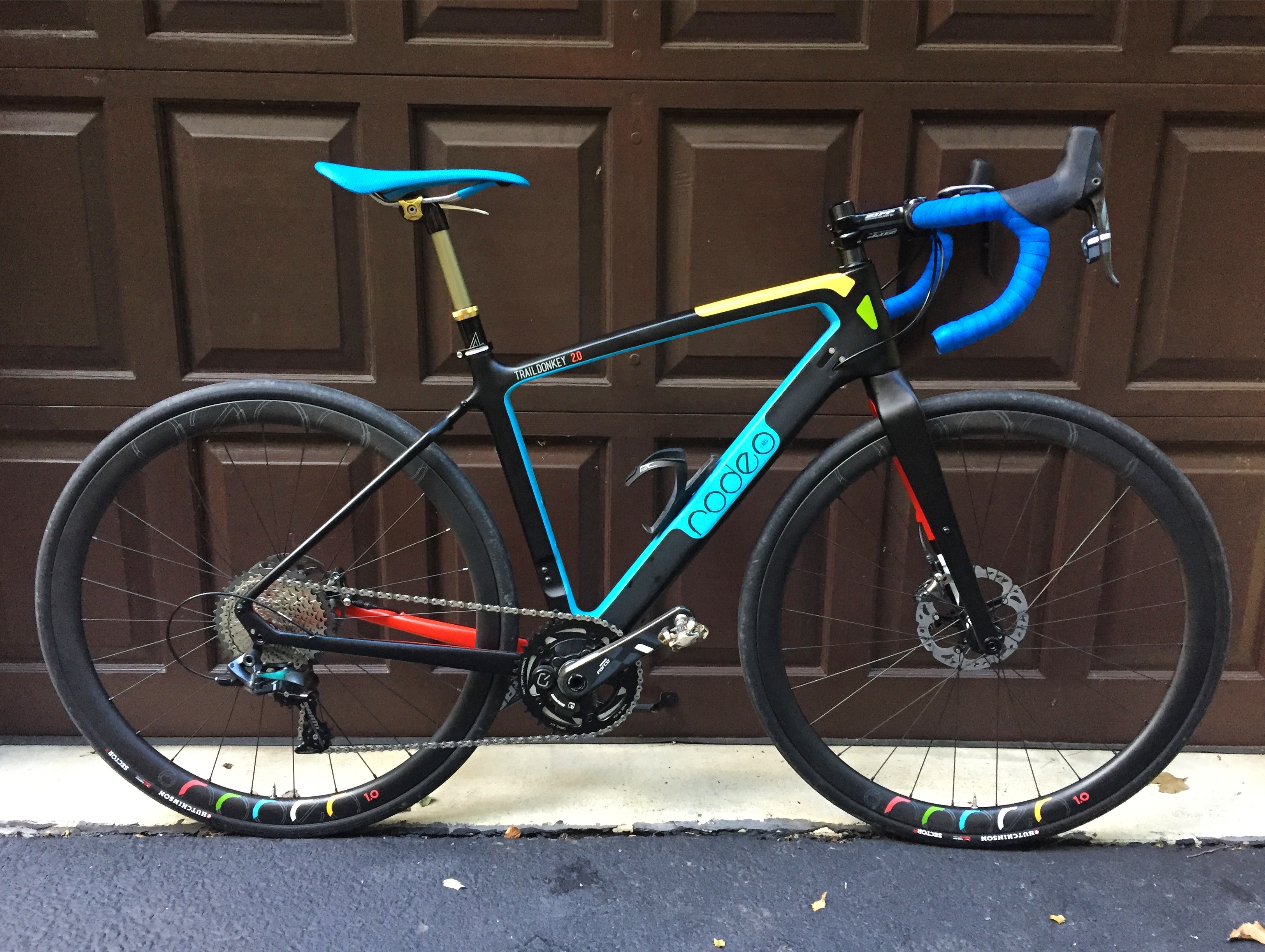 In all honesty, I'm not usually a fan of the one-bike-to-rule-them all philosophy.  In my experience I've found there is often value in having the right bike for the terrain–which is why my garage is currently packed with a 26″ hard-tail and single-speed, an all-mountain 27.5+ shred sled, and a 29er short-travel full suspension race machine.  Yes, I'm a mountain bike rider at heart, but I also realize if I want to have a family and hold a decent job in the D.C. area I've got to spend a significant portion of my time on the road.  Which means I also have a "traditional" road bike, a cyclocross bike, and skinny knobbies for the MTB for varying degrees of on-road conditions.  The Donkey, however, has proven to be a steed capable of crossing the traditional "boundaries" of bicycle genres.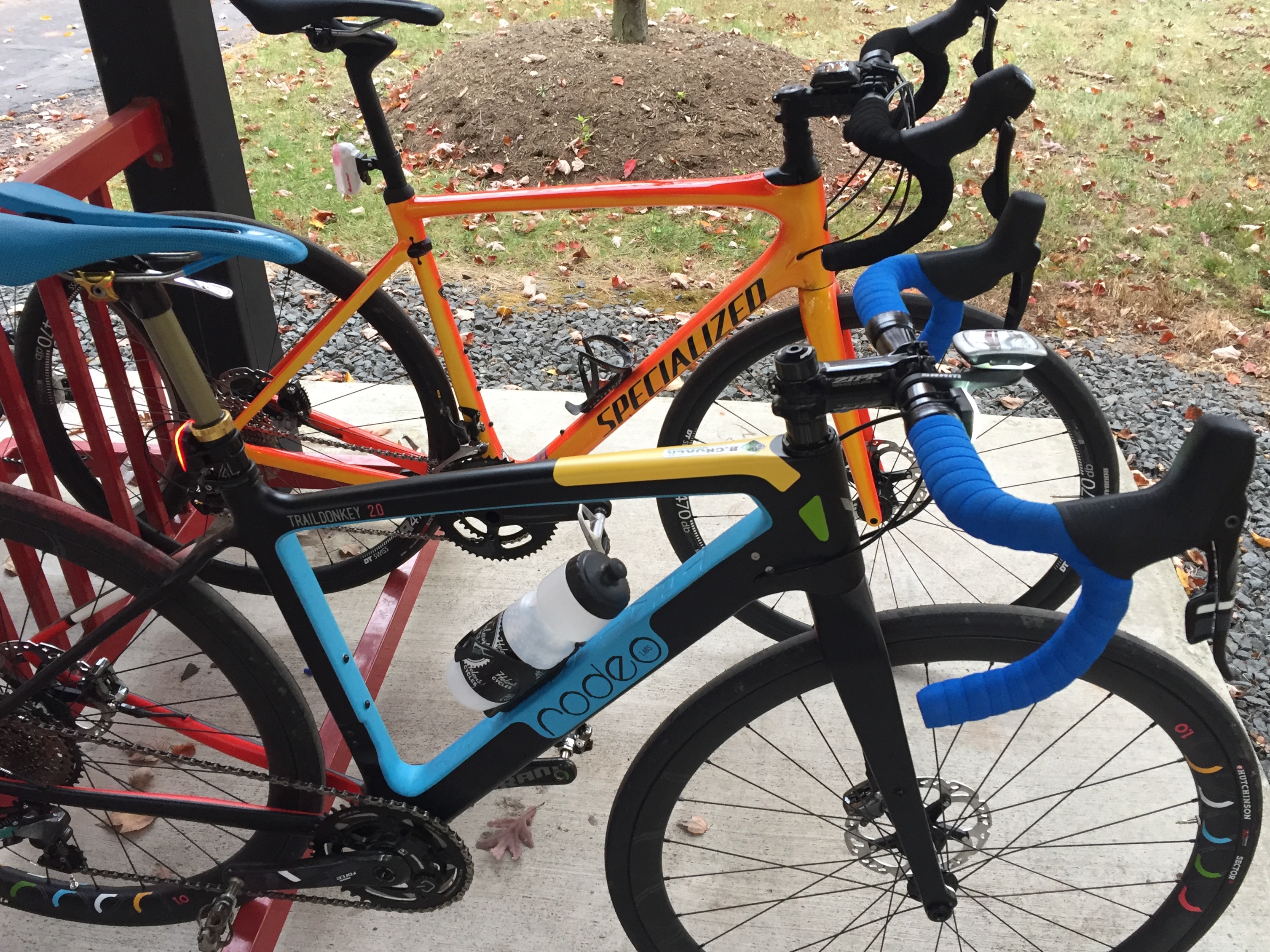 For the last few months the Donkey has been my daily driver.  I have a 38-mile round trip to work, which I usually try to commute by bike several times a week.  With slick tires the Donkey is a more than capable bike on the road.  The carbon frame is extremely comfortable yet stiff enough that it goes where you want it to go.  Size-wise the 54 cm geometry fit my 5′ 10″ stature perfectly, and the slopped top tube provided just enough clearance for a dropper post when I put it in adventure mode.  With the taller front end I chose to run a stem ~1.5 cm shorter than I had on my road bike, which seemed to be a good fit for comfort and performance.
Outside of commuting, I also opened the Donkey up a few times a month on the local group ride and it had no problem keeping up with it's road-specific company.  I've been running disk brakes off-road for more than a decade, but this has been my first experience with disks on the road and quite frankly I'd love to never go back.  The all-weather power and modulation, especially with carbon rims, is simply unmatched.
While I passed on racing the Donkey during cyclocross season due to other commitments, I *might* consider putting it into race mode next year for a few events.  But we'll see how things go.
At first I eased the Donkey off-road, and replaced the Sectors with a set of WTB Nanos–quite possibly the greatest all-around knobby tires in my opinion.  At 40c there was still plenty of clearance left at the fork and stays, and the Donkey rode like a thoroughbred in the dirt.  After several weeks of gravel riding, I decided the Nanos were more than I needed for most of our Northern Virginia roads–which tend to be more like hard-pack dirt than chip-seal–and I went back to the Sector 28's.  It also meant I went back to the Rodeo 1.0 wheels since I mounted the Nanos on a pair set of Stan's rims.  An added bonus of the narrower tires was I could now also run my PDW fenders–a game changer for wet winter weather.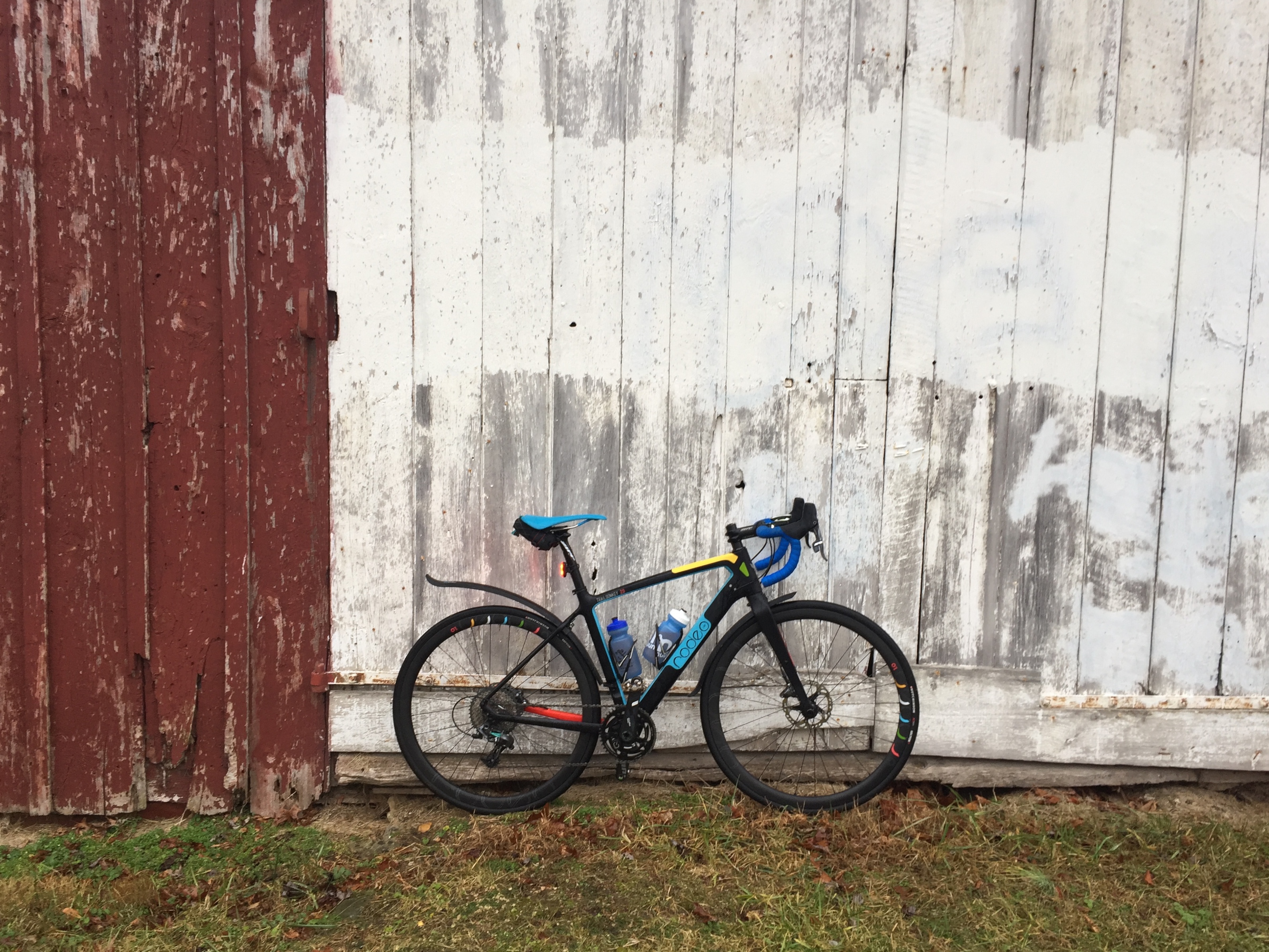 Last night's group ride was really the first time I had the Donkey out at speed on the dirt with the Sectors, and it was pure bliss all around.  On the dirt the Donkey really shines.  It's super comfortable at speed, and compliant enough that you don't get rattled on the washboards.  My choice of gearing has been solid as well, especially for the steep dirt climbs in and around Prince William County.  The 1:1 lowest ratio is far below that what my road and cross bikes had, and I have rarely spun out the top-end 44-11.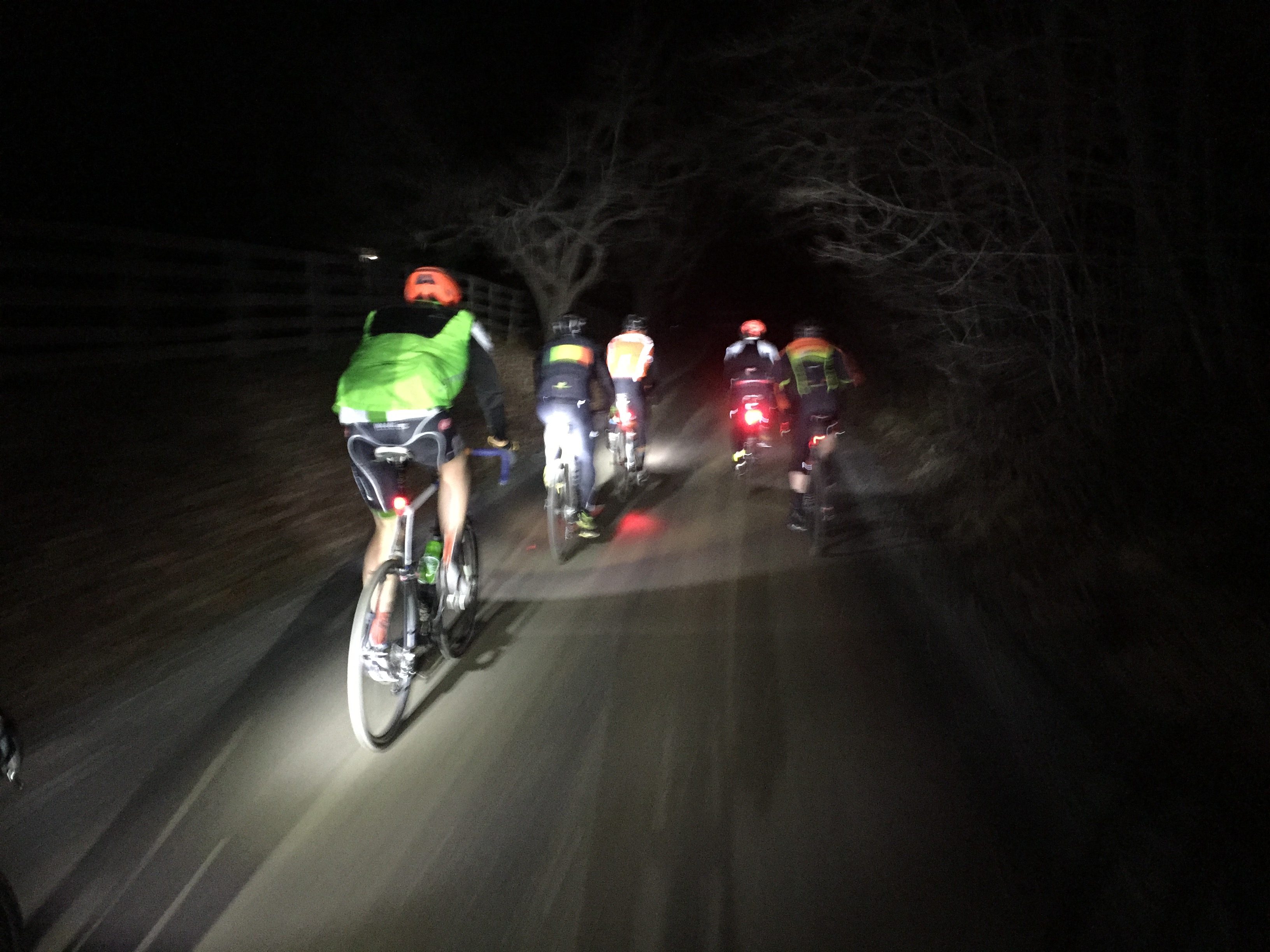 Overall I'm super happy with this bike.  I sold my "traditional" road bike, and my cyclocross bike has been in single-speed mode (and hanging in the garage) since I raced it last in October.  I set up the Stan's wheels with the Nanos because I thought I'd want to swap back and forth, but at this point I think I'll stay on the Sectors for the rest of the winter at least.  And without a doubt, wherever I ride it, the Donkey is a conversation starter.  "Cool bike."  "Nice looking bike."  "Rodeo?  Who makes those?"  I always smile when I tell them I know the guy who designed it.
Stephen tells me he's already made a few tweaks to the design based on feedback from the first batch of frames, but I've been hard pressed to find things I'd like to change.  The Donkey is fast and smooth on the road, yet rugged enough to handle just about anything you could throw at it.  Sometimes I have dreams of putting on a suspension fork and flat bar, just to see how it rides as an ultra-light 29er hardtail, but then I come to my senses and realize some 1.9 knobbies could be just as fun.
One-bike-to-rule-them-all?  While it's certainly never going to replace my 27.5+ bike on the rocks, for drop-bar activities it's about as close as you can get to a jack-of-all trades.  Best part is, it's also a master of some.  And a ton of fun to ride.  My only major regret at this point is it doesn't fit into my Ritchey Breakaway suitcase and I have to ride a "normal" road bike when I travel.  But then again, maybe I could put S&S Couplers on a Flaanaimal…
Here's to the next 1,000 miles!