[Ed. Note: Barry is a former Denverite who now is part of our east-coast Rodeo contingent.  This was an unsolicited review for which he received no compensation.  Actually, I still own him for the Burrito he bought me on our last ride.]
Like many of you, I've been watching the Trail Donkey evolve over the last year and have been eagerly awaiting the chance to actually ride one in person.  So when Twinkie offered me the chance to ride a near-production Trail Donkey on my last trip to Denver, I couldn't pass up the opportunity.  I expected it to be a fun bike, which it certainly was, but in many ways it exceeded my expectations.
I arrived in town early on a Tuesday and immediately drove over to Rodeo World Headquarters.  After a short tour and a visit with Rodeo Wife & Rodeo Kids, Twinkie unveiled the goods: a 54 cm Donkey 2.0, built with a simple-yet-reliable 10-speed Force Hydro kit and a smattering of colorful yet functional parts.  As a bonus I'd be the first one to try the Donkey with an alternate wheel configuration: a set of SRAM/WTB 650b wheels shod with WTB's newest Horizon 47c slicks.  Not quite your average build, but then again the Donkey is not your average bike!
Day 1: Highline Canal
For the first ride Twinkie, Sir Charles, and I headed out for a short spin around town in search of a light mixed-surface route without any significant climbing.  Highline Canal fit the bill for old-time's stake and a chance to help me get re-acclimated to the thin Denver air.  At first I was worried the super-fat WTB tires would be sluggish on the pavement, but even with less than 50 psi they rolled fine especially when the blacktop turned to dirt.  The 54 cm bike fit my 5′ 10″ build serendipitously well (in fact Twinkie even guessed my saddle height almost perfectly) and the ride was extremely comfortable.  The Donkey's taller head tube was well matched with the 90 cm stem, which happened to be shorter than what I normally ride on my other bikes.  We certainly didn't ride fast, cruising at a gentleman's pace while chatting about bikes, life, and the world in general.  The Donkey fit well and worked on command.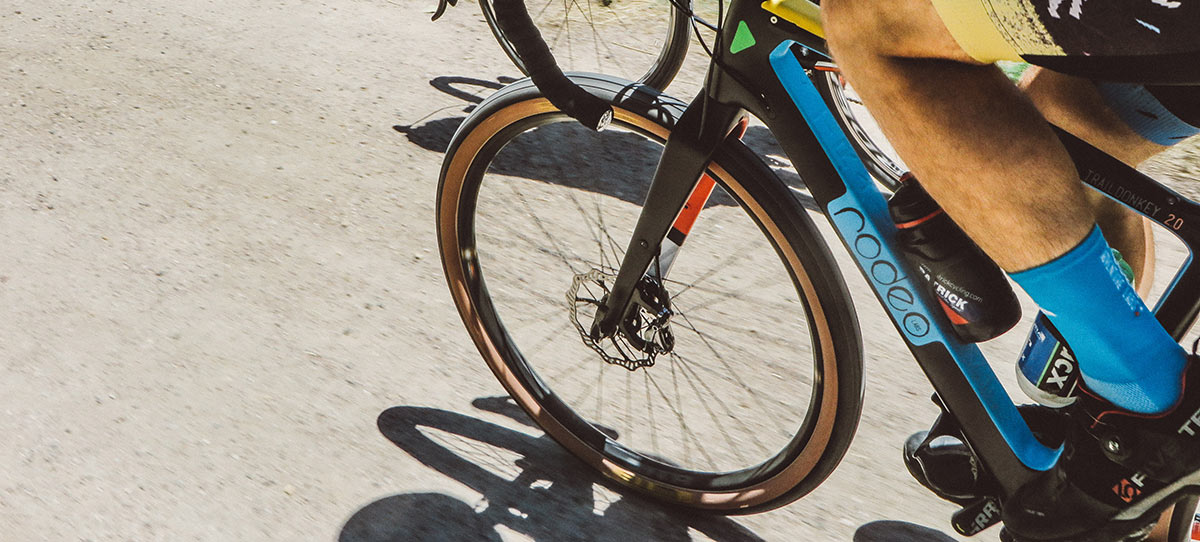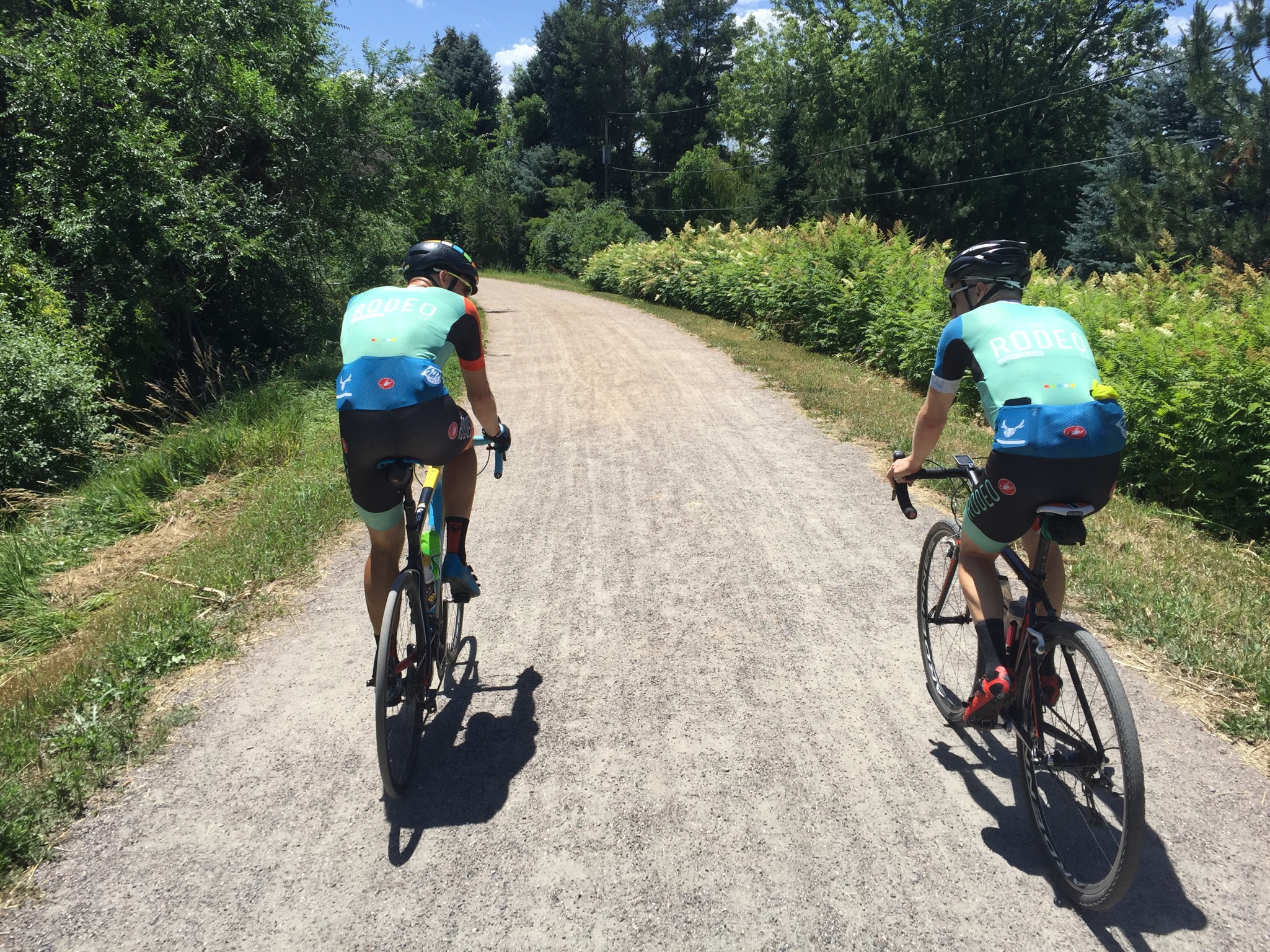 Day 2: Daniel's Park
For the second day I decided to try and push the limits of the Donkey a little more and headed south to the dirt trails of Highlands Ranch.  My buddy Scott escorted me through the maze of south Denver suburbia, the WTB tires still rolling along just fine despite their bulky appearance.  After entering Daniel's Park I turned off the main road onto the wide open space paths.  The Donkey rode well on the packed dirt and was still quite manageable through the soft sections that were recently grated.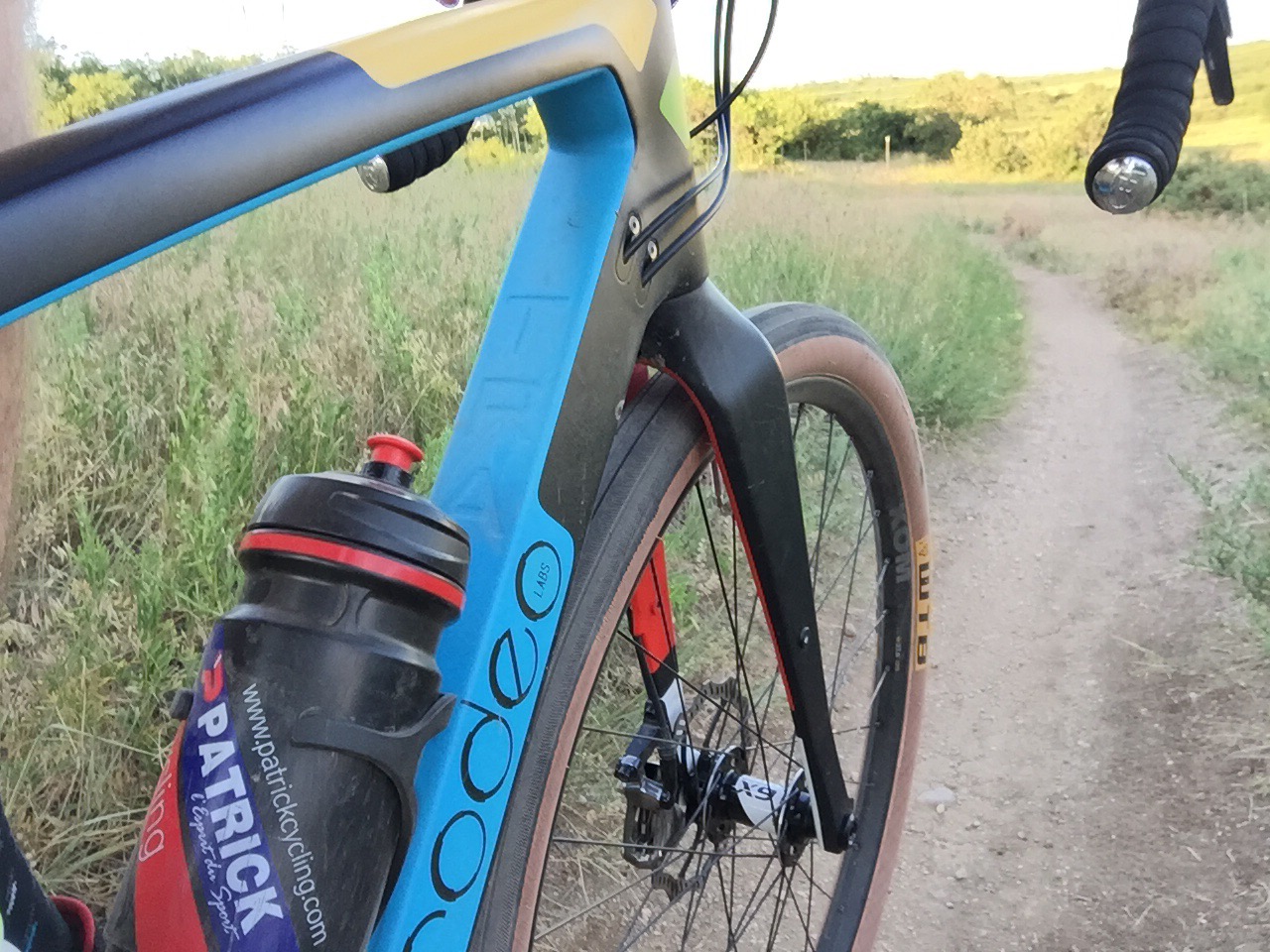 I thought I was having fun until we reached the residents-only section where the trail narrowed to a thin dirt singletrack strip through the grassy foothills.  Then I was in heaven!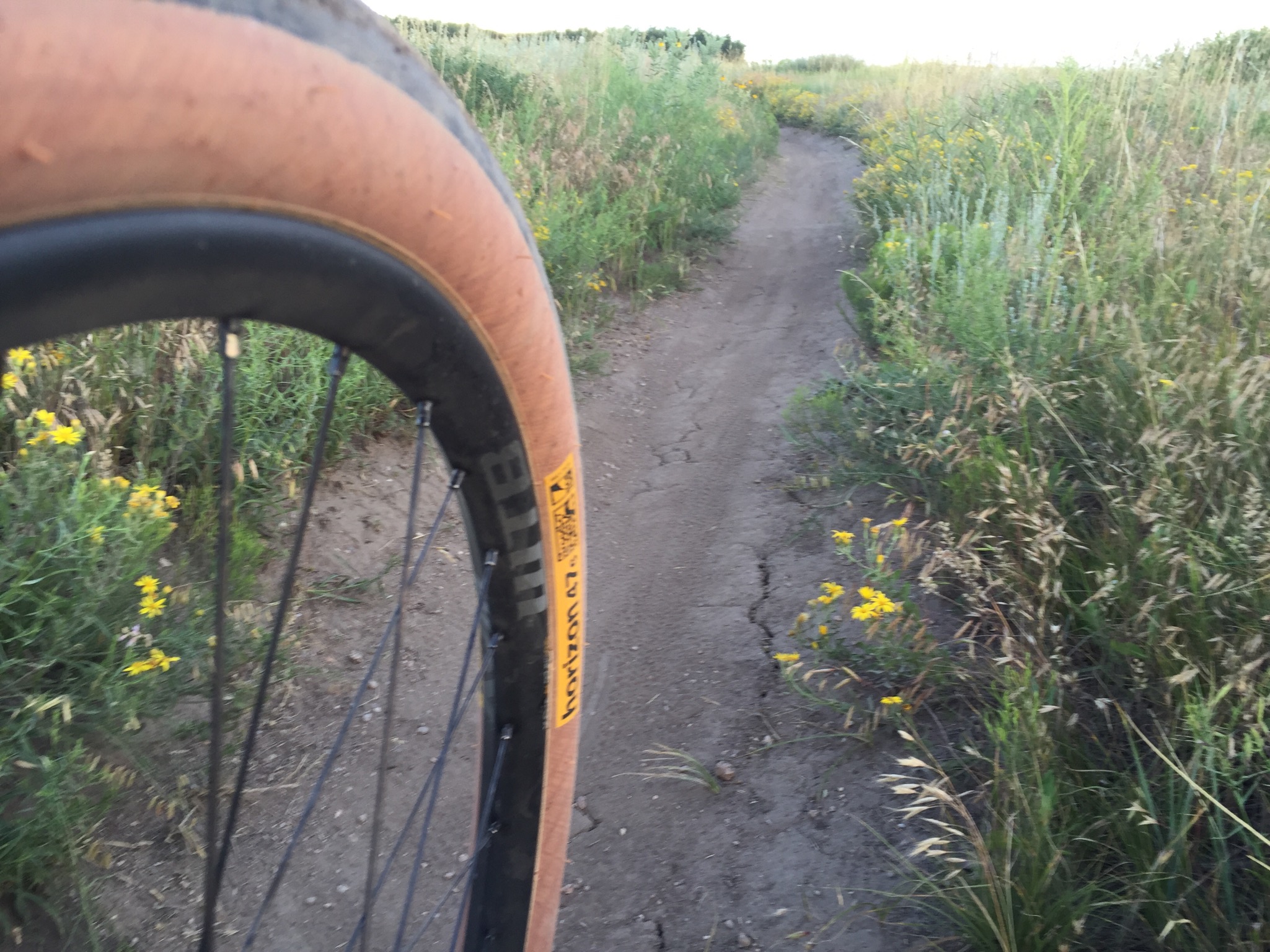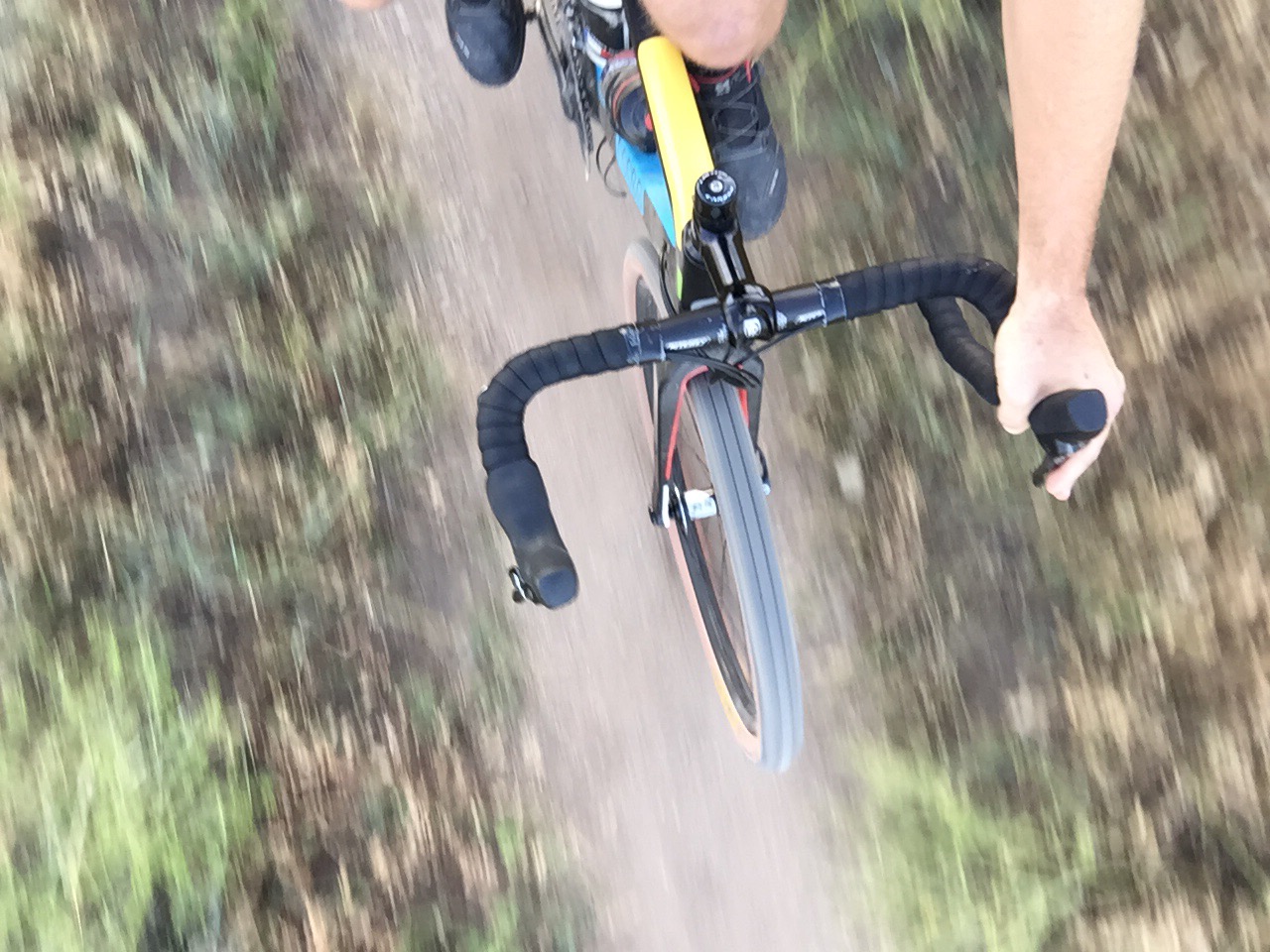 Even with drop bars and rigid fork the Donkey felt right at home on the fast Colorado kitty-litter trails.  The trails were narrow and unfamiliar so I didn't push the pace, but could have had a great time ripping along with a set of slightly-more aggressive tires.  Regardless, the slick WTBs were mostly manageable once I understood their break point in the loose dirt.  This was also my first real experience with disk brakes on drop-bars, and found the SRAM stoppers to be much more powerful than my old cyclocross cantilevers.  After several laps and a wide-mouth grin I hit the pavement again and spun back to Scotts house to close out the ride.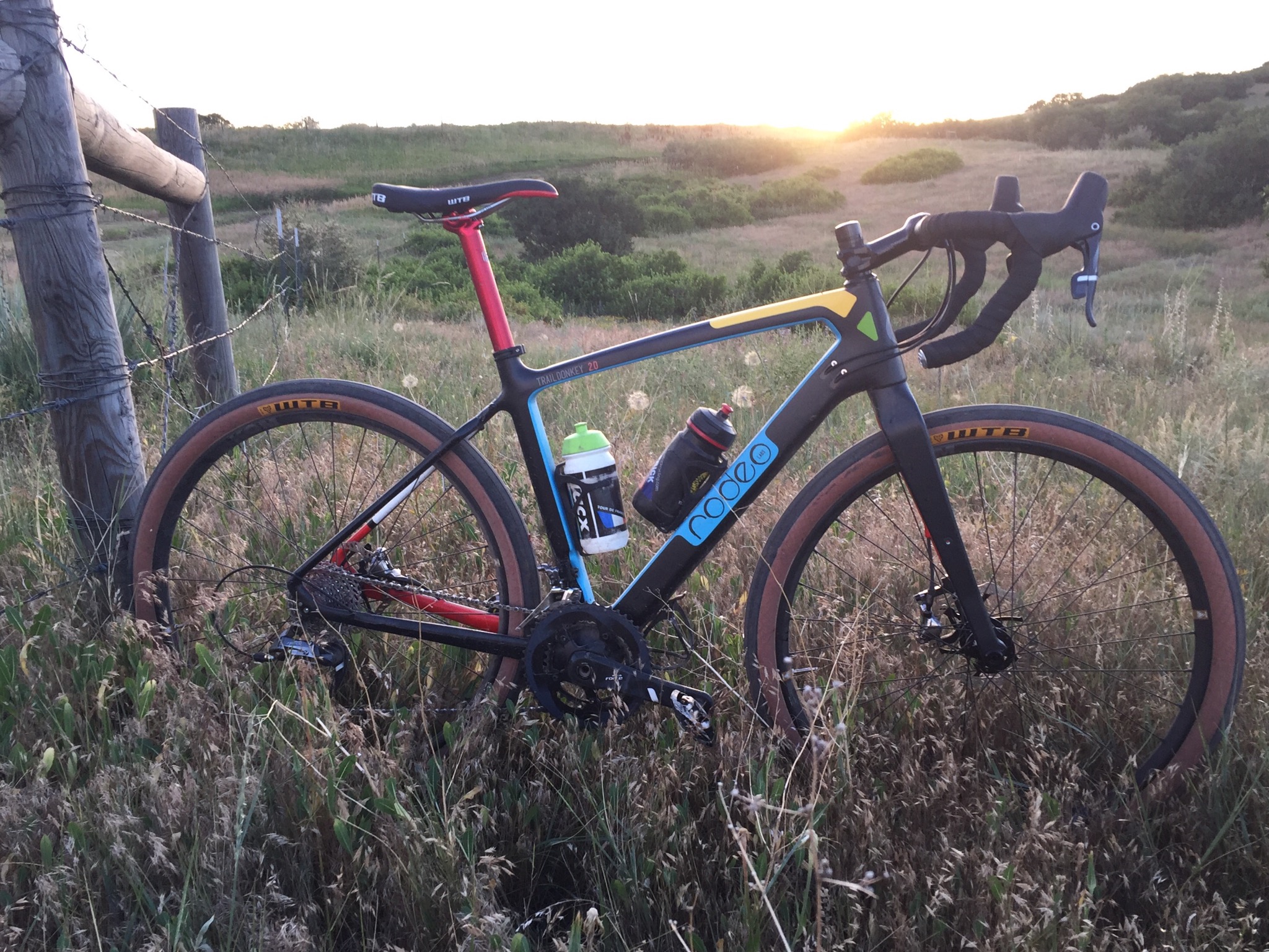 Day 3: North Table Mesa
On my last day I initially thought about trying the Donkey's uphill performance on Lookout Mountain, but instead Twinkie talked me into an alternate route with both climbing and dirt–something that might push the limits of the bike and wheelset.  He recommended I head west to Golden via the standard Lookout Mountain route, but instead of climbing Mt. Doom, turn up the backside of North Table Mountain, across the mesa, then drop back to Denver on the Loop Trail.  "The dirt road on the back side is kinda steep, and the trails rough in spots, but you'll do fine I'm sure" he reassured me.
The climb out of Denver through Wheat Ridge was familiar and passed quickly.  Again I was surprised at how well the fat tires felt even up the rollers to Golden where Strava tells me I made a few segment "PRs".  I felt some of their bulk cranking up the wall on Ford Street, but the bike felt at home again when I reached the dirt of North Table Mesa.  I only wish my legs felt at home cranking up the "kinda steep" 20+ percent grade up the mesa.  It might have been easier with a gear lower than a 34×32 and some knobbies, but you gotta ride what you bring, right? With no chance of standing up on the slick tires I gritted my teeth and churned 40 rpm to the summit.  The view from the top made it (mostly) worth it.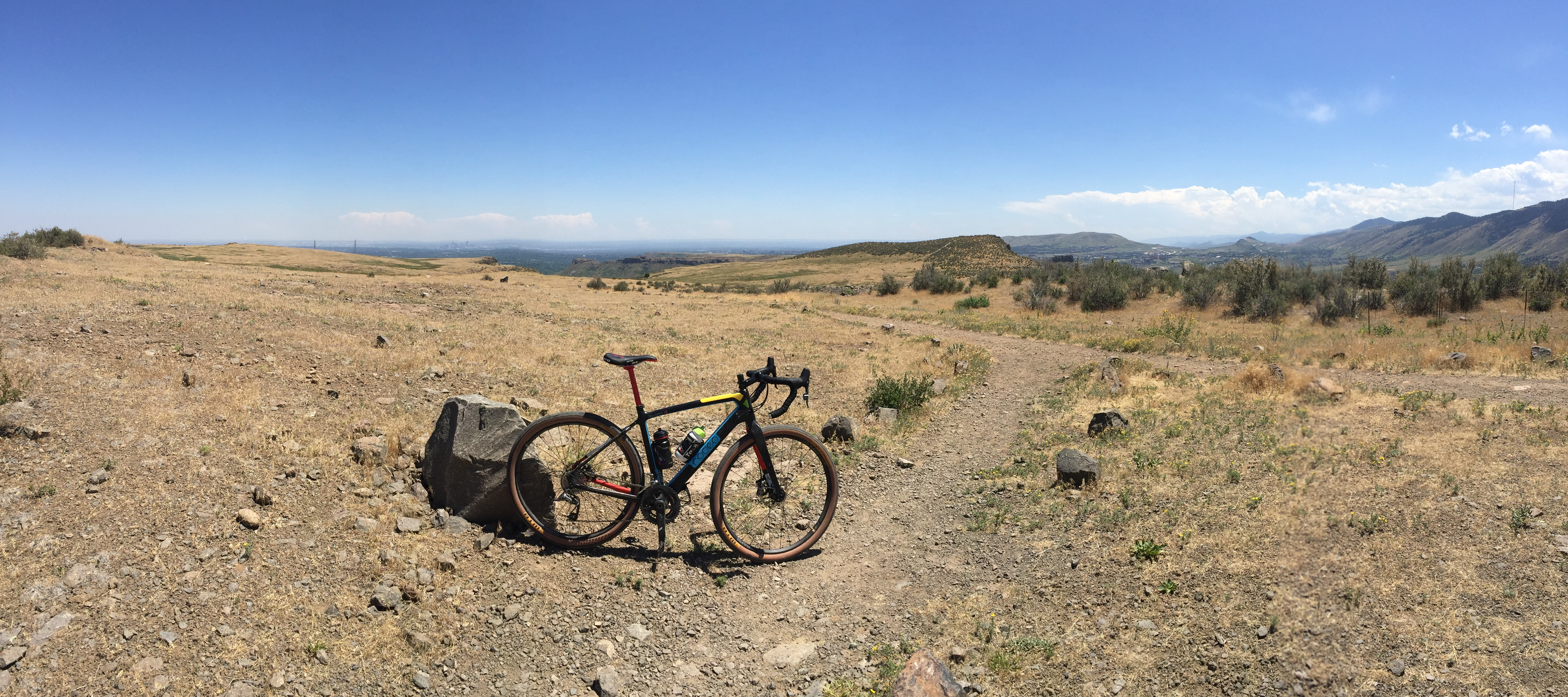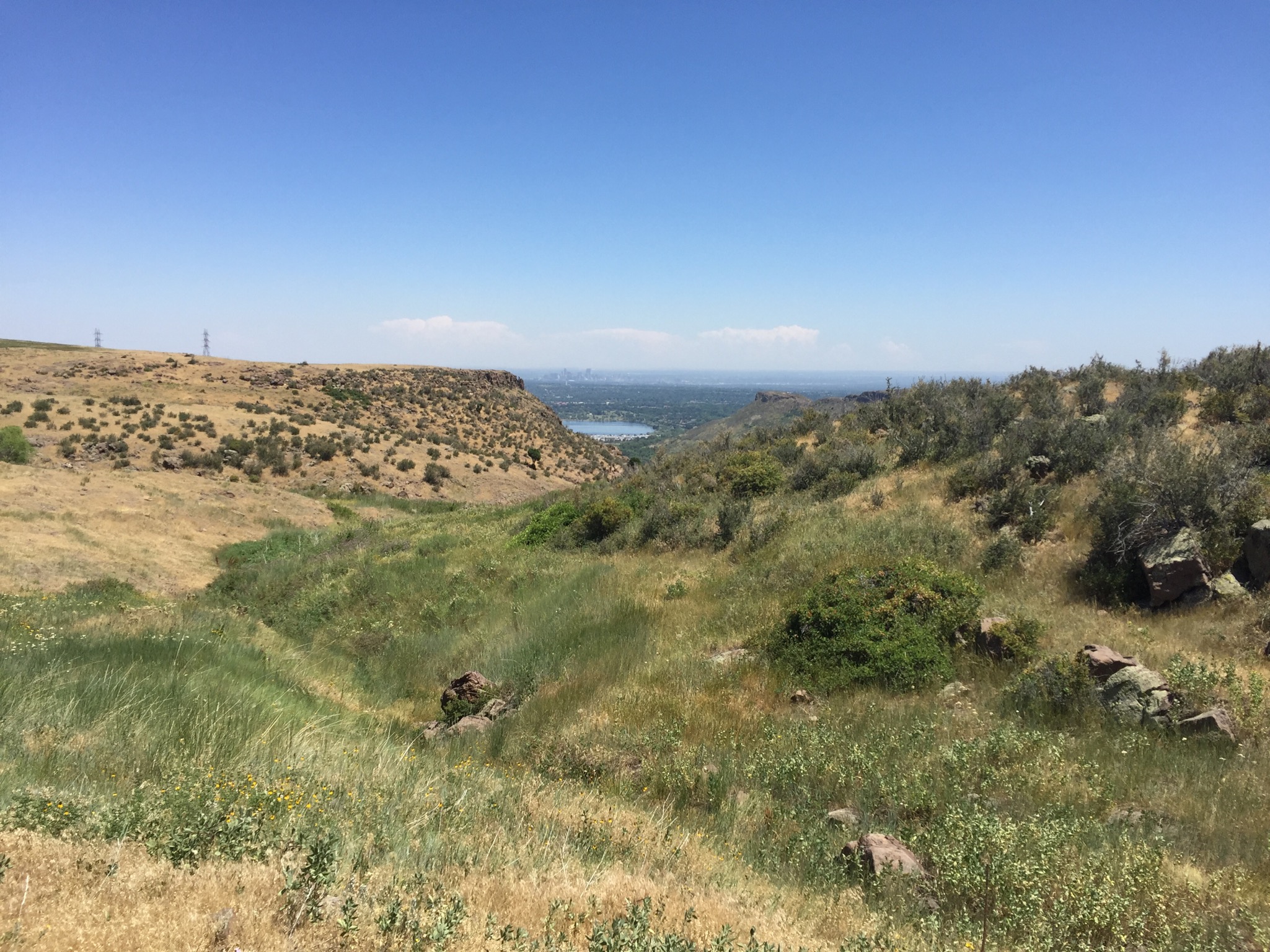 The top of the mesa was wind-swept and barren, and the Donkey again was at home on the hard-as-pavement dirt.  I knew the descent would be rough in spots, but what really worried me was the shale fragments that looked like they could do some harm to an unsuspecting tire.  Of course I neglected to grab tools from Twinkie before I left.  Or a tube for that matter.  And I did have to catch a plane home in two hours.  What could possibly go wrong?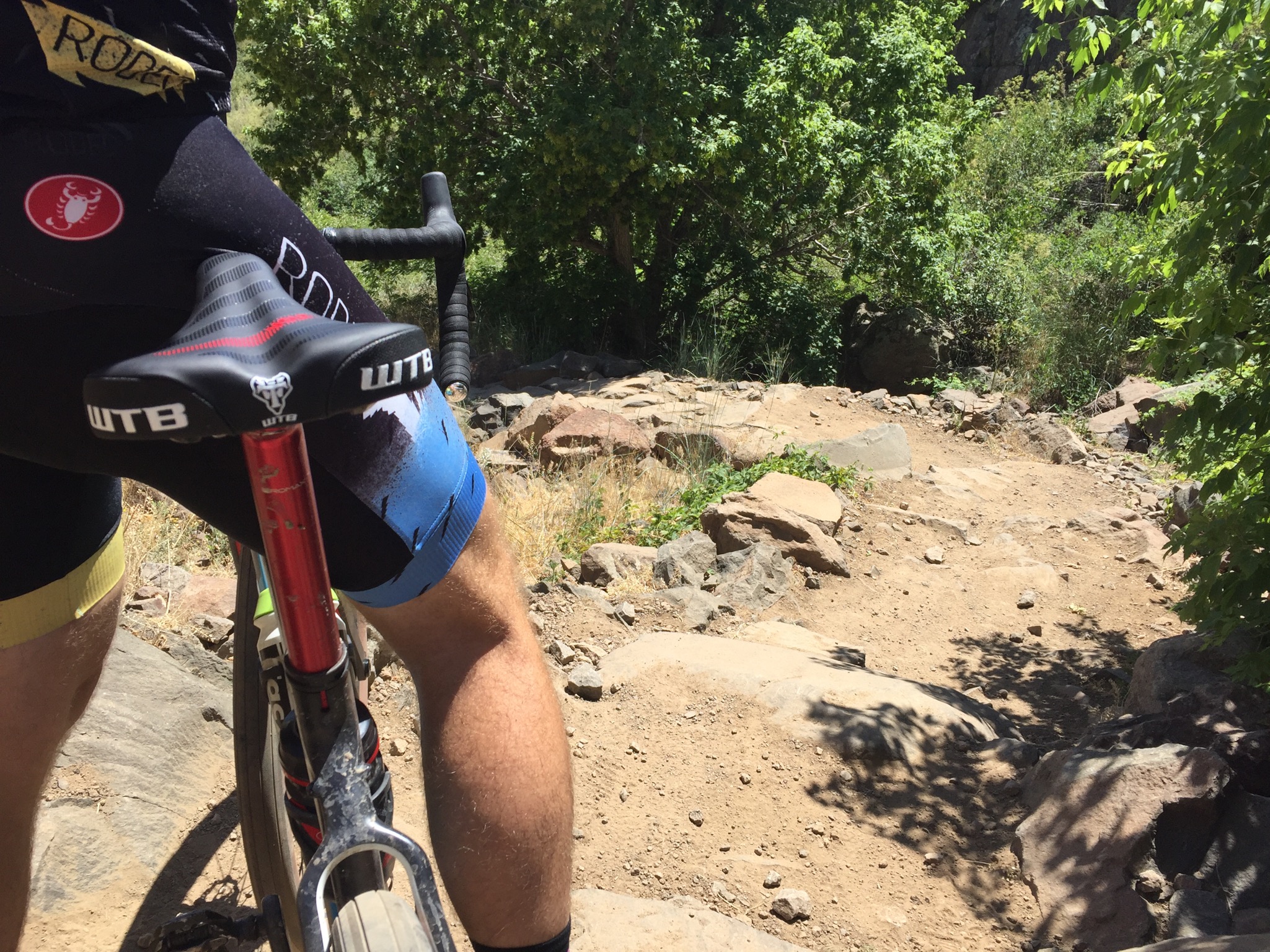 The Donkey didn't disappoint, and I was able to pick my way down the sometimes boney trail back down to the valley floor.  It's called a Trail Donkey for a reason I guess. The carbon frame wasn't too harsh on the descent, and the bike felt fast and balanced on the flats.  While the Rodeo Spork tackled everything I pointed at it, I'd also love to throw a short-travel suspension fork on a Donkey someday and try it as a lightweight hardtail.  Back on the road, I spun back to Denver without incident, reluctantly dropped off the bike with Twinkie, and made it to the airport for flight home with a few minutes to spare.
Afterthoughts
 Overall, I was very impressed with the performance of the Trail Donkey 2.0.  On the surface, the bike just looks cool and turns heads wherever it goes.  But the beauty is certainly more than skin deep.  During my Word Headquarters tour, Twinkie shared with me the painstaking detail that's gone into the development this far–tweaks to carbon layups, changes to cable routing and management, and internal strengthening of critical parts of the frame and fork.  Some other items I particularly liked: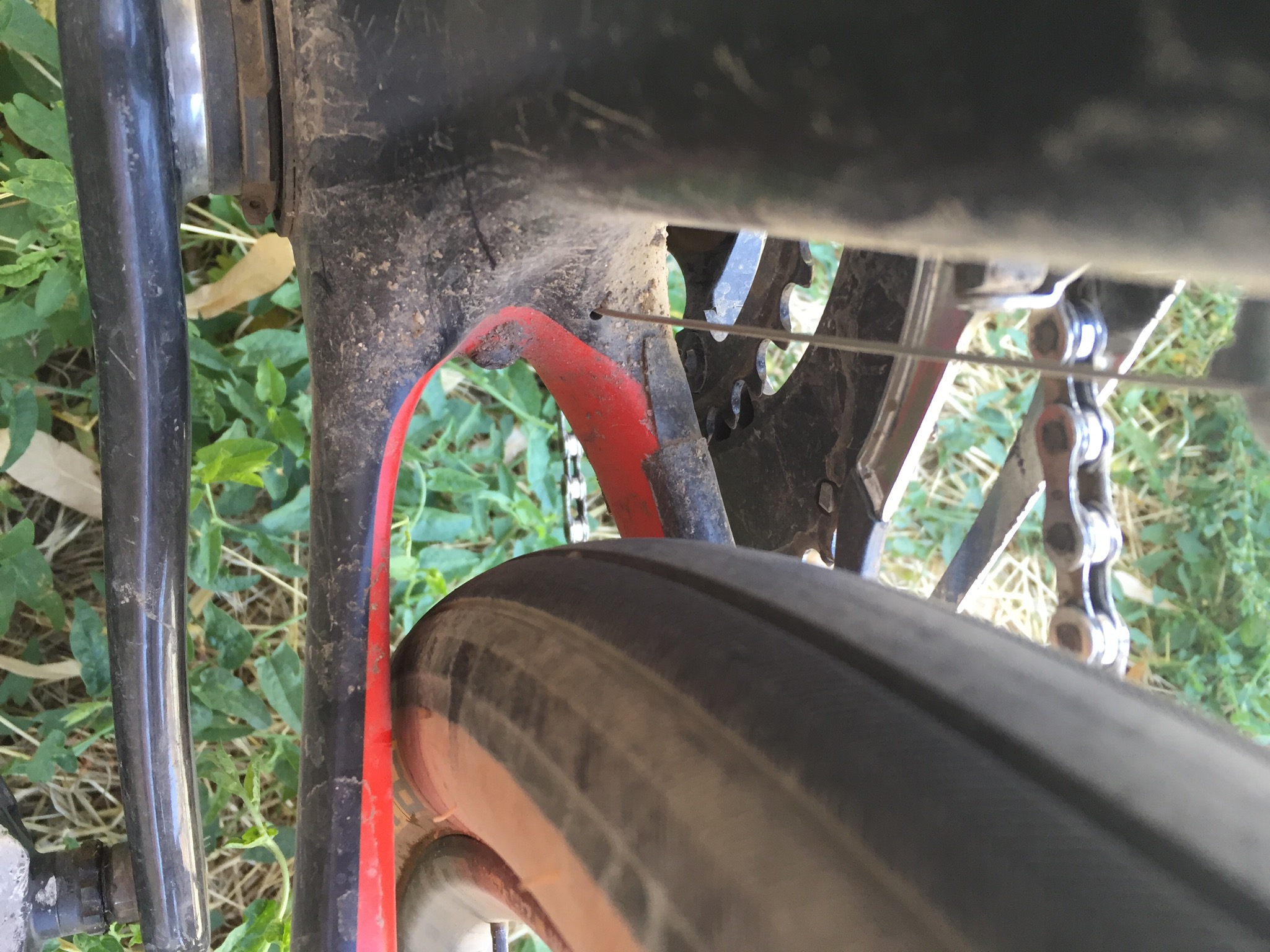 Tons of tire clearance on these stays…even with the super-fat WTB 47c slicks.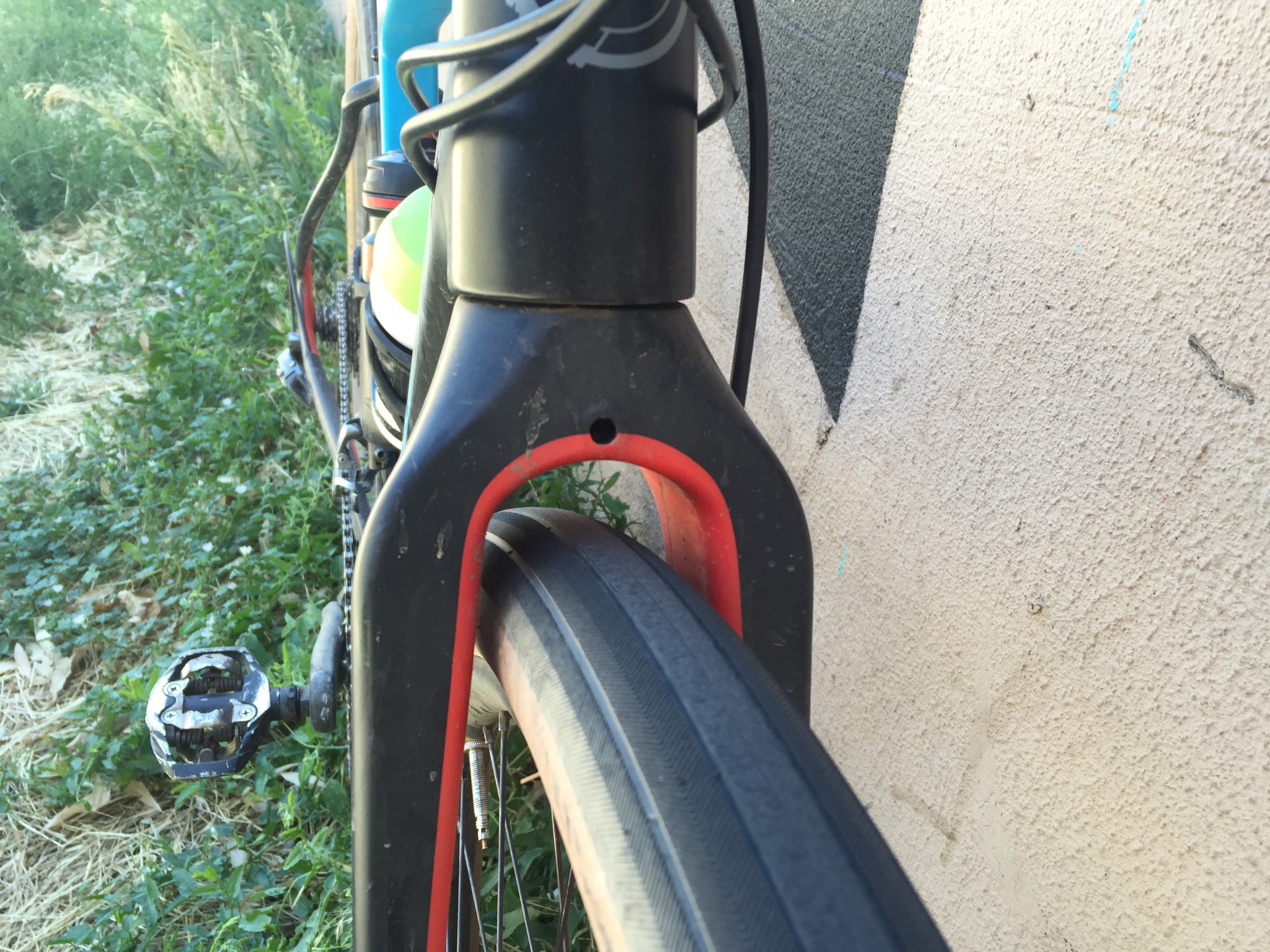 Same on the front end.  I'd bet you could fit a good sized knobby under that crown.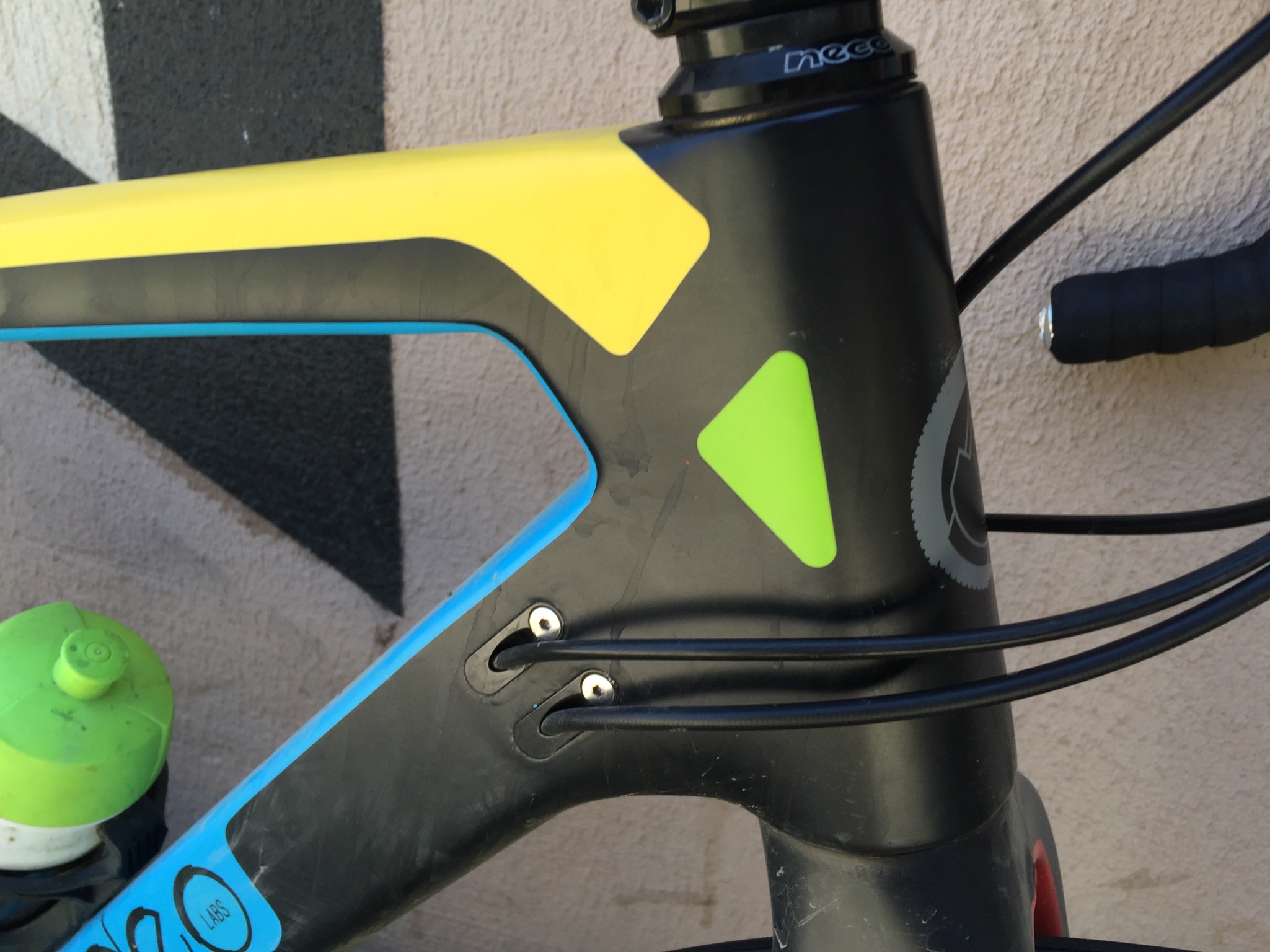 The attention to detail on cable management was top-notch, with tons of options for brakes, front and rear derailleurs, and even dropper posts.  Ports that were not used accepted blanks for a slick look too.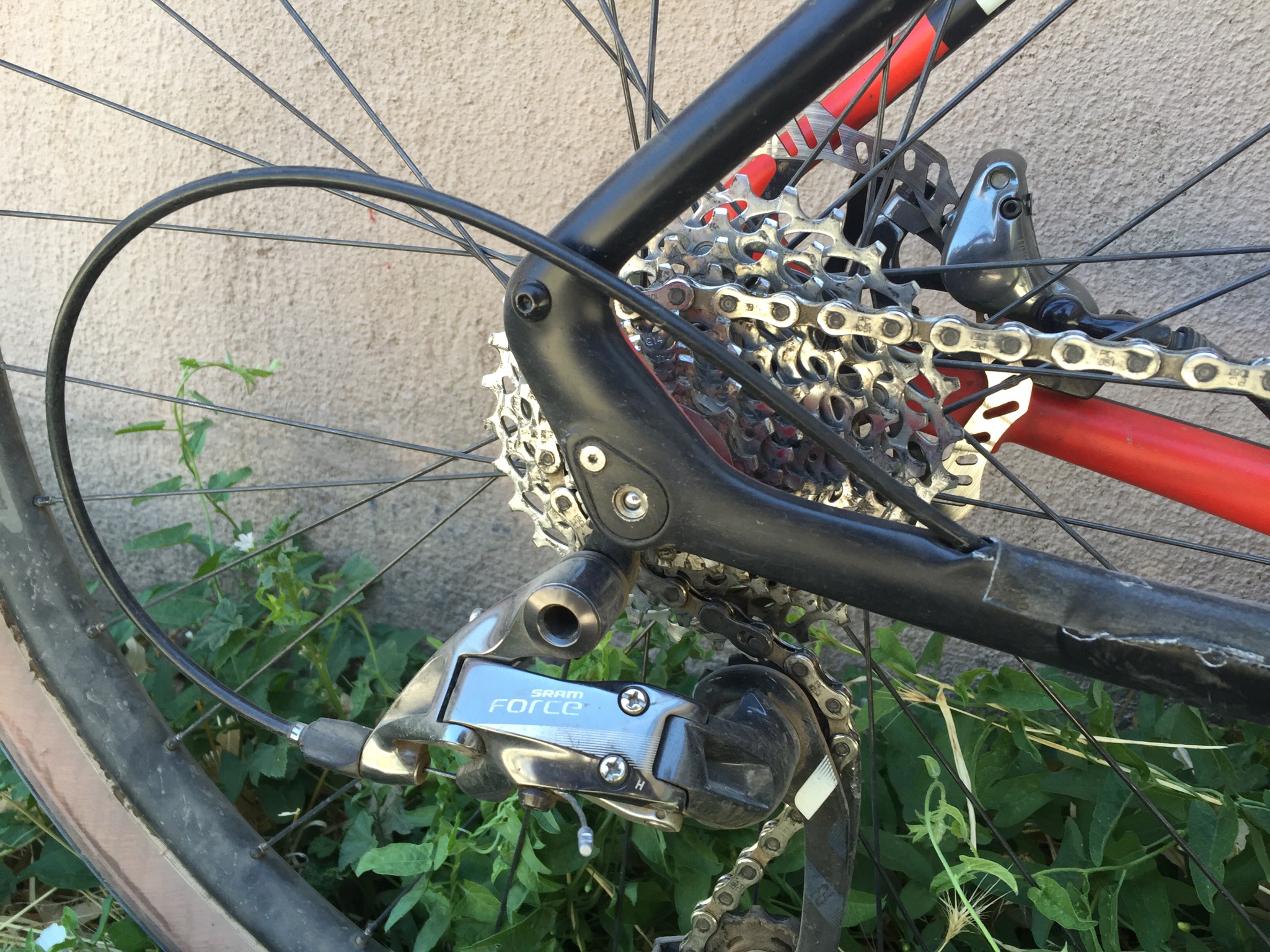 The rear dropout was also an unlikely place for innovation, but Twinkie was able to devise an interchangeable dropout that accepts various axle standards as well as regular quick-release wheels (and even a single-speed version!).  In this case the quick release threads directly into the frame, instead of requiring an external nut.  Slick.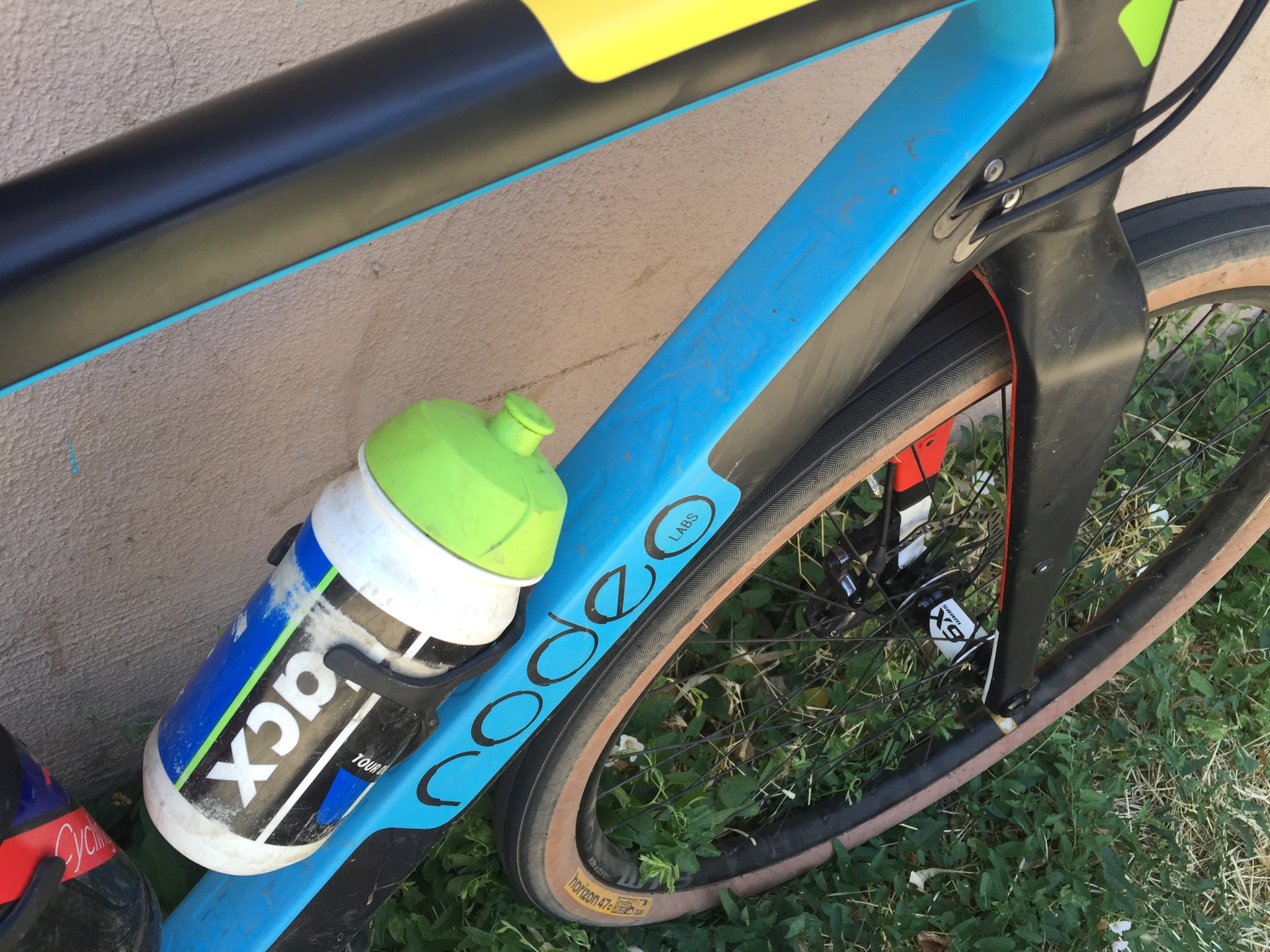 Twinkie's knack for design really showed with the bright colors and component choices, but the detail I really dug was the embossed Trail Donkey logo on the downtube.
The Verdict?
The Trail Donkey is a cool bike.  Period.  It's not the lightest bike I've ever ridden, nor is it the fastest (well, maybe it was on a few Strava segments…), but the words "capable" and "versatile" both come to mind.  Three days of riding across extremely varied terrain proved it's more than happy on either a paved road or a dirt trail–certainly the choice of tire is the most limiting factor for how the bike is used (I hear Twinkie won a local Mountain Bike race on a knobby wheelset and set a bunch of Strava PR's on High-grade with a lightweight set).  It's also extremely well thought out and well engineered to support just about any component set up you could set your heart on.  In short, it's a fun bike you could ride just about anywhere, with the added bonus of being able to say you know the guy who dreamed it up.  I certainly cannot wait until I get to ride one of my very own (and not have to give it back).