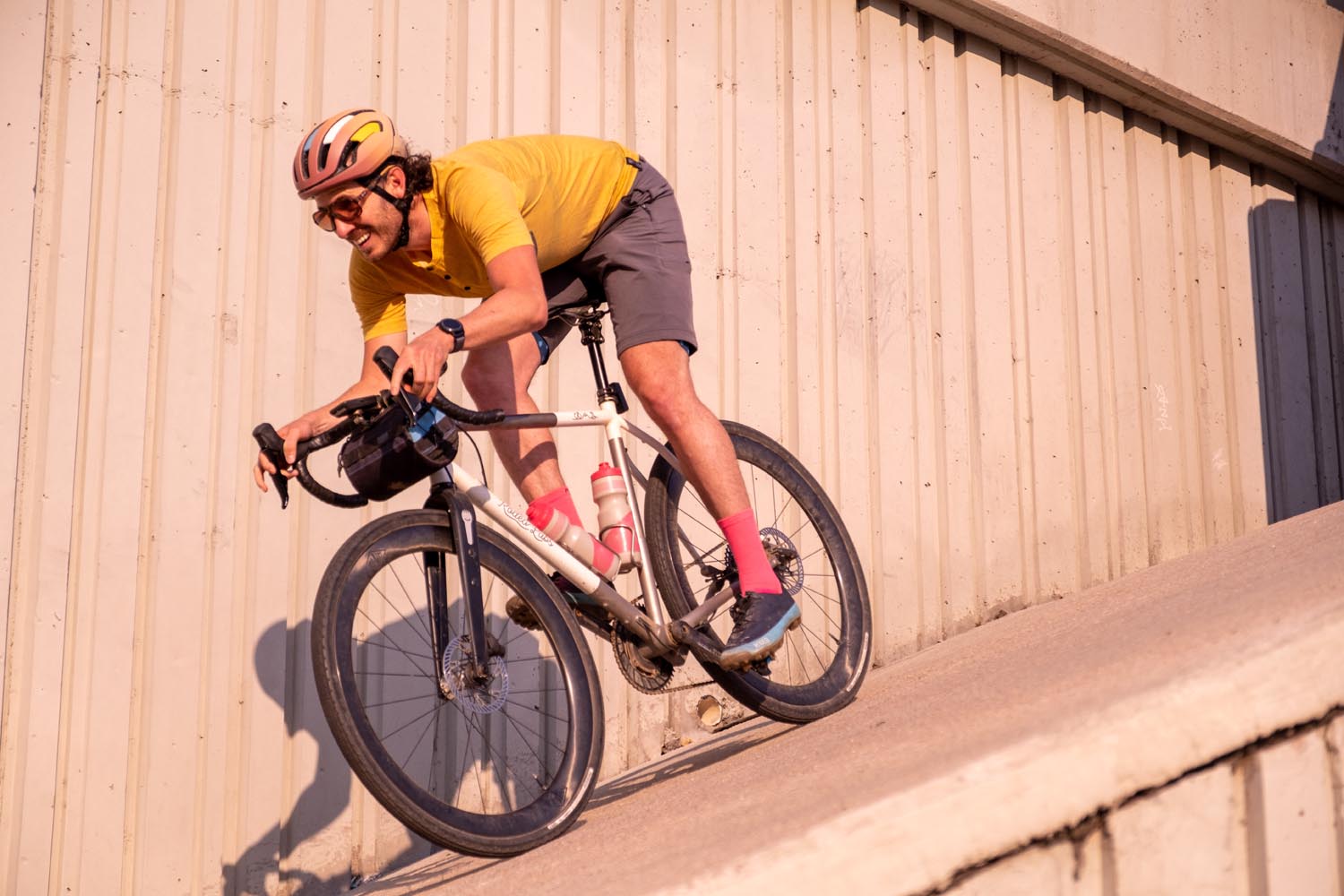 RDO LAB // Fancy Dijon cycling tee
We were quite chuffed with our Fancy Dijon topo jersey design this year, so much so that we decided to keep running with the color itself. The result is a second jersey style that at a glance looks similar, but on closer inspection reveals it self to be a casual cut cycling tee with an entirely different intent and design. This more casual tee / jersey features a low cut collar with three buttons that give a hint at formality without actually being serious. A printed pocket on the left chest holds absolutely nothing but looks cool, and that is what matters. On the right rear a single pocket is suitable for holding lightweight items such as house keys, cash, and other smalls while out riding. This jersey is also made of our lightest weight Merino blend fabric so it has a slightly sheer appearance, but we've worn it extensively on and off the bike and in our opinion it shines in both scenarios. The women's cut jersey will ship with either black or yellow pockets on the back depending on what is in stock, and is cut and fit specifically for gender.
———
All RDO LAB cycling clothing is designed and developed in-house from scratch. Cut, fit, materials, and function are all entirely home brewed. We work directly with a sewer to combine rigorously selected fabrics, chamois, zippers, and other components into a high quality and functional final garment. Our fabrics and chamois are sourced from Europe and our sewing is completed in Asia.
Please pay close attention to our sizing chart when ordering. Our sizing chart applies to both women's and men's cuts. Generally we feel like our sizing guidelines are pretty similar to the large mainstream brands. But the human body comes in an infinite variety of sizes and proportions so please forgive us if our size Medium doesn't match a Medium from a different brand you own. If you order a size that doesn't end up fitting you may mail it back to us and we will swap it for a different size provided that size is in stock. If it is not in stock we can offer you a swap for a different style / color that is in stock. If you require a refund because a fit cannot be found we are happy to issue refunds minus the shipping costs.