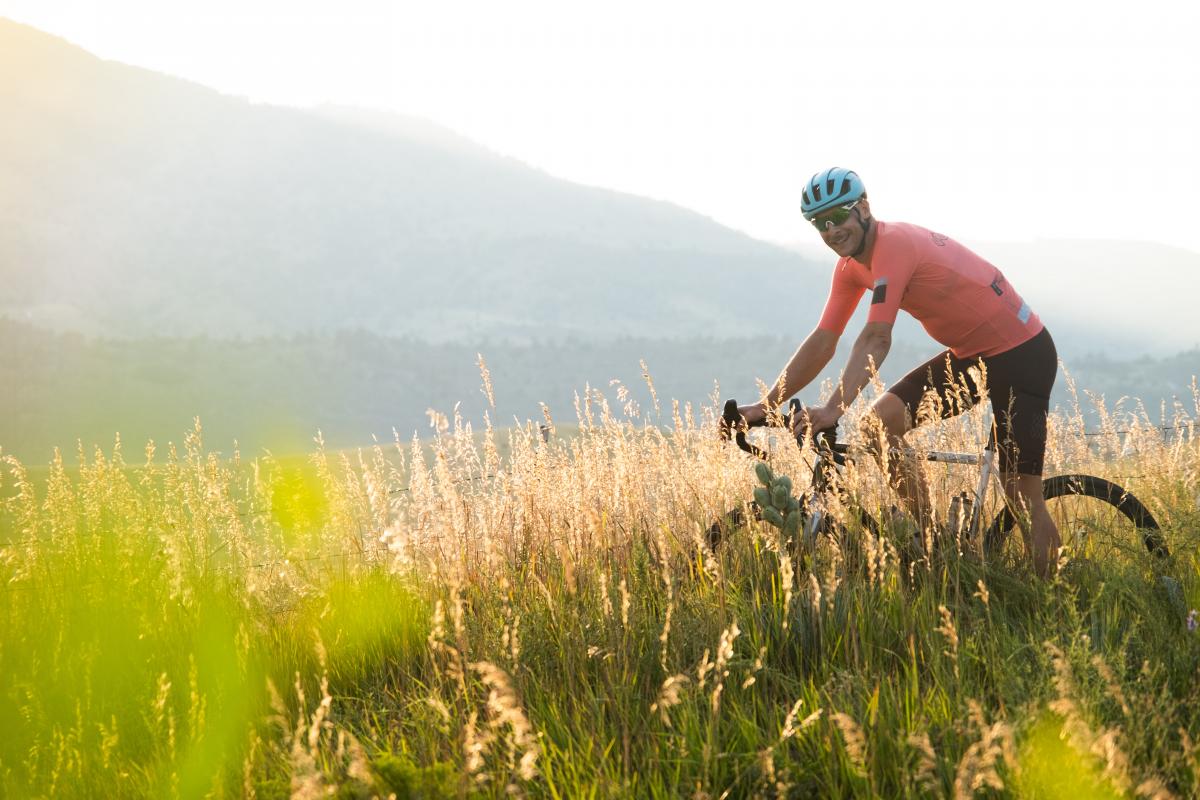 RDO LAB // Explorts 1.1 bibshorts
The 1.0 version Rodeo Explorts bibshorts were incredibly well received when we launched them. Over the last 12 months we've listened to feedback from customers and made notes of what we would like to change for ourselves. For 2021 we've rolled that thinking into a more refined short that we think truly stands out as some of the best shorts we've ridden in, period.
—-
It was inevitable that our curiosity would eventually lead us to tackle the staple of many cyclist's wardrobe: The humble bibshorts. We've always had opinions about what would make a good bibshort great, but in our early years the timing wasn't right to take on the challenge. In line with Rodeo tradition, the Explorts were originally named almost in jest, as if bibshorts needed any special thinking or features in order to go exploring in. However, having developed these shorts over the course of two years we were continually inspired to refine our designs until we arrived at the shorts we are now offering. Having now ridden Explorts for everything from short commutes across town to brutal high mountain bikepacking jaunts, we're proud of the comfort, durability, and functionality of the final product.
We are super pleased to be able to offer a Women's specific version of the Explorts 1.1 and partnered with the women of the Rodeo Adventure Posse to dial in the fit and details. Women's designs are offered with identical colourways as the Men's
If you receive your new shorts and you did not order the correct size we are happy to help exchange if we have inventory. If we do not have inventory we can refund your purchase. We will not exchange or refund any shorts that show evidence of being worn or ridden beyond an initial try-on to test size (and yes, we check). Please be considerate when trying on shorts for size.
For Explorts 1.1 we refined the details of our quick release buckle system in two main ways. The first improvement is a simple bartack stitch where the shorts cross which allows the straps to remain within reach when re-buckling them. We also added detail stitching and revised fabrics where the straps attach to the clips which prevents bunching and twisting at the connection. These tiny details make the quick release strap system vastly more useful.
Don't think you need quick release straps? That's fine too as quick release buckles are unnoticeable when riding. But if you ever find yourself in a situation where you do you'll be so glad they're there.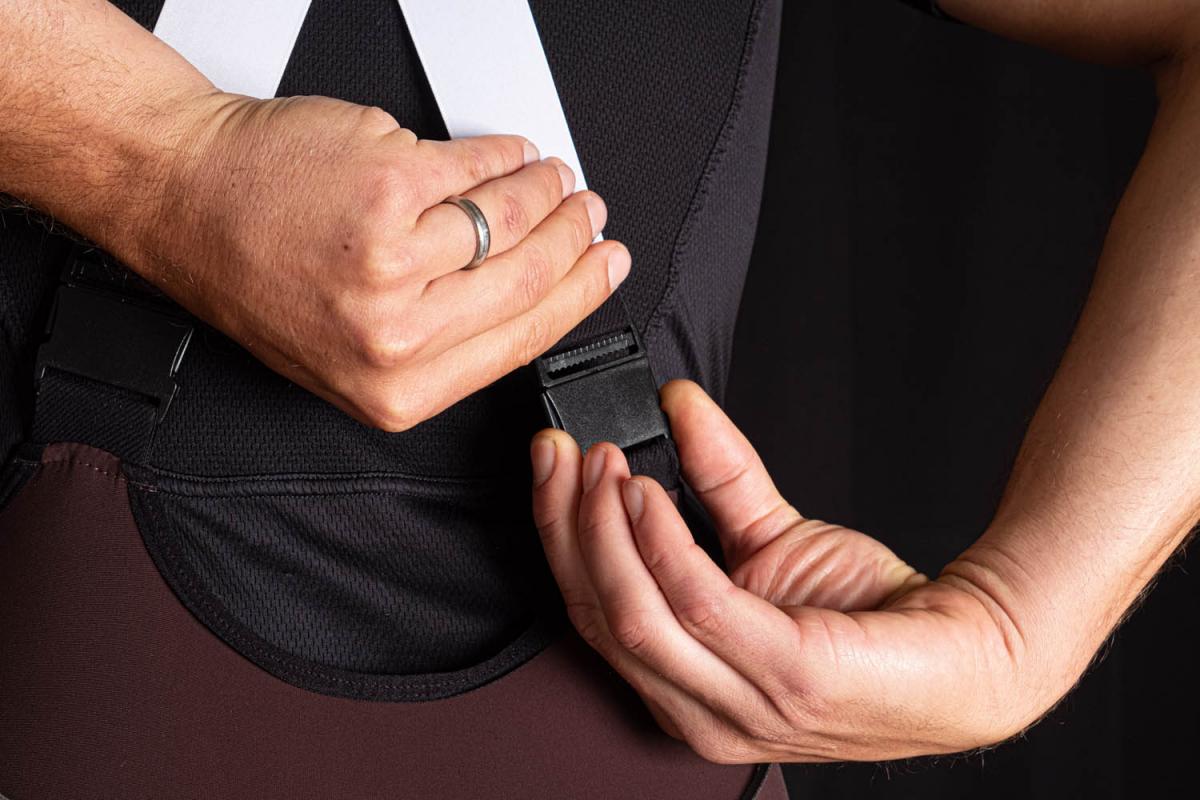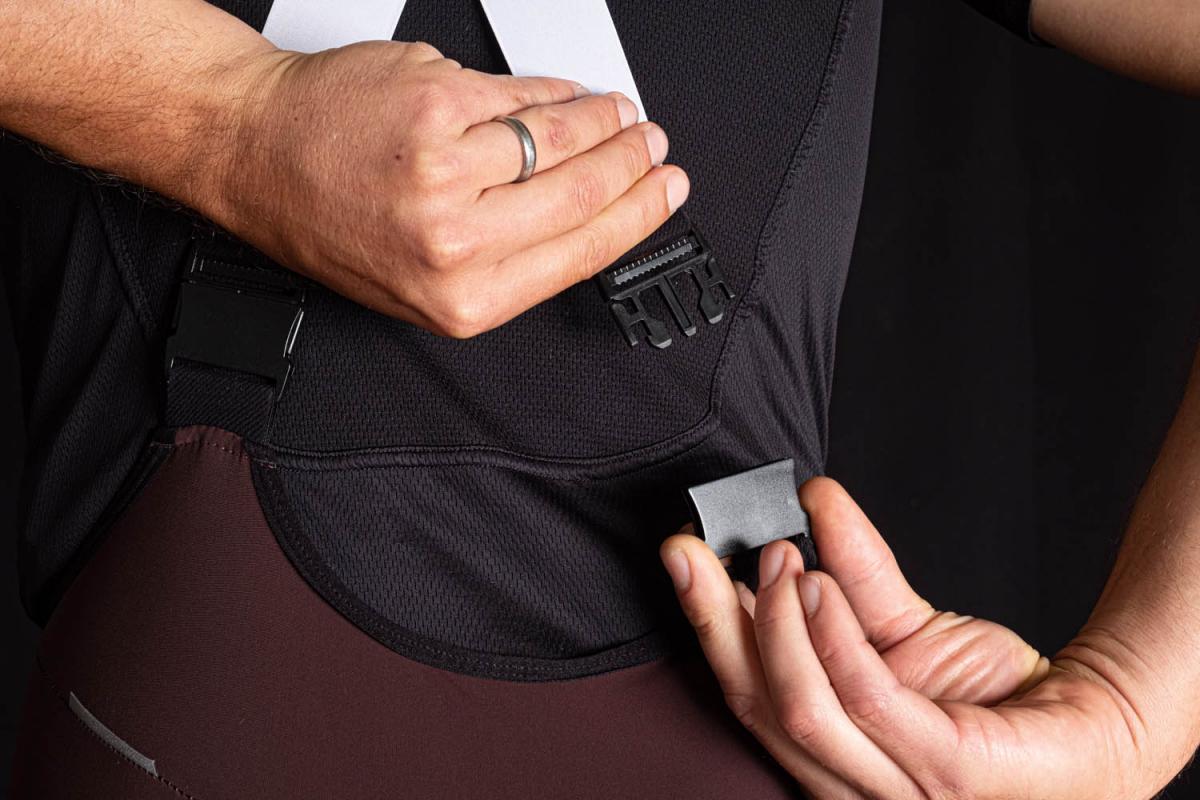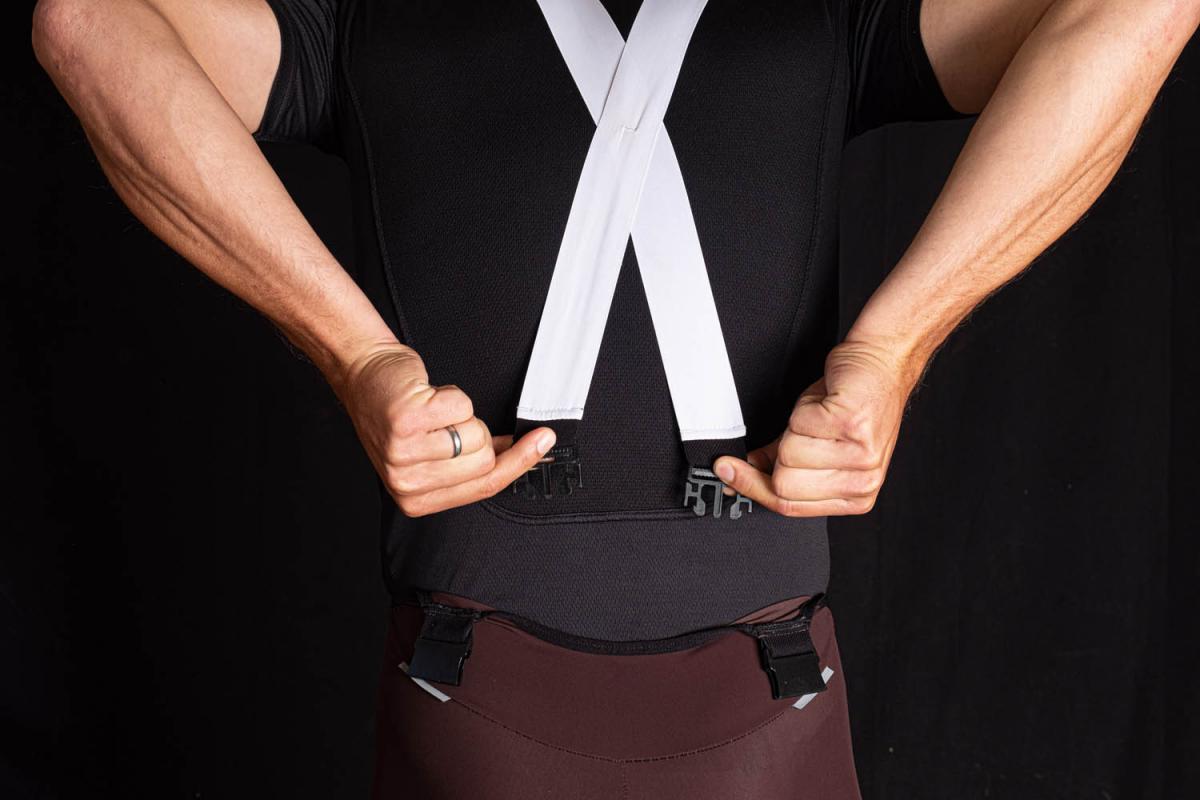 The second big change to Explorts 1.1 is the chamois that we used. The 1.0 short featured a premium Italian chamois that has been tried and true over three years of Explorts development, but we asked ourselves if there was a better chamois out there for longer distance riding and bikepacking. We tested a large number of chamois from a wide range of manufacturers for six months and zeroed in on a market leading medium thickness chamois that isn't overly padded but provides comfort long into a 10+ hour day or even across an extended multi day bikepacking journey. Are women's and men's chamois are gender specific.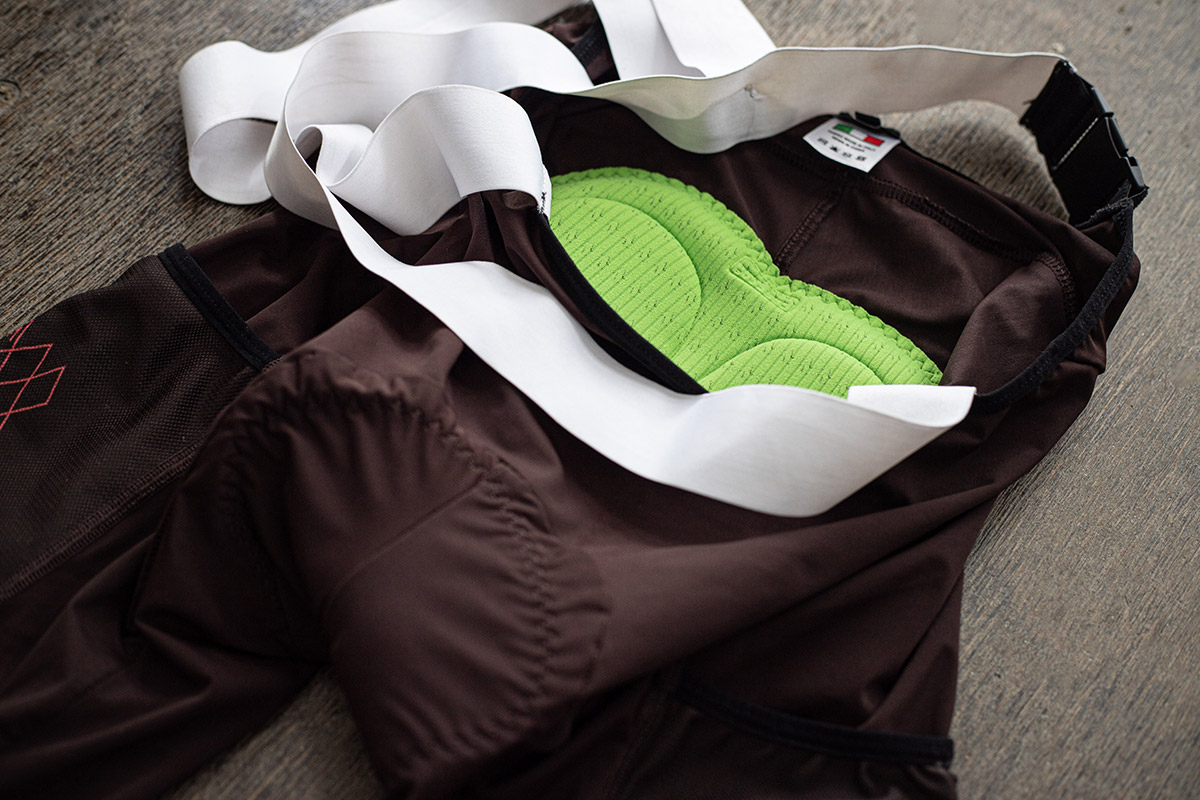 The third improvement to the Explorts 1.1 is the fabrics that we selected for both versions of the shorts. On the Dark Bronzite short the fabric has more stretch than the 1.0 shorts which provides a more nuanced fit with less propensity to ride up the rider's leg over time. The rich chocolate brown Italian dyed Lycra blend fabric is durable in off road situations and will wear better over time than a fully sublimated bibshort.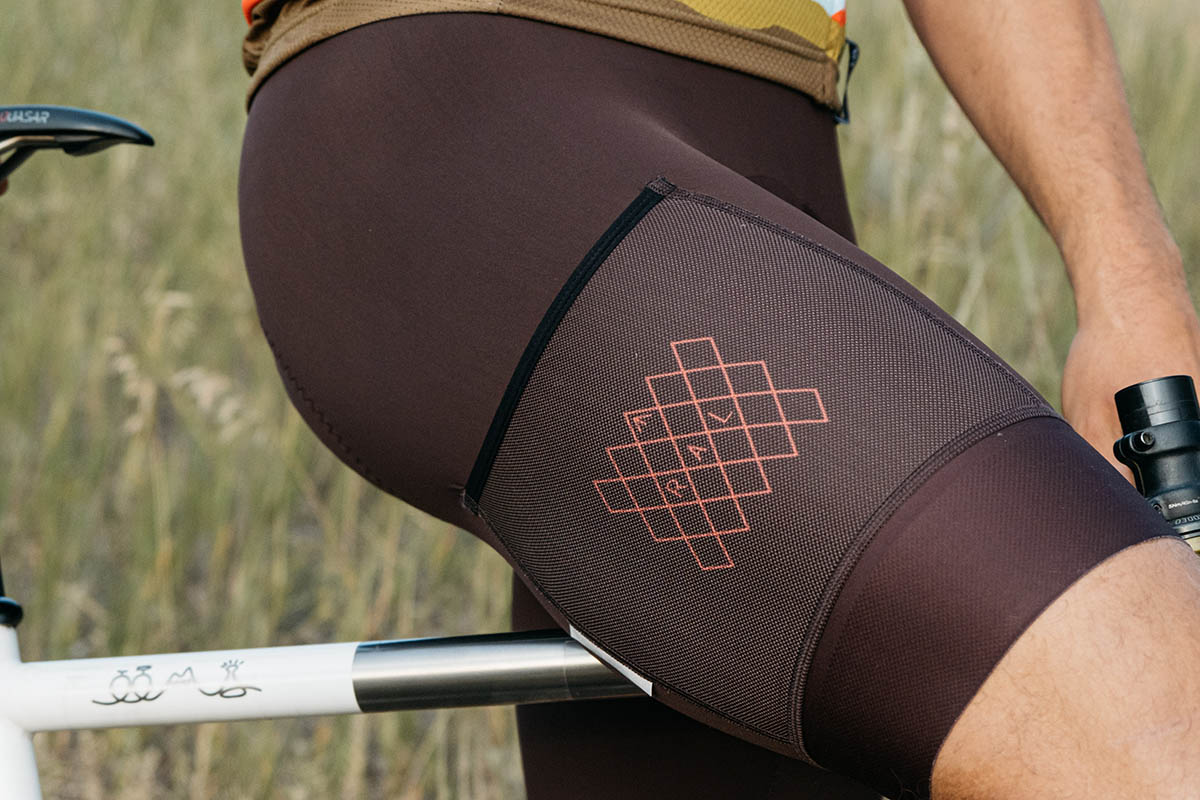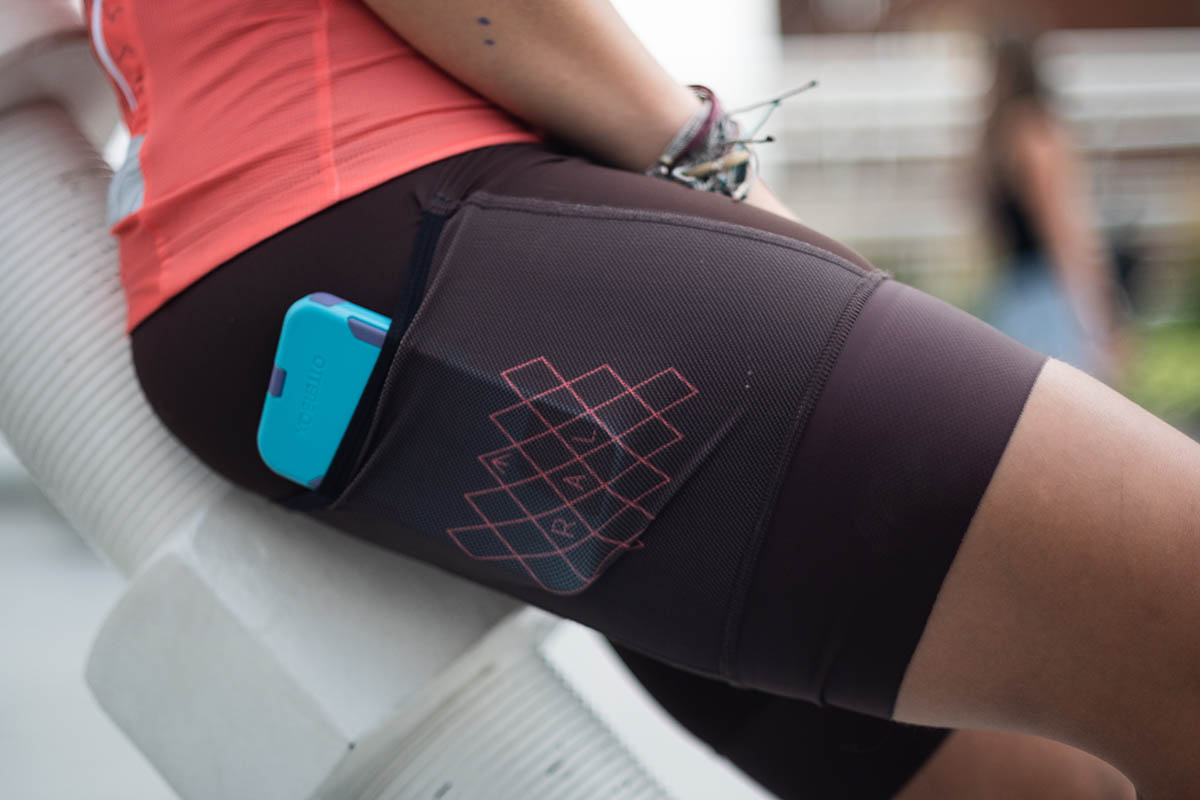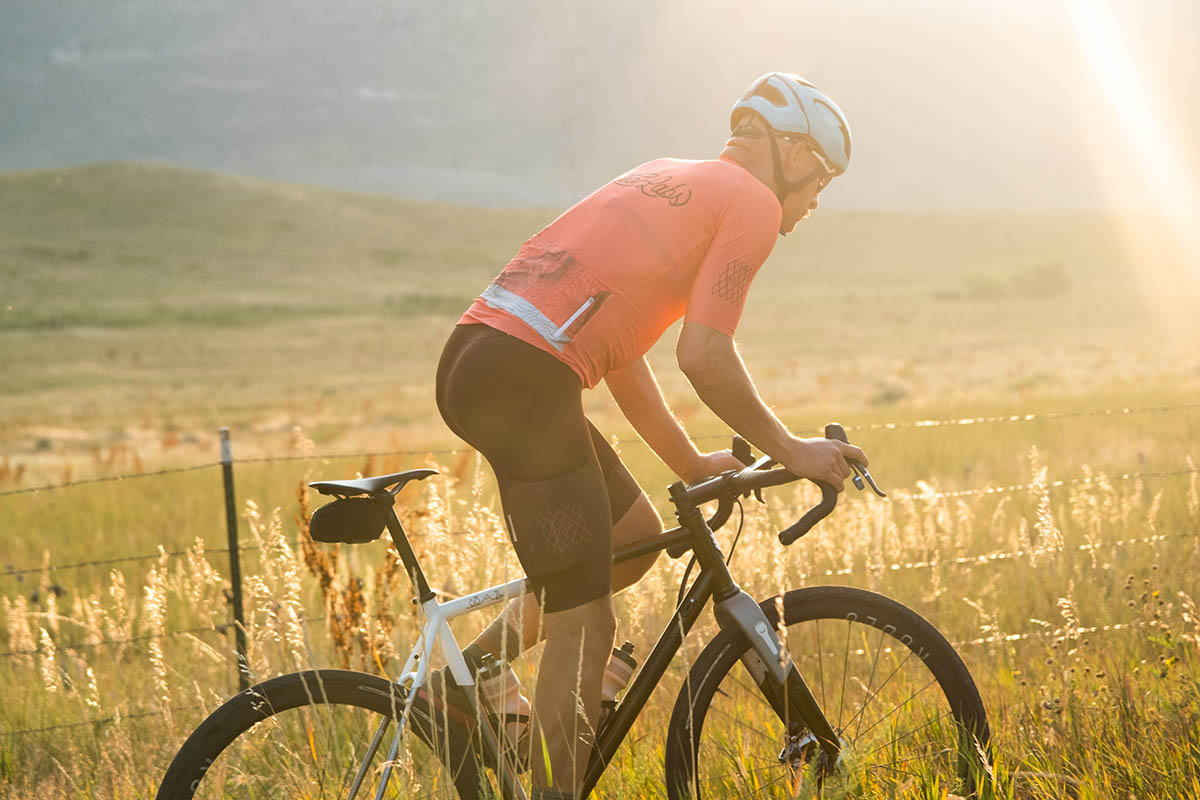 The fabric that we selected for the Black Tuxedo Explorts is easily the softest bibshort fabric we've ever ridden in. At first glance it might seem like this fabric has fleece qualities, but in reality it is merely extremely soft, not fleecy. We broke with tradition slightly with the Black Tuxedo Explorts because they are not as compressive as what many people would be used to coming from race oriented and more restrictive bibshorts. The Black Tuxedo Explorts are a paradigm shift for us in what a bibshort should be all about. Do we have to select fabrics for our shorts that are the same as what everyone else is using or can we cast a wider net and find fabrics with unique qualities to expand the spectrum of rider choice? We think there is room in cycling for a garment that is unapologetically more comfortable and luxurious feeling shorts, and the Tuxedo Explorts are it.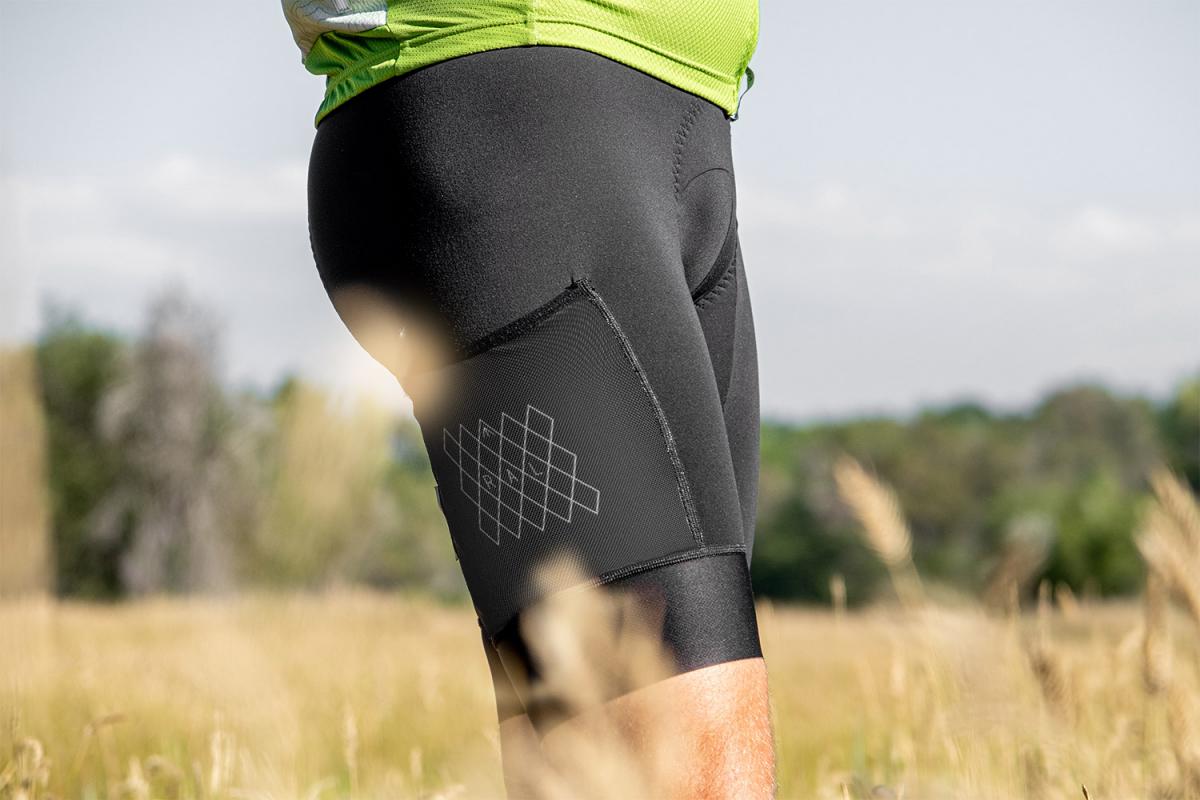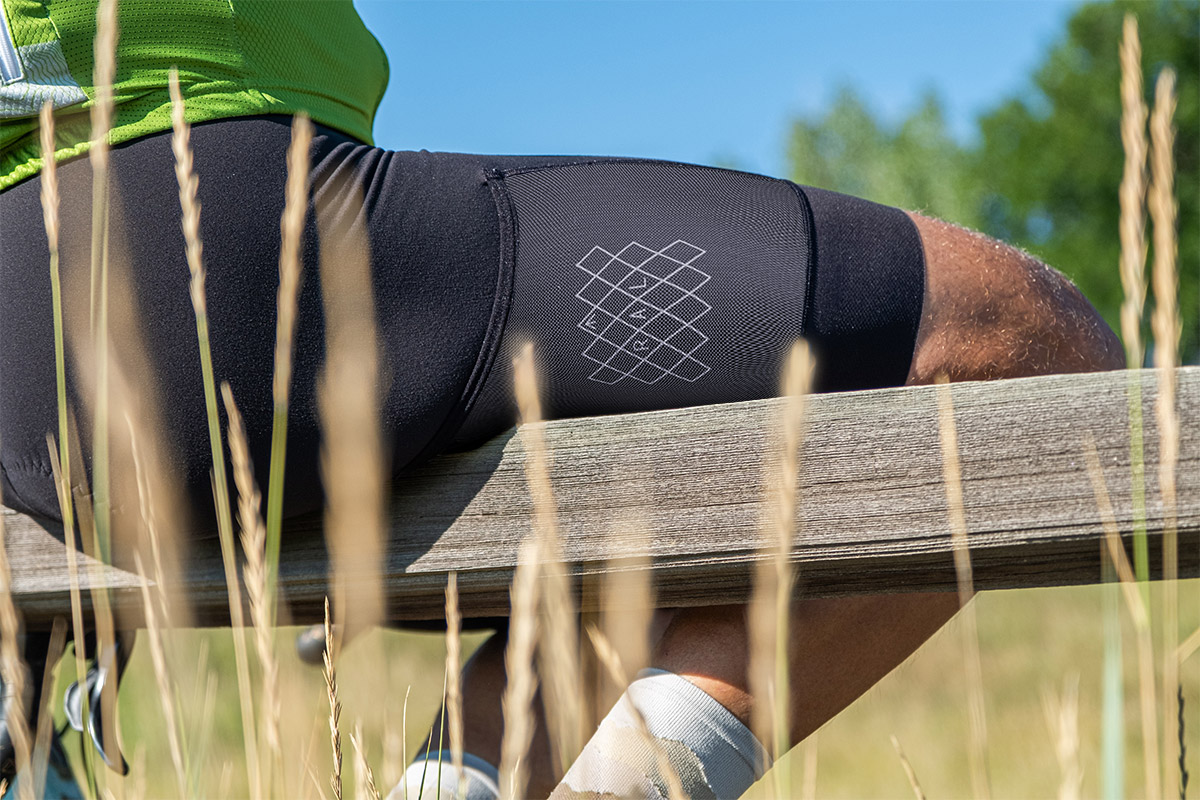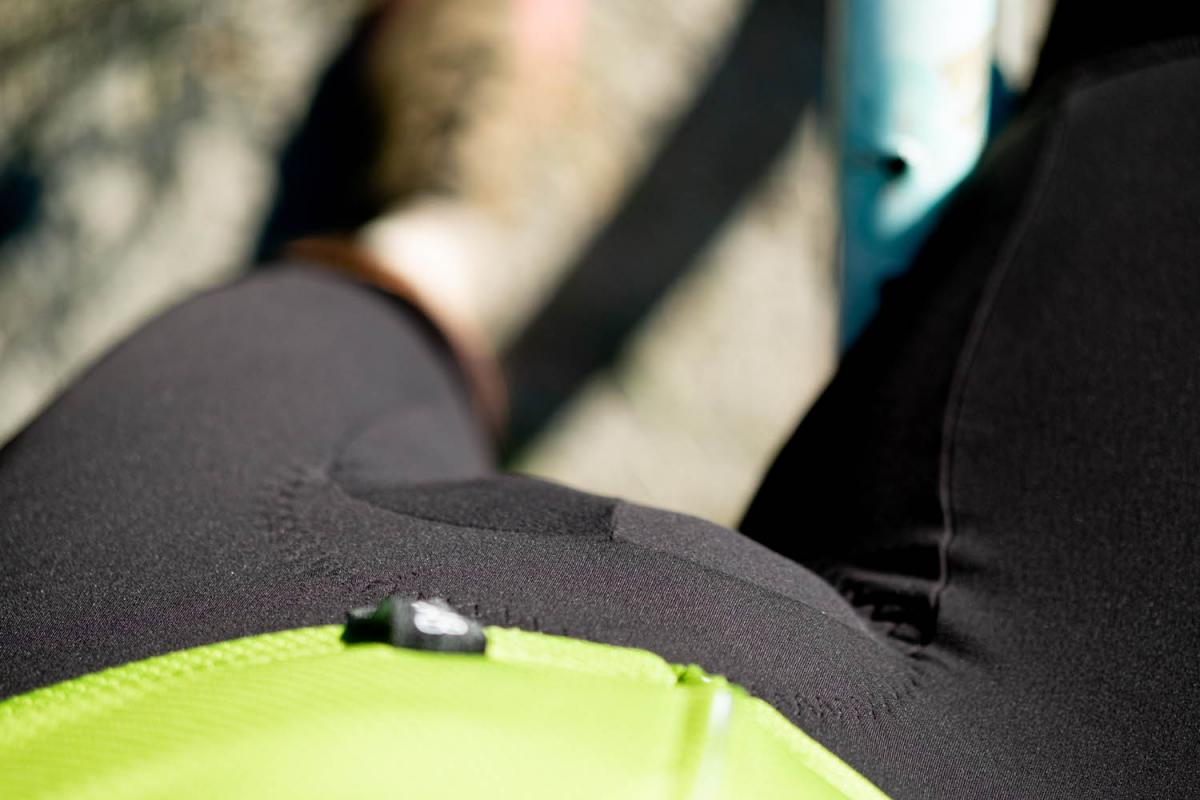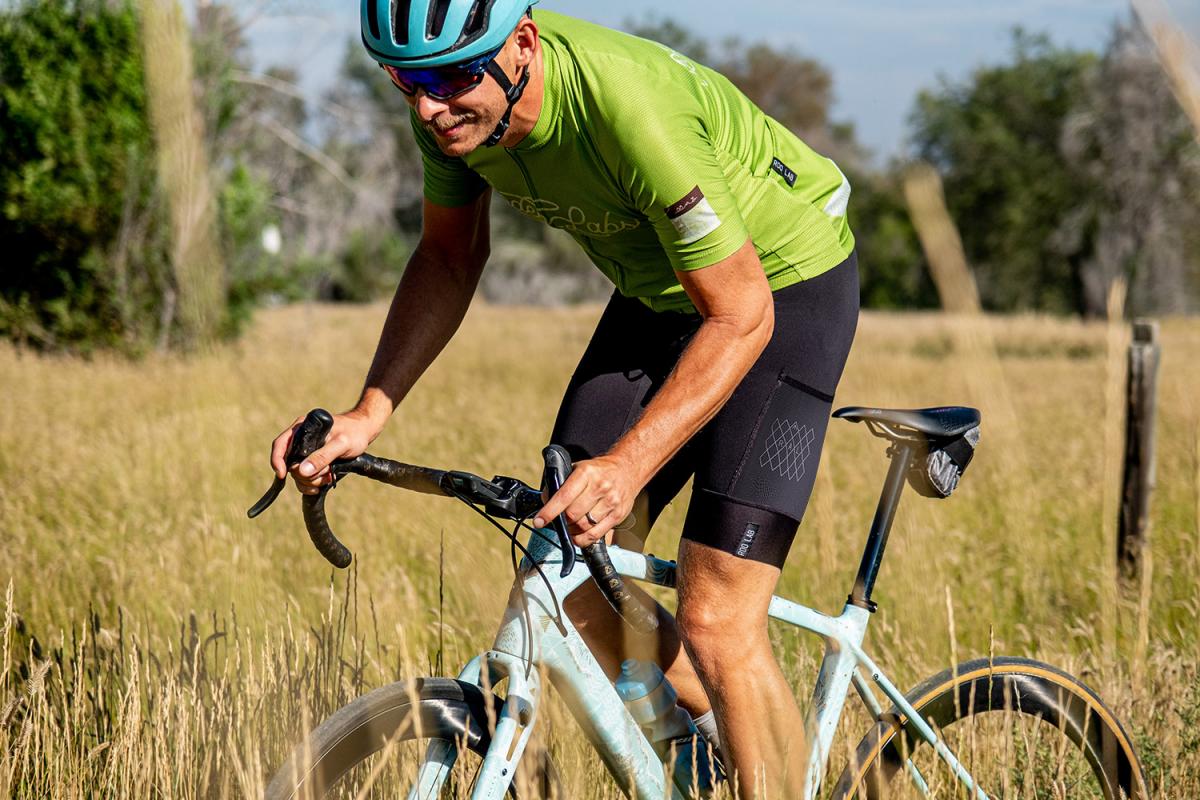 Fit, sizing, returns, and exchanges.
We've designed our sizing to be as similar to the sizing of other major brands as possible.
Generally speaking our shorts have a mid to long length on most riders but are designed not to extend past your quads. See photos for fit reference before ordering.
Fit is also highly personal and there will always be variances in fit from person to person. We advise measuring and checking our sizing chart carefully before ordering. If you order the wrong size, we can exchange the shorts for another size if they are brand new / unridden as long as we have your desired size in stock and available. We reserve the right to deny refunds or exchanges for any shorts that appear to have been ridden or worn beyond trying on for fit. We will, at our discretion, repair, exchange, or refund any shorts that are found to have incorrect construction or flaws in materials.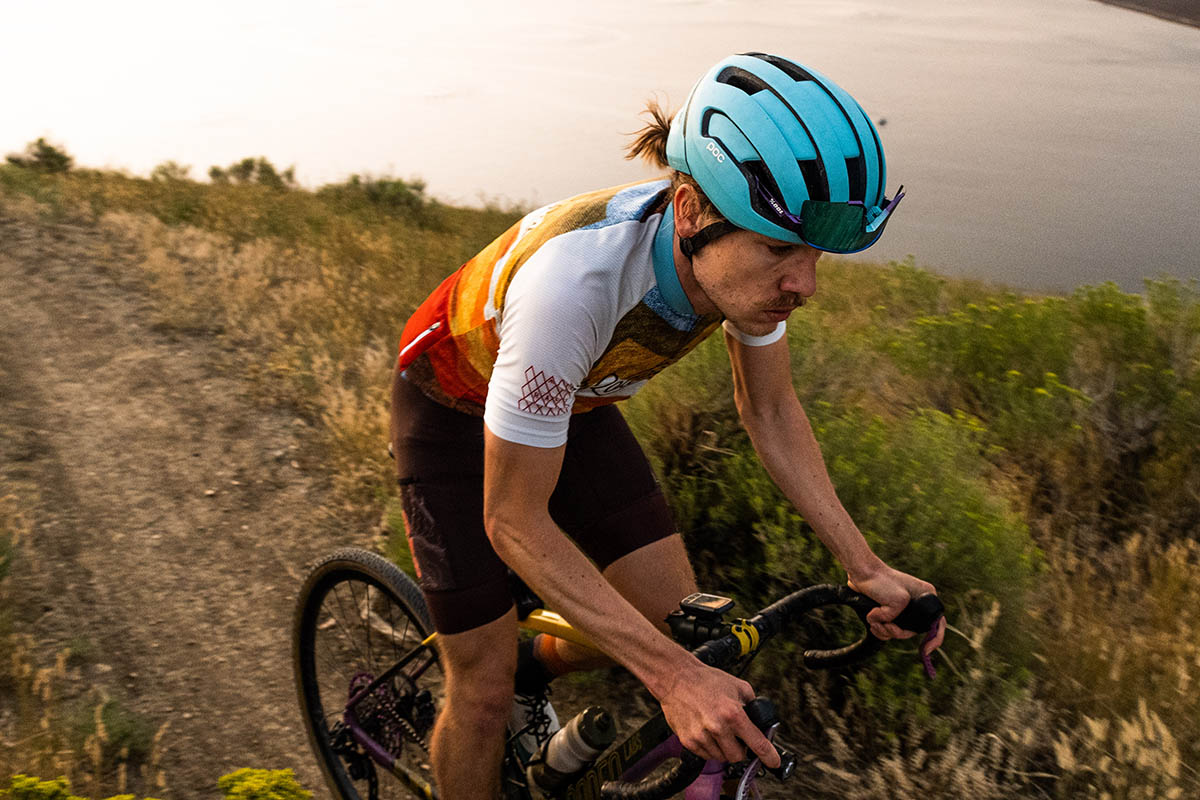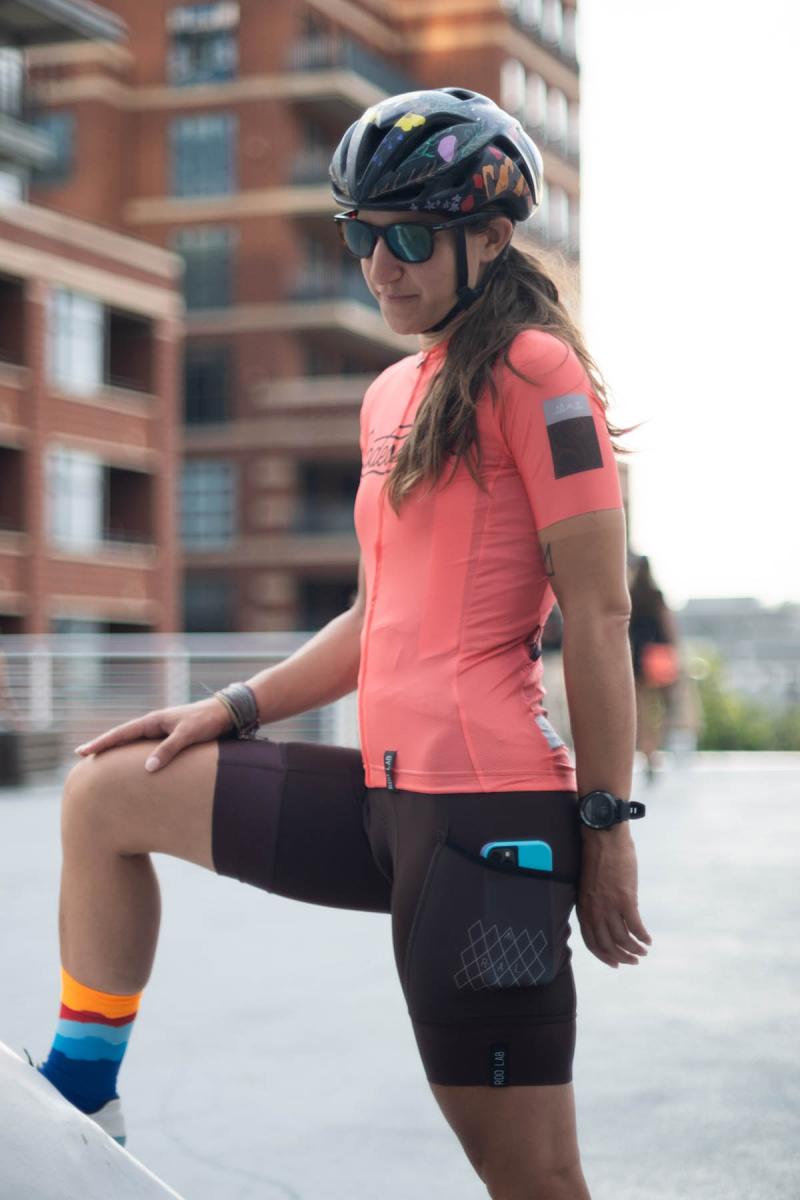 Details
 Explorts feature an adventure tested EIT Italian chamois. For 1.1 we went with a medium padded chamois that is superior for long and ultra distance riding compared to thicker chamois that are not ideal for long distance riding.
Explorts have four reflective accents on the lower back and behind each cargo pocket for added night time visibility.
Our laser-cut, siliconized grippers have a mildly compressive fit without cutting off circulation.
Explorts are made from globally sourced fabrics. The 1.1 Explorts primarily feature Italian materials and chamois.
Explorts are sewn and constructed in China. Our patterns and designs are proprietary and are the result of over two years of development and revision.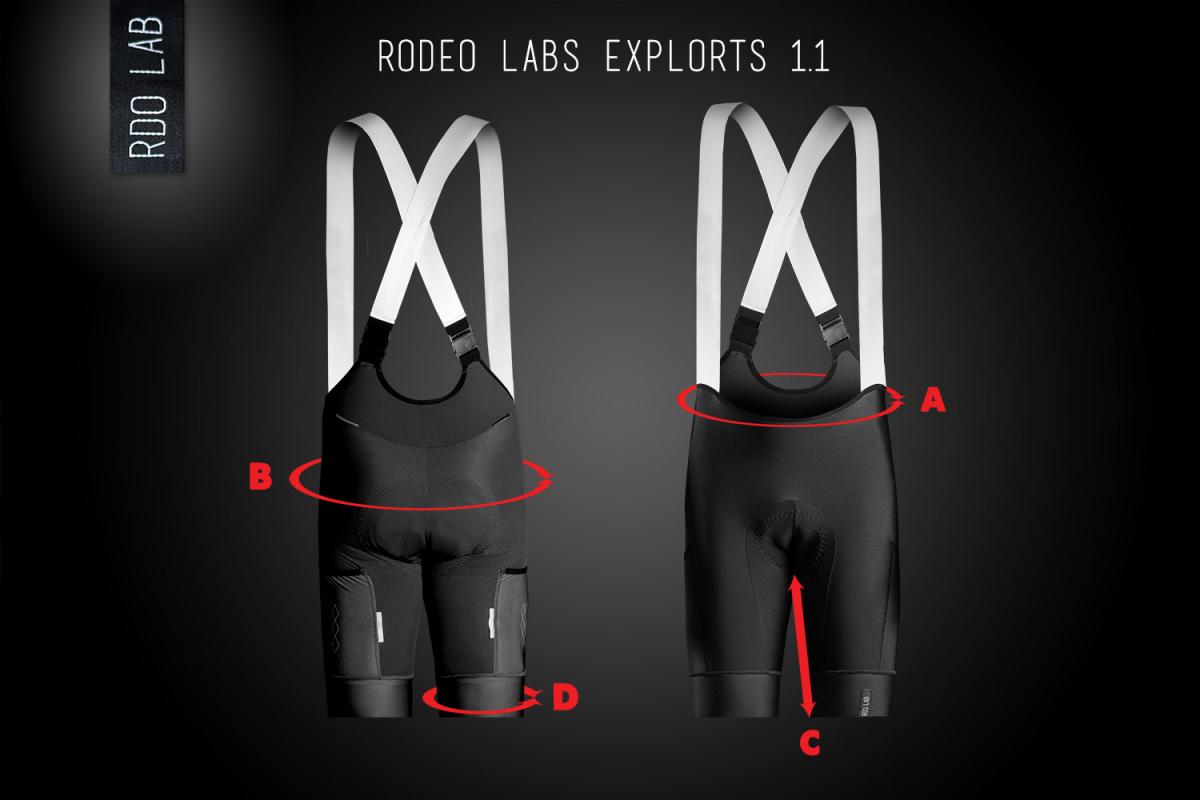 Men's size grid
All lengths are body dimensions measured in inches.
| | | | | | | | | |
| --- | --- | --- | --- | --- | --- | --- | --- | --- |
|   | Inches | 2XS | XS | S | M | L | XL | 2XL |
| A | Waist | 24-26 | 26-28 | 28-30 | 30-32 | 32-34 | 34-36 | 36-38 |
| C | Inseam | 9.25 | 9.75 | 10.25 | 10.75 | 11 | 11.5 | 12.25 |
| D | Leg Cuff | 14-15 | 15-16 | 16-17 | 07-18 | 18-19 | 19-20 | 20-21 |
Women's size grid
All lengths are body dimensions measured in inches.
| | | | | | | |
| --- | --- | --- | --- | --- | --- | --- |
| | Inches | S | M | L | XL | 2XL |
| A | Waist | 28-30 | 30-32 | 32-34 | 34-36 | 36-38 |
| C | Inseam | 8.25 | 8.75 | 9 | 9.5 | 9.75 |
| D | Leg Cuff | 16-17 | 17-18 | 18-19 | 19-20 | 20-21 |