If you had told me years ago that Rodeo would be sponsoring a gravel racing team in the future I would have laughed in your face. For a long time I was very anti sponsorship. I didn't believe in "paying people to ride our bikes". I also didn't like the attitudes that I had seen in sponsored athletes in previous experiences I had had with some high level racing teams. I had seen a very offputting sense of entitlement on display in those teams and it bummed me out. More than once I've heard sponsored athletes telling me or a fan: "I don't really like this product, I just get paid to ride it". It made it seem like some racers had attitudes of entitlement, and few attitudes are a bigger turnoff for me.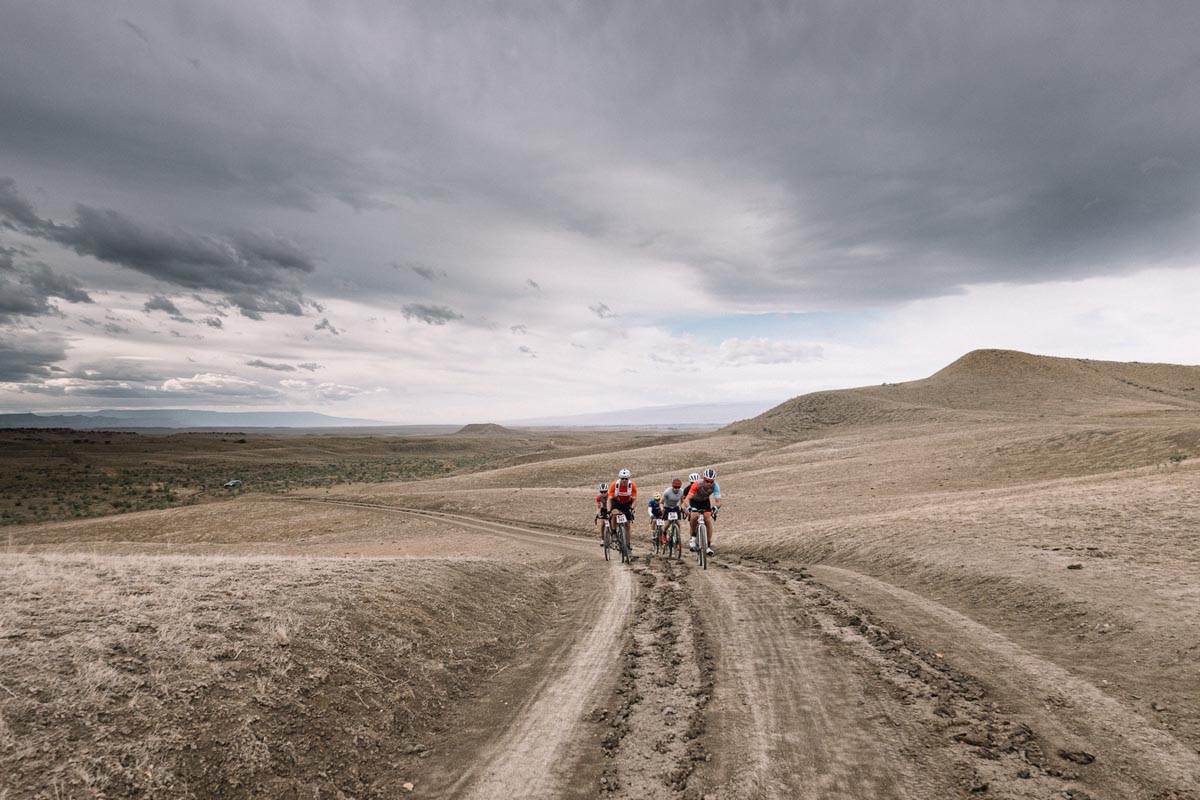 On top of that there was the "Rodeo Is a Slow Company" manifesto that I wrote three years ago which, at first glance could appear to be anti racing and especially gravel racing. But for the record I still believe everything I wrote in that piece and think that it still represents the soul of what Rodeo the company is about: Ride your bike (or run your company) in a way that is true to yourself weather that be fast or slow.
In 2019 a man named John Harp emailed then called me and hounded me for a bit about a gravel racing team he wanted to start and the plans that he had for it. I had gotten these sorts of requests previously and they all sounded similar "gravel is exploding, Rodeo needs to get in on the gravel racing action, we can give you exposure!". I found these sorts of proposals offensive. I thought to myself, "wow you just discovered gravel racing so we should get into it?". (sarcasm). We've been around the gravel racing block a few times, we've stood on the podiums, and we've also kept moving looking for fresh inspiration beyond gravel racing. But what was interesting to me about what John was saying was that he, like a lot of people who had more recently discovered Rodeo Labs, had no idea that we used to race bikes a lot more than we do now. Moreover because of our silly adventures of late people had begun to explicitly see our bikes as non-race bikes instead of bikes-that-you-can-race-if-you-want. In our personal quest for the fun adventure narrative we'd left behind any sense of our racing history. The memory of the masses is a short memory indeed.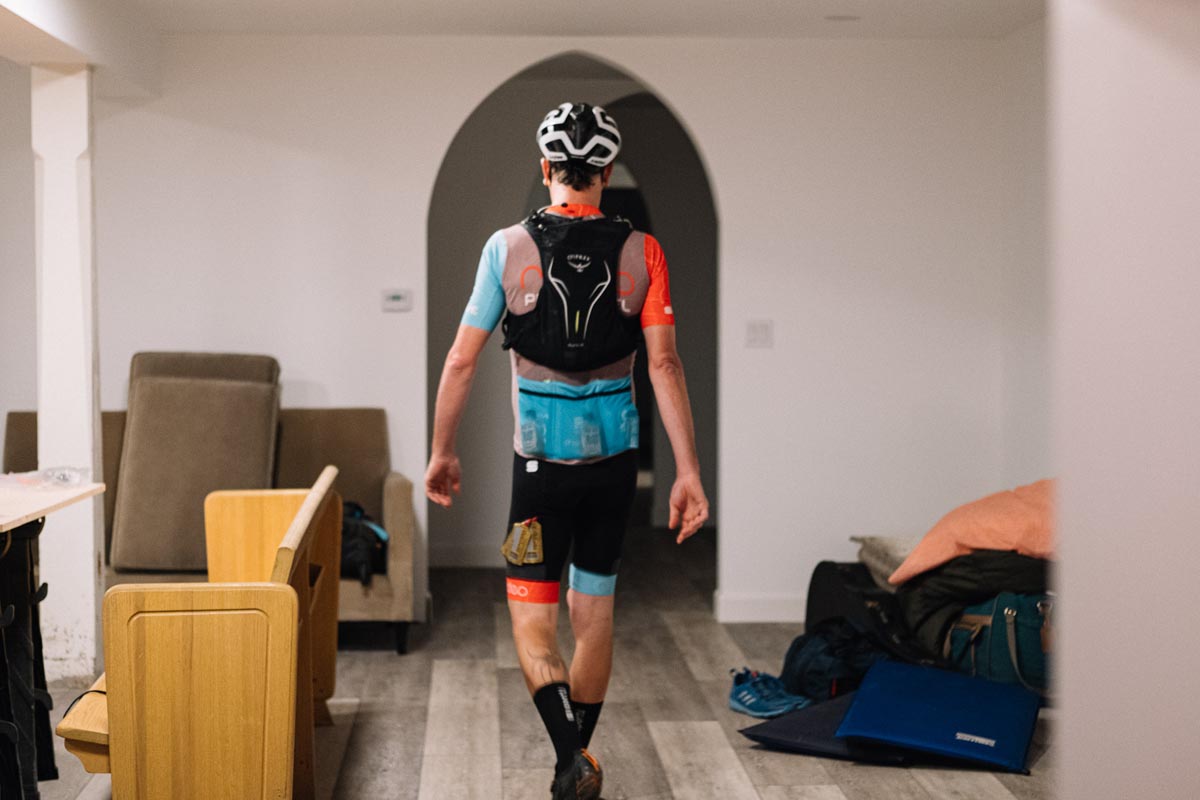 To add to the fray on the subject more and more recent entries into the gravel bike world had launched what we will call "dedicated gravel racing bikes". These brands have marketing and product planning departments that had decided that they needed to pick a segment of the gravel rainbow and hone in on it instead of creating do-all dirt bikes like we did. As cycling websites gobbled up press releases and consumers were presented with this new wave of beautiful, slender, racey gravel sleds the perception that one must buy a certain type of gravel bike if one wants to gravel race became mainstream. In the hubub of all of those launches our bikes were displaced to occupy the silly ride, party bike, and even bikepacking end of the spectrum. Nobody would take a Rodeo racing would they?
John arrived with his race team proposal just in time to rendezvous with my growing frustration on the subject. How had we allowed other brands to write the narrative about what our bikes are capable of? Our bikes have always been about doing whatever YOU want to do on them and to me that has always included racing if YOU want to race your bike. (Our bikes are also about never racing if you don't like racing, the choice is up to YOU). What I've learned in these last few years is that everyone who discovers Rodeo fresh comes in with zero context about who we are and where we come from. To them we're just another bike company. Whatever story we are telling at the time is the box that people tend to put us into. Since we haven't been telling the racing story in a while that part of who we are has been forgotten.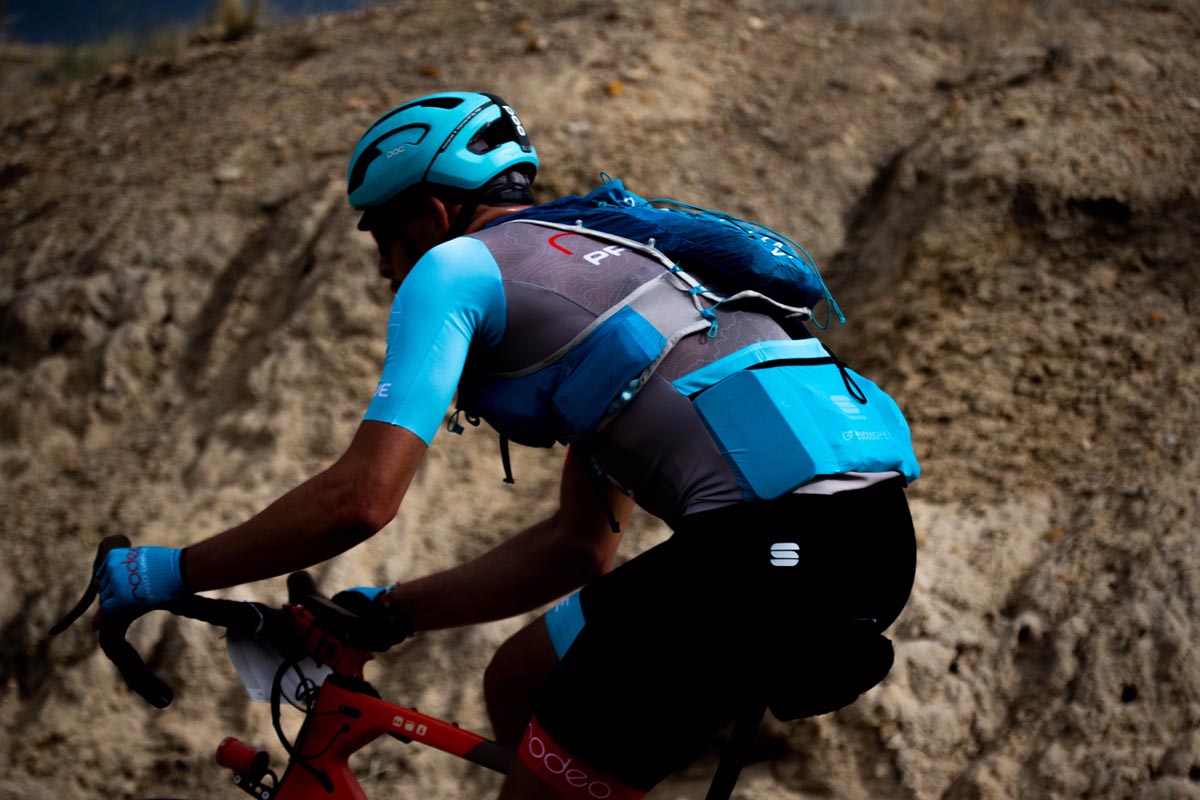 John drove up from Colorado springs for an in person meeting late in 2019. He pitched me the idea, showed me some results of prospective team members, and asked for our support. Rodeo wasn't to own the team, we were the bike (frameset) sponsor and he was working with other brands to round out the team's needs. More than the concept he was selling me I liked John himself. He was super full of passion and geekery about riding bikes fast, and I missed that intensity, not having experienced it for myself in a long time. Rodeo agreed to supply the team with frames and off we went to the races. Any year one team is going to be scrappy and will take time to get warmed up but right out of the gates the new team scored an incredible 3rd place at Mid South in its first and almost last race of 2020. (thanks Covid). Once things opened back up a bit and some races resumed including the Arkansas High Country Race in which team member Ashley Carelock finished 2nd overall and won the women's division, setting a FKT in the process. Clearly the team meant business, we all just needed to wait until racing returned to see what else they could accomplish.
Already this year the team has had so many successes that I can't list them all here. Jess Cygan, Gregg Daniel, Jonathan Baker, Grant Koontz, Nick Gould, and Jonathan Cavner each already have wins and / or multiple 2021 gravel racing podiums to their names this year – all on Traildonkeys. People are noticing! More and more I run into current and prospective Rodeo owners who are either proud to see the bikes they ride being raced so well or excited to consider our bikes as a part of their gravel racing plans. What is amazing to me about all of this as that nothing has changed about our bikes or our company DNA in the process. The Traildonkey is no more or less aero, more or less light, or more or less stiff than it was two years ago, it still accepts massive tires for fun / silly rides as well and for sure more people simply play on the bike than do race on it.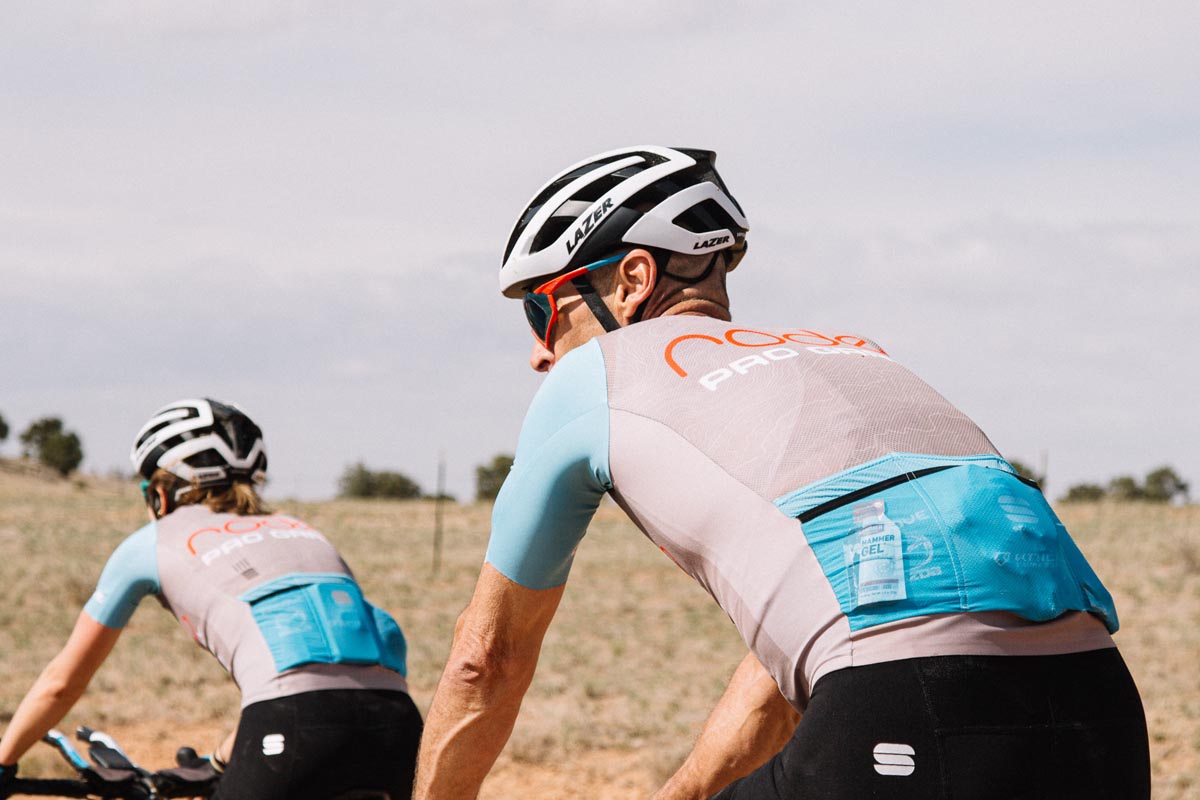 This last weekend I had the amazing experience of being able to experience the team at a race first hand when I joined them at the Desert Gravel Co2UT race for a day of racing. I myself don't have a "race bike" with all the lightest fastest components but I did have the bikepacking Traildonkey I built for Morocco and have bikepacked on over the last 14 months. Off came the dynamo 650b wheels and on went 700c wheels with fast Challenge Getway race tires. Nothing else changed, even the inactive dynamo headlight stayed on the bike. I was invited to help work for Jess to help pace and block wind for her as she sought to win the women's 125 mile category. I was thrilled to be able to race in the team colors and contribute to the team's race day aspirations.
It is difficult to put into words how fun it was to spend a weekend with the team. We lodged in an old church converted into an airbnb in downtown Fruita. I got to watch all the pre-race rituals. Drew from the office and Samuel my son came along to photograph the entire team experience. The team was up late fiddling with gear and up early prepping for the long day ahead. Gregg Daniel and Jonathan Cavner were racing in the men's 125 mile race and Nik Gould was racing in the men's 185 mile category. It would be a big day for all of us. John Harp was also racing the 125 like I was: In support of Jess.
As the 125 mile race I was in with Jess, Greg, Cavner, and Harp got up to speed we all moved to the front. Greg and Cavner disappeared with a move less than a mile in and were soon up the road with a few other riders, never to be seen again. John, Jess, and myself stuck to a disciplined plan of strong but measured efforts and we also pulled away from the main pack fairly quickly.
As an aside I have to say that it is difficult to describe how fun this homecoming to racing was for me in those moments. I raced so much more in previous years but had settled into a rhythm of exploration and discovery by bike instead of racing. Getting some distance between myself and the intensity of training and competing was incredibly healthy, but now in those early miles of Co2uT I realized how much I had missed challenging myself in a real race and what a thrill it was to push so hard and ride so fast. For the 125 miles of the race I was overjoyed. I was happy to be alive, I gobsmacked watching Jess keep up such a furious pace, putting dozens of minutes between herself and her nearest competitor. I was so proud to see our bikes being ridden to their limits and full potential by such talented riders. I was so proud of Rodeo in the middle of all of it. We're such a tiny bike company. We have such limited resources for R&D compared to any big bike brand, but here our bikes were going toe to toe with and overcoming bikes with much more race pedigree than ours. My theory? Any bike is a race bike if you race it!
At about mile 80 we felt collectively that Jess's lead in the women's race was probably unsurmountable so I told John (the DS of the team) that I wanted to try to ride off the front for some solo miles to see if I was capable of sticking a move to the finish. At just the right moment I dug a little deeper and created a gap with 30 miles to go. Familiar but forgotten feelings of panic and thrill rushed back in. How many years had it been since I had broken away on my own? Gregg and Cavner were still far up the road so I wasn't off for a win but I was off to test myself. As the miles passed the nerves settled a little and I found a groove, but as I looked back I saw two approaching dots behind me. This is always discouraging to see as it either means your pace is fading or their pace is simply much stronger than yours. Within a few minutes two riders caught me, but that exact moment one of the riders popped and disappeared leaving only one rider, Shaun with me. Neither of us were interested in shaking the other and the company helped pass time and miles alike. Shaun was a much better and more powerful descender, and I pulled away a little on the climbs. Everything was collaborative until four miles to go when I just stayed on the gas up the very last roller before the finish and Shaun didn't stay on my wheel. I thought he might just be playing with me or was planning to fly by on the descent (again) so I never relaxed. I went into a sort of personal sustained effort hell for the remainder of the race wanting to finish on my own if possible. I was super relieved that the effort paid off! I crossed the line in 4th place behind Greg, Cavner, and the third rider in their group. What an incredibly tough, fun, challenging, and rewarding day that was!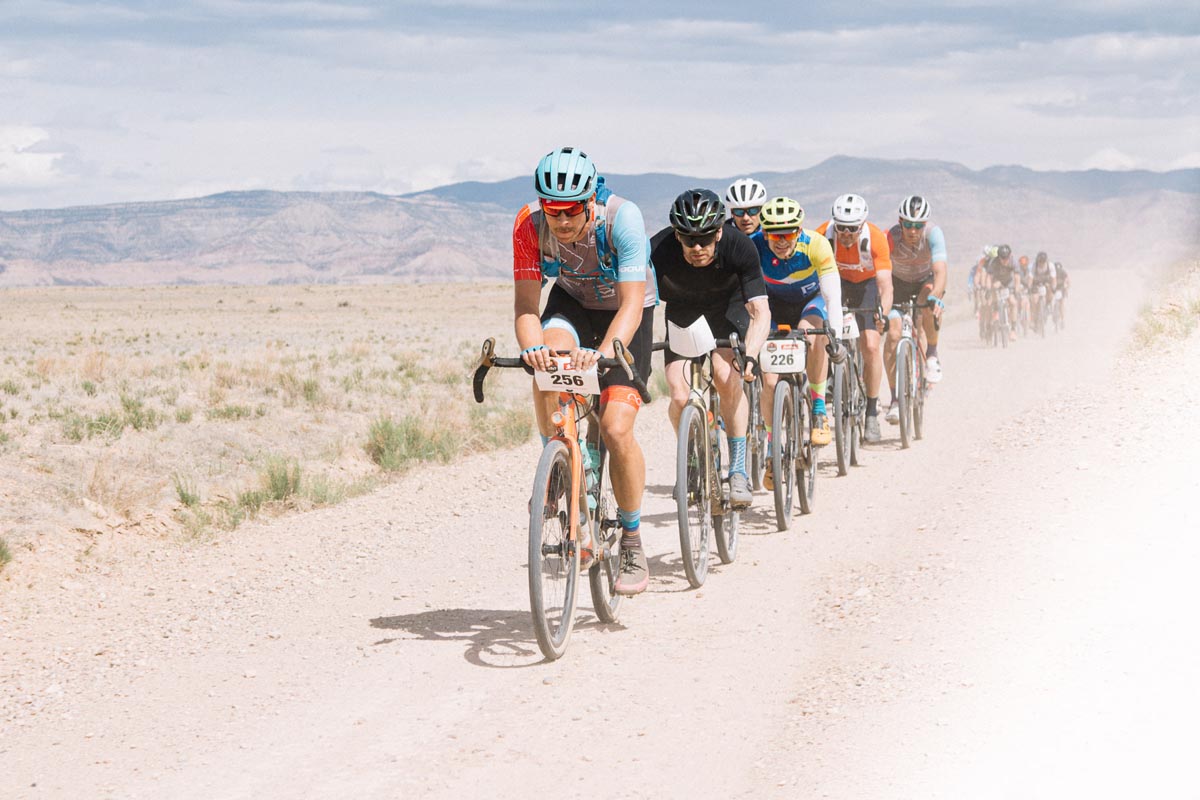 As we rolled through the finish we tallied the fruits of our efforts. Greg 1st. Jess 1st. Cavner 2nd. Gould 2nd in the 185 miler. Me 4th (and 1st in 40+ which was a suprise!). Harp 7th. That is some incredibly successful bike racing any way you slice it. Outside of the results you could just feel that the team was having fun and super excited to be doing what they do: Bike racing. Amazingly there were zero bike issues, flats, equipment failures, or any issues the team had to deal with besides a cramp or two.
So does does sponsoring a race team mean that Rodeo is going to be super hardcore about bike racing again and step away from party pace and exploring? Hardly! Adventure is literally our middle name and we're always going to be about interpreting that word widely and freely. The entire spectrum of cycling is beautiful. Road to MTB. Commuting, training, playing, goofing, getting lost, packing, and racing. We love it all so much here at Rodeo, and we love that the team is here to represent our racing stripes so well. Next up: Unbound Gravel!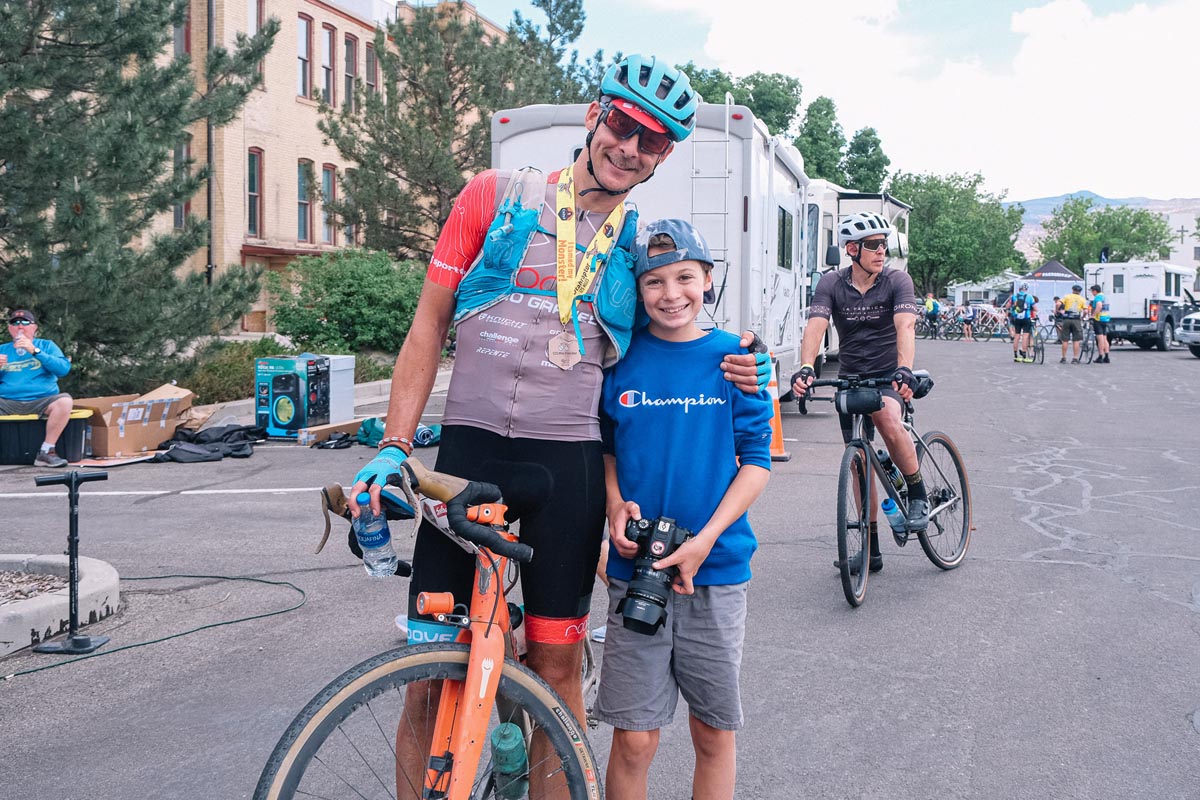 Photos by Sam Fitz Photos, Drew Van Kampen, and myself