The Merriam Webster dictionary defines absurd (ab·surd  \ əb-ˈsərd) as, ridiculously unreasonable, unsound, or incongruous. The summiting of Mount Antero on June 8th of this year, was absurd. That is why looking back on it I am happy to have done it.
In a world of modern amenities, is it is easier to be rational rather than to be absurd. We have our creature comforts and yet, sometimes, our friends can be the reason we might seek to do something unconventional, something new, for the sheer absurdity of it.
Thursday afternoon rolled around and three of us met in Denver, loading gear into @fjdonkey (the newly minted Rodeo team car).  We hodge podge'd our collective camping gear, doing our best to balance not packing too much, but enough to make our one night of dispersed camping just right. For added flair we stopped at the Town of Fairplay and were immediately drawn to the dessert section where we voted on an apple pie and ice cream. Glamping. Am I right? With bikes ready, provisions packed, and our expectations open to whatever might lay ahead, we set out to summit Mount Antero. We dubbed it, Hall Pass Friday.
We set up camp under the quickly fading light. Shared stories around a campfire and warmed the apple pie over the hot coals. We were relaxed and in good spirits. The next morning we prepared to hit the trail. We had a tough (and also absurd) 48 miles ahead of us, but we had the whole day to play hookie.
As a laboratory, we experiment, we investigate, we observe and we evolve. This year we have been drawn to an idea, a mantra of sorts; "To get humbled by the Rockies." Colorado is a worthy place, because the Rocky Mountains hold enough inspiration to last forever.
Mount Antero is one of the most prominent peaks of the Sawatch Range, rising an impressive 7,200 feet above the town of Salida, Colorado, which is southeast of the peak. The mountain is named in honor of Chief Antero of the Uintah band of the Ute people (thanks, Wikipedia).
To follow our mantra, the four of us, Niels, Chris, Stephen, and myself, (Nikolai), all got a hall pass. To escape the sensible and go do something unsound.
As we rode, it all began to add up. The fatigue of heat, dehydration, lack of oxygen, pushing too heavy of a gear, and hiking while carrying the bike. All we had to combat the now known terrain, was our minds. I would be lying if I did not tell you I had moments on this ride when I wanted to stop and just turn around as I thought, "this is absurd."
We awoke at first light and groggily began making breakfast. It consisted of multiple batches of coffee via the French press and Pannenkoeken, or some such thing (they were crepe-like and very much Dutch), filled with banana and peanut butter and warmed over a hot fire — it was quite alright. Satiated, we began filling water and kitting up, dialing that pressure bruh. Oh, and sunscreen.
We rolled out of camp under the cover of pine trees on a twisting and undulating dirt road. We passed other campsites still holed up for the night. The trees gave way to a grassy plain with Mount Antero at our backs. Gradually we wheeled around and Antero, along with the rest of the Sawatch Range, began to gobble the horizon. The dirt road of the campsite gave way to pavement, as we passed hot springs and a market at the base of Mount Princeton. Civilization quickly faded and the gradient of the climb began to increase.
We reached the base of Mount Antero.  It's welcome sign beckoned. We analyzed the squiggles of the map; 6.25 miles to the summit. We pressed on, but not much could have prepared us for what came next. It was a slog. The terrain was steep, rocky, and sandy. The best line was an off camber. As we threaded across the road trying to find the path of least resistance we quickly ran out of gears. The terrain spread us out, each of us finding our most sustainable pace.
Not even a mile in and I was thinking about turning around. I could go back to camp, string up my hammock and take a nap. We continued to push through. The gradient eased for short sections and that kept me going. I wanted this. Wait, why did I want this? Because I needed something different, I needed to be humbled. To not care about who won the group sprint, but to ride in unparalleled beauty deep in the Rocky Mountains. To filter water at a stream crossing. To not buy a Gatorade from the gas station. To stop and lie down on a grassy spot and soak in the sun, not on a sidewalk with cars passing by. This was different and it was good. Don't get me wrong I love the gas station, general stores, and post ride coffee stops. But there is something good in mixing up the norm. It helps me appreciate the everyday, the small rides that build the fitness to do something incredibly stupid. Mount Antero was different and that made it exactly what I needed.
Would you believe me if I said it took almost 5 hours to summit? To go from 9,500' at the 6.25 the sign to the cairn at the summit of 14,200'? Well it did. These rides are not about crushing a KOM and being the fastest. We stopped (a lot), ate sandwiches at 13,000', we laughed, we lamented how hard it was and then we kept pedaling. These rides are so rugged that no matter how slow you go you will very likely be on the top ten leaderboard for STRAVA segment since so few seek this kind of absurdity. This contrasts with iconic local climbs near Denver, like Lookout Mountain, which has 16,075 distinct athletes recorded as having climbed it.
Eventually we came to the stream crossing. The stream crossing. The one that Niels had mentioned earlier would be the place to stop, regroup and filter water. The going didn't get easier but with some fresh water and some lounging, the legs felt invigorated. That was until we started encountering soccer ball (yay! world cup) sized rocks. It's not very easy to ride over soccer ball sized rocks. In fact you really can't. So, we got off and we pushed the bikes.
Back at camp, before we began, there was a discussion on whether we should pack sneakers. We decided to leave them behind. I'll give you some insight. Hiking in cycling shoes is not awesome and sneakers were missed. While we pressed on uphill anyway, my calves were going downhill. It was a different muscle group that I usually don't give much attention. I wasn't even that fatigued in a cycling sense, I didn't even ride hard enough to be fatigued, but I don't really hike.
We finally made it to the switchbacks. That was also where the tree line faded and the surrounding peaks dominated the landscape. The rocks were wild colors; apparently Mount Antero is where one goes for aquamarine prospecting.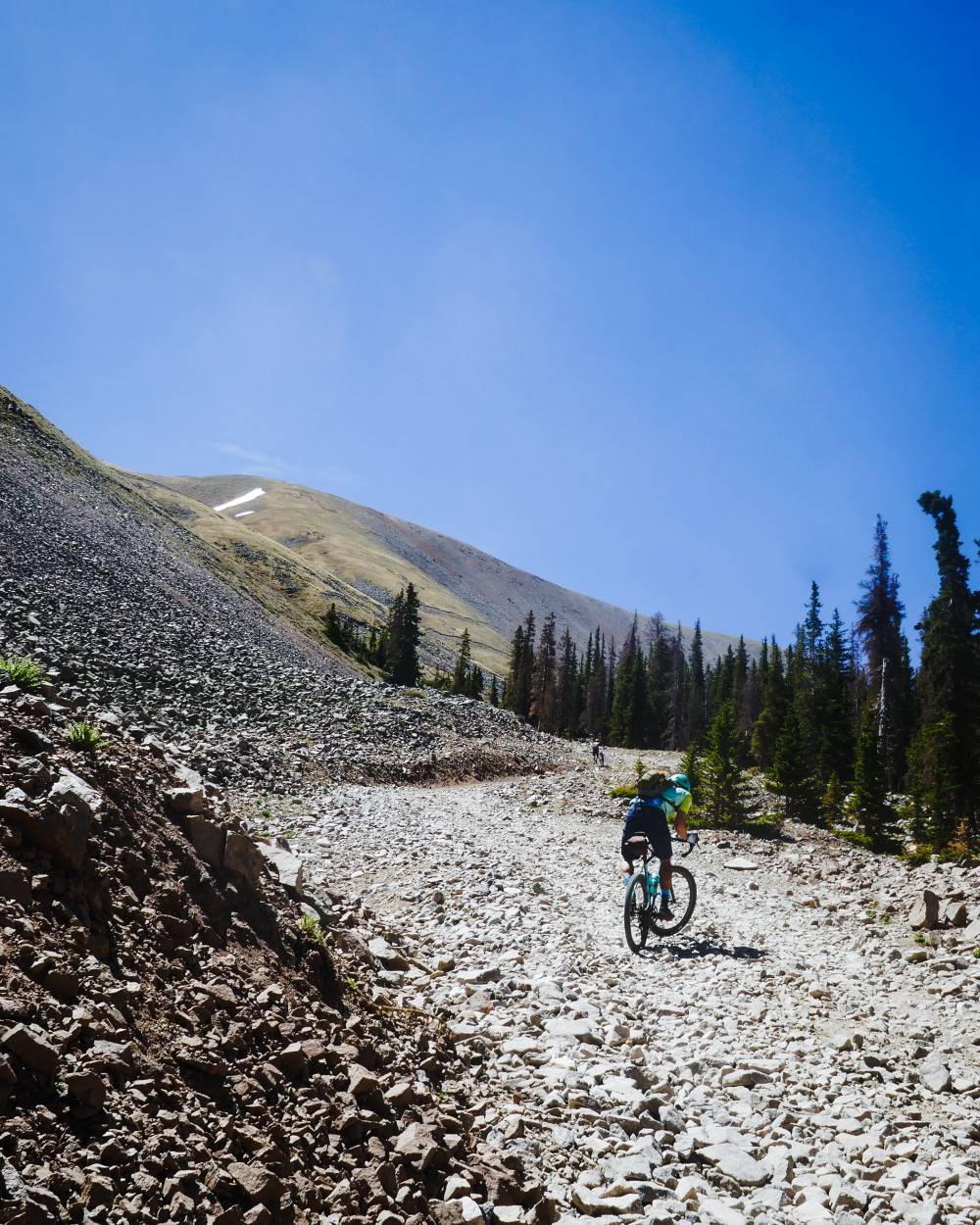 It was right around here where we saw the only other people on the mountain that day, it was three people on the mountain besides us that day and they were there on razors or buggies or whatever you call those things and one of them was stuck in the snow. Stephen got off the bike and helped them push the buggy to get it through the snow drift. The perks of the bike allowed us to just pick up the bikes and hike over the snow. Neils, feeling the fatigue take hold, decided to hang back. In true Rodeo fashion, we left one man behind. It might have been the smart decision. I think he took a nap. The three of us pressed on and eventually we rounded that one switchback we saw for the past couple hours that had been taunting us all day. As we rounded the bend a new landscape opened up below us. A high alpine plateau with a myriad of dirt roads.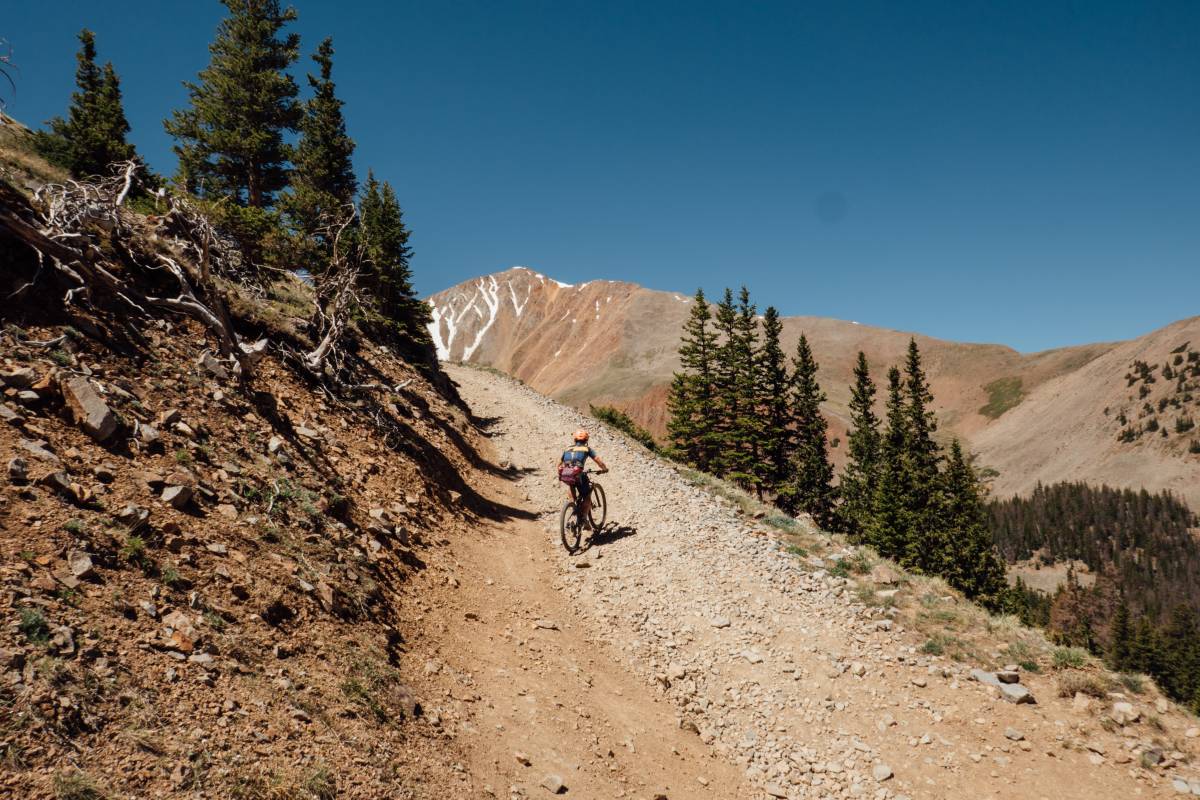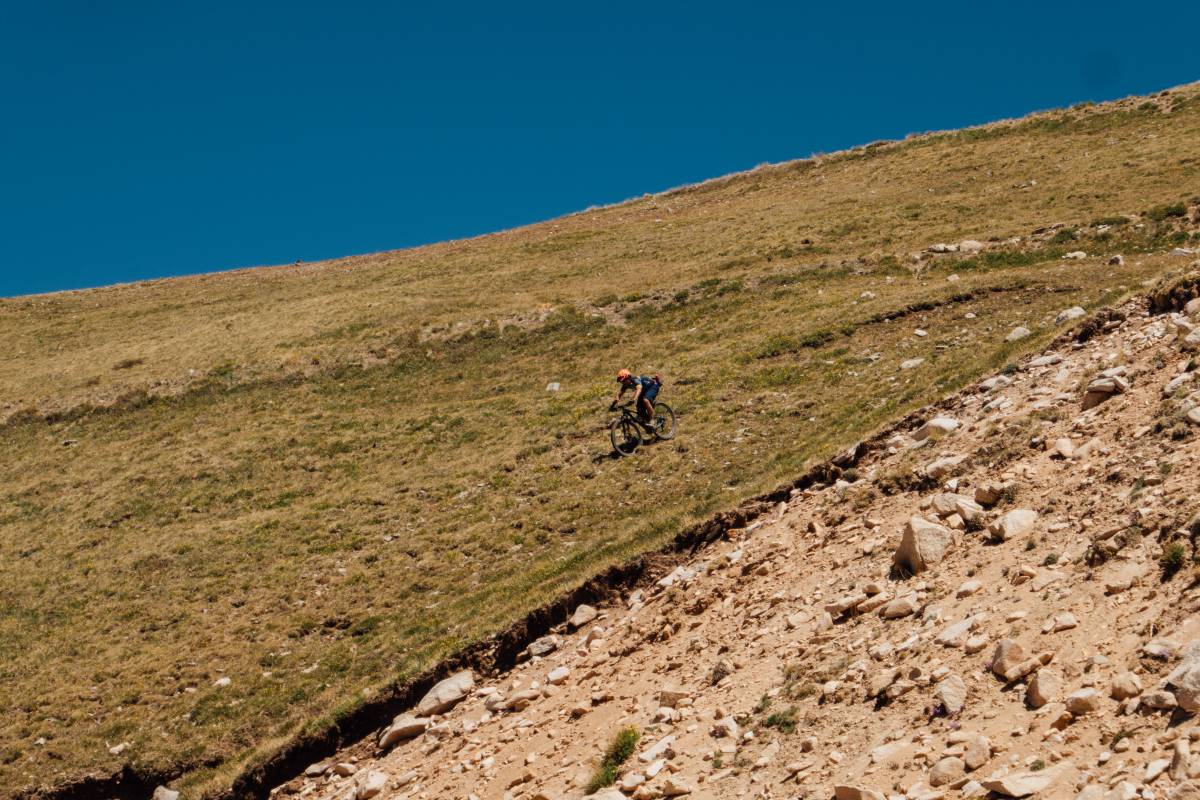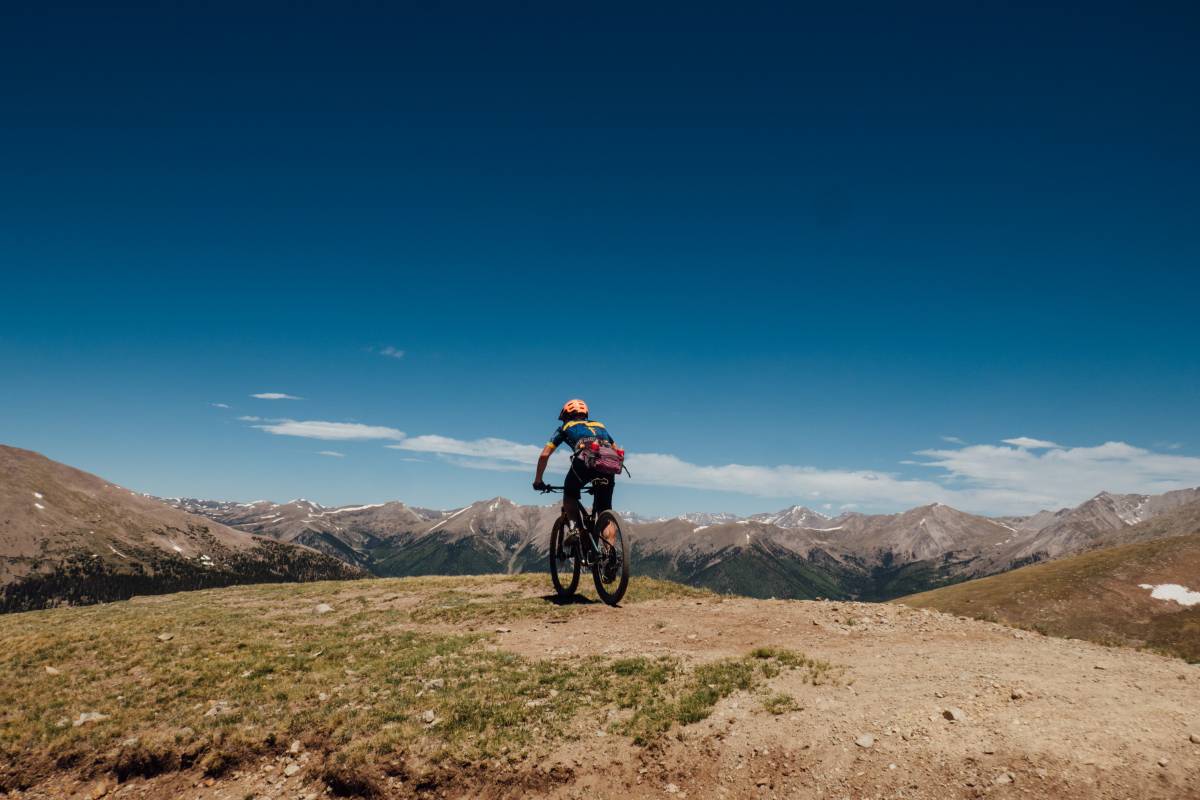 We decided that was a good spot to stop and eat lunch. That grocery store premade sandwich was peak. I wolfed down the sandwich and while Stephen and Chris continued to eat, I lay down and closed my eyes. I was tired and the road still pointed up, but I took this moment to recharge what I could. At the start of the day, before we knew the true difficulty of what we were planning to do, we naively thought maybe we could peak bag Antero and then connect with some of the other roads on the alpine plateau, and snag one of the many 13ers near Antero. It wasn't meant to be as the true effort required was apparent.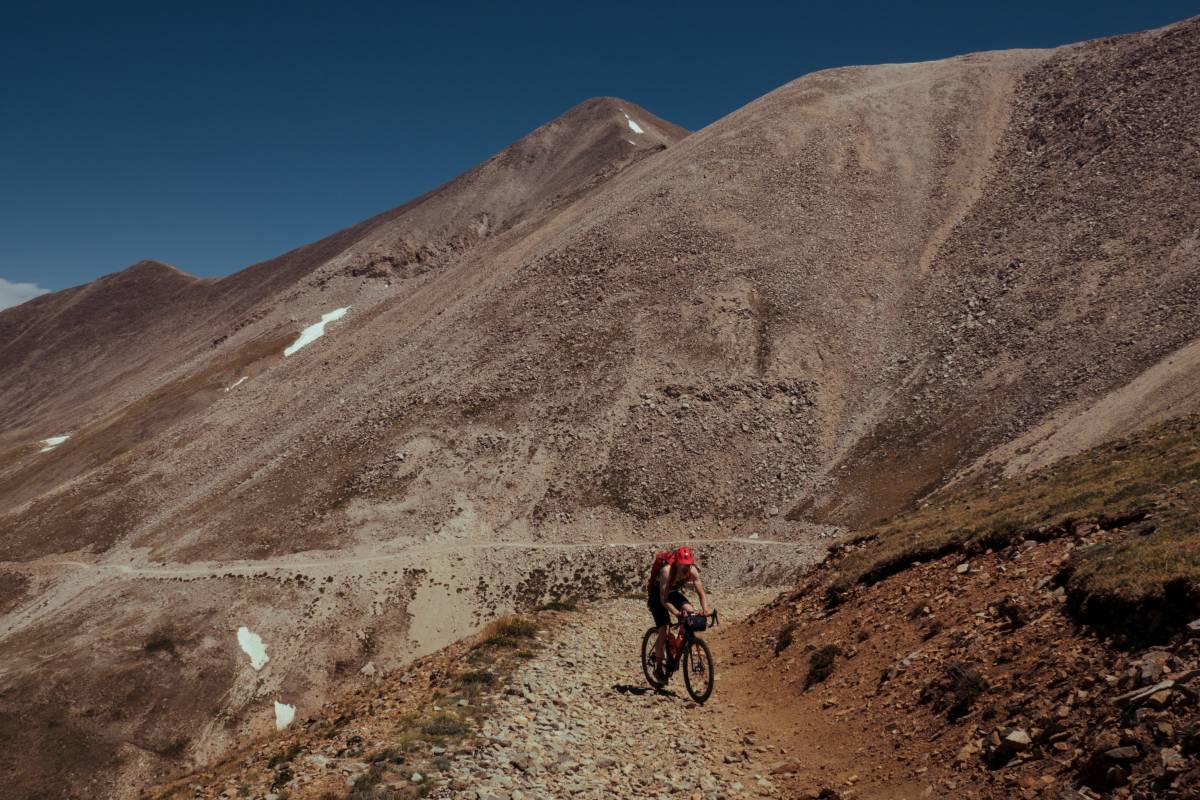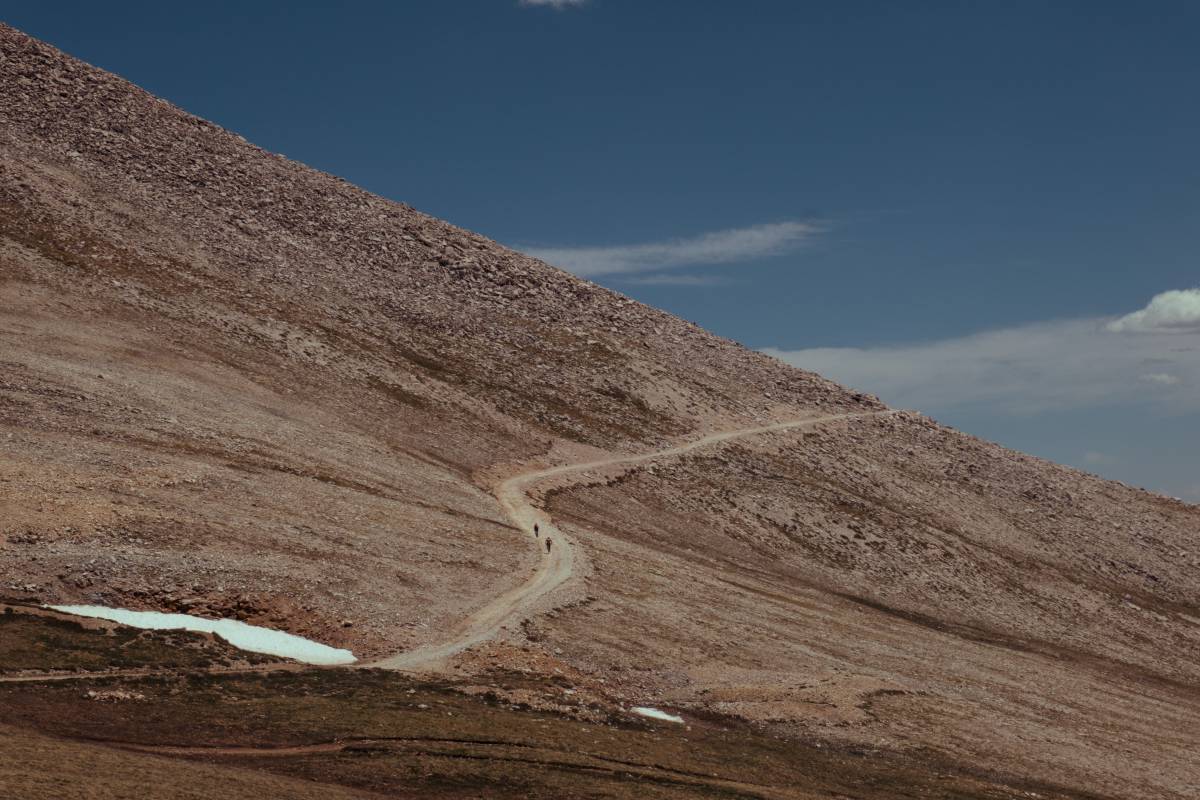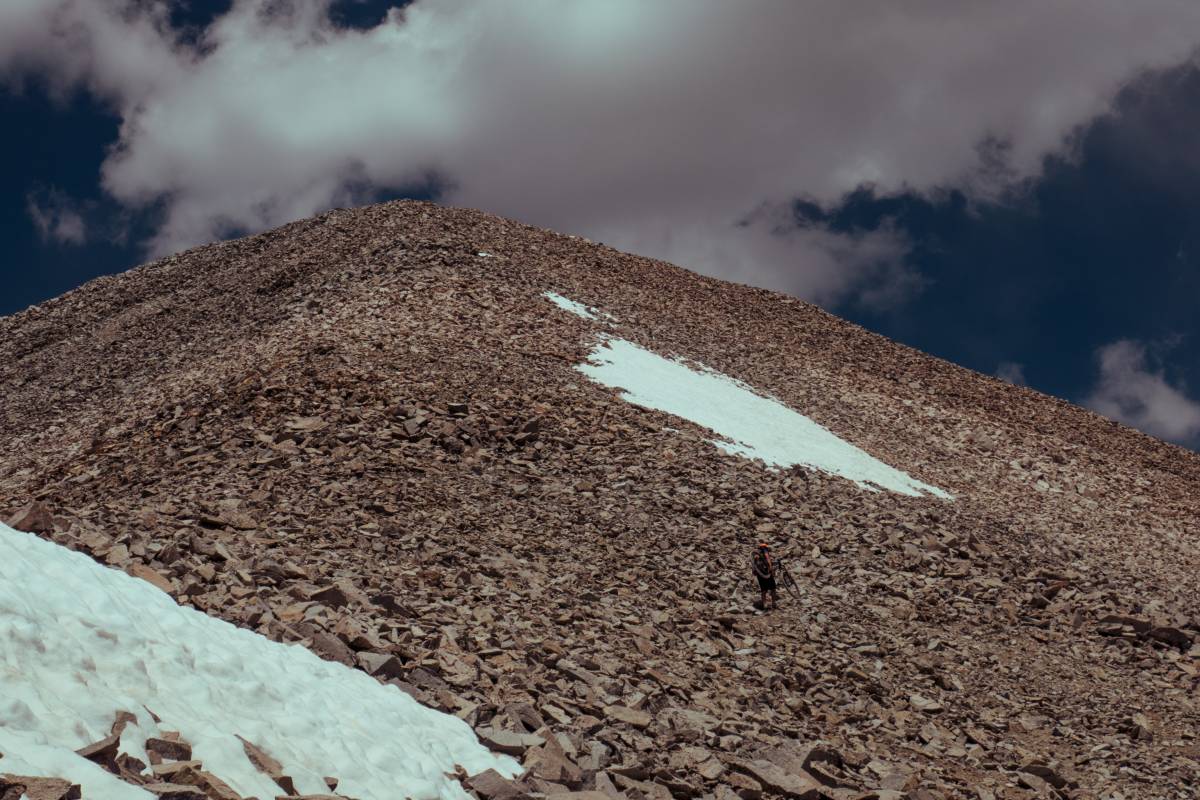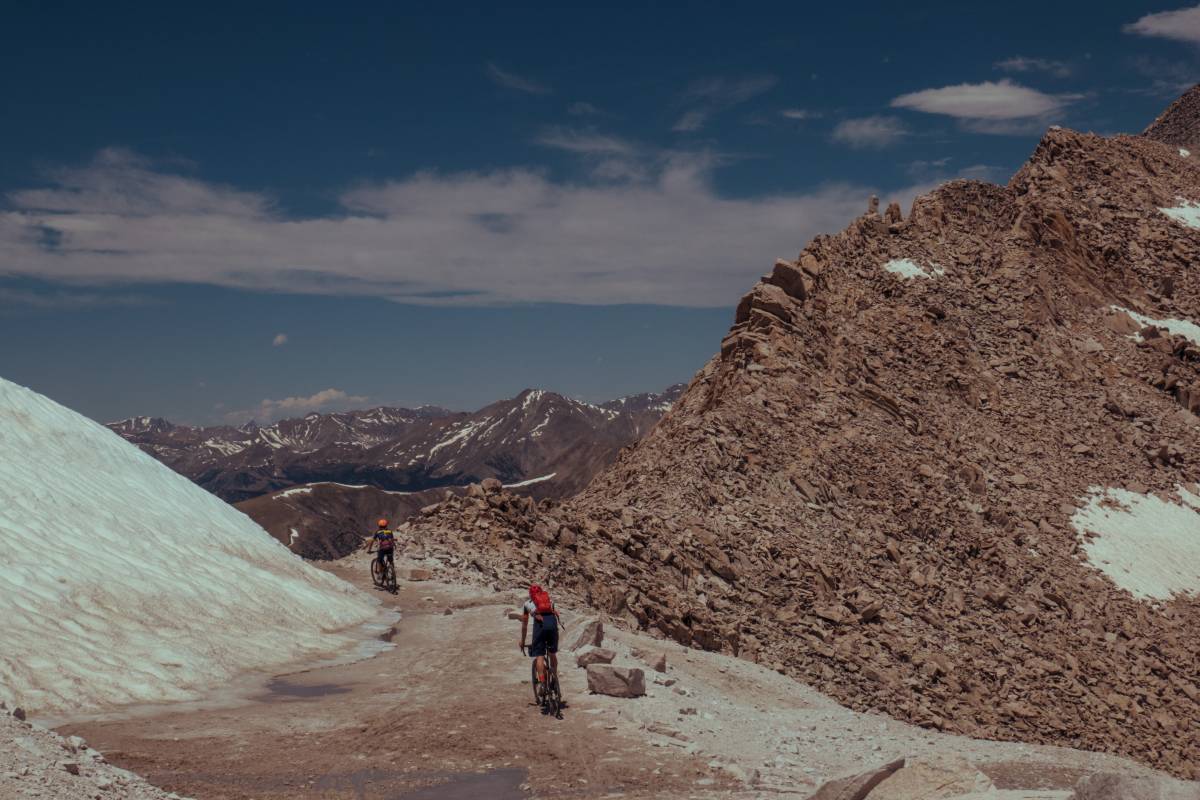 The final switchbacks of the climb were truly brutal. It was steep and loose and again there really wasn't much of a line, somehow the top came ever closer and eventually the road ended. All that was left was a three-quarter mile hike across a thin ridge and then a scramble up the scree. Chris and Stephen wanted to Summit, while I was thinking, "Here we are at 13,500ft, there's no more road, isn't that good enough?" I just wanted to lie down, just descend back to camp. Chris grabbed his bike and shouldered it onto his back, "I think it's rideable" he said. He would know– he had biked Antero 20 years prior.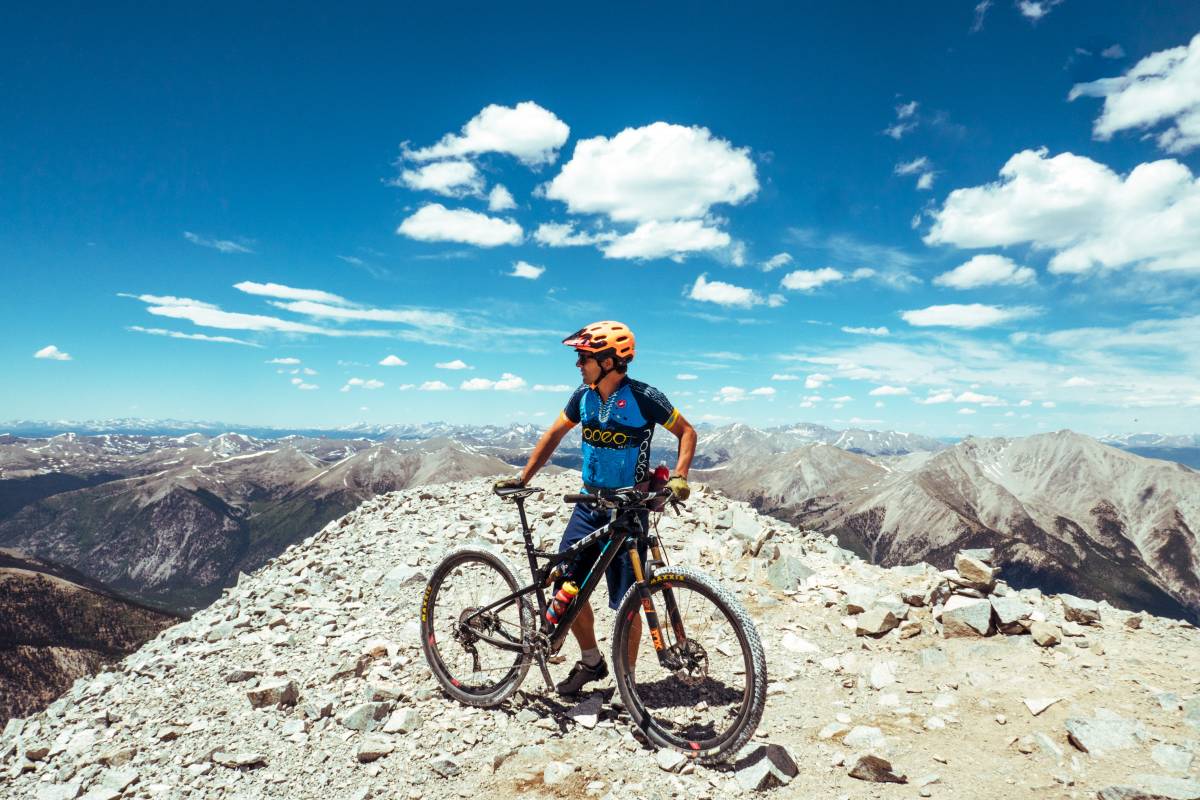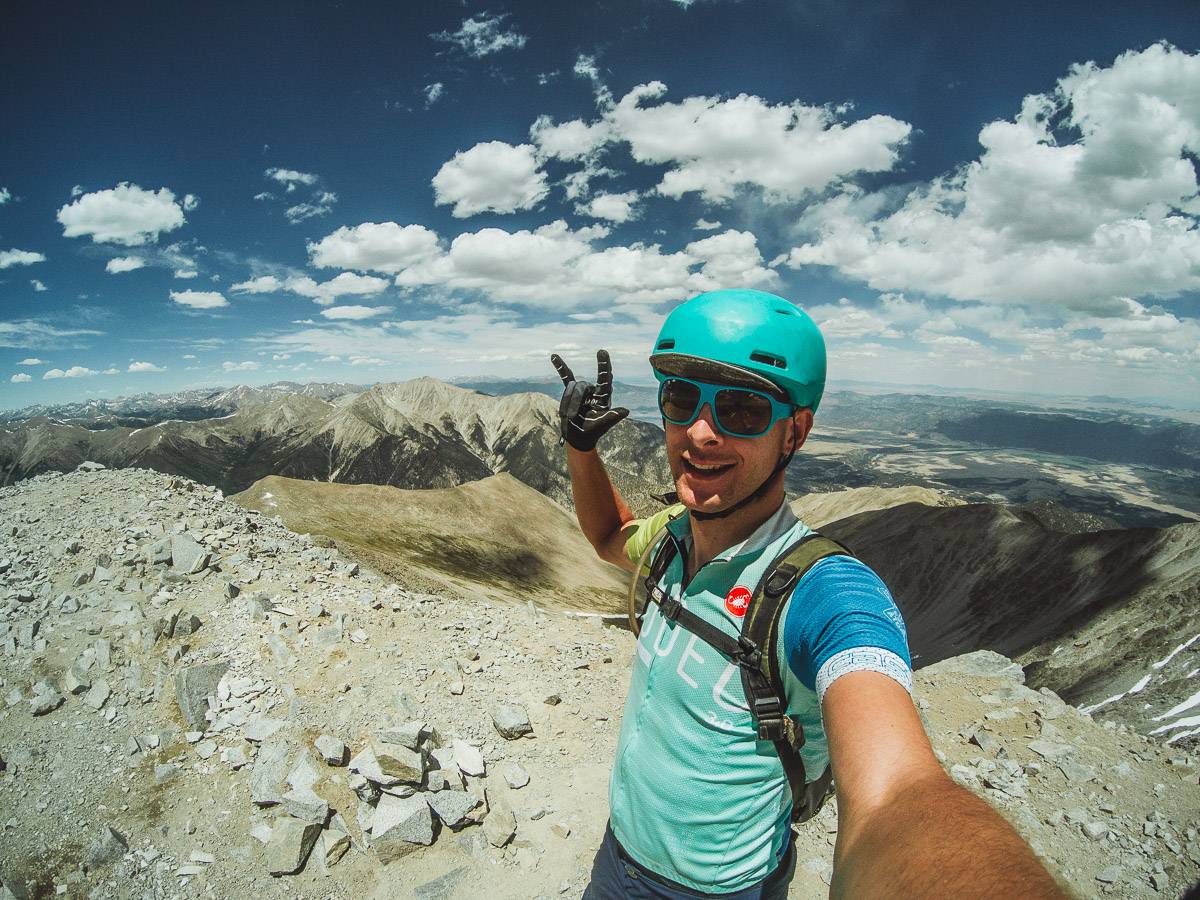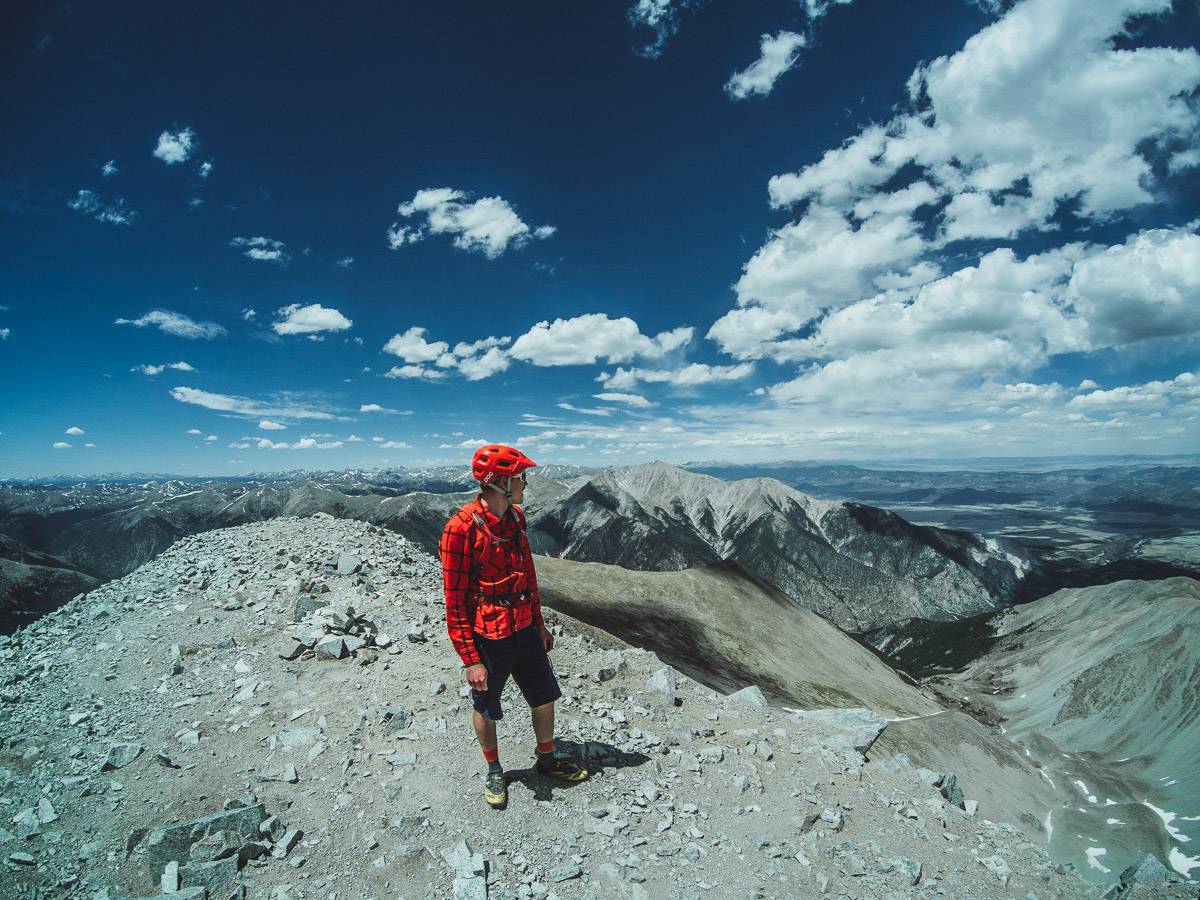 We just tried to process what was happening as he struck out on the ridge. Stephen and I left our bikes behind and pressed on foot. Chris with his bike summited right when we did and after some time soaking it all in, he pointed his bike down the boulder field. "This would be easier on my Nomad" he said in what Stephen and I thought were his final words on this earth. Stephen didn't watch. Minutes later he was all the way down to the ridge again. As Stephen and I descended the mining road we lost track of Chris. We swung around a bend and our minds were blown again: He wasn't riding the road down he was riding the 45 degree fall lines down the entire mountain. Stephen's musings were that we don't have to compare to find satisfaction in what we do. Adventure is a relative thing, and whatever it is you do in life, it would probably be easier on a Nomad.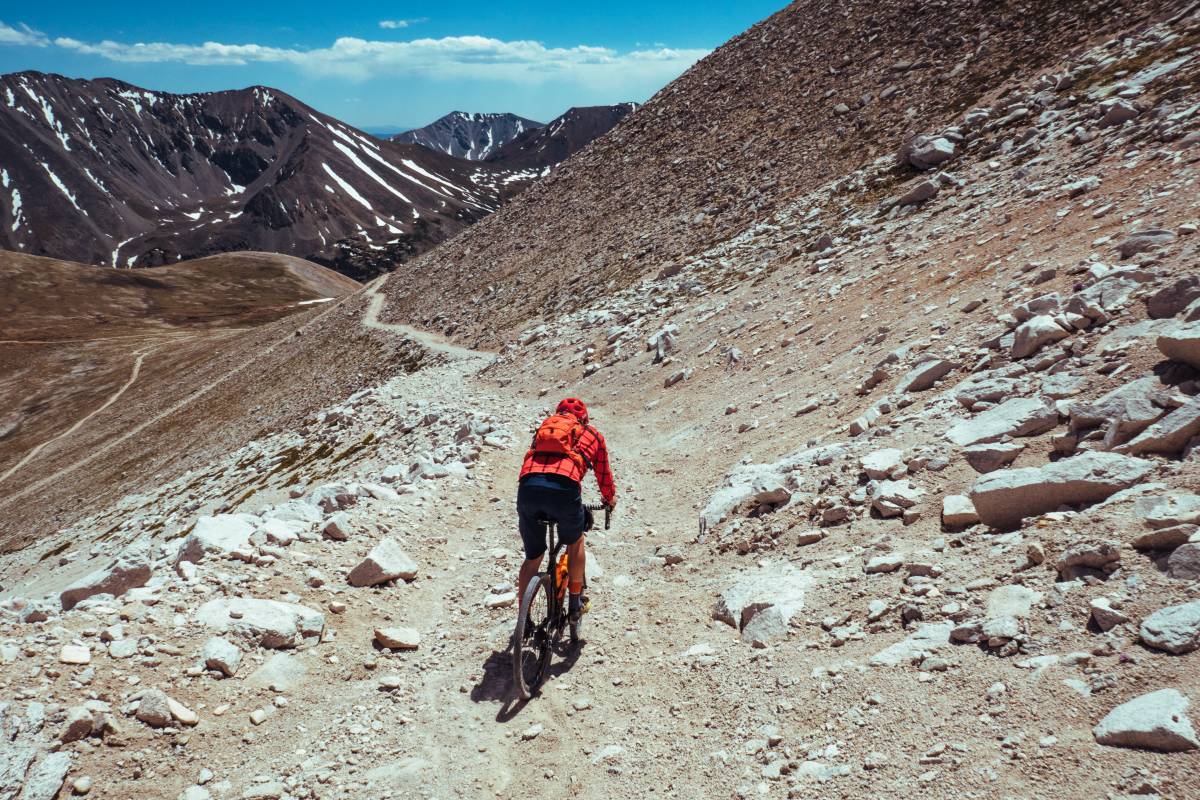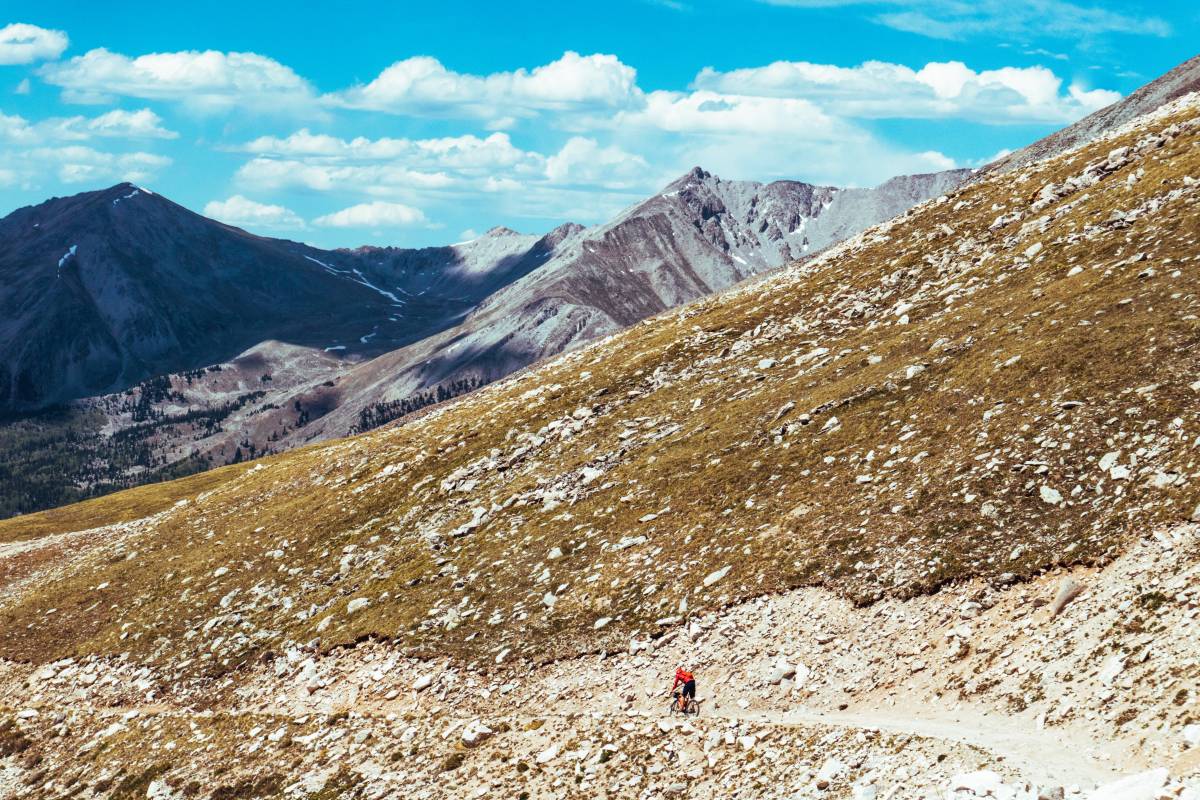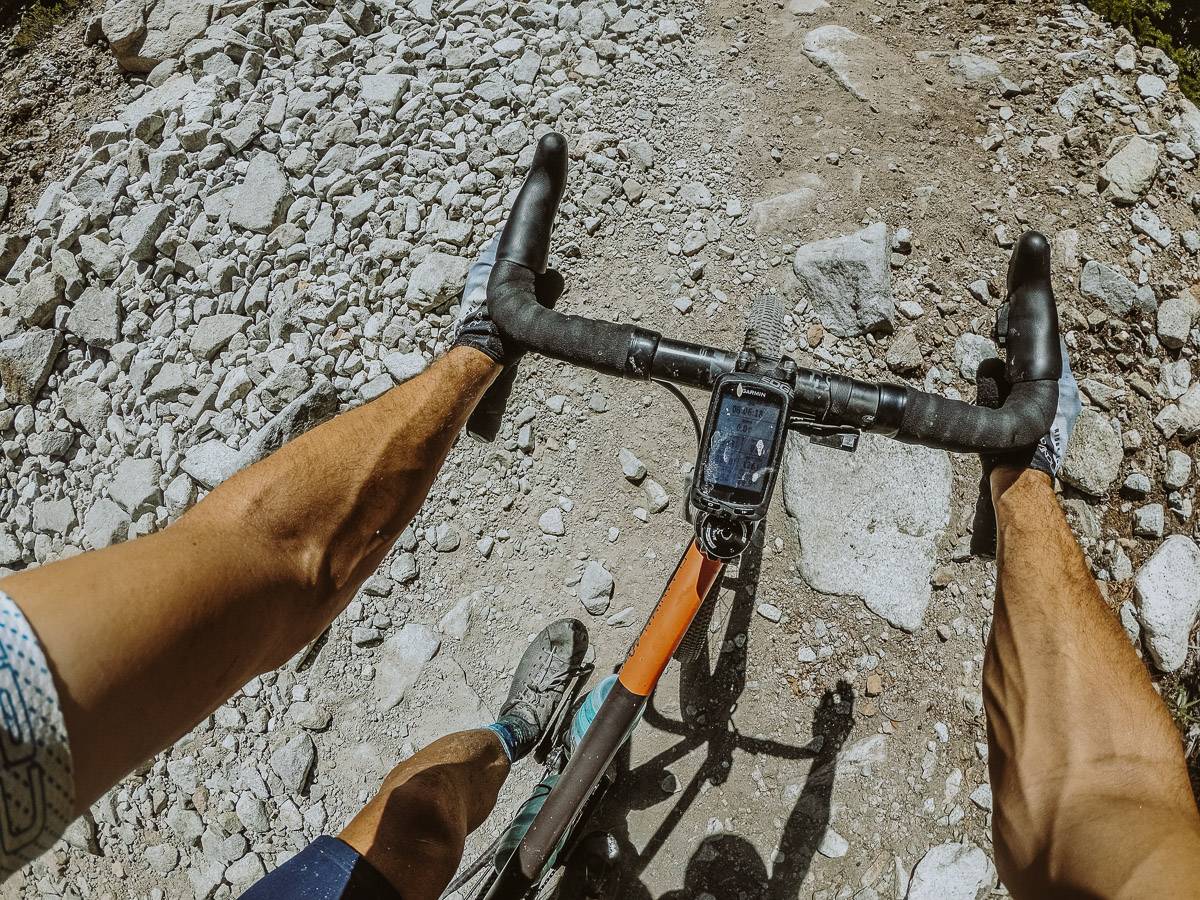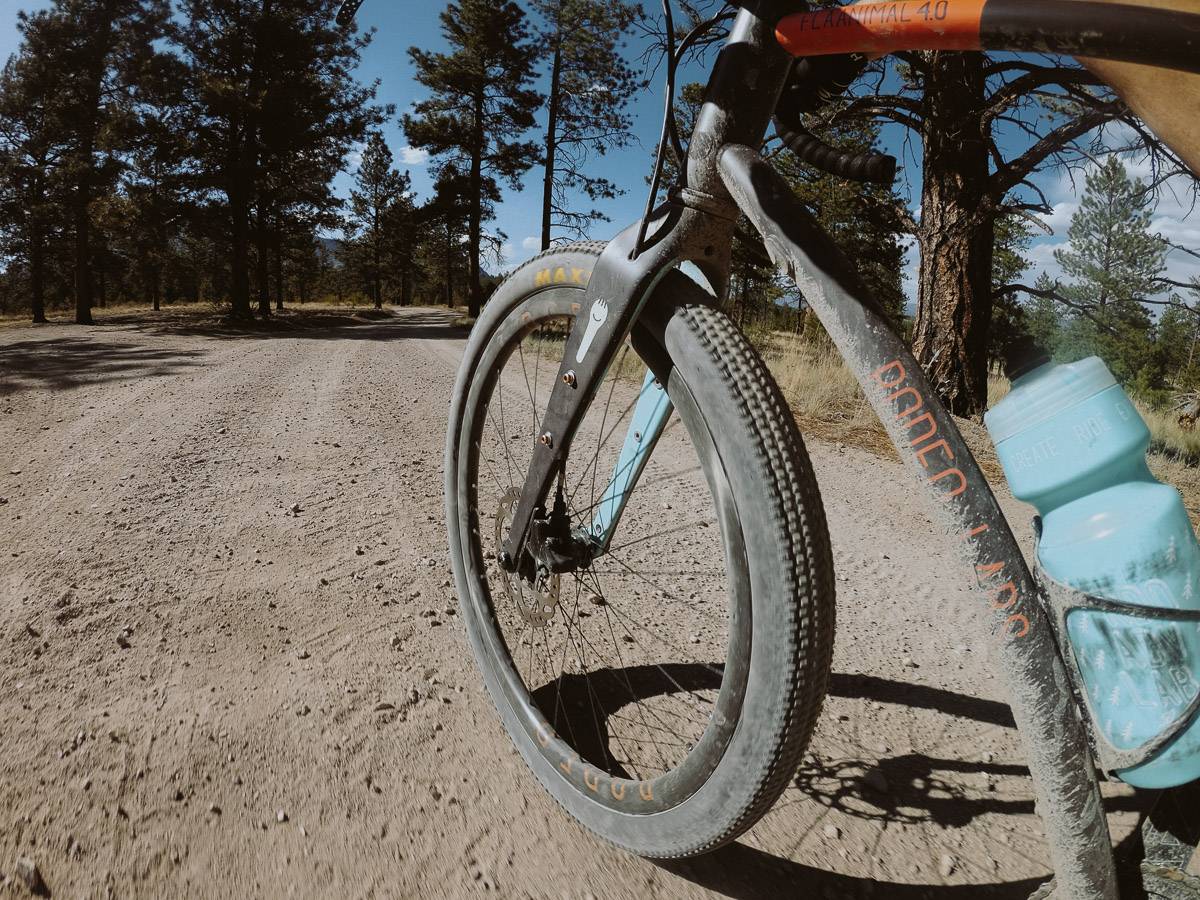 It took an hour to come back down. It was rugged. It was fun tinged with absurd. We all made it down in one piece and we all found something up there at the summit. As we made our way back to camp, our legs blown, we trickled in one by one. Back at camp, the infamous thousand-yard stare took hold. I sat in a camp chair trying to reconcile what we just did. As we grappled with having to break camp and hustle back to Denver, the daylight was already beginning to fade. In one more piece of effort, we packed up camp, went into town and got well-earned milkshakes and burgers. We parted ways headed back to our respective homes, elated with what we had done, our bodies not so sure what just happened, but our minds wandering as if we could leap and bound from peak-to-peak. We could do it again, right? Yeah, there are more Hall Pass Fridays, there are more Mountains to be climbed. Will be back.