The 2016 Dirty Kanza was probably my favorite ever achievement on a bike. The significance of the event was profound for me on many different levels. To land on the podium was almost inconceivable. Racing against such a talented and fast group of riders was hugely intimidating and also an honor. Overcoming the setbacks of flats, dehydration, heat, and headwinds with a never-say-die mindset was deeply satisfying.
Probably more than anything else though riding the Traildonkey to the category win and 5th overall was the thing I'm most grateful for from the event. We are often sold bikes as if they possess special powers that will give us the edge in overcoming our competition, but I don't think that way about our bikes. Our bikes are simply a stable platform for riders to ride, race, and hopefully succeed on based on a foundation of training,  nutrition, and decision making. Traildonkey didn't speed me up or slow me down at Dirty Kanza, it simply ushered me to the finish line swiftly and dependably, which is all I could ever ask of it. I'm proud of our bike and I'm proud to ride it.
In 2015 one of my deep disappointments from the race was not taking more photos. If Rodeo is about one thing it is about sharing the ride, so for 2016 I swore to myself that I would take the camera out and try to share the experience of the day start to finish. Here are some photos and moments from the weekend of June 6, 2016: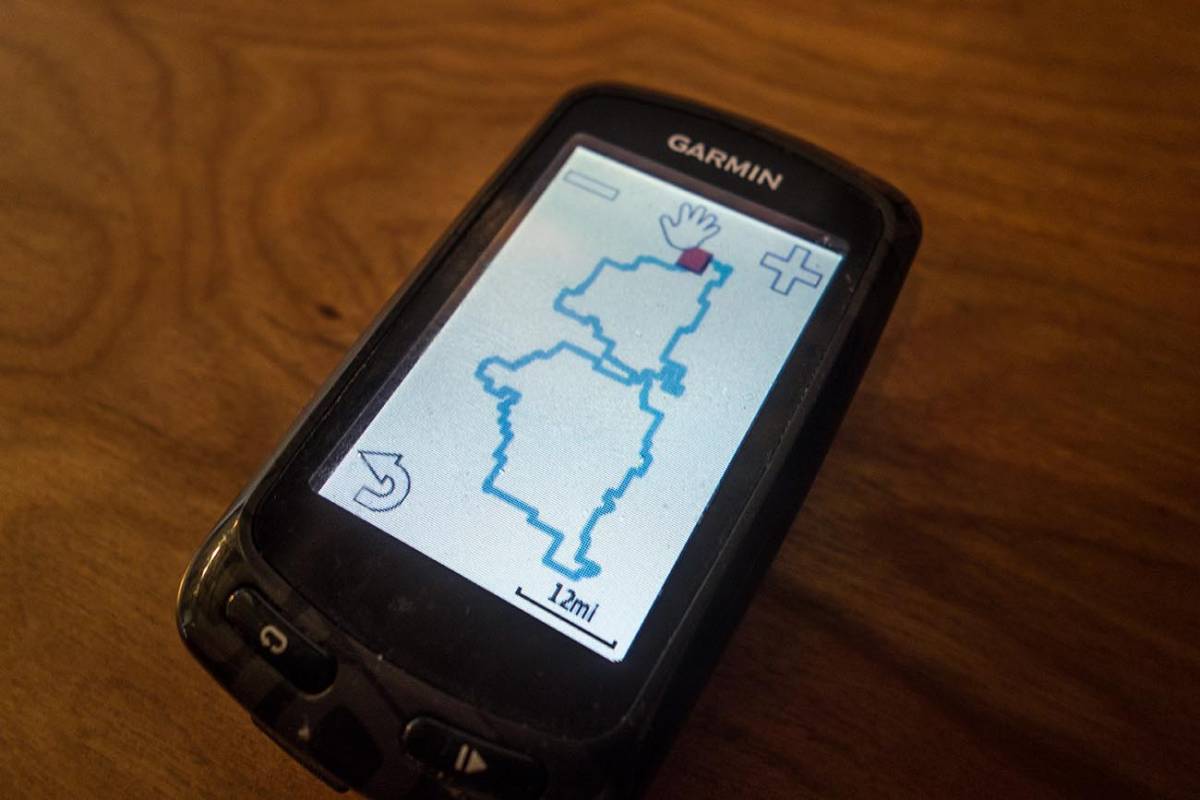 I remember this moment like it was yesterday. The Thursday before leaving for Emporia I uploaded the course maps and scrolled on my Garmin to the start and finish of the race in Emporia, Kansas. On a screen the course looked so small but I knew that it was spectacularly long.
24 hours later we were there, right where the pin on the map was, picking up our race packets. The charge of energy was you stand in line felt like static. I was so nervous. Was anyone else as nervous as me?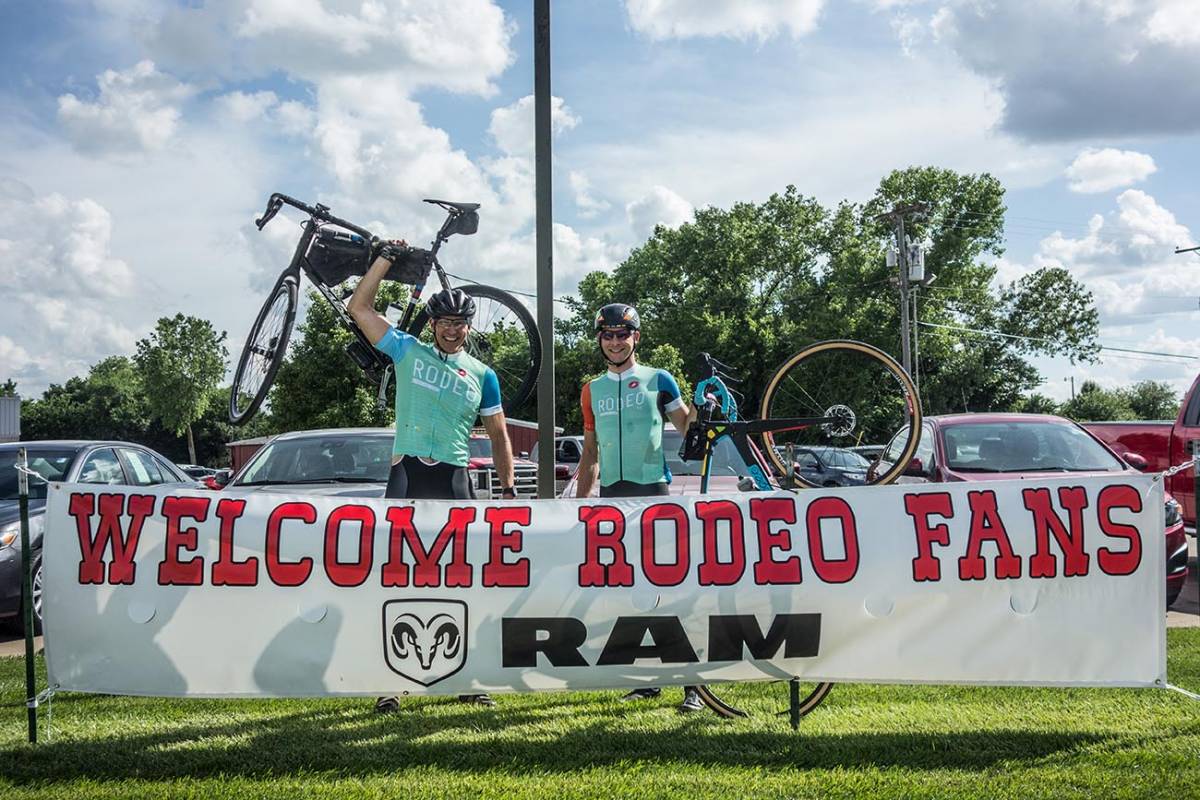 Tom Miller and I headed out for a spin immediately after registering. The temps were great, the sky was blue, and the roads were mercifully dry and free of the mud that had plagued us in 2015. That alone was reason to smile!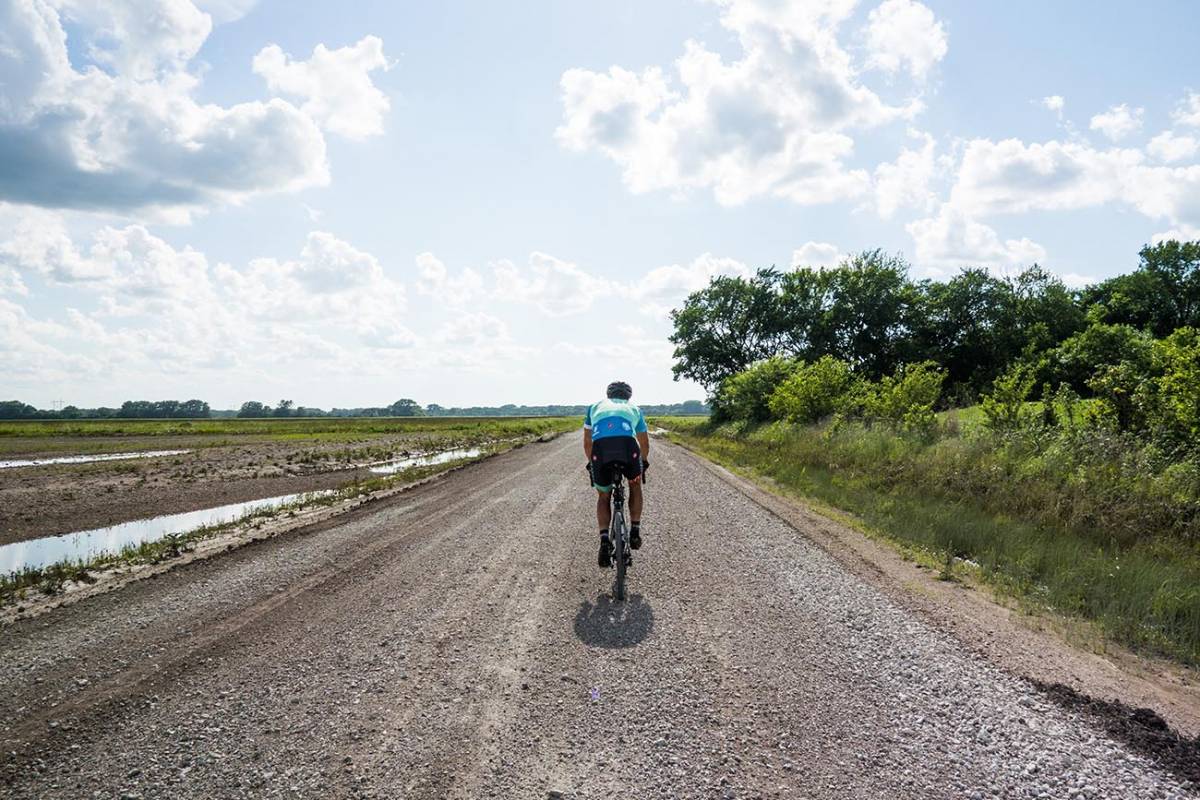 What would the race be like this year without the mud? The road surface was dry but surprisingly strewn with some nasty little ricks here and there.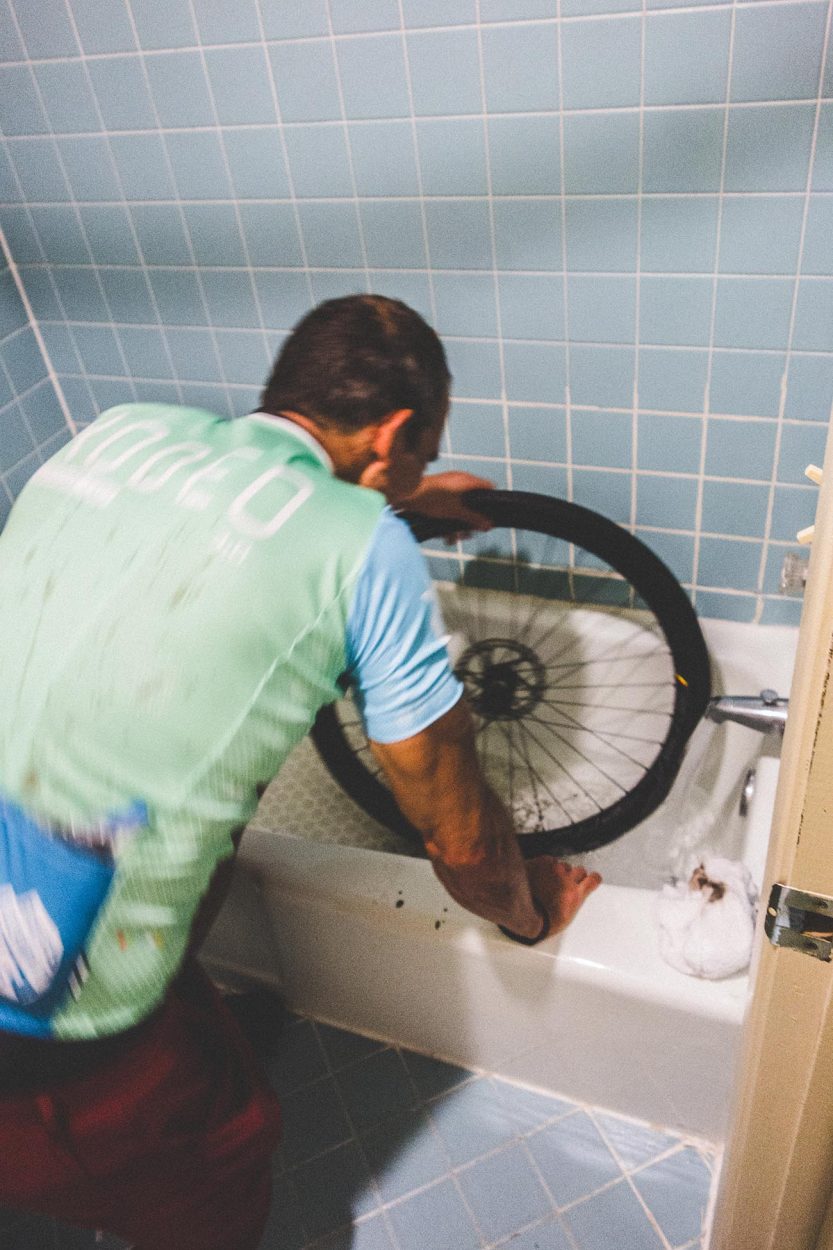 Case in point: After the pre-ride Tom's tire sprung a leak for an unknown reason. We searched for the hole with no success. Discovering things like this right before the race was deeply unsettling.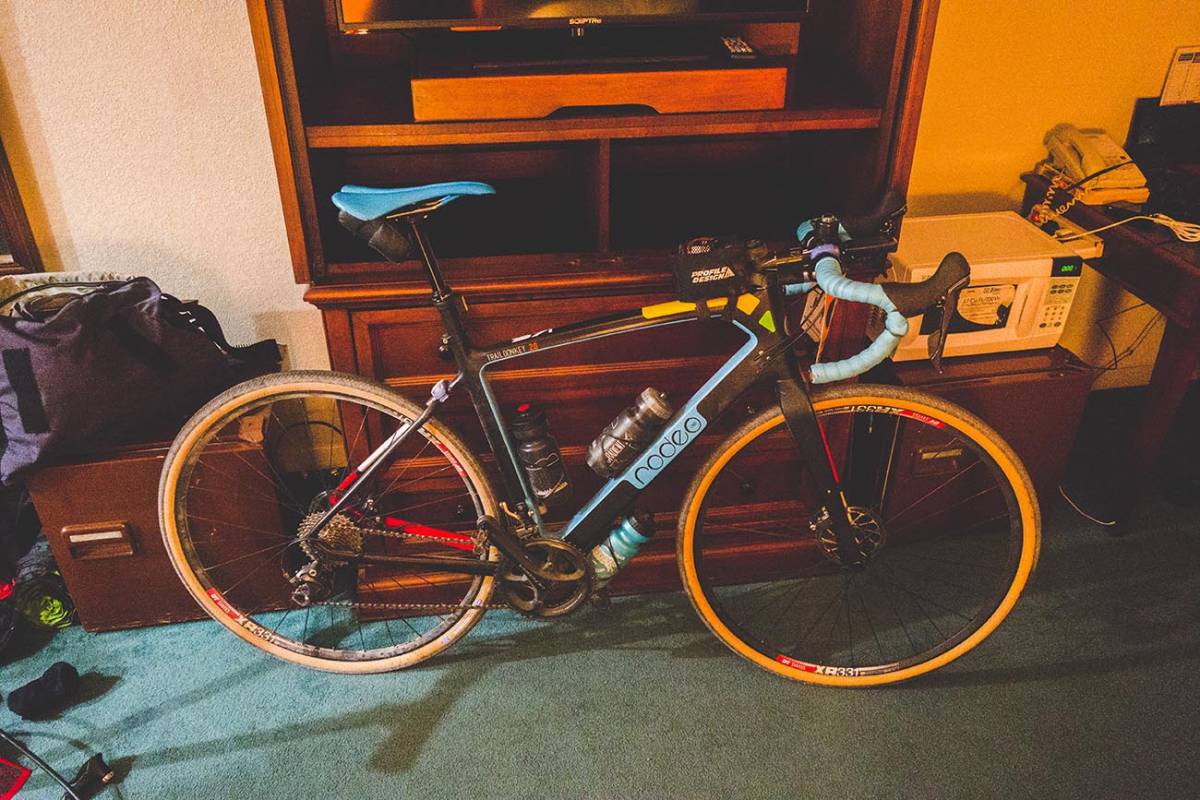 My gear setup for 2016 was totally new. In 2015 I rode Traildonkey 1.0 which was a modified open mold frame. For 2016 I was racing 2.0. 2.0 is my creation, a new bike from scratch. The pressure I felt to have a respectable race was enormous. I didn't need to win or even place high to feel good about our bike, but I wanted to show that Rodeo has what it takes to compete. I wanted to prove that our bike was up to the task of Kanza just the same as any of the big brands.
I took a risk on tires. Because the course was so dry I chose to forego knobbies completely. I thought that the lower rolling resistance of a medium duty slick tire might add up to a valuable time savings over 200 miles. Was there any way to verify my theory? No, not really. But it was a hunch, maybe even a placebo. Feeling fast is important sometimes. 200 miles is a long time to spend in your own head wondering if your tires are slowing you down. The tires I went with were 38mm Panaracer Pasela PTs. I ran them tubeless on Stan's rims because I lent my Rodeo wheels to another Traildonkey pilot Rod who needed a set for the race. The setup felt great! Paselas are quite durable because they are a basically a commuter tire, but the smooth tread and durability also lend themselves to gravel type rides as long as you aren't running into deep mud or sand.
The 3rd bottle cage under the downtube of the frame was super handy. That was something we added very late in development at the behest of people following the project and I'm really glad we did. After running out of water in 2015 I was determined not to make the same mistake again. In my bottles I had 2x concentrated liquid calories and in my Camelbak I carried water with electrolytes. The theory was that liquid nutrition is easier to process than solids. I started the race with solids (Trailnuggets) but after about 80 miles I switched to liquids only for the remainder of the race. Constantly ingesting calories and water is probably the single biggest thing people get wrong in Dirty Kanza. NEVER stop eating and drinking and do not let yourself run out of water!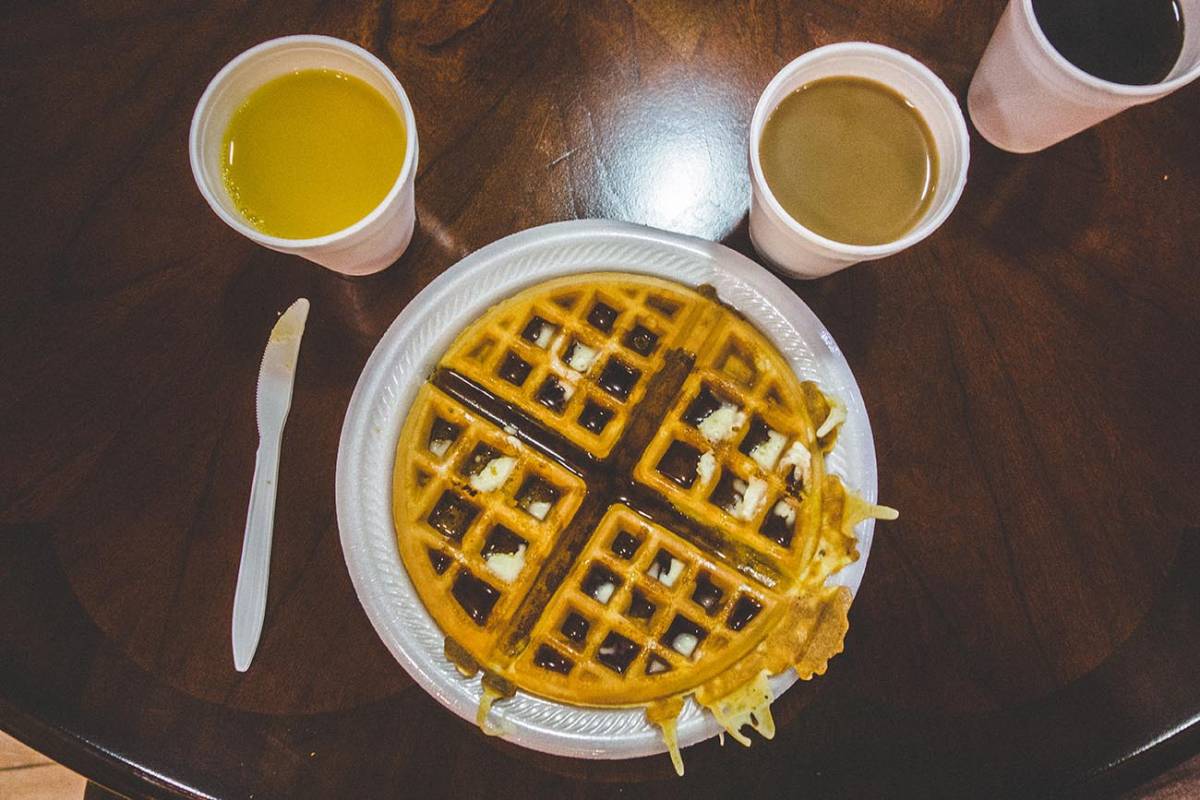 Proper Pre-Race nutrution Prevents Poor Performance. My favorite? Pancakes or waffles smothered in peanut butter and syrup. I'm sure I'm doing something wrong, but I'm not sorry.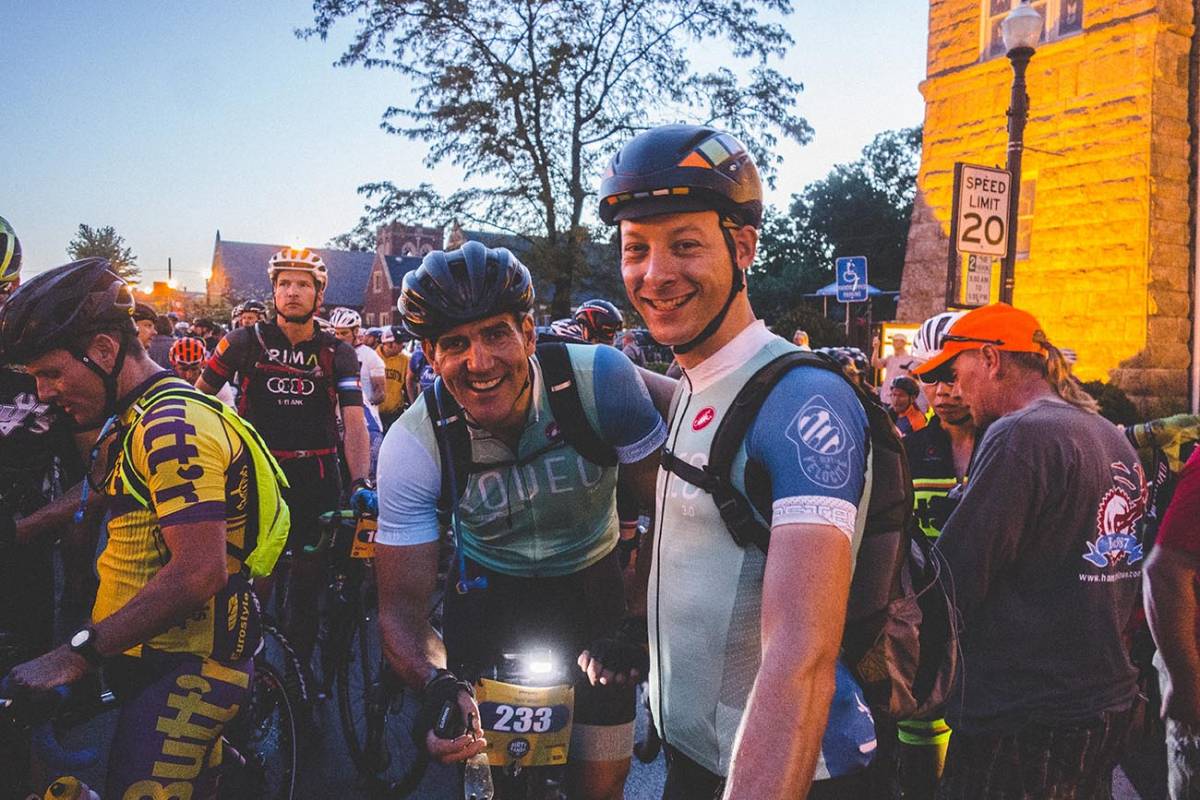 Tom and I were all smiles at the start. Tom is a rad dude, always smiling!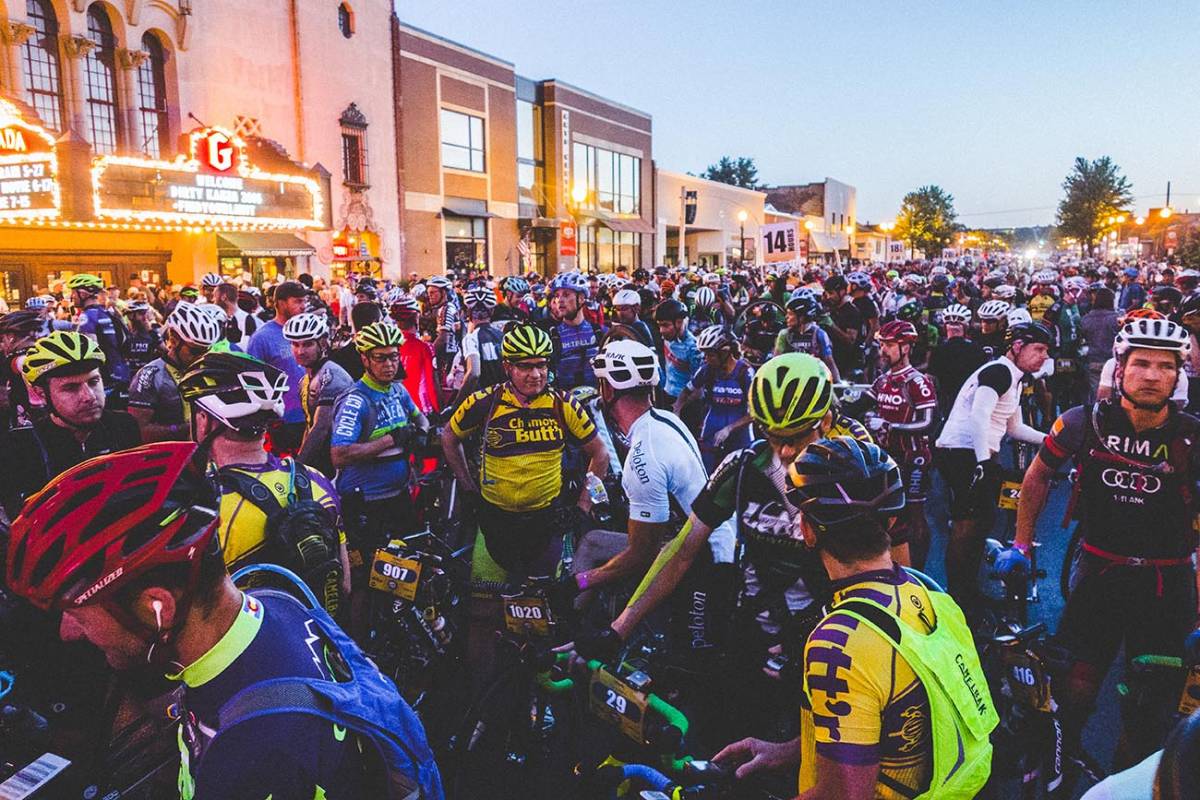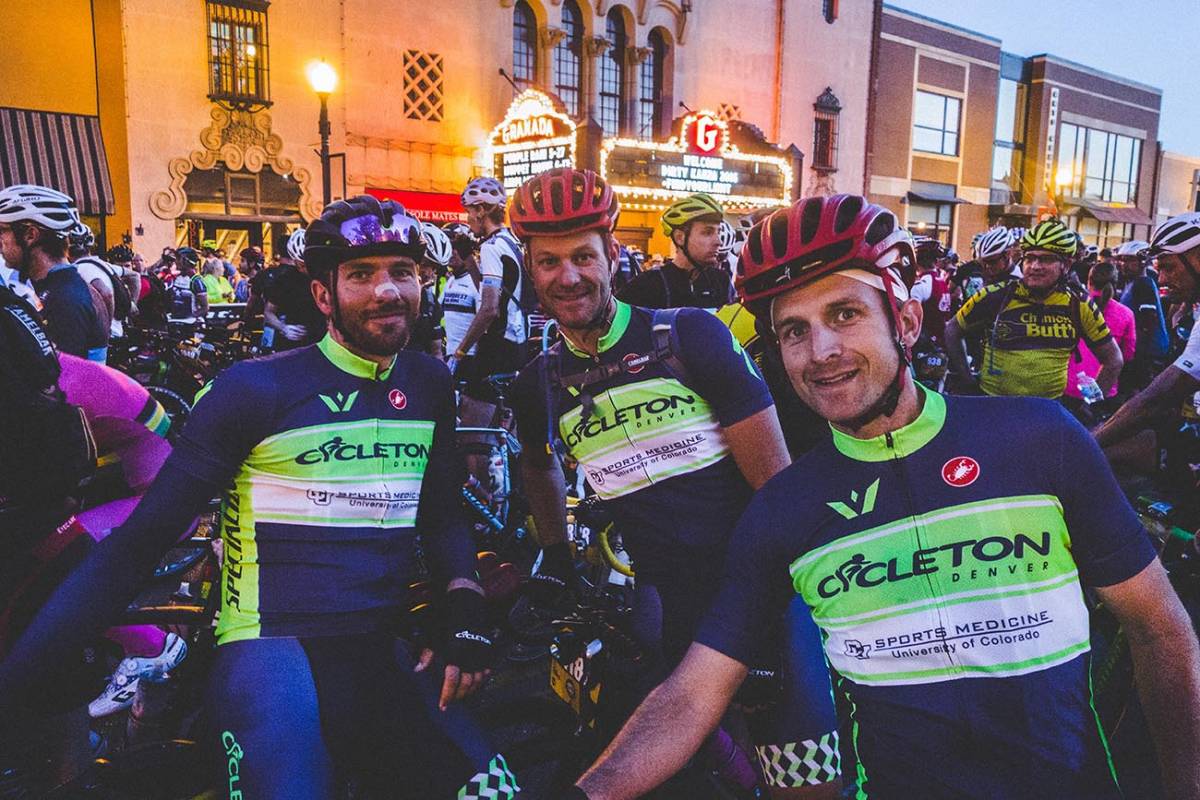 The Cycleton crew from Denver looked primed and ready as well. I'm positive a stronger trio of riders were not lined up at the race. Russ was felled by a derailler that ripped off in the mud later in the day, but Jerod and Andrew both finished very high in the rankings despite inevitable setbacks.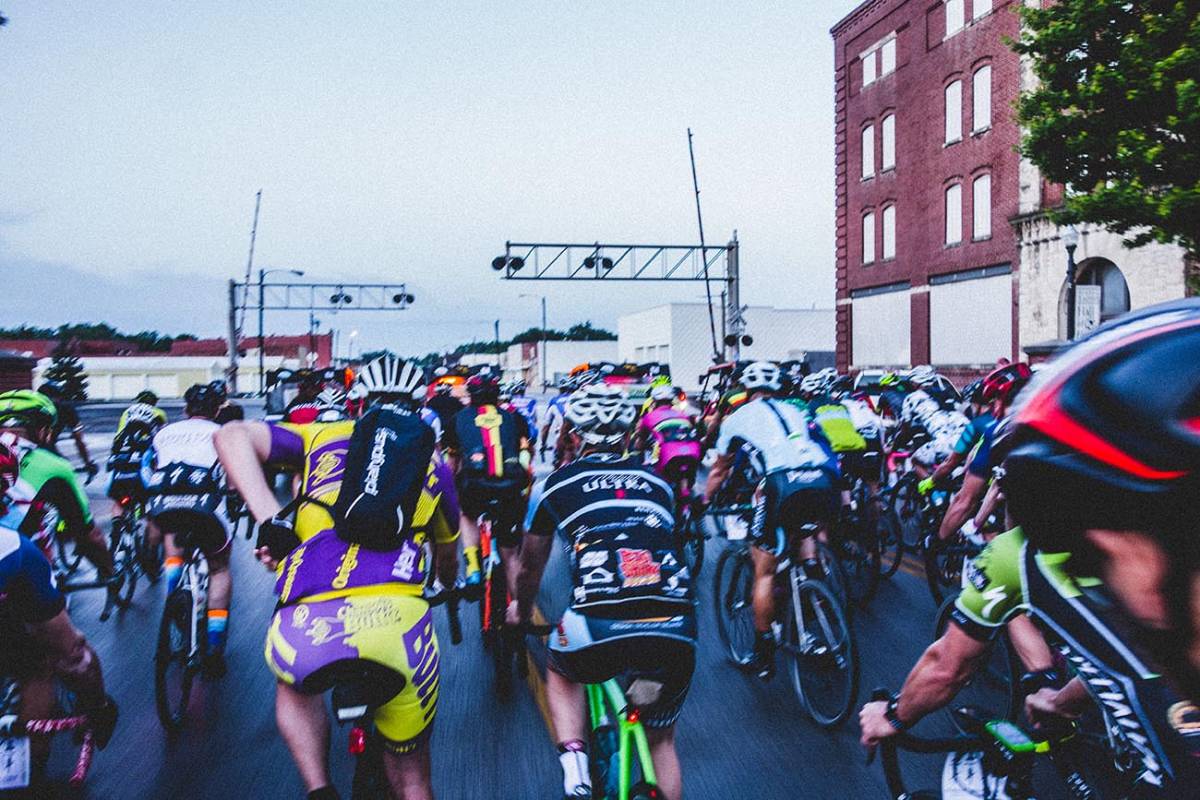 You feel SO MUCH tension and expectation leading up to the start of Dirty Kanza. Months of planning, logistics, expense, and even stress really add up. When the gun finally fires and the crowd surges forward it is such a massive relief to FINALLY be moving. We do this because we love to ride bikes, and finally we're riding bikes!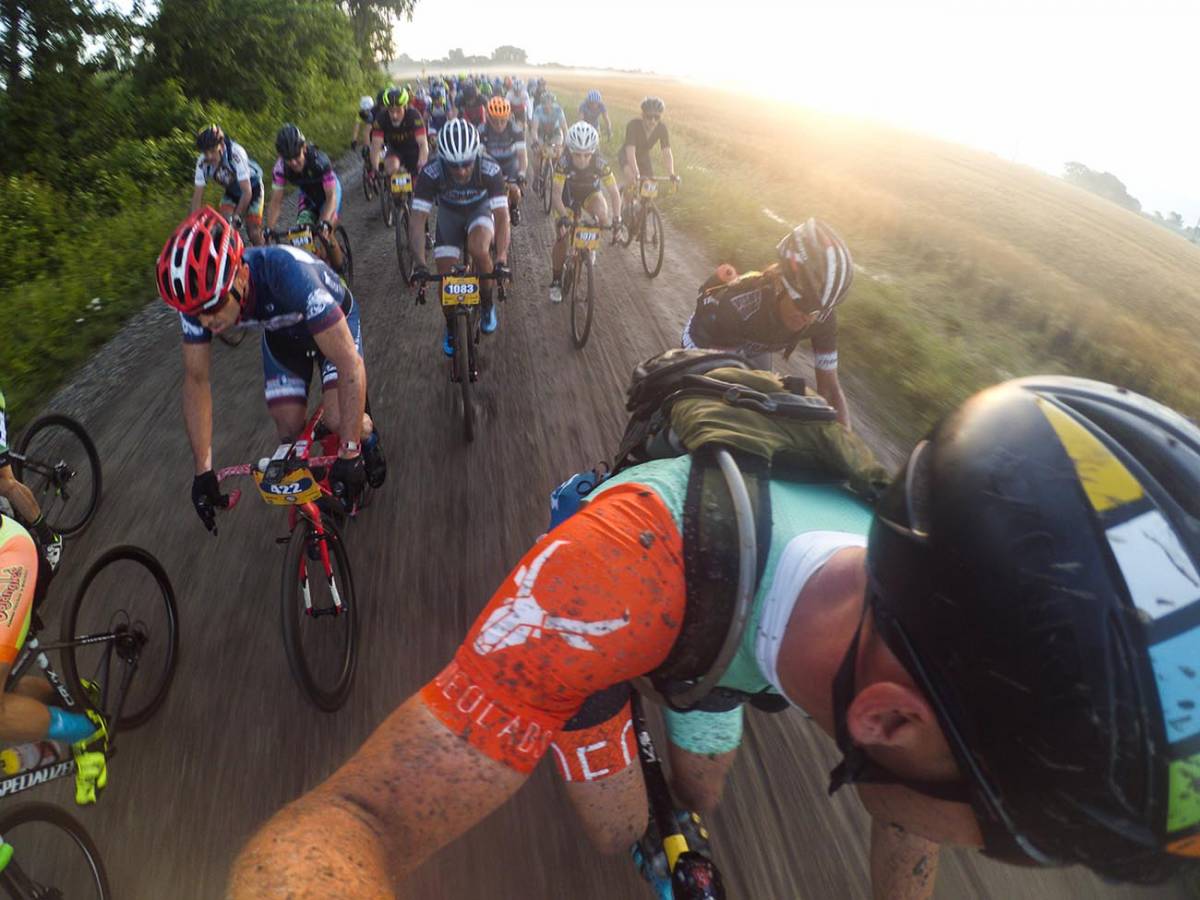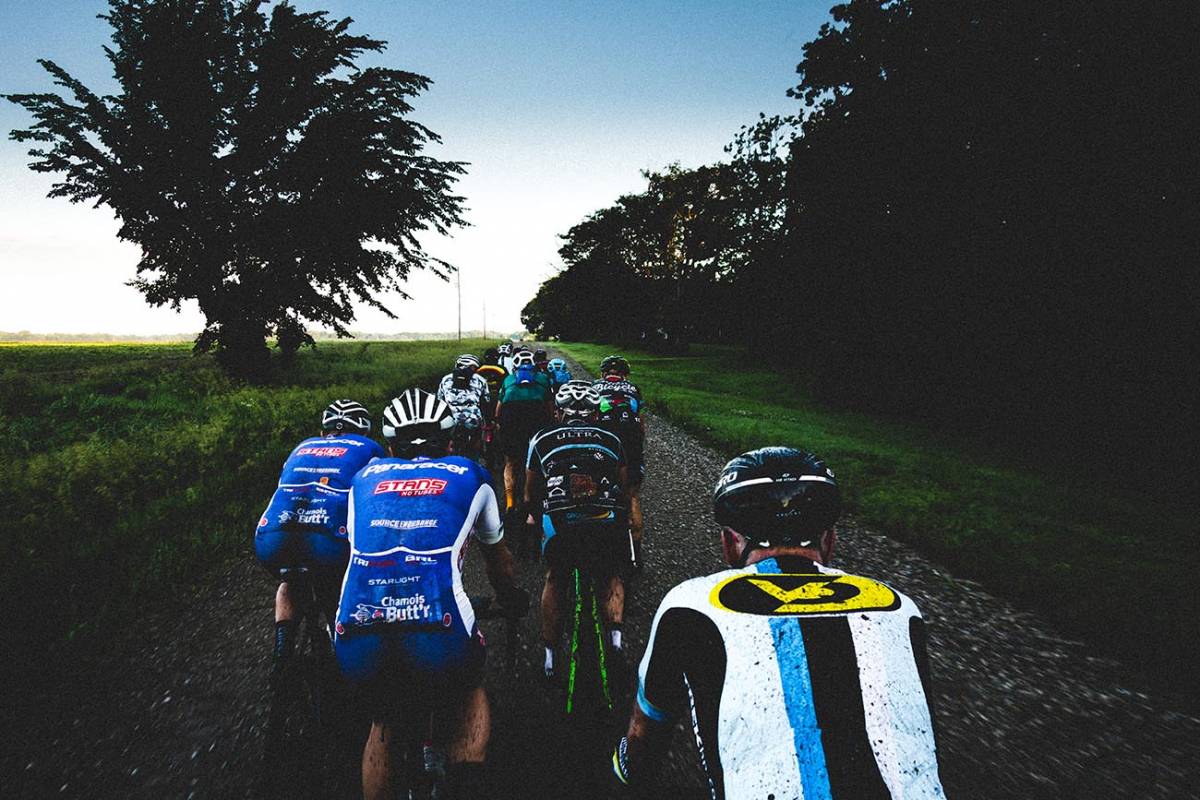 The early miles of Kanza were magic. The temperature was amazing. The light was lovely. Spirits were as high as the pace.
A freak thunderstorm hit the first few miles of the course the night before and the resulting water and mud were a surprise. About three or four miles in I noticed people pulling off into the grass. Cursing was heard. Suddenly I realized that clogged derailleurs were snapping off. I felt my own drivetrain skipping and I pedaled gingerly forward. Nothing broke! Little did I know that half a dozen friends lost their derailleurs before the race was even a half hour old. Kanza is fickle, Kanza is brutal.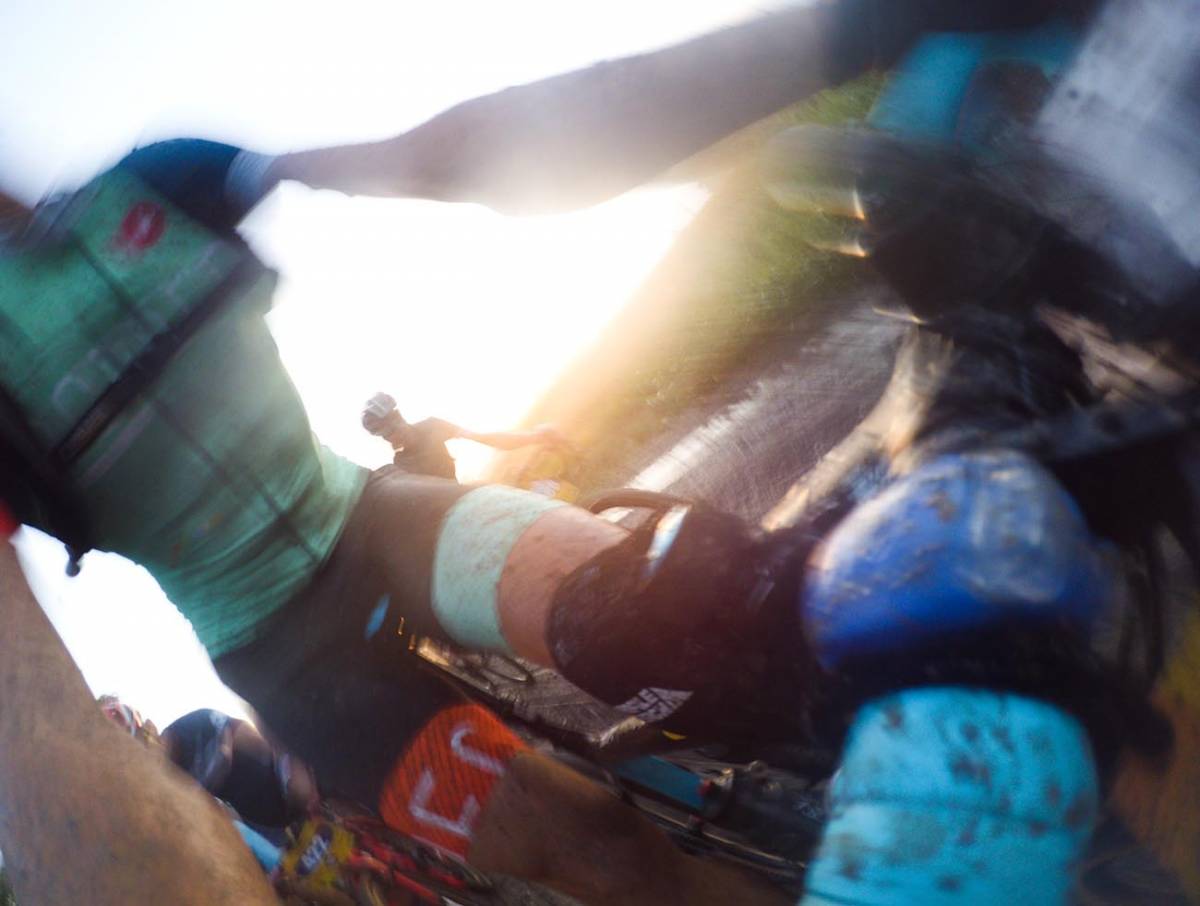 As quickly as the mud started it ended and the course returned to being completely dry and very fast. We ripped along at road bike pace. High teens and mid twenties. It's easy to get carried away in the first miles of Kanza. The big dogs are up front pulling and setting pace. You feel good so you join in. Not very many people are thinking about the next 190 miles and the consequences of over cooking the first 10 miles.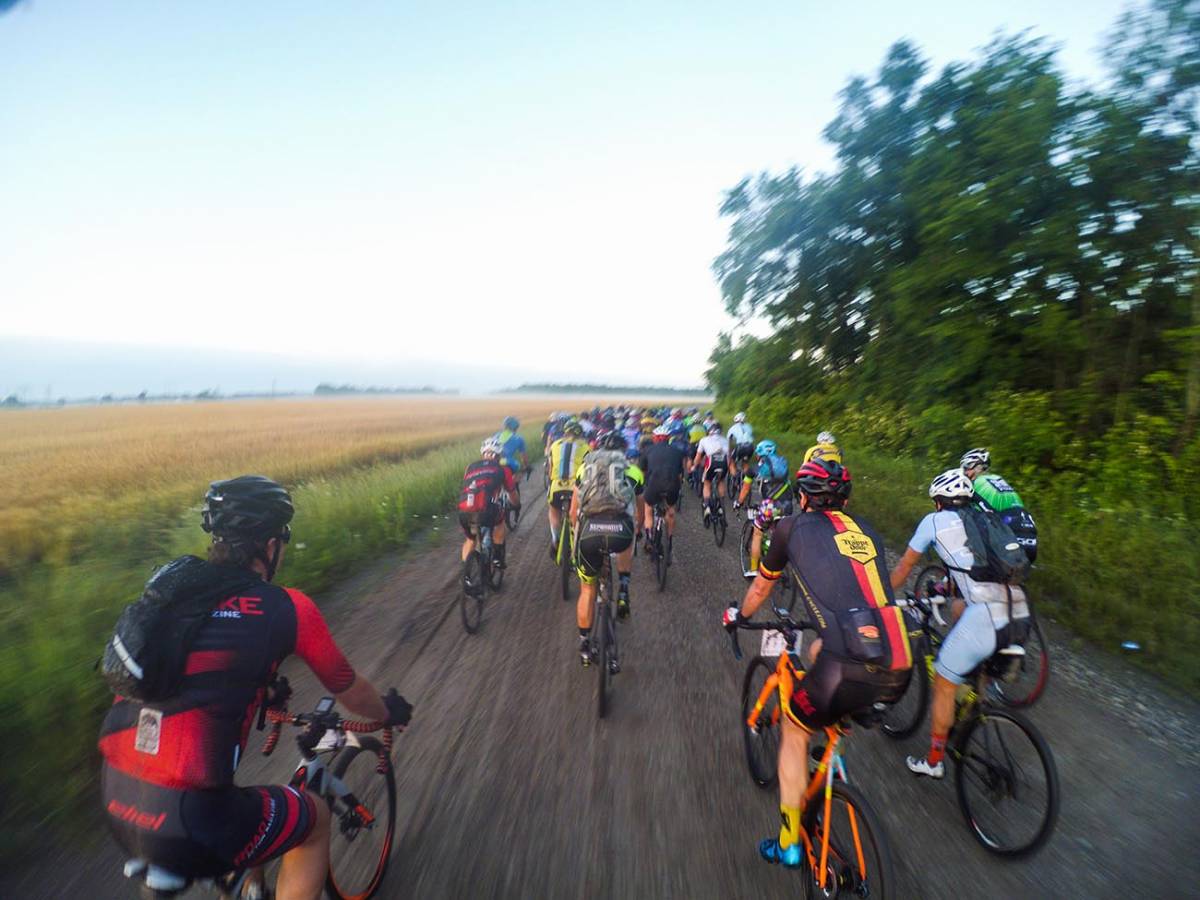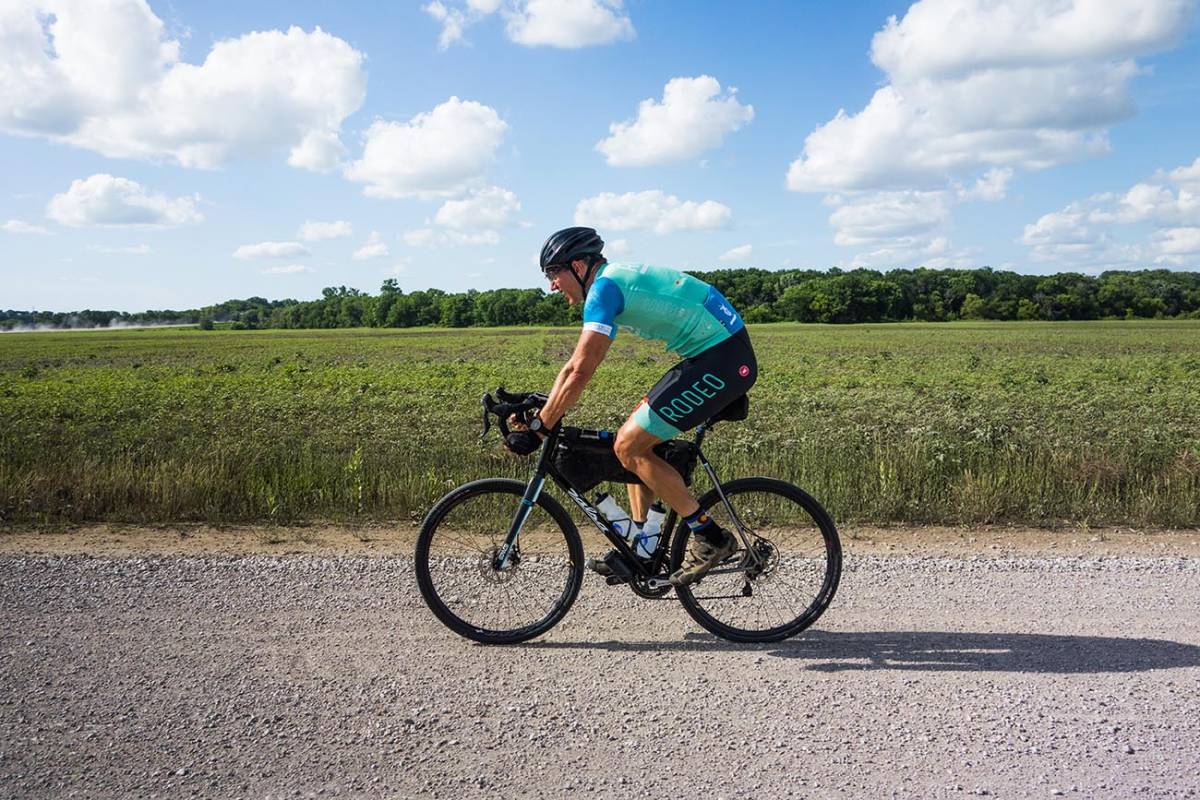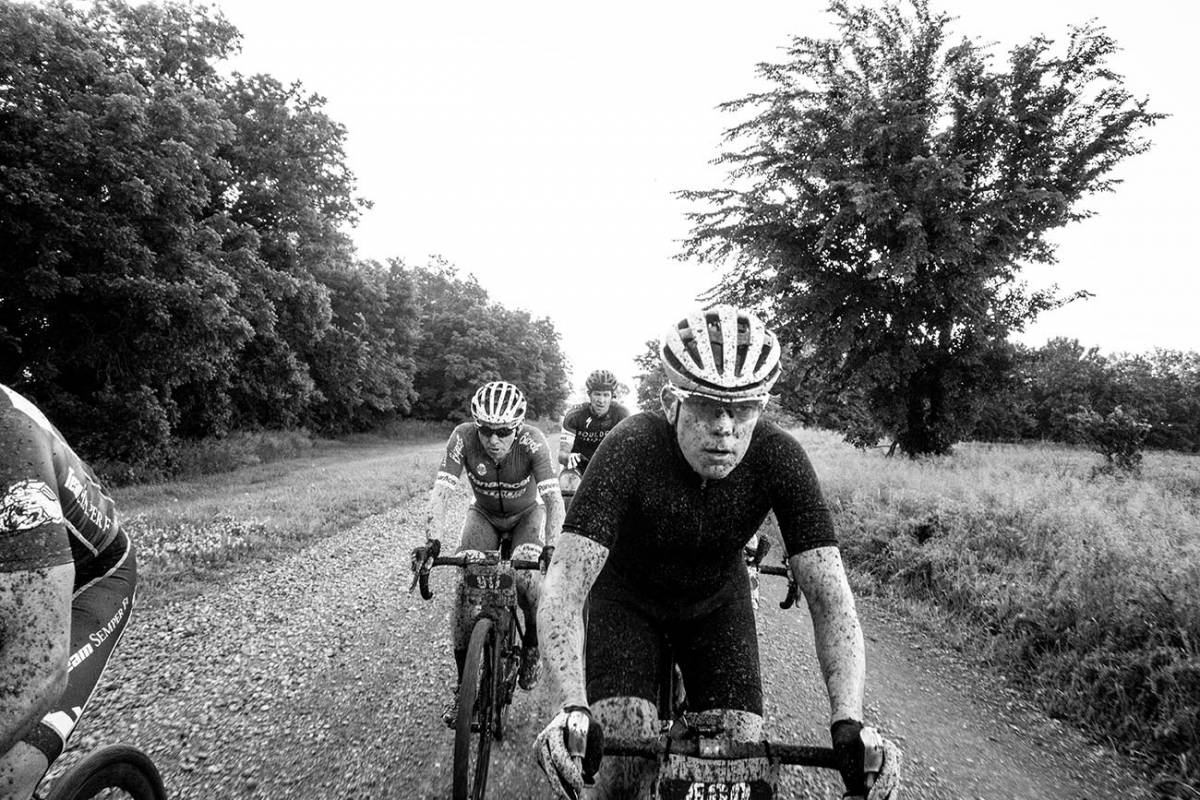 Just up to my left was Ted King, a recently retired Pro Tour rider living out an excellent "retirement". To his left was Yuri Hauswald, the winner of the 2015 Dirty Kanza. Not far in front was Tim Johnson, a national champion cyclocross racer, professional road racer, and all around legendary doer-of-things-fast. These were only some of the stallions in the front group which also contained course record holders and various legends of all things gravel and dirt. In what other event can you put your name on the registration list and race alongside the best like this? I can't think of many.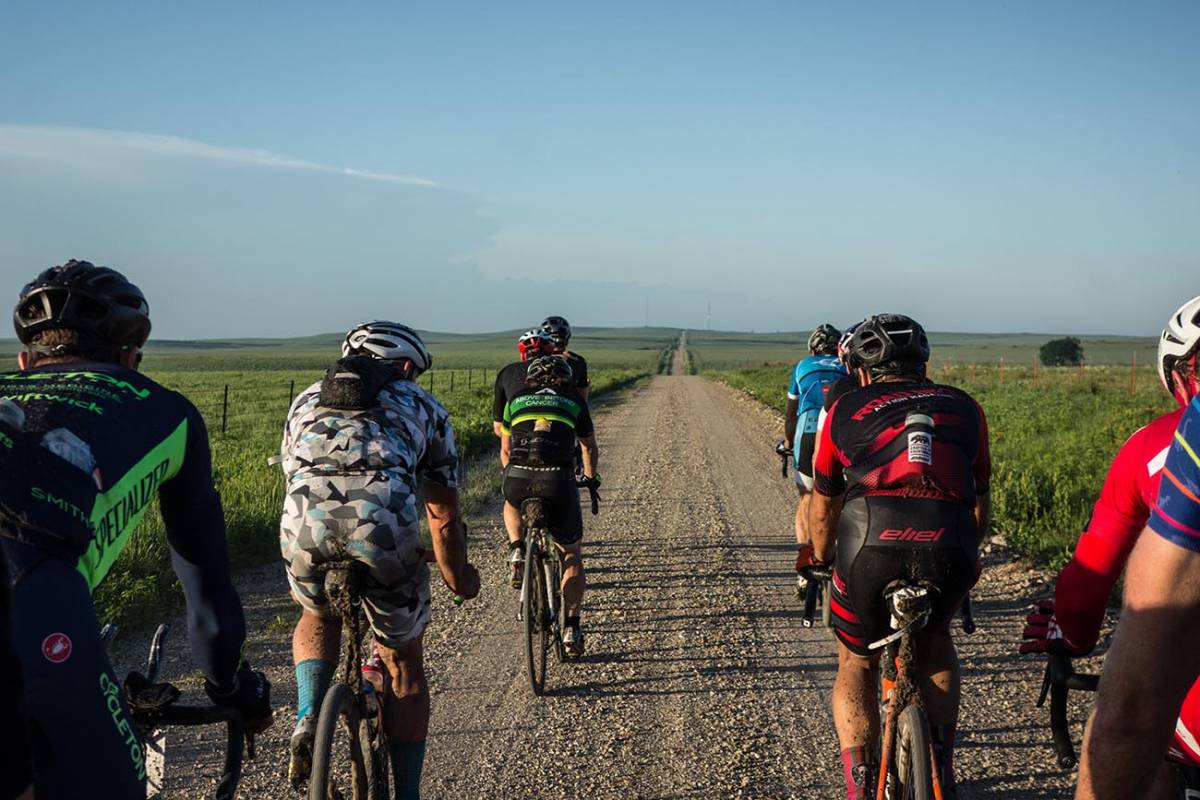 You also get to race alongside friends in Kanza. Women and men with normal lives and normal jobs who are not sponsored nor supported but are here in the front group just the same. Each has a chance to have a special day and a great result just the same as anyone else.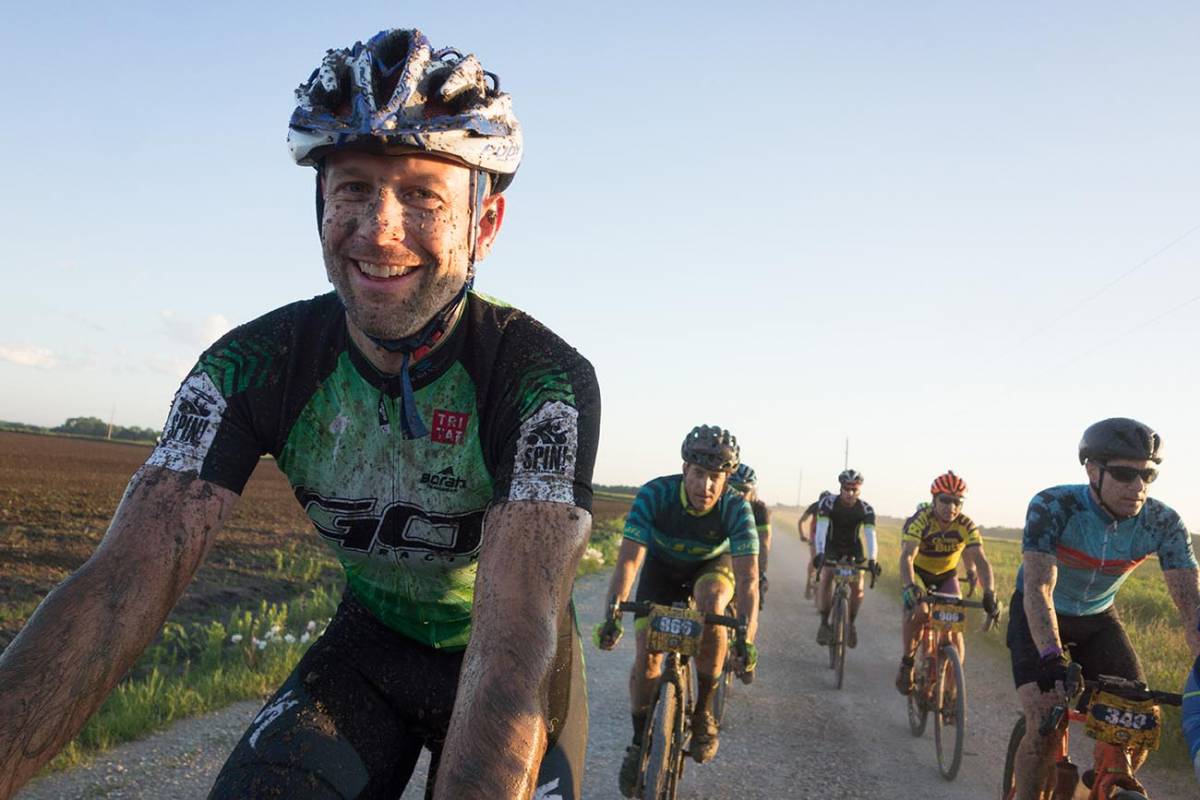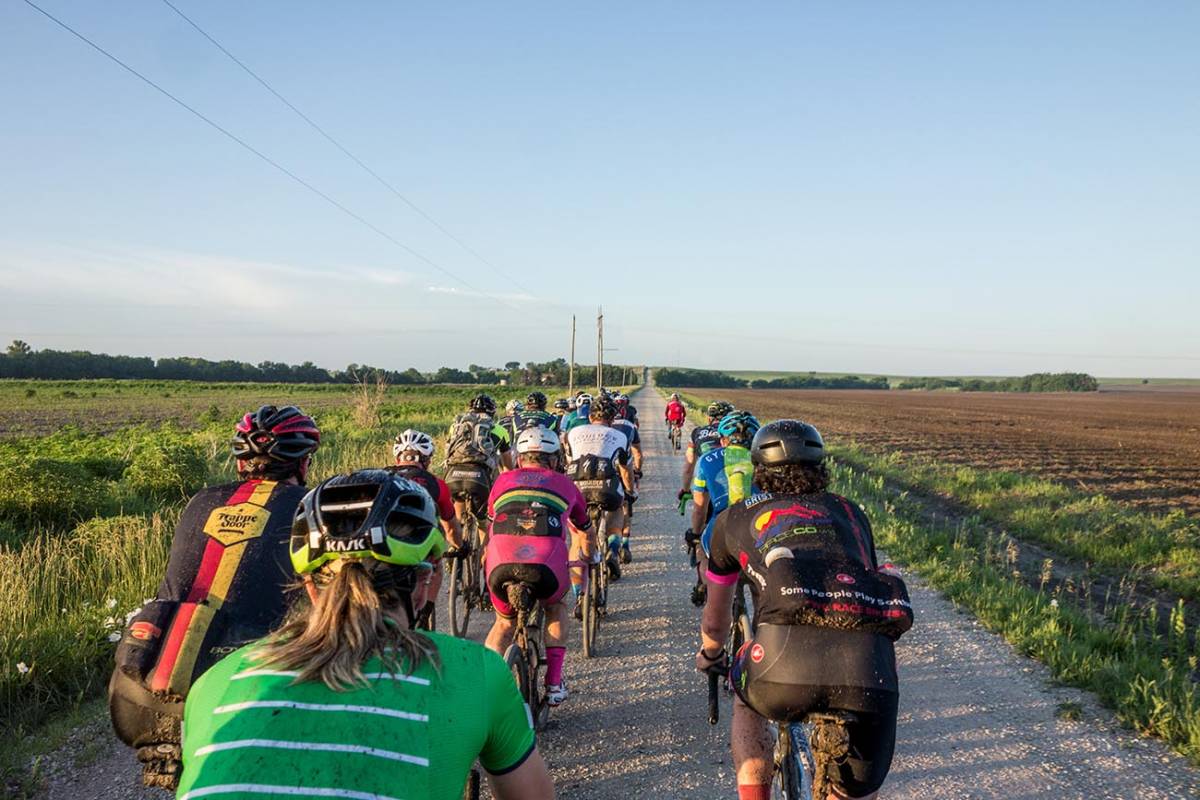 As the front pack raced along in the early morning sun I looked over to Jerod and said "You know, that's the front of the race 10 feet in front of us. We should go up there just so we can say we were leading the Dirty Kanza for 30 seconds."
"You should do it." Jerod said.
So I did.
30 seconds turned into 5 or 10 minutes. The group didn't care what I was doing and they let me just hang out up there by myself, definitely a threat to nobody's chances. I reached around and snapped a photo of them just relaxing and watching.
It was pretty Freddish to just go sit out front alone, but I'm happy to be a Fred. Those moments were some of my favorite moments ever on a bike. They were peaceful, quiet and beautiful: Just me, the Flint Hills and the occasional unimpressed cow.

For a few minutes there were 900 people behind me and nothing but Kansas in front.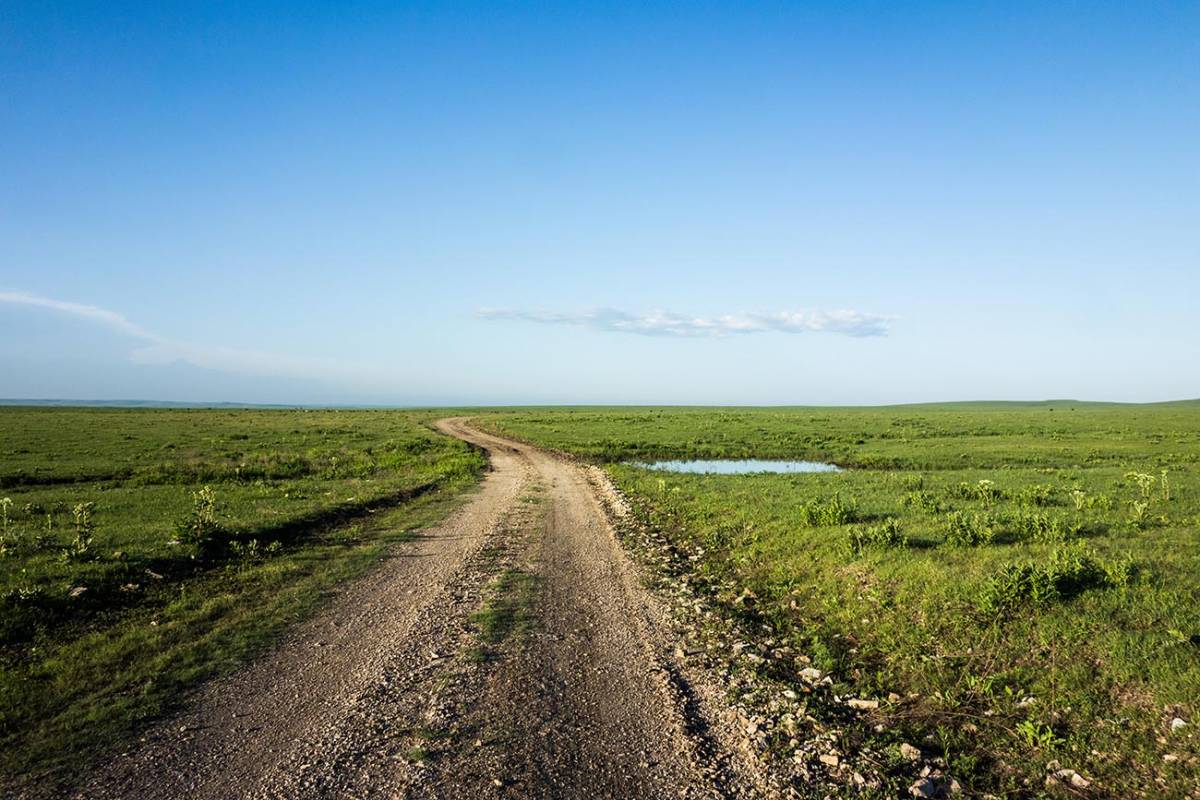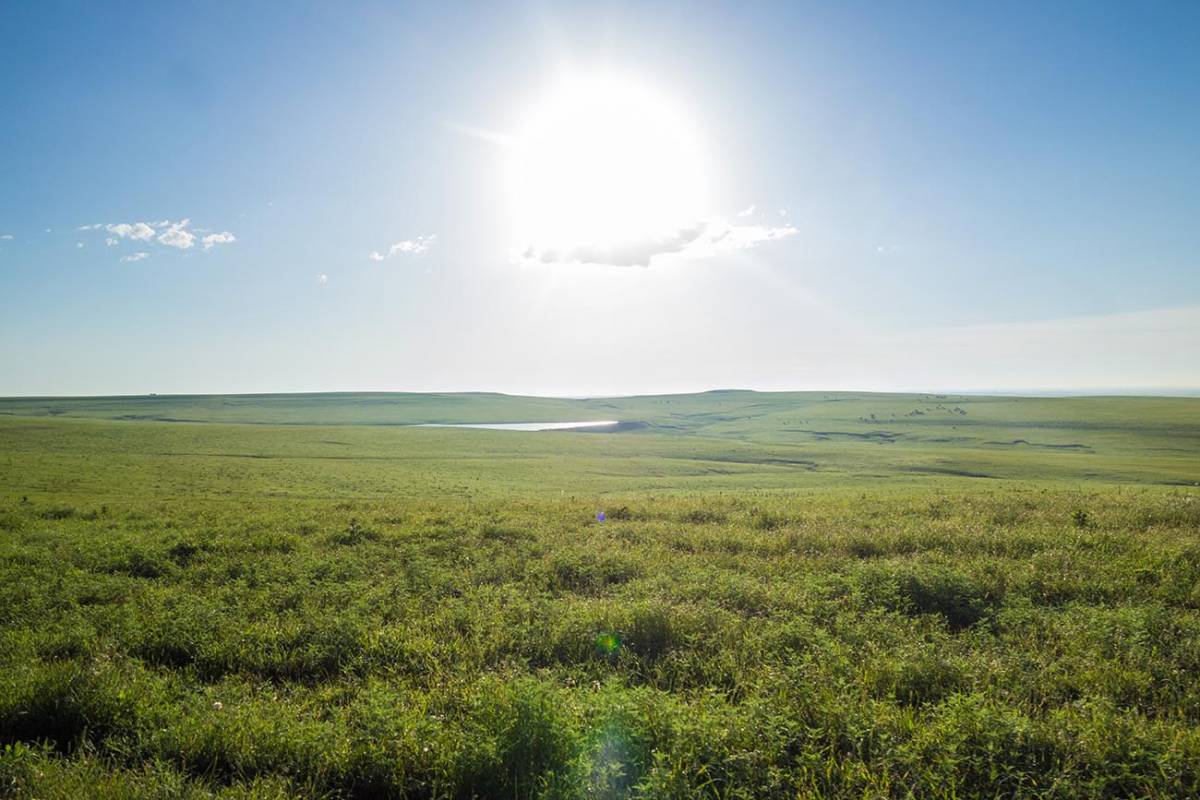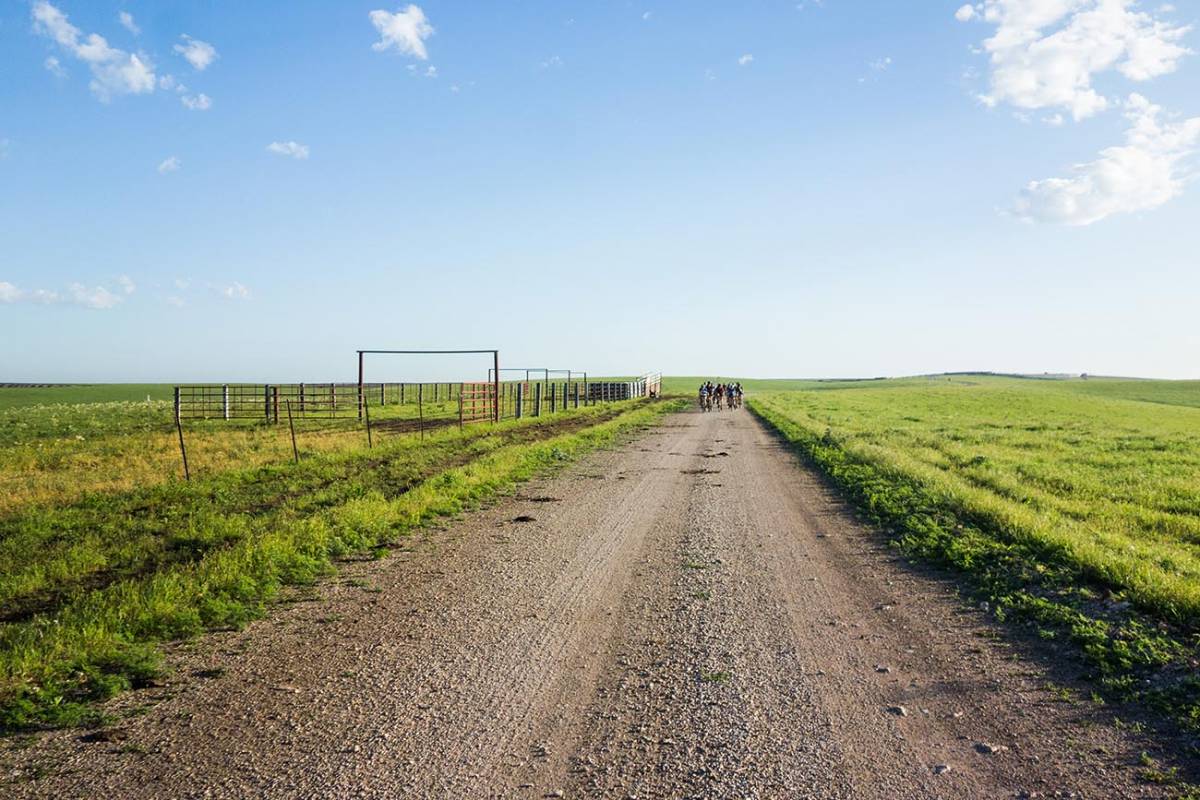 Checkpoint one was chaos. I couldn't find my support crew because I had simply throwin my gear in another team's car last minute. I couldn't remember what the car looked like, I didn't know where to find them, so I just rode through checkpoint one without stopping.
That was a big mistake. I still had two bottles and some of my backpack left. I thought it would be enough to get me the next 50 miles to checkpoint two. It wasn't.
Jerod rescued me. He rode up alongside and offered me a bottle. Small acts of kindness are huge acts of kindness at Kanza. They can make or break the entire day. Jerod for sure saved mine.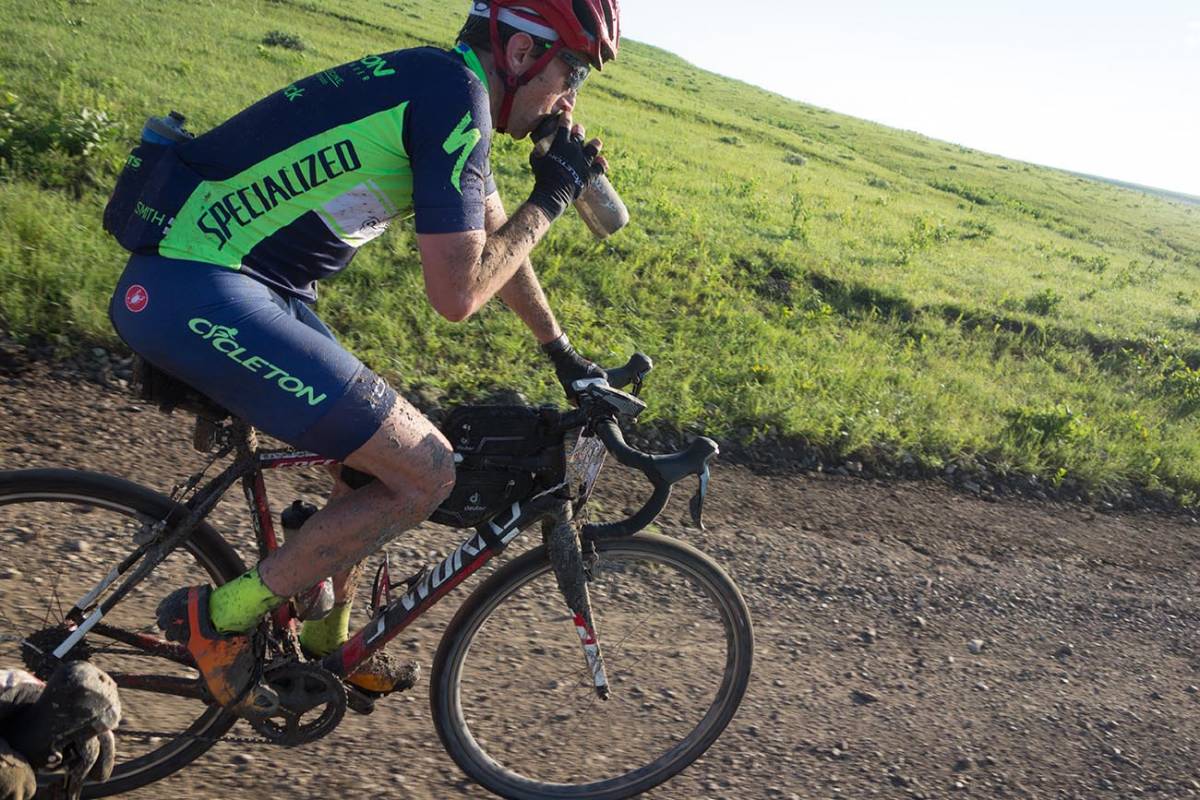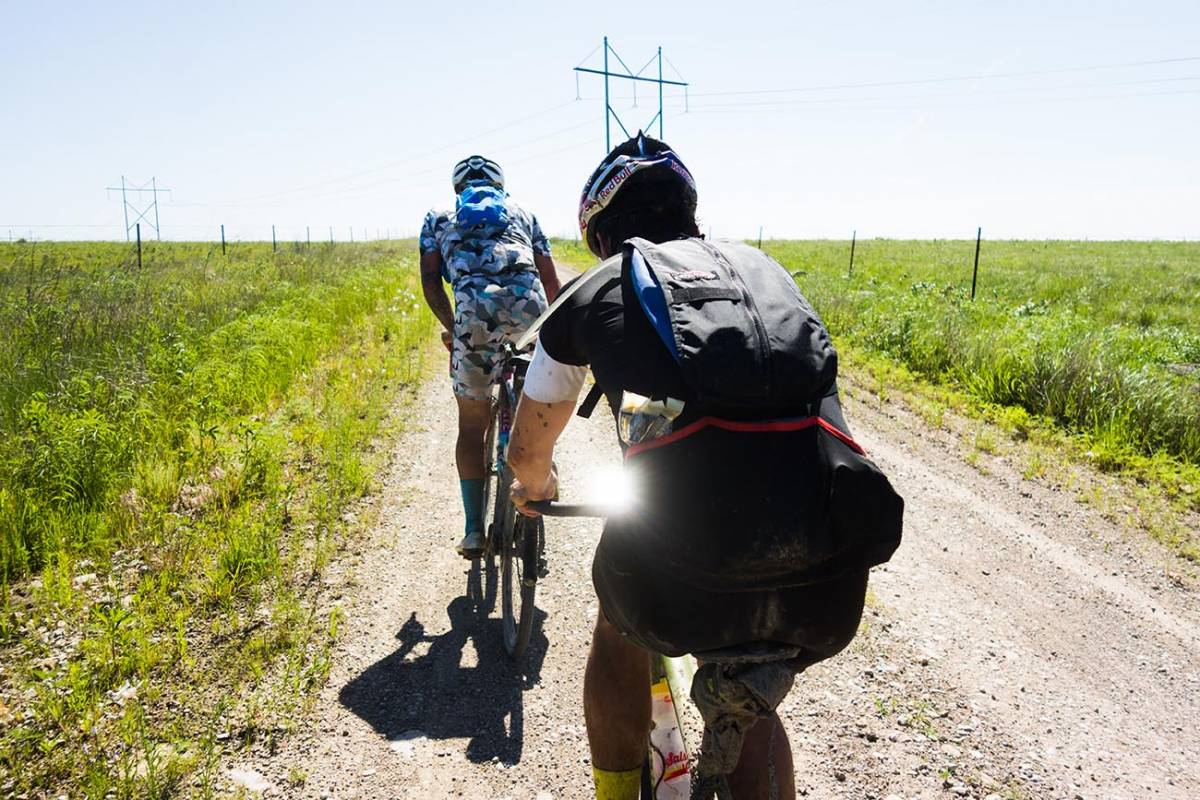 The second fifty miles of the race are where things really blew up. The whole time the pace had been high, but not frantic. I still remember when the first series of rollers came into view and Ted King lit it up. He pulled away from the pack so quickly and with such effect that I didn't even need to decide not to follow him. He was on another level and I knew I needed to throttle back and save my own legs. There were still 130 miles left to go after all.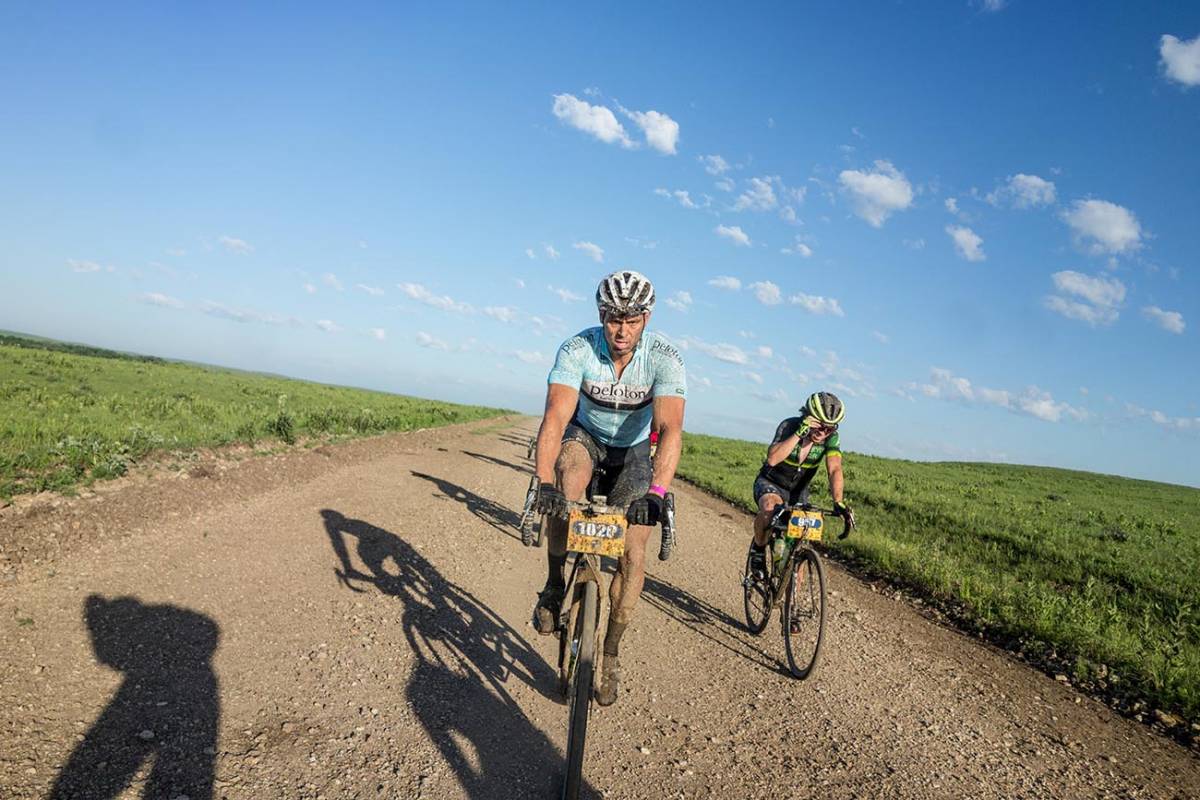 When the race blew up it was a godsend to me. I was struggling with wanting to keep up with the leaders but knowing that I was too deep in the red. Finally I had a chance to ride alone for a while, to find my own rhythm.
Soon after we hit a particularly awful section of the course with brutal rocks. Tires blew left and right. Yuri flatted, Ted flatted, others flatted. I flatted. Honestly, I was just grateful for the chance to stop and catch my breath.
Back on the road again packs formed and fizzled. For me dehydration set in. Checkpoint two seemed like it would never come.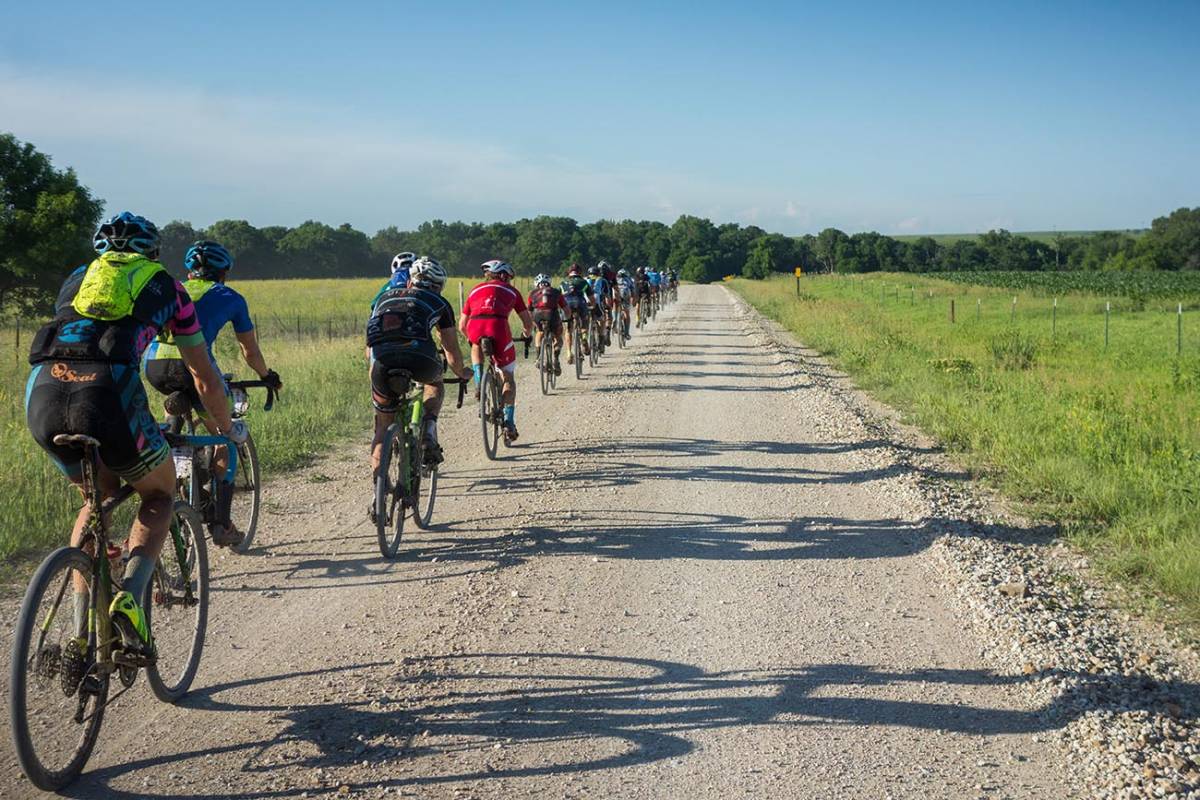 I saw Yuri again briefly, fighting his own fight. Suddenly he flatted for a second time. Kanza, you are mean, and a respecter of nobody it would seem.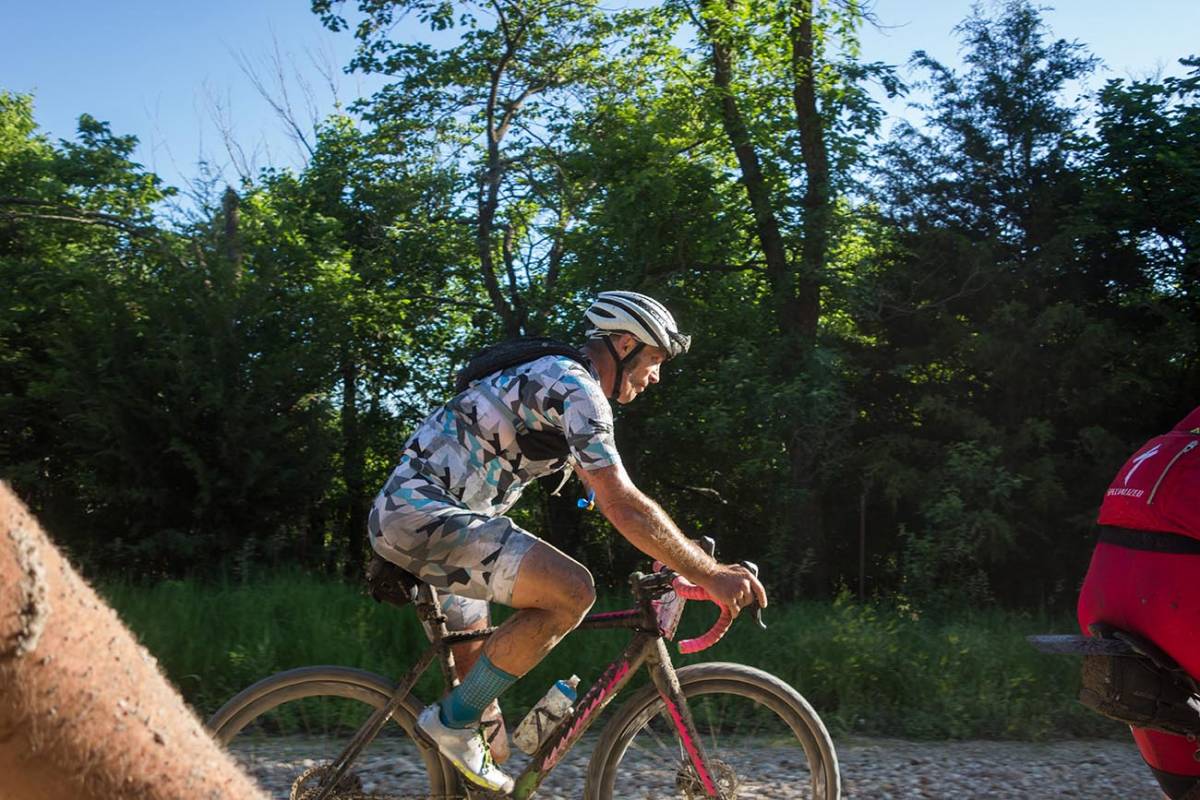 At one point I gained on a solitary figure in the distance. Perhaps we could trade pulls? Suddenly my Garmin chimed in. LEFT! LEFT!
But he had gone straight. I yelled at him at the top of my lungs. "YOU MISSED THE TURN!"
He couldn't hear me. He continued on straight ahead and I veered left. I wonder how long he rode before he realized that he was off course? The thought depressed me.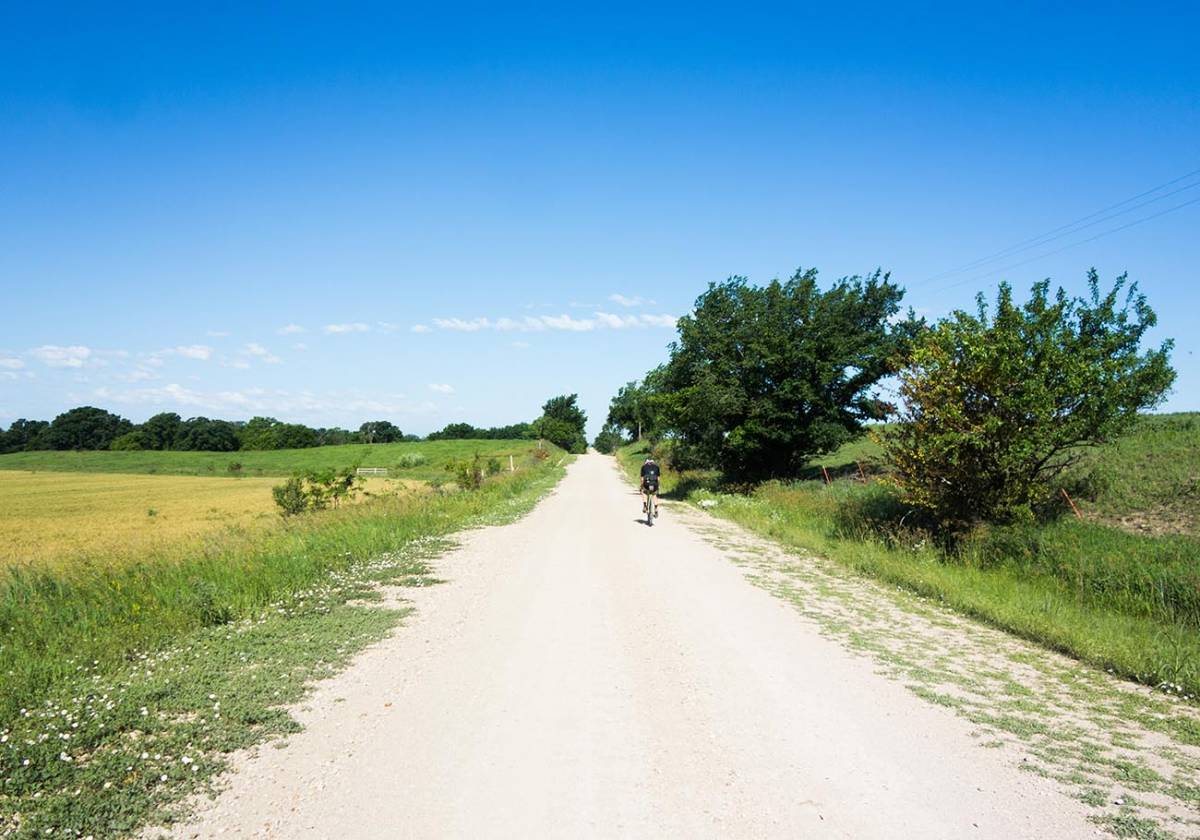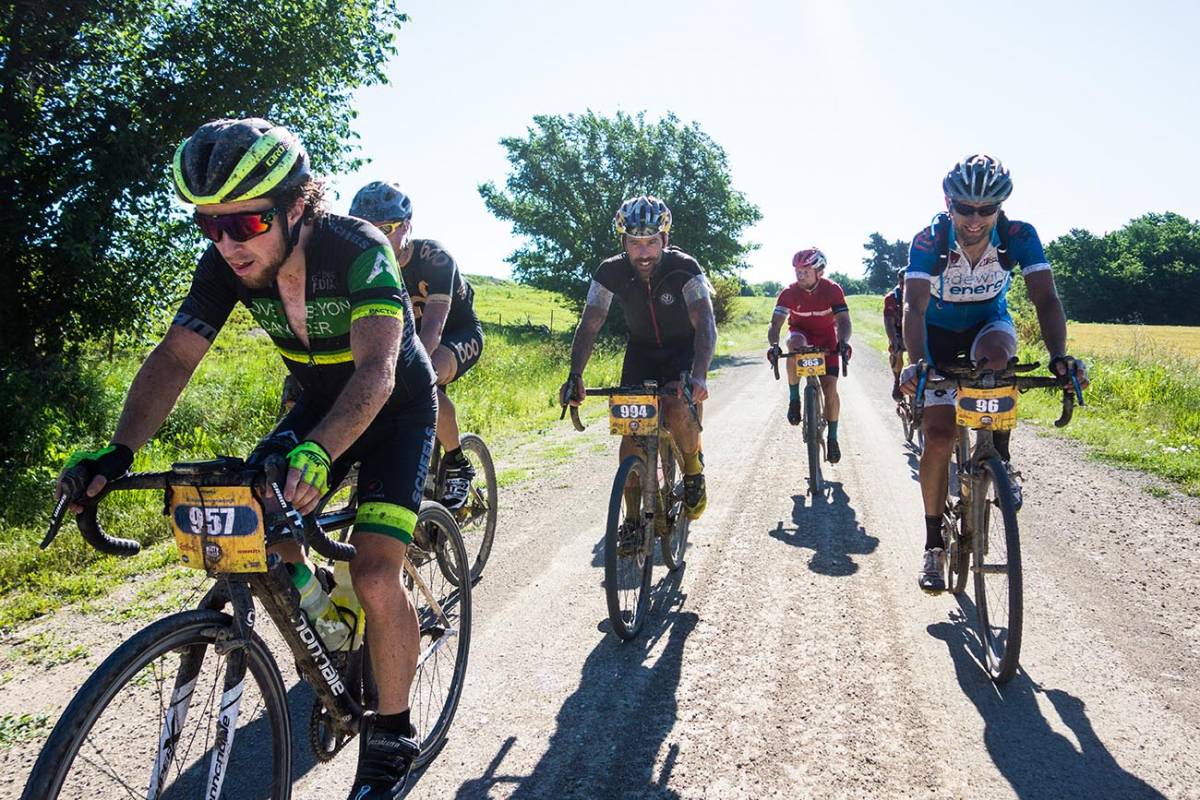 Checkpoint 2 finally arrived. I was so dehydrated that I wanted to lay down and die. I felt sick. Russ, who's derailleur had broken off was now pitching in in the support areas. He handed me a large water bottle. I drank it. He handed me another. I drank it. He handed me another. I also drank that one. He then handed me two Cokes. I drank them. 24 + 24 + 24 + 12 + 12. In less than 10 minutes I drank 96 ounces of water. I wanted more but I had to keep going. The thought of getting back on my bike and pedaling again made me want to cry. I just felt so sick.
MUST. KEEEP. MOVING.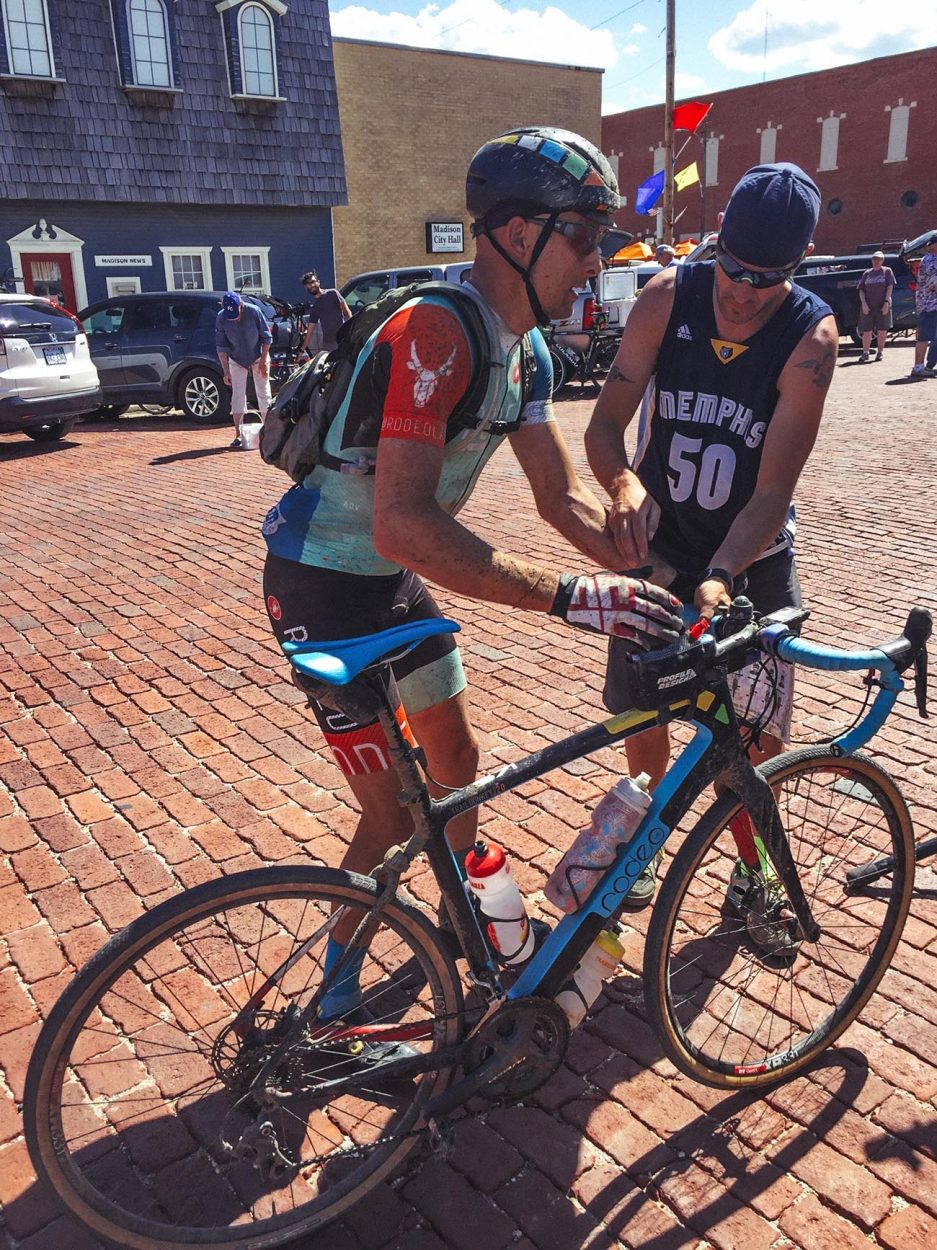 The first 100 miles of Dirty Kanza do not determine the winner of the race. They only determine the losers. The mistakes you make in the first 100 miles compound and really affect you in the second hundred miles. I had made a huge mistake running out of water. I wouldn't do it again. I vowed to never leave a checkpoint without filling everything I had to the brim. That vow got me through the second half of the race.
The second half of Kanza is a total blur to me. What I remember most is the headwind. The first hundred miles of the race had an amazing tailwind and for that pleasure we were punished with a headwind for the entire second half of the race. The coolness of the day was now gone. The sun shown overhead and set about cooking all riders.
I rode along in a daze. Heat, wind, hills. Heat, wind, hills. That was the second 100 miles of Dirty Kanza.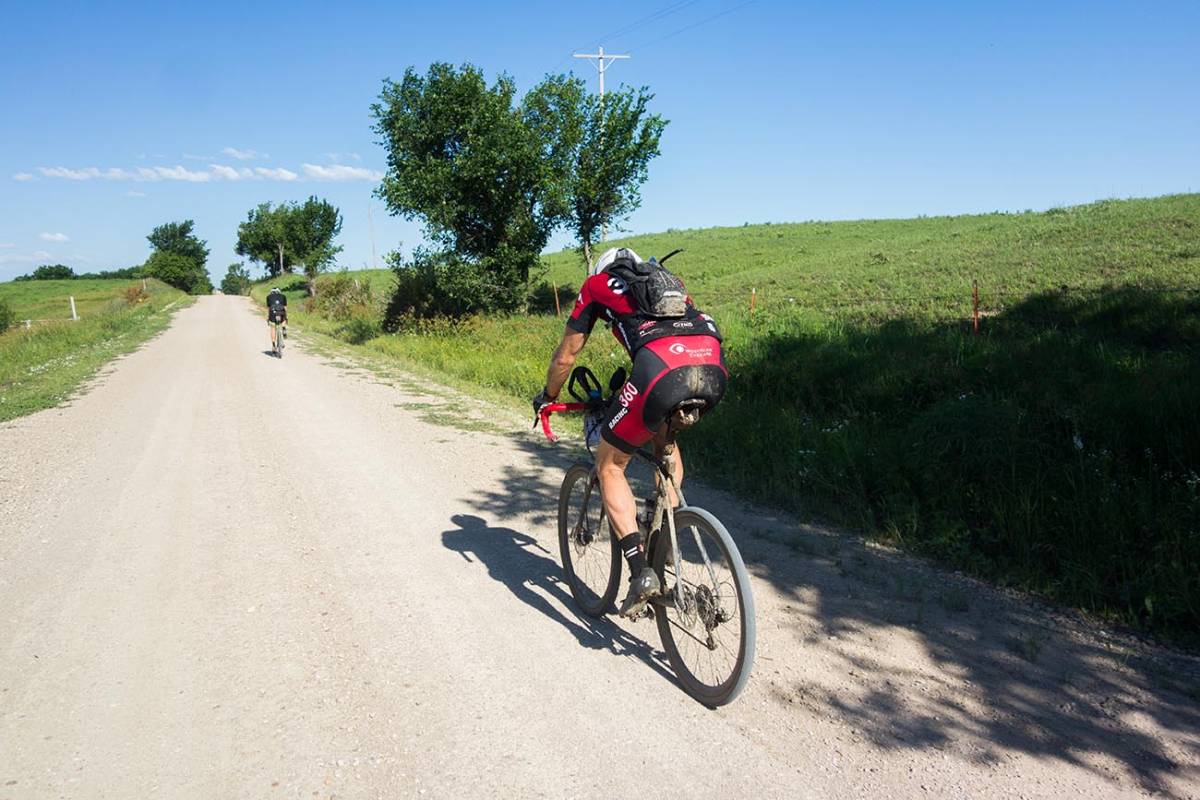 I knew I was sitting in the vicinity of 20th place at checkpoint two. I was pretty bummed about the time I'd lost to the flat and to dehydration. It's funny though. When you feel sick you stop caring about what place you are in. You just fight to cope with the sensations of your body and not give up.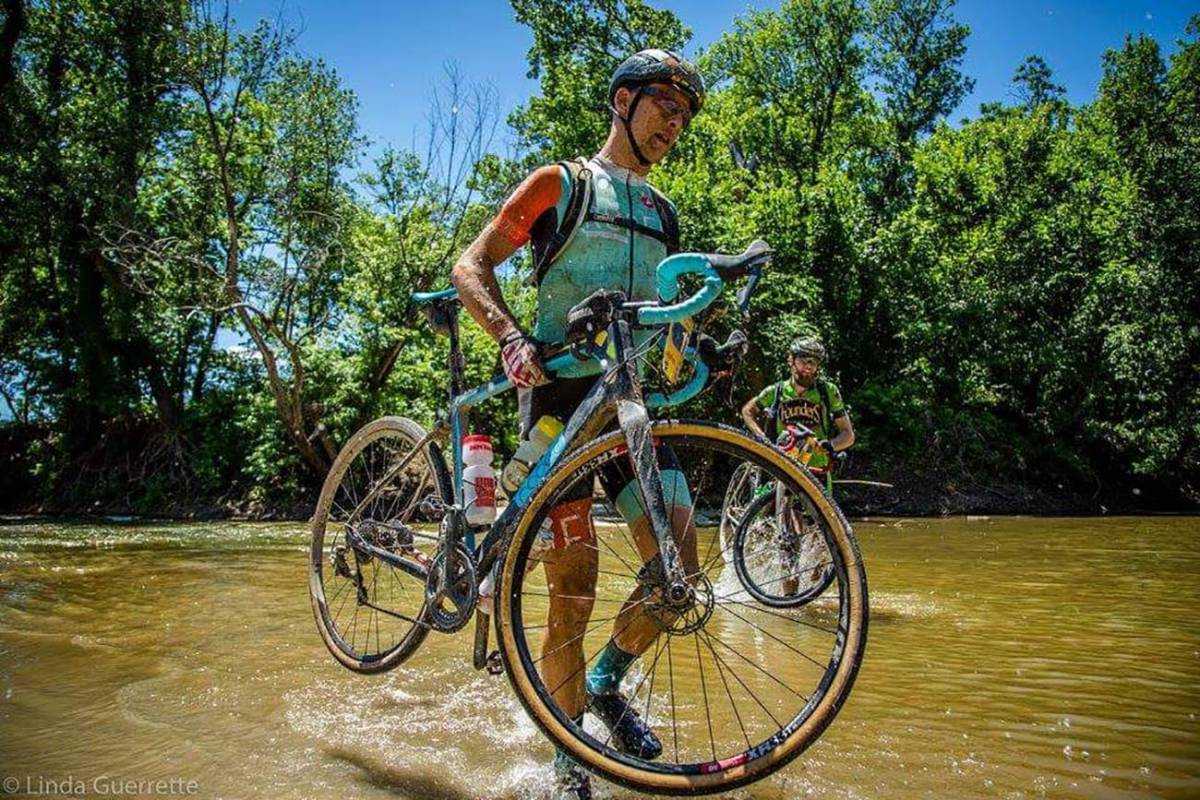 Over the next few hours I just pedaled, drank, and ate. I knew that if I stopped doing either of those three things my day was over. Racing Dirty Kanza isn't really about racing other people, it's about persevering against yourself.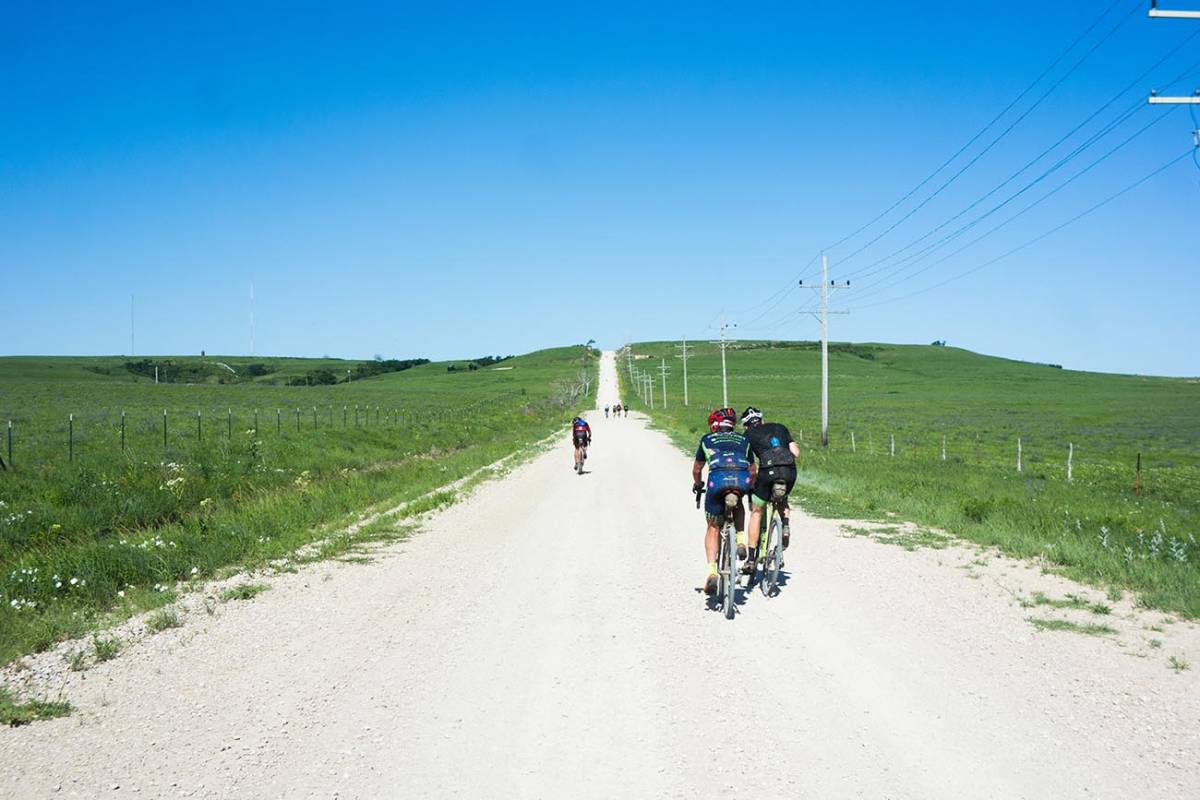 Eventually I started seeing other riders on the horizon. One by one they came into view and one by one I passed them. I wasn't counting in those moments. Results were no solace for the discomfort that we were all in. Getting to the finish line and turning that damn headwind off was what mattered.
I hated that wind.
Eventually I came up on Jerod again. He had been doing amazingly well all day but now he was fighting his own battle with dehydration. He had run out of water almost an hour back. He looked bad. I had plenty of water now, and I gave him a bottle. It felt great to return the favor.
"I love you Fitz". He said.
Right back at ya Jerod!
Checkpoint 3 was a full NASCAR stop. Full bottles, full bladder, gels crammed into everything. I was out of there in only a couple of minutes.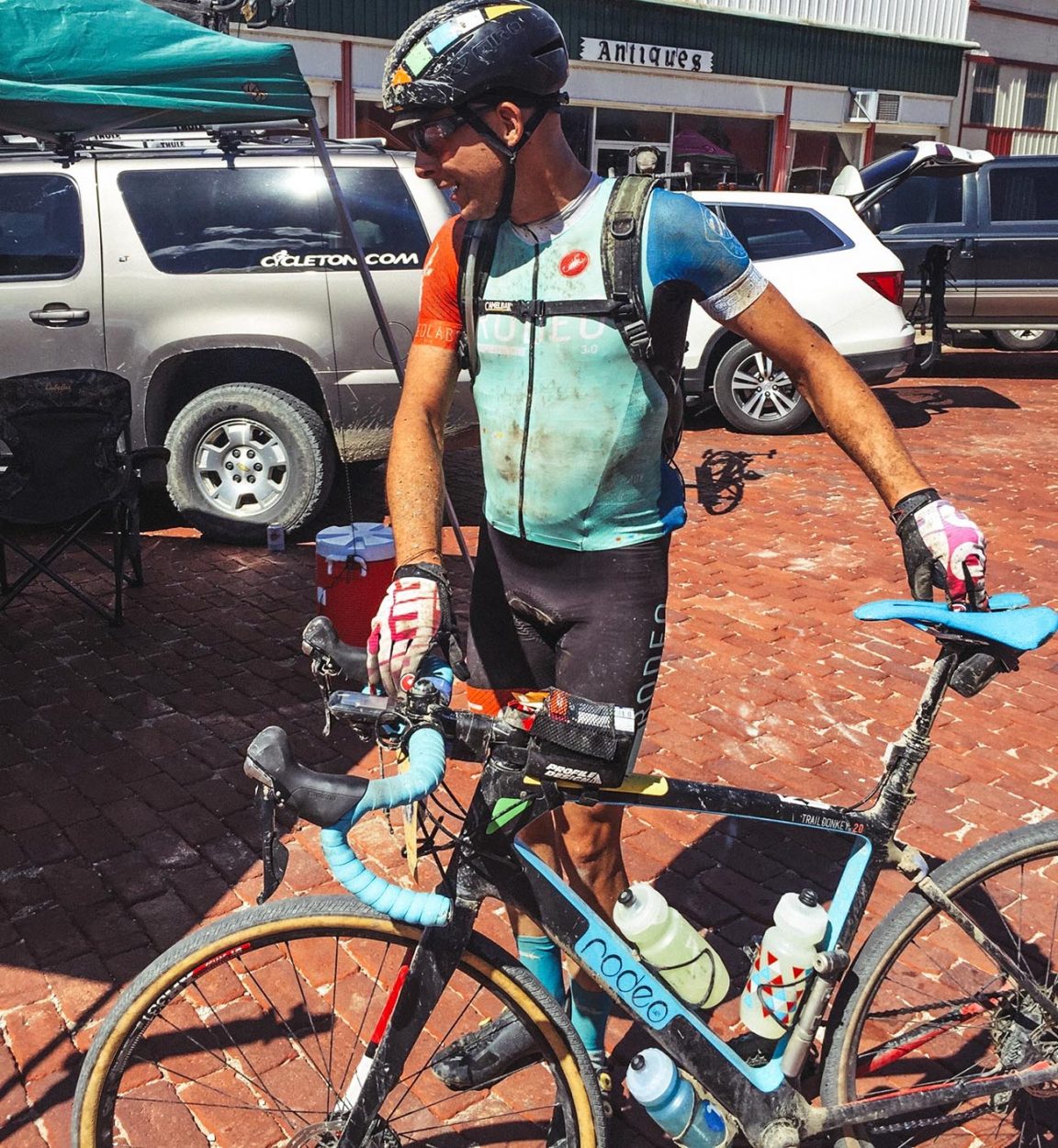 I had completely recovered by then. I felt really good. Eating and drinking non stop had somehow allowed me to recover from how sick I felt. 56 miles remained. I felt the end and I was motivated by it.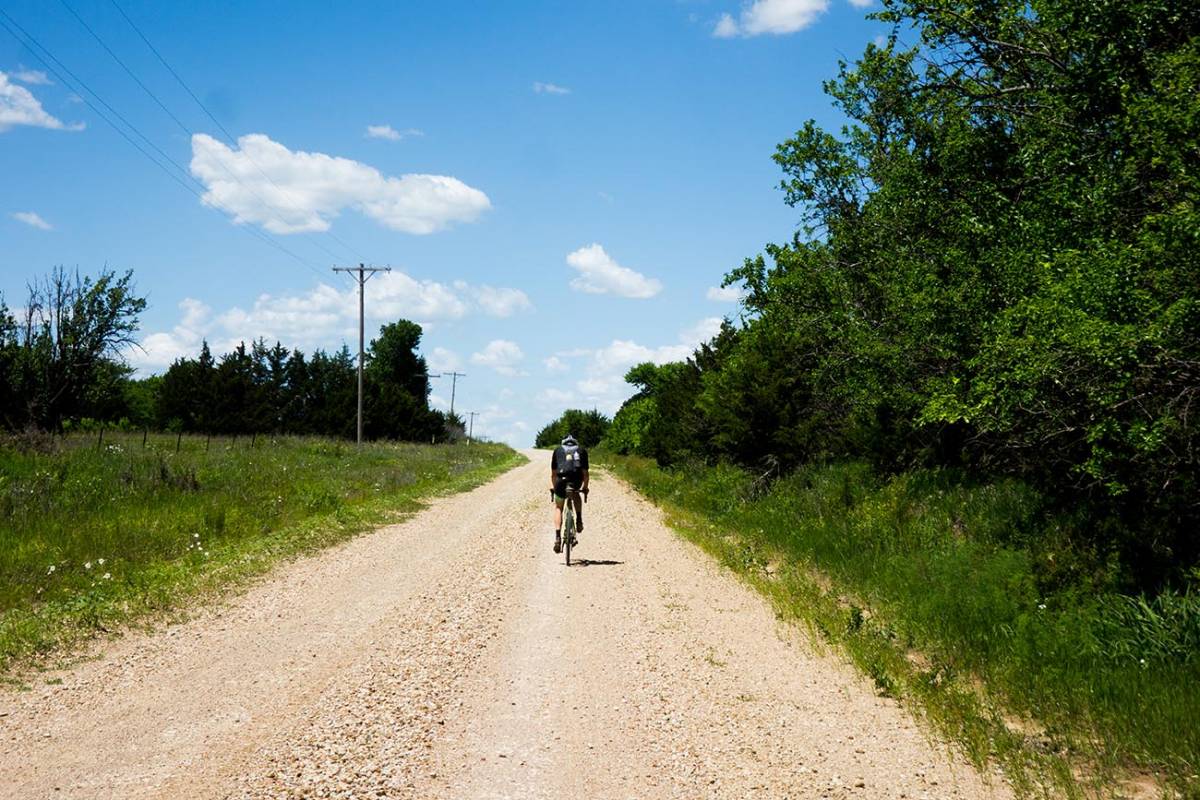 In the final 50 miles I went from surviving to hunting. I knew I was close to top 10. I knew I felt good, and I knew that others felt bad. I pedaled in anger. Not real anger, but the sort of feeling that I imagine Seabiscuit having when running against much better horses, wanting to show that he knew how to fight.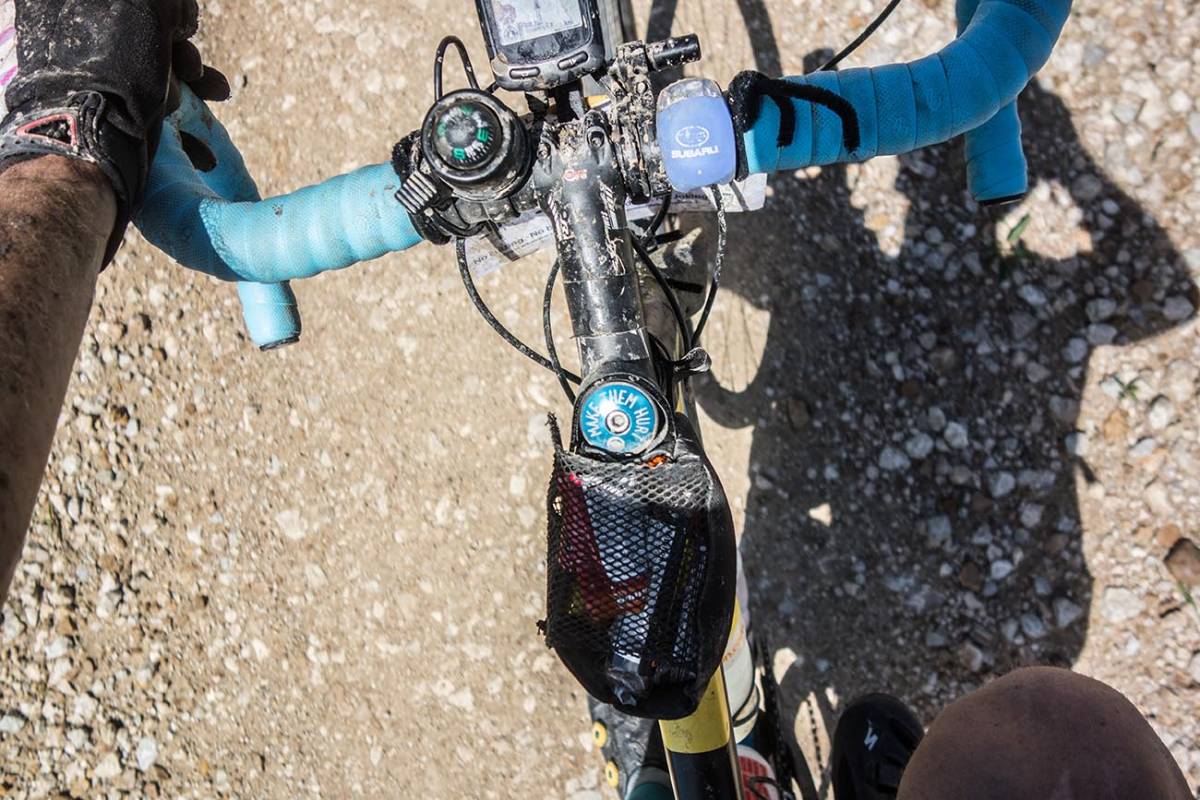 Make Them Hurt is the mantra. "Them" isn't the competition. "Them" is me: My legs, my lungs, my will power.
Everything did hurt. My quads hurt so bad. My feet had swollen and my toes felt like fire crammed into my shoes, squeezed hard with every revolution of the crank. My face was utterly cooked by the sun and no matter how much water I drank my lips dried out instantly. There was no sweat to cool down, only dried salt covering everything.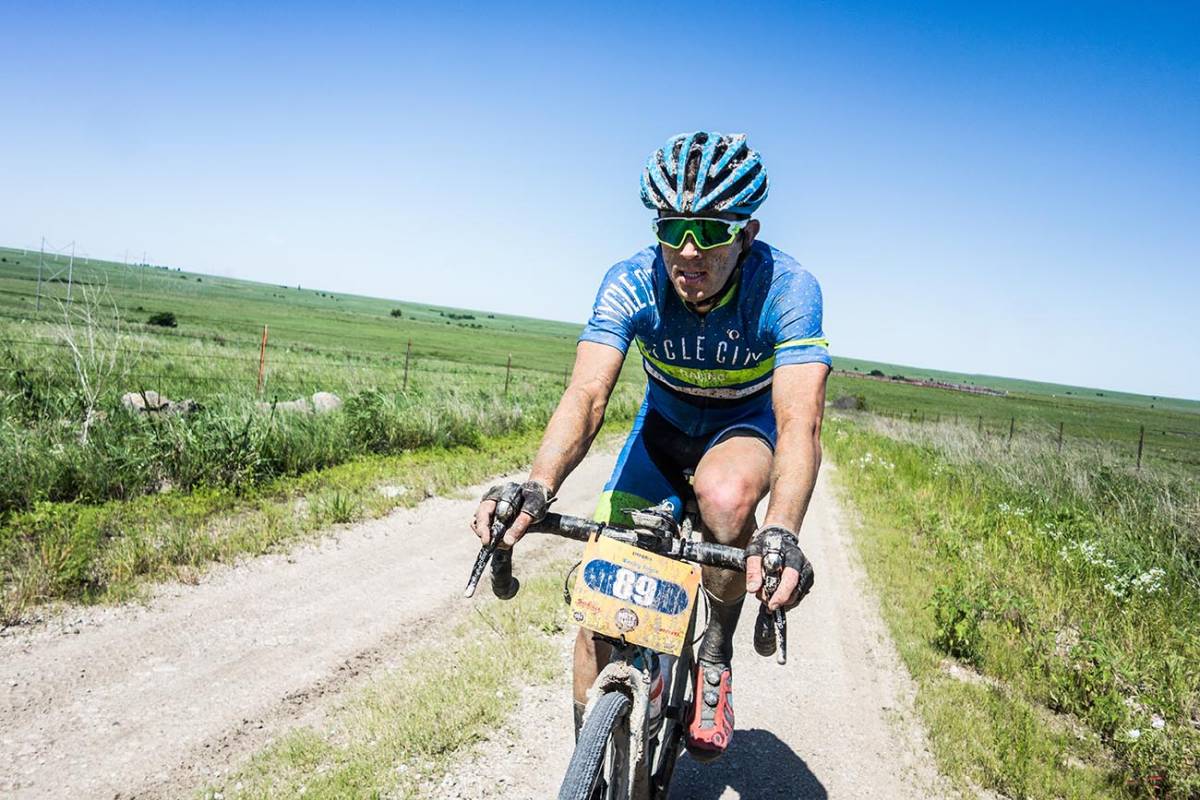 I caught and passed more riders, eventually running into Nick. I remembered Nick from last year. He had towed my sorry, exausted, malnourished butt selflessly in the waning miles of the 2015 race. I was so grateful. Once again just like with Jerod it felt great to return the favor. We rode in silence. I pulled the entire time. If it had been anyone else on my wheel I would have resented pulling but returning a favor gave me purpose, something to focus on, and I was grateful for it.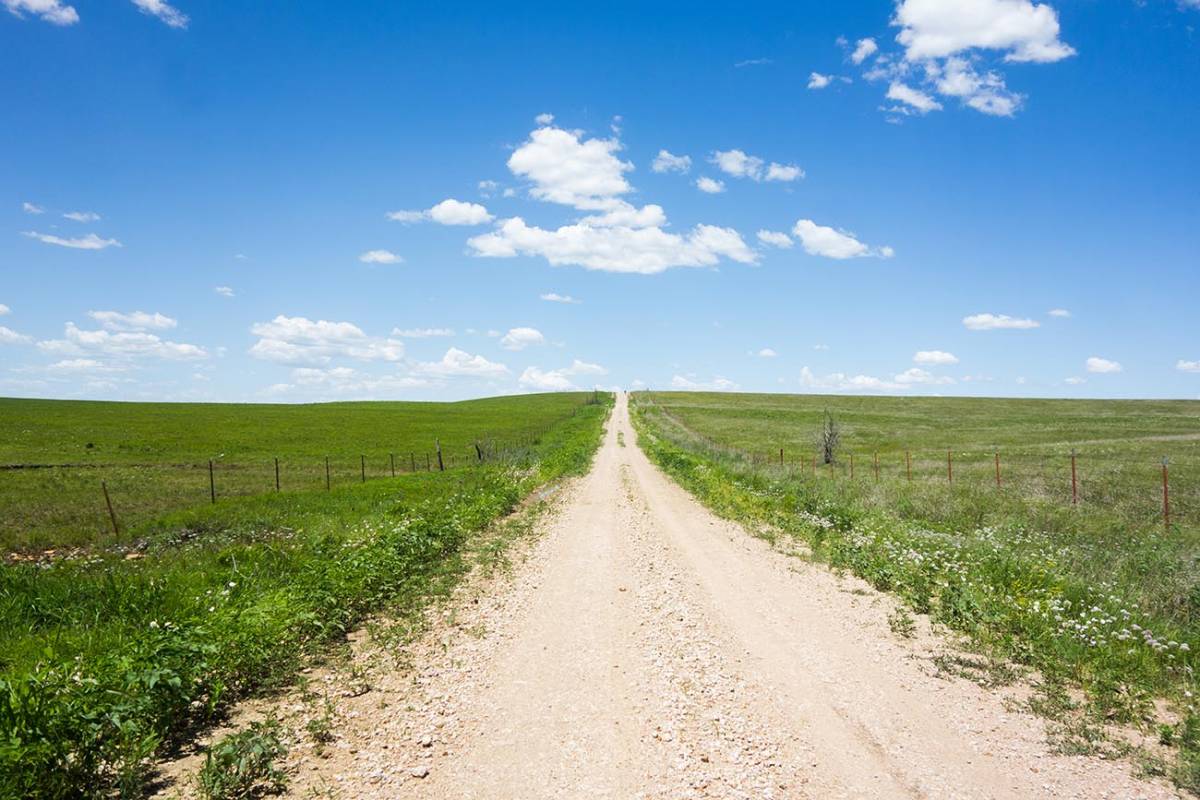 I caught and passed the 5th place rider with only about five miles to go. I couldn't believe this was happening. Never in a million years!
Nick was still holding on.
"Are you going to pip me at the line?" I asked Nick?
"No way man" he said "This one is all you".
Nick is a good dude.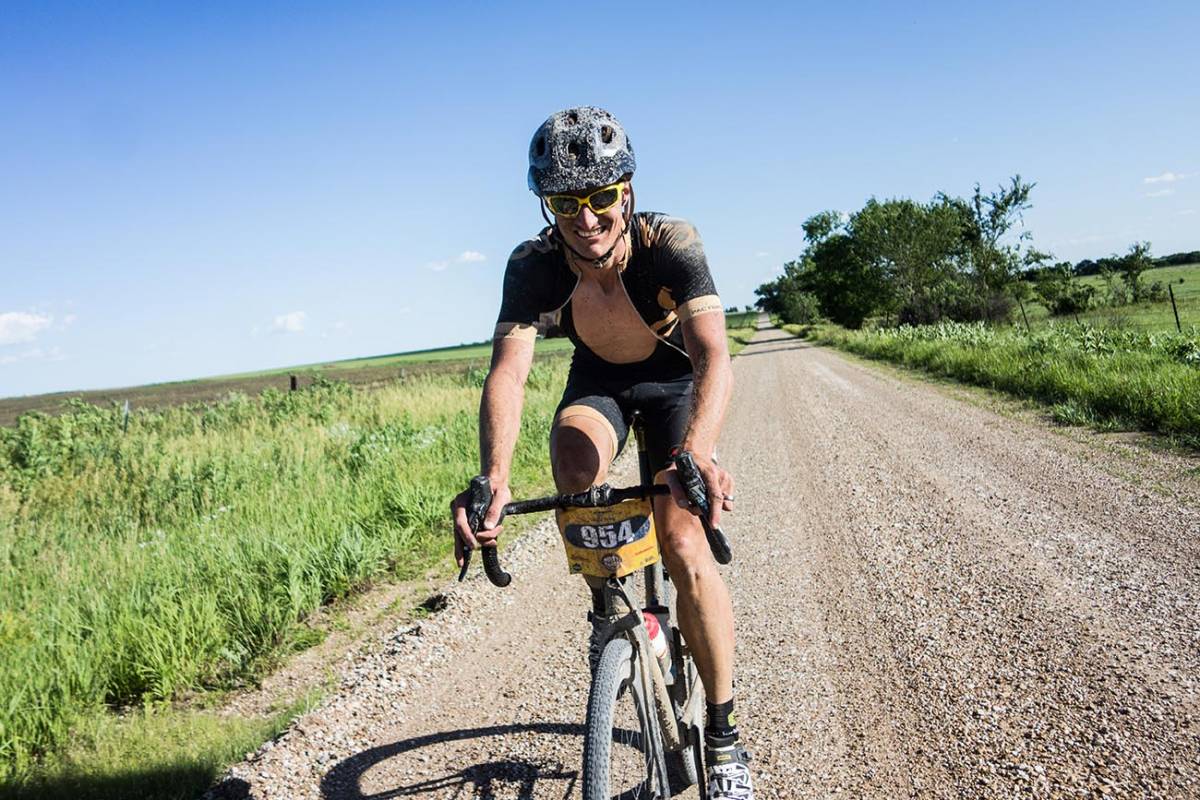 Main Street Emporia came into view. I'd made it.
I cannot describe how sweet it is to ride through the finishing chute at Dirty Kanza. For so long I had willed this moment to happen and now it had arrived.
High fives, smiles, and hugs. That's what is waiting for you at the end of Dirty Kanza.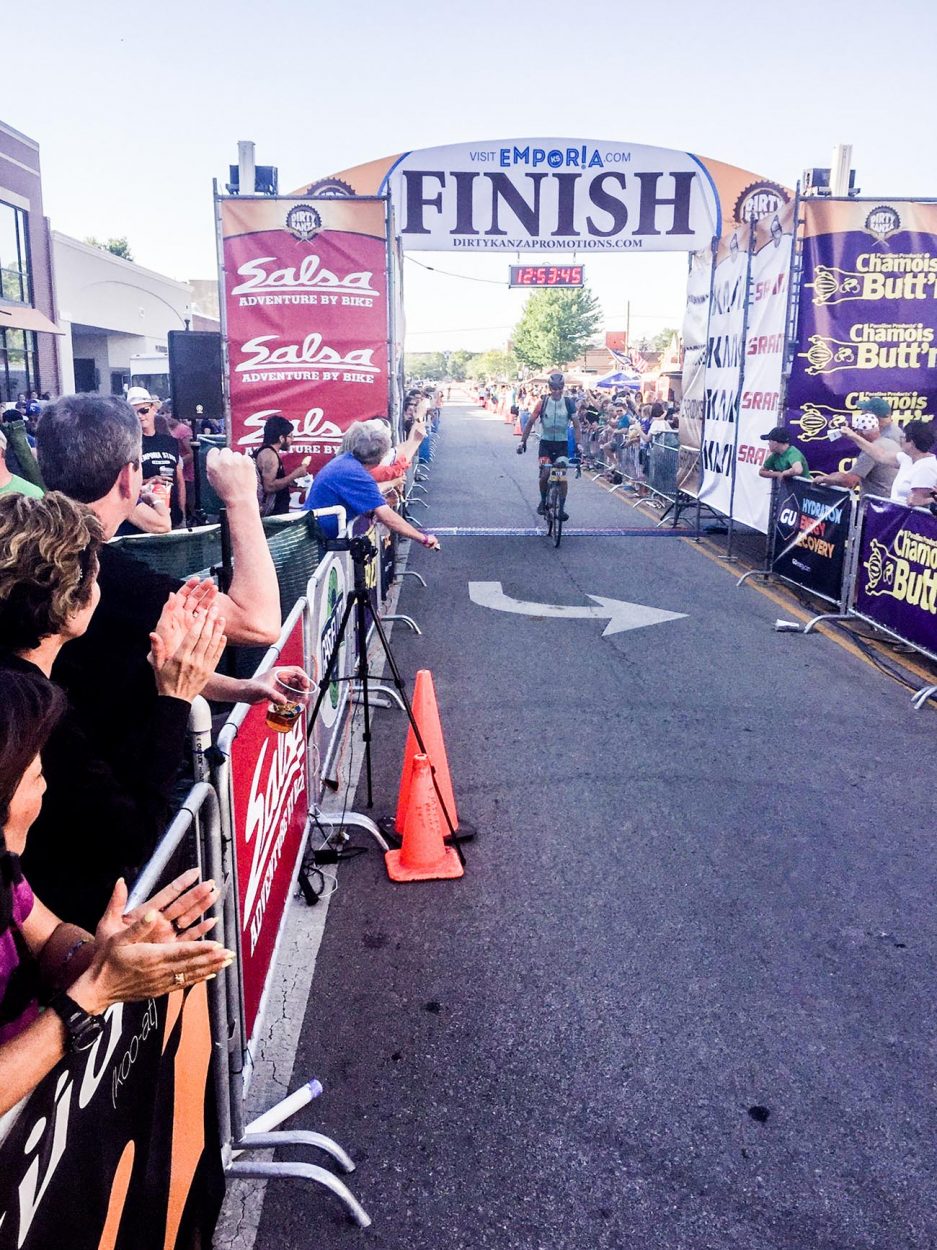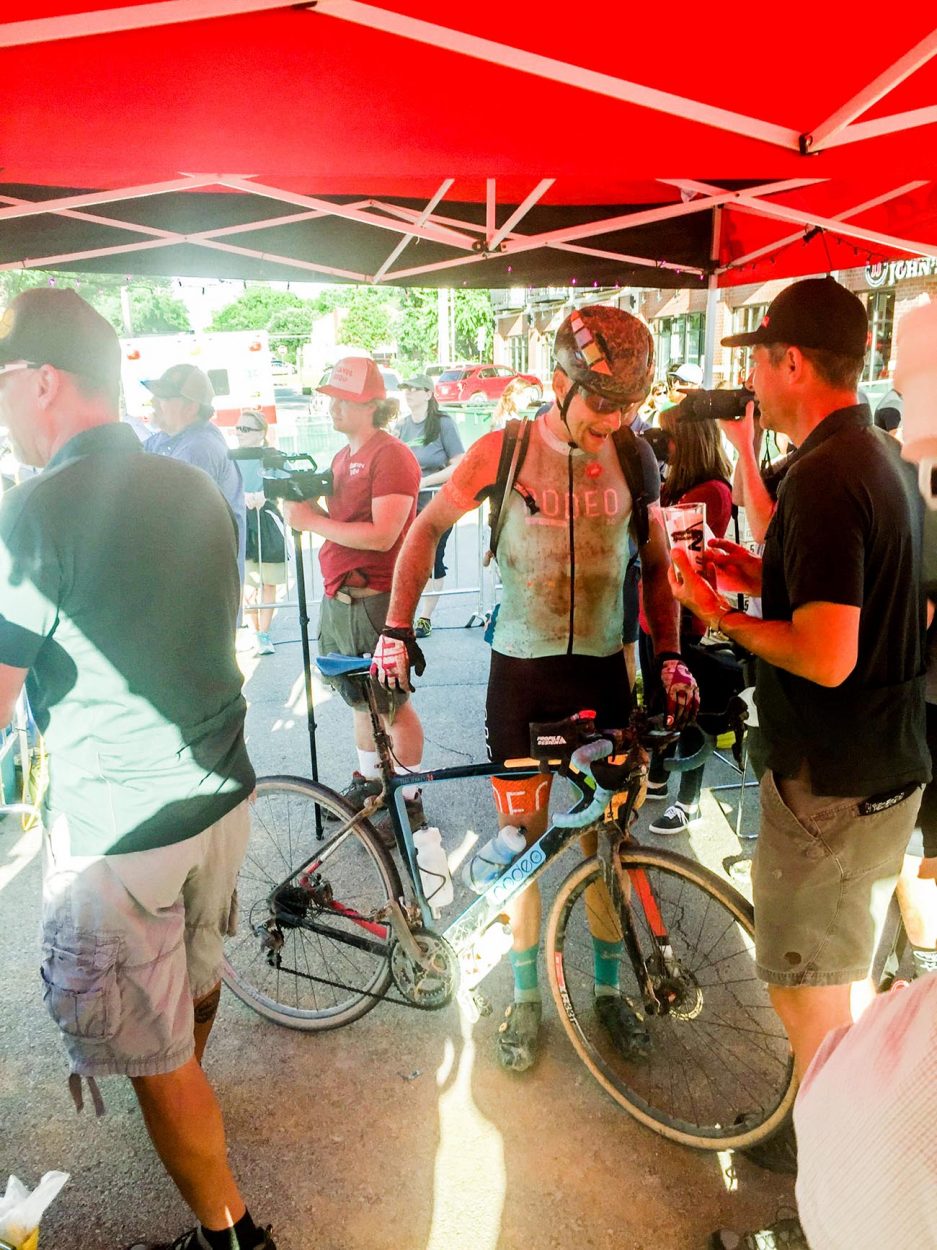 Overwhelmed. I just felt so overwhelmed when it was over. The party on the street was fantastic but I needed to be alone. I dodged into an alley and sat down and cried. Everything shook. For 200 miles you have to bottle up pretty much everything you feel while you are out there racing, but when you are done you can let it out. You can let your body say what it wanted to say and you can let your emotions say what they wanted to as well.
My emotions wanted a good cry but it turns out my body was pissed. I couldn't stop shaking. It started with my face and moved down through my body. Russ and Tom found me and saw what was going on and asked me if I was ok. I wasn't sure.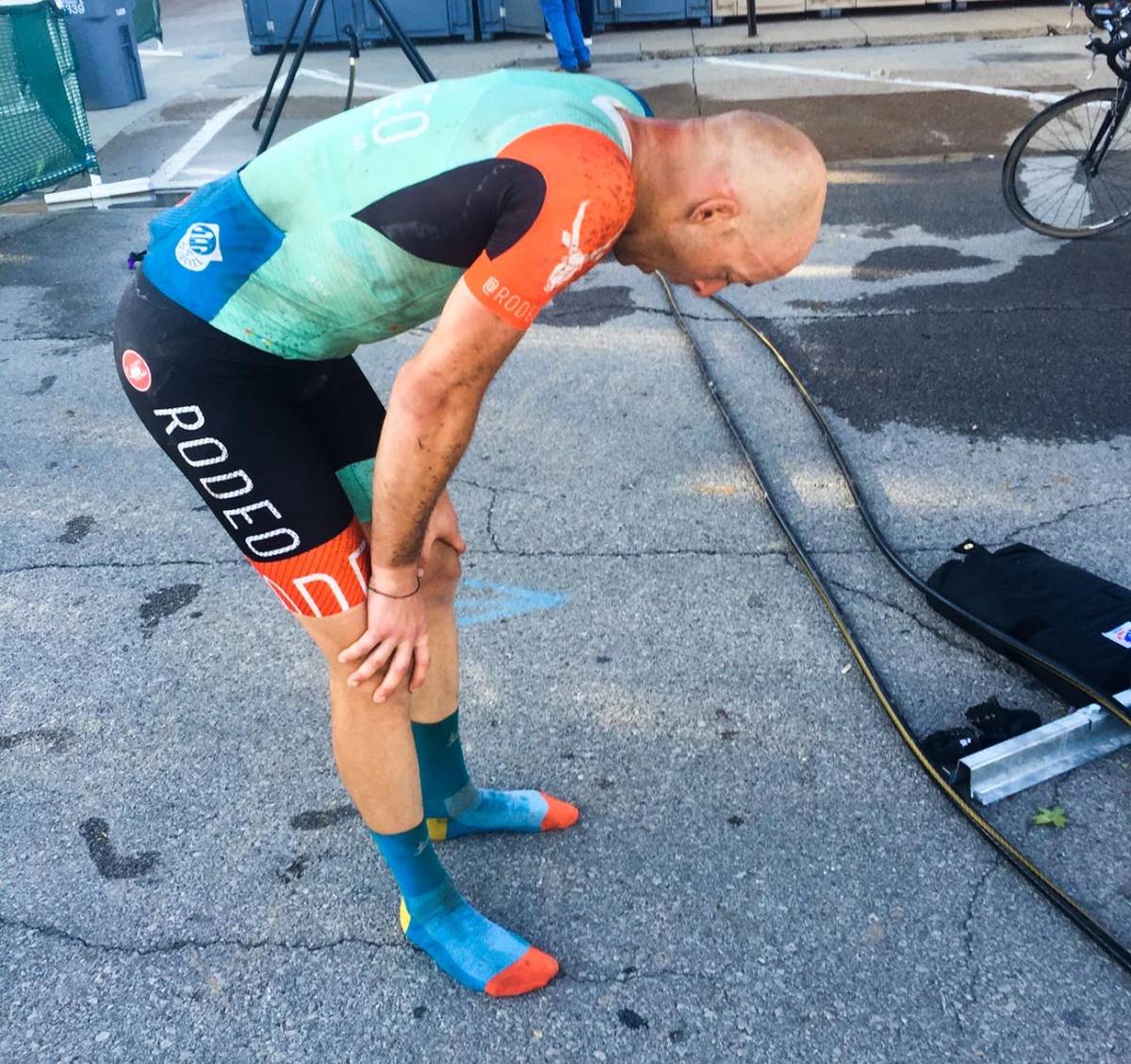 The EMTs came over. They looked worried. Nobody was quite sure what was happening.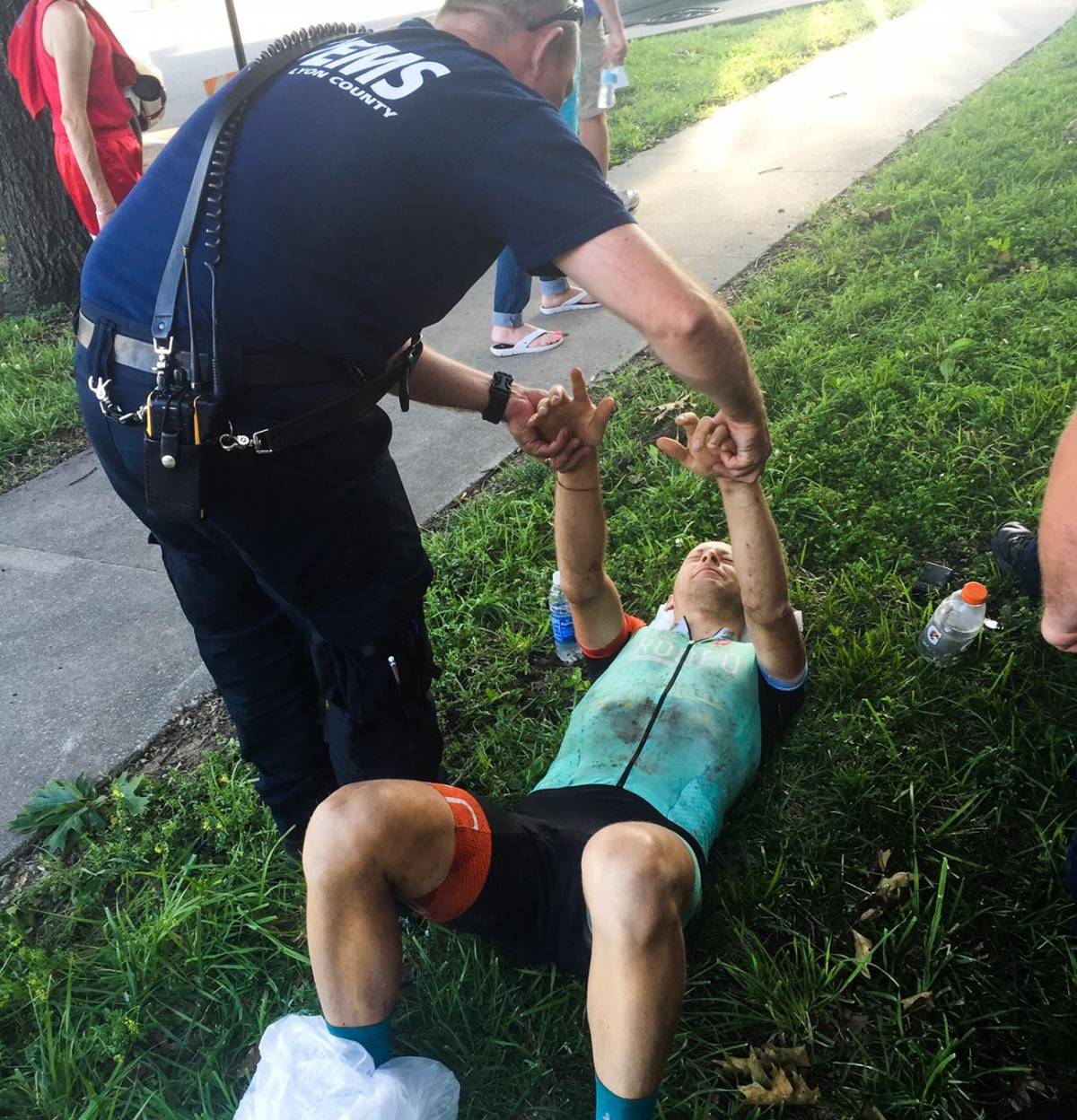 They wanted to send me to the hospital but I didn't want to go. We tried ice. We tried water. We tried taking blood pressure but I shook too hard for the machine to get a reading.
Eventually Coca Cola solved it. Two cans to be exact. I was hyper hydrated from guzzling water all day but in the third checkpoint I hadn't put any electrolytes in my bottles or pack. Hyponatremia is what they call it. Low sodium levels in the blood. It's a thing. It's dangerous and scary. Thankfully Coca Cola, which is often considered poison, is also the perfect cure. After the Cokes everything was back to normal in under five minutes. The EMTs still wanted me to go the the hospital but there were more important things to do, like eat a celebratory burrito.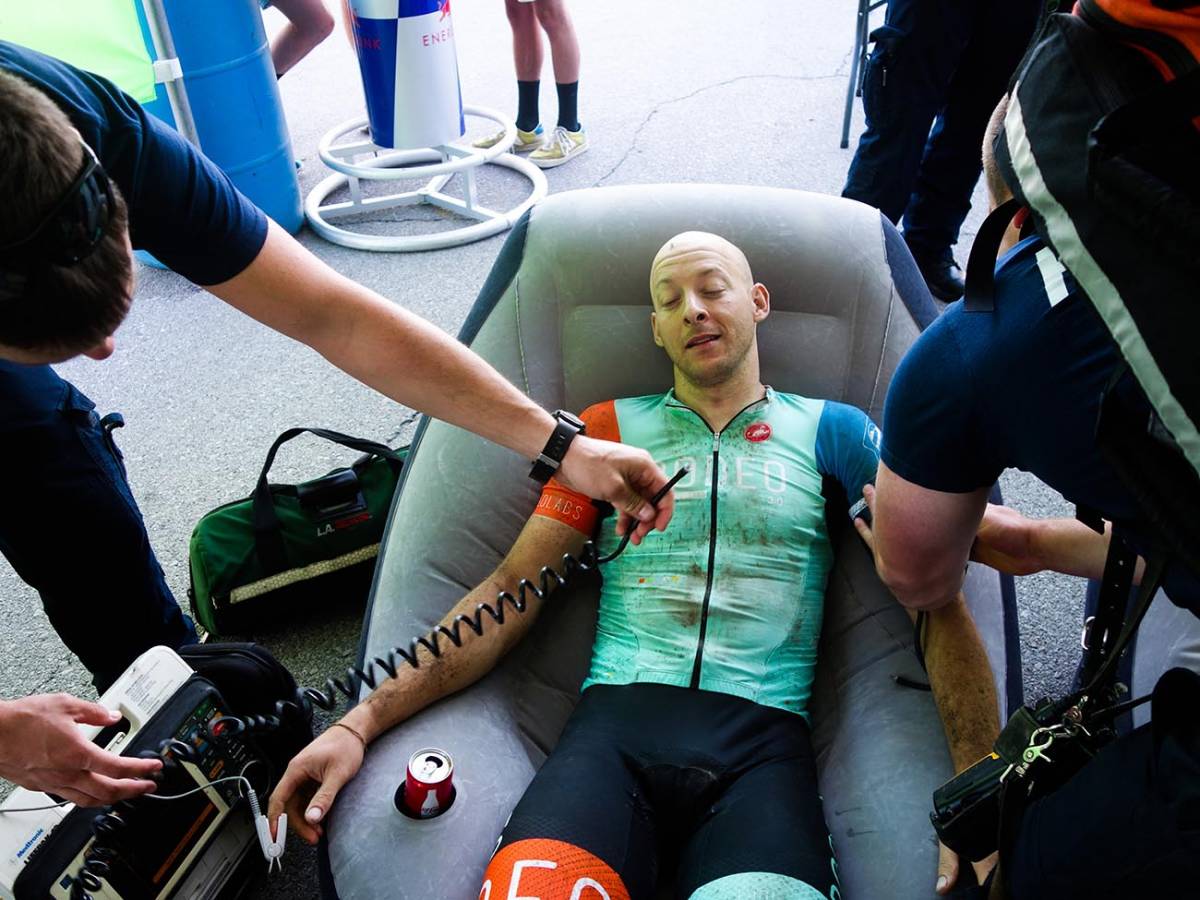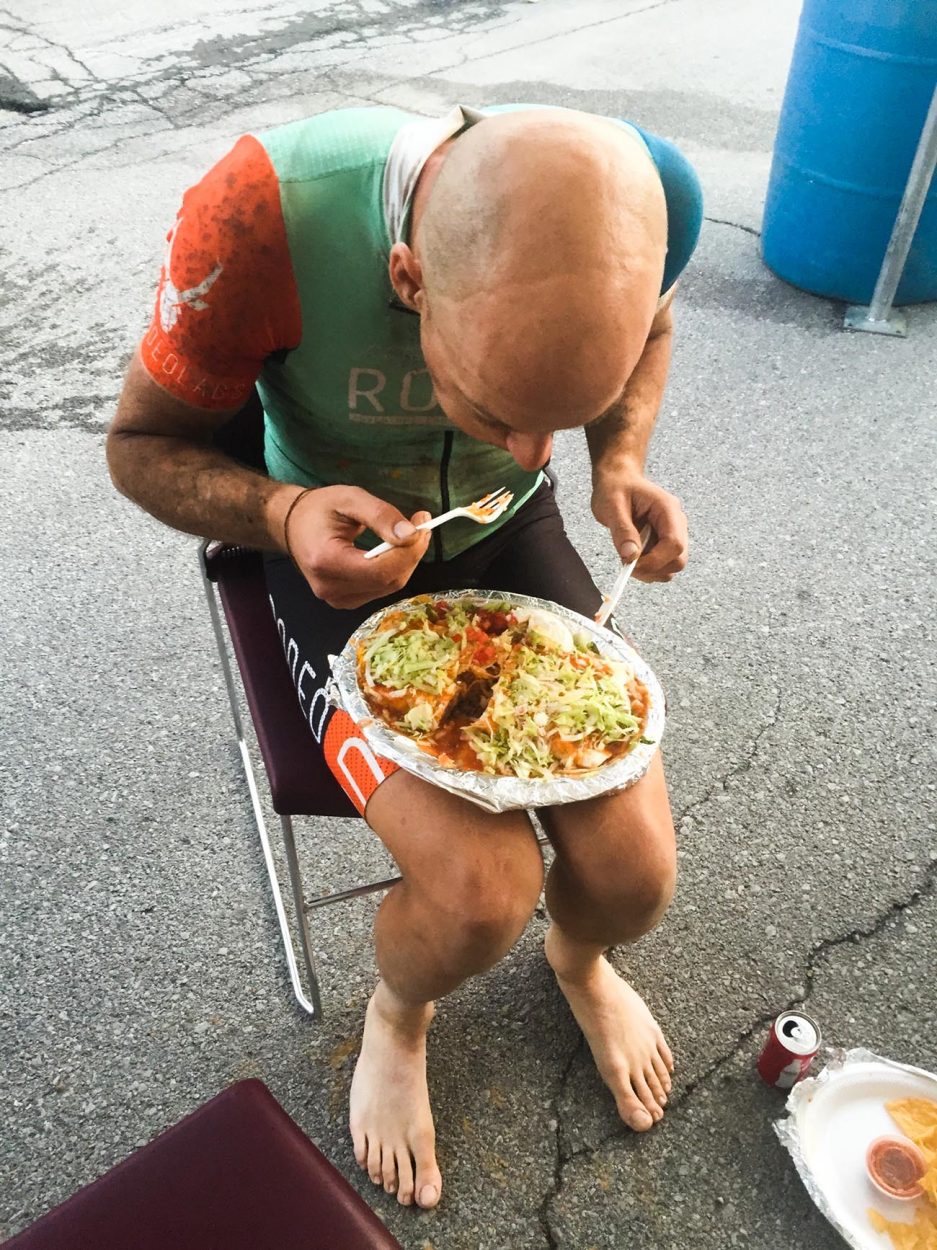 Six months have passed since Dirty Kanza. I think about it a lot. People ask if I'm doing it again, but I'm not sure. I haven't found a motivation for it yet. 1st in category and 5th overall was a lifetime result for me. I don't feel the urge to see if I could better that. I am still interested in the event for its beauty and its brutality. I'm reminded of all the people that I rode with and the conversations we had out on the road. I love the perfect green rolling hills. I love the logistical challenge of keeping the human body running for so long. I don't have fond memories of the mental difficulty, of finding ways to motivate myself to keep going. I don't miss feeling like I was trapped in my body, suffering on a bike and knowing that the end was seemingly infinitely far away.
To go back to Kanza and try it again would require finding a new angle, a new narrative, and new motivation. Speed, pain, and results are one set of stories to tell from Kansas but I don't think that they are the most beautiful story. If I go back I'd like to find out what is.