From time to time we have the opportunity to build extra special bikes here at Rodeo Labs. The Rat Rod Ridge Supply Flaanimal was a favorite, as was the TD4 switch-up bike, and many others.
When Campagnolo invited us to create a special build for their Sea Otter booth this year, we readily accepted the challenge, and we knew that we needed to create something truly unique and eye catching. Off to work we went!
With the TD4 Philadelphia Bike Expo bike fresh in our memories, one detail of that bike stuck out: The gold leaf lettering on the downtube.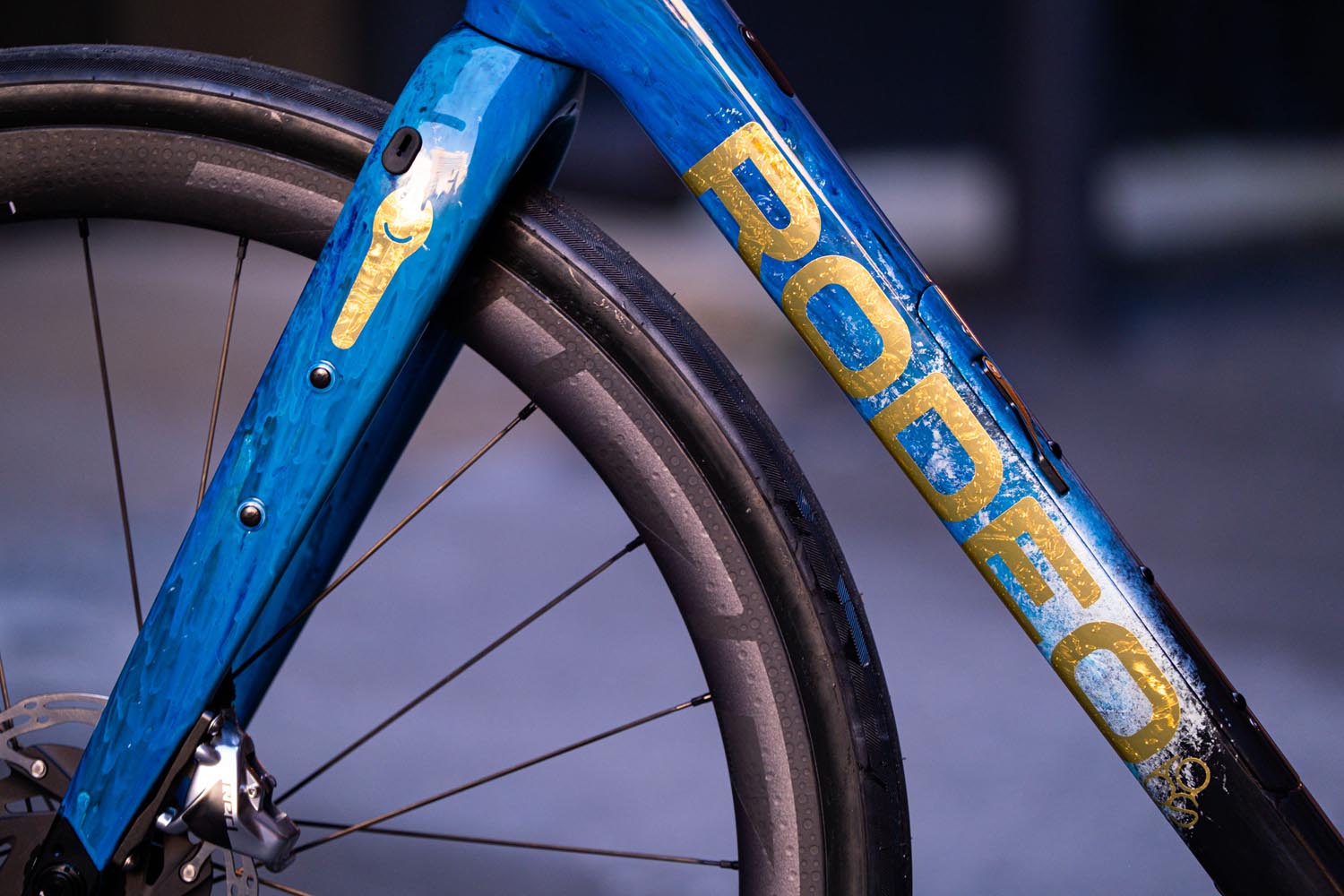 But that Philly bike only served to pique our interest on metallics and metal foil. There was a lot more to be mined in that vein, no pun intended. For a show bike we also wanted to be up front with the carbon construction of our bike, and to show off the beautiful layup. It was decided to pursue this direction and to explore a graphic layout that made the most of the contrast between metal and carbon, and off we went!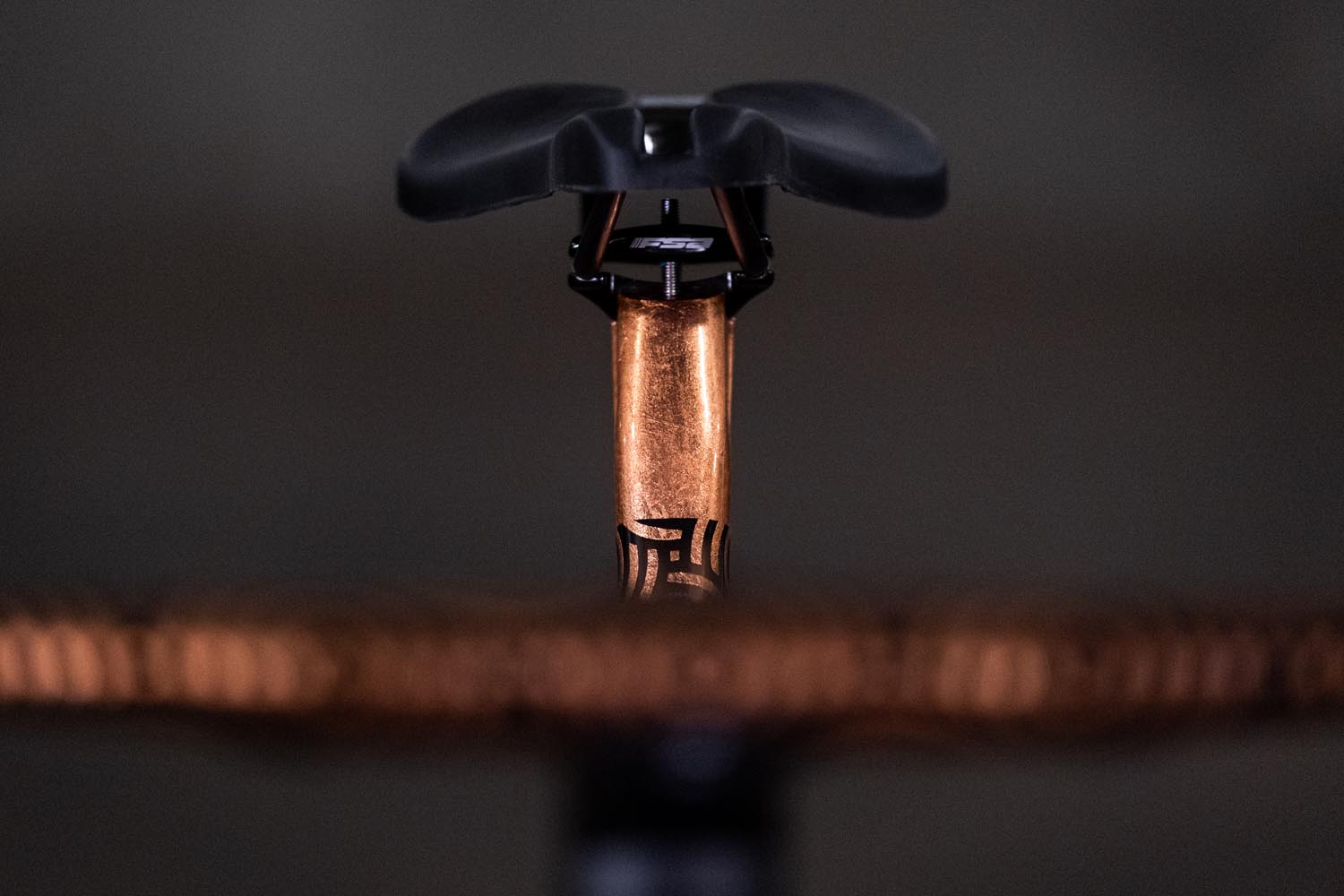 Gold gets a lot of attention in the world of metals, but copper is similarly beautiful, and much less well represented. There is something to its burnt orange tone that gives it a bit more emotion than gold. We rang up Chris at Flux Customs across town and asked him about the material and the limitations of working with metal leaf. Chris was keen to experiment, and had access to great materials based on his deep custom painting experience, so the course was set for the project. There was a bit of concern about the amount of precision that is possible with graphics made of metal leaf, but in our desire to create something fresh and beautiful, we decided to risk it and improvise if we hit speed bumps along the way.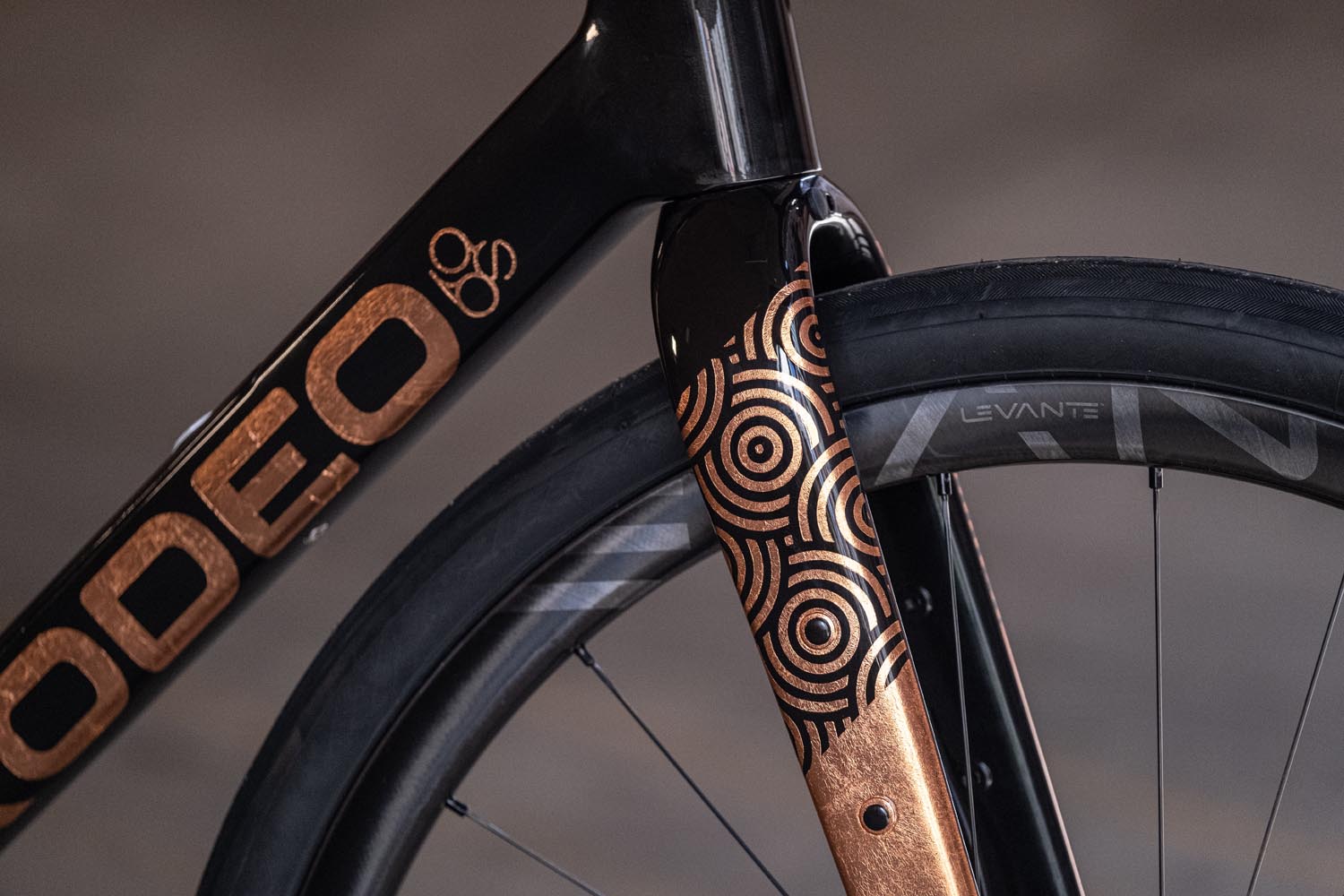 Trying something fresh and ambitious is not without its challenges, and this project took the whole team here at Rodeo to execute. The first step was to take a black painted TD4 frame down to raw carbon, and that required hours and hours of sanding. Everyone at the company traded shifts in order to avoid total burnout, and eventually that beautiful carbon layup poked through. In addition to the frame, the FSA / Vision components also needed to be sanded down in order to match the finish of the frame.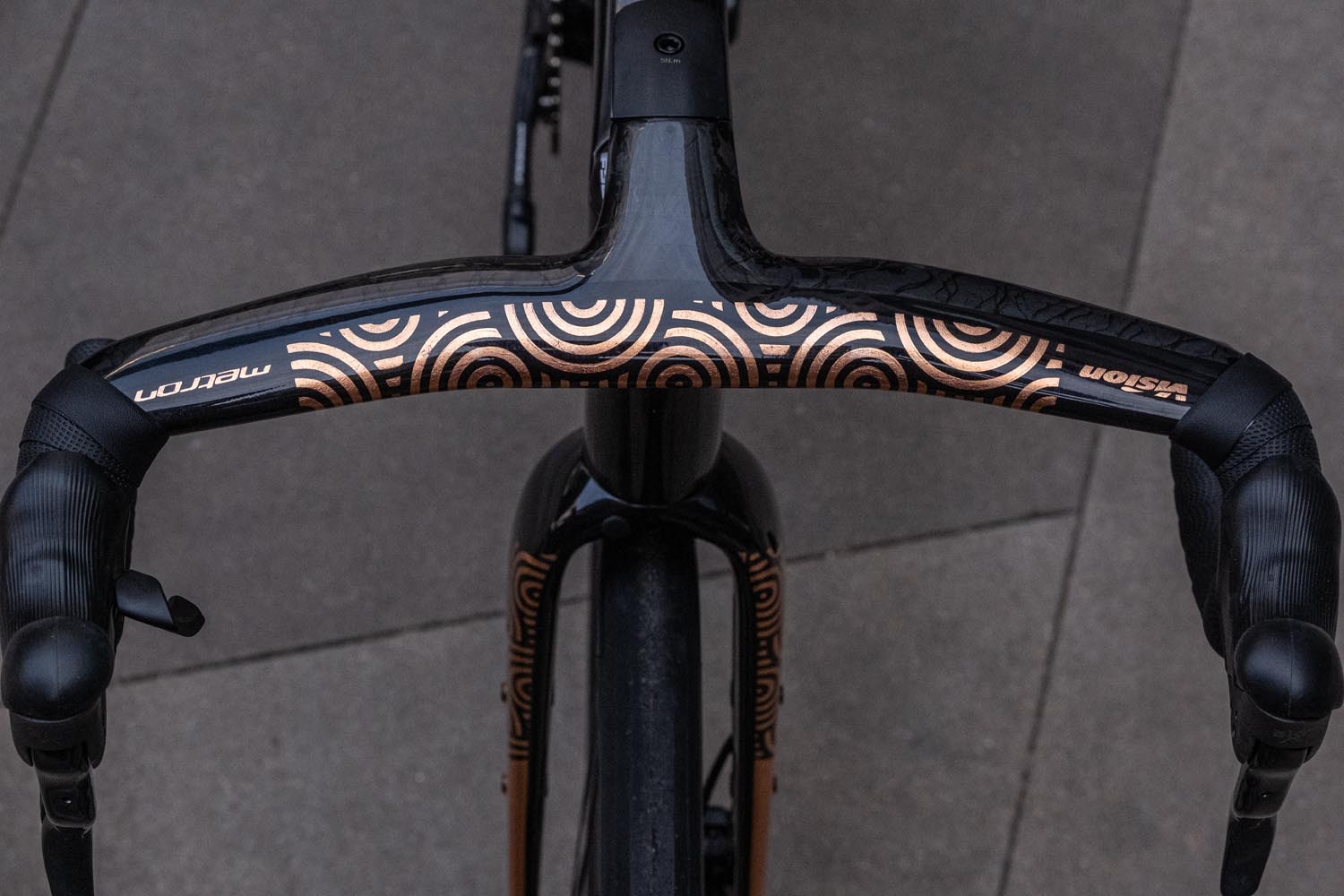 The next step was to deliver frame, fork, and components to Flux and let him go to work. After carefully taking our graphics and cutting the masks for the foil application, Chris expertly lined up the seams where the graphics met on the tubes to create a seamless, matched wrap.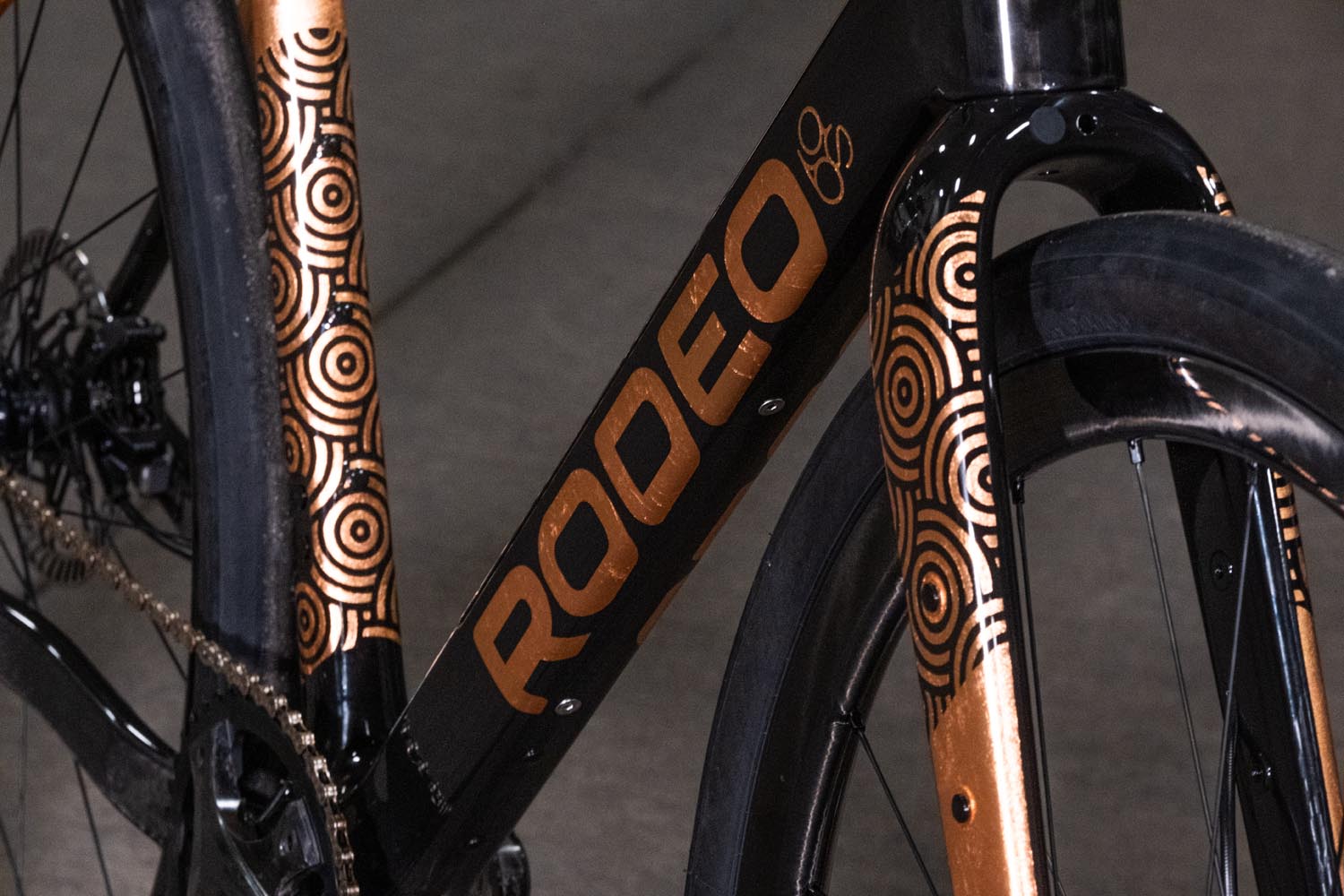 The process was not straightforward. Metal foils are by their very nature imprecise. Just think about how unmanageable tinfoil can be if you want to smooth it out or get it to wrap a three dimensional object in a precise way. We saw artifacts such as ragged edges and tears as the copper was applied, and we were forced to ask "is this good enough, or do we need to rethink our approach?"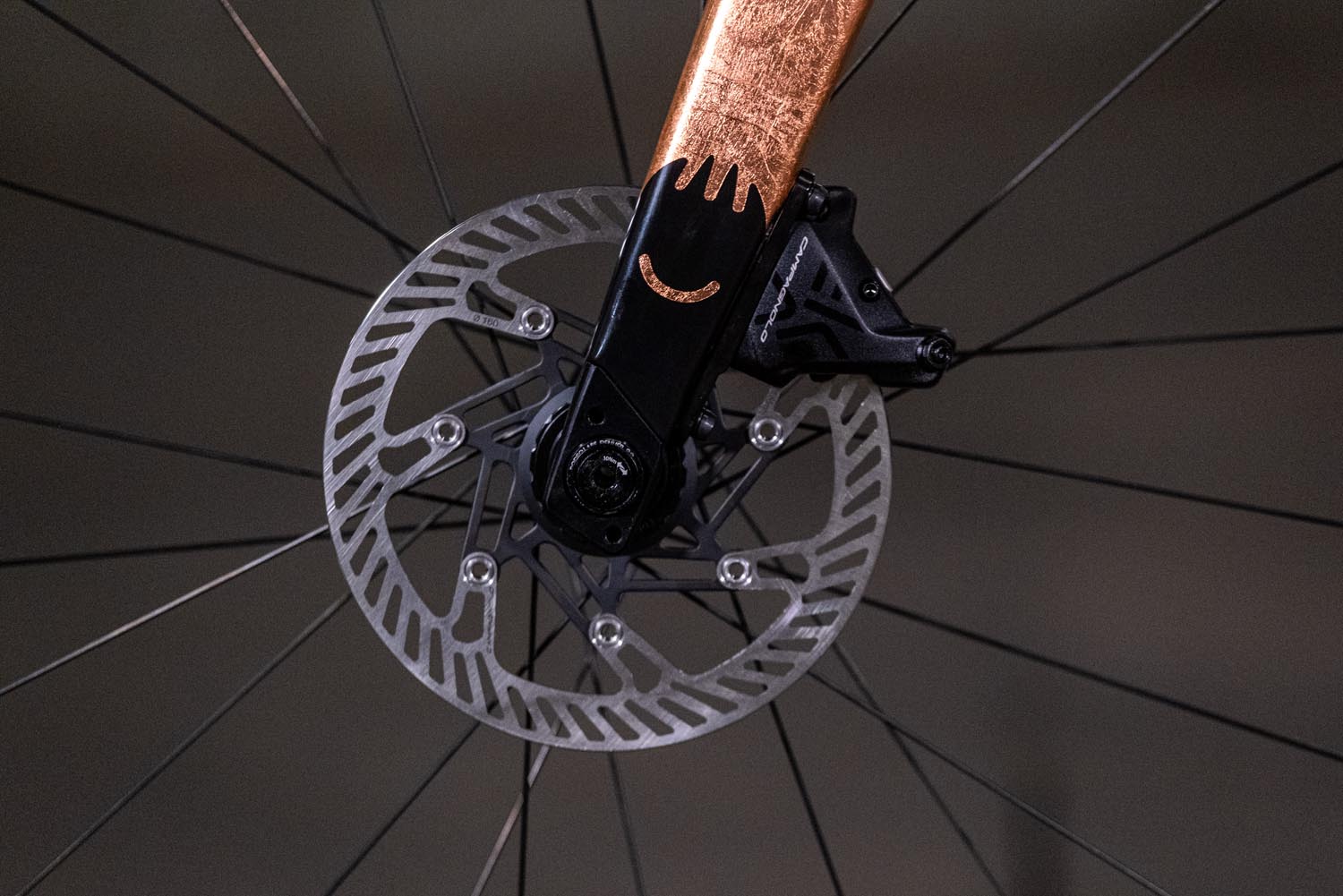 After some soul searching and brainstorming an alternate approach was taken that gave us the best qualities of the copper, with the total precision that our graphics deserved.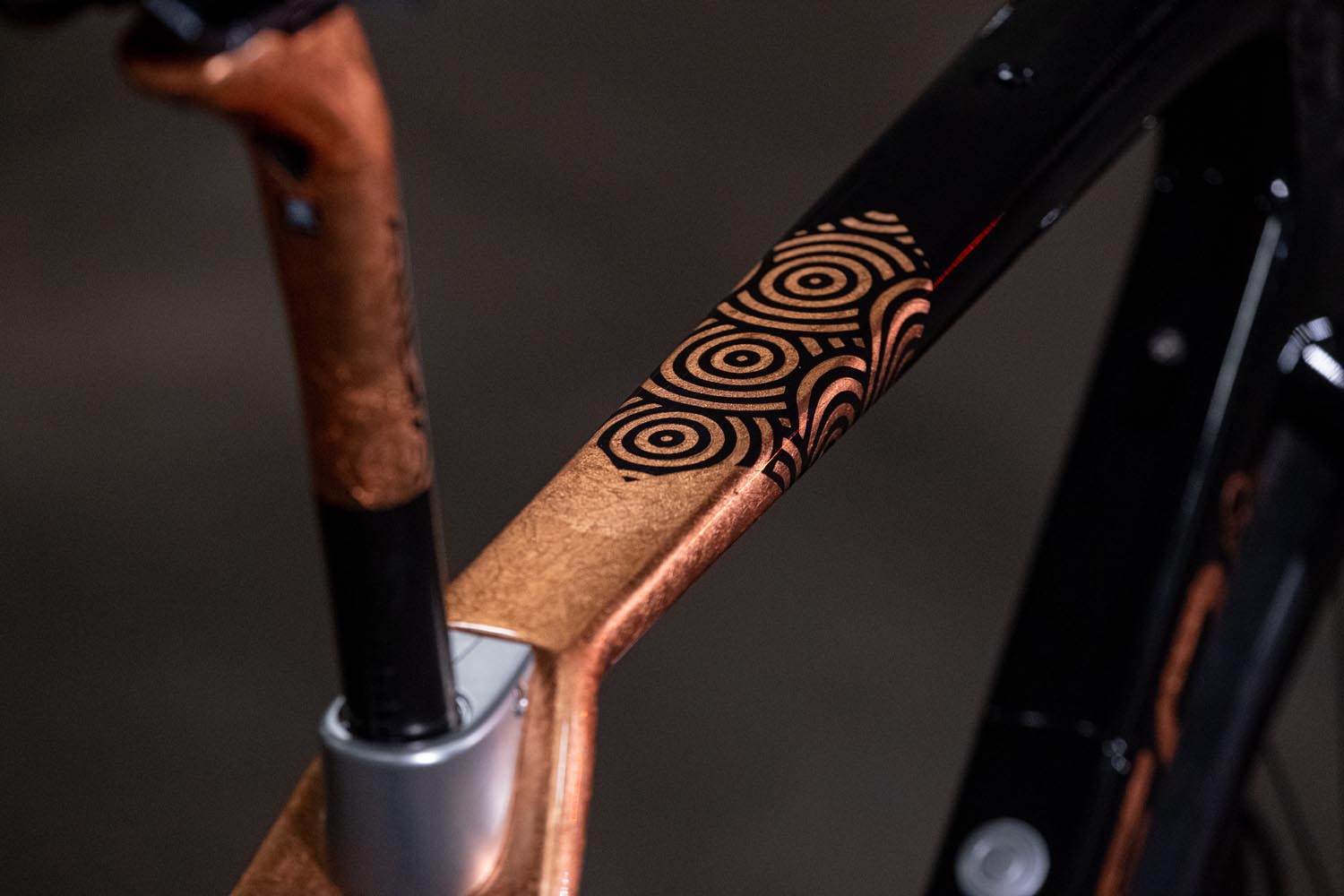 In the end this bike absolutely sparkles in the daylight. The glass-like gloss clearcoat that Chris expertly laid down brings the copper and metal into total harmony, and gives the resulting finish a deep, liquid look.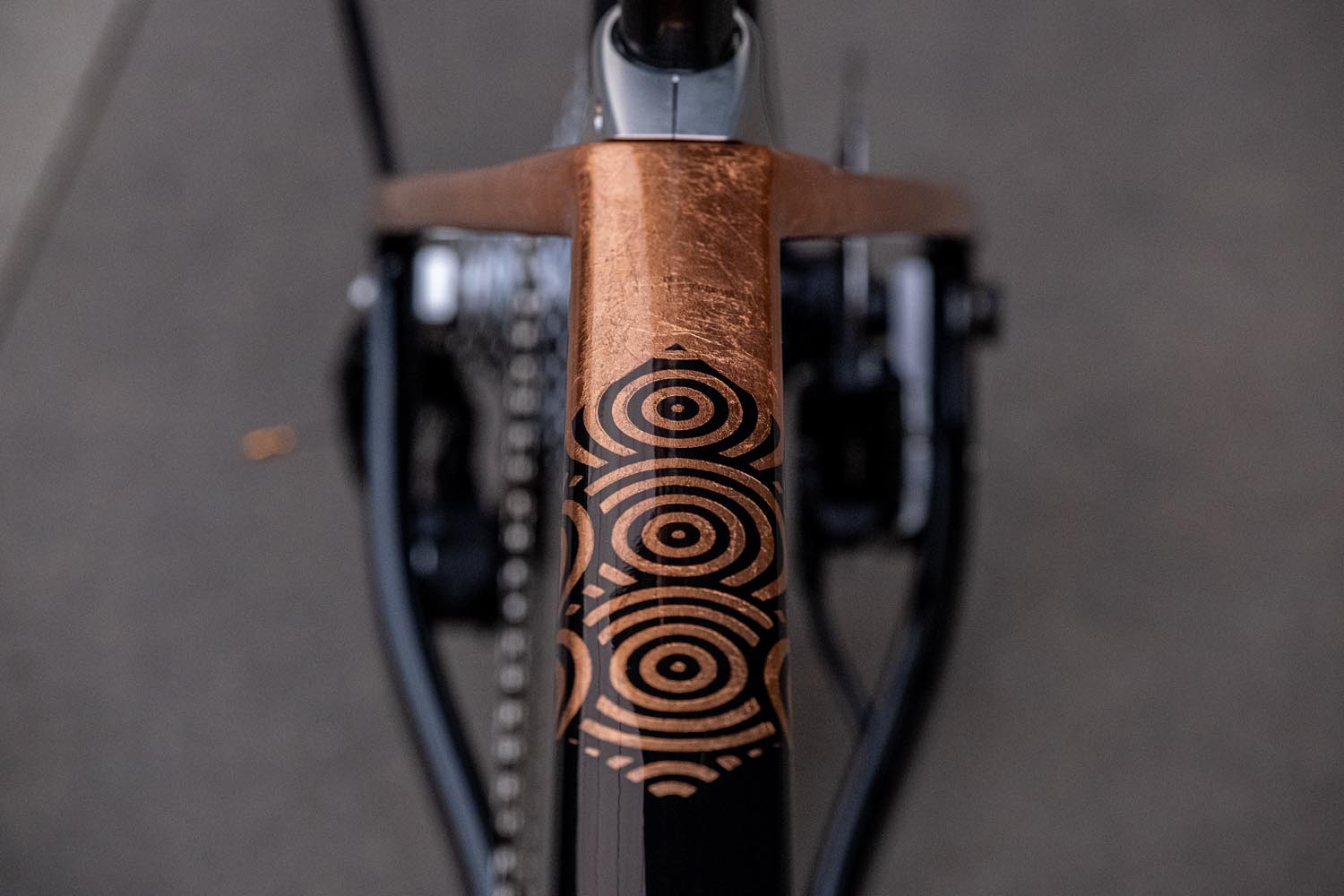 Needless to say we're all proud of this bike here at Rodeo, and we are excited to show it off with Campagnolo at Sea Otter Classic.