Race photos by Kit Hunders
As the end of 2017 arrived, the Colorado State Cyclocross Championships arrived with it.
Cyclocross has changed for me over the years. A half decade ago I was so jazzed about the bike racing discipline that I couldn't even sleep the night before a race. I would genuinely dream about it. I wanted go fast, I wanted to see if I could win. I had a pretty singular mindset.
Gravel racing is great and all, but in terms of drop bar bikes Cyclocross delivers the quickest, most intense punch in the thrills department.
In the past few years though my CX racing has fallen off a lot in terms of volume. I still get excited that #crossiscoming, but "cross" is always here now. I'm never not riding my cross bike because my cross bike morphed into Traildonkey and Traildonkey (or the steel Flaanimal) are almost the only bikes that I ride anymore.
Now when cyclocross season arrives it isn't a dramatic change of bike and riding style, but it does represent to compete and test the skills in a formal way. I still look forward to that quite a bit even if my actual racing volume is quite a bit lower than previous years.
I did a single CX early season race this season in September on my Flaanimal and I won it. It made me really excited to race a bunch more and make a season of it but by strange coincidence the arrival of 3.0 Flaanimals caused such a huge workload that my riding went to zilch and with it went my cyclocross racing season. There is always next year right?
In 2014 I finished second in my category that the Colorado State Cyclocross Championships and I've carried the disappointment of the loss with me ever since. I've since said to myself "there is always next year right?", but the following years didn't line up either.
2017 didn't line up, but then a funny thing happened: We've had a very mild fall and I discovered a new place to ride up on North and South Table Mountains outside of Golden, CO. A typical ride there involves an hour of fast paced street riding out to the trailhead then another hour of super fun singletrack riding, then an hour riding home after watching an amazing sunset. I became semi addicted to this routine. I don't catch many sunsets in the summer because the days are so long and I need to be home in the evenings for family activities. But in the fall the sunsets come earlier and earlier. The novelty of riding one's bike at golden hour is a powerful thing. I would try to do it a few times a week combined with a road ride or two in the mix.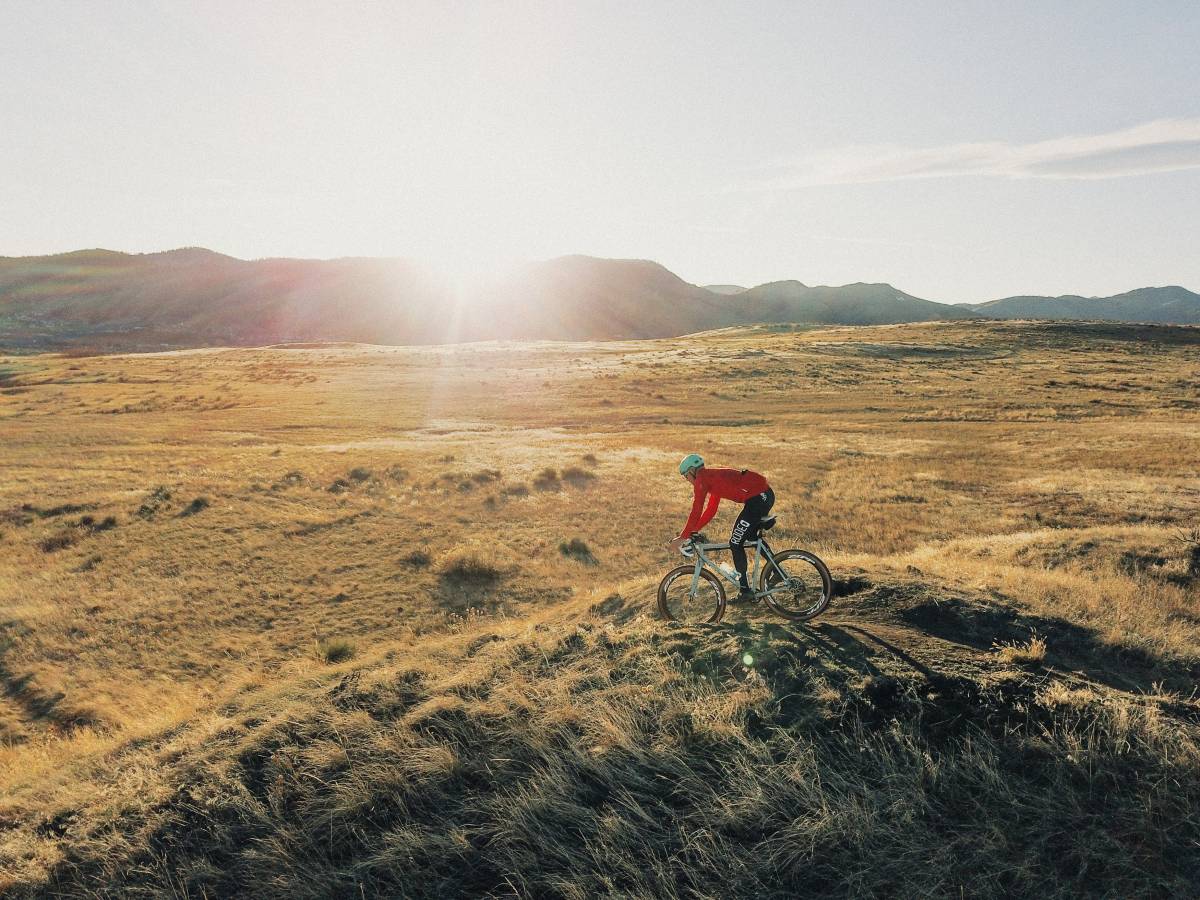 Do you know what this all added up to? It added up to "training". Training is that thing you do when you are preparing for a bike event whether it be a century, a local crit, or Dirty Kanza. Training is discipline and I really have a hard time with disciplined bike riding. But what if you take training and disguise it in the cloak of fun? What if all of that sunset singletracking was exactly the right sort of preparation for a cyclocross race?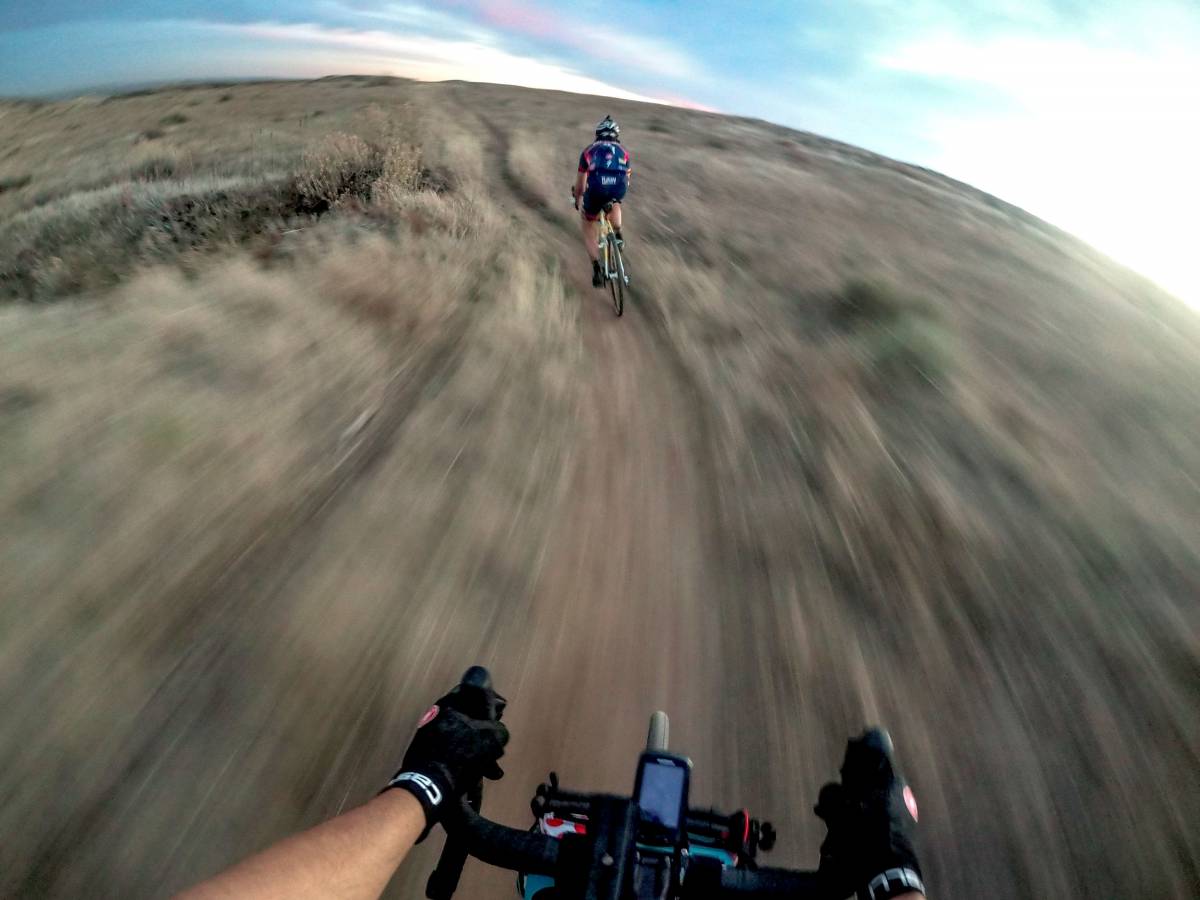 Well, it turns out that it was. I began to notice that I felt increasingly good on the bike and I started to look at the race calendar again. There were two races left in the season. One race was the regional championships and one race was the state championships. I decided to race regionals to test my legs and if it went well I'd race the next weekend at states and maybe hope for something rad to happen. I took Traildonkey to regionals with a simple tire swap as preparation. I hadn't practiced barriers and remounts but I have those more or less memorized by now. By riding punchy singletrack trails during the fall I had definitely been training the legs for the sprints and accelerations required in cyclocross, and technical trails are excellent conditioning for cyclocross course conditions.  I finished just off the podium at regionals and set my eyes on having a relaxed week on the bike before states.
When states arrived I was super excited and optimistic about my chances to podium. There are too many variables in a cross race to plan on being on a podium, but if you know you prepared well then you can at least carry a sense of optimism into the race.
One huge drawback to missing almost the entire race season this year is that I didn't have any callup points at the start of the race. People who race a lot and do well get called to the line first and enjoy the advantage of a clean start. People with no results have no call up and go to the back.
I got called up 4th from the last of the group of 60 starters and that was a pretty major bummer. The fast guys on the front would have nobody impeding their forward progress, but I would have fifty something racers that I would need to catch and pass if I wanted to touch the podium. I lost all hope of podium and instead told myself that I would just make the race a game of catch-as-many-people-as-you-can.
At the whistle the race was mayhem as cyclocross always is. I love that mayhem. Everyone is panicked, everyone is sprinting, everyone is out of breath, and most people are making all sorts of huge mistakes.
My friend Anthony caught this video shortly after the start. I'm near the back with the green eraser helmet. The odds of catching the front weren't very good!
My plan for moving up was to exert as little energy as possible on aggressive passes. I didn't dive corners and braap the throttle left and right, I sat tight, tried to conserve energy, and snuck moves in when a clear space opened or a pass could be guaranteed the space it needed to be executed right. A pass on the stairs, two passes on a small hill, four guys on the straightaway, etc. The tactics worked well. I didn't think much for the first three laps about how I would place, I just got to work and made sure to conserve energy until I could spend it with maximum impact. The fitness was there from the fall rides, and the intimacy with how my bike handles also came from spending all of that time on it.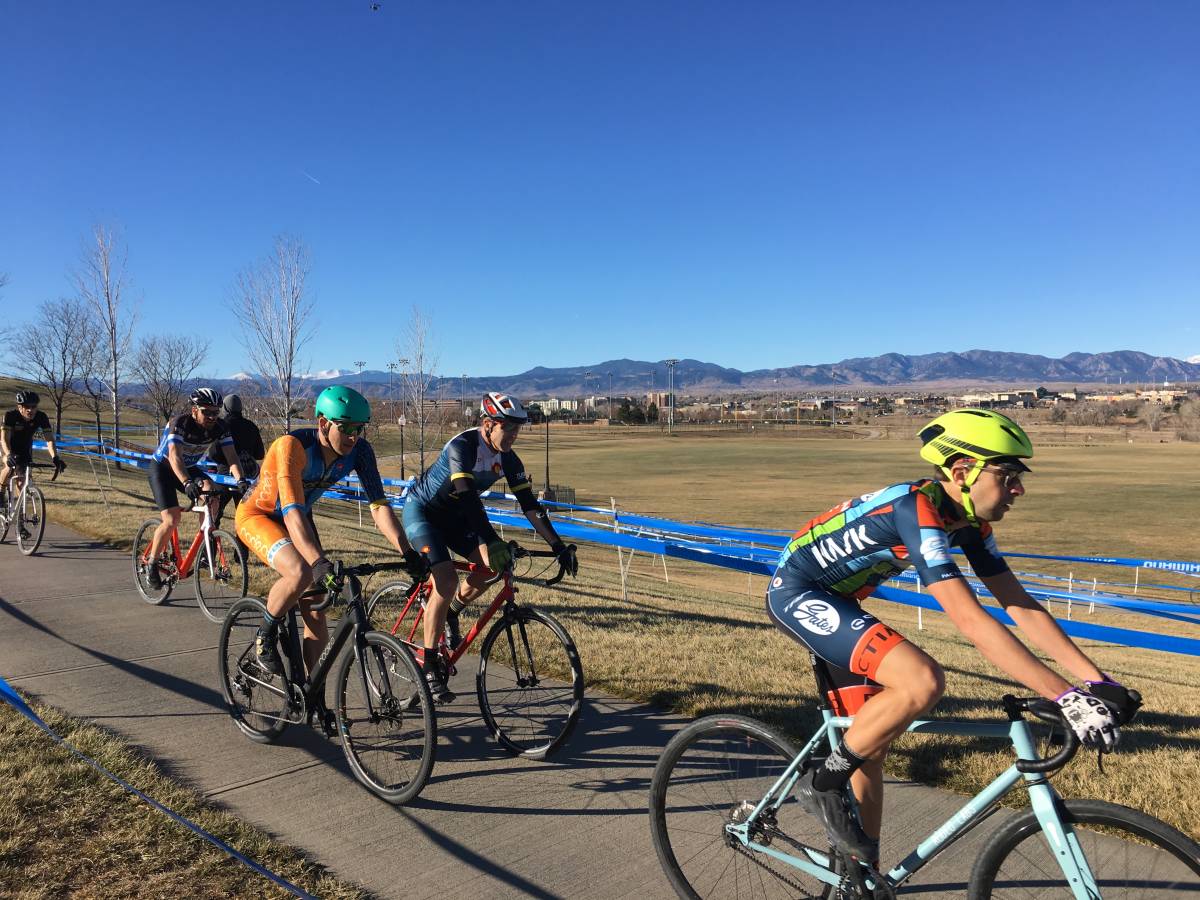 With about three laps to go I'd entered the top 10 and something critical happened: I still didn't believe in my ability to get to the front of the race, but my friends thought that I could do it and they ran all over the course shouting at me to go for it. "get those two guys Stephen! Do you want this or not Stephen! You can get them Stephen!"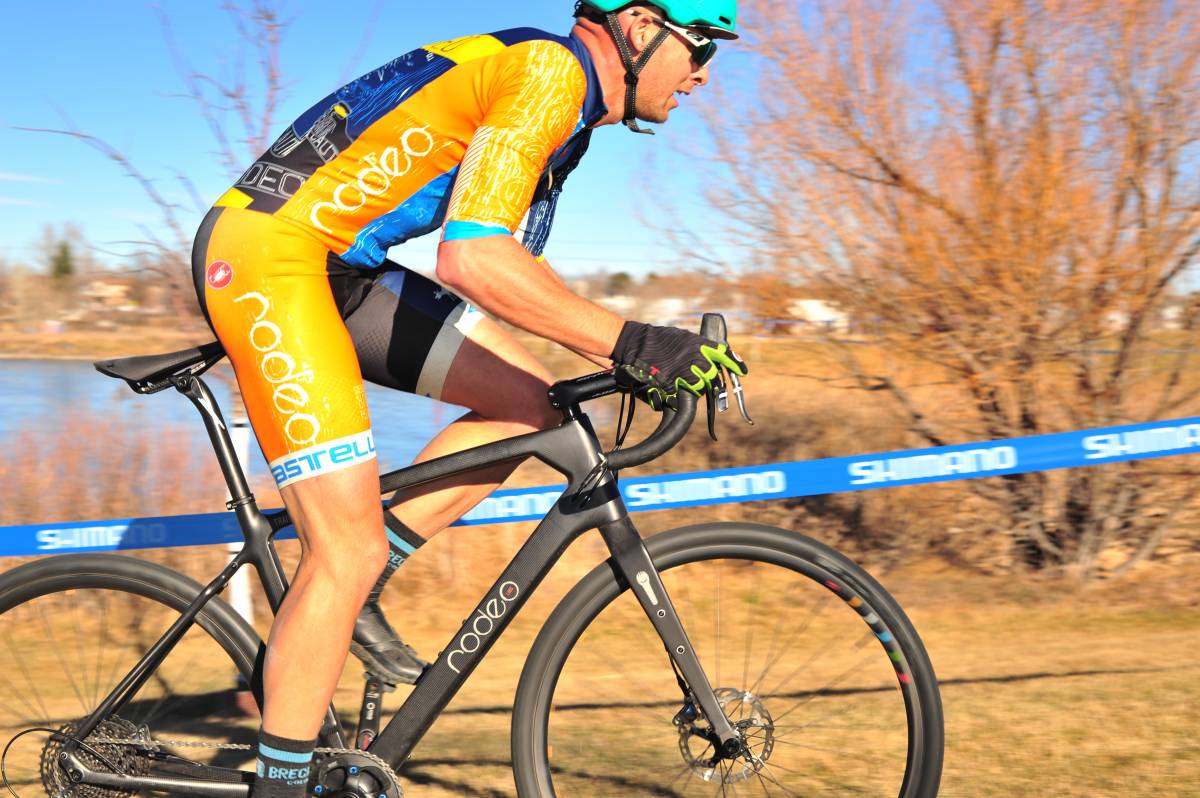 Anthony and Glenn just kept shouting at me, and when they did I really did feel like I needed to try harder. In my head I shouted at them "fine just shut up! I'll pedal harder if you quit yelling at me!"
The whole thing makes me smile now.
Two laps to go: "You're in 4th place, go get on the podium!"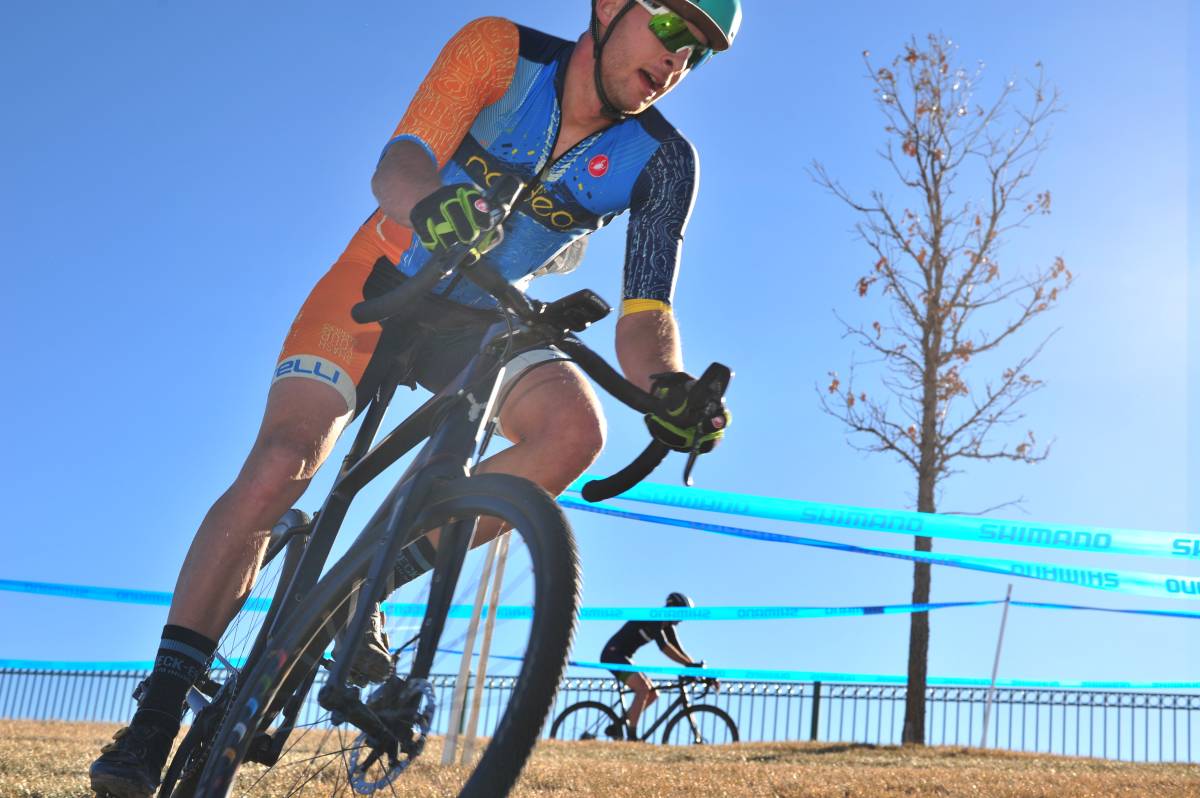 So I did. I caught 4th on the straightaway that I'd learned was my biggest advantage on the course. A short but very steep downhill led into the straightaway that started with pavement then wove through some grassy sections. For a minute or more on the straightaway no brakes were needed, but many people used brakes. This is where I made time. I mashed hard and trusted the tires to stay connected when I needed to lean and keep my speed. The results were amazing. I could hunt down people at will not because I could pedal so fast but because I didn't touch the brakes.
On the final lap I couldn't close any significant time on 1st and 2nd. Ewen North and Andy Johnson had battled hard for many laps for first and second but Andy appeared to have pulled away slightly and my money had him sticking it to the line. Ewen looked to far forward to catch but as I summited the stairs Glenn and Anthony said "They look tired!"
Of course they looked tired! We all looked tired! I was SO tired! But even if you are tired and beaten in your head a little intel can slap you out of it. Just hearing that the guys up front were suffering like me was motivation to not give up, to keep pushing. I didn't make any time on Ewen through the technical grassy sections of the course, but as soon as I hit the straightaway I let out every ounce of effort and flow that I had left to try to catch him, and I did. At the bottom of the course the straightaway ended in a hairpin turn and I grabbed a handful of brakes almost sliding into Ewen's rear wheel. I saw a small straight stretch and gunned it to get around. I was in 2nd! Hot damn!
Only Andy was left.
The end of a race such as this one is pure adrenaline. You stop thinking about being tired or that magma boiling up from your lungs and you just ride your bike on instinct. As soon as I made the pass to second I didn't even think about slowing down. I kept sprinting through a couple of turns that I had only coasted on previous laps until I bridged closed about ten seconds to Andy's wheel.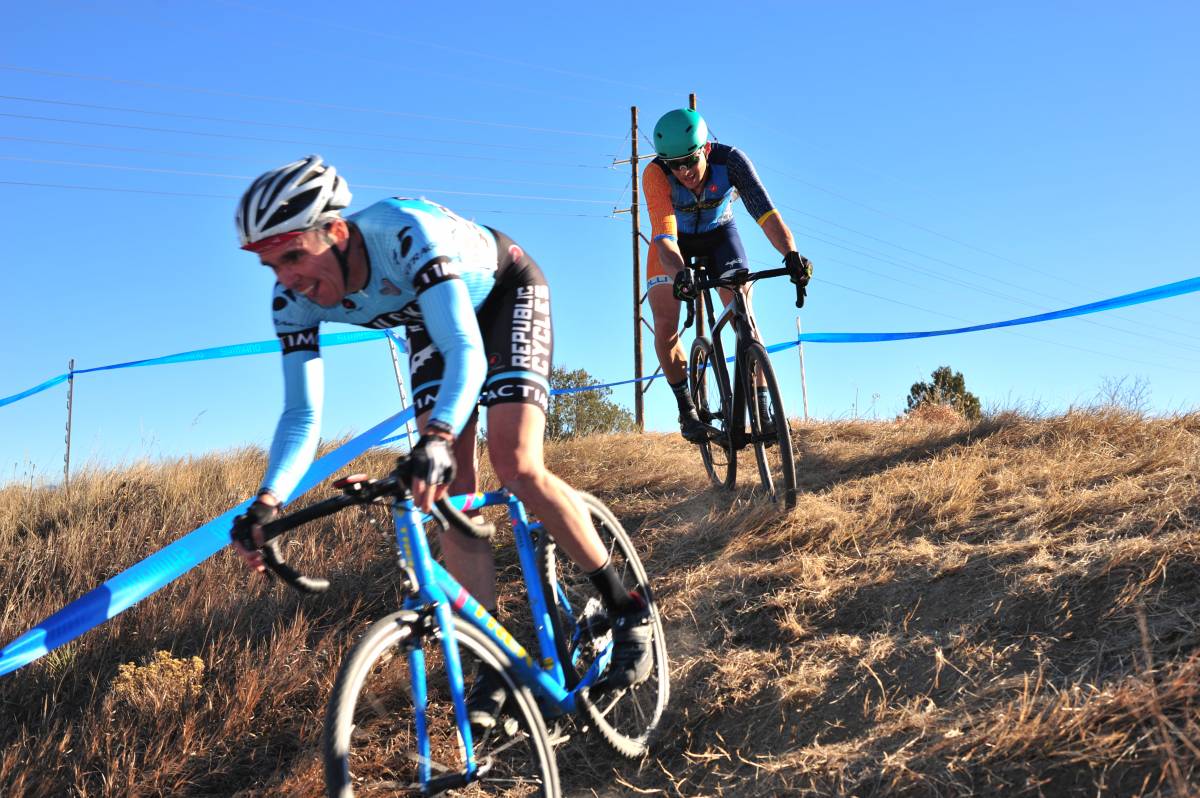 When I got to Andy's wheel I got sad. I don't know Andy very well but we've raced each other a lot and he always races with a ton of panache and sportsmanship. Even in my oxygen deprived state the thought hit me that we both wanted this race similarly. I guessed that neither Andy and I are particularly young with big upgrade aspirations, neither he or I had a ton of time to train and hone our skills like maybe we did a decade or so ago, but we both still love to compete. Winning is so rare. I'd guess that we both want to know that we can prevail from time to time. Ever since I caught sight of Andy at the front of the race I had been happy that it was him that was up there. Maybe Andy was going to bring home the title and it couldn't have gone to a better racer. But then within a quarter of a lap I'd closed a huge gap and moved up to his wheel and now all of a sudden maybe I could win too. If any other rider had been in front of me I would have been happy to duke it out for the win but for the final minute of the race I felt totally conflicted as I traded tactics and accelerations with Andy. I wonder if Venus and Serena Williams ever experience something like this, where they wouldn't want to beat their sister but they had to try?
I still didn't even know if I could win but I thought about sitting up and making sure Andy got the win. The idea of leading a race for so long only to lose it at the end felt exactly like the race that I lost in 2014 and I wouldn't wish that feeling on anyone. But sitting up didn't feel right. I wouldn't want to win a race that wasn't fully contested and I guess that Andy wouldn't want to either. So we had to just race it out and make it a battle to the line. When did bike racing get so complicated!?
In the last minute of racing I tried to get around Andy three or four times but he saw my lines and closed them down skillfully. Each failed pass was a wasted acceleration and I was extremely tired.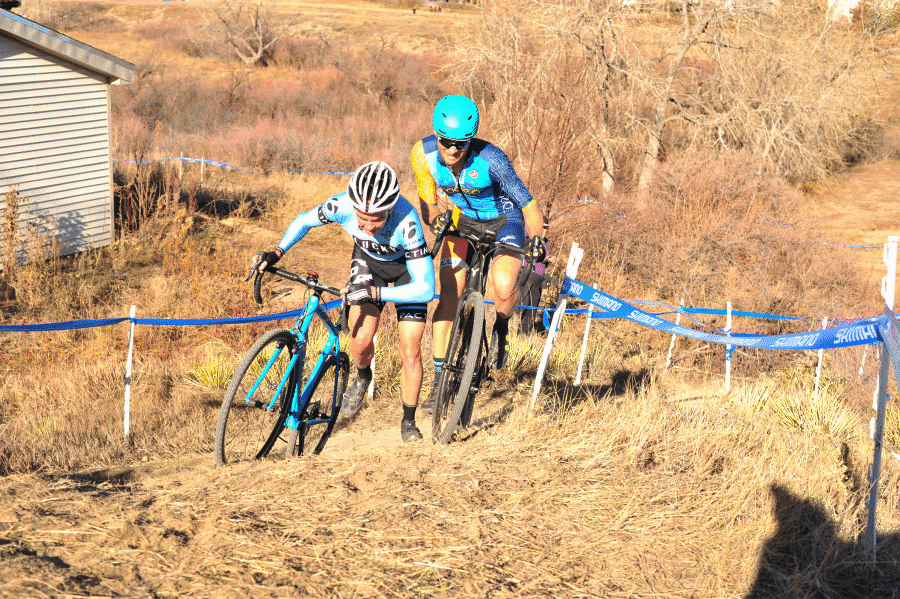 I had one final chance on the final corner of the race going into the final sprint. I watched for even the smallest space and when Andy went wide on the turn I moved for the inside line. If I could get the inside line I could start sprinting first and would have a better chance of sticking the sprint to the finish. I got my line and let it rip.
Two scenarios played out in my head. In the first scenario I sprinted as hard as I could but Andy overtook me for the win. I was excited because I gave it my all and lost to a more determined racer. That scenario felt good.
In the second scenario I had the better sprint, and once I started going my gap only increased all the way to the line. I would win because I had earned it, and because I had wanted it relentlessly from the gun.
The second scenario is the one that happened. I crossed the line first. I had a small gap even. I didn't raise my arms in victory, I just sprinted through the line not quite believing that nobody had passed me.
Winning hits you in waves. It's an out of body thing. Even if you are a good racer winning is so improbable that it never happens with a sense of expectation. Winning is always a surprise. And when it does happen you can't believe it, and you have to play it over and over in your head and reconcile that it is really happening.
When it finally did hit me that I'd won I felt a deep sense of calm about it, like as if an ulcer had stopped burning or as if I'd answered a very difficult question that I'd always struggled with: Am I any good? Can I make a goal and accomplish it? To be able to briefly answer yes to those questions is awesome.
I've won things before but even a couple of weeks after a win you start to wonder if that's the last one that you'll ever have and you start doubting yourself again. When you win you get to shut the doubt up for at least a solid five minutes… and that feels really nice.
Andy came straight up to me after the race and shook my hand and congratulated me. I couldn't quite breathe yet but I grabbed his hand for a few moments and said "I'm sorry, I'm sorry I took that from you". I think I apologized because I knew how meaningful it was to cross the line first – and even though his race was good enough to deserve that feeling I had somehow deprived him of it.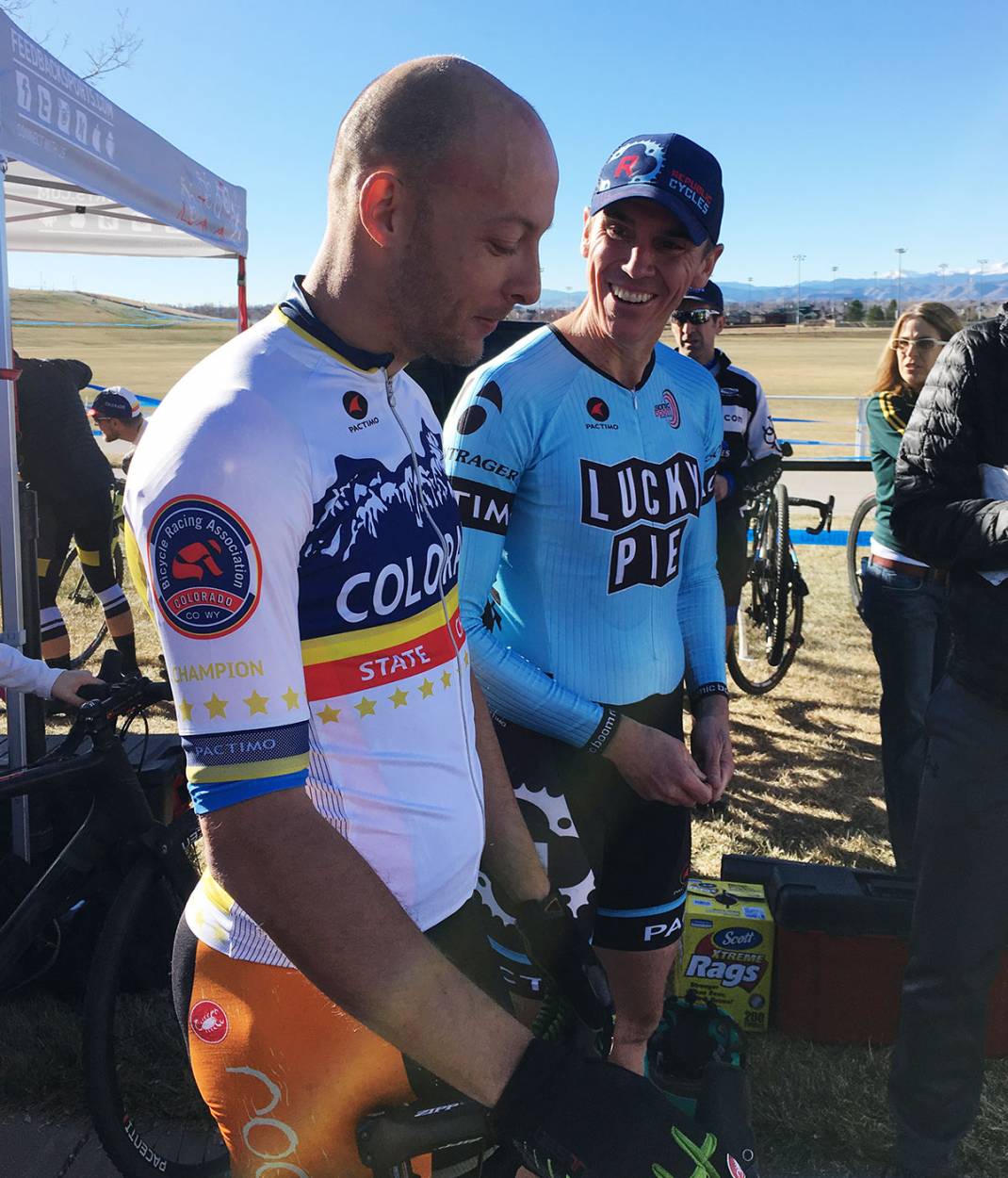 Winning is not all celebration, it isn't all good feelings. Maybe it is for some people. Maybe some people are sharks and they win all the time. Maybe they are cold blooded about it, but I don't feel that way. Winning can and does have some regret mixed in from time to time. Maybe this is because we are not robots racing robots, we are people racing people. Goodwill has to be a part of the equation or you quickly start making decisions that desperately grasp for the podium and lead down towards bad paths.
I'm happy to have won a bike race. I'm happy I did it in front of friends with the help of friends. I'm happy to have won it in Rodeo colors and to have done it on a Traildonkey that I created. Those things make the creative process satisfying in addition to the athletic pursuit. I'm happy that Andy, Ewen, and the rest of the field made me fight so hard for the win. I'm grateful for people to race against that I can respect, and who give a win real meaning.