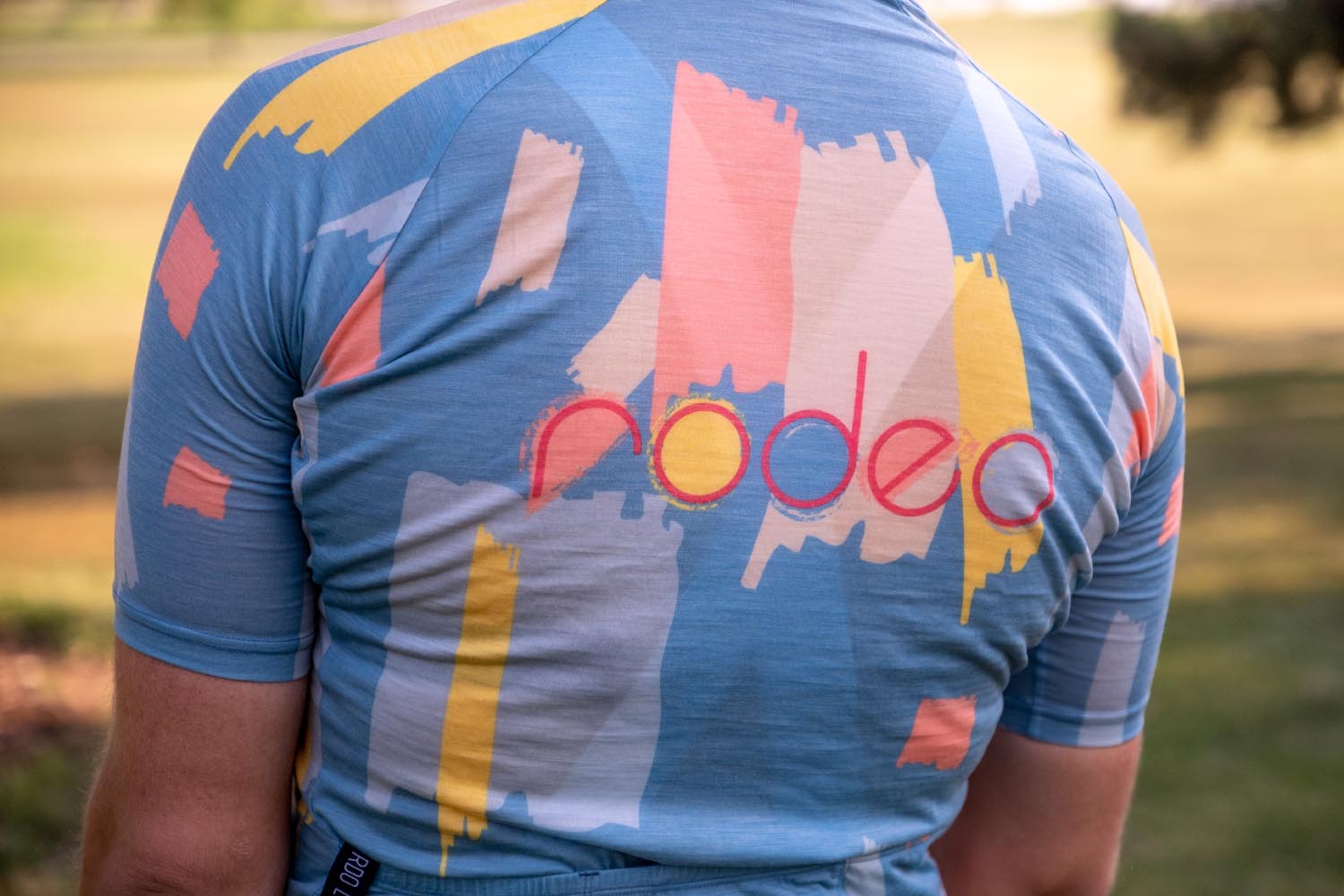 RDO LAB // O.G. Remix jersey
Our original 2014 1.0 Rodeo Labs jersey has always been one of our most popular jerseys, and the nostalgia for the design runs strung here at Rodeo and in our community. Instead of simply re-releasing that jersey this year we thought it would be fun to remix it. Drew (who is both the jersey designer and our model here) gave the classic design a brush stroke inspired pastel treatment that lets the O.G. design show through, but adds a whole lot more party to the mix.
We don't yet have any modeling photos with the women's cut jersey, but rest assured we offer a gender specific women's cut, and fit is consistent with other RDO LAB women's cut jerseys that we offer.
On the back our standard triple main pockets hold all of the usual cycling gear, and the fourth zipper pocket is added for extra valuable cargo security.
We decided for 2022 to release all of our short sleeve jerseys in a lightweight merino wool blend because we're more and more into natural fibers as time goes on and we grow up. This fabric is milled in Italy and its light weight make it suitable for hot summer exploits and cooler season rides when combined with a base layer. The fabric is naturally slightly sheer, not as opaque as heavier weight fabrics. (See photos for reference).
Fit is in-line with previous Rodeo Labs jerseys and is more race cut than casual cut.
———
All RDO LAB cycling clothing is designed and developed in-house from scratch. Cut, fit, materials, and function are all entirely home brewed. We work directly with a sewer to combine rigorously selected fabrics, chamois, zippers, and other components into a high quality and functional final garment. Our fabrics and chamois are sourced from Europe and our sewing is completed in Asia.
Please pay close attention to our sizing chart when ordering. Our sizing chart applies to both women's and men's cuts. Generally we feel like our sizing guidelines are pretty similar to the large mainstream brands. But the human body comes in an infinite variety of sizes and proportions so please forgive us if our size Medium doesn't match a Medium from a different brand you own. If you order a size that doesn't end up fitting you may mail it back to us and we will swap it for a different size provided that size is in stock. If it is not in stock we can offer you a swap for a different style / color that is in stock. If you require a refund because a fit cannot be found we are happy to issue refunds minus the shipping costs.