Brandon Proff and a band of friends took their bikes down to Arizona for a mental reset on the gorgeous Sky Islands bikepacking route. The story that follows and photos were generously supplied by those that rode this beautiful route.
Jared, Broox, and I met at 5 am on a Wednesday and drove 13 hours to Patagonia, Arizona, without stopping. Everything was smooth, but I ate an entire large bag of potato chips and a large bag of peanut M&Ms… And a bunch of other junk food I can't remember.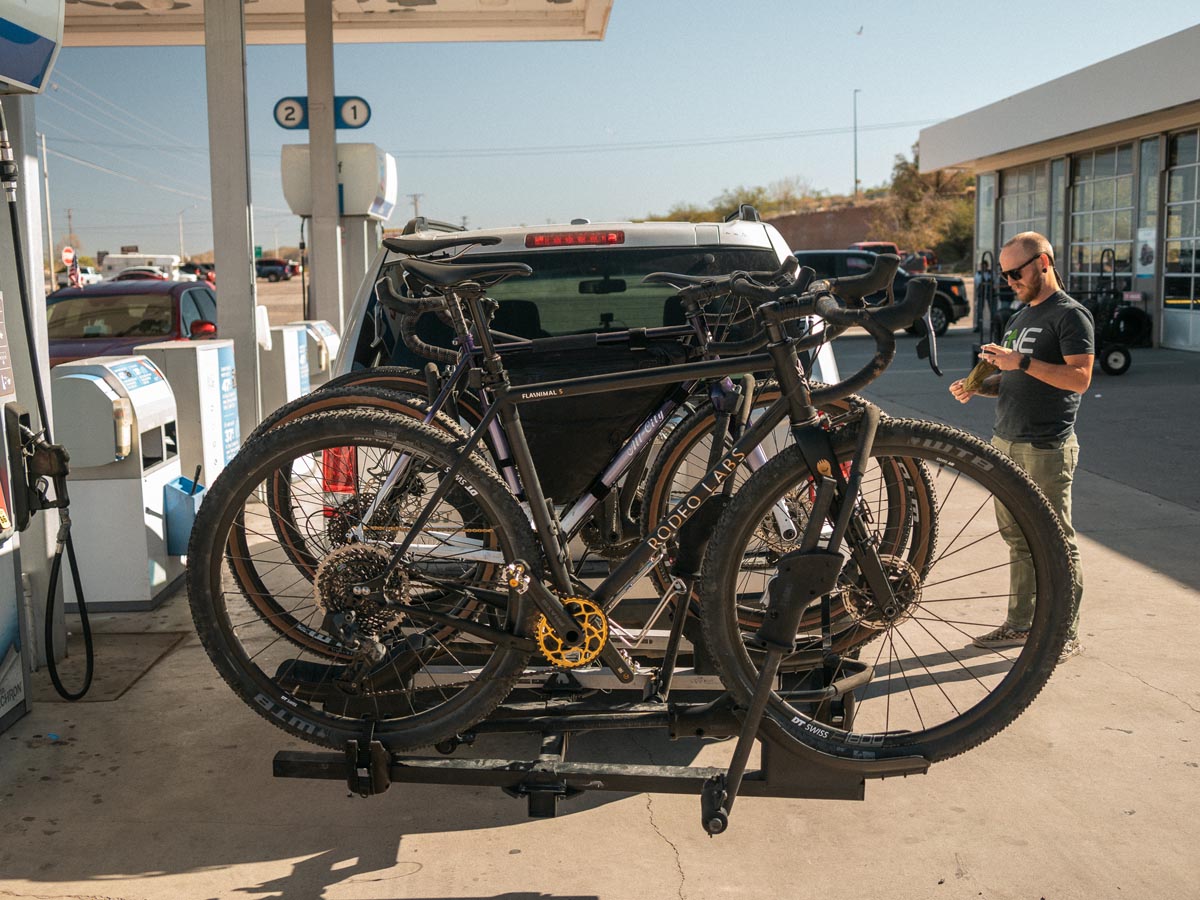 We arrived for a luxurious night of car camping, which is now apparently a tradition of mine before bikepacking.
Get it all in! Eat food that needs refrigeration! Drink beers… that needed to be refrigerated! Change clothes a few times for the hell of it! Did you bring a giant air mattress and full-size pillow from your bedroom? Use it because you're about to lose it.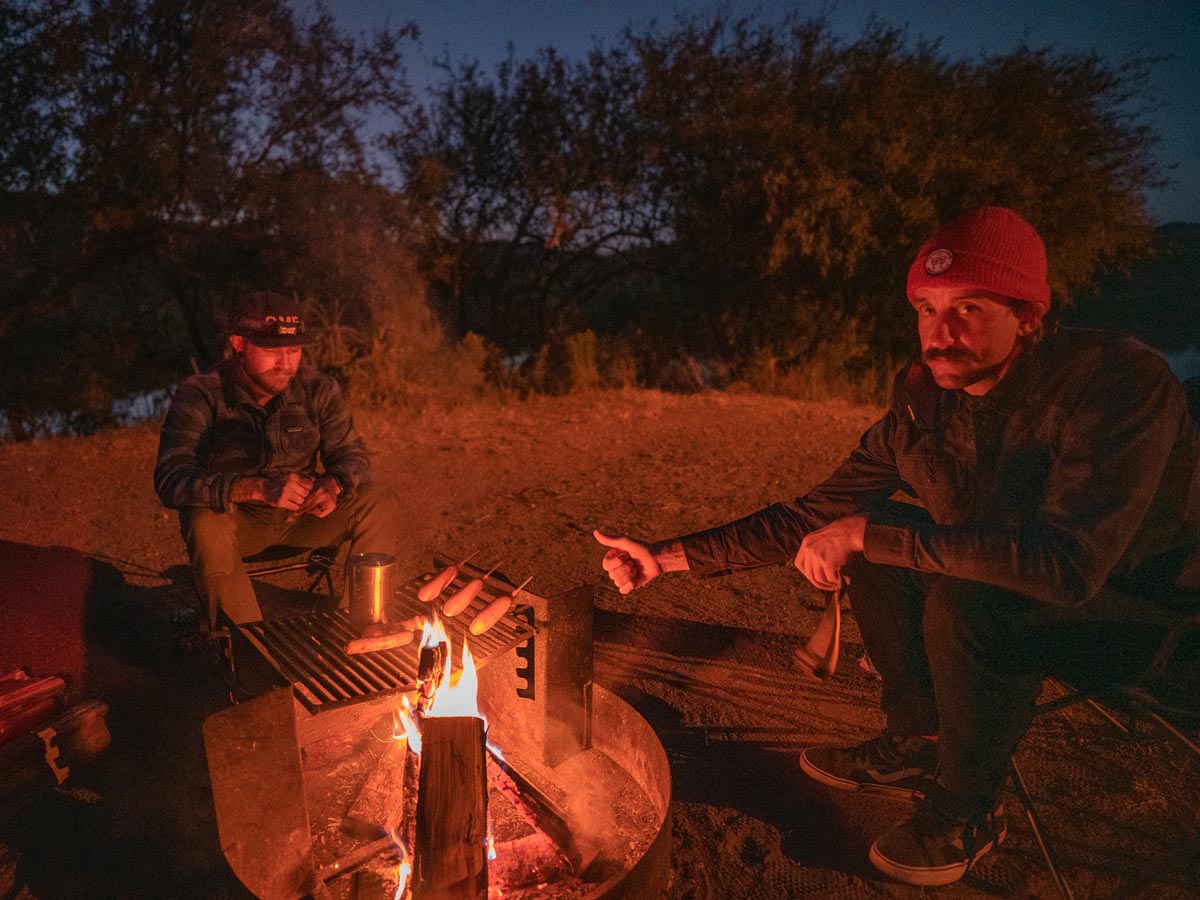 Campgrounds are now apparently the only place where campfires are allowed, so we stayed up late and bathed in smoke, knowing it'd be our only opportunity for the next four days. Broox became paranoid in the middle of the night, and we woke up in the morning to find his entire Trail Donkey shoved into his tent with him for safekeeping.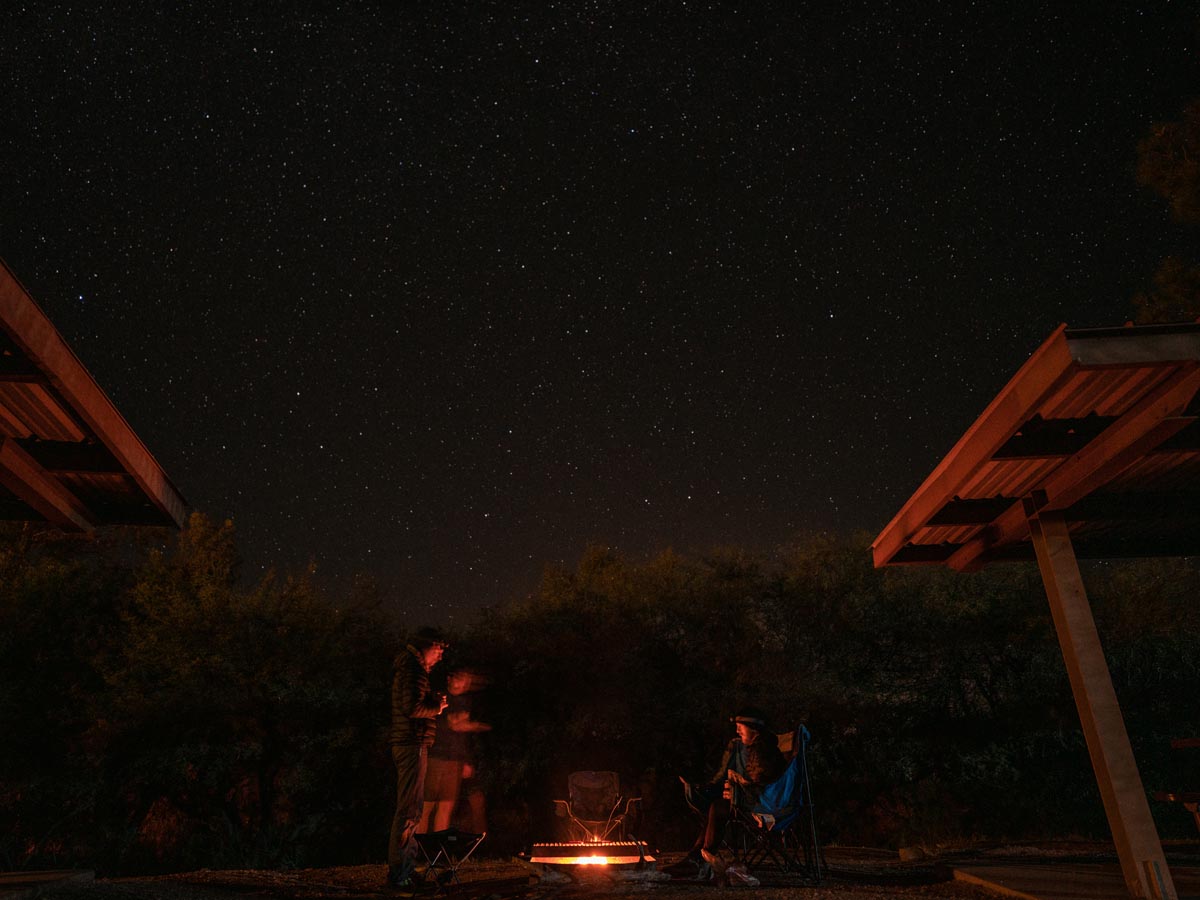 Day One – Patagonia to Appleton-Whittell Research Ranch
We didn't know of a place to park our car for a few days, so I reached out to the good people at The Cyclist's Menu (a cycling camp/travel company based out of Patagonia). They suggested we park across from the Marshall's office – thanks so much for the help, Cyclist's Menu!
We got our bikes loaded and were on the road just before noon.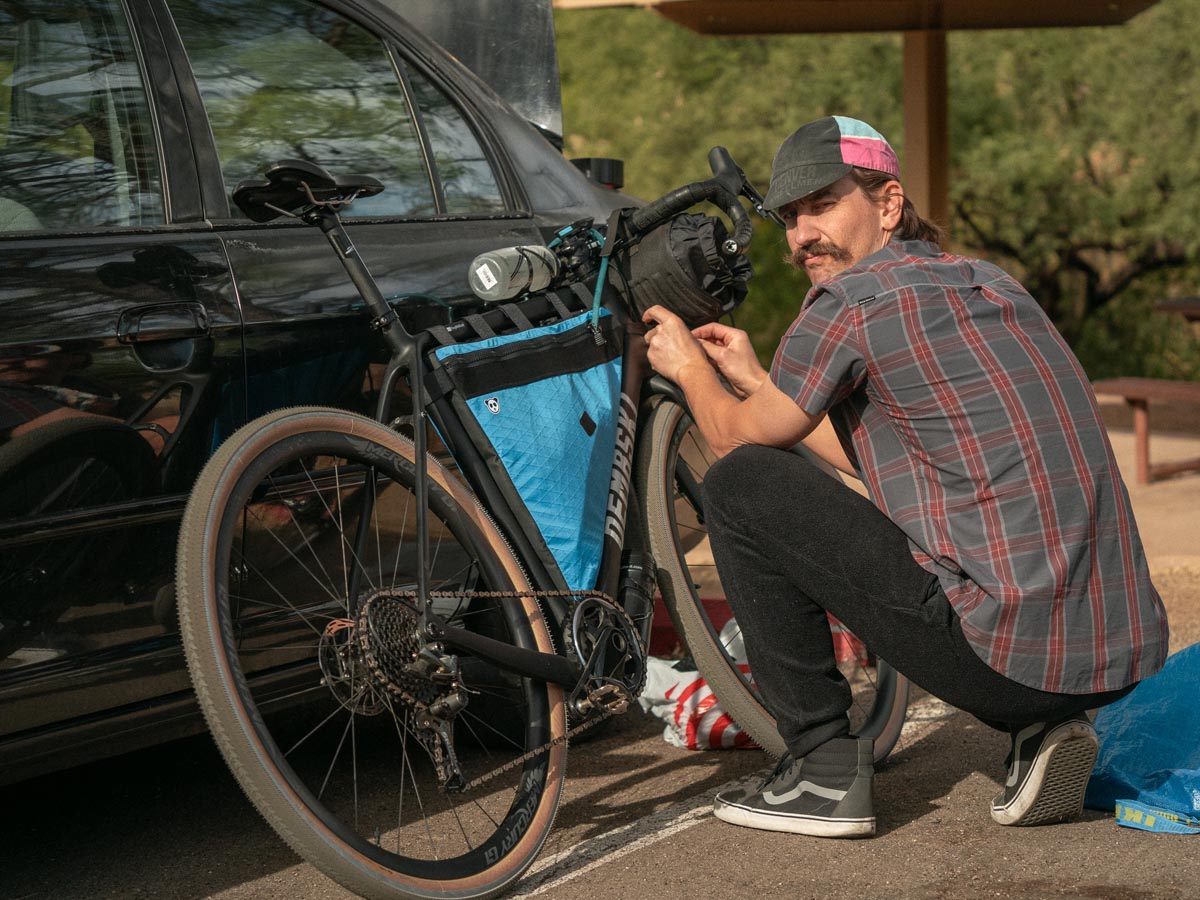 The counter-clockwise route heads southeast out of Patagonia and winds through hills dotted with cacti, lush trees, and weird plants with names I can't recall. The majority of the route travels through ranch land, which means with every bend in the road, there could be cows around the corner.
Brown cows! Black cows! Spotted cows! Baby cows! With cows come cow poop. Riders beware! There is cow poop everywhere!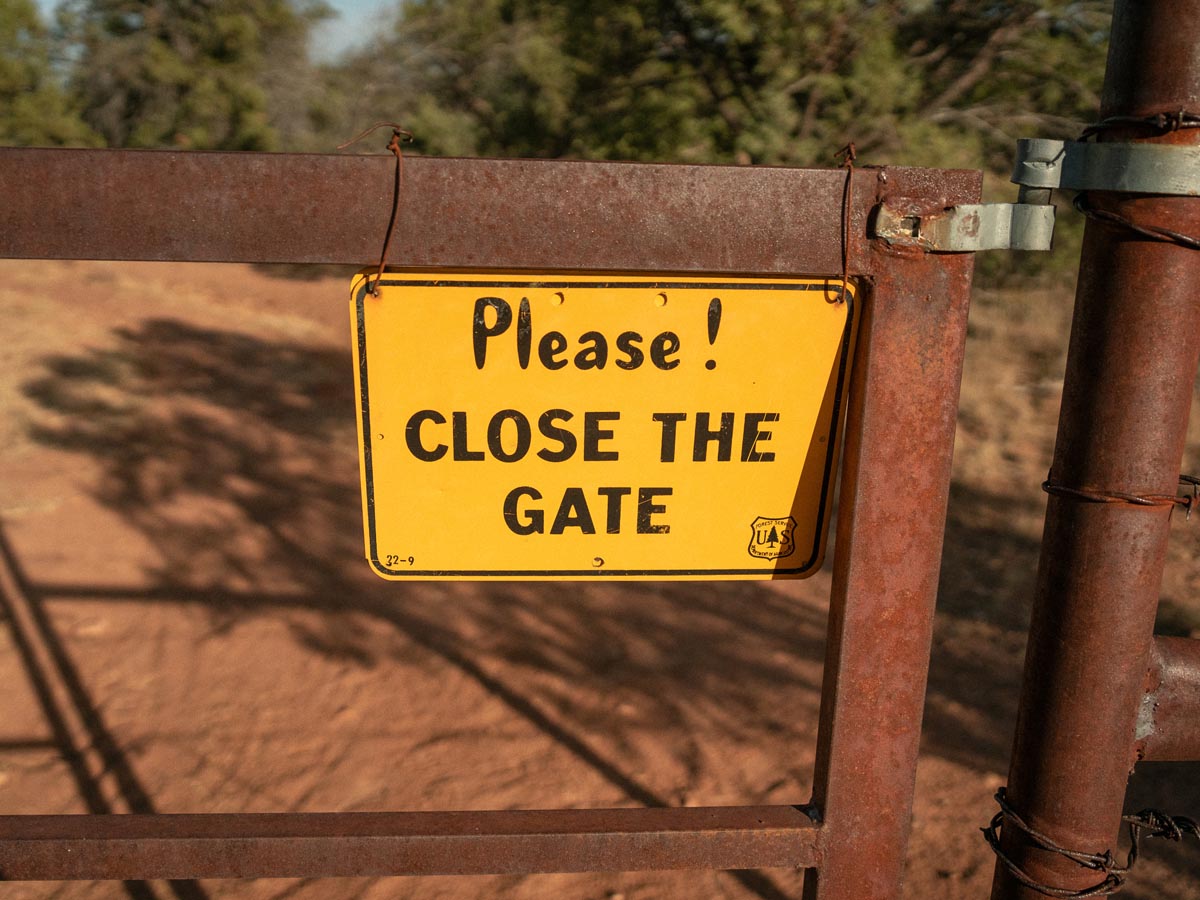 We emerged from the hills, climbing up over a ridge and onto grasslands with incredible views in every direction. The riding was mild, and we carried on at a pretty good pace to make sure we had daylight left when reaching the first camp.
After the little town of Canelo (which has some pretty cool mid-century houses), we arrived at the edge of the Appleton-Whittell Research Ranch. The fire road to their bunkhouse was spicy, and we were excited to have some fun double track for a few miles. As we ascended a large hill, we had our first view of Apache peak. That view is the reason we decided to make the trip, and it did not disappoint.
Apache peak is stunning.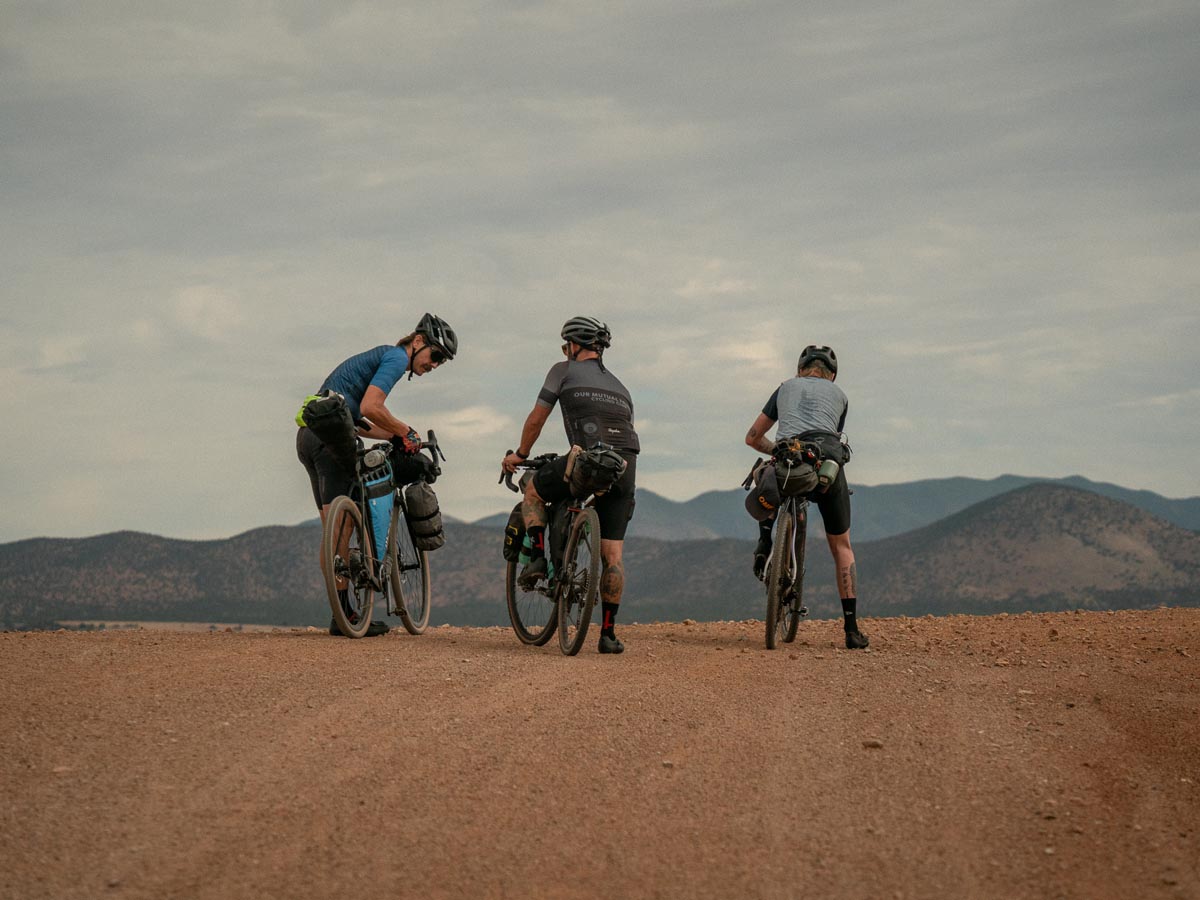 The Bunkhouse at Appleton-Whittell wasn't available because of COVID. Still, tent campers can use a courtyard with tables and a fire pit (which we couldn't use due to restrictions) as well as a Casita with a kitchen, bathroom, and power for me to charge all 7,200 pieces of camera gear I seemed to think I needed.
Cristina from the ranch was a pleasure to communicate with, and the entire experience was as smooth as can be. Pitching our tents in the grass outside the courtyard, we were treated to some of the most incredible stars I've seen in my life.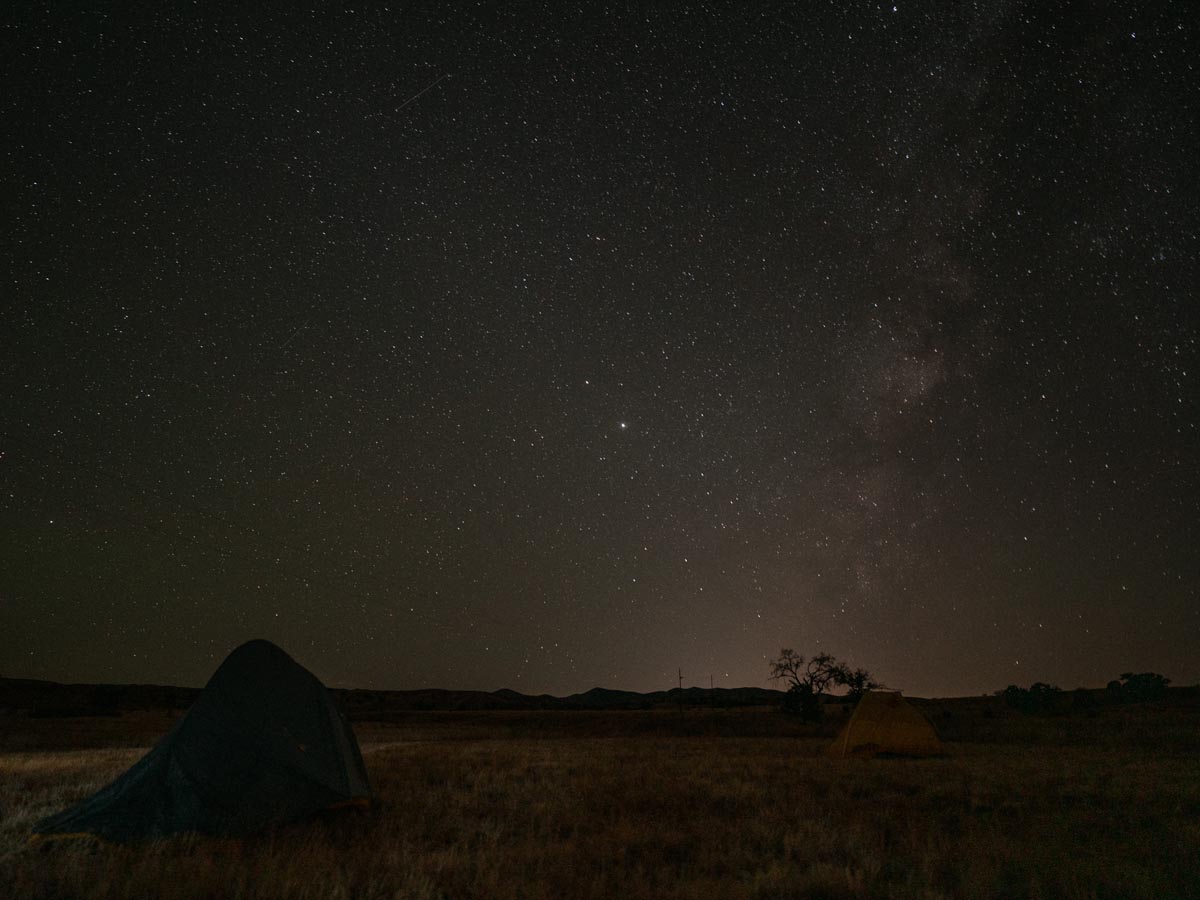 Day Two – Appleton-Whittell Research Ranch to Kentucky Camp
Packing and hitting the road was a little easier than the day before. We joked that we need to find a term for the concept of finally nailing your packing and bike setup on the last day of a trip, only to forget by the next one and have to figure it out all over again.
We left the ranch at 10 am and rode north through Babacomari Ranch, which at points had antelope by the dozens wandering around (or gazelles if you're Jared). We passed through the village of Elgin and decided to skip the winery nearby despite positive reviews.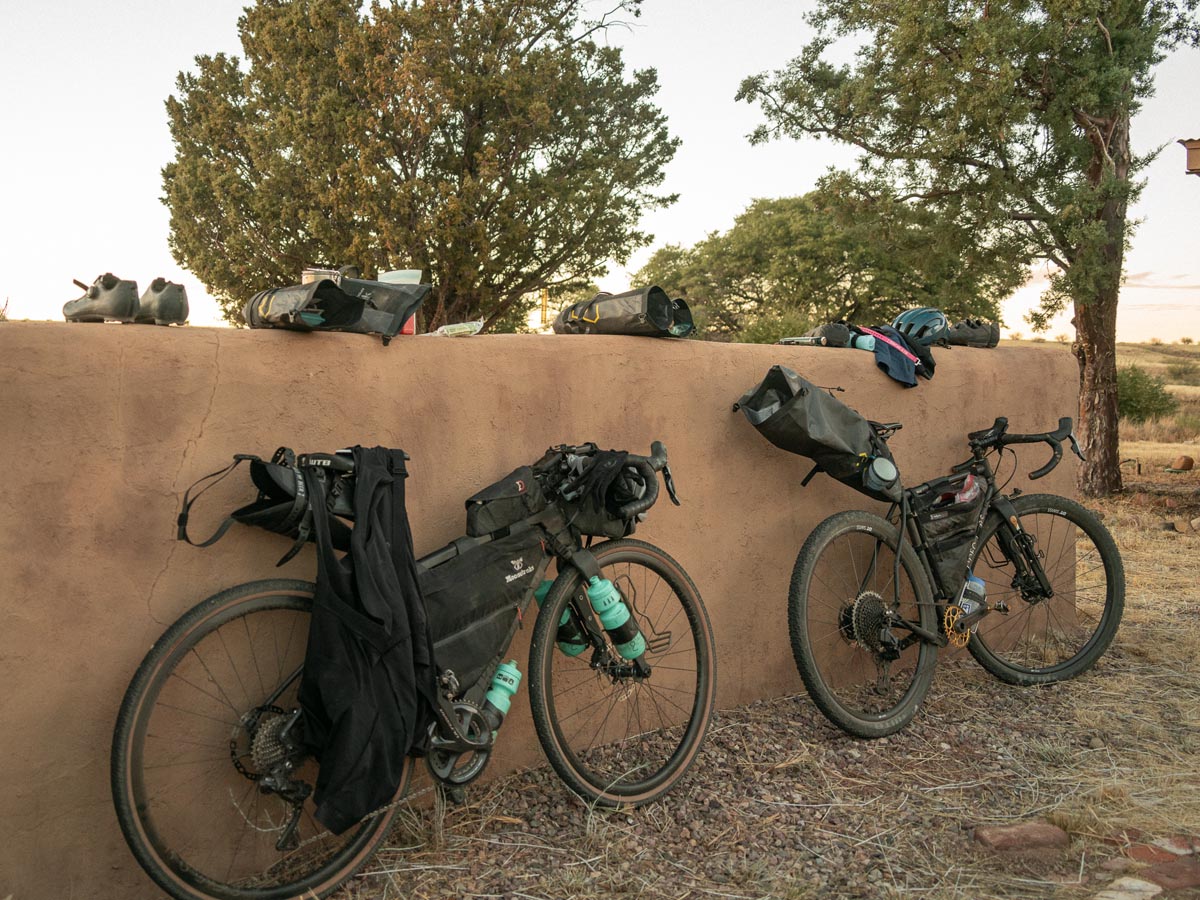 The winery is a good water stop, too, if you need one.
After a few miles of paved roads, we turned onto a fire road and cut straight through La Cienegas Conservation Area. It was boring save for the burned-out car we passed. I don't know how the vehicle burst into flames, but it torched acres of grassland visible from the road.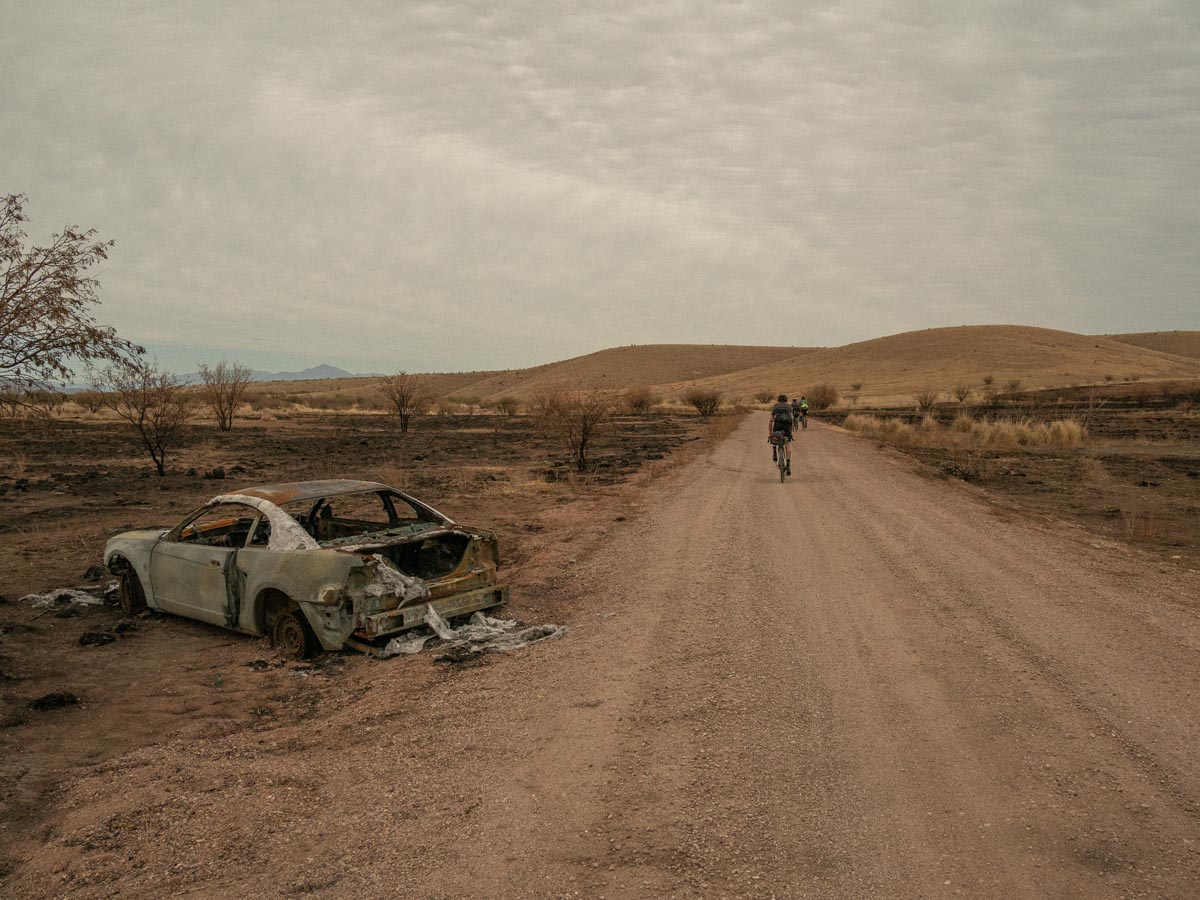 Emerging from La Cienegas, we detoured down to Sonoita for a resupply at the gas station and bought tons of food and scratch tickets. The store was friendly and had a vast selection of snacks for cyclists. I broke even on the scratch tickets and then forgot to cash them in before leaving arizona…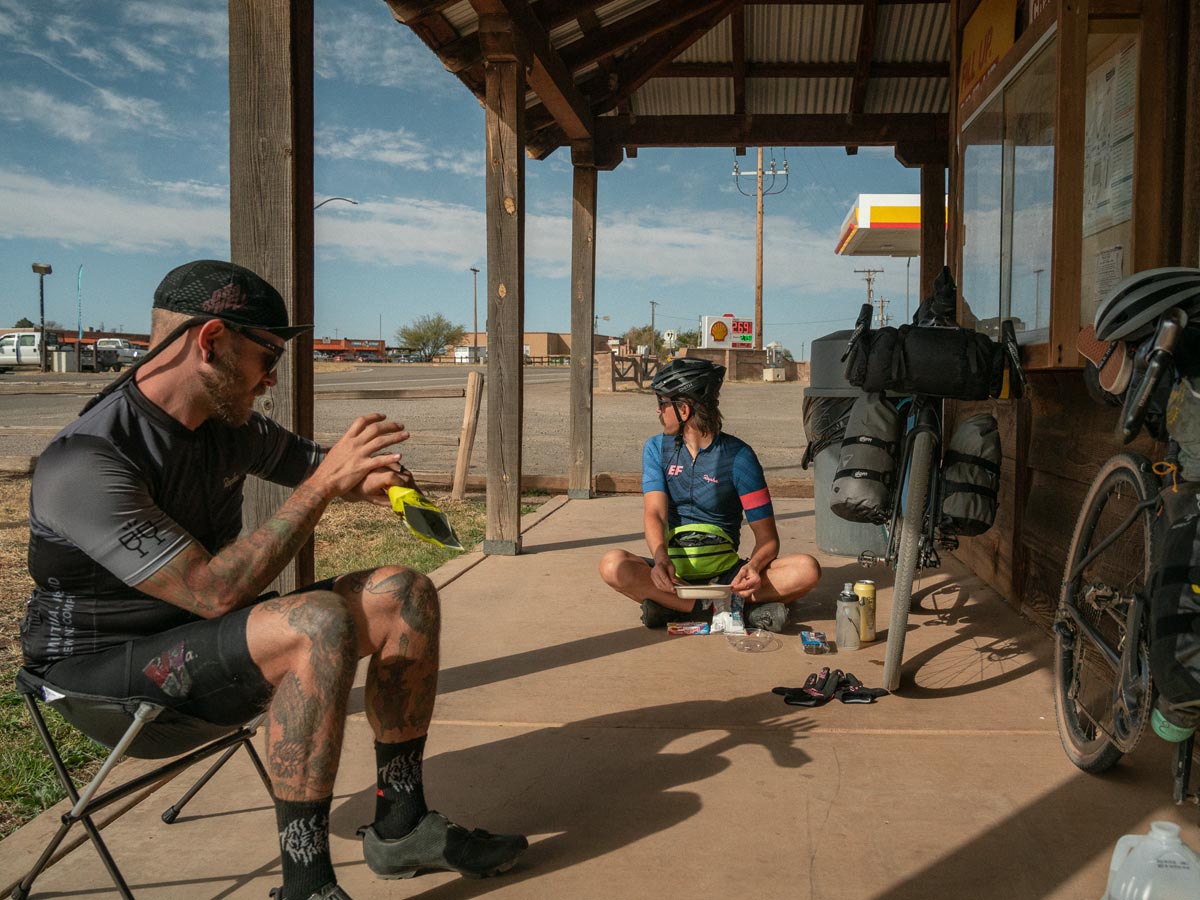 Backtracking to the route, we headed west toward Mt. Wrightson and onto a rollercoaster of dirt. The route took us through all kinds of terrain, including patches of the Arizona Trail. Fire road, double track, single track. What started as a fast-paced day became a slow grind through challenging terrain.
Rocks of varying sizes and steep descents, at times, made going downhill harder than going up.
A Javelina was running away from us while we were riding uphill, and Broox said he read somewhere when Javelina's run away, they're preparing to turn around and attack. GREAT!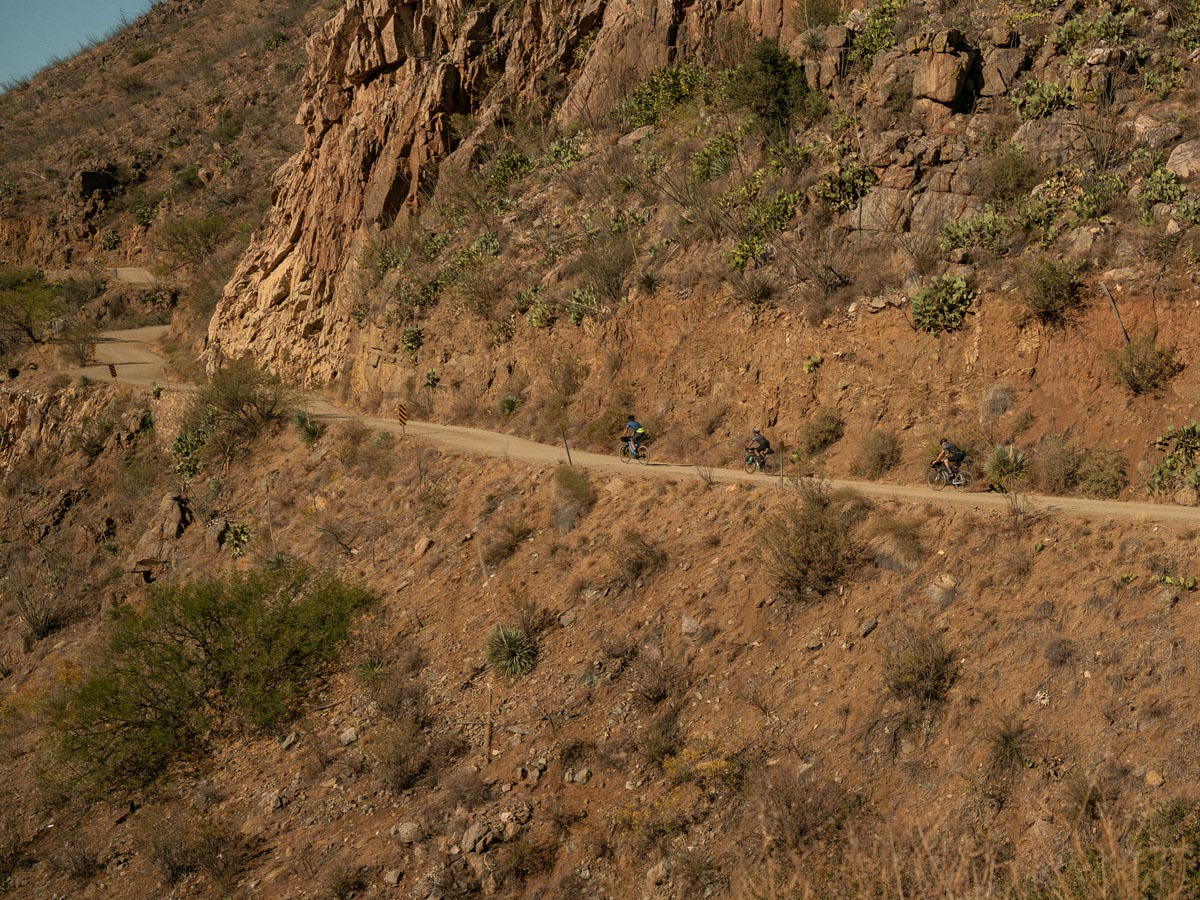 Two flats caused us to roll into Kentucky Camp as the sun vanished behind the mountain. Joan (one of the caretakers) wandered out from her trailer to say hello and offered to let us camp behind one of the buildings, which had an outhouse, picnic tables, running water, and a power outlet for me to keep all that gear charged! Hallelujah!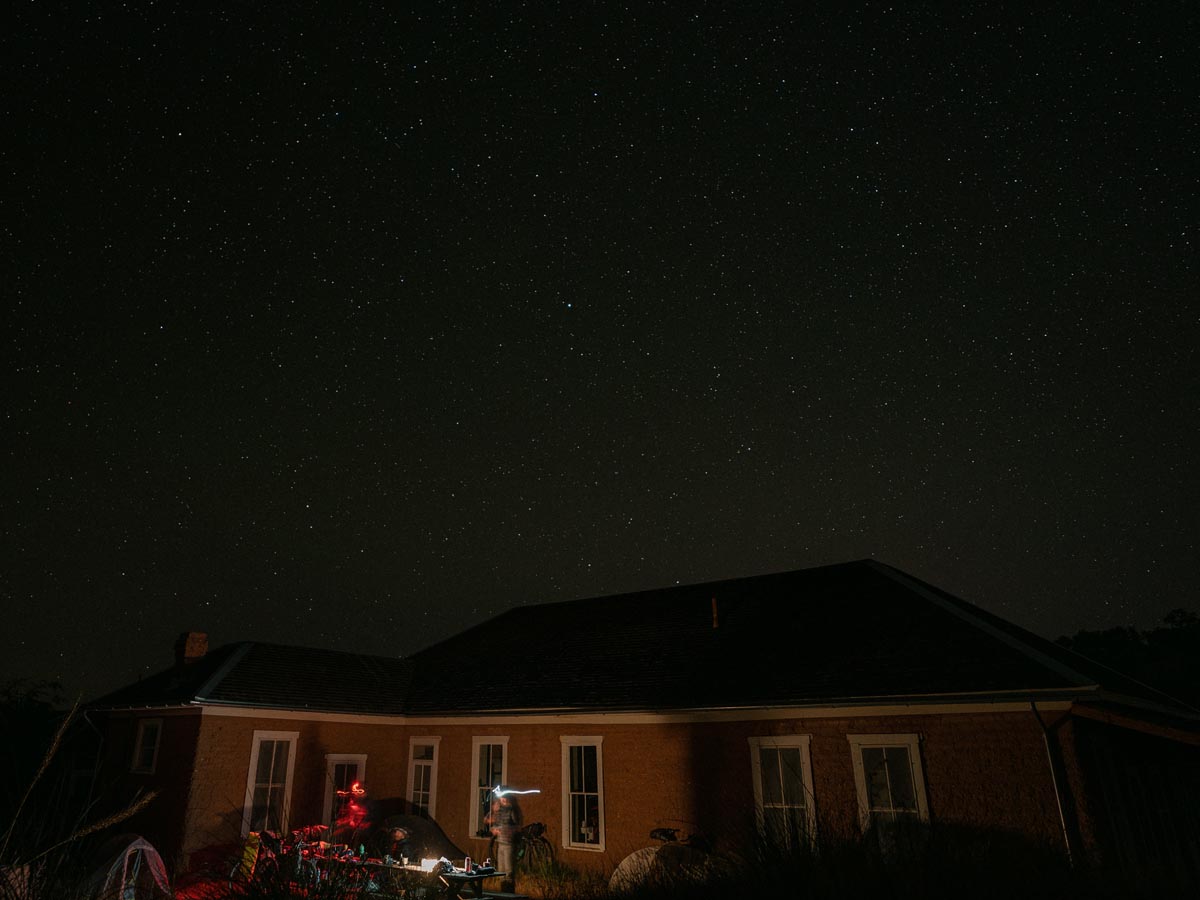 I set the alarm for 4 am to try and catch the International Space Station fly over, but it was too dim to be visible. Stars were even better than the night before, though.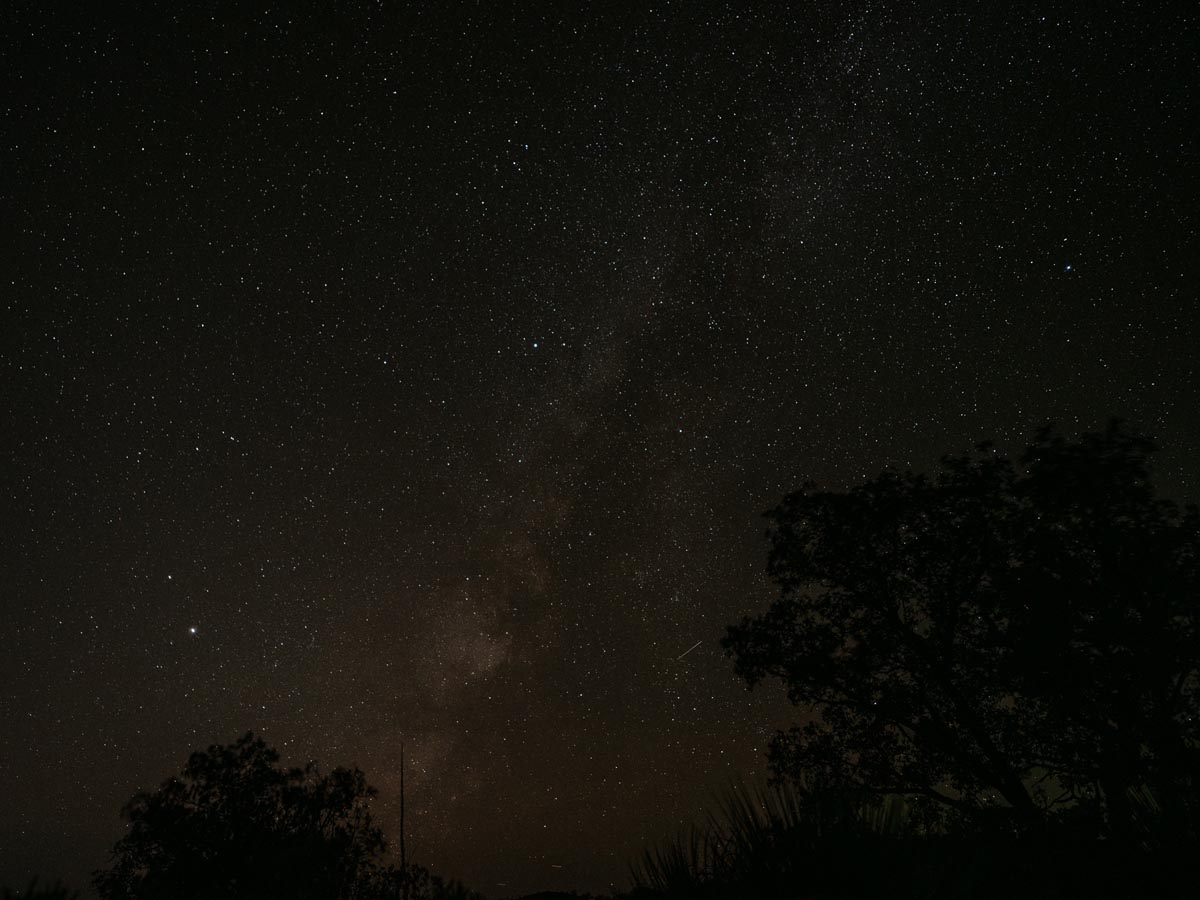 Day Three – Kentucky Camp to … the side of a rocky hill?
As we anticipated, packing up and getting on the road was the fastest yet! Bikes were rolling by 9:30 am.
Climbing out of Kentucky Camp was not the most enjoyable thing for four sleepy sets of legs. You pay the tax for getting to bivouac in an adorable mining camp at the bottom of a gulch. We cruised up a false flat ridgeline for an hour and turned down White House Canyon toward Continental, AZ.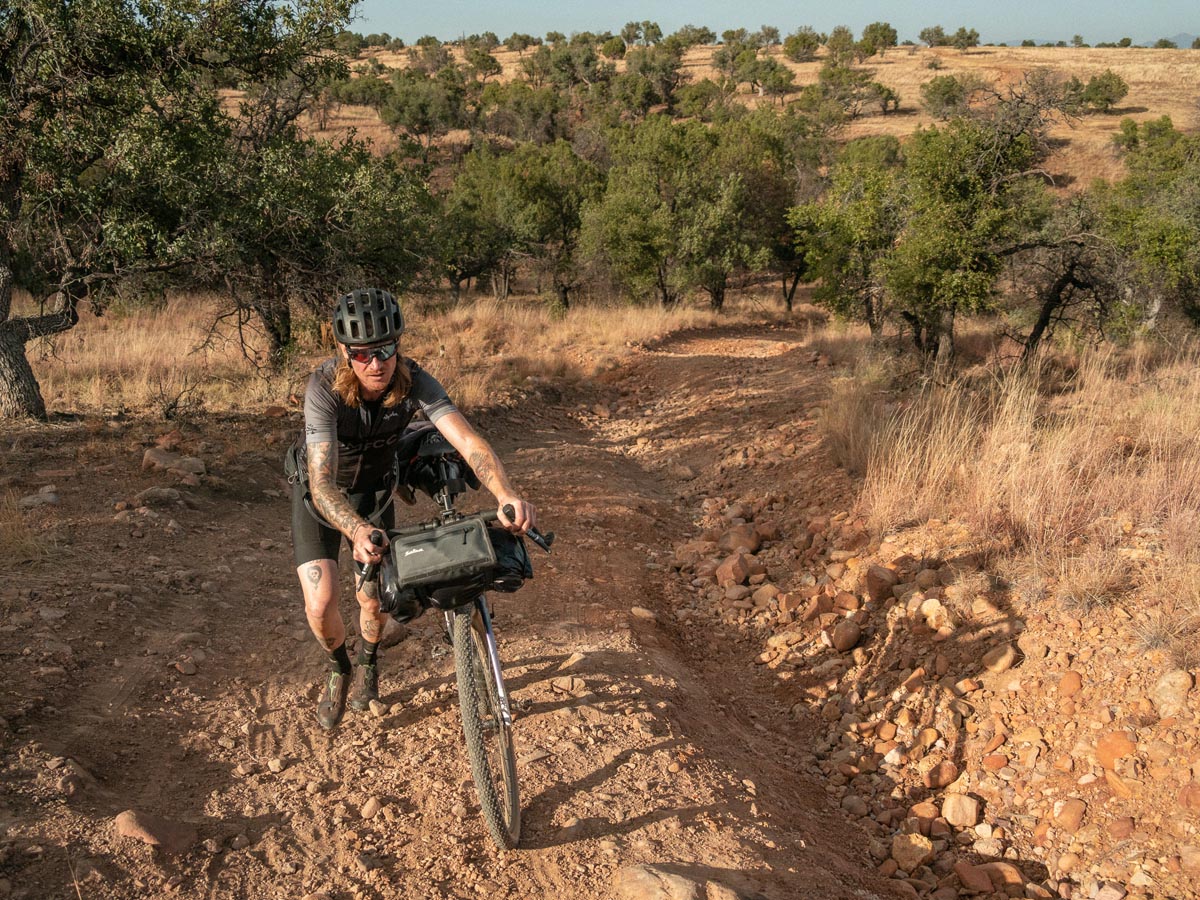 The canyon descent was one of my favorite parts of day three. Despite being dirt, the road wasn't technical, and we gathered a lot of speed as we cruised to the bottom. Cliff walls were full of clinging patches of cacti and strange rock deposits. We passed a couple of cyclists going the other direction who were four days into doing the entire Sky Islands Odyssey (they said it's incredible!)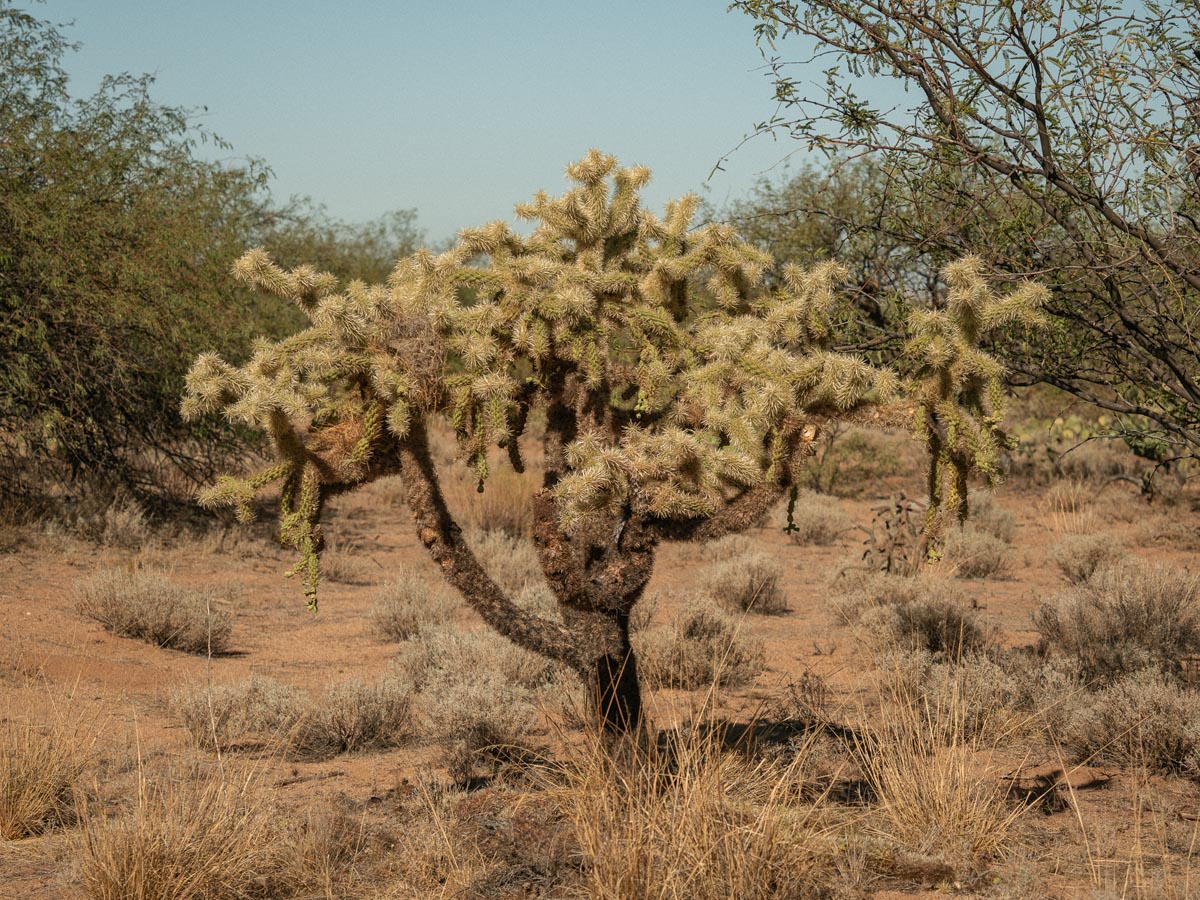 Arriving at the bottom of the mountain sets you on a super straight, sandy, weird road for a few miles. Imagine a volleyball court that is 8ft x 13,800ft and surrounded by countless species of cacti. You're in awe until you realize you have to ride a 55lb bike down the road, trying not to fall into the cacti.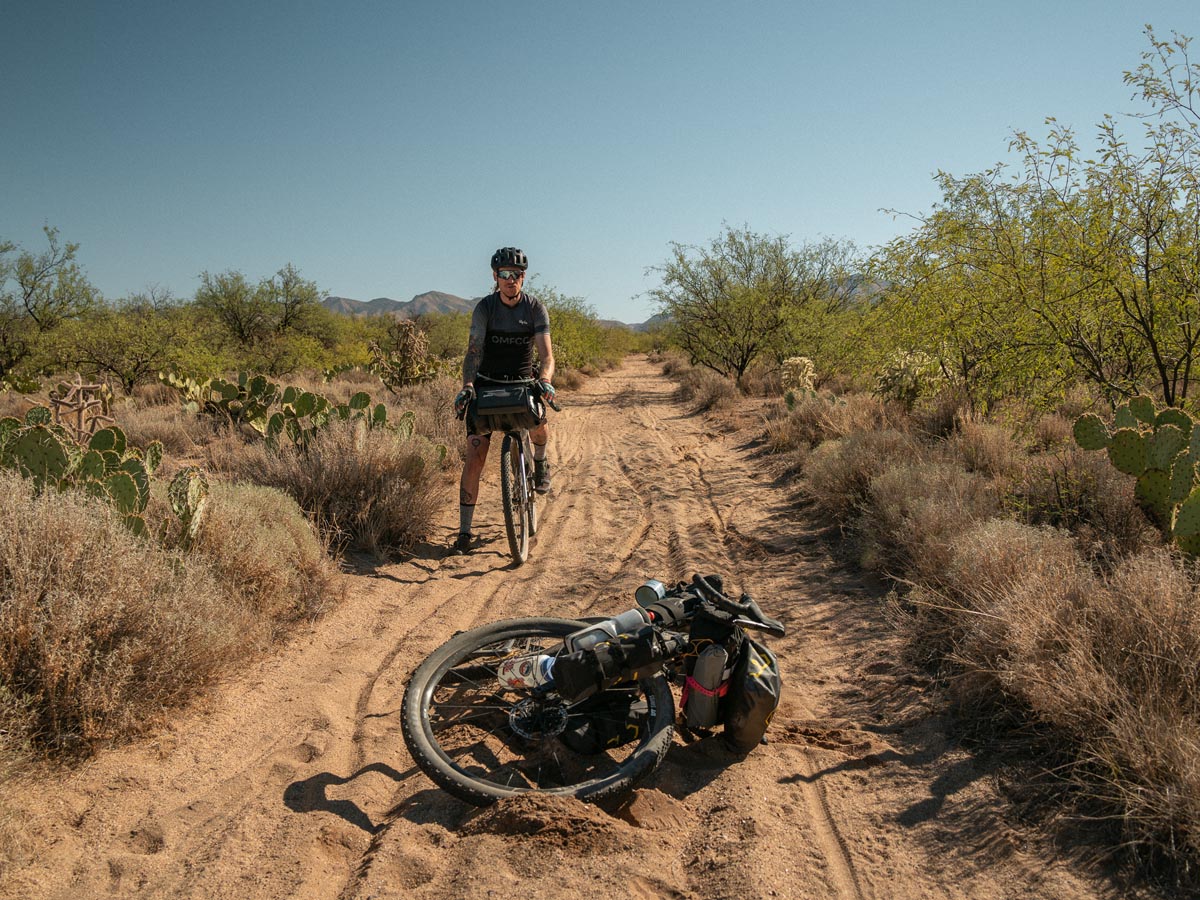 I crashed twice but avoided anything sharp.
We pulled into Continental just in time for lunch; Doug ran to a bike shop for a new tire (his rear tire gave him all sorts of trouble). We pillaged a Safeway for Pop-Tarts, Dr. Pepper, pre-made sandwiches, water, sunscreen, bourbon, gummy bears, M&Ms, Neosporin, and baby wipes. We had cell service for the first time since leaving camp on day one, so we reached out to loved ones to let them know we were safe.
A power outlet in the outdoor seating area meant I could charge the gear!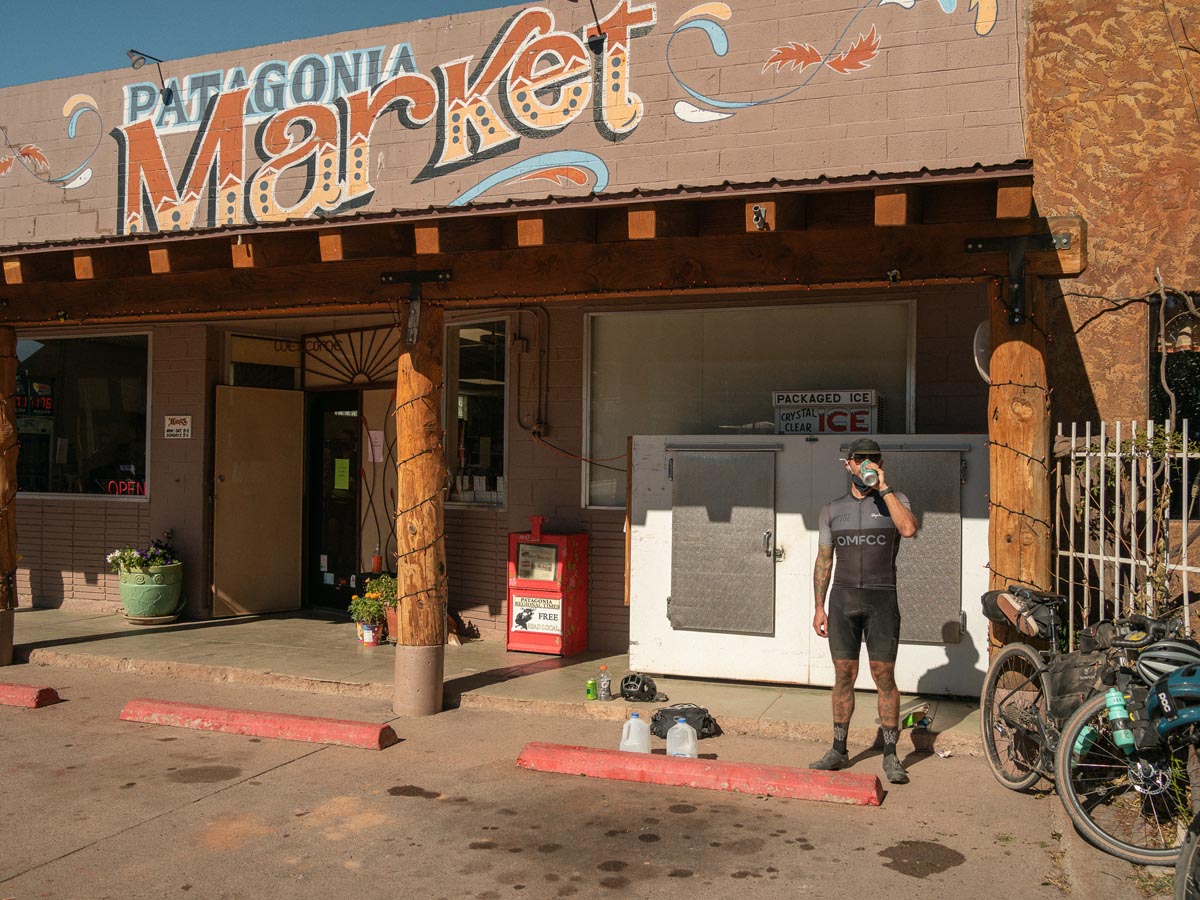 With new supplies stored and Doug newly rear-tired, we embarked down a frontage road along I-19 for 10 miles, an excellent opportunity for a loaded bike TTT.
Heading east, we climbed toward Whipple Observatory located on the top of Mt. Wrightson. Eventually, we made a right onto what turned out to be the most surprising, challenging, and unanticipated part of the trip. The road was brutal. It wasn't so much a road, but a washed-out, eroded, rubble-filled ATV wonderland that we had to navigate to find camp.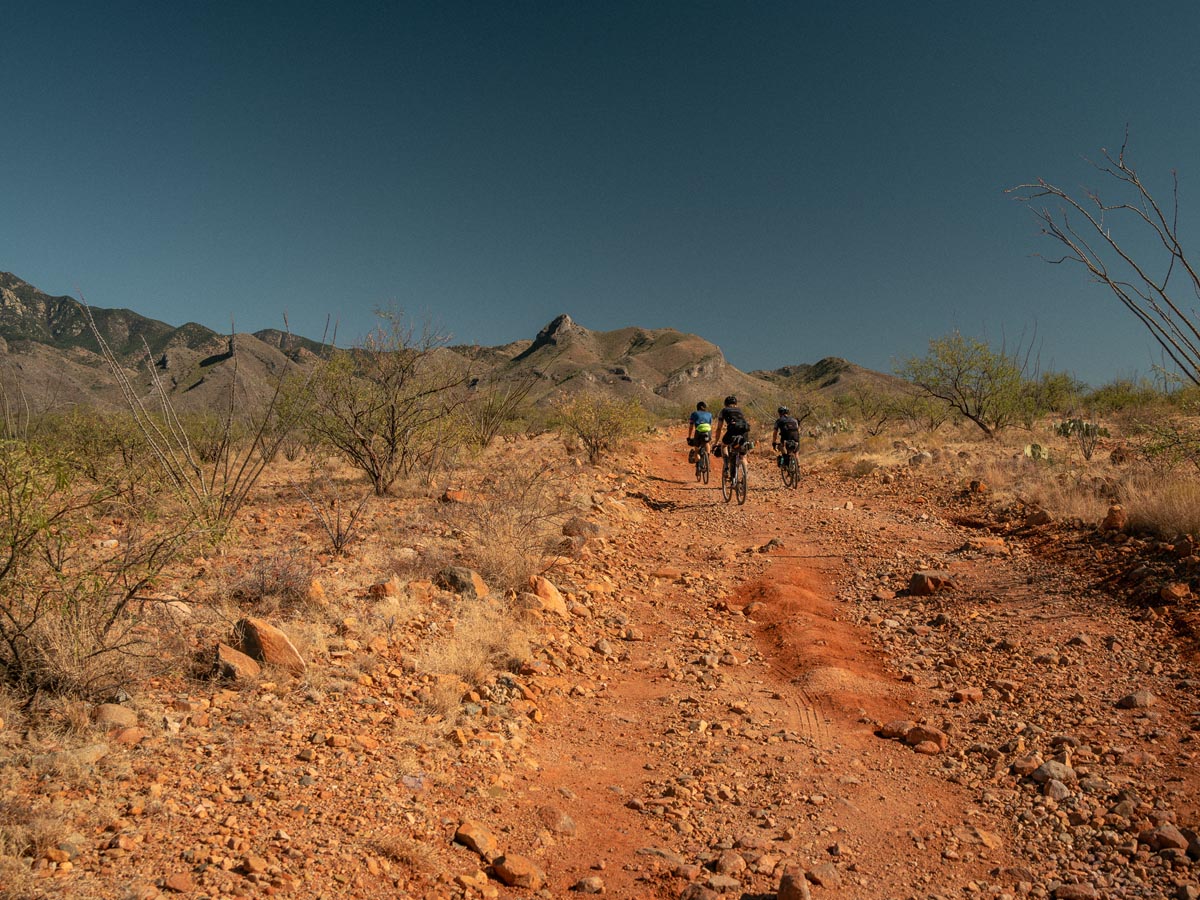 Then we realized we didn't know where to camp.
There was a pin dropped on the map, so we followed our navigation, hoping to find a flat surface. Three hours later, we had traversed 10 miles. We were nearly out of water and arrived at the suggested camp spot to discover there was no flat surface to pitch a tent.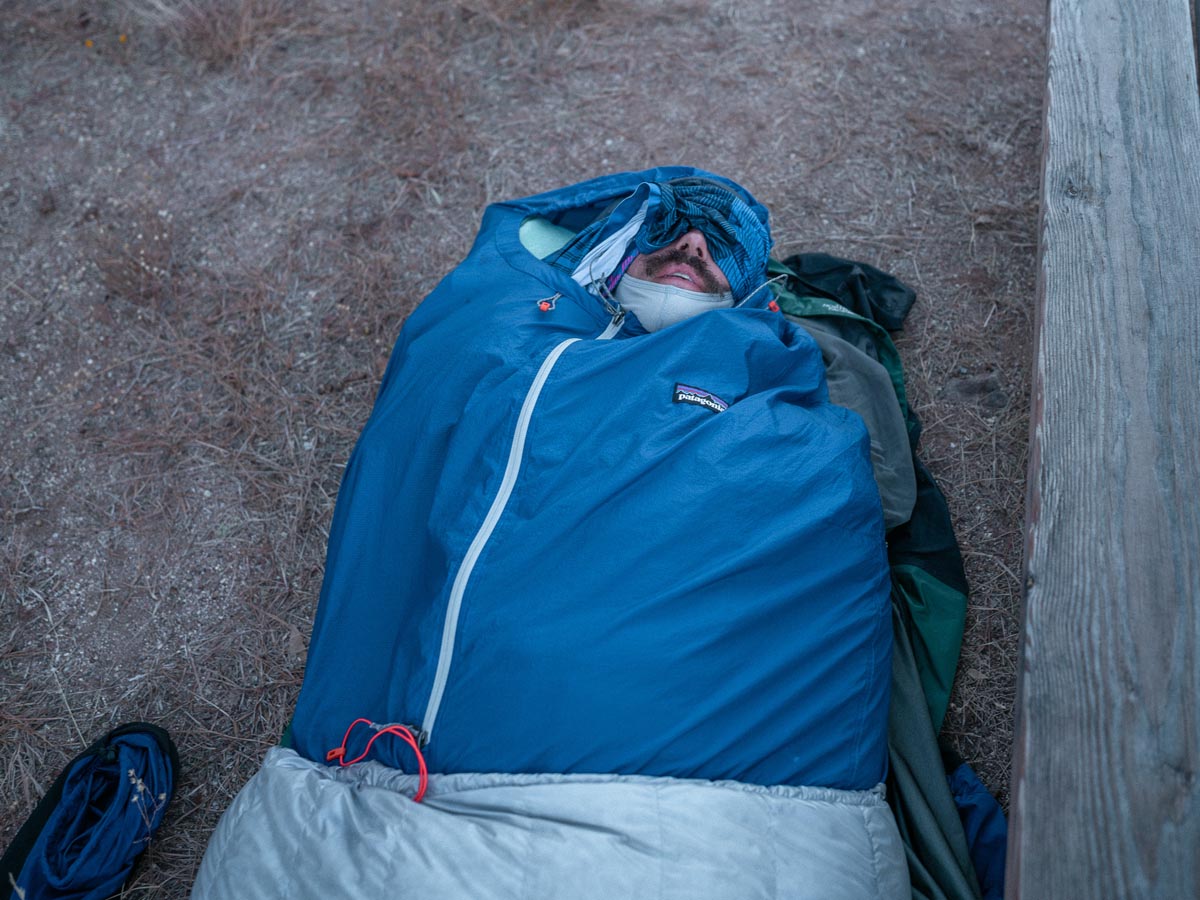 Pushing on, we would hike-a-bike up a precipice and see…more of the same! Steep rocky descent into darkness, attempt to ride up the next hill, hike a bike to top, repeat.
After three more miles of uninspired searching, an ATV caravan passed by and was kind enough to offer us bottles of water, which we shoved in our pockets.
We made a miscalculation but ended up being ok.
On the topic of water, the first couple of days, we barely used all of the water we had and were able to refill multiple times. Day three couldn't have been more different, and we paid the price for not considering what the terrain in front of us would be. Past outcomes are no indication of future needs!
After another 20 minutes of searching, we finally found a glorious spot to camp, and it had everything: A large dead tree from which to hang things, a giant stone fire pit we couldn't use, cow poop, cactus, and sweeping views of the landscape.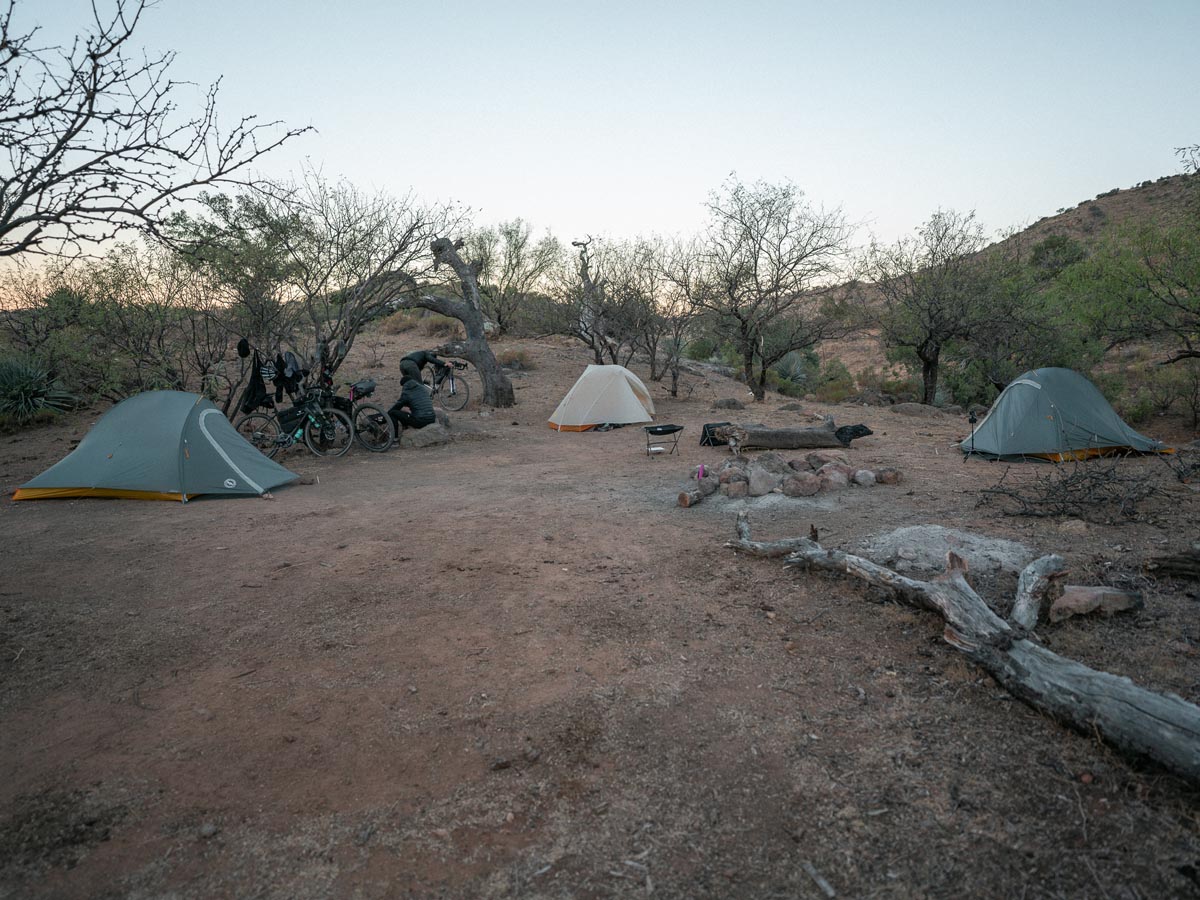 This was the warmest night of the trip, and we enjoyed sitting around talking about how brutal the last 25% of the day was and what we would have done differently. One of the beautiful bikepacking pastimes is talking about how you plan to change your setup.
Two hours into a deep sleep, I'm awakened by a screaming voice, "HEY!!! GET THE FUCK OUT OF HERE!!!!!!" My heart was racing.
Were we accidentally on a rancher's property and being evicted or is someone screwing with us?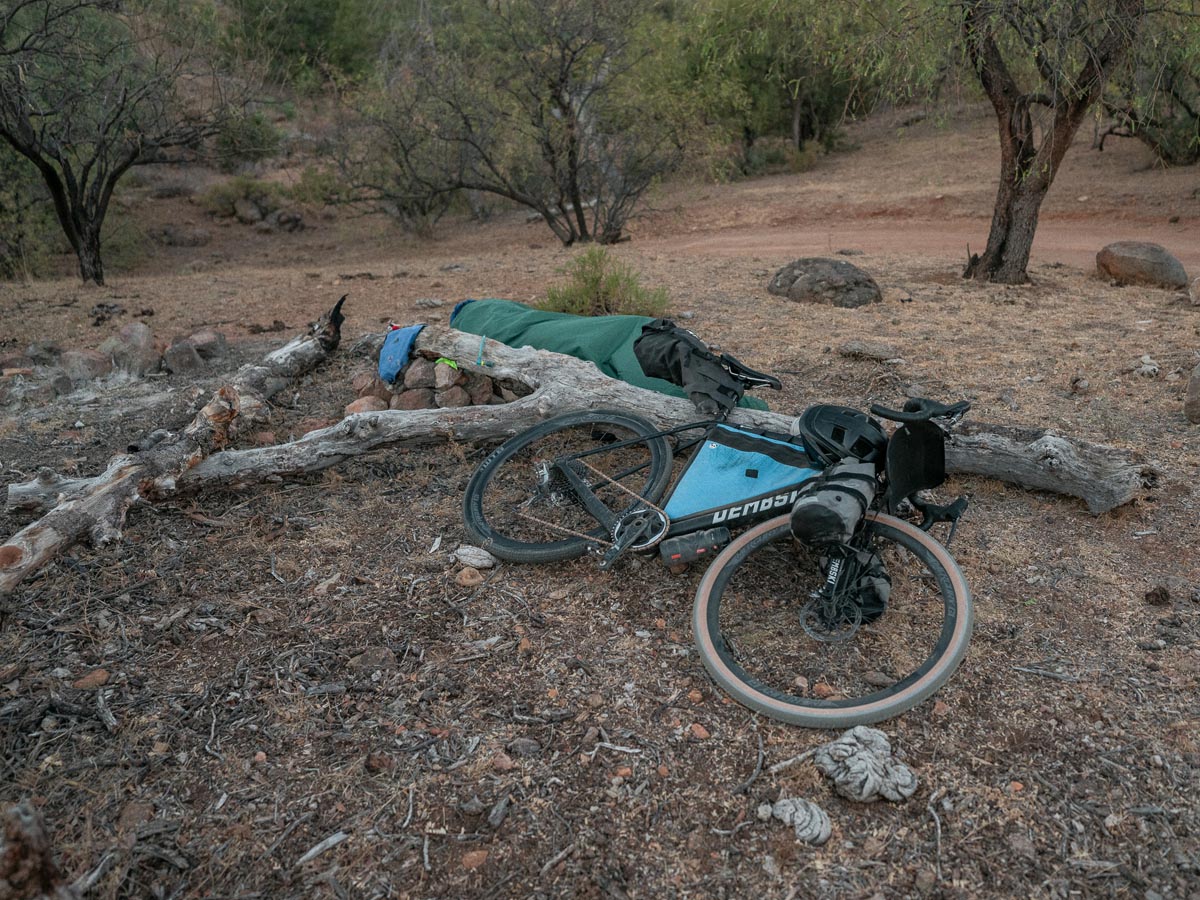 No! A ring-tailed cat (we later found out) was inside Broox's frame bag deciding what food items it would be taking. We were awake and trying to scare off the animal, but it didn't seem afraid – its beady little eyes were looking at us in our headlamp reflections.
We packed our bags tightly and went back to sleep.
Day Four – Ring-Tail Cat Hangout to Patagonia
In the morning, Broox discovered the creature had taken his still-soaking overnight oats. I hope it enjoyed them! I had a surplus of Pop-Tarts, so Broox didn't starve. We packed and ruminated over how great it is to be at the end of a trip and have all this space freed up from all the food you've eaten—deep stuff.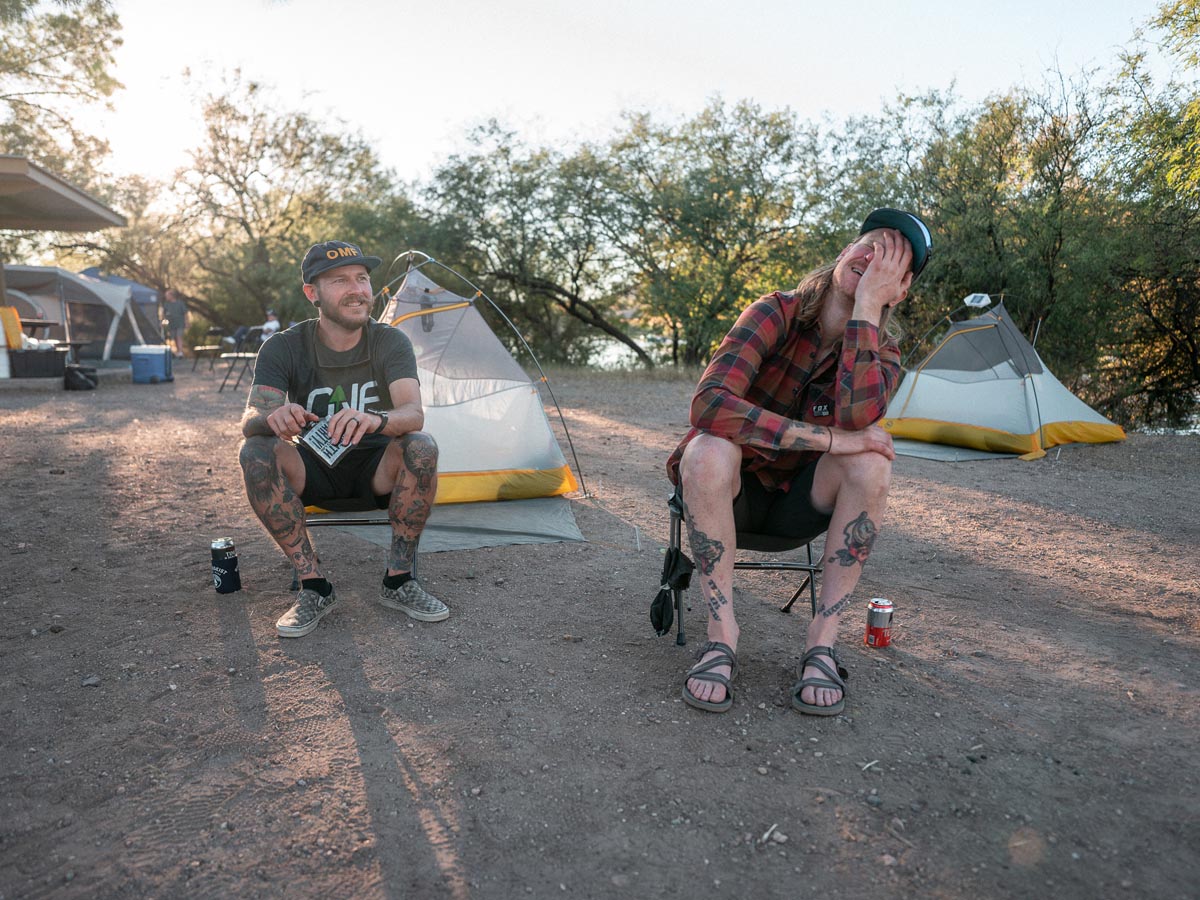 Today's leg was only 16 miles, so we took our time and got on the road late in the morning. Aside from some hills making our weary bodies hurt, the road became more smooth and was mostly downhill. We winded through some ranches, saw a few other cyclists out on a day ride, and rolled through a very shady, flat, calm couple of miles back into Patagonia.
After heading straight to Patagonia Market, I discovered Cactus Cooler! Pineapple-Orange soda is my new favorite.Yes, I am late to the party.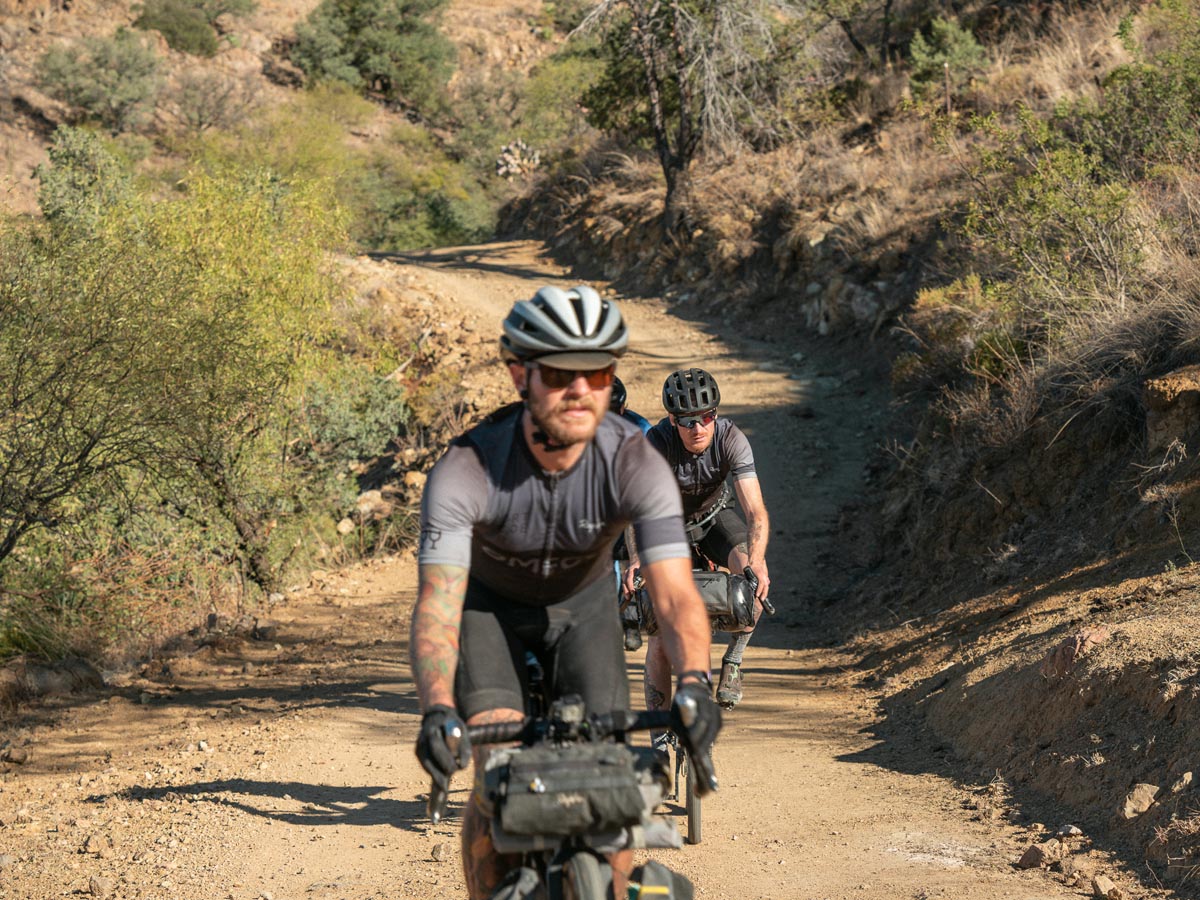 This trip wasn't about escapism so much as it was about turning the volume down on the noise.
The opportunity to read a book. To listen to birds and wind or, in some cases, deafening silence. To think about Covid and the election a little less. It was about catching up with old friends. It was about exploring a landscape we had never seen before and doing it on purpose-built machines.
You never master these trips, nor should you. Half the fun is going somewhere with new challenges and learning what works and what doesn't. Being reminded people are kind, even though they may look at you like you're insane for being where you are with just a bicycle to get you there.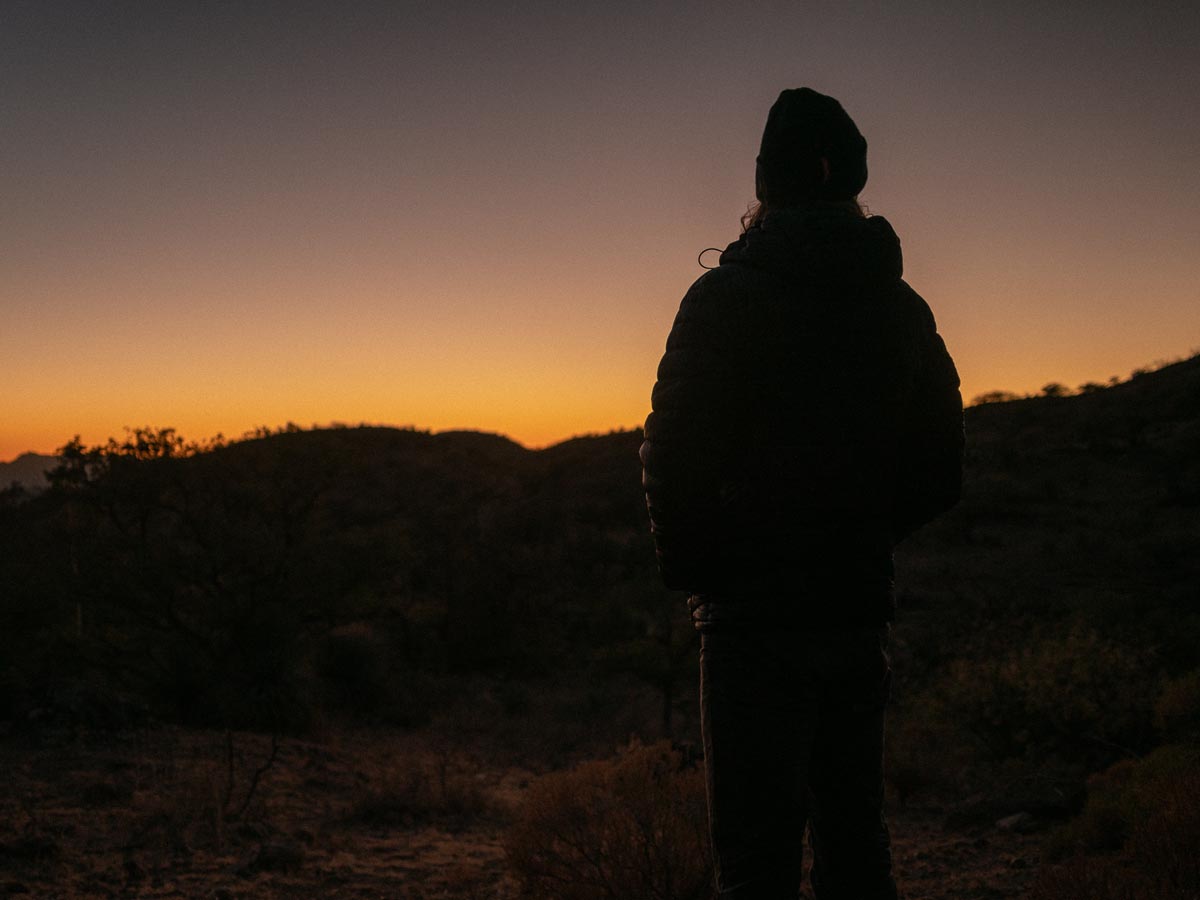 The Ride by the Numbers
142.18 Miles
10,981 ft of climbing
Routes
Sky Islands East Loop: Day 1
Sky Islands East Loop: Day 2
Sky Islands East Loop: Day 3 + Sky Islands East Loop: Campsite Search (whoops!)
Sky Islands East Loop: Day 4