I remember seeing this ride pop up on Nick's Strava in 2018. Phantom Canyon? Where is that? Out of nowhere he took off on a bike ride with some friends and came back with a huge load of beautiful images and a ride title to the effect of "So beautiful my eyes hurt". I got that sort of bike envy that we all get when friends go off and do awesome things without us.
Summer 2019 has finally arrived after a very long, cold, wet winter here in Colorado. The high mountains are still socked in with snow as of late June. Some of our favorite passes that would typically be passable by now are still buried under 20 feet of snow. Last year Nick and I had already summited a 14,000 peak with our bikes and had done a number of other 12-13,000 foot Friday adventures but this year has been a lot more tame and I think everyone is feeling it around here. Dirty Kanza had our focus for the first six months of the year and while it was great to go and do I think myself and others feel the deep need to go ride bikes for the sake of fun, good company, and beautiful views.
The idea to go back and do this route again dropped into my direct messages on Instagram via Nick and Kyle a few weeks back. We all agreed that we needed to go back and check out these views again, or for the first time as the case was with me. We waited for a break in the still-unseasonably-cold weather and found a Sunday with a good forecast and no prior commitments. Time to ride bikes!
This post isn't going to be a long rambling monologue wherein we ponder the meaning of life. We're leaving this route and these photos here for the sake of posterity, so that other people will be encouraged to discover and ride this route for themselves. It is one of the finer gravel loops that we've ridden within a couple miles of Denver. Link to route at bottom.
If you would like to race something very close to this route check out the Cripple Creek Crippler!
You could arguably start this ride anywhere on the loop, but we started it the right way at The Bean Pedaler in downtown Canon City. The Bean Pedaler is one of those perfect combinations of bike shop and coffee shop although the bike shop was closed on Sunday so we didn't get to say hi to that side of the building. The coffee and breakfast burritos are on point and the post ride smoothie made us happy for the drive home from the ride at the end of the day. No matter where you start riding from do yourself a favor and get off the main Highway 50 passing through town and park on Main Street which is the sort of charming late 1800s style Colorado town that we much prefer seeing vs the chain restaurants and big box stores that line the main highway.
If my memory serves me right the first seven or so miles of the ride are paved before turning to gravel somewhere about where we turned north heading into Phantom Canyon.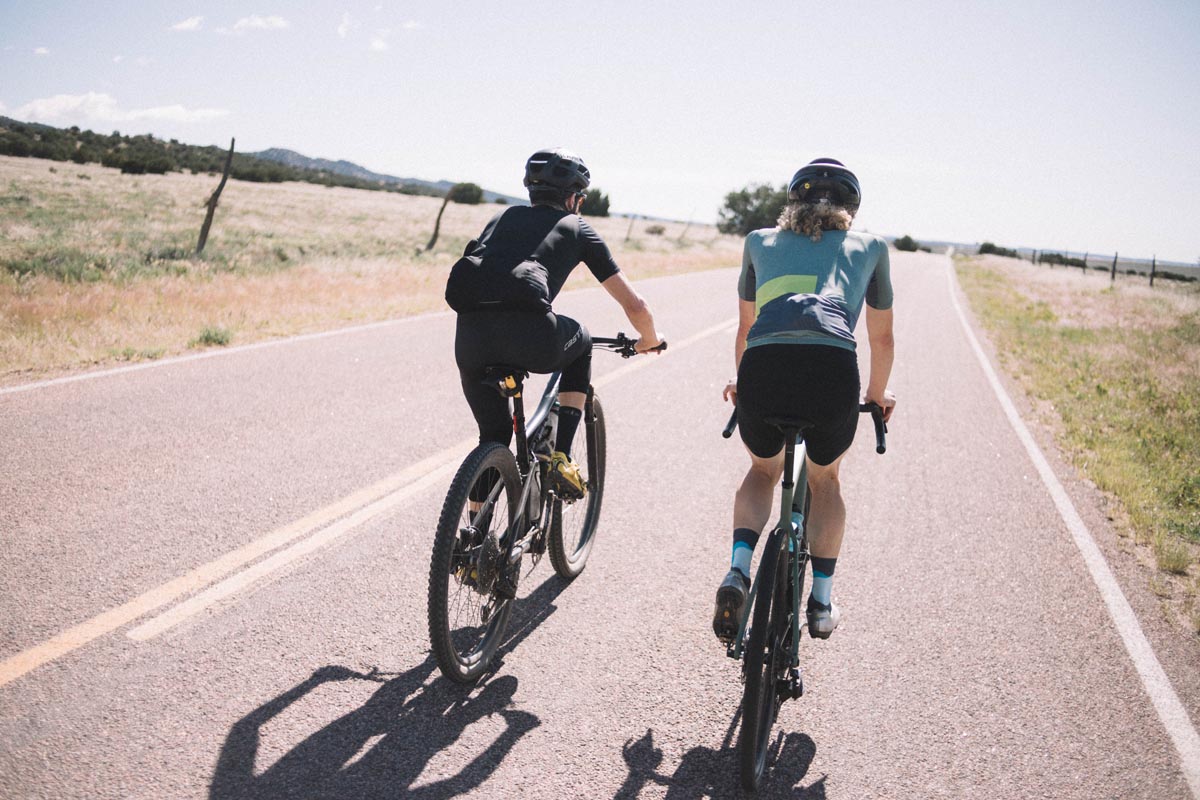 This brings up the topic of bike selection for this ride. What sort of bike should you tackle this route with? Funny you should ask. At the last minute Torey and Balvindar reached out and asked us if the route was do-able on 28mm slicks. We huddled for a second, discussed the gravel, washboard, and rugged jeep roads on the route and responded with a resounding "NO!". Don't do this route on a road bike. That said, Torey and Balvindar ignored our advice and showed up on a full suspension 29er and rim brake road bike with slicks. And here's the thing: You can do any ride on any bike you want. That doesn't mean you'll be on the BEST bike or the RIGHT bike but so much of cycling is in your head. If you bring the wrong bike can you handle the challenge? It turned out that Balvindar is a seriously good bicycle rider having finished Trans Iowa on a fat bike and Almanzo on a road bike. He's certifiably crazy and he knows how to get himself into and out of trouble. He did amazingly well on his road bike on this route, and of course Torey's mountain bike did fine as well. Still, the sweet spot for this route is probably a gravel-ish bike on 40-ish mm tires in terms of efficiency and comfort. 650b x 47 would be fine too and no doubt quite plush. Kyle's bike looked like it had something like 700c file treads on it. It's up to you!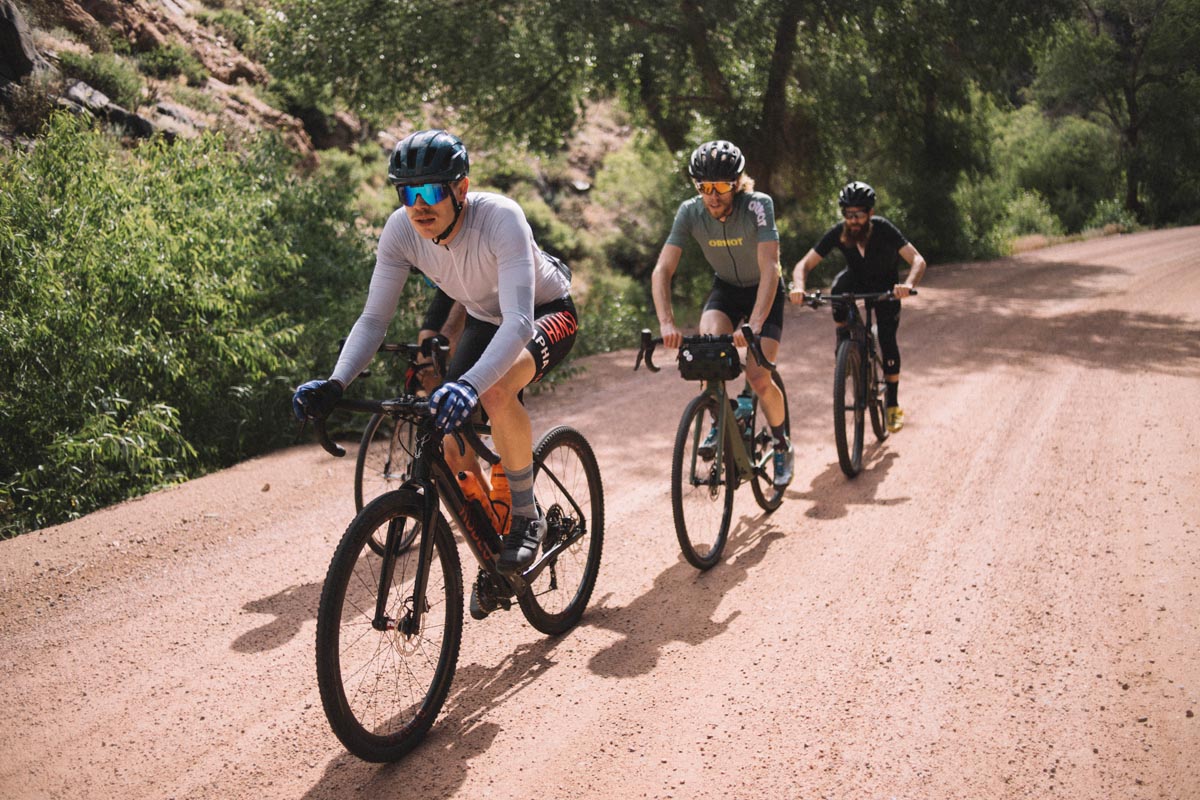 You don't really know what sort of a treat you are in for on the early miles of this ride, but at about mile ten you enter Phantom Canyon proper and things get dramatic and beautiful in a hurry. Thr route follows alongside and over the old railroad grade that worked its way up the canyon towards the mining towns some twenty miles further up. What is left behind is a series of tunnels, bridges, and beautiful cliffs in non stop succession.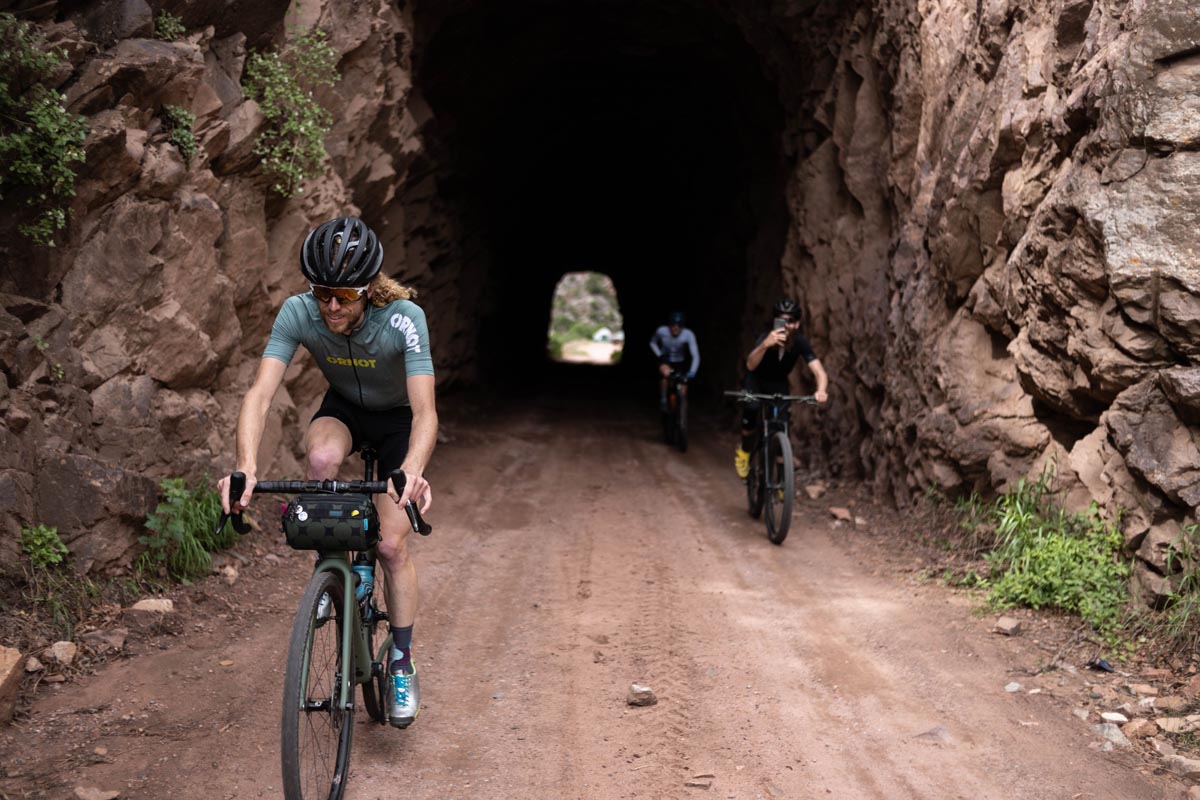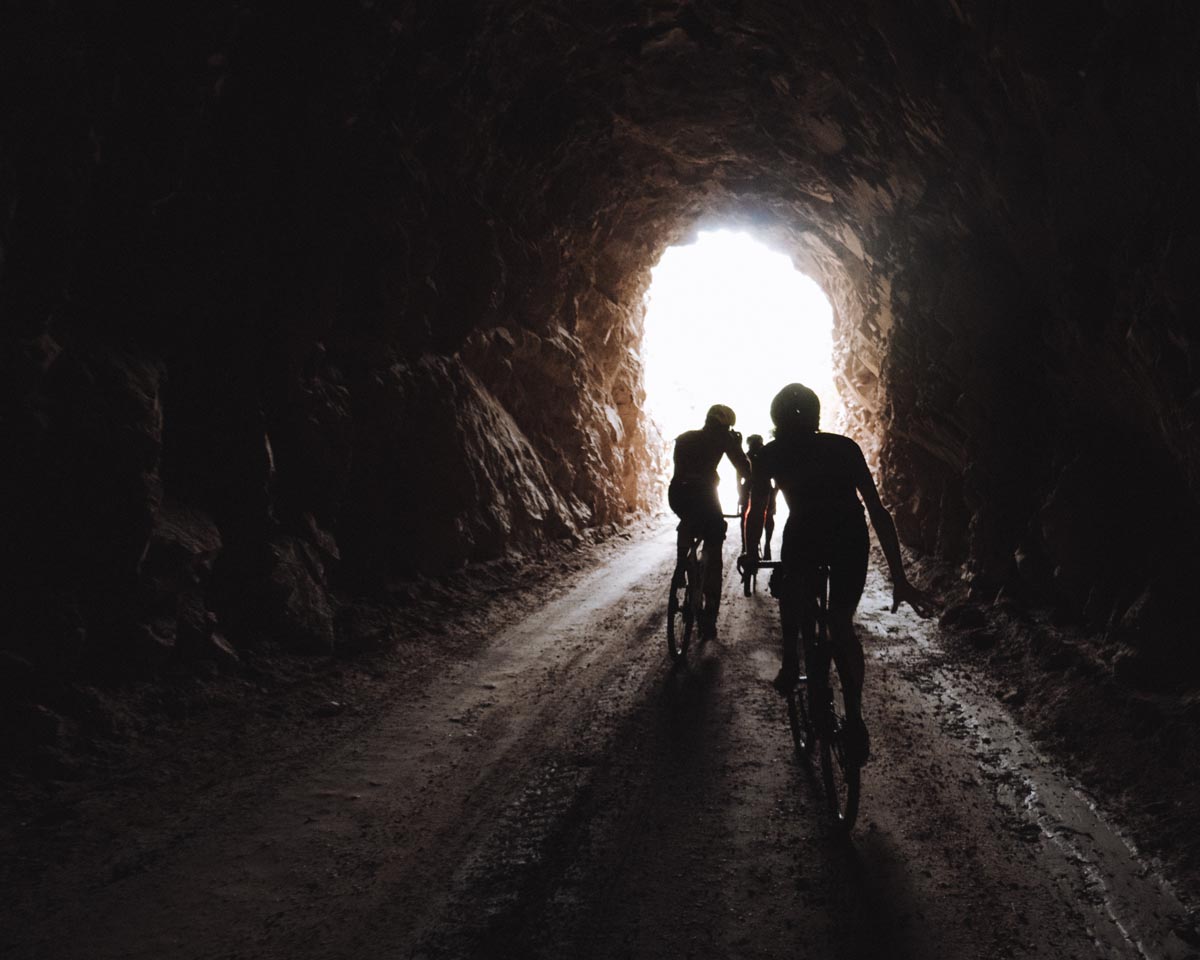 The bridge situation in the canyon is pretty next level. We were duty bound to stop along the way and take many many photos. The bridge at mile 20 is easily the best river crossing of the bunch. Stop, oggle, gram. There's no rush.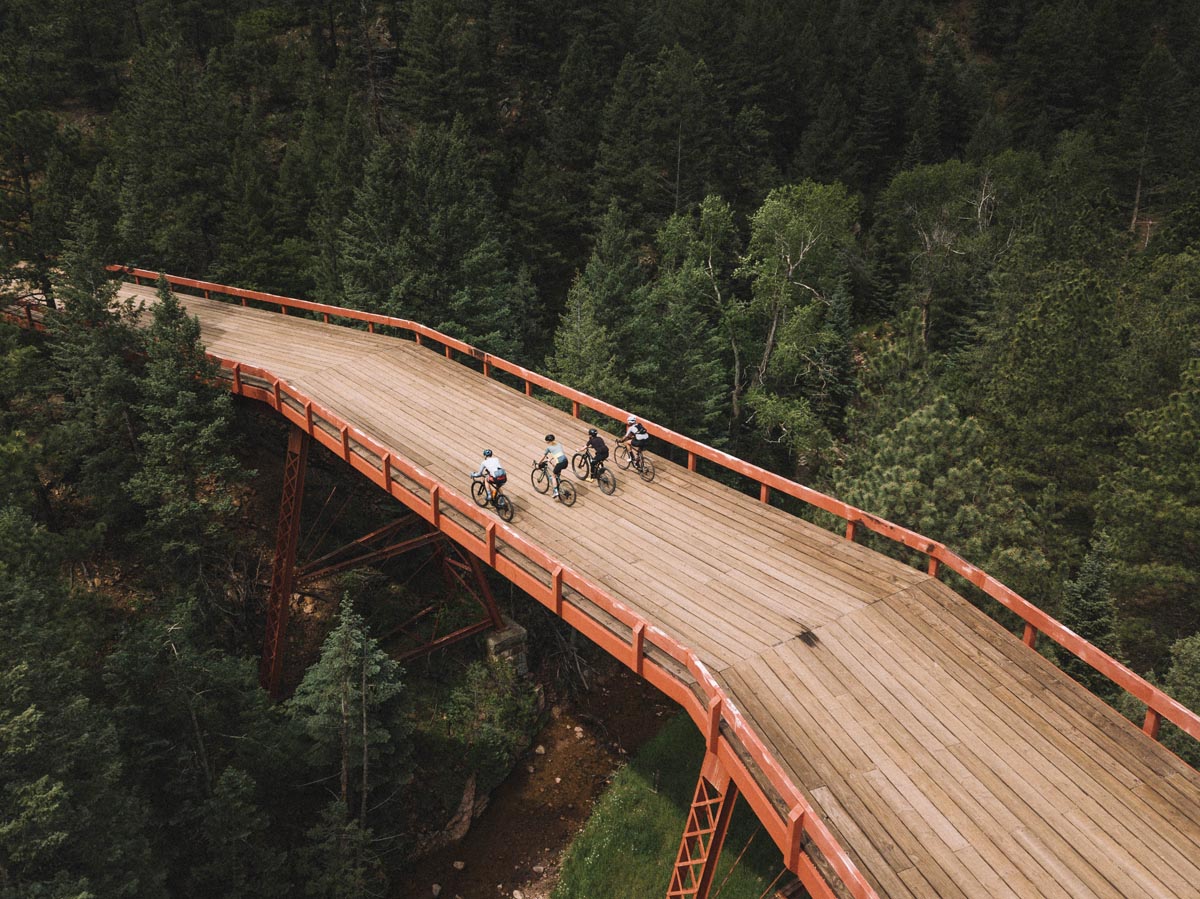 Phantom Canyon climbs more or less non stop for about twenty miles. You power yourself from 5,300 feet to 9,700 feet. Gradients are a mild 2-4%, so while the effort to get to the top is long and sustained it never really hurts you that bad as long as you pace yourself. Or, alternately you could just crush the entire climb at race pace if that is what you are into. For us it was too beautiful to rush. We got off the bikes, scrambled up overlooks, and took more photos.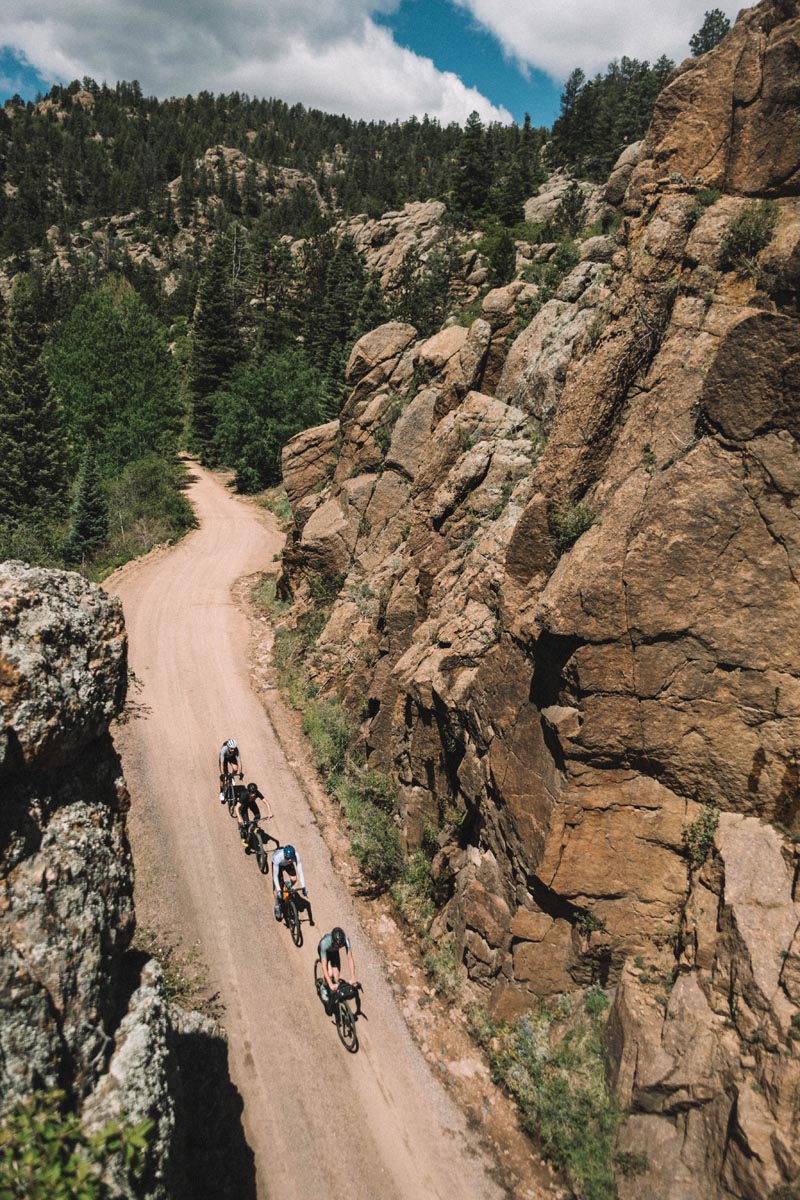 Nick described the climb as just about perfect the entire time. At the point that you can just about no longer stand climbing you suddenly find yourself on a few gentle rollers at the top which give way to massive views of the Sangre De Cristo range, still blanketed in snows that may not melt before the coming winter.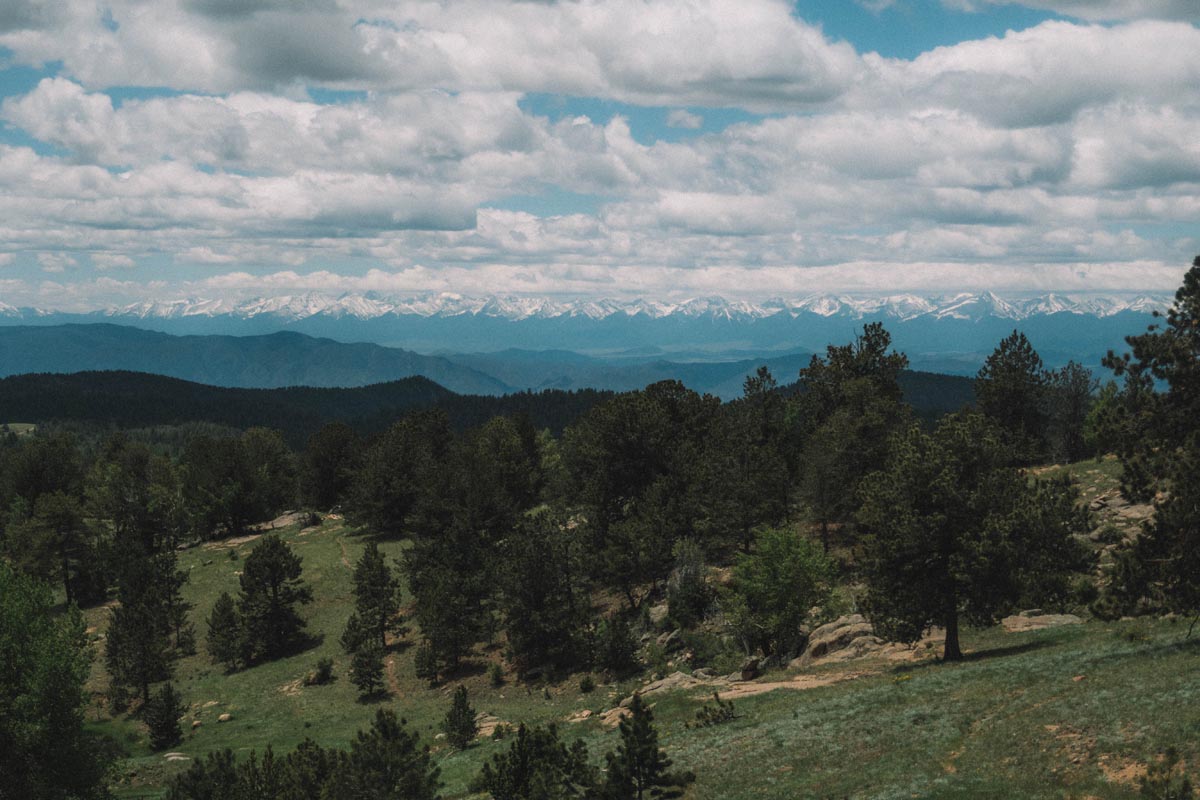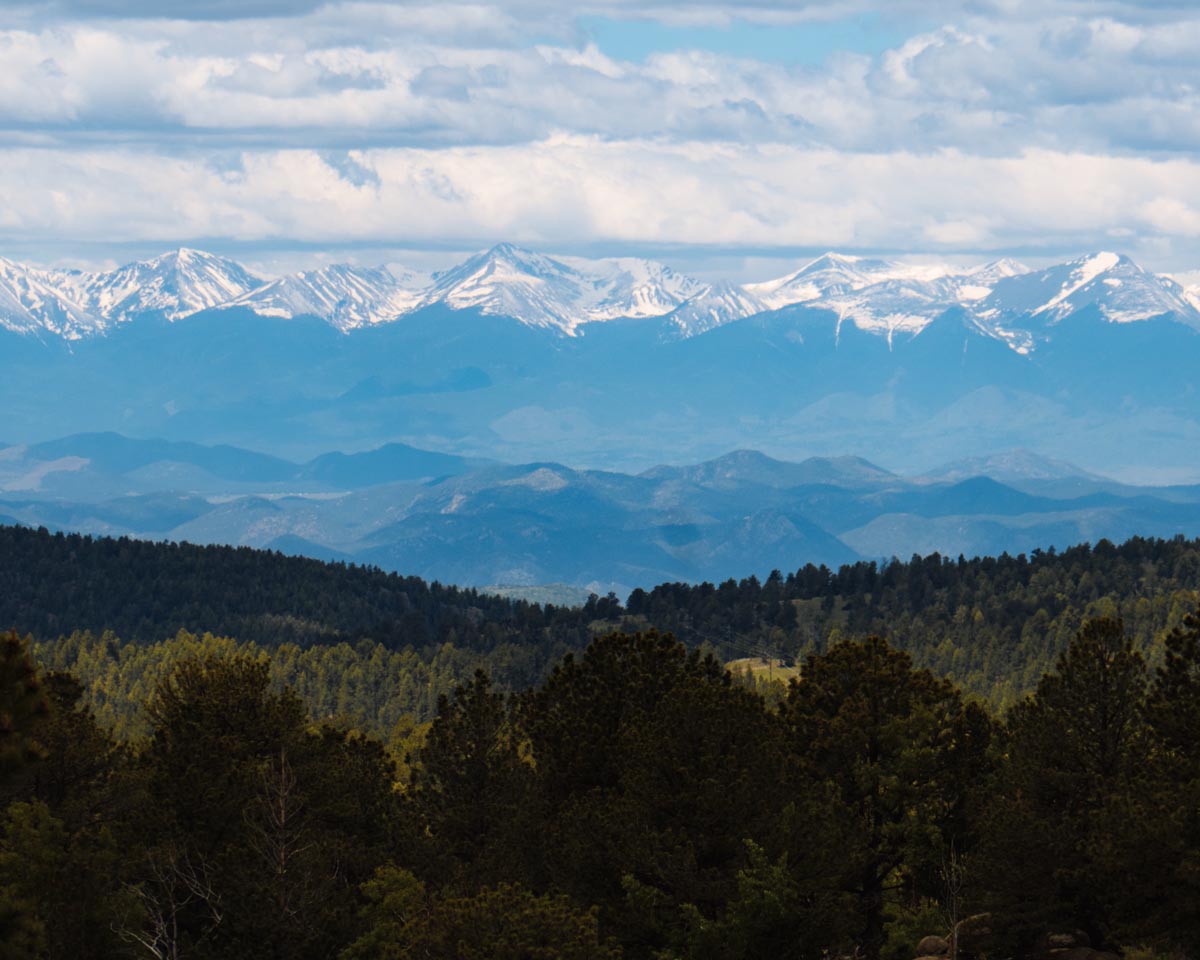 Canyons give way to gold rush era mining towns as you arrive in the 1800s era mining town of Victor. As you enter town you see the remnants of historic mining operations at the Cresson Open Pit Gold Mine. To a casual observer it might appear that the mine is the decapitated open pit remnant of an entire mountain top – because it pretty much is exactly that. I headed over to Wikepedia to learn more about the mine's history and its current state:
Gold mining in the district begun in the 1890s, mostly as underground operations, chasing high grade veins. Over 23 million ounces of gold have been recovered from the district since 1890.[3] At 2012 prices ($1600 per troy ounce [10]), this would be worth around US$37 billion.

Warren, Harry & Frank Woods entered the Victor mining scene in when they purchased the Mount Rosa Placer and incorporated the Mt. Rosa Mining, Milling and Land Company on January 9, 1892. This would later become known as the Cripple Creek & Victor Gold Mine.[11]

Most of the Cripple Creek properties were consolidated into the Golden Cycle Mining and Reduction Company, and the Carlton Tunnel was completed in 1941. This 6.5 mile long tunnel drained the district down to 3,000 feet. The roasting-cyanidation Carlton Mill opened in March 1951. This mill also tested the first carbon adsorption-desorption process.[12]:110–111,113

The current open cut operation dates back to 1995.[3] The operation became part of AngloGold in March 1999, when the company acquired the Independence Mining Company and thereby 66% of the mine. AngloGold merged with junior partner Golden Cycle Gold Corporationin 2008 and thereby acquired the remaining 33% of the project.[6][13]

The mine is a low-cost, low-yield open pit operation, with grades well below one gram of gold per tonne of ore. In recent years, 2008 and 2009, the mine accounted for 5% of AngloGold Ashanti's worldwide production. It is the company's only active operation in the United States.[6] In 2008, the State of Colorado and Teller County granted the mine a mine-life extension.[14]

Production and grade of the mine have steadily declined over the last few years, while the total production costs have risen from US$372 an ounce in 2007 to US$475 in 2009. The mine employed 562 people in 2009, of which 367 were permanent employees.[14]

In August 2015, the mine was sold to Newmont Mining Corporation.[5]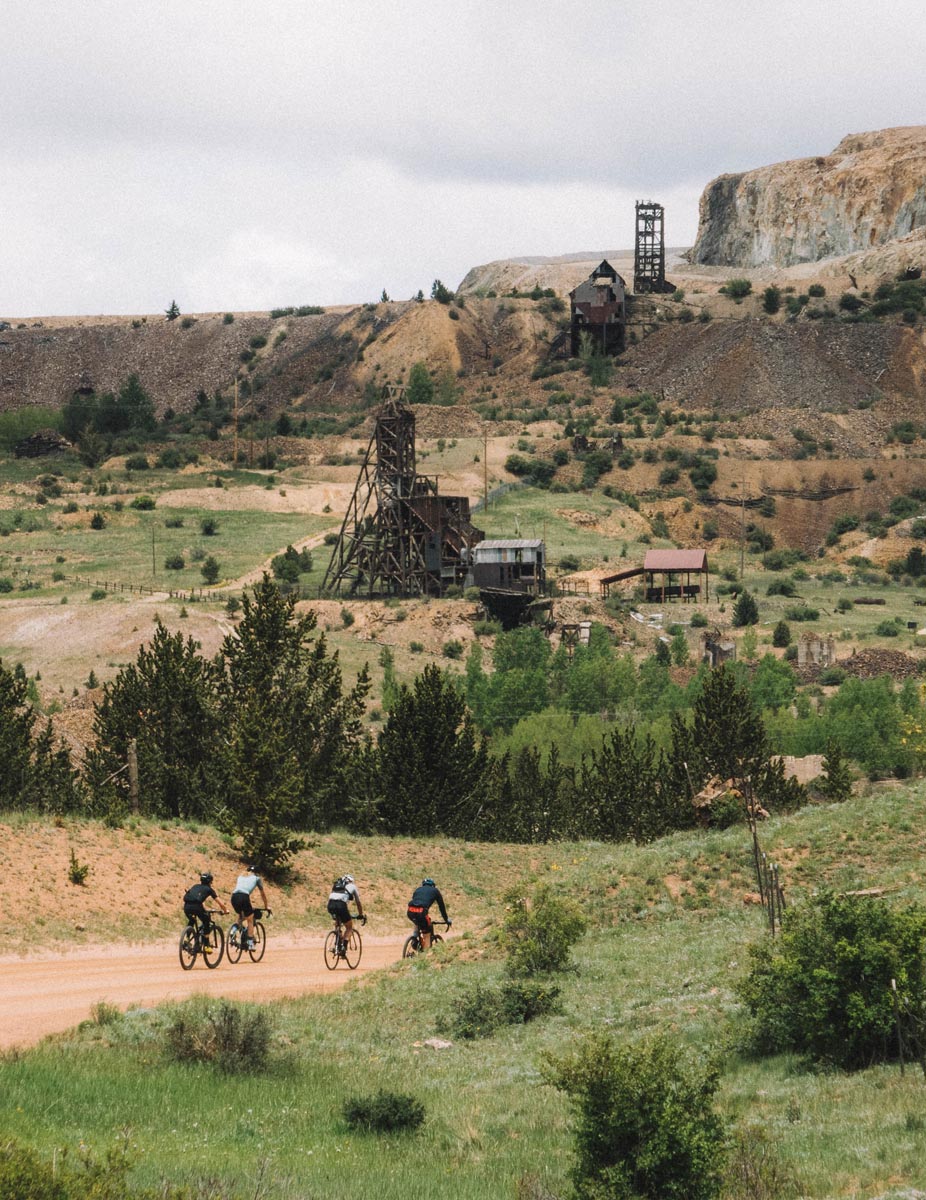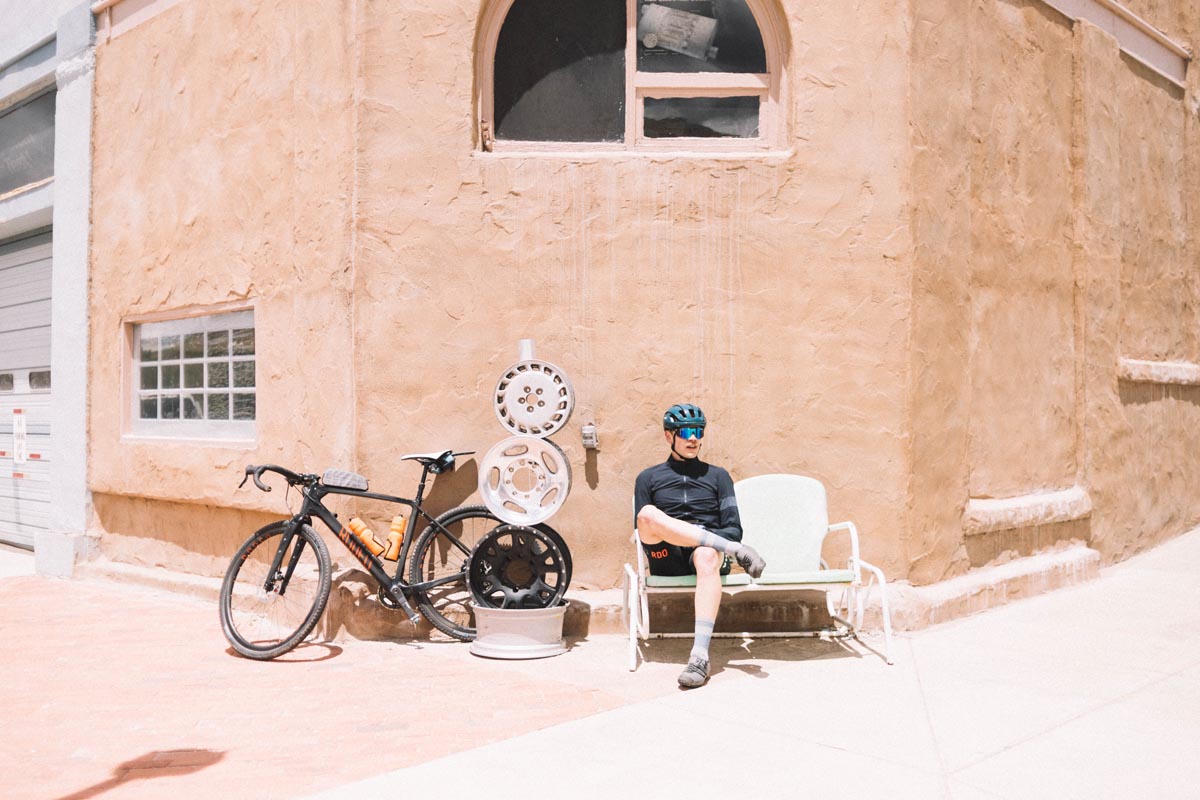 We didn't spend much time in the town of Victor itself. It actually looks very rich in history and a significant part of Main Street is well kept and original. I'd like to explore more there but the clouds were threatening us all day long and a major rule of high mountain riding in Colorado is to not tarry long at high elevations if clouds are building. On came our jackets as we descended around the pit mine towards the city of Cripple Creek.
Cripple Creek is an even larger historic mining town found five miles down the road and down the hill from Victor. Unlike Victor though, Cripple Creek is a current day gambling town replete with some pretty mega-sized modern casinos that do their best (but fail slightly) at blending in to the town's historic vibe. There may be some good dining options in town with all of the casino traffic, and indeed the town does have its own wild donkey herd and Donkey Derby Days and for that we love it unequivocally.
For those not into gambling and donkey races we highly recommend the gas station on the upper end of town as a place to buy $2 donuts and $1.50 hot dogs with which to refuel before beginning the 35 mile descent back down to Canon City.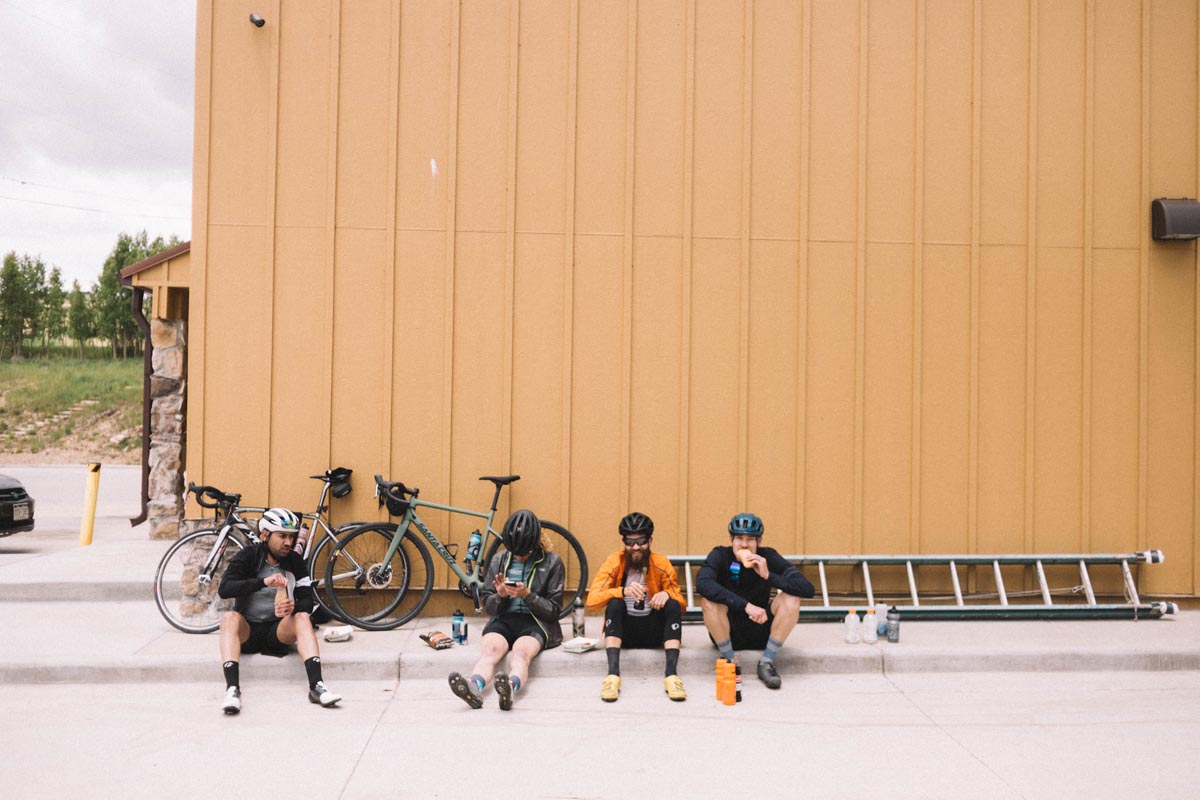 Did we mention all of the truly significant climbing of the day is over by the time you reach Cripple Creek? Yes there are some rollers here and there on the return journey, but other than that you mostly have about 6,000 ft of descending to look forward to by the time you hit this point of the ride. The descending is fantastic. You pull out of Cripple Creek and onto the upper slopes of Shelf Road which is pretty much "the next canyon over" from Phantom Canyon. Shelf Road seems to descend more steeply and more ruggedly than Phantom. There is more washboard to be aware of and the uphill traffic will vary based on the day of the week you ride it on. Keep an eye on your water bottles as well. We ejected a few on the way down despite top shelf bottle cages.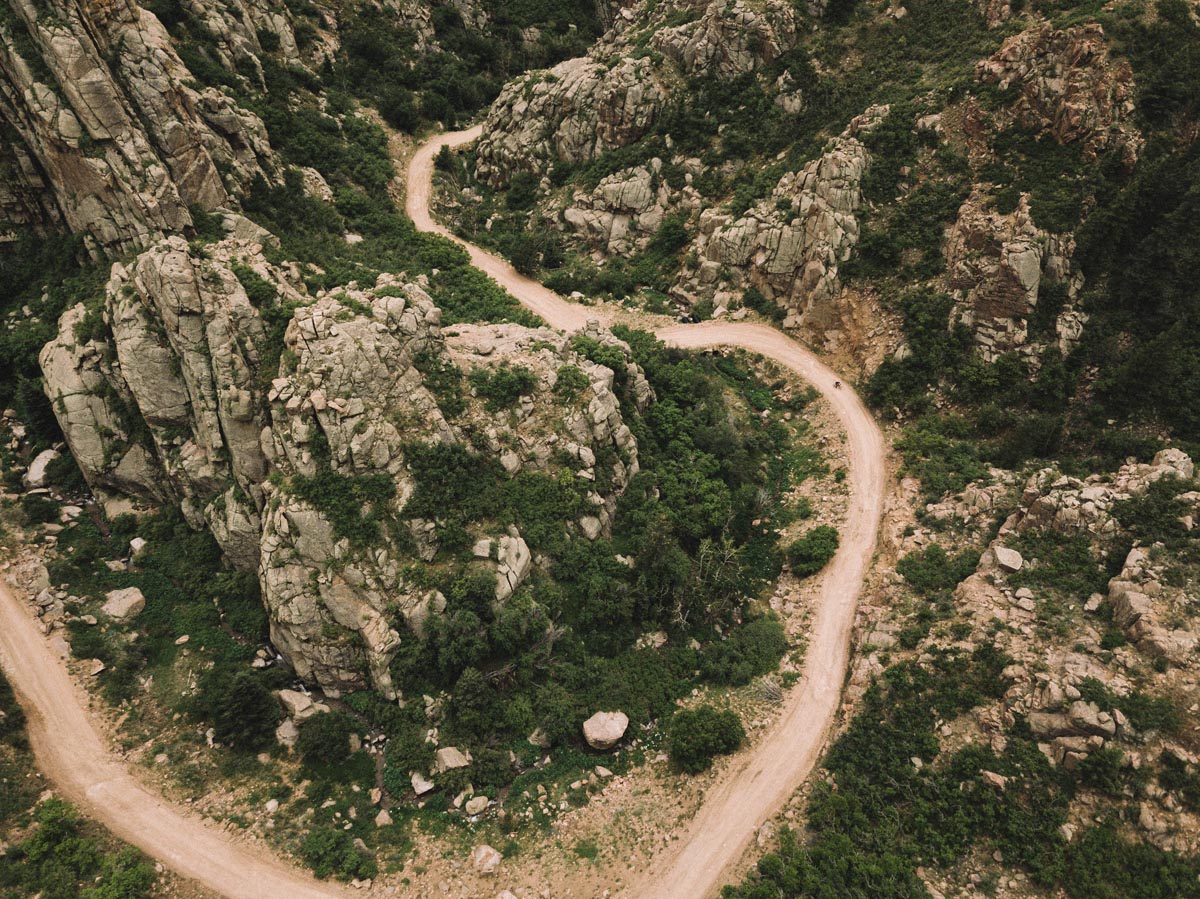 As you descend into the lower parts of the canyon some incredible limestone cliffs form and add to the drama of the scenery. Our very wet spring this year made the entire canyon a fantastic mix of rushing creek, limestone cliffs, and emerald vegetation.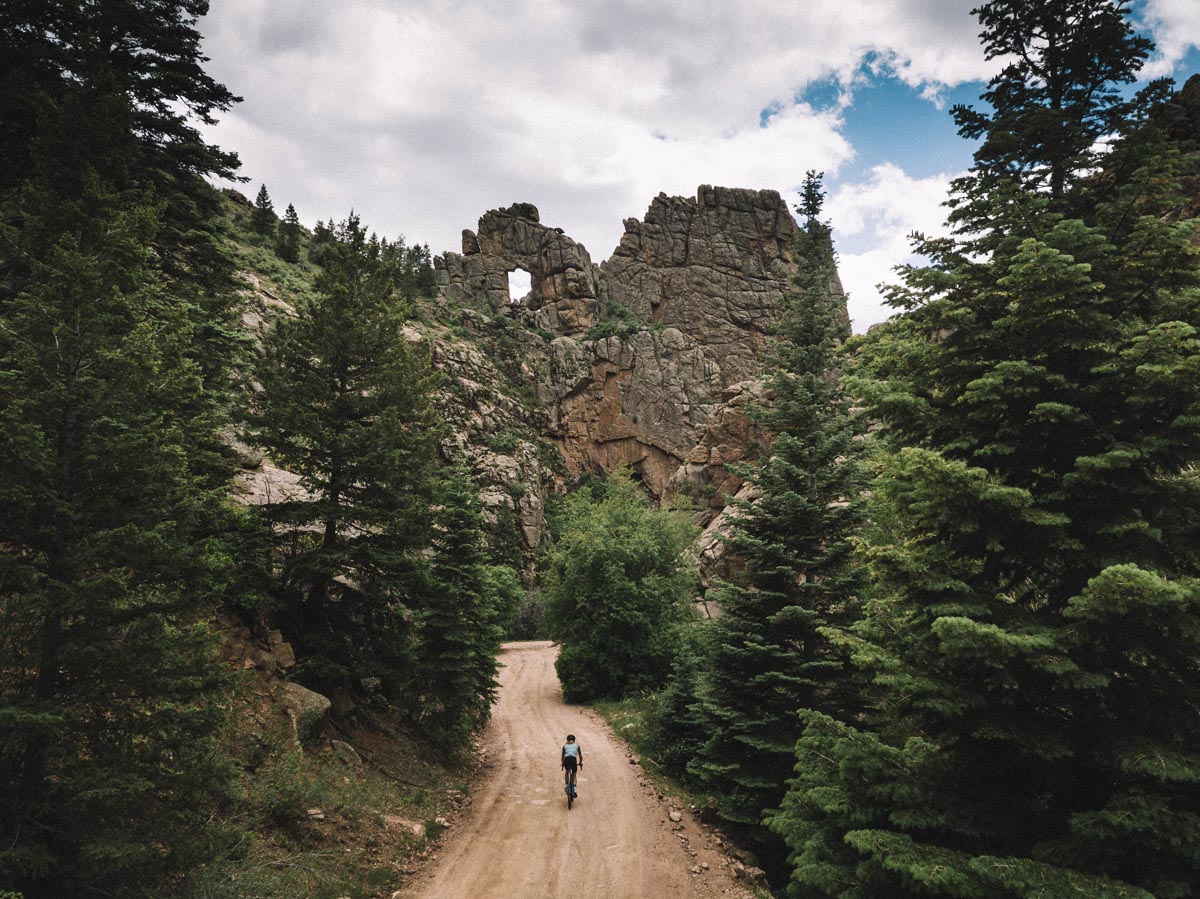 Be sure to look up around mile 47 or you will miss Window Rock. We dispatched the Rodeo UAV to peek through it up close. Not baaaaad Colorado, not bad at all.
The density of great views here is high.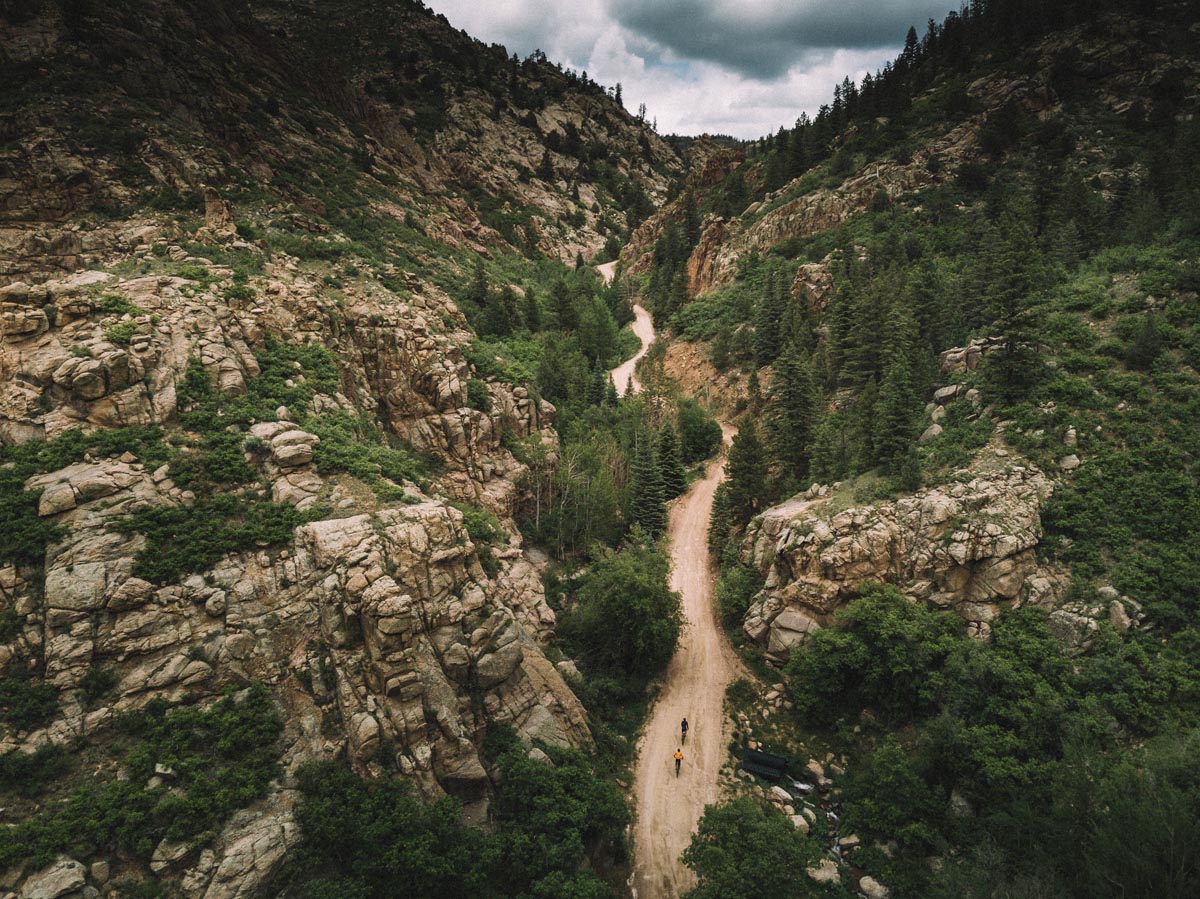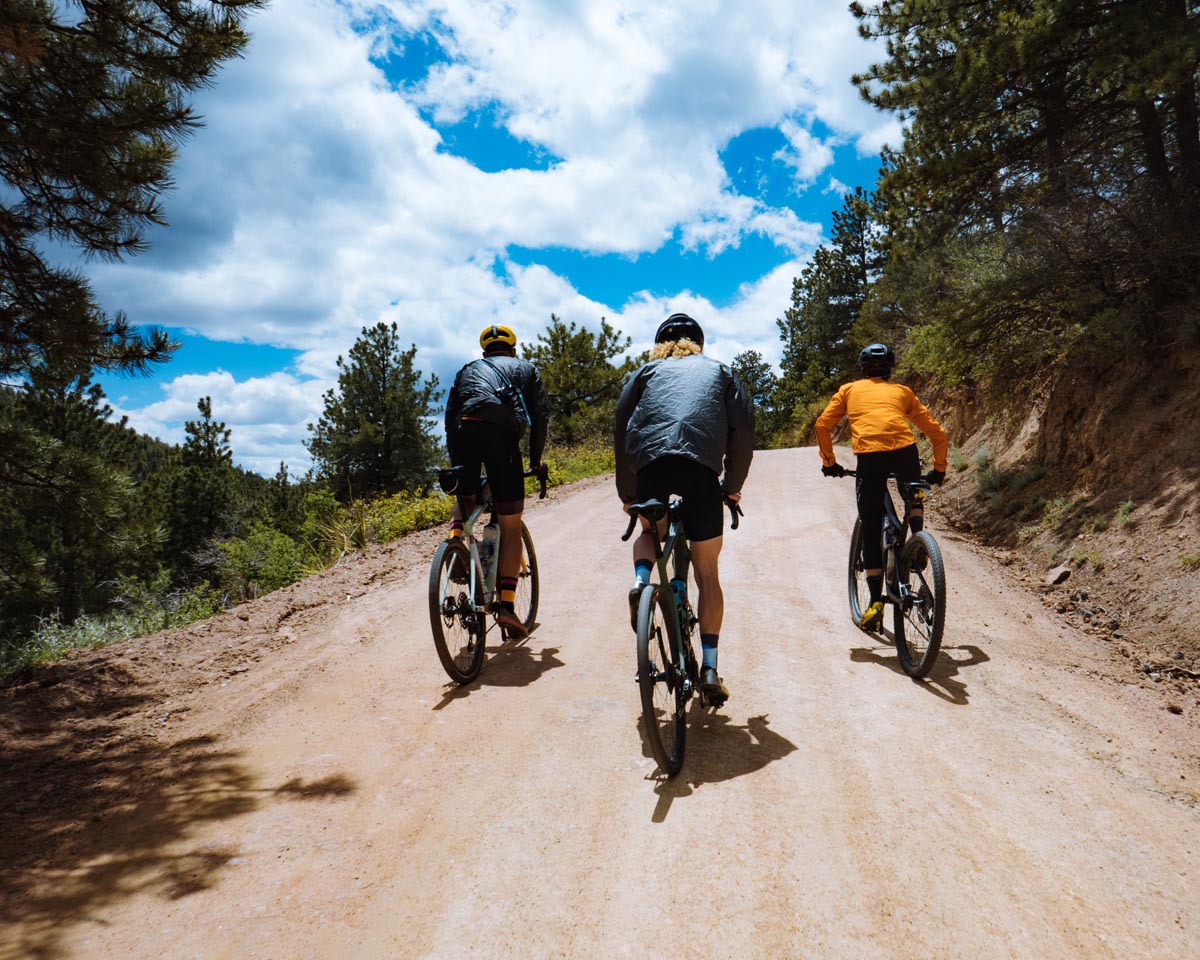 As you descend further down Shelf Road the scenery opens up into a dramatic expanse with more wide open views. Feel free to put your head down, stare at your top tube, and crush this section. Or, alternately, just try to take it all in.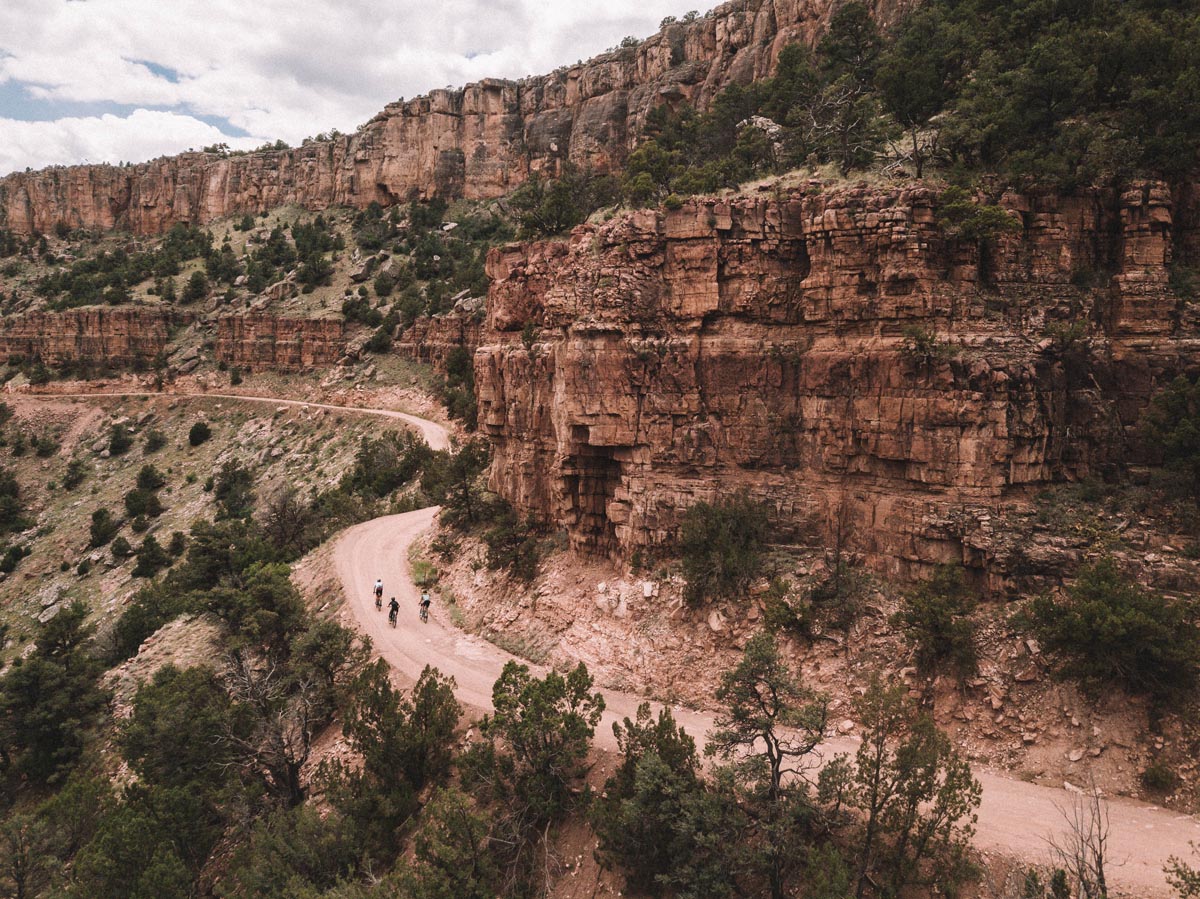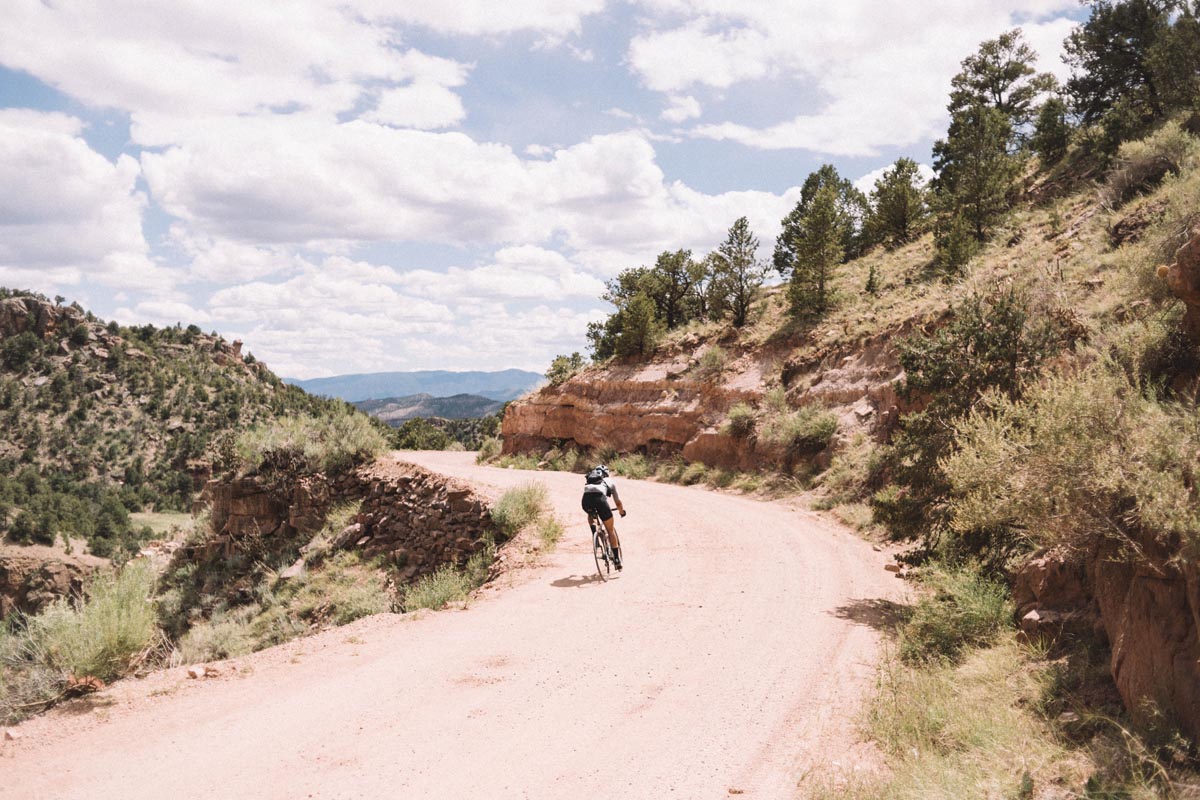 Let's take a second to discuss water. Colorado is dry to begin with and I would classify a lot of this route as semi-desert in my own mind. The fact that we did the ride in cool 60ish degree temperatures and were surrounded by verdant greenery along the entire route shouldn't lull you into a false sense of lushness. If we had ridden this ride in average late spring or early summer temperatures we could have seen temperatures spike into the 90s mid day. We only carried two bottles of water per person on the route and were able to refill in the towns along the way but if the temperatures had been a bit higher I would have planned four bottles for the climb and three bottles for the descent instead of the two up and one down that I consumed. If you have a filter you could easily refill along the creek but keep in mind that typically this creek slows to more of a trickle during a normal summer. Respect the desert. Live to tell the tale.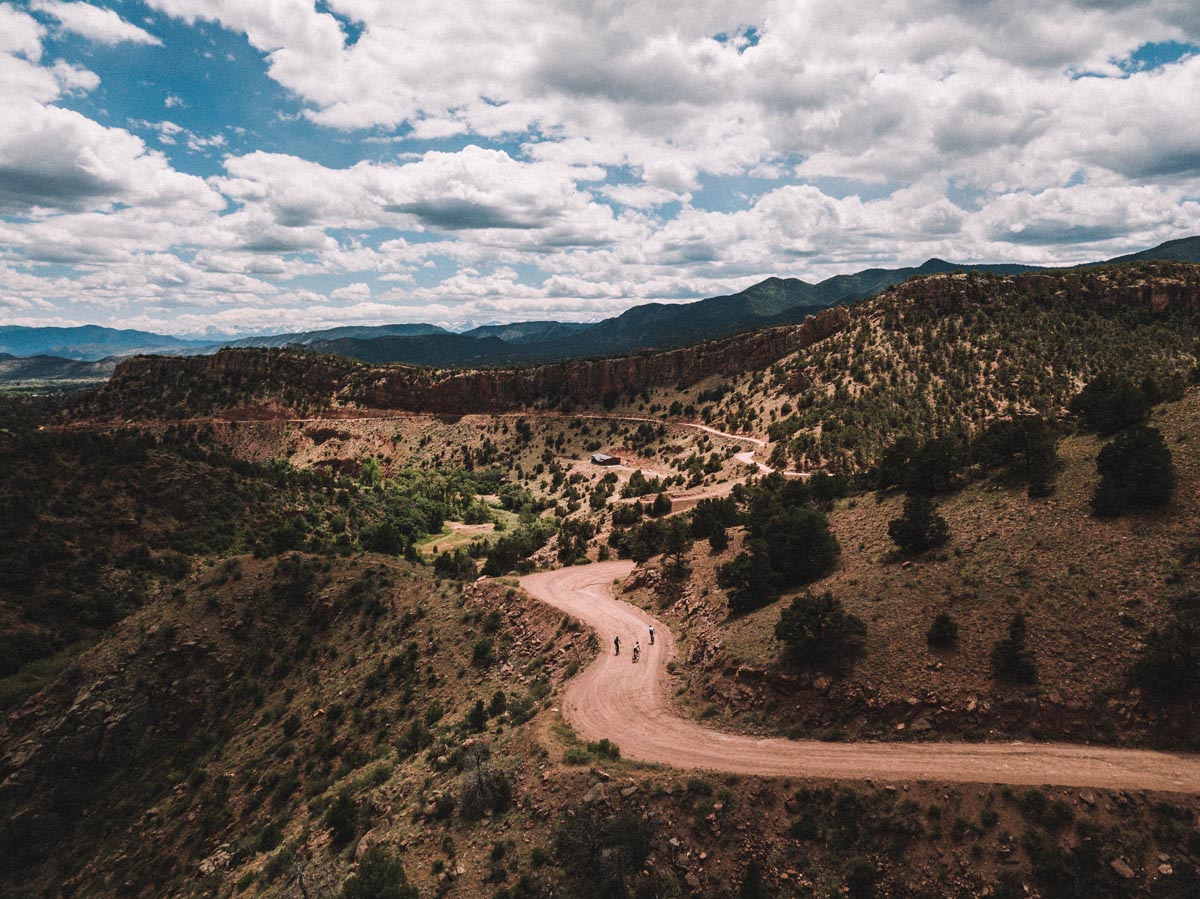 At about mile 55 Shelf Road becomes a paved road: County Road 9. Bummer, I know. If you are tired by this point it is actually nice to be able to ride something mellow for the remaining miles back down to town. You've earned a respite!
But if like us you want just a bit more hot sauce on your route then take the paved road down another mile or two to County Road F24 and hang a right for another rolling dirt section that will take you almost through the rest of the ride. This section is deceptively flat looking but actually contains a number of small climbs, each a tiny punch in those already tired legs. But the reward is another in the day's series of never ending scenery variations. This gravel road takes you through red rock standstone formations, campgrounds, some chunky jeep roads, and more miles of classic wide open Colorado vistas.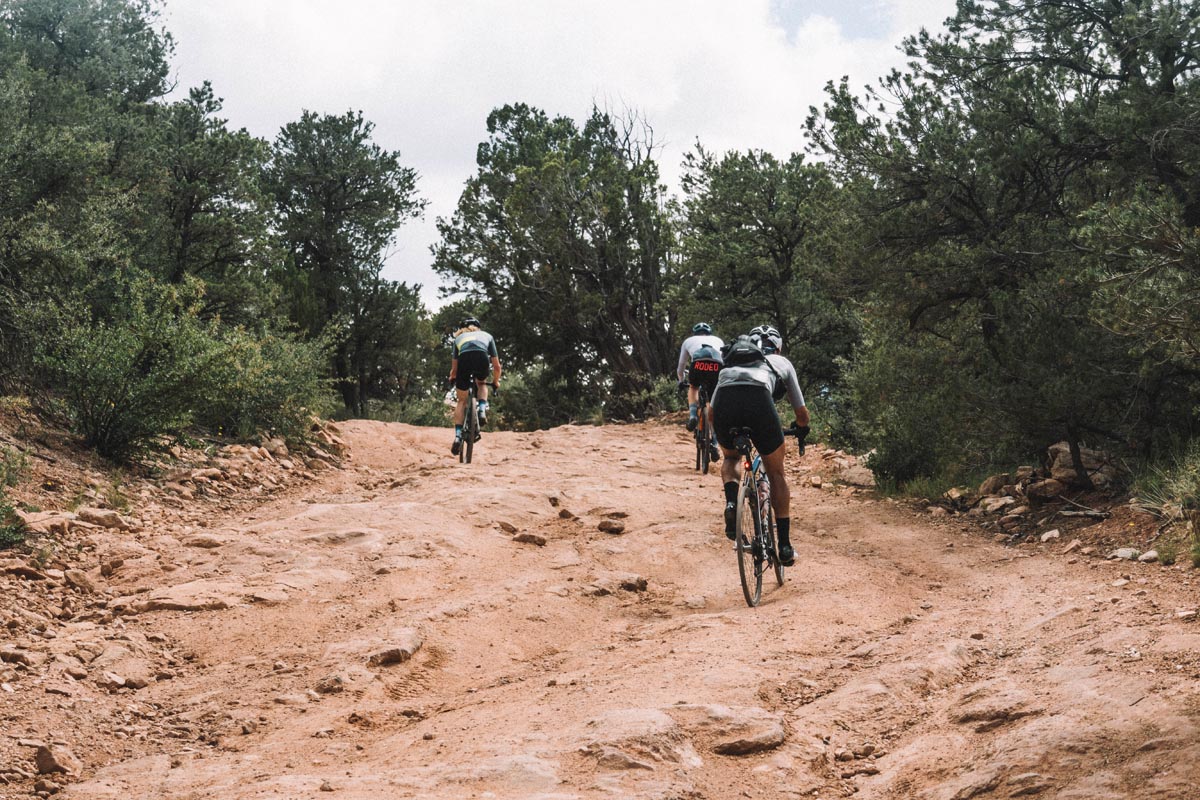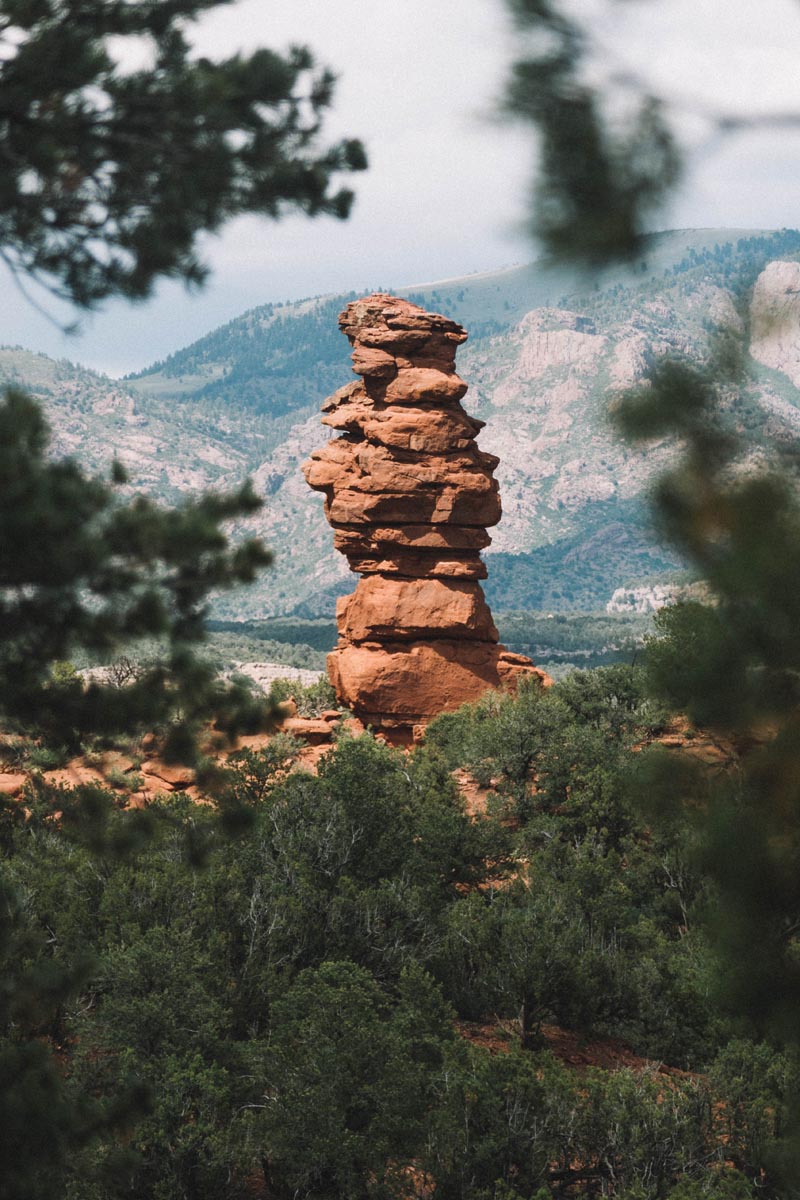 The final miles of gravel are as good as anything you can ask for and the gentle -4% average gradient makes for a ripping descent.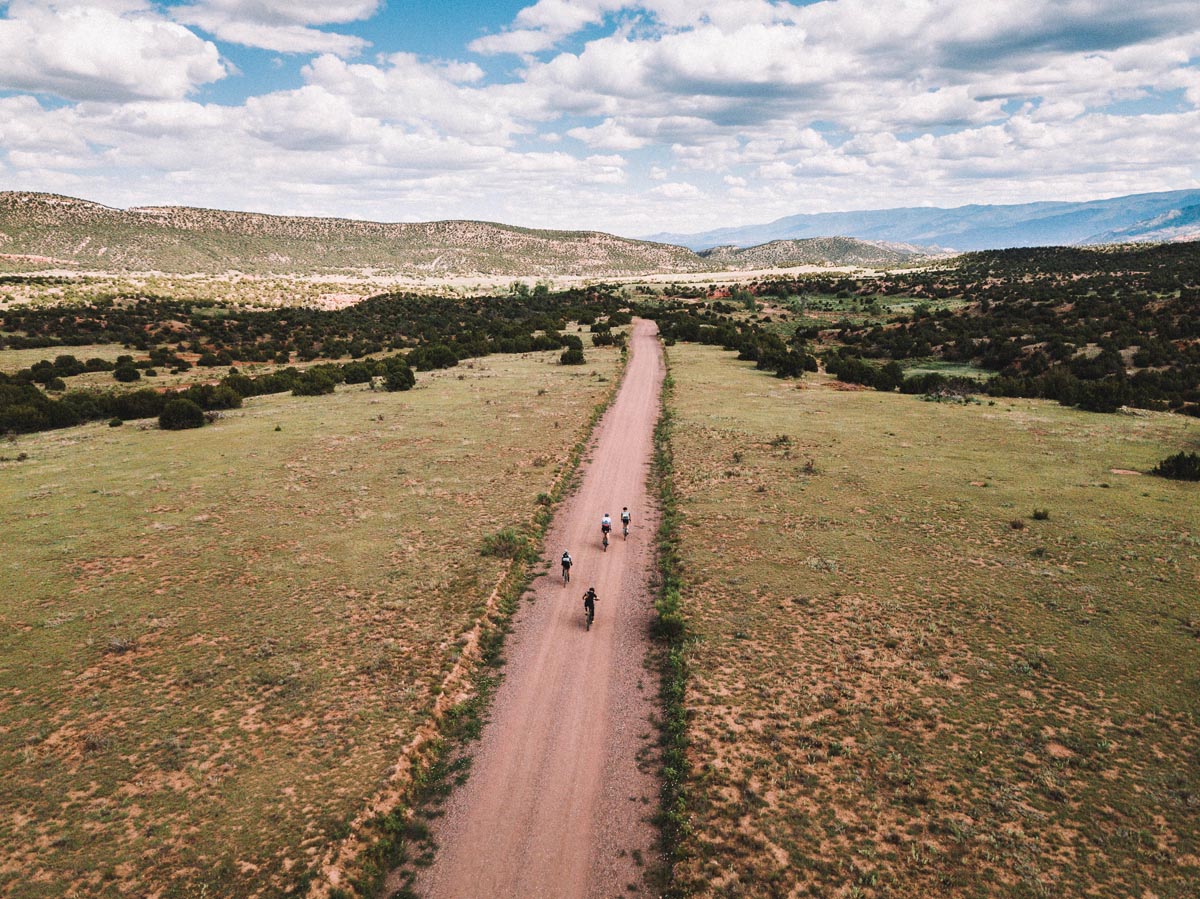 At mile 69 the coincidentally named County Road 69 that you are now on intersects Highway 50 again and your ride is almost at an end. Don't stay on Highway 50 all the way back to town though! Hang a left in a half mile and you'll be greeted by one last bit of radness in the form of Shelf Road. Shelf road is probably the most absurd road I've ever ridden. It starts with a small climb up towards a ridge and is only as wide as your average paved bike path even though it is open to one way 15mph vehicle traffic. Once you gain the ridge you understand why that small climb is worth the effort. The ridge itself only feels 10-15 feet wide and the fact that someone decided to pave a road along it blows my mind. The views are incredible and a fitting cap to such an incredible route.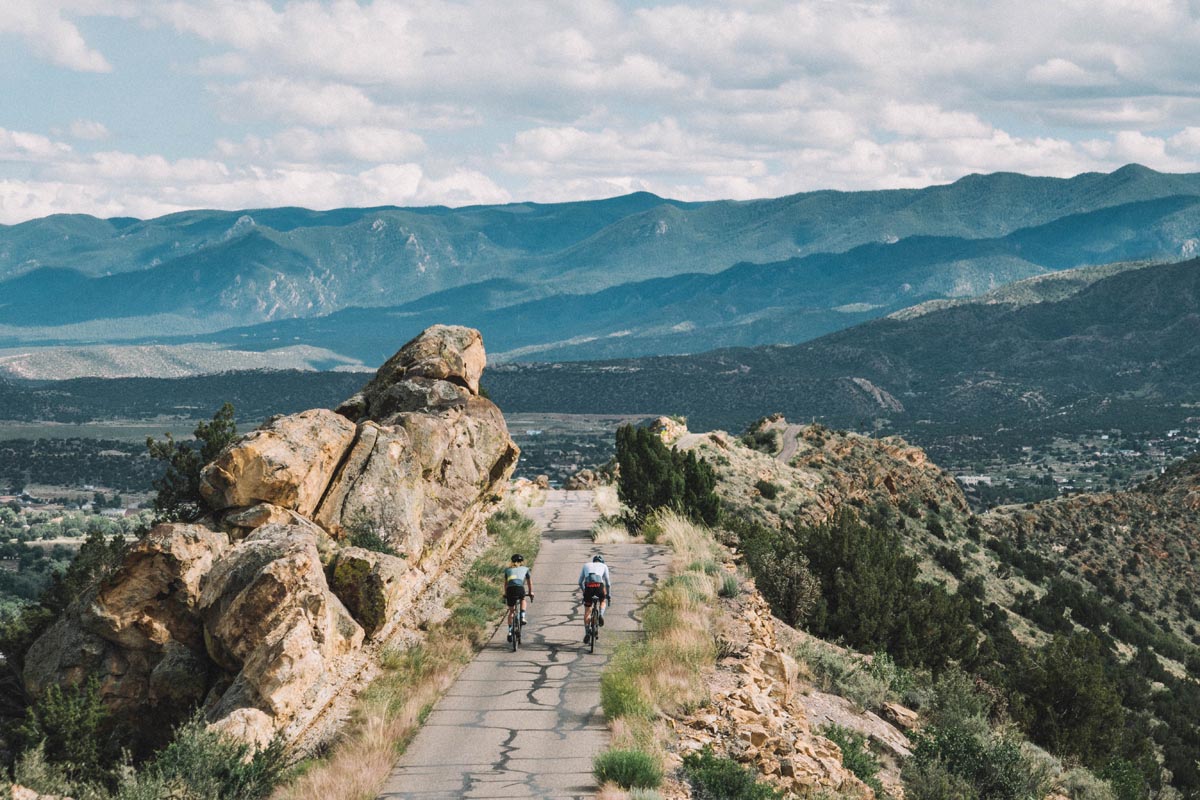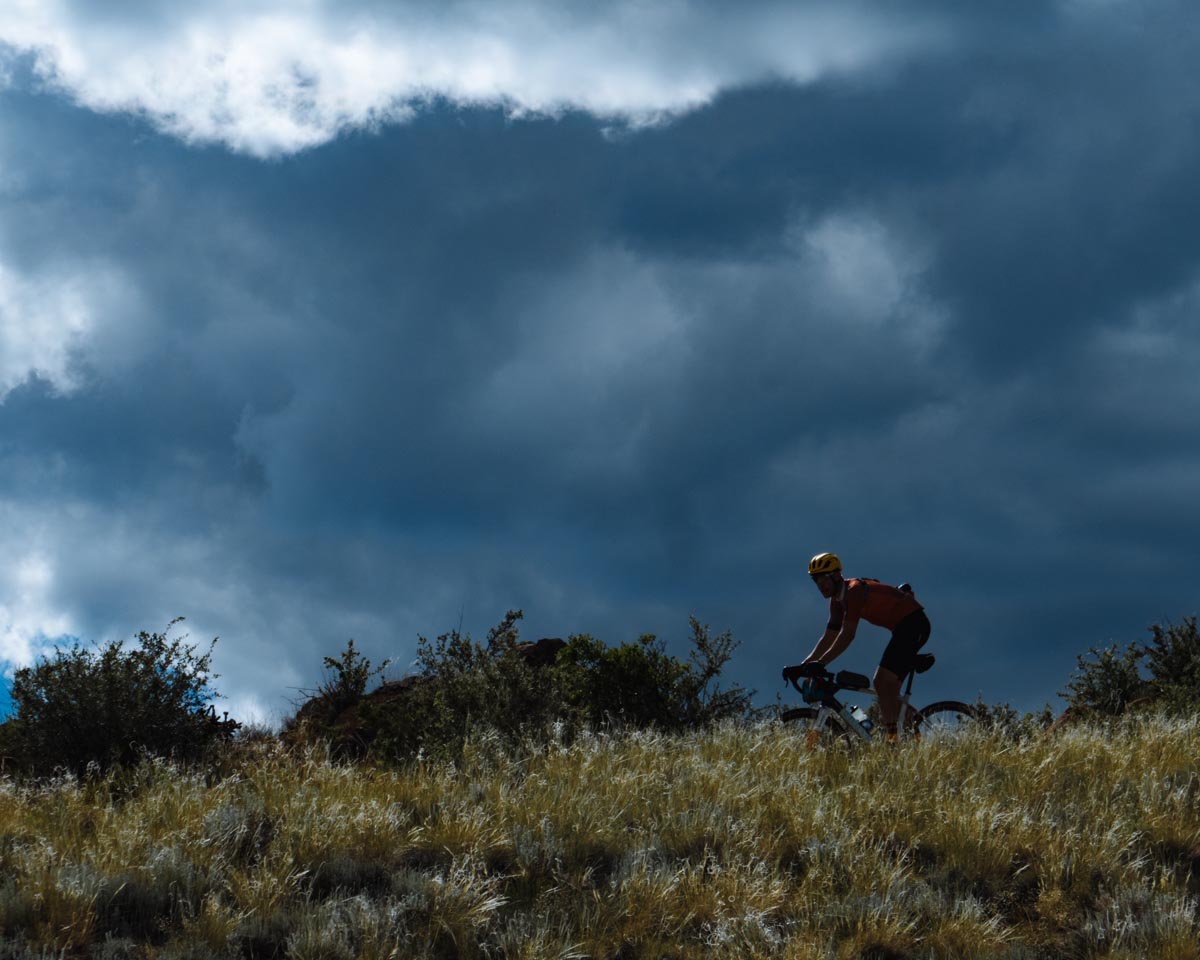 And just like that you've done it. With a small descent you're deposited right back downtown Canon City mere blocks from the coffee shop and your post ride burrito or smoothie.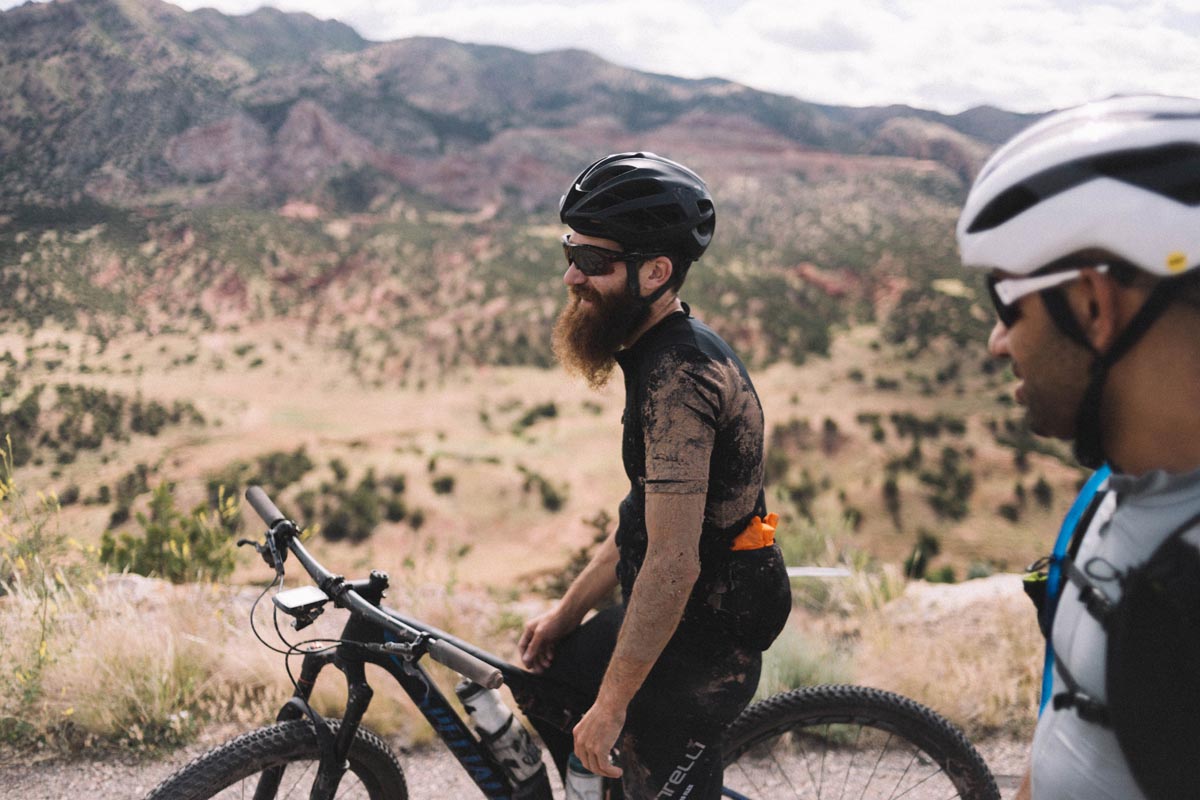 Is this one of Colorado's premiere gravel routes? We say yes. The combination of Phantom Canyon's gentle climbing, the history of the mountain towns, solid overall ride distance, gorgeous variable views, and low traffic make it pretty much anything you could ask for if you want to get a sampling of some of the best our state has to offer.
At exactly two hours driving from Denver it's close enough to bail on riding your local loop yet again and striking out to see something new.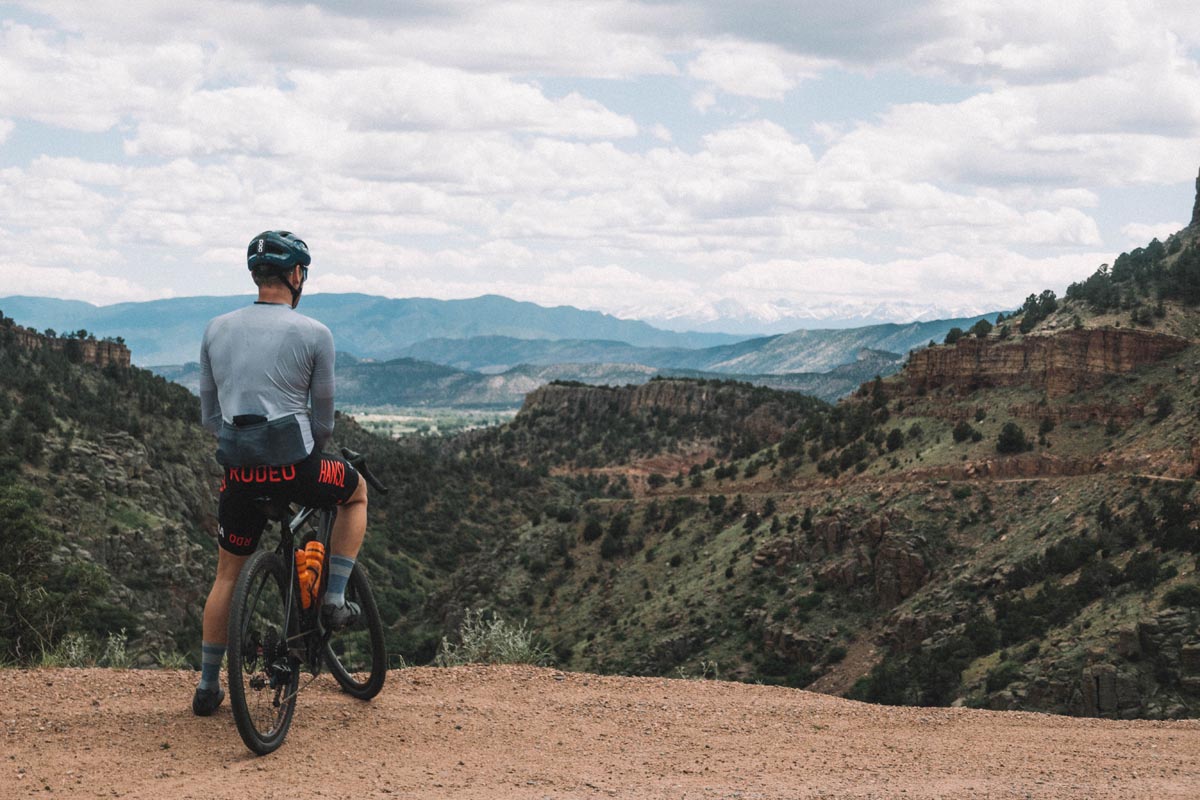 Photos by Stephen Fitzgerald and Nick Gilroy.
Route available on Ridespot: https://ridespot.org/rides/107522
Or Strava:
If you would like to race something very close to this route check out the Cripple Creek Crippler!