Reserve your Flaanimal 5.0 frameset by pre-ordering now.
For complete bikes, select that checkbox below and we will know to get in touch with you to discuss specs and pricing in the coming weeks. We will then invoice for the remainder of your bike's price closer to frameset arrival in mid April.
Black frames represent Naked finish with color decals of your choice. Full-color options represent a Cerakote finish upgrade (+$300).
If you plan to have us design a custom finish for your pre-ordered Flaanimal, choose the "Naked" finish option. See this page for custom finish info and pricing.
Flaanimal 5.0
Since its first iteration in 2015, Flaanimal has always been a bike that is fundamentally about versatility. The idea that the owner themself is allowed to interpret the frameset and turn it into their dream build is paramount. Whether ridden on road or dirt, the frameset strives to feel stable, efficient, quick, and at home wherever you take it. When considering where we wanted to take the platform next for 5.0, one objective stayed front and center: Flaanimal must stay true to its adaptable roots while at the same time offering each owner even more versatility and function. Meeting that objective was not at all simple and required some out of the box thinking. No detail of the 5.0 design was left unconsidered. Flaanimal 5.0 isn't a "steel bike" or a genre bike. Its design is the natural result of setting tradition aside and endeavouring to build the best and most capable Flaanimal yet.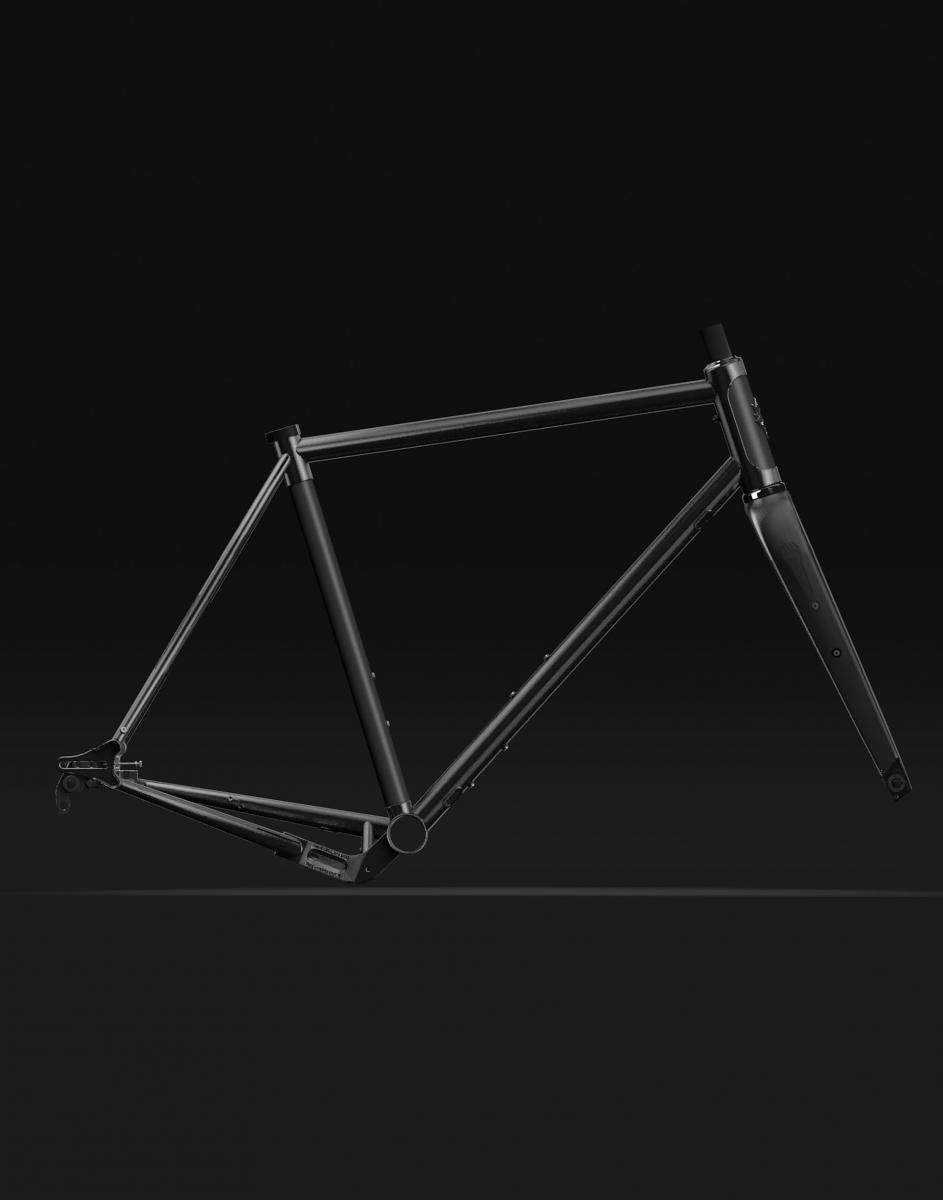 CNC Machined Yoke / Dropped Stay
Our quest for increased Flaanimal function led us first on a search for more tire clearance. Not every Flaanimal owner needs more tire clearance, but every Flaanimal owner can potentially benefit from it over the ownership life of the bike. Tire clearance isn't just about cramming huge tires into a frame though, tire clearance also relates to increased mud clearance when not running huge tires. An easy solution for increasing tire clearance would have been to shift the q-factor of the frameset to a MTB q-factor, allowing the chain stays to be spaced further apart thus creating more room for bigger tires. Going to an MTB q-factor also would have resulted in us deviating from Flaanimal's road-oriented roots, which was something we were not willing to do. The solution for increased tire and mud clearance was to design a steel yoke for the drive side chainstay. Starting from scratch, we worked up an entirely new yoke design that solved our clearance needs and allowed Flaanimal 5.0 to retain its road q-factor. The yoke contributes to Flaanimal 5.0's ability to run 700c x 50mm or 650b x 2.4" maximum tire sizes. Slider position is adjustable for tuning chainstay clearance per tire size. The max 1x chainring size on Flaanimal 5.0 is 46t. 2x cranksets as small as 24t/36t up to 34t/50t are also possible on the frameset.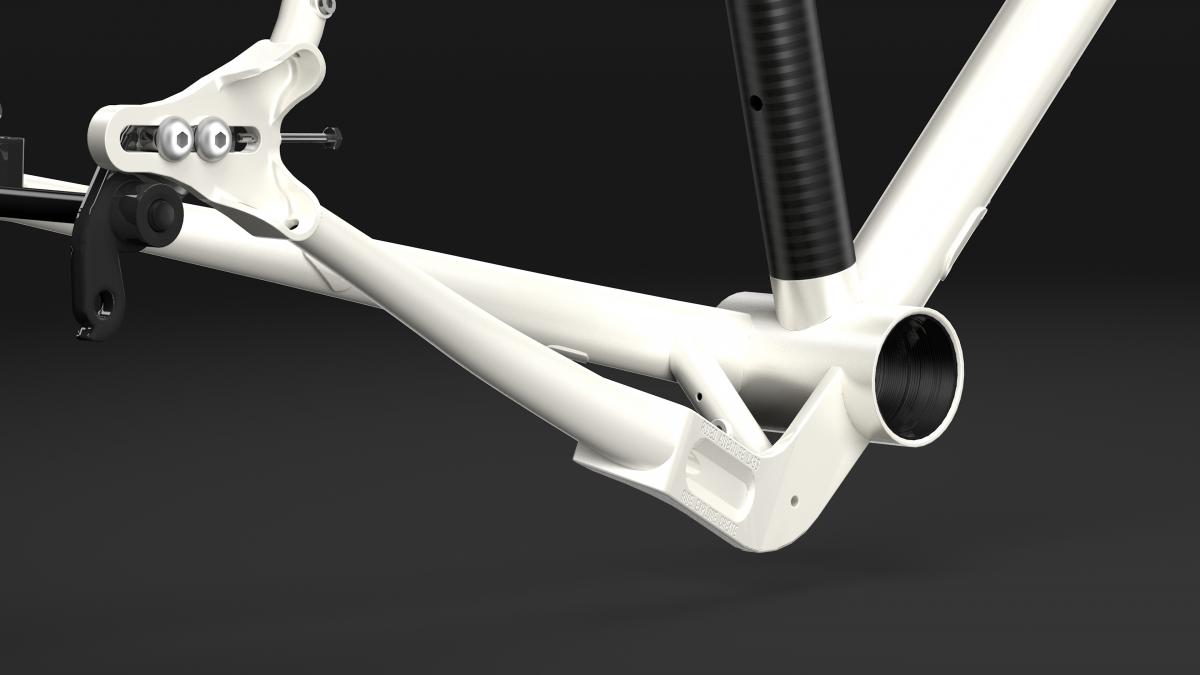 Integrated Carbon Seat Tube
Even with diligent CNC machining our chainstay yoke added weight to the Flaanimal frameset. Our next step in the design of the bike was to search for places to offset that weight without compromising strength or ride feel. The seat tube is the least stressed tube on the bike, and while doing some calculations we discovered that we could shave approximately ¼ pound off of the frameset by replacing the steel seat tube with a carbon seat tube. (Weight savings will vary per frame size / tube length ). Not only does our custom rolled unidirectional carbon seat tube "add lightness", it also adds a distinctive technical note to the frameset's visual style. We love it when our bikes stand out from the crowd.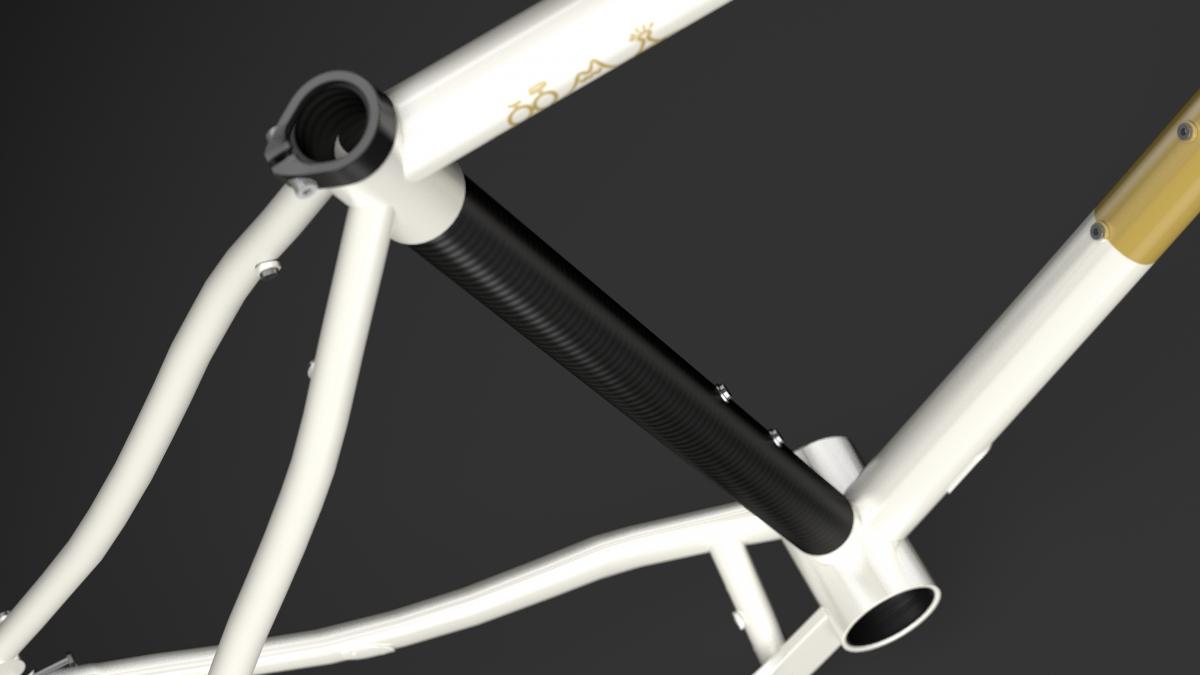 Integrated Carbon Head Tube
Certain sections of a head tube are less stressed than others. More material is needed where the top tube and head tube are joined, for instance, while less material is required on other sections of the tube. With this thinking in mind, Flaanimal 4.0's EC44 head tube was CNC machined to variable wall thicknesses to save weight. For Flaanimal 5.0, we took that thinking one step further. The leading surface of the head tube is laser cut and, similar to our 5.0 seat tube, we replaced the steel with a unidirectional carbon sleeve.. The net effect is not only lighter, but also brings the head tube and seat tubes into visual parity while retaining the full strength and durability of a typical solid head tube.
We first noted this sleeved head tube technique in the brilliant work of Rob English at English Cycles. Before we put this idea into production we reached out to Rob and asked if he would be ok with us drawing inspiration from his artistry. He was incredibly kind to oblige and offered a few tips on execution that we were grateful to receive.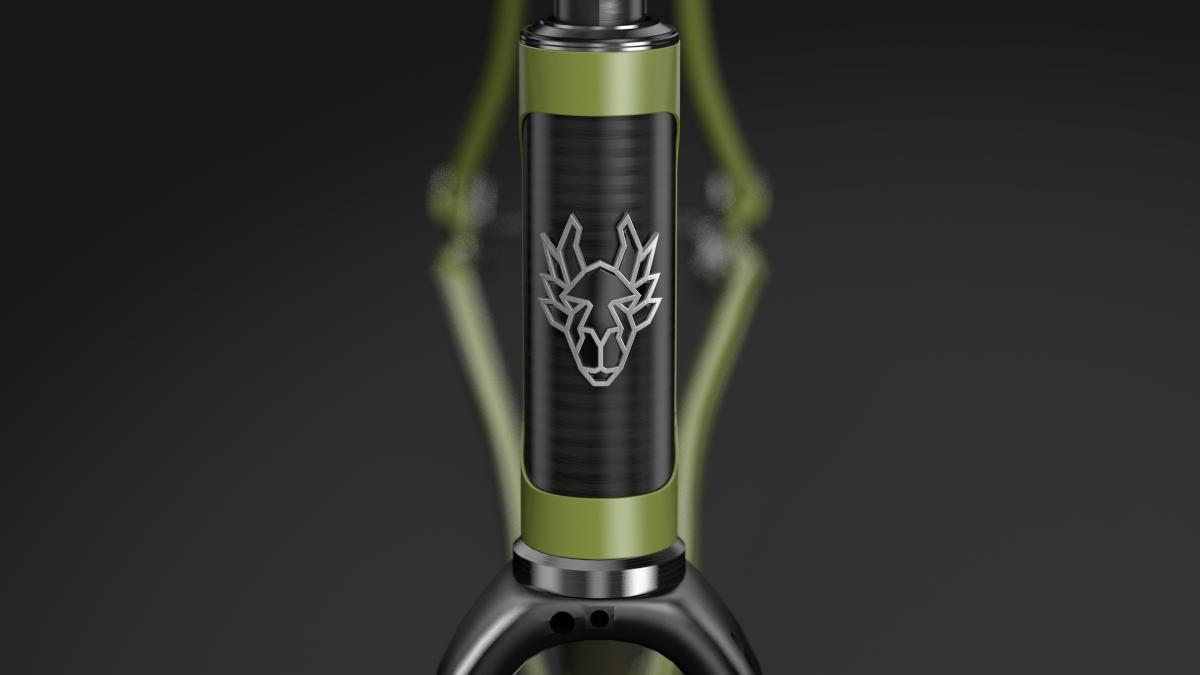 Japanese Custom Butted, Heat Treated Tubing
Flaanimal 4.0 was built with Reynolds 725 tubing, but with the change to a weight saving carbon seat tube on 5.0, we removed one of the three main steel tubes from the frame that Reynolds requires as a minimum to carry the Reynolds badge. Instead of seeing this as a liability, we saw an opportunity to entirely re-evaluate the tubing spec of the frameset. We worked with a longstanding tubeset supplier in Japan that allowed us to custom draw size-specific tubesets for 5.0, and also heat treat it for equal or better strength to weight characteristics as compared to 4.0. With the addition of tire clearance on 5.0, we see the potential for riders to take on even more aggressive terrain so we increased wall thickness of key sections of tube to add strength in critically stressed areas. As with every bike and component we make, Flaanimal 5.0 is certified to ISO 4210 standards.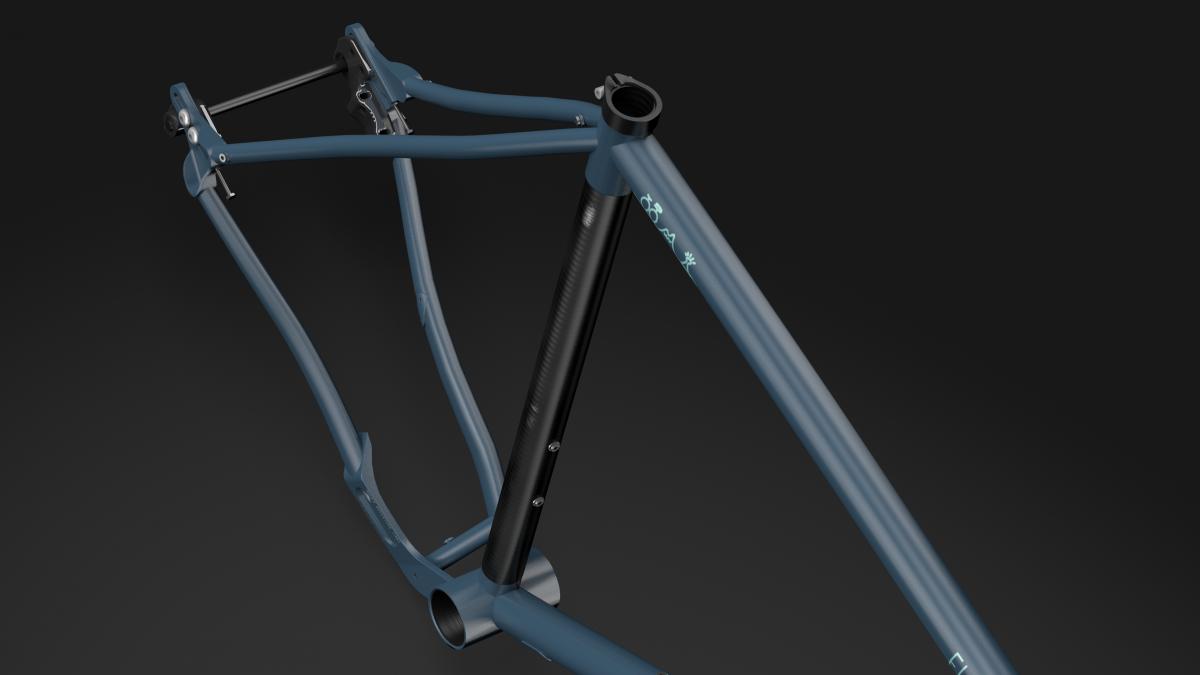 Shaped Rear Stays
Flaanimal 1.0 started with non-butted rear stays and this continued through 3.0. From 4.0 onward we used butted rear stays for weight savings and compliance. On Flaanimal 5.0 we are once again custom butting every tube in the rear triangle and we are for the first time shaping the rear seat stays with curvatures that will add compliance to the overall feel of the bike. Flaanimal 5.0 is the most comfortable Flaanimal to date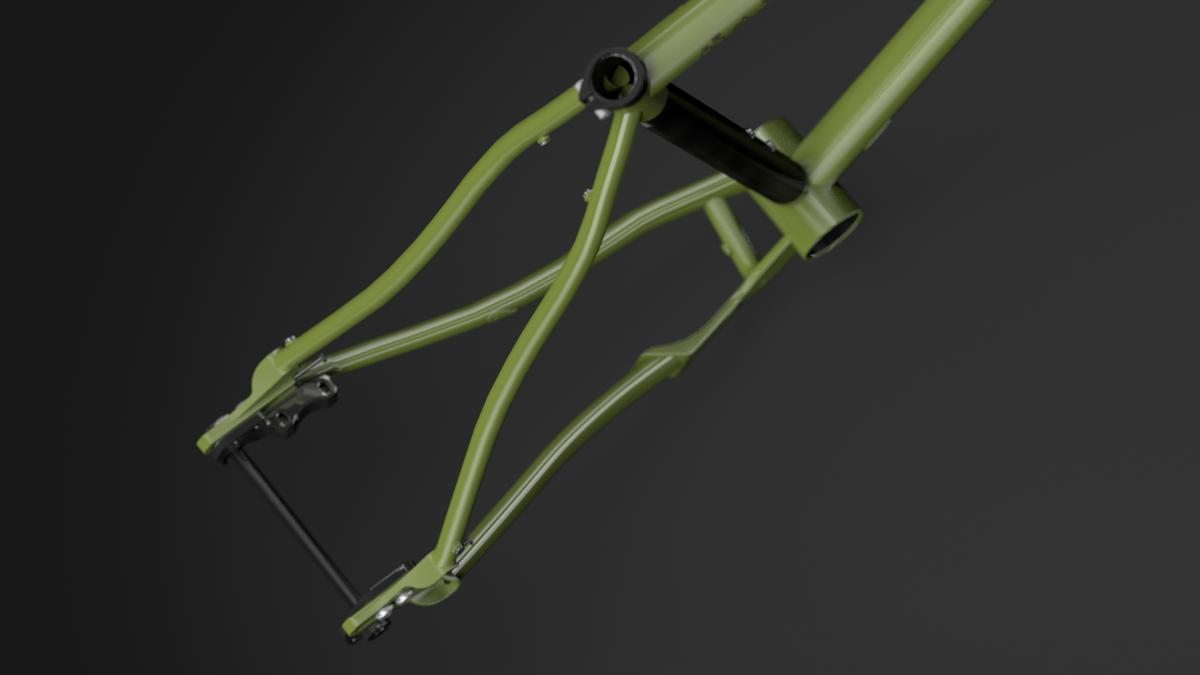 Increased Slider Range
Starting with Flaanimal 3.0 our sliders were designed from scratch and were unique to our bikes. We were and still are the only company making a tucked in flat mount caliper compatible sliding dropout. Once again we've raised the bar on our own designs with an updated sliding dropout design. Our revised and backwards compatible sliding dropouts now allow for an additional 10mm of slider range fore / aft compared to 4.0 and older sliders. More slider adjustability allows for proper tensioning of single speed chains as well as tire clearance tuning should you choose to run massive tires on your 5.0, not to mention being able to tune the handling characteristics of the bike. Chainstay length can now be as short as 415mm with sliders fully forward, depending on your tire choice.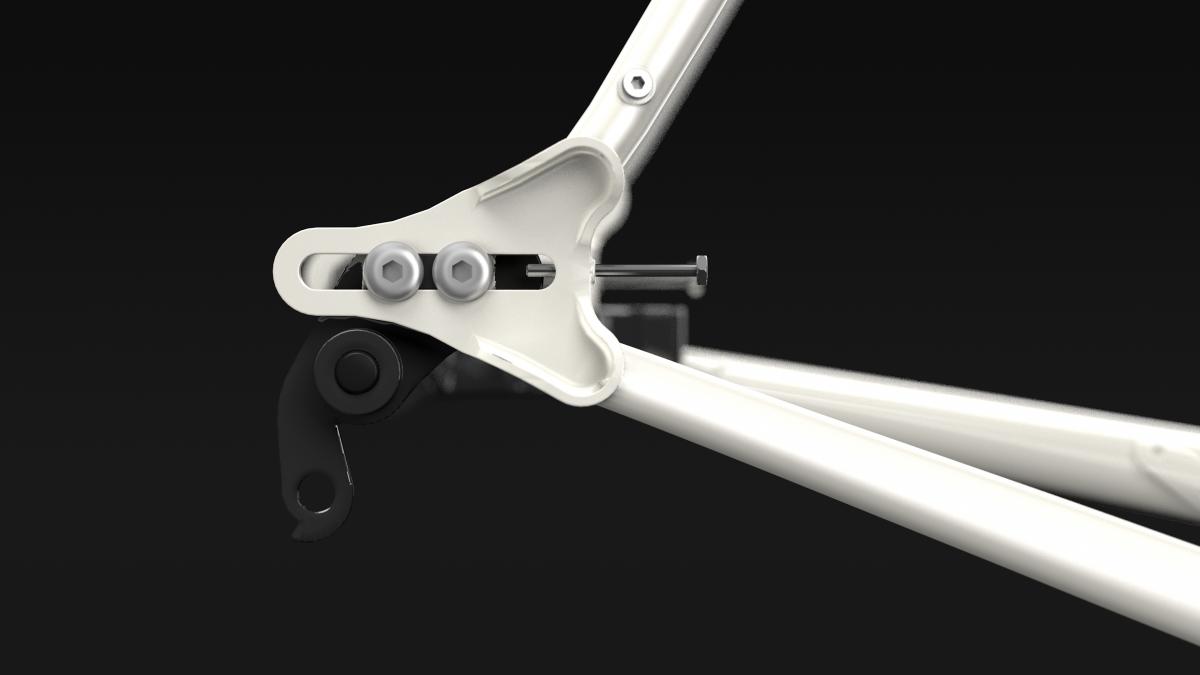 Modular Internal Cable Routing
Flaanimal has always been designed around modular builds. 5.0 is no exception and carries forward the successful internal routing design from the 4.0 series. Tightly sealing rubber routing port plugs allow for fixie, single speed, 1x, 2x, Di2, and AXS builds to be aassembled without cluttering the frameset with unused external routing points. Nuanced routing guide locations on the BB and chain stays allow for more tidy aesthetics compared to 4.0.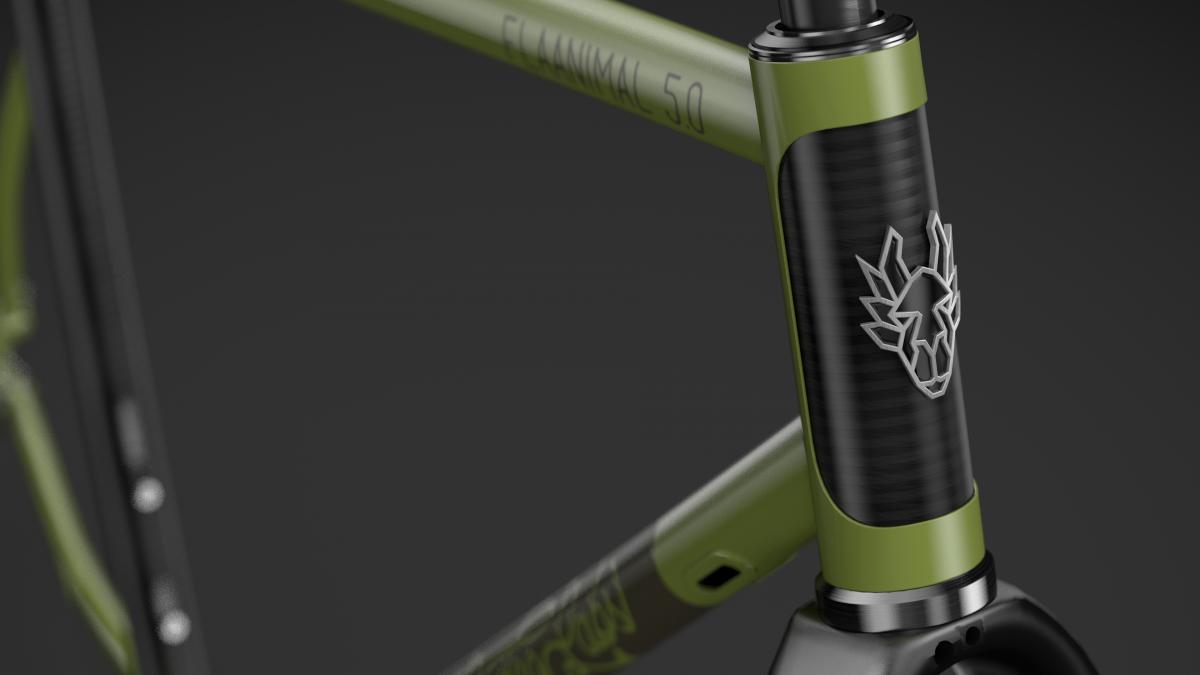 85.5mm T47 Bottom Bracket
Flaanimal 4.1 was the first generation of the frameset that moved to the T47 threaded bottom bracket standard, and that was one of the best spec decisions that we've ever made.The threads allow reliable quiet operation over the life of the bike, and the 47mm shell allows compatibility with all crankset spindle diameters as well as also leaving room for internal Di2 and dropper post routing. Yes, of course Flaanimals and dropper posts get along! We did change our BB spec on Flaanimal 5.0 to inboard bearings compared to the outboard bearings that 4.0 required. We aren't big fans of 86mm T47 inboard bearings because their thin flanges make installation difficult and durability less than stellar. With the introduction of the 85.5mm bottom bracket shell width, BB manufacturers are able to design more robust T47 internal bearing BB cups. It's a very small change that makes a big difference. Most importantly, there is no change to the crankset itself: any cranks that are compatible with outboard cups on a 68mm shell will fit perfectly in Flaanimal 5.0. 85.5mm T47 bottom brackets are available from Paxis, SRAM, and others, and we also recommend White Industries as a go-to bottom bracket for Flaanimal 5.0.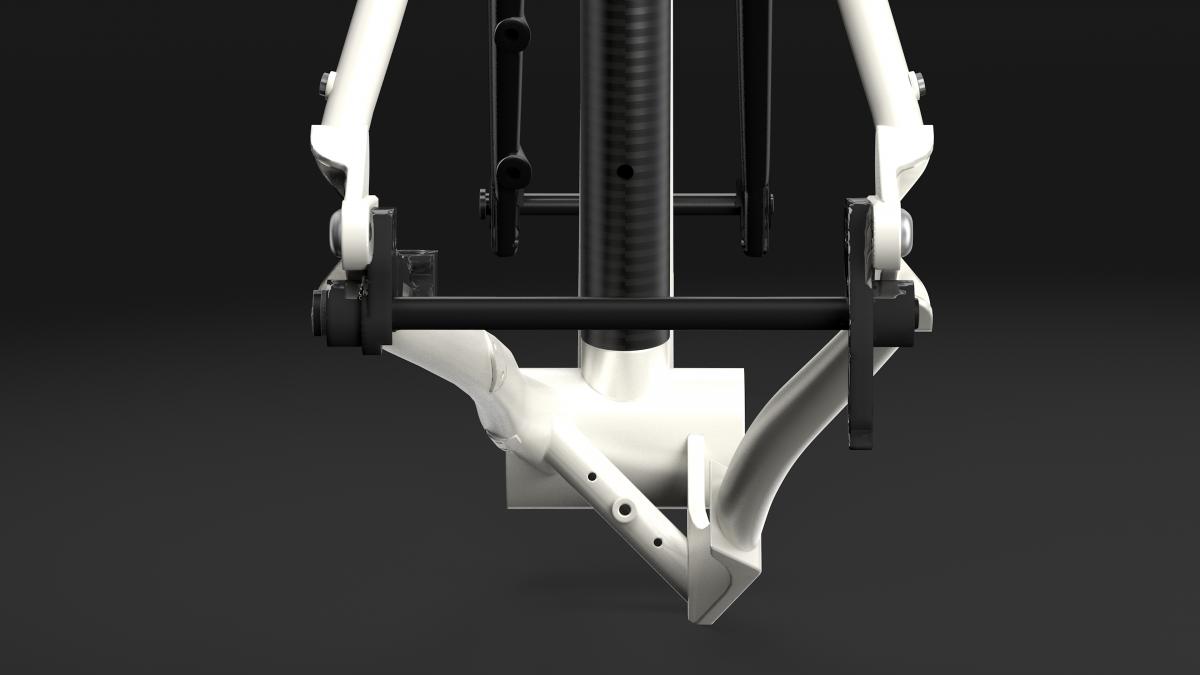 Spork 3.0
Earlier versions of Flaanimal used 1.x series Rodeo Spork forks. With the additional tire clearance afforded by 5.0's new rear triangle design, we knew that we needed to update the fork's clearance specs to match. Spork 2.0, which we designed forTraildonkey 3.0, checked all of the functional boxes, but the visual profile of the fork was out of balance with the smaller diameter steel tubes. Enter Rodeo Spork 3.0. Spork 3.0 carries forward the key features of Spork 2.0 such as full carbon construction, internal dynamo routing, adaptable axle spec, and configurable eyelet options, and brings it all together in a slimmer, lighter package. Flaanimal 5.0 will change to 12×100 front thru axles but retain the ability to convert to 15×100 if your build requires it.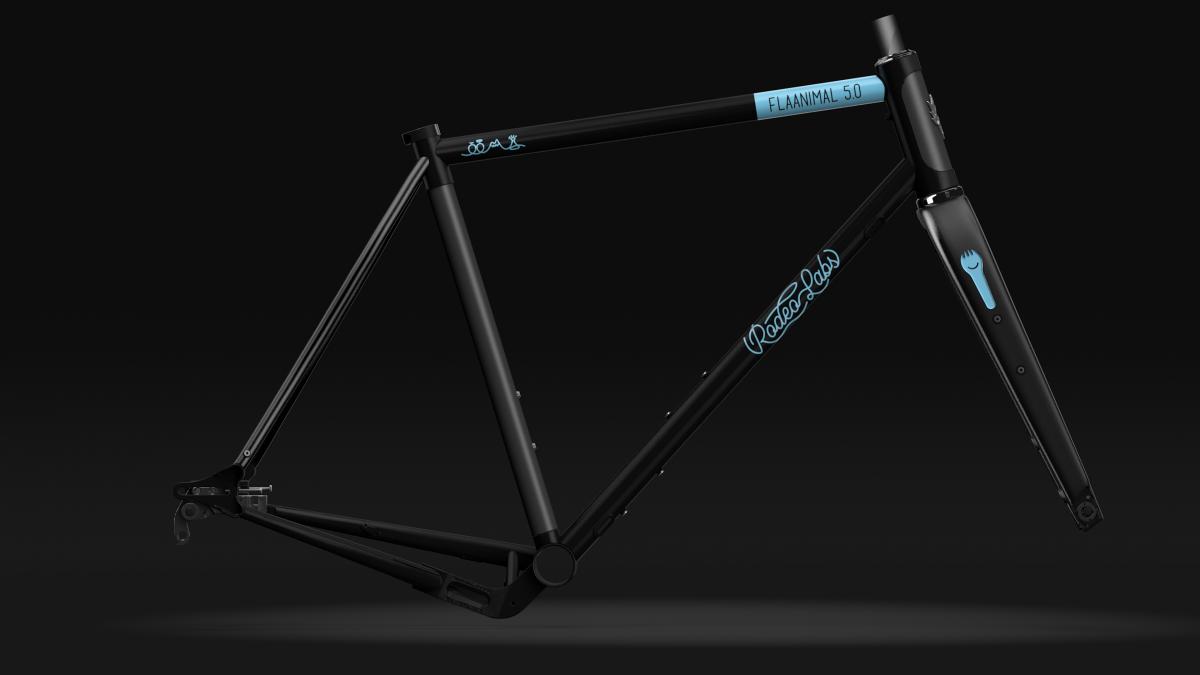 Flaanimal 5.0 Finish Options
1. Naked plus Decals
All Flaanimal 5.0 frames are anti-rust treated with a black ED dip which coats all surfaces of the frame, both inside and out. Flaanimal 5.0 will be available with satin clearcoat over the bare ED finish, plus your choice of  vinyl decal color for the ultimate in minimalist design. Keep it stealthy, change your colors every year, whatever you want to do — this frame is your canvas. Let us know what color decals you want applied off the bat from the colors below and we'll let you take it from there.
2. Cerakote Finished by USA Hands
(+$300)
Flaanimal 5.0 will be available in black ED coating with decals with an upgrade option to give it a full Cerakote treatment. Cerakote is a ceramic and liquid polymer coating that is thinner than liquid paint at .001 inch thick. That means a bike coated in Cerakote will be 100-200g lighter (on average) than the same bike painted with traditional paint. It's abrasion / wear resistant, corrosion resistant, chemical resistant, and impact resistant – which makes it ideal for the tough environments our bikes are ridden in. Cerakote is also friendlier to workers and the environment with its exceptionally low VOC characteristics. What's more, Cerakote finished Flaanimal 5.0 frames will be coated domestically by USA hands. Cerakote finished frames will be available in one of four design options: Redneck Racing Green, PSL, Bougie, or Bleaux Four. For more information, check out our Cerakote Journal Entry.
General Sizing Guidelines
| | |
| --- | --- |
| Frame size | Rider height |
| 49 cm | 5'2"-5'5" |
| 52 cm | 5'4"-5'6" |
| 54 cm | 5'6"-5'9" |
| 56 cm | 5'9"-6'0" |
| 58 cm | 6'0"-6'2" |
| 61 cm | 6'1"-6'4" |
Flaanimal 5.0 Geometry
Size

49 cm

52 cm

54 cm

56 cm

58 cm

61 cm

Virtual Seat Tube (C-T)

TBA

520

540

560

580

610

Seat Tube (C-T)

"

488

508

528

548

578

Top Tube (effective)

"

535

545

560

580

605

Chain Stay (actual)

"

425

425

425

425

425

Seat Tube Angle

"

74

74

73.5

73

73

Bottom Bracket Drop

"

65

65

65

65

65

Head Tube Length

"

107

132

147

162

197

Head Tube Angle

"

70

70

71

72

72

Reach

"

382

386

390

399

414

Stack

"

532

556

574

592

625

Fork Length

"

396

396

396

396

396

Fork Rake

"

45

45

45

45

45

Front Center

"

604

616

616

621

645

Wheelbase

"

1020

1032

1033

1038

1063

Lengths listed in millimeters, angles in degrees.