Well, I had an early fail as the ride leader today. I've never led a group ride before (always suck wheel on that job) I should have known that my son might come down with Streptococcal pharyngitis and need a trip to urgent care for a tonsil swab (poor guy) and antibiotic prescription. I should have also known that waltzing into the mobile phone store to buy a new phone an hour before needing to be on the bike to meet the team was a bad idea. Who knew that took so long? And, I hadn't eaten breakfast or lunch yet. Fortunately, these guys are forgiving gentlemen. However, cycling with teammates is like date night with your wife or fishing with your brother or best friend – you simply cannot show up late.
So, what does a guy who shows up late do? Pull for a good while to deliver penance.
Colorado front range weather is a strange phenomenon. I left my house shivering in Rapha Deep Winter Bib Tights, Rapha long sleeve merino base layer, Rapha cyclocross long sleeve jersey, Pearl Izumi nuclear incubator jacket, Rapha merino wool cap, merino glove liners, and Black Diamond XC ski gloves, and Capo shoe covers. By the time we pedaled out from the meeting place, I was already overheated, as the sun had come out and the clouds had disappeared under complete electromagnetic submission.
The quickest way to Chatfield Reservoir is SxSW via the S. Platte Bike Path, so we (eek) took that. Only memorable moment: homeless mountain biker pumping his fist in the air and yelling at us as we passed by, "STRAAVVVAAAAAAA!"  (Yes, I am imitating the Doppler effect). Shoot, and we were only at endurance pace, not even tempo. We weren't even trying for that segment KOM…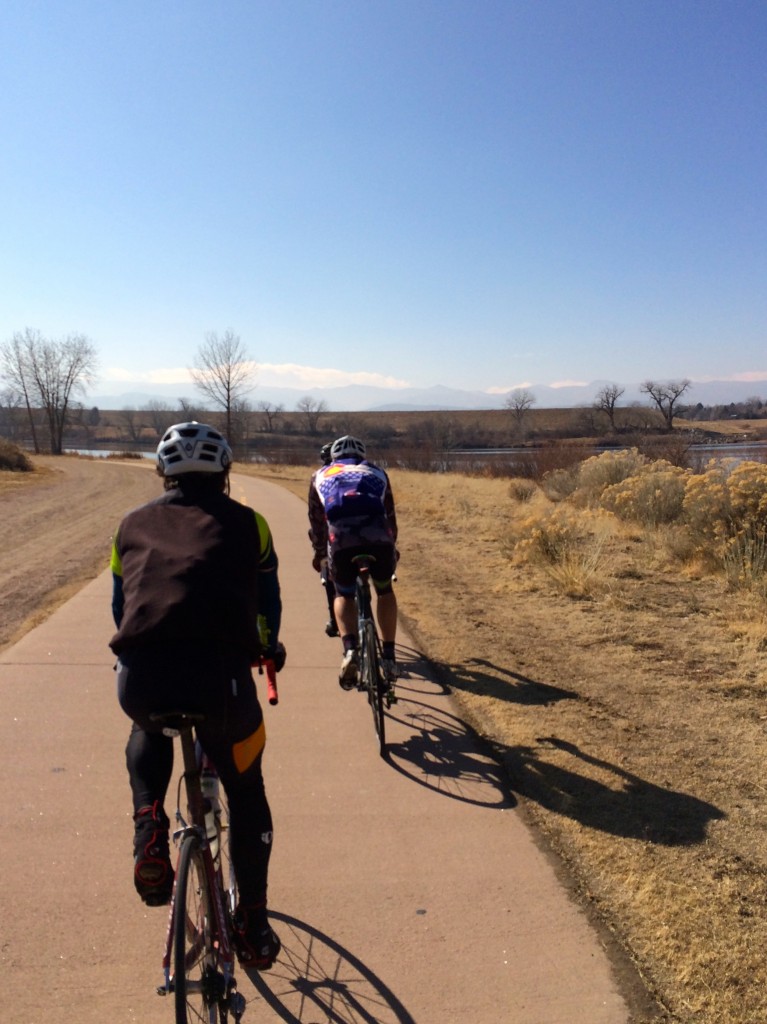 We rode up the Chatfield dam, over, and through the not-so-secret-anymore-secret cut-through to get to Deer Creek and Wadsworth.

Anyhow, the day was now fully warm, Garmin indicated 61F (16 C), and I was sweating through everything. Base layer, gloves, and cap were now off, and we were headed into the mountains via Deer Creek Canyon. Memorable moments in the canyon: minor exchange of words with a concerned citizen in a dualie truck leading to misunderstanding (ack!); riding through a little leftover snow in the heavily shaded sections of the canyon; suffering to the top with Patrick, already "dead legs" from the race the day before. What's my excuse? I wondered.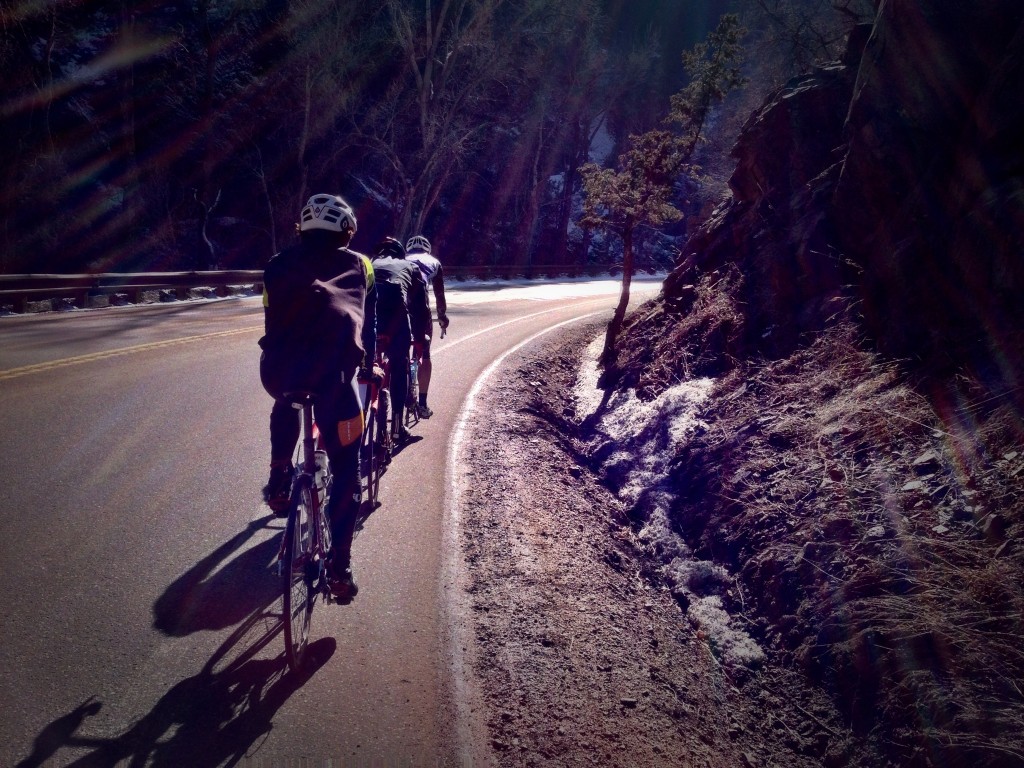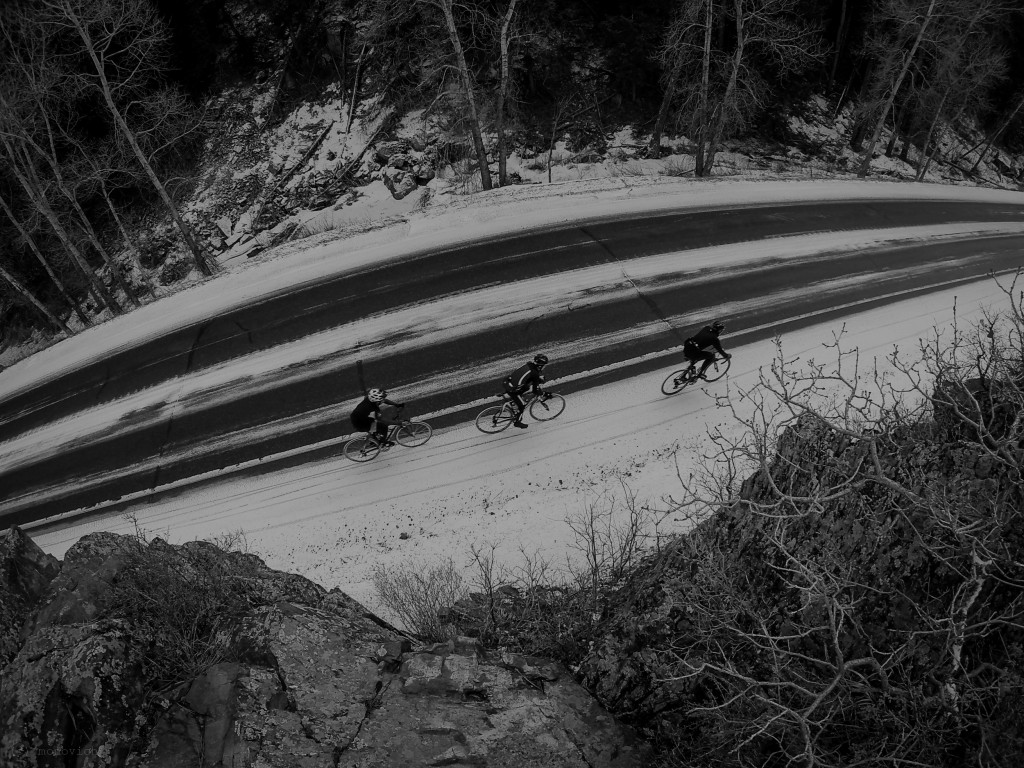 We kept right at the High Grade juncture to stay on Deer Creek Canyon and finished out the climb. Patrick riding very strongly today. A quick, welcome, descent to S. Turkey Creek Road, and we turned right to head up to Parmalee Gulch, passing the infamous, now defunct, Tiny Town– now a historical relic, with its miniature "Man Cave"…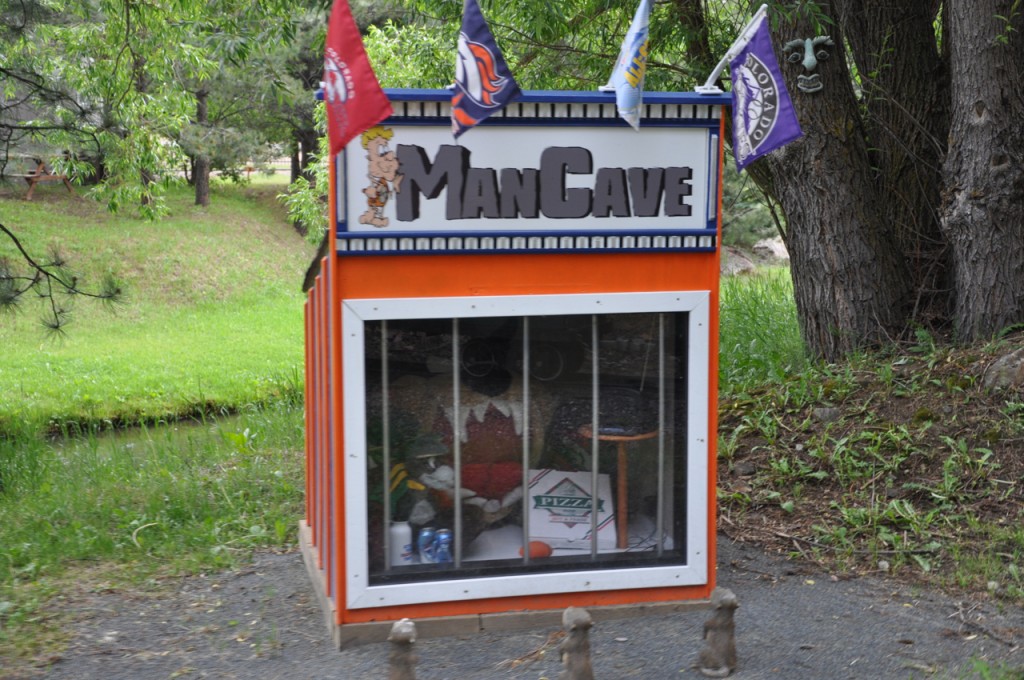 Turn right where the road Ts into  US-285 (gasp), ride on the shoulder until it's safe to cross this very busy intermountain four-lane highway, and take the next left onto Parmalee Gulch. Breathe a sigh of relief until you realize that, although this is a perfect cycling climb with a steady, pleasant positive grade, there are next to no shoulders and a moderate amount of local traffic. If you're looking for a gift to get your S.O., stop by the Mirada Art Gallery, one of the best darn art galleries in Colorado. They even have some very, very good Allen Wynn bicycle art for grabs.
After topping out of the gulch where Centennial Cone MTB trail crosses the road, we certainly enjoyed the long descent to Bear Creek Canyon Road, just shy of Kittridge, home of the famous Rodeo Burrito Stop at the Kittridge General Store.  Unfortunately, we didn't have time to stop for burritos this time, so we stopped for some Rodeo Trail Nuggets on the side of the road before heading up the classic Kerr Gulch climb.
Kerr Gulch, a 4.2 mile climb, which starts a little while after the entrance off Highway 8 (Bear Creek Canyon), averages 4%, with maximum gradients of 10-12% near the top, is a real joy to ride. This road meanders though high farm and ranch land, with wide-open vistas of the pastoral countryside.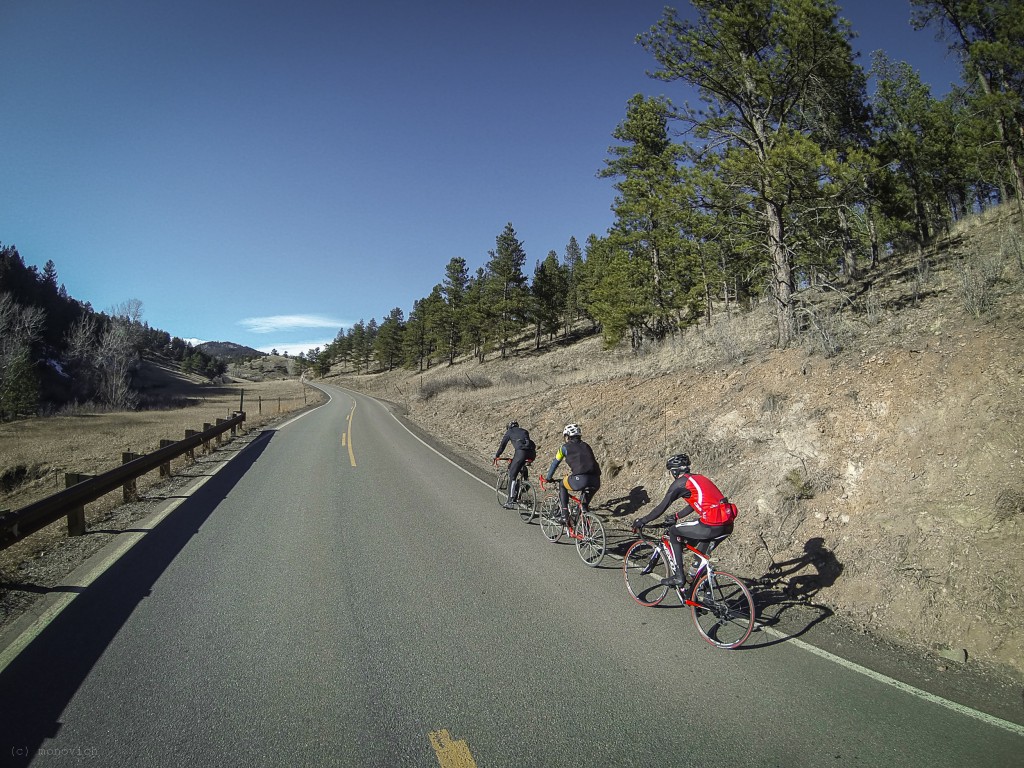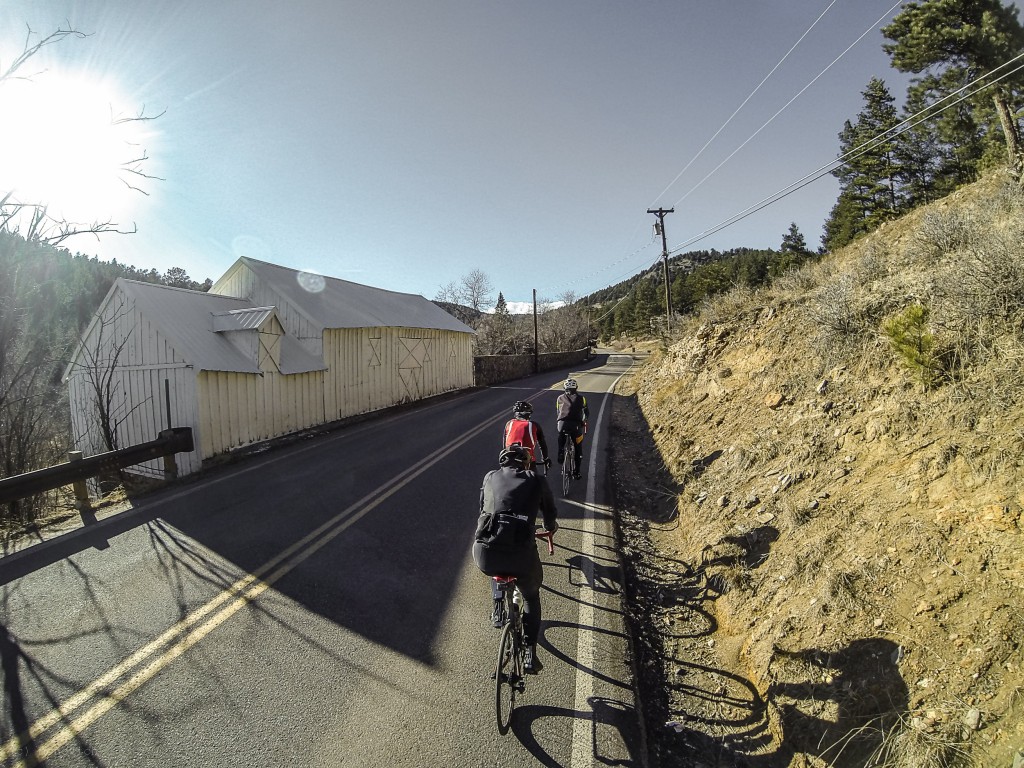 Coming down, the opposite direction, is certainly a hoot, with long, gentle wide open curves that allow you to fully open the throttle and fly. There are always big smiles coming down this thing. If you don't smile coming down Kerr Gulch, then I think you should quit the sport.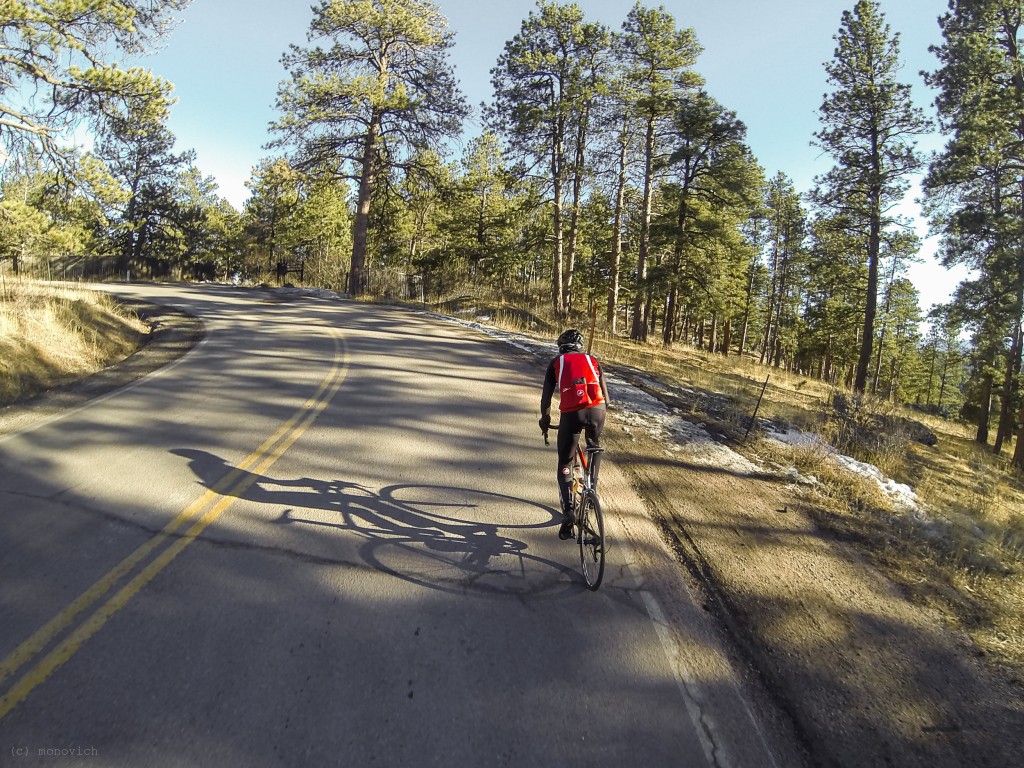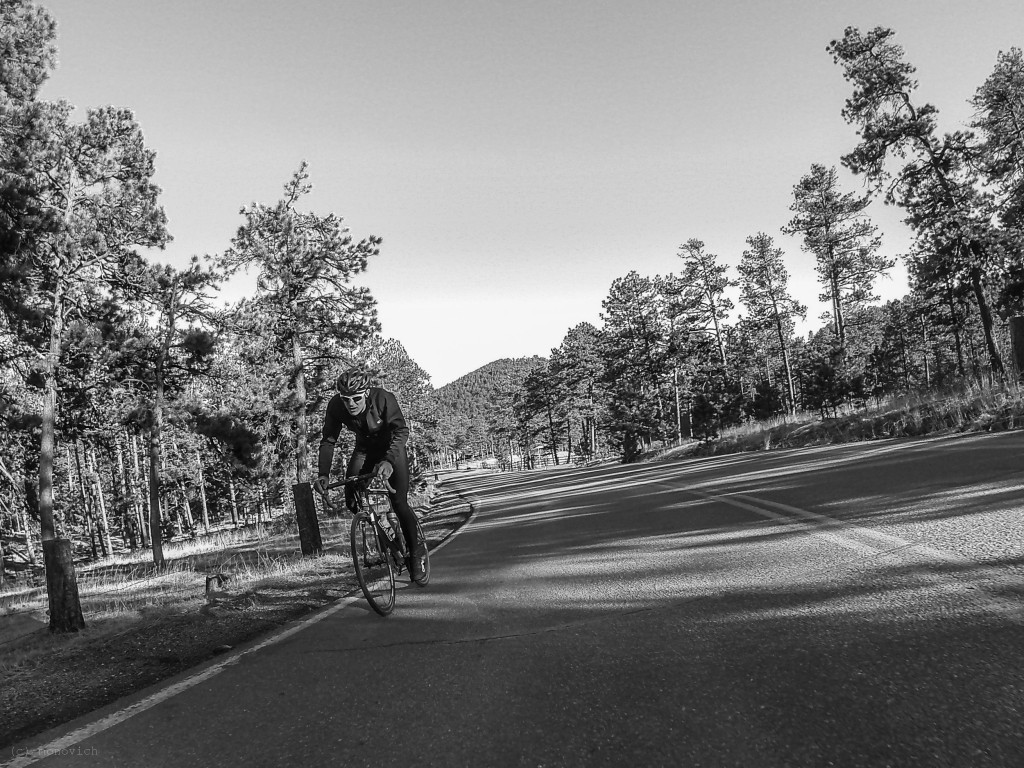 Anyway, after topping out at Evergreen Parkway, we turned right, and got on I-70 (see my segment, "I-70 Pucker") to bridge us to the Genesee exit, where we crossed back over I-70 and bombed down US-40. Two of us wanted a few extra miles and turned left to continue up and over Lookout Mountain the easy way.   Chris and I nearly froze coming down Lookout due to an inversion weather pattern that was occurring. I certainly was finally thankful that I had overdressed for the first 80% of the ride. Chris and I headed back home, taking it easy and chatting with fellow cyclists on the way back to central Denver from Golden. All in all, it turned out to be a fantastic day for another Rodeo.