Zeno and Mike came out to Colorado to do the Rollin's ride and they sent in this ride report. It was a ton of fun for us to read so we are reposting it here. If you're passing through Colorado and have some spare time to ride or say hi do give us a shout!
---
I have to admit that I'm not much of an Instagram guy, but I do have an account and follow this
company called Rodeo Labs, maker of adventure-oriented bike frames, from which I bought a steel one
a few months back.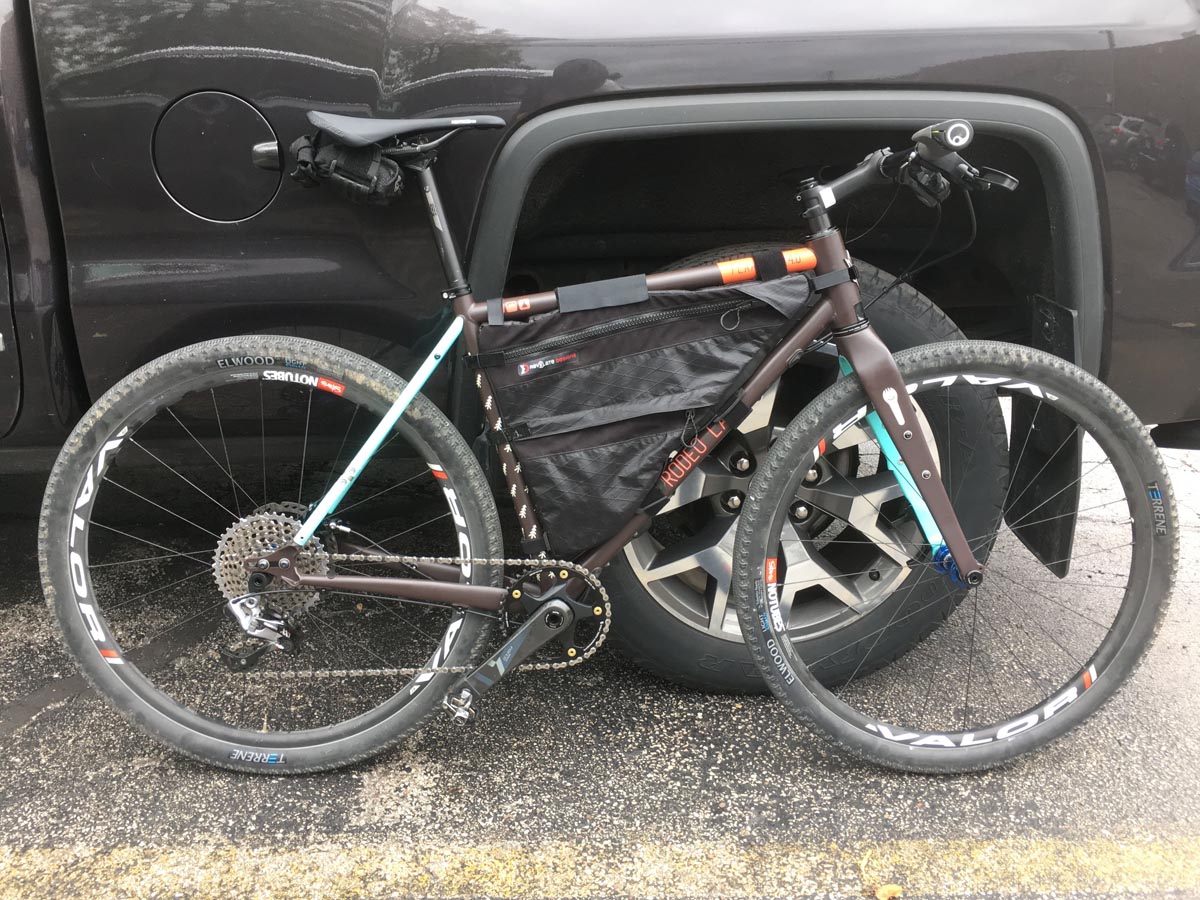 And adventure is what they are all about indeed. I had been gazing at the pictures they often post of
their Colorado rides for quite a while, as the visuals are quite astonishing. About 3 weeks ago they
announced the "Ride on Rollins", an open invitation to an out-and-back from Denver (or Boulder) to
Rollins Pass, a pass just west of the Mile-High City at 11660 feet of elevation.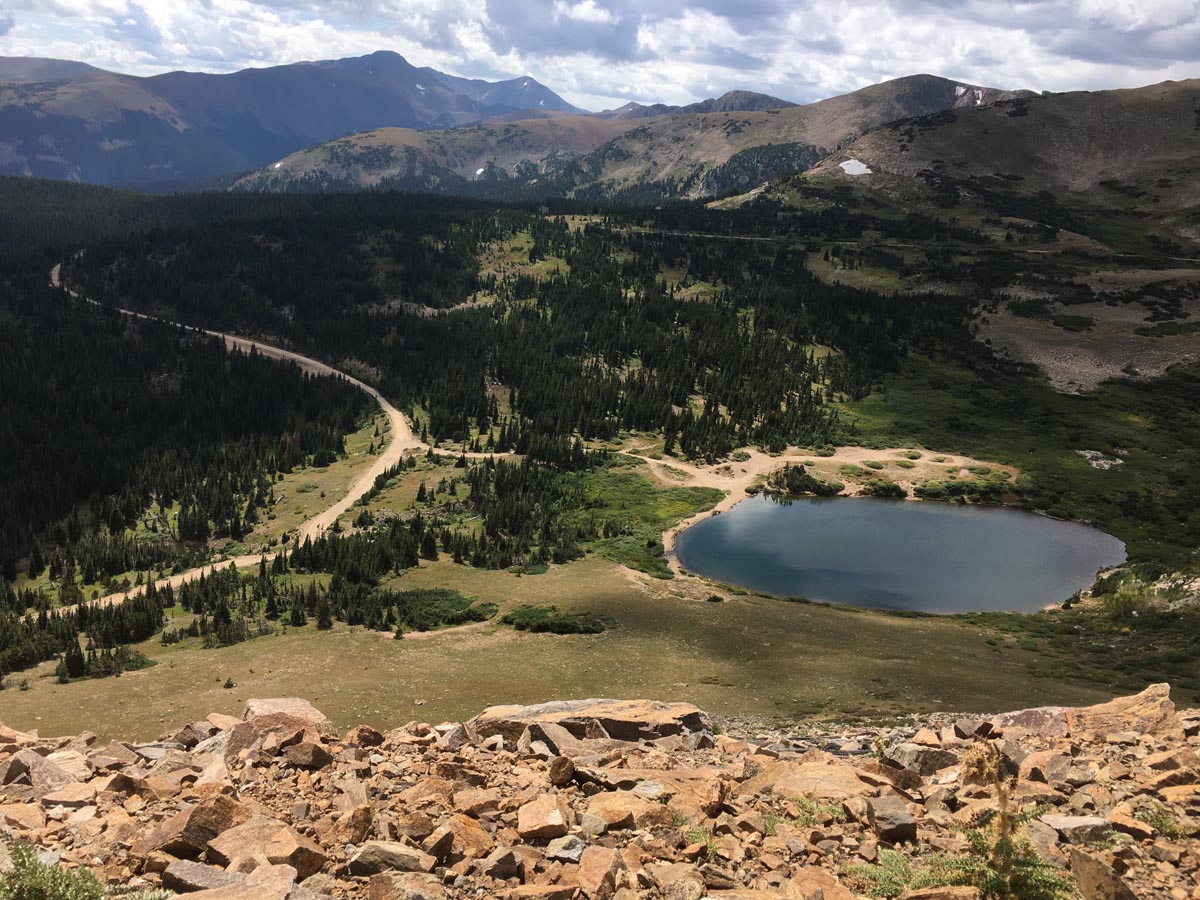 The promo for the aforementioned was some 50 second drone footage of a solo rider going over two
trestles on the side of a steep and rocky mountain. No words spoken or music to fluff it up, just the
sound of the wind. After picking my jaw up, I thought about who would do this with me and
immediately sent the link to Mike. To be honest I was expecting to be let down, as such crazy ideas are
often responded with things such as "Oh, we're going to go to Home Depot that weekend, maybe Bed,
Bath, & Beyond if we'll have enough time". But Mike says he's in, so let's start the planning!
First question, fly or drive? Easy answer: in the spirit of the adventure we both agreed that driving would
be the best option. Question #2: the bike. I have to admit that I had stripped down my Flaanimal (the
frame I had bought from Rodeo Labs) to build another bike, but I couldn't think of a more obvious and
adequate choice. Plus, I like to do things last minute, so the day before we left, I rebuilt it in flat bar
mode and outfitted it with 650b x 47c tires. Mike picked his Specialized Chisel hardtail mountain bike,
also a good choice, especially for some sections we would encounter later on. And thirdly, we would
have to come up with a plan, after all we weren't going to drive 2000 miles for a single day ride. So, I
came up with this: We would ride up with the group to the pass but instead of turning around, we'd
continue down another 10 miles or so to Winter Park, a ski-resort/downhill bike park town. The plan
was to spend the night there, "Send it!" on Monday on DH rentals (or at least that's what cool people
say), then wake up early Tuesday to ride back to Denver and drive home (the last part was still very
vague)
Fast forward a couple of weeks to show time…
We left Mike's house at around 6:20am on Saturday. I'll just give a synapsis of the drive:
• Illinois sucks
• Iowa is boring
• Lots of Kum and Go's
• Nebraska is more boring
• Car swerves into a ditch at full speed (Mike: "Should we stop??", Me: "He'll live")
• First part of Colorado is very desolated but you can start feeling that something awesome is impending.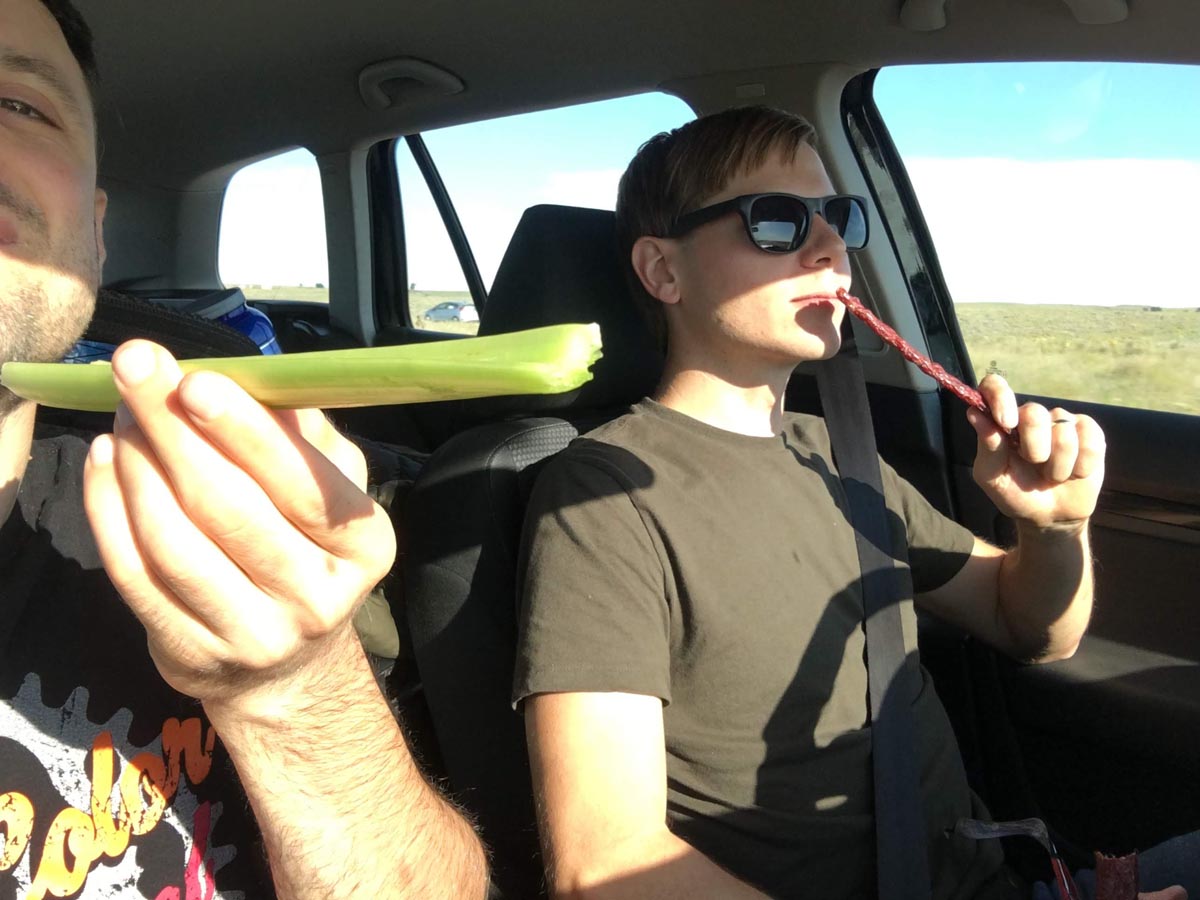 As per plan we get to the Hotel in Denver at about 7pm, which isn't exactly a 5-star Ritz-Carlton, or 3 stars, or 2… The best part is getting peddled by a drug dealer at 4am, who proceeds to leave a note under our door that reads "Yo, I'm not a cop", but it wouldn't be an adventure otherwise, would it?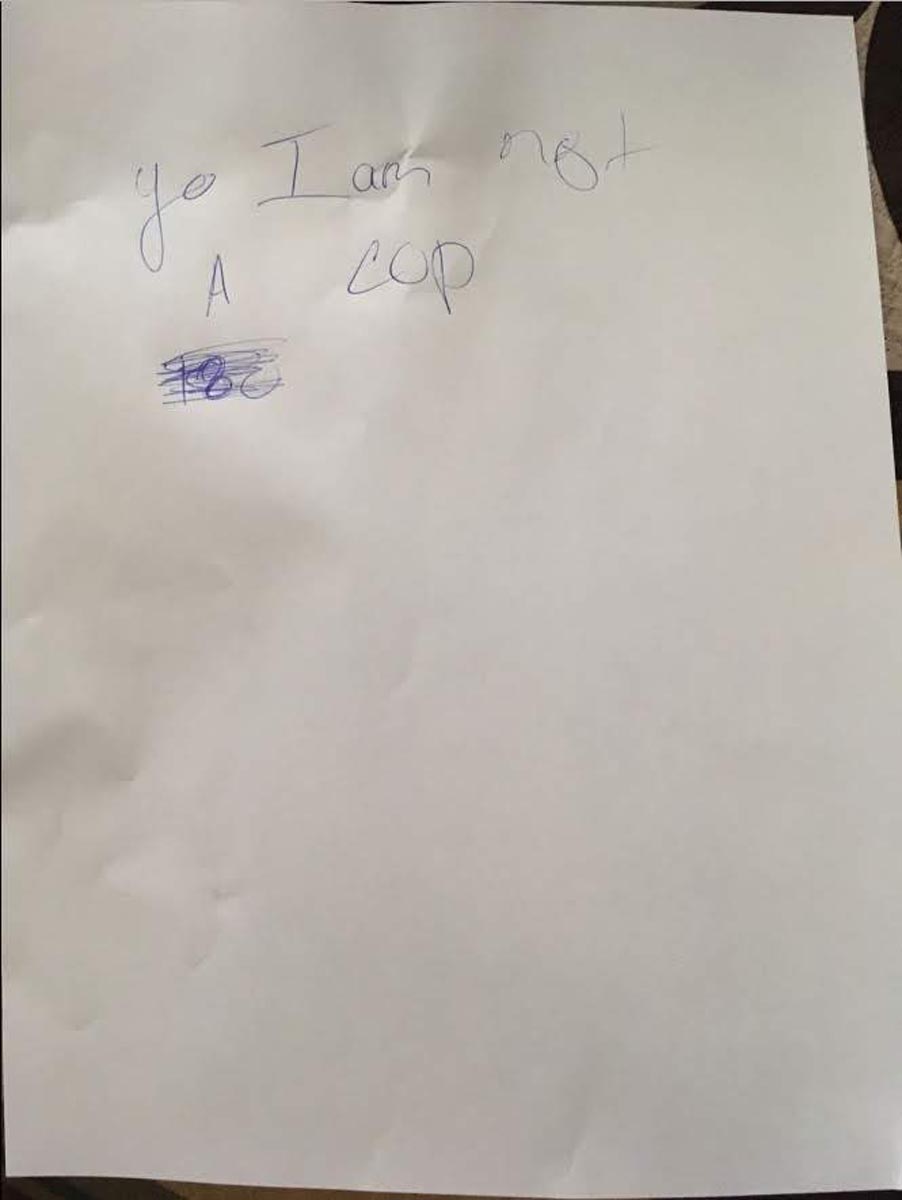 The next morning we ride to the start, separate, because I had to poop 4 times due to the gigantic Mexican meal I had consumed the night prior, after getting sloppy on 2 margaritas (I blame it on the altitude). First thing I notice is that 50 degrees in Colorado feels great due to the lack of humidity we experience in the Midwest, arm warmers are off. We get to the coffee shop right by the Rodeo Labs headquarters where about 15 people await. Everyone is really cool, and after getting coffee and a couple of snacks, Rodeo Labs' owner/ride leader Stephen arrives and gives a quick speech. To be honest I didn't listen to almost any of it, as I had forgotten to load the route on my Wahoo and was messing with it, but it was something about dangerous thunderstorms and being careful, blah blah blah.
We're a few minutes late (my kind of ride!) but we're off heading west towards the Rockies. The second thing I notice is this: you know the gravel rides back home that are advertised as "not a race" but you know it's not true because it's never not a race? Well this isn't one of them, this is NOT a race, for real. And it's refreshing, I didn't come here to race after all.
But of course, the group breaks up at some point, and Mike and I happened to be at the front somehow (bad habits die hard). We ride for a bit with two guys named Chris and Chris. One's on a Carbon bike, the other on titanium. I'm riding steel and Mike is on aluminum. There's a fun fact for you.
After stopping to empty our bladders, a group of 4 catches up to us, including Stephen. Good timing! Ok remember when I said it wasn't a race? Ok, this is all about to change (for a short time at least), as we get up to "the wall", a short but steep one-mile climb where everyone suddenly stops messing around. This is where Stephen marks his territory and inflicts a beating on us. 135lbs Mike is not far back though, and I don't get dropped, so I think we fared well considering our lack of training at elevation. This is followed by a fast tarmac descent into Rollinsville, the last civilized place we would see. Downhill is where I showcase all my Dairy Queen training.
We take a little break at this rustic little shop in town where everything is for sale and peanuts bag are bloated by low air pressure. Some people that had come up from the Boulder route catch up to us, there's a very good sense of comradery at this point and everyone is having a great time.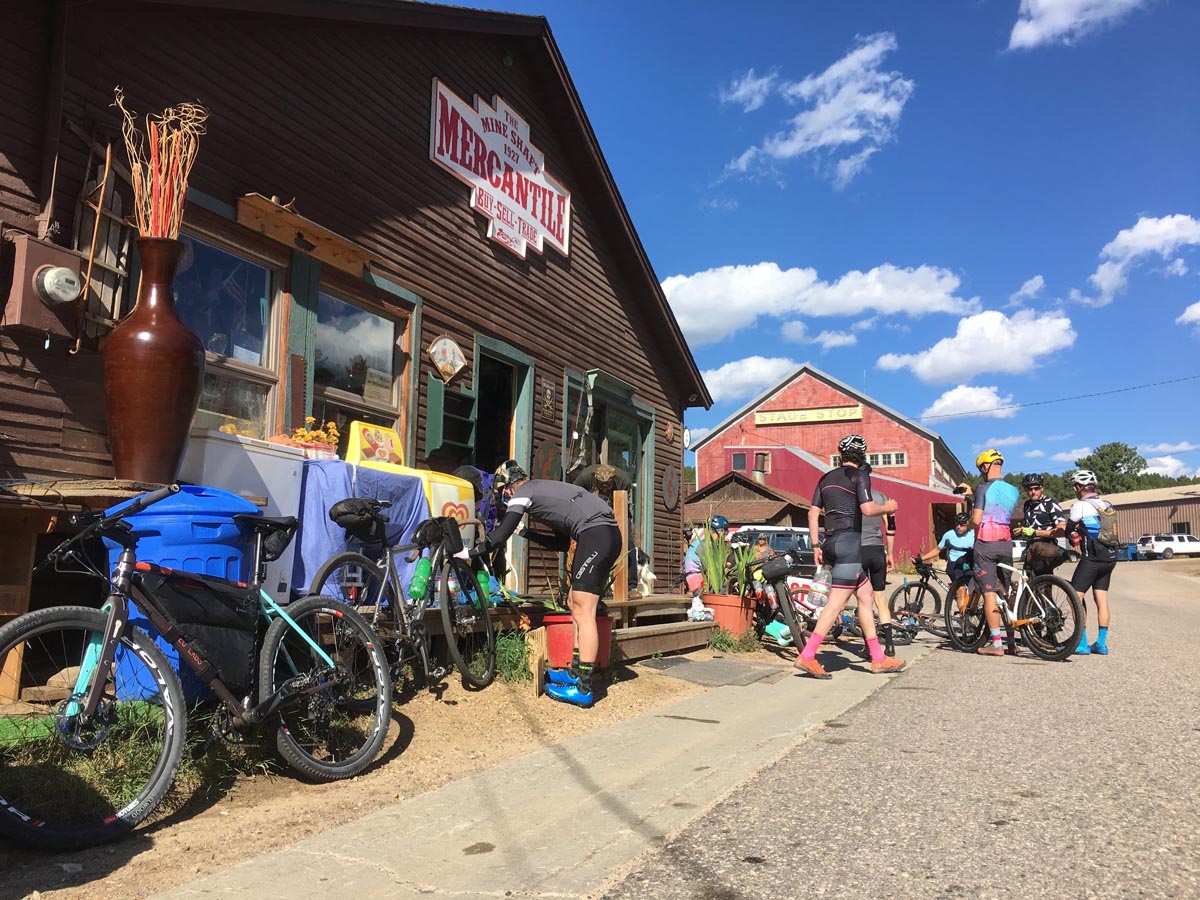 Off we go again! There are a few miles of smooth gravel road and then comes chunky bumpy stuff. Tire pressure drop is a no brainer at this point. The climb is long and steady, and we maintain a good pace but nothing unstainable. Views start getting more and more mesmerizing, it's hard to fight the urge to stop for pictures every other bend in the road. This is what we came for!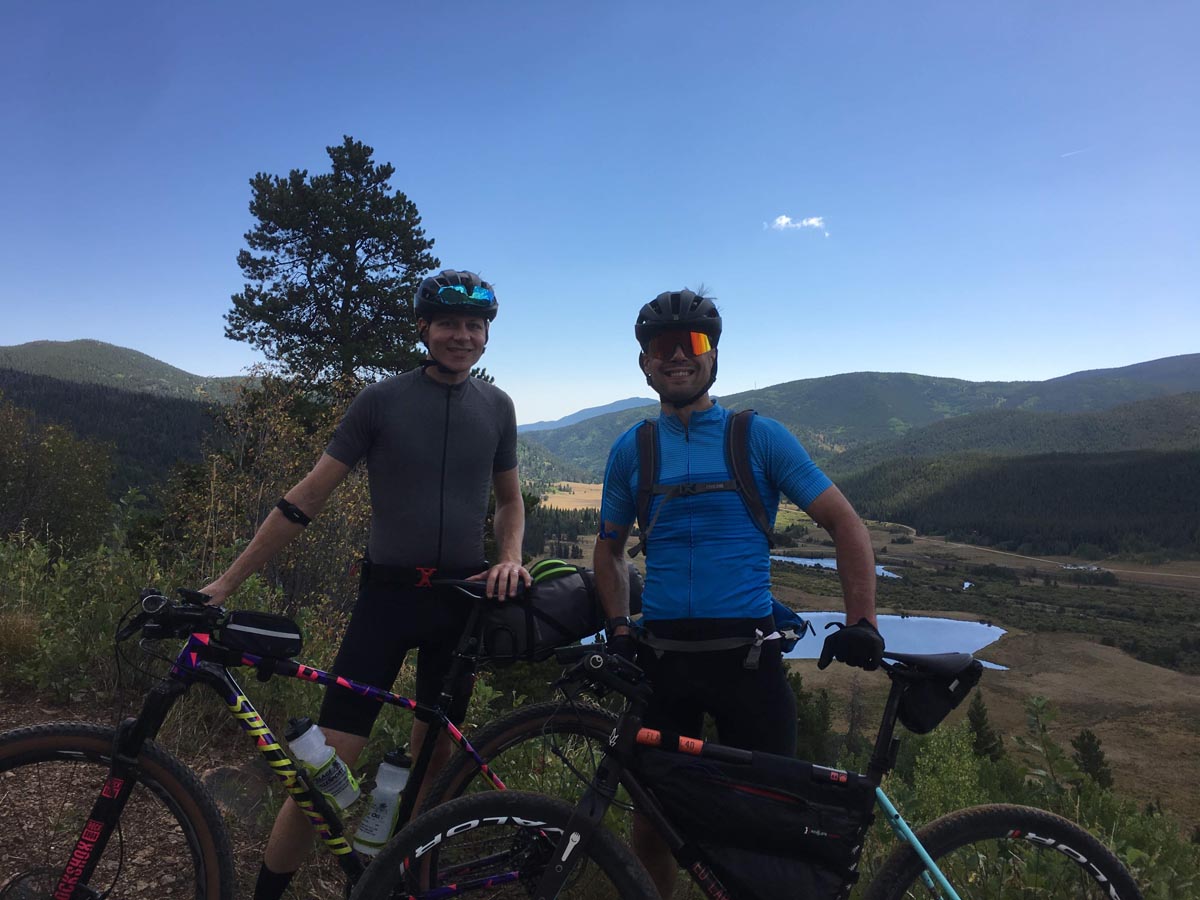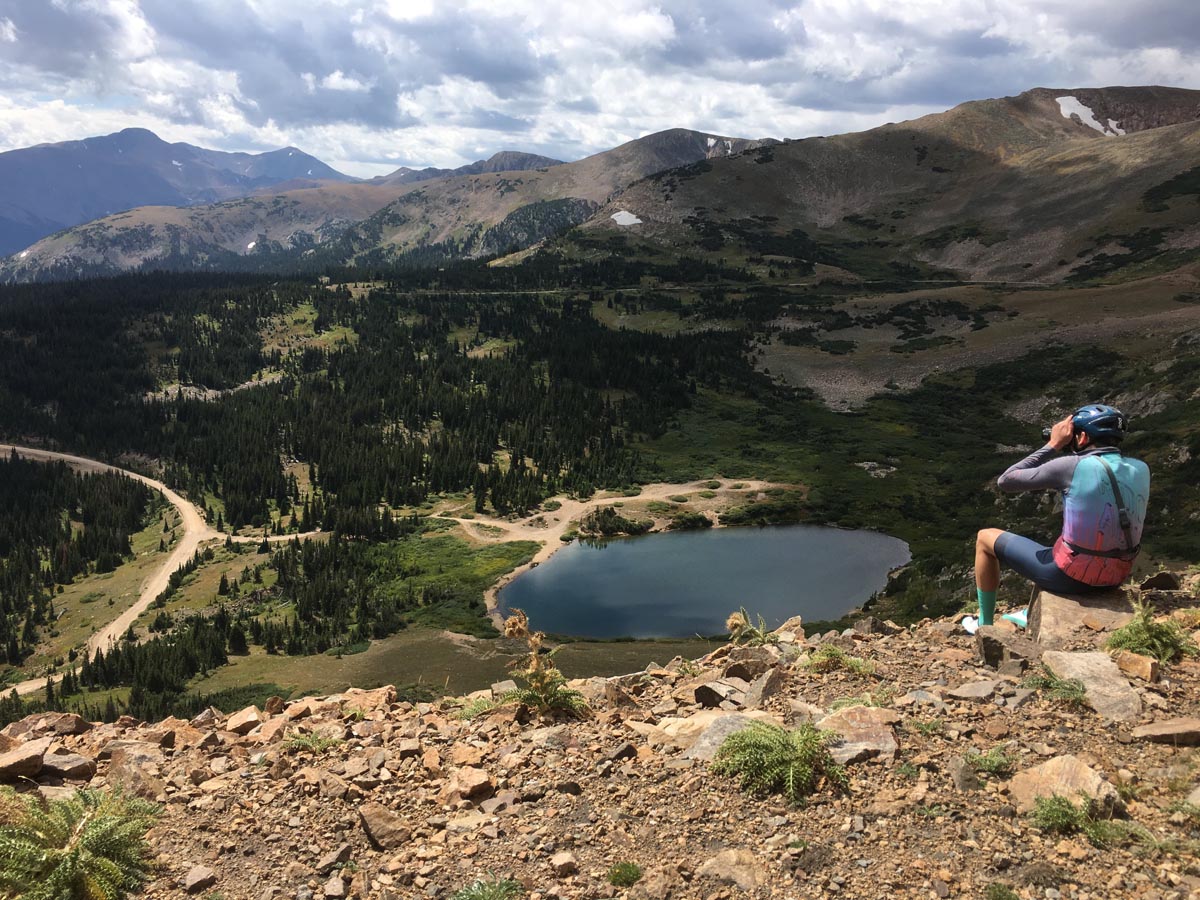 Finally, we reach the top! Well almost… no epic ride is complete without a proper HAB (that's hike-abike for you flat landers!). There's a tunnel carved in the rock that's been closed for years due to dangerous rock falls. Apparently, this allowed vehicles to drive over from one side to the other back in the day… no longer however, as we have to shoulder our bikes around it. And now the real treat: the trestles! It's where it all culminates and it's beyond everything we had imagined. So cool to finally being here!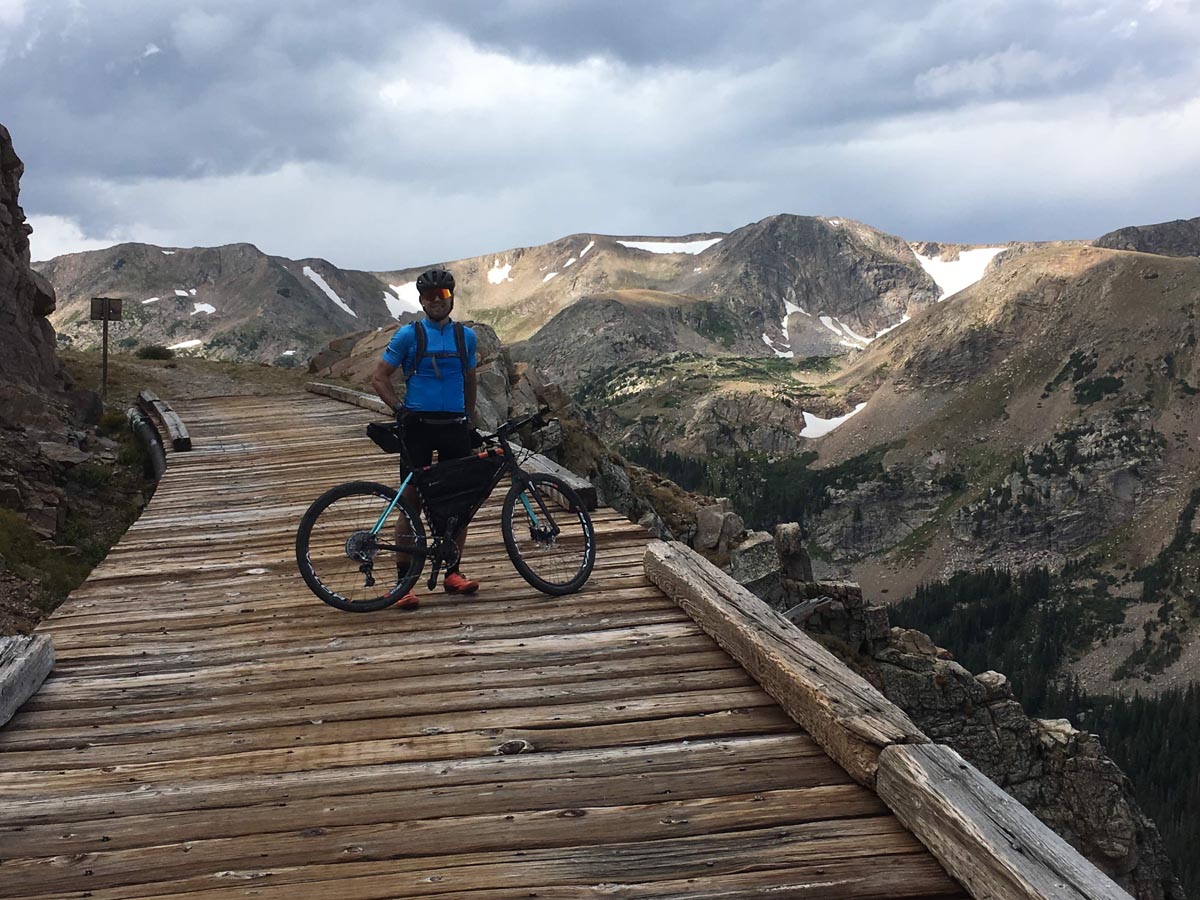 Unfortunately, there's not much time to soak it all in and say the proper goodbyes to the rest of the crew, as the dreaded storms are approaching fast and we still have another 10-12 miles to go to Winter Park. Luckily, it's all downhill and with a little luck we arrive to our destination unscathed. After a quick meal we check into the hotel, which is much, much nicer than the Super 8 in Denver. It pours buckets at this point… we really dodged a big one.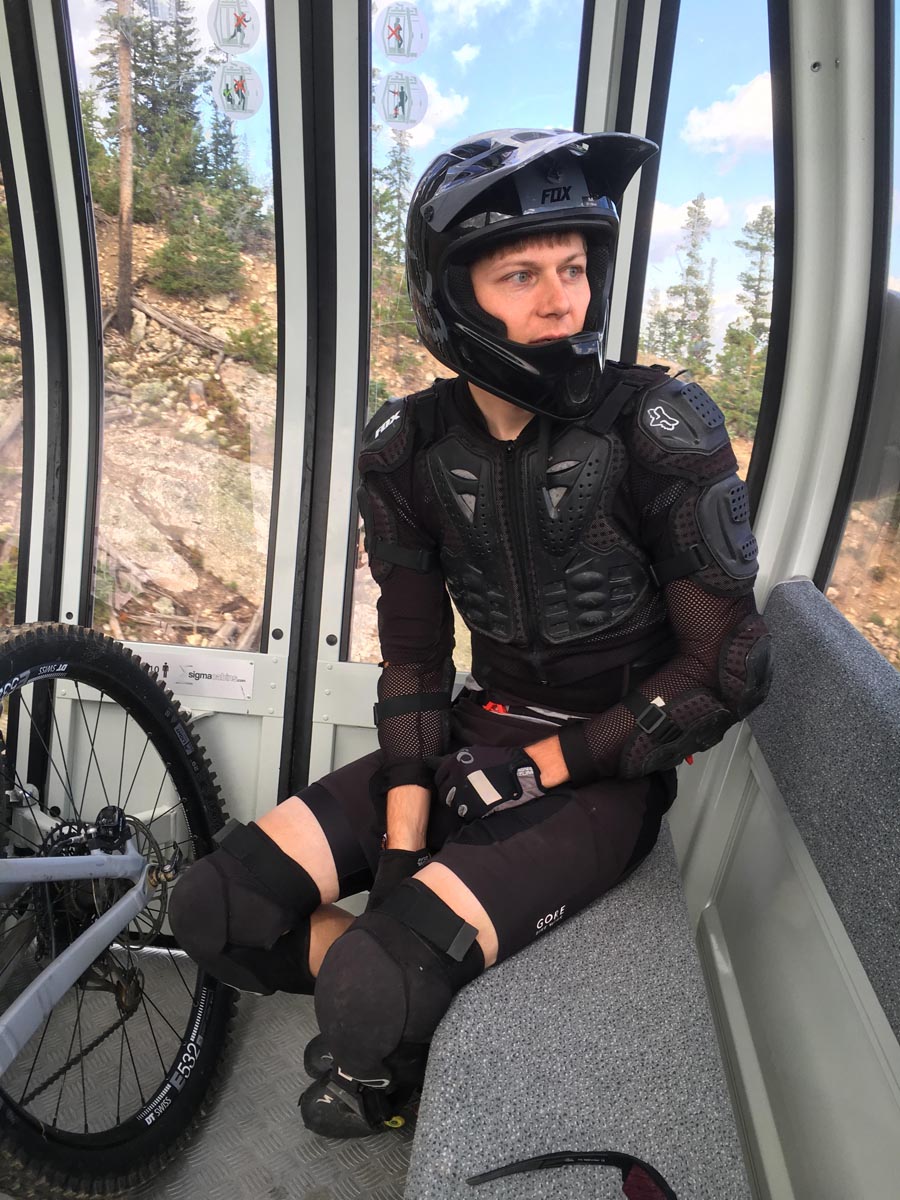 Next day is for a different type of fun: downhill bikes! The rental shop is full of "Hey duder/Sick brah" kind of guys. Not the most efficient either at getting us going, so we're off to a bit of a late start. Not too much to report here, other than an awesome time spent zipping down the mountain with 200 mils of suspension. It's really hard on your body in a different type of way than pedaling uphill. I didn't help that once I got a little confident, I went completely over the bars on one of the biggest jumps and landed right on my head first. Amazingly no concussion or broken bones though, just crapped my pants a little. For as bad as it was it couldn't have gone any better.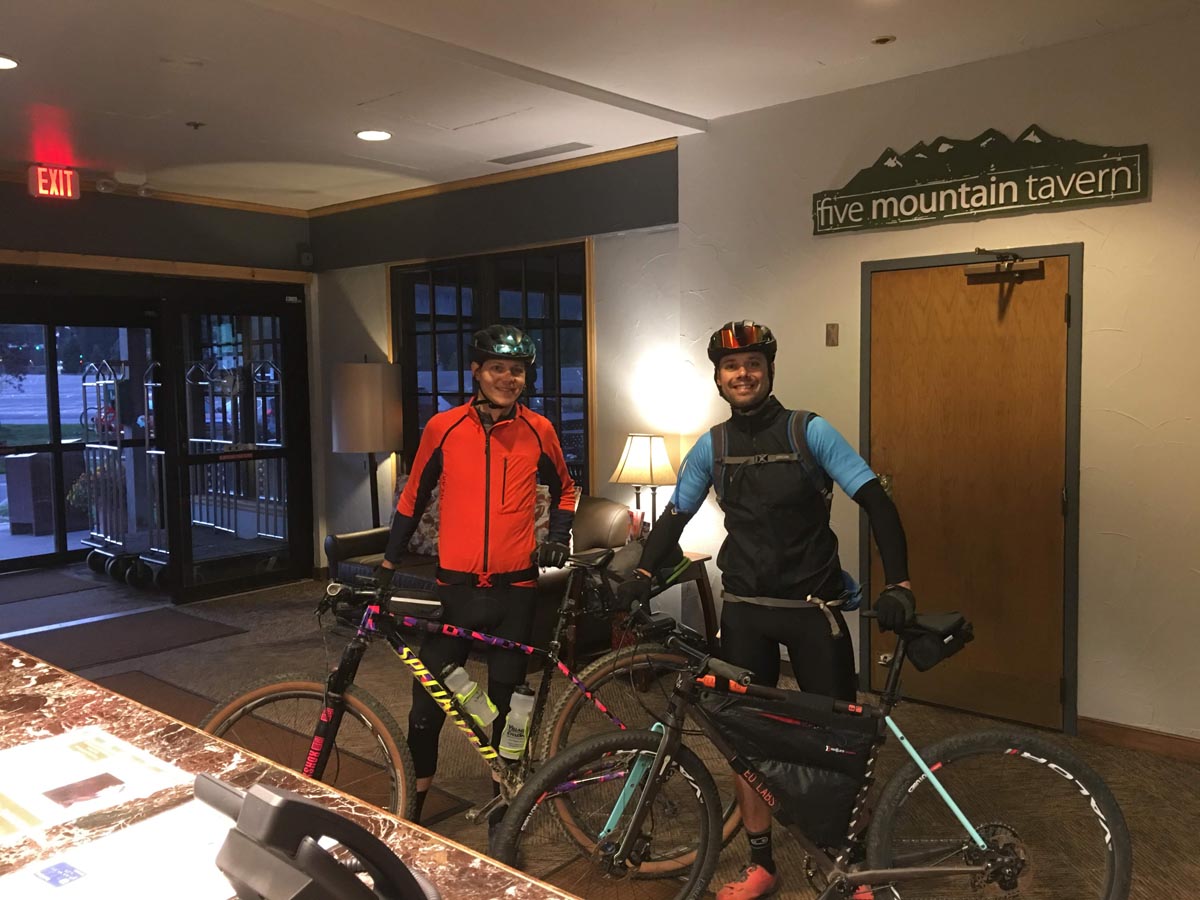 We're down to the final day. Early wake up is mandatory, as we still have to climb back up to the pass, and ride down to Denver with a couple of good uphills here and there. Also, there's a dreaded 14-hour drive back home waiting for us… probably the worst part. We get up at 4am and Mike cooks up a delicious egg, bacon and hash brown breakfast. We're off at 6:20 am. The ride back is as good as the one that got us there. With one exception… The chunky part between the pass and Rollinsville. I would rather climb that part again than descend it. I thought 47c with 22/25psi would be enough for a semi comfortable ride, even with a rigid fork. Maybe my hands where already beat up from the day before, but no, it was not comfortable. At all. If you can imagine holding on to a jackhammer turned to 11 for an hour, that's what it felt like. Once reached the bottom, Mike and I both stopped and took a moment to think of our friend Chris that had come down on his Lynskey gravel bike with 35ish mm tires, ouch…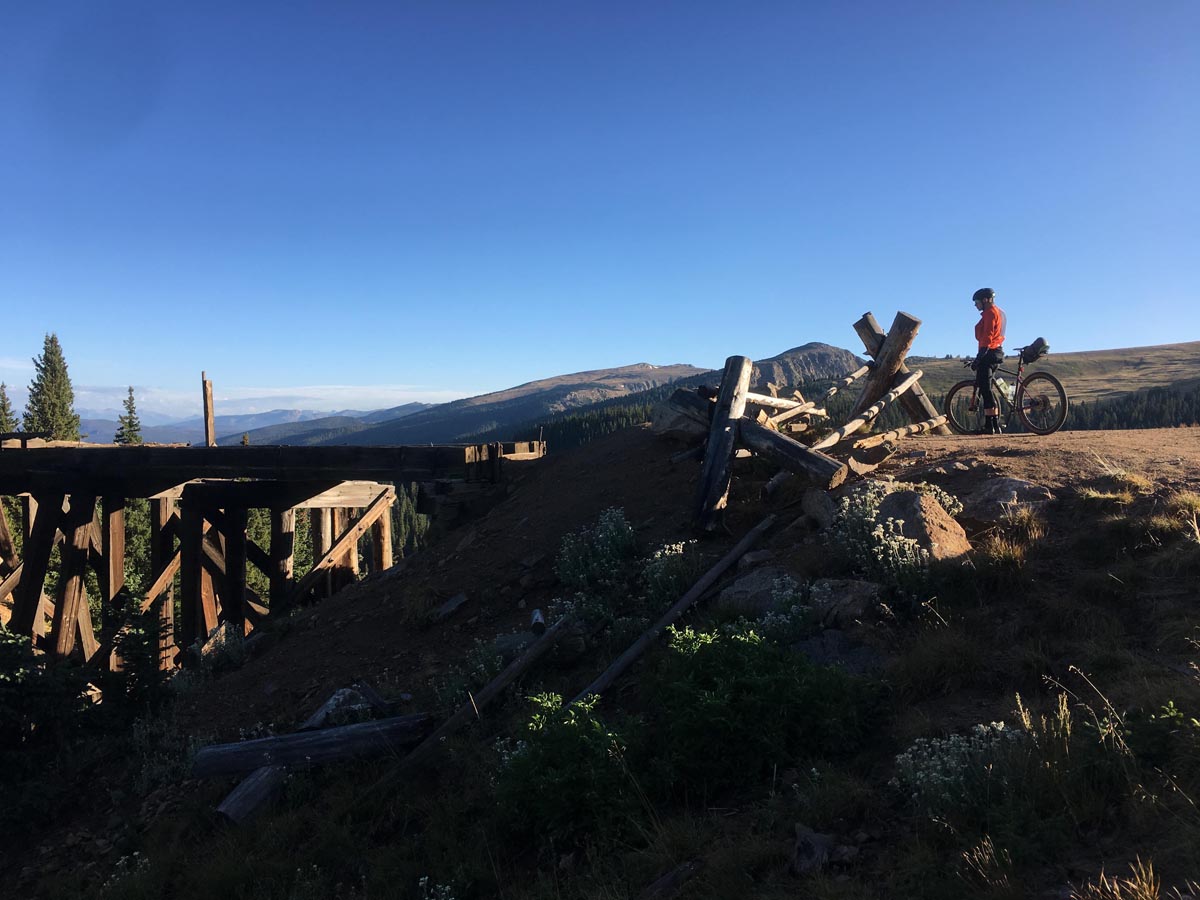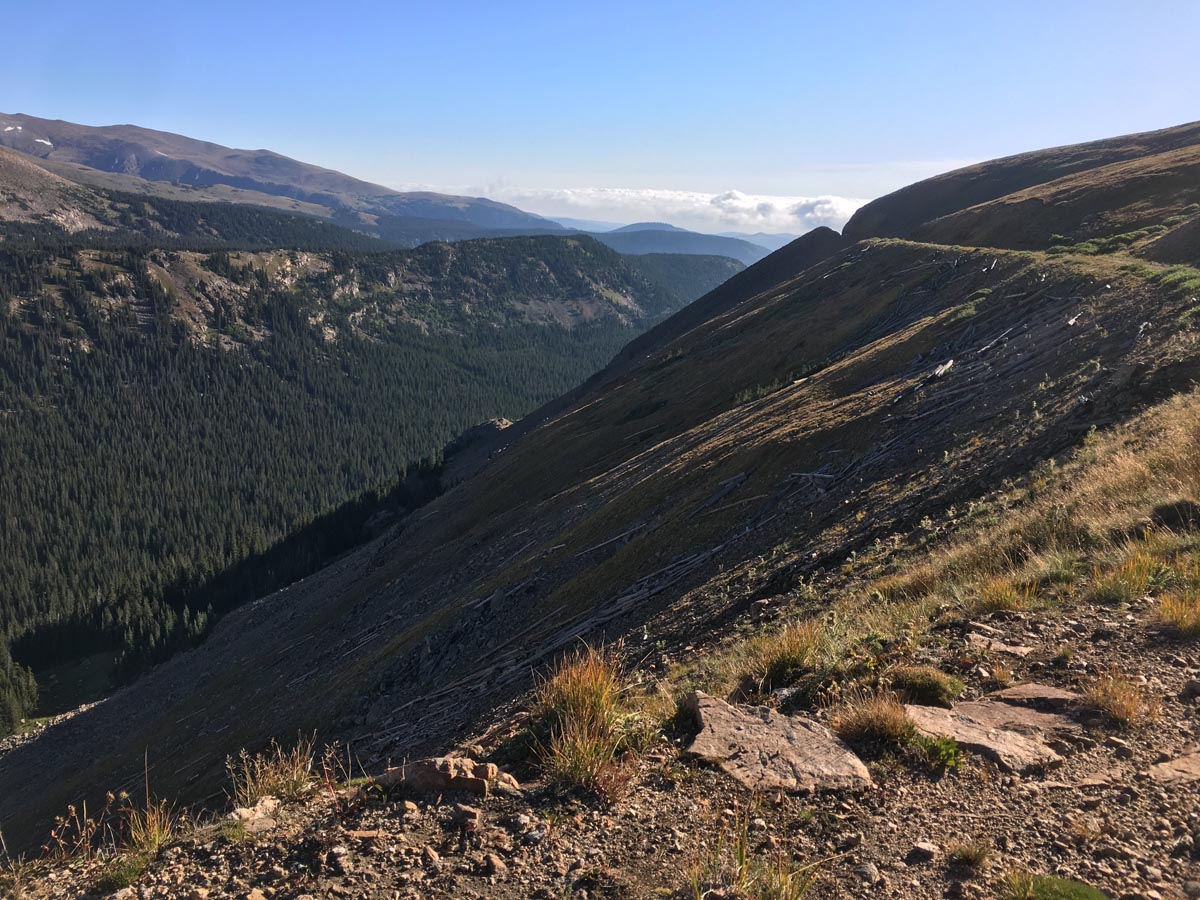 But we made it! Alive and with countless great memories! To our surprise, the car that we had left at the ghetto hotel 2 days prior was still there. Amazingly, no windows were smashed and even all four hubcaps were on it!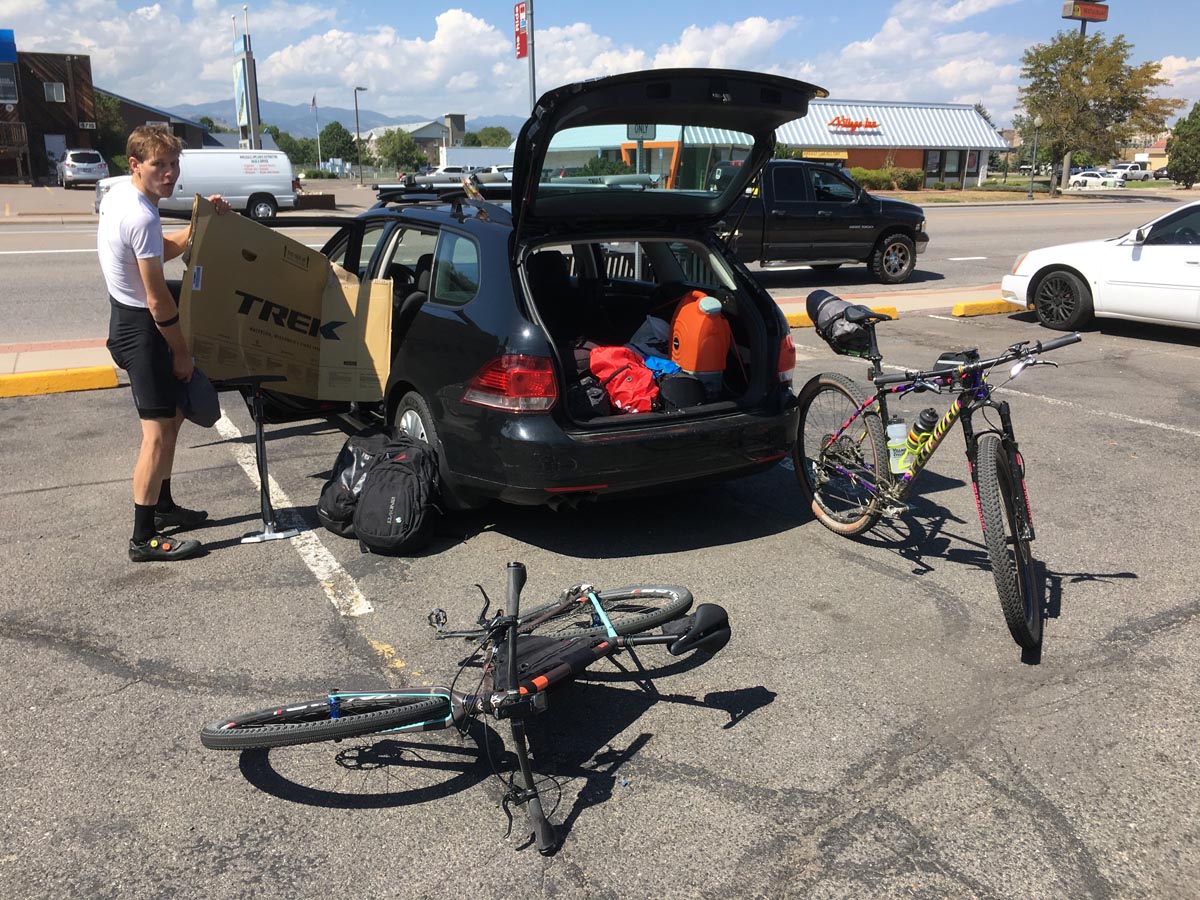 After a quick Chipotle, we were on our way back at around 1:30 pm. Fast forward 14 hours, a lot of "are we there yet?", riding a brontosaurus, and a speeding ticket at 4 am and we're finally back home.
If you've made it to the end of this write up, I would like to give some last words of advice: be spontaneous, take chances and get out of your comfort zone once in a while. I know it's a cliché, but we're not on this earth forever, so try to explore as much of it as you can. No one ever died saying they travelled too much. I'm actually thinking of getting a small storage unit near Denver Airport to leave a bike in. Flights are direct and super cheap, it would make it really easy to get out there for a quick weekend every month or so, especially if you're not lugging a bike around with you. If any of you are interested in this idea let me know and we can share.
Thanks for reading this!