Note: Josh came from the DC area to do the Ride On Rollins with us. He wrote this recap for his team blog / facebook group. When it was sent to me I asked Josh if he would allow us to repost it here and he graciously agreed. I like this report a lot because it has the perspective of someone doing this sort of ride with fresh eyes. I live inside the Rodeo / Colorado bubble but Josh does not so for me reading about his ride is so fun and rewarding.
---
By Josh Pierce.
Just before leaving last Friday morning, I texted my buddy Peder, "I was able to get in a last good ride, about 45 miles and about 2400 feet of climbing." He texted, "we're doing almost 9000 feet of climbing on Sunday but hey good work:)." I texted back "yeah, I know I'm walking in to a buzz saw jack ass!:)" That is exactly what it was…a buzz saw.
So just let me begin by saying thanks to everyone who helped get me to a place where I could even attempt this ride. It was tough, tougher than anything I have experienced on a bike. Thanks to Jay for showing me what a real workout means and getting me in to biking in the first place. Thanks to Dexter, Joel, and Hans for the encouragement and tips on riding at altitude, and thanks to Byron and Tom for helping me get back in to it after a few weeks off the bike with a challenging 5Bs. And thanks to Armstrong for lending me his bike for so long. I was truly thinking of bagging it but because I was able to get in a handful of rides, I felt good enough to proceed. On reflection, I am really glad I pulled the trigger.
I flew in to Denver Friday and like I am sure many people notice, EVERYONE is in good shape and everyone is in to the outdoors. I watched an elderly woman deplane in a wheel chair…with hiking poles. This tells you as much about my state of mind as anything about the folks in Colorado. I was looking at everything through the lens of this ride which I was a little terrified of. I jumped on the light rail and Peder picked me up. We grabbed some tacos and beer then went over to Rodeo Labs to grab my steed, a Trail Donkey 3.0. I was very excited to visit Rodeo Labs for a couple reasons; to meet the founder, Stephen Fitzgerald, and to see the facilities. It turns out that my buddy, Peder is very close friends with Stephen Fitzgerald. Back in 2000-something Peder and Stephen would get together over coffee to talk about cycling and the need to get away from the race-only mentality and towards more community focused gravel/mountain bike rides. During those talks, the idea for a Denver group ride was formed which they started. Later, the idea for a company came about which Stephen started in 2013 or 14, I think. Upon arrival at Rodeo Labs, I was struck by their size. The operating space is tiny. They had one admin assistant, a mechanic, Sheldon, Stephen, and one other guy doing something that I can't remember. The space is smaller than the front desk area of Bikenetic and is situated downstairs of SloHi Coffee, which is closely affiliated with Rodeo Labs. SloHi, incidentally, is the confluence of two neighborhoods, Sloan Lake and Highland. The other thing, which is maybe not so surprising is that a steady stream of people came in the door from the time I arrived to when I left for all different reasons. So I was very thankful and slightly embarrassed when Stephen stopped what he was doing and grabbed my rental and looked it over before changing out the wheels to 650s himself for the ride Sunday. This may have had everything to do with him knowing Peder and nothing to do with some schmoe from DC who was out to do a ride he had no business doing. On the other hand, it could have had to do with Stephen wanting to make sure I had as painless a ride as possible. In any case, I got my first look at the Trail Donkey 3.0 with 650s, single ring in the front…which was actually oval, internal cabling, etc. We took it back to Peder's house and I got it ready for the ride.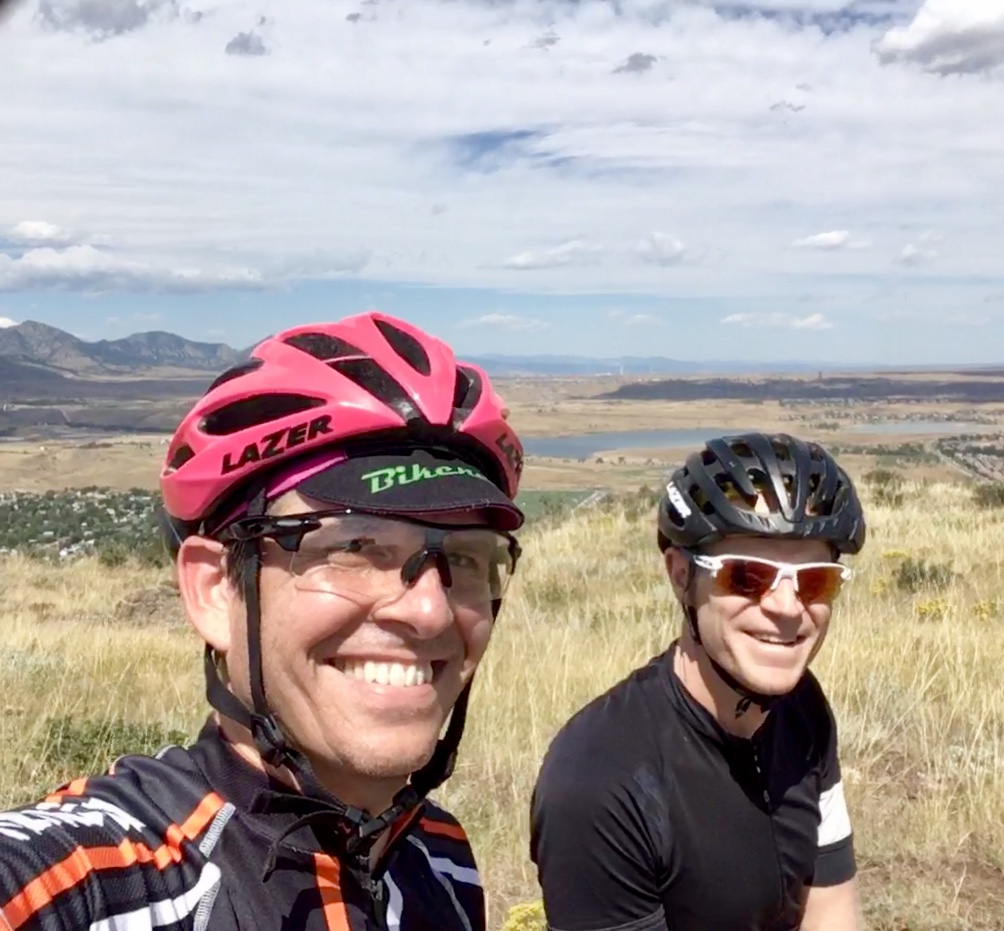 Saturday, Peder and I went out for a 25 mile loop on the North Table, about five miles outside Denver. It was a fairly vertical ascent and descent on rocky hiking trails, sometimes putting me at the edge of kinda severe drop-offs. Overall it was challenging, but we went slow and it gave me time to acclimate to the bike and to the elevation, which I felt even in Denver. The views from the plains on top were breathtaking. After a short descent, we arrived at New Terrain Brewery situated perfectly along a number of bike trails. The place was packed so we had to share a table and ended up chatting with a guy named Ted, a retired long-haul trucker. Ted knew Colorado well from his driving days and he shared a lot of information with Peder that I think was stored away for future rides. We told Ted we were planning to ride up Rollins Pass the next day, weather permitting, and he told us that he was actually thinking of driving up there for a hike and would keep an eye out for us. We said our goodbyes and headed back to Denver.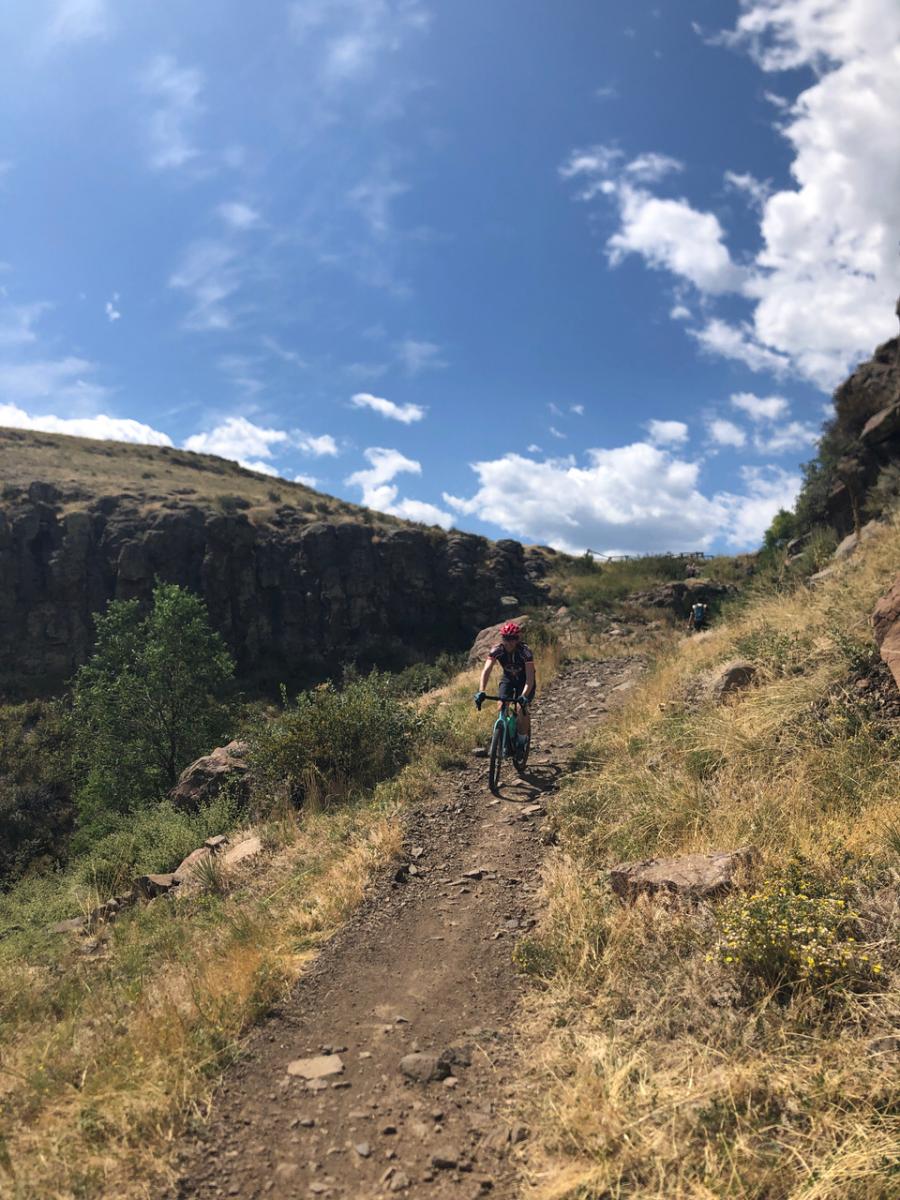 Game day started at HiSlo where the owner opened his shop at 6 for coffee and breakfast burritos. About twenty or so others were there. While Stephen gave a quick talk about the ride, Peder pointed out a few of the stronger riders. He pointed out Kristi Lindquist who placed second at Steamboat in the 40-49 and Brian Derstine, who placed second at Steamboat in Single Speed. At that point, I was beginning to realize that either this was a full on coffee ride or I would be riding solo or more likely just with Peder most of the day. I half expected Jeremiah Bishop to show up to punctuate the fact that I had no business being there. We headed out at 6:30am for Golden. There was much banter and joking. Everyone was clearly psyched. It was a gorgeous, clear, slightly chilly morning. I chatted with Kristi who is awesome and a guy named Woodrow from Newport News. Mostly I just made sure I was staying with the group which actually split quickly in to two.
Then we hit Golden Gate Canyon Road, a two-laner with few cars, at least on Sunday morning. It was lined with trees and rock walls that make you wonder if gravity is suspended in Colorado. It was maybe eight percent grade most of the way with one half-mile twenty percent section. There was one steep gravely descent for about a mile but otherwise it was 40ish miles straight up. It had some beautiful views but to be honest it was tough and I knew the tougher final ascent was coming and I needed to conserve energy. I was ready to get on to some gravel, come what may. As we arrived in Rollinsville, our B group of four saw the A group rolling out in the distance. We actually weren't that far behind them! But honestly, we had no idea how long they'd been there. At an outpost/mom and pop market in Rollinsville, I had already depleted three water bottles and three bars. I was at only 8500 feet but was really feeling the elevation. My legs felt like lead but the fifteen minute break was very helpful. Our band of four grew to five when Sheldon arrived from Boulder to meet up with us. Peder had a mechanical and Sheldon fixed it, which also gave me a little more time to recoup. I drank a Dr. Pepper, ate a bag of chips, a bar, and drank more water. We rolled out of Rollinsville on to a flat, very packed, dirt road which wound around, under a bridge, across railroads tracks, and out a couple miles until we hit a sharp right on to the jeep road which began our ascent. The ascent was roughly sixteen miles up from 8400 feet to 11,660 feet. The average grade was 5%, I am guessing, but up to 15 in places and littered with progressively more and more rocks. 4-Wheel drive cars had a tough time on it. It was time to see what the Trail Donkey could do. Ok, and what I could do.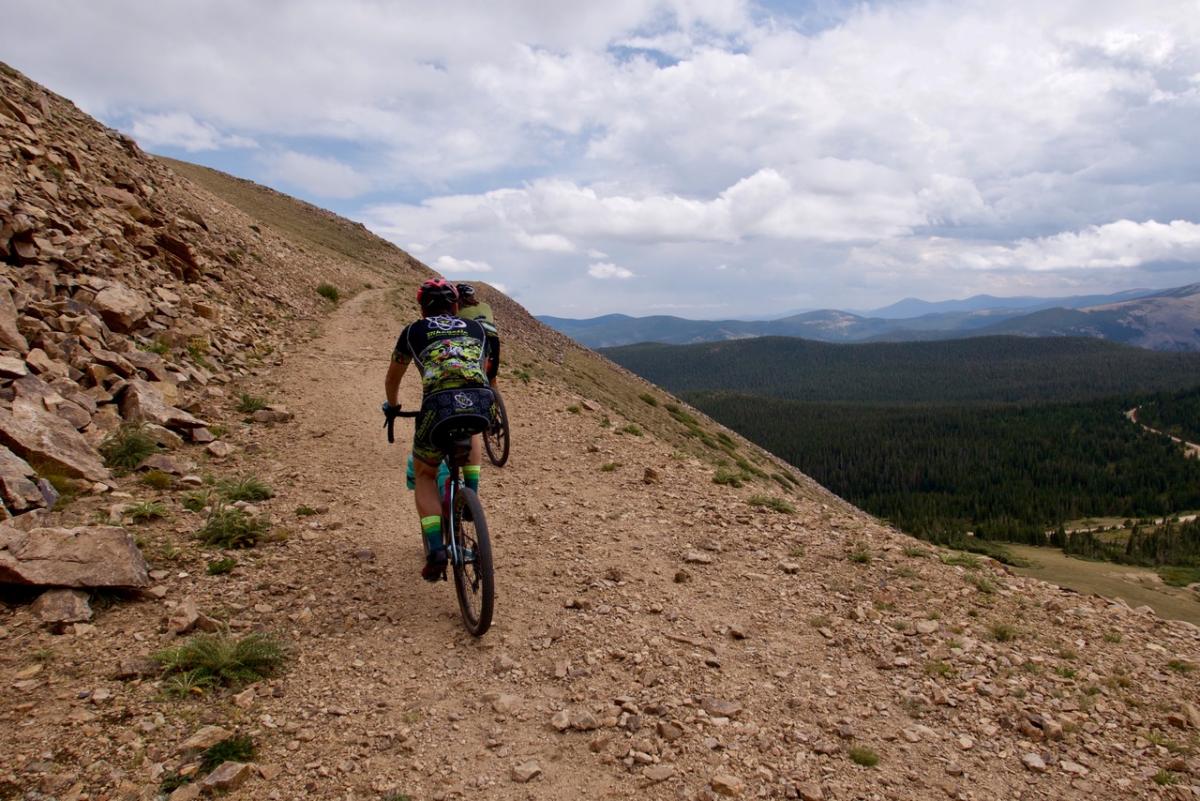 The good news was, strangely, my legs began to shake out. The bad news was instead of that leaden feeling, both legs began cramping pretty severely. Peder gave me a couple iodine pills and this seemed to help although I still cramped from time to time. As we ascended, I grew more tired which really affected me when I couldn't find a line and was forced to just power over rocks. At these times, especially as we got closer to the top, I was forced to break out of my single-minded focus of "next step, next step, next step." My mind wandered. I was exhausted, I was pissed, I was angry that The National hadn't had a good album since 2008, I hated Chris Shue's pink sock things he wears over his bike shoes in the winter, and the fact that Hans is always wearing a backpack when I ride with him. I knew that I liked mounds better than Snickers but I couldn't remember why…OK FOCUS! Then I would kick back in to single-mindedness and keep going. It seemed to never end. Then the clouds started to move in. This was a psychological factor since we knew being up top with rain and wind would be brutal and possibly dangerous. As we approached the looping, final ascent around a gorgeous glass lake under a glacier, we ran in to some of the A group. They were bailing to get down to civilization before rain and hail hit. Lightning strikes were hitting out in the distance. I was almost too exhausted to worry. I also knew we had no choice but to go on. We were going to Winter Park to be picked up. The only way to Winter Park was over the pass and down. Going back also meant facing the brutal jeep road we had just come up and that just was not an option to me. So after a highly sketchy hike-a-bike on a dirt path over a now closed tunnel, connecting the road, Peder and I continued on. Side note; one of the A groupers rode down the path. I just cannot explain how insane this is. It's probably a thousand feet down on one side and sketchy gravel and dirt (see the pic of me hiking). The others in the B Group bailed and joined the few A groupers who had summited. It was just Peder and I now and we were hurrying.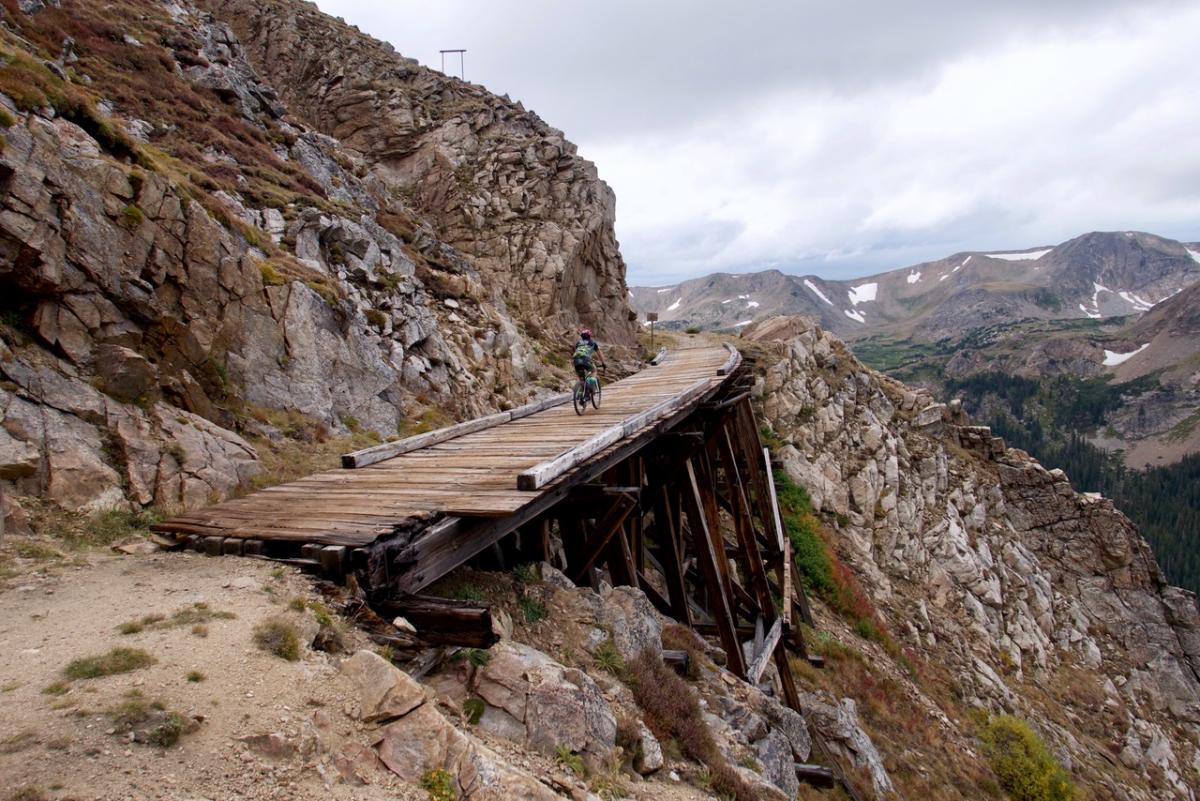 There are two abandoned train trestles to cross at the summit and as Joel had told me, height was actually never a factor. The trestles and the path on both ends are much wider than they appear and honestly, I was so fatigued, I hardly even noticed anything around me. I didn't really notice the A groupers encouraging me, the joke Stephen made after seeing my face (he asked Peder if we were going to be friends after this trip) or that he handed me his winter cycling gloves for the descent…and I didn't notice when Ted walked by me going the other way between trestles! Ted, the retired long-haul trucker, had made his way up the opposite way in his truck to see if we were going to make it! I waved as I rode by but only found out on the other side of the pass, that it was Ted. For some reason, I got choked up by this and I just turned and yelled "Ted!" as loud as I could back in to the pass. I like to think it echoed down and Ted heard it. At this point, we could see all the cloud cover now coming closer and in plain view. It was time to descend and fast. We stopped for one picture and then hit it. I have never moved this quickly on gravel. The back side jeep road to Winter Park is nothing like the one we had ascended. It was much smoother but still, if I'd missed one rock, I would have been over the handlebars at 15-30 miles an hour. The descent was brutal because even with Stephen's gloves on, I couldn't feel my hands. The temperature had dropped from 80 to 50 degrees. I got my brutalized body down the road eventlessly though and we rolled in to Winter Park. I ran to a public bathroom to change clothes before driving home and while in the bathroom, a flash flood started. We had somehow dodged the storm. I still don't know how the others fared (they were going 140 miles to our 75) although I know Stephen didn't get home until nearly 8pm, long after our brewery dinner and while I was in a hot tub nursing my ailments.
The ride was surreal, amazing, gorgeous. I was painful but I would do it again in a second. I wish I had been in better shape to enjoy it all perfectly but that is not how life works. You take it as it comes. It was something I will remember forever.