By Evan Christenson
I'm just now entering the stage of the bike ride when the hang over moves from the head to the legs. The road has finally returned after dropping off sandy double track and the wind is soft as we climb into the mountains surrounding Anza-Borrego. The early morning light is splitting canyon walls and we pedal on. It's day two of the trip and we're already dancing with God.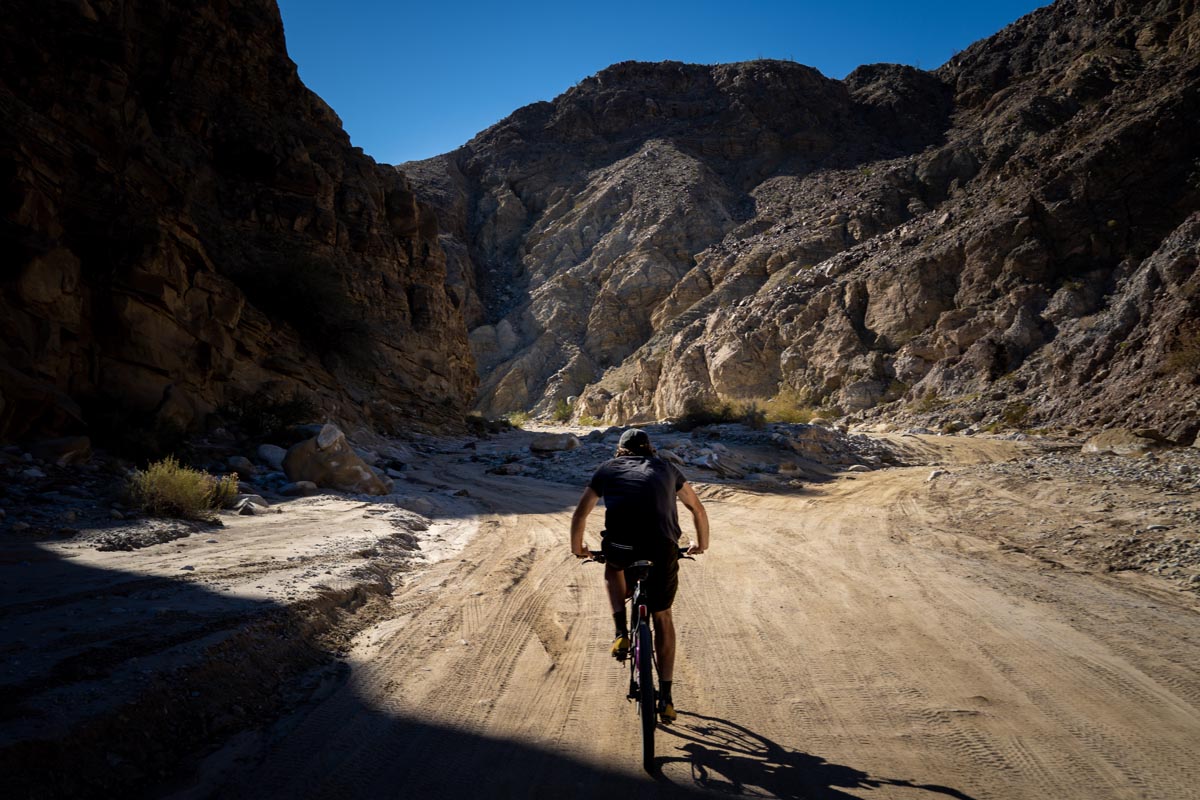 Quinten and I are talking about our dinner last night now. The early morning groans are fading from the desert sand we slept on last night as we begin to re-trace an evening that lately feels so wonderfully familiar. Quinten and I left from my house the morning prior and rode 10 hours out to the desert. We climbed and descended and ate pizza and drank beer and hollered with no agenda. As the desert sunset began to smolder we found ourselves with nowhere to camp and unsure where to head. We had a long loop planned for today and watched as the day turned to night nowhere near the start.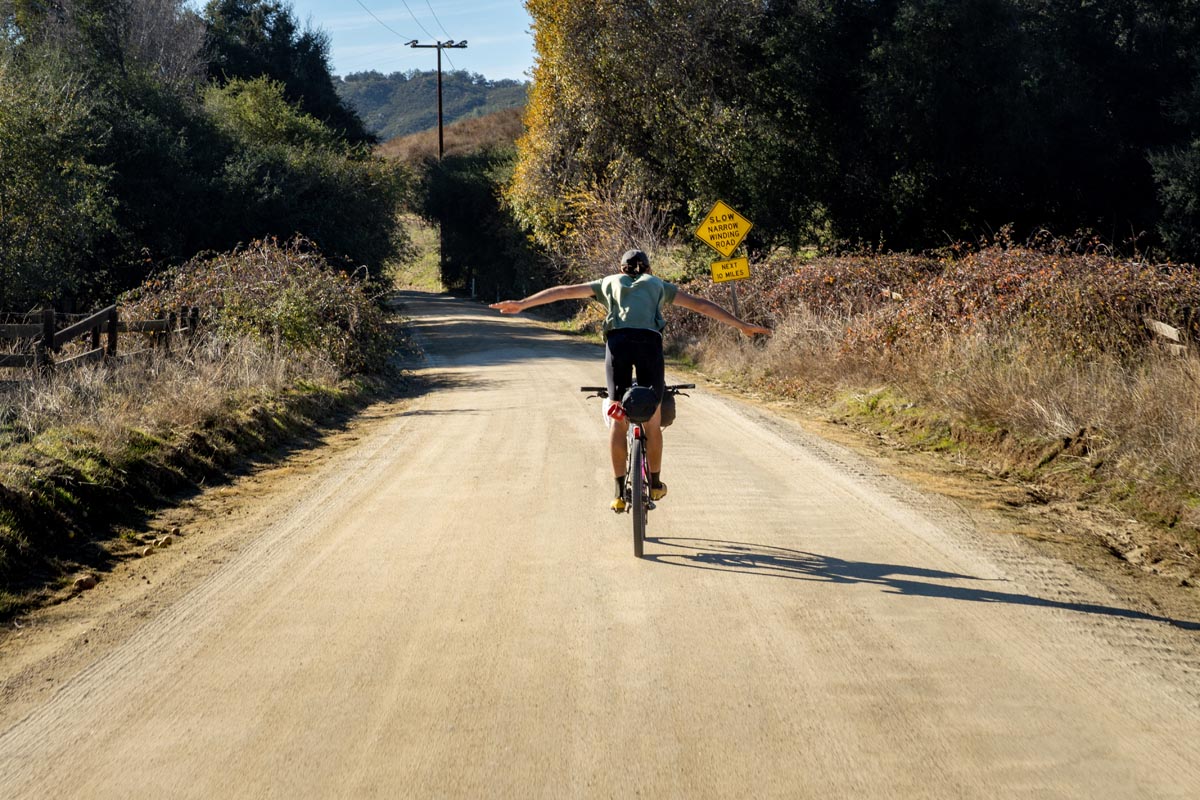 We followed the highway and ended up at a mini-mart in Ocotillo Wells. The loop starts nowhere near here but we're desperate for food and running low on water. We put hot-pockets in the microwave and bought pringles and beer for an appetizer and set out for a sink shower in the public bathroom. I realize I left my underwear at home. Sleeping in the chamois I suppose.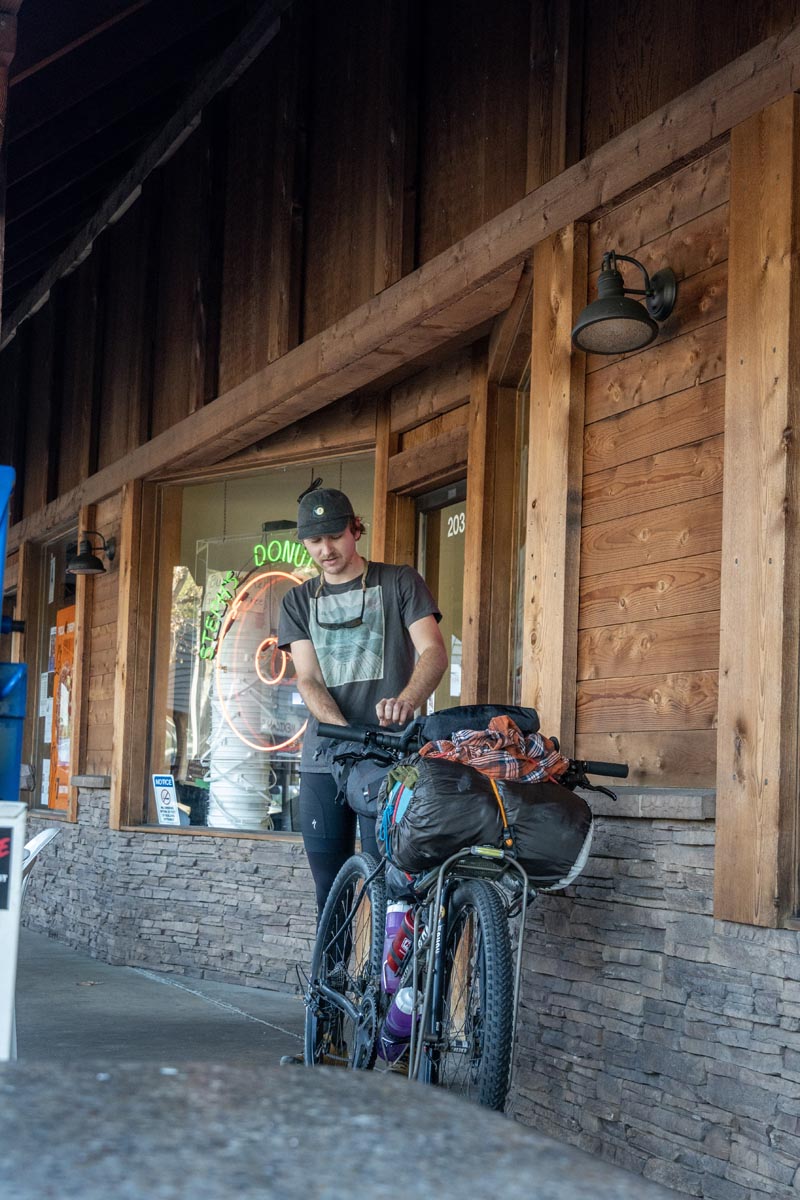 It's a glamorous lifestyle this.
As we squalored fortune in the dark a hispanic man invited us over to share his bonfire. He's mid-50's and joined by his best friend and two kids, each sat comfortably around a firepit in the parking lot. Quinten and I, exhausted and beginning to shiver, sat down by the fire and fell deep into conversation. The family and I share a hometown, and in our mutual distance this family did what I've grown so gratefully familiar with while bikepacking alone these past three years. They opened up and invited us in.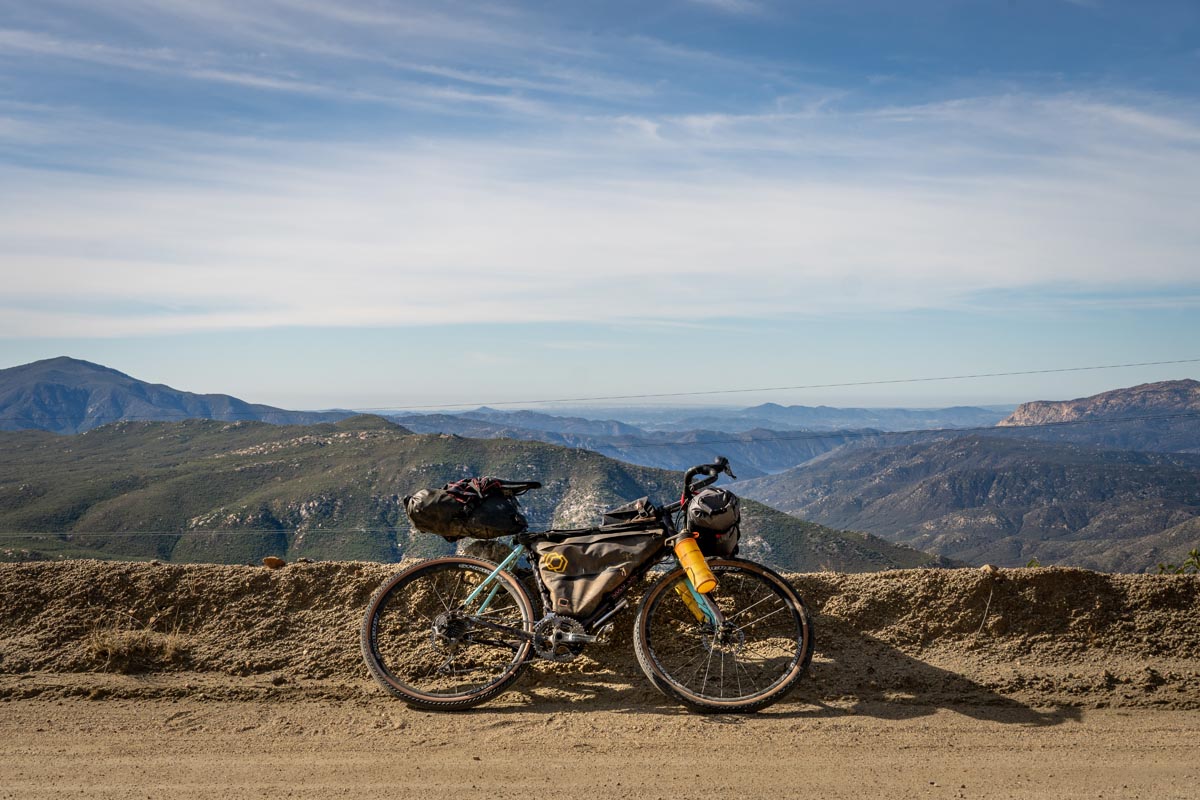 I don't normally write for this journal, so if you don't know who I am let me introduce myself. My name is Evan Christenson and I rode the entire Trans-Uganda by myself this summer. This spring I rode alone into Morocco and last fall I rode through Japan on my own too. The years prior to these I've found myself complexly immersed with new culture and strangers and through it all I've been greeted almost exclusively with kindness, love, humility and generosity. There's something about the bicycle that brings it out of people. Most of the time it's because they can't believe how far we've come. 
"You came from where?" 
"ON A BIKE!"
Woah.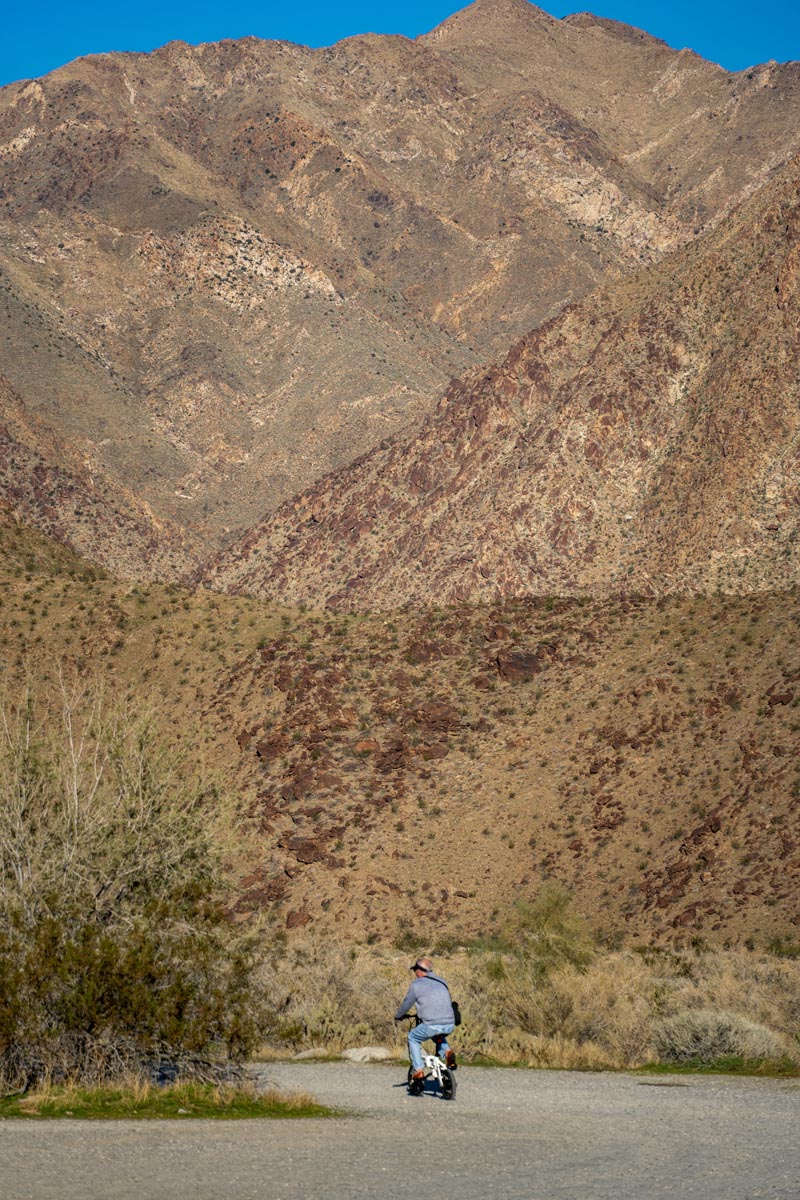 We talked of family and sport and God and Quinten and I shared stories from our days on the road and through it all the wood kept burning and the beer kept flowing. They offered us fresh carne asada and quesadillas and tequila. They pulled out cigars and Quinten and I both smoked our first- a dark and oaky Cuban smoldering in conversation and lulling us in the cold desert night air. We're eventually directed to a sandy lot and carry on sleeping very well.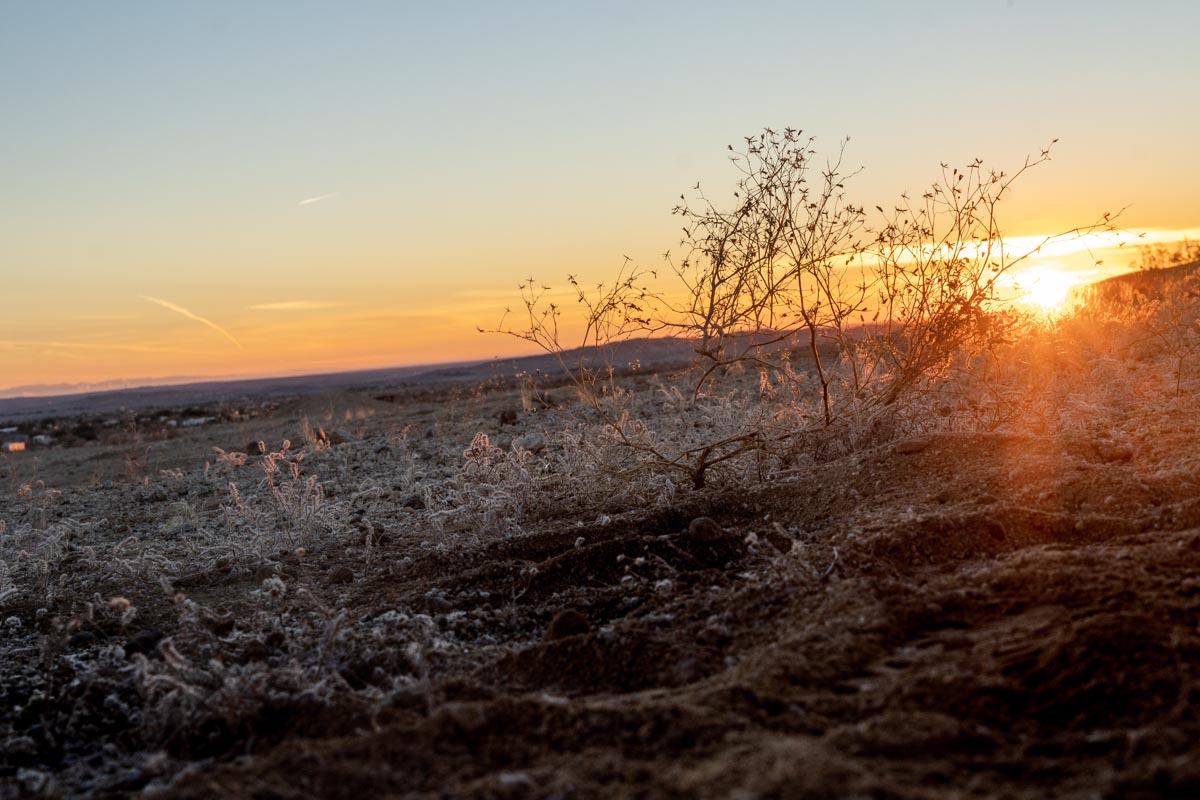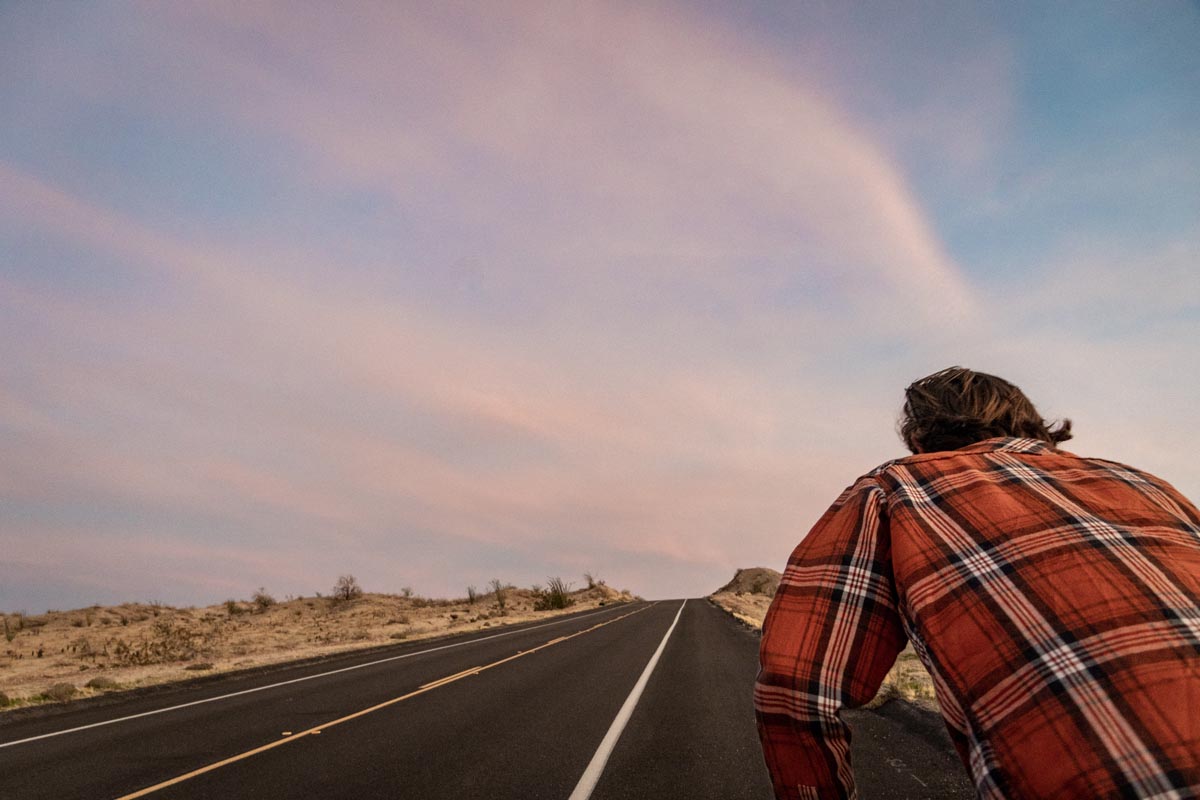 Back on the bike in the morning we have a lot to discuss. We've been talking all day and all night but Quinten and I have so much to catch up on these endless desert roads still feel too short. Quinten and I used to race together as Juniors, but as we grew older we split apart. I went to the East Coast and Quinten chased the dream around the world. He's done huge stage races in Rwanda, China, Japan, Guatemala, the Dominican Republic, Italy and the US since we've last spoke, but more recently we've both found ourselves spit out by this sport so brutal and unapologetic and sitting on the ground wondering what it is that's now passing us by. Racing became our only relationship with the bike, and as it quickly found hold, it grew like a cancer until it was all a bicycle could be. A fast tool for self harm or self improvement, depending on however you defined it that day.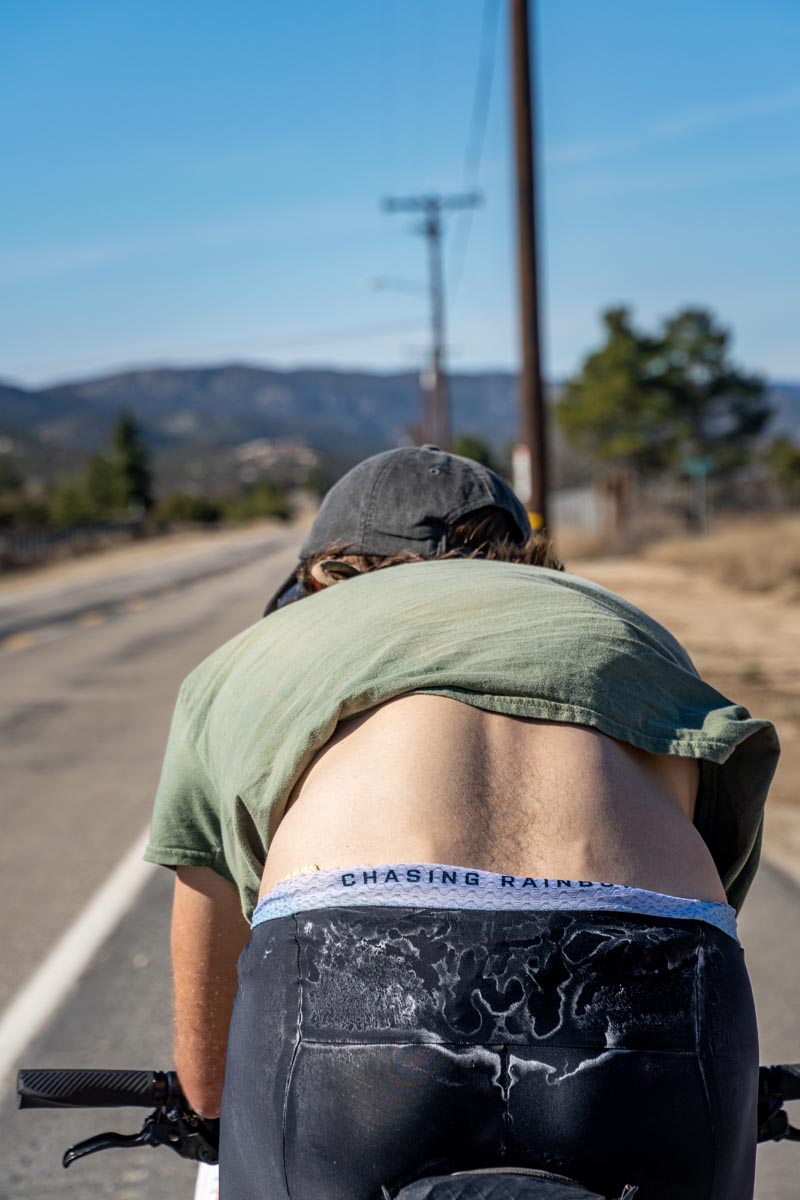 The bike became the enemy, and since returning from Uganda it's felt the same way. I've rarely extended rides to and from the beach these past few months and as Quinten and I rode the week prior to plan this trip, "The Death March" as he lovingly labeled it, the breathing was heavy and the pace was slow. "Seriously man January 1st I kitted up and rode 1 mile down the street and turned around." Quinten joked as we sat over lunch, staring and laughing at the absurdity of a 250 mile, three day gravel loop that will serve as a brutal wake up call. 
"Yeah of course we've both done harder stuff than this
…but it's been a while."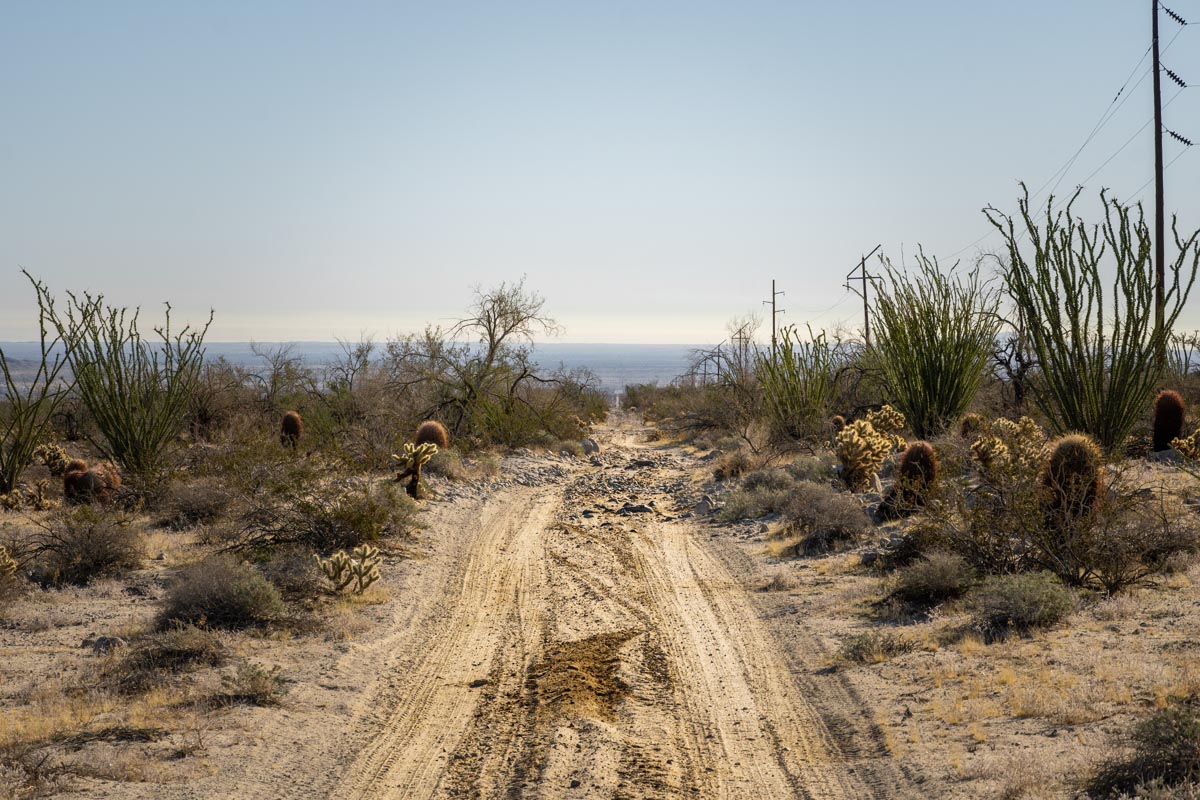 Back in the desert and far from a race course Quinten and I are swapping stories for hours and riding bikes in a refreshingly new light. There's no real pace to this weekend, and we're close enough to home my dad can bail us out at any point. But we're here to suffer and to see if we can love the bike again for just being a bike. We're riding for the simple joy of moving through the world and we're camping along the way for the simple joy of independence. It's coming back to me now and we're laughing for hours and talking with more locals. Maybe bikepacking isn't as bad as some Ugandan memories have led me to remember.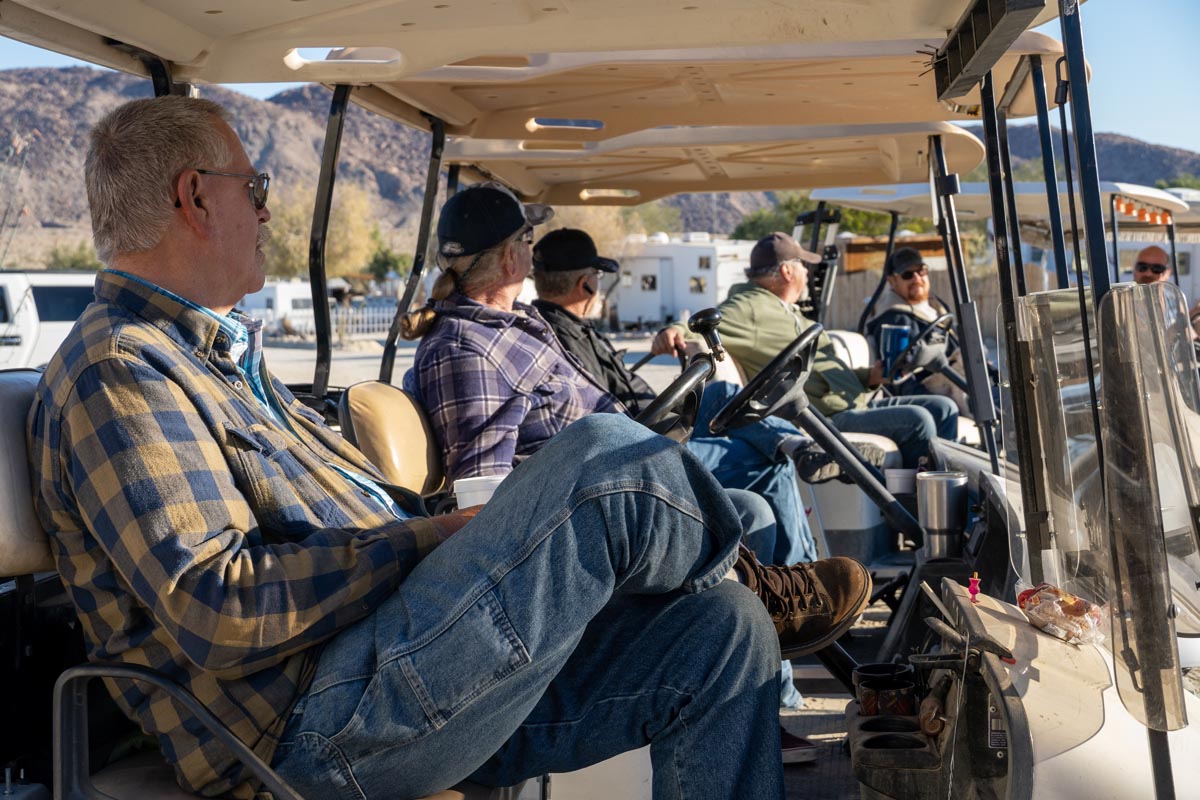 We sit in the shade too long on the way up and as we reach the top of the day's climb we're forced to take a shortcut back to camp. The light's dropping and we left our bags down on the side of the highway in the valley. A wash descends down a long canyon straight to camp and there's a hole in the barbwire, as if the decision has already been made for us.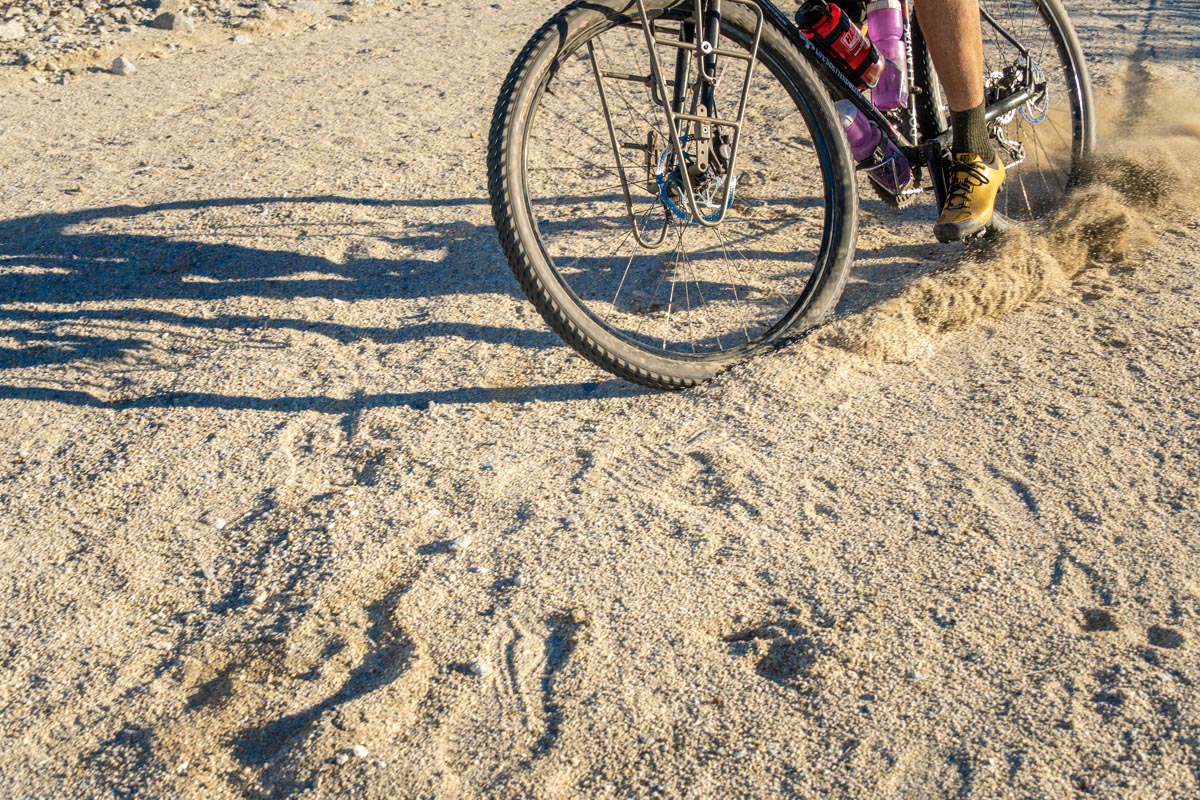 There's no definite trail, and the sweeping, deep sand fills the valley and affords us all creativity. We're picking lines around bushes and drifting through long corners. I'm flat out and screaming at Quinten as shadows fly along canyon walls. We're backcountry skiing in the desert and I can't believe how much fun I'm having. We're gutted when the double track returns. Top 5 descents of my life. I do remember now- Bikepacking is incredible.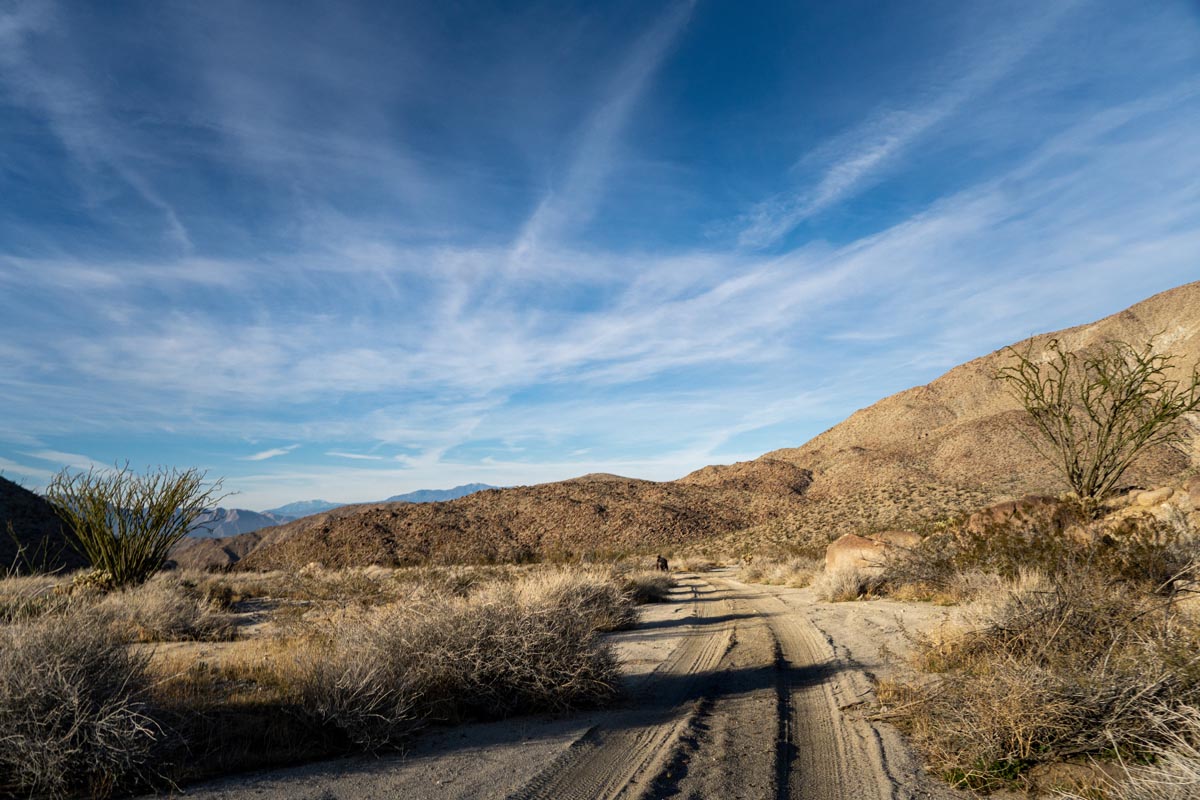 We descend to Anza-Borrego proper and eat burritos and drink more beer and celebrate life and the fact we still have the bike. We set up camp and I dream of the next trip and crunch sand between my toes. More of this I hope. More of this soon.