Update: Luke took his bike to 2nd overall at this year's XL, and we couldn't be more proud of him and his ride!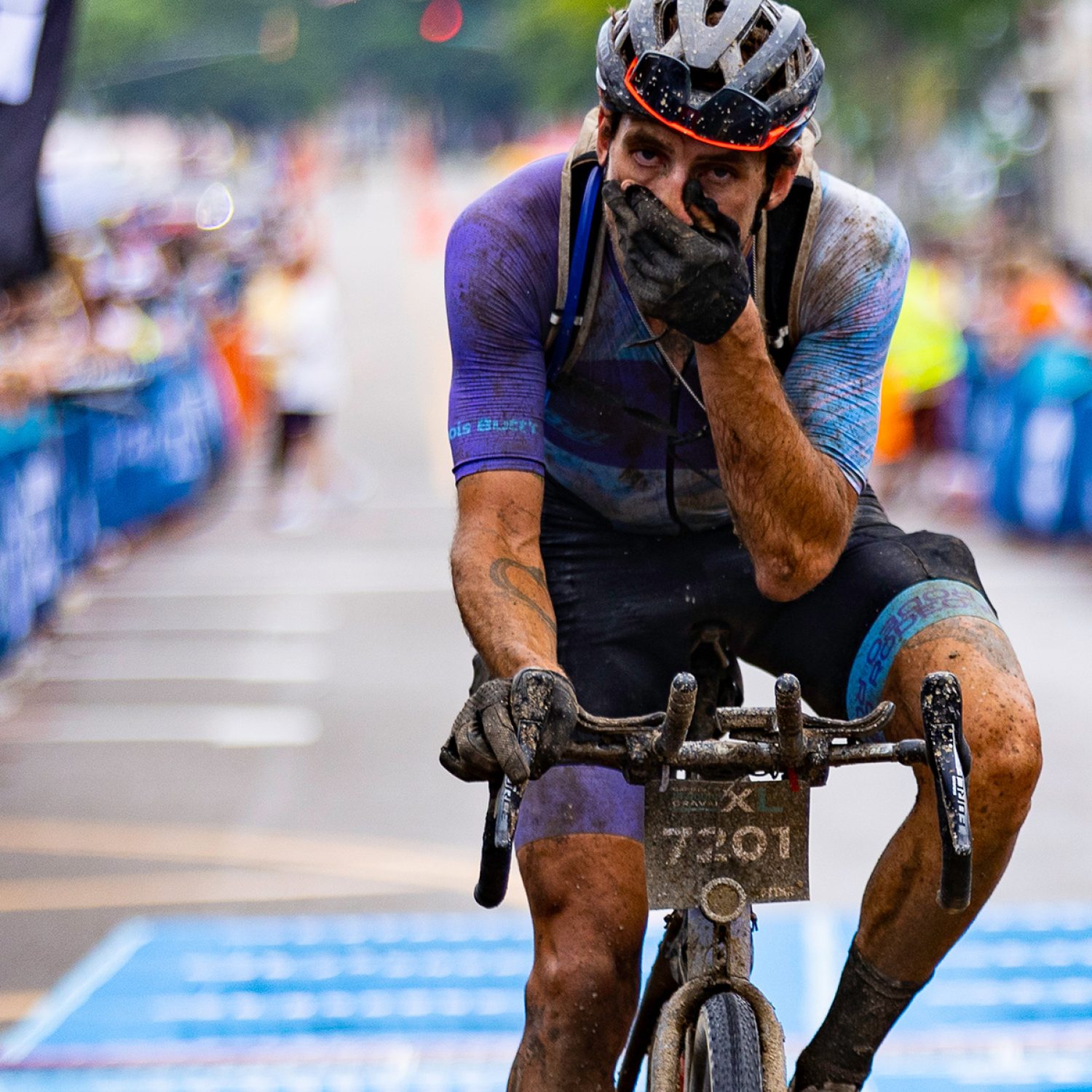 This year, I will be going back to Unbound to race the 350 mile XL. I chose the XL because I have history racing ultras out of Emporia, Kansas and I think the format of less than 24 hour ultras is pretty exciting. It requires a ton of focus and persistence. Last year, I was signed up for the XL and made it through 185 miles. A couple of weeks before the race I had to get stitches on my elbow and was on a wide variety of antibiotics. It really messed with my stomach and I wasn't able to eat like I wanted. I've put in a lot of work this season getting prepared, both physically and mentally. I think I have a pretty strong chance at the top step. My bike setup is second to none and one of my favorite, unique builds.
Frame: Rodeo Labs Traildonkey 4
All images by Elizabeth Wilcox Photo
The Traildonkey has been such a badass bike so far. I love the versatility with the sliding rear dropout, the integrated bag mounts, and the internal storage area. I can get away with the rear dropout slid all the way forward, so that's how I like to roll. I appreciate a little more responsive feel to my inputs.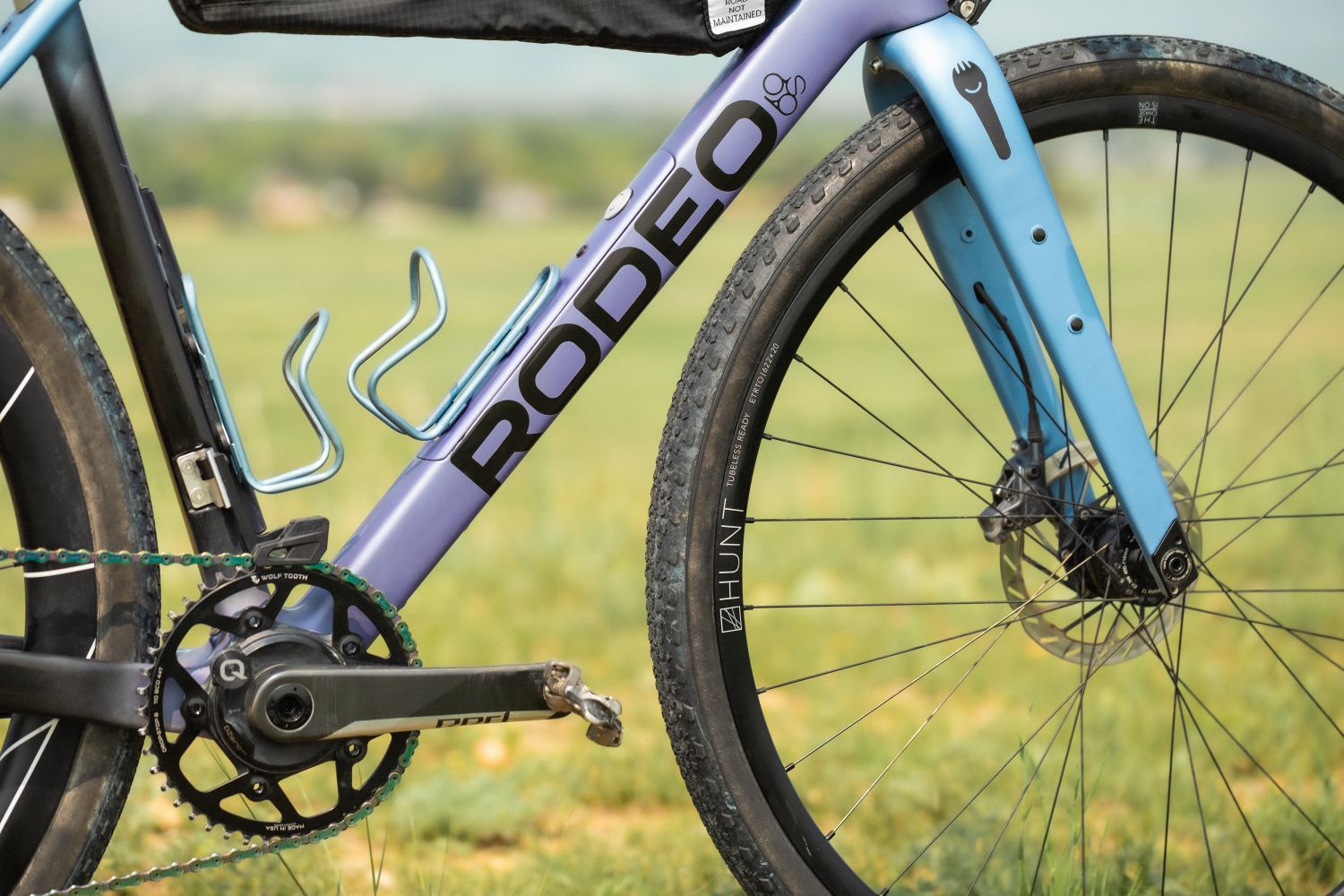 Wheels: Hunt Wheels – 42 Limitless Rear, Superdura Dynamo Front
This is actually my first time using a dynamo (It's a SONdeluxe hub), and I love the simplicity. It's nice to flip a switch and everything just be ready. I've spent some time in the dark messing around with batteries and lights and it can be a huge time suck.
Tires: Challenge Getaway HTLR XP Series 45mm
I have been a big fan of the HTLR series tires. Yes, they can be expensive. Yes, they are a tight fit on a rim. But have you ridden them? All of those thoughts go straight out the window when I ride a set of these. The new XP Series adds about 100g of extra casing to make sure that you won't be stuck on the side of the road fiddling with a puncture. Speaking of which…
Sealant: Silca Sealant
I appreciate that Silca is approaching sealant in a unique way. They've thrown in these carbon fibers with varying lengths, so when the sealant goes to the hole, it carries a bunch of fibers to plug as well. What I've noticed is that I don't lose nearly the air that I would with other sealants. The hole plugs fast and I've hardly noticed.
Front Light: Sinewave Cycles Beacon
Thankful that Drew lent me his Beacon dynamo light. I do about one ultra a year, so buying my own can be a lot. It's got a high beam/off/low beam setting and also a USB charge out of the back so I can always be charging my computer. A really nifty and tidy setup!
Headlamp: Black Diamond 500
This headlamp can run 500 lumens for 7.5h and is only 100g. Should be a great addition to the front light and give me some great focus light.
Computer: Wahoo ELMNT Roam
Simple and to the point. Wahoo makes changing screen information super easy and it's never had a hiccup for me.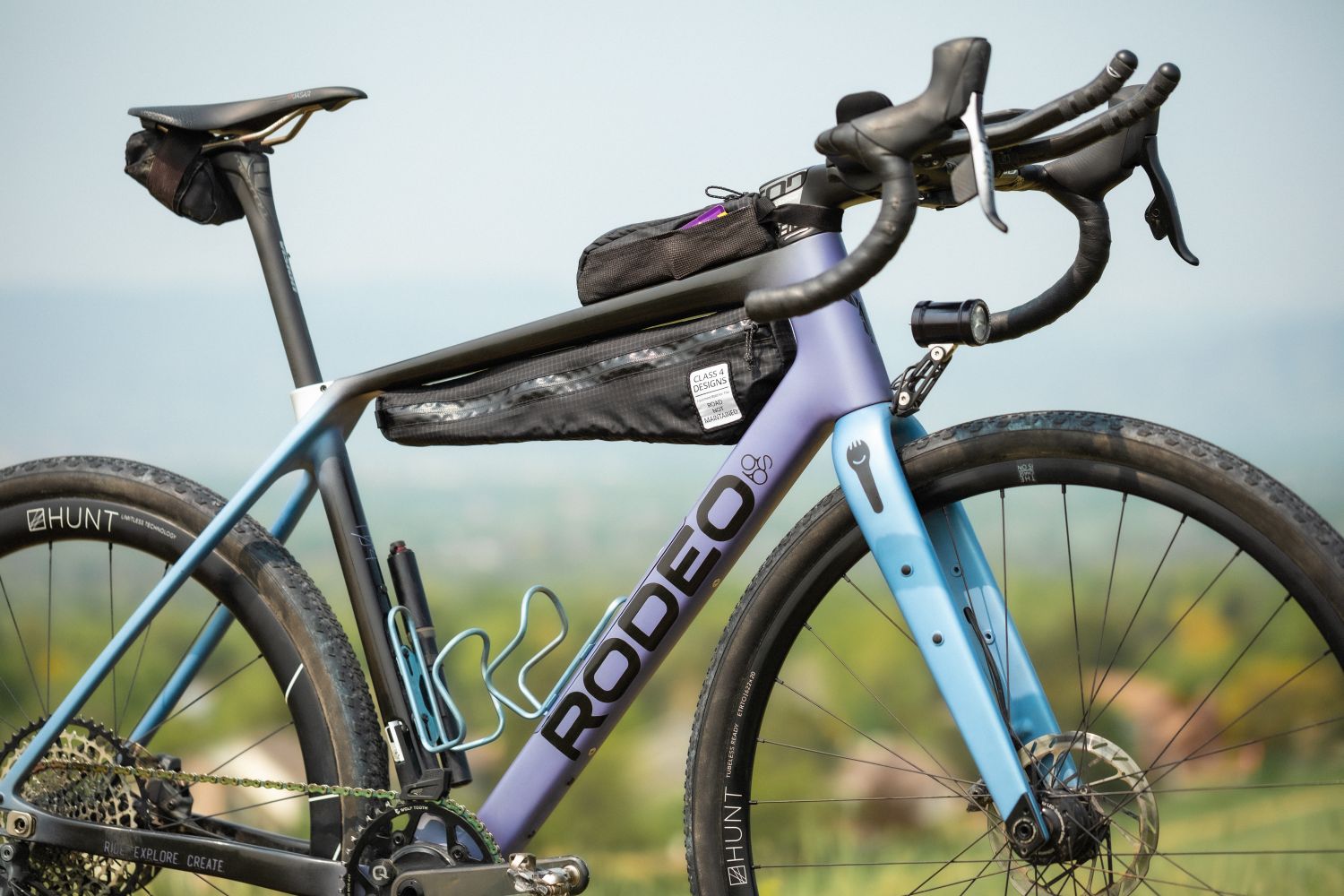 Handlebars: Vision Metron 5D w/ Aero Bars
Technically, these bars are for road applications, but I really love everything about them. After initial setup, it keeps the cockpit so tidy to have all the housing out of the way. I looked through a lot of Vision's product lineup and the 5D with the aero bars made the most sense for versatility. The bars that came on Vision's aero bar setup were way too short, so I swapped on an older, longer set in a J Bend. I also added a little skateboard tape at the end for some added grip. While there isn't a whole lot of flexibility in the system, I've been practicing on them and have found them to be pretty comfortable
Handlebar Tape: Silca Nastro Piloti Tape
I have always been a big fan of tidy, thinner tape. The hand feel is always super important to me. Next round of tape I may try the thicker Nastro Cuscino 3.75 and see if it really makes an absorption difference.
Seatpost: Vision Metron 27.2mm Seatpost with 0 Setback
Despite being marketed as a road seatpost, this thing has been pretty comfortable off the beaten path.
Saddle: Selle Repente Quasar Rodeo Edition
I'm pretty particular about my saddles, but I really wanted to try something new with this bike build. I had read what Steve had written about it and wanted to give it a shot. I have to say that it's really comfortable. The shell itself has a bit of give to it and absorbs quite a bit of roughness without bobbing while pedaling.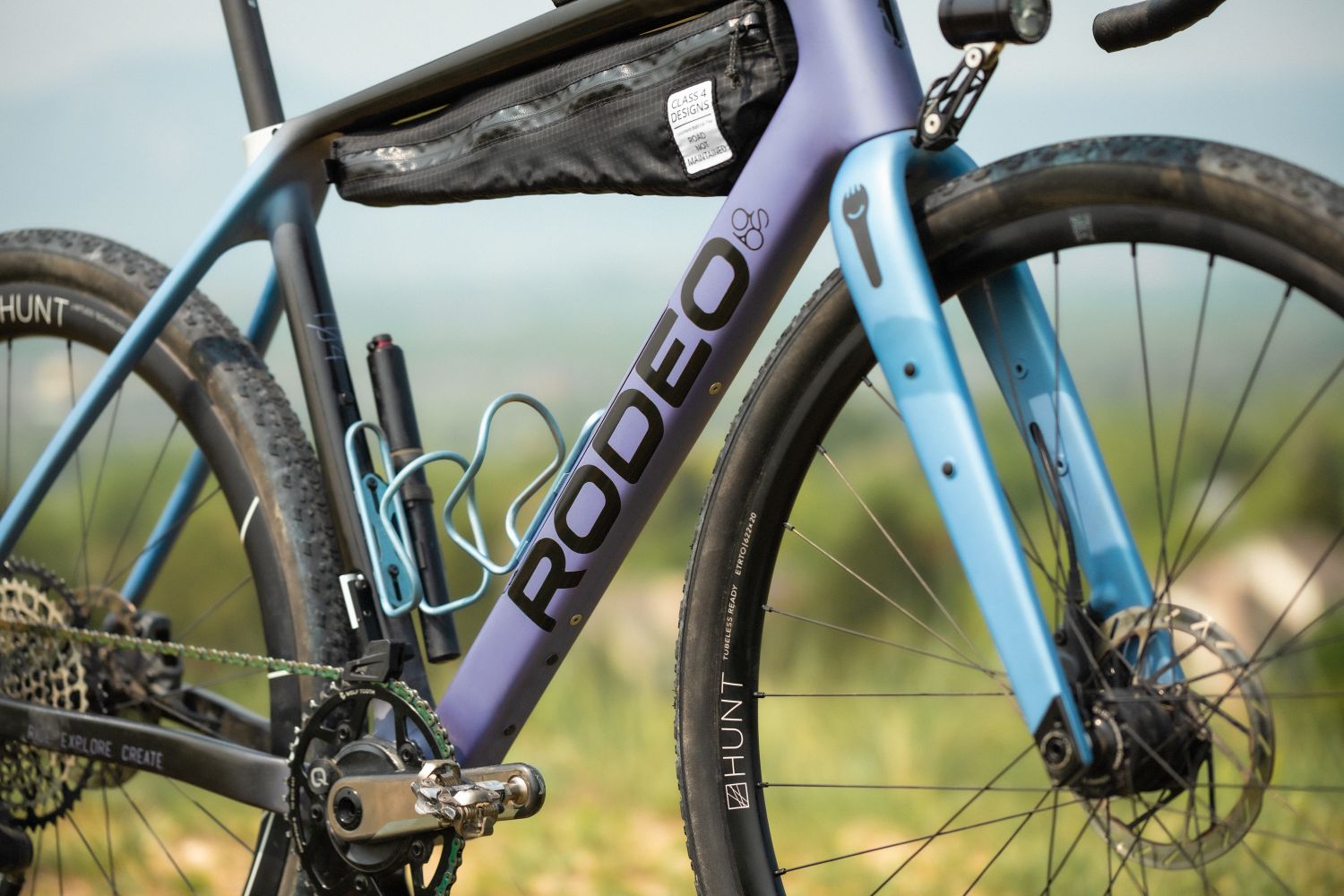 Bottle Cages: Silca Sicuro Titanium Cages in Aqua
I've been super impressed with how well these cages can hold a bottle. I've been through some rough stuff with big bottles and haven't lost one (knock on wood)
Bottles: 32oz Purist Team Edition
Almost a liter per bottle makes for plenty of hydration on the course.
Hydration Pack: Camelback Rogue Lite
The Rogue Lite comes with 2L of water and will probably be water only for this race.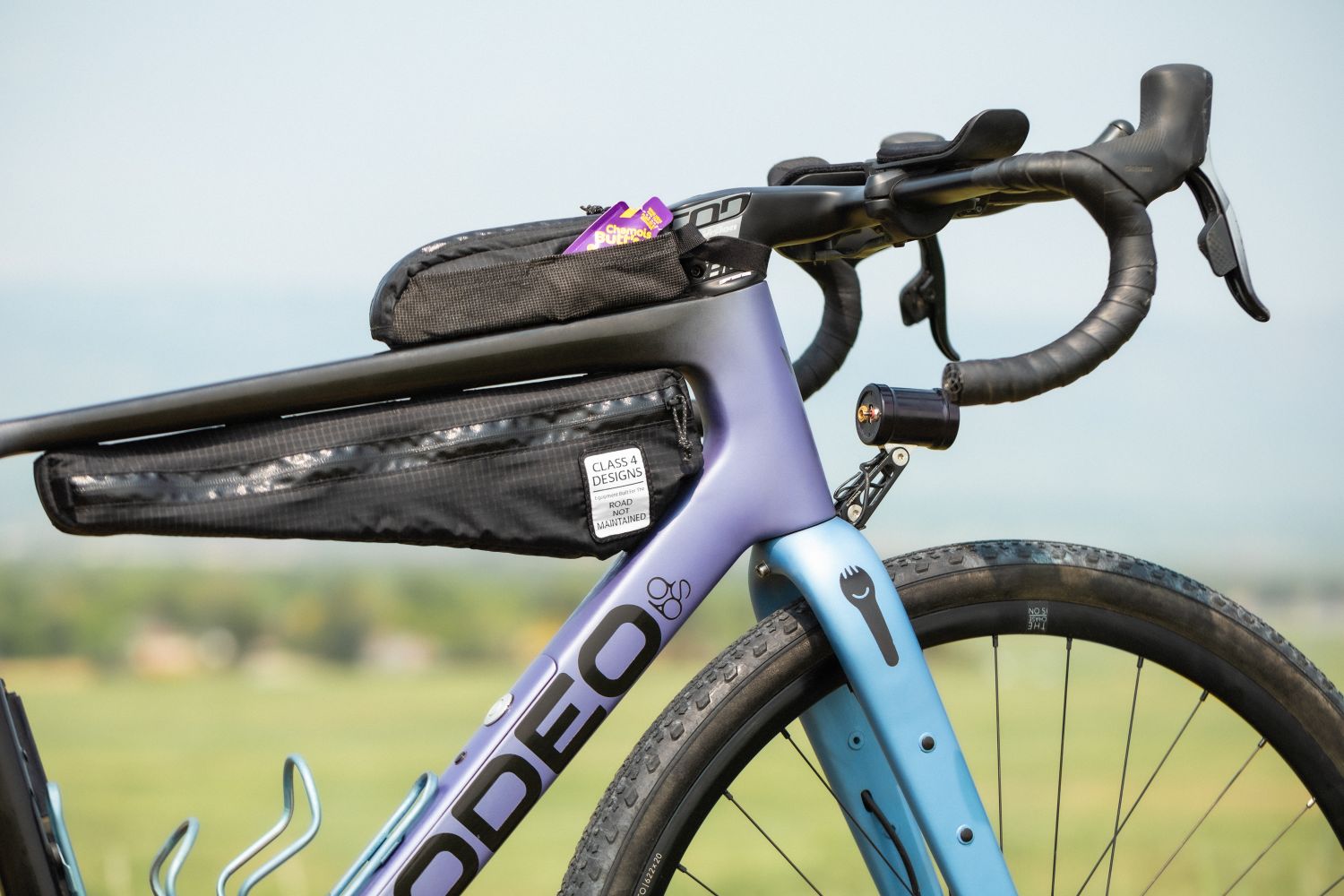 Framebag/Top Tube Bag: Class 4 Design Custom
The Rodeo team highly recommended Class 4 out of Vermont and I'm super stoked for how they came out. It's nerve-wracking communicating just how racy you want something like this to turn out and cross fingers that the bag maker gets the aim. This was knocked out of the park. I wanted the bolt on top tube bag to be tidy and long and I wanted a half frame bag that I wouldn't have a chance to overstuff, giving plenty of space for big bottles. The bags came out super lightweight (165g for the set!) and great attention to detail.
Groupset: SRAM Force AXS Shifters, SRAM Red Crankset (170mm) w/ Quarq Powermeter & Wolftooth 44t Chainring, SRAM Dub T47 Bottom Bracket, MRP Chainguide (just in case), SRAM X01 AXS Rear Derailleur, SRAM XX1 Chain, Gabaruk 10-52 12 Speed Cassette
Huge fan of the mullet setup. It's a breeze for setup and maintenance, in my opinion. The fact that it'll all plays together so nice is brilliant. I've had some chain drops at some inopportune moments, so I have the MRP on there just to make sure nothing wacky happens on some chunky B Road.
Pedals: Shimano XTR
So simple, so sweet. Those bearings just spin forever.
Gas: Skratch Labs Super Fuel Packets
I am going to carry as much as I can. I'm planning on finishing in 20ish hours, so I hope to carry about 20 to get me through. I may supplement with some Maple Syrup.
Kit: Voler Custom Skinsuit
Probably the most comfortable piece of kit I own. It probably seems like overkill and ultra geeky to be wearing a skinsuit for an ultra, but comfort is king.
Helmet / Shoes: Giro Aeries / Giro Imperial
Giro helmets fit my head shape pretty well and this one is well ventilated. The shoes are actually road shoes that I've converted to gravel with a nifty little SPD adapter from Shimano.
I think that's about it. I've put a lot of thought into this setup and I'm really loving my tests on it so far. Feel free to reach out with any questions!