Most of the bikes we build here at Rodeo Labs are customized to one extent or another. Some minimally, perhaps with different component sizes or a decal color we don't typically use. Other are maximally customized, like for instance this build we just completed for Jason.
Jason is someone who seemed to know exactly what he wanted when he came to us with the build request. All of the parts you see picked out here for this bike are parts that Jason carefully considered and requested. When we couldn't find some of these parts Jason found them and brought them by the office to put into his build bin. (It's a not fully well known fact that we allow customers to bring any parts they want to a build as long as they aren't worn out).
We worked with Jason to talk through a few color details on his bike. Jason already knew what he wanted for the color of his bike: Sherwin Williams Pickle Green. There was a fair bit of consternation on one detail of the paint: Should we paint over the exposed carbon seat tube and head tube insert? Those details are a signature of Flaanimal 5, and at first blush it would seem a shame to hide them. But Jason had a vision for all green and we went with it. We decided to go silver with the graphic accents to play off of parts that Jason had in mind for the build.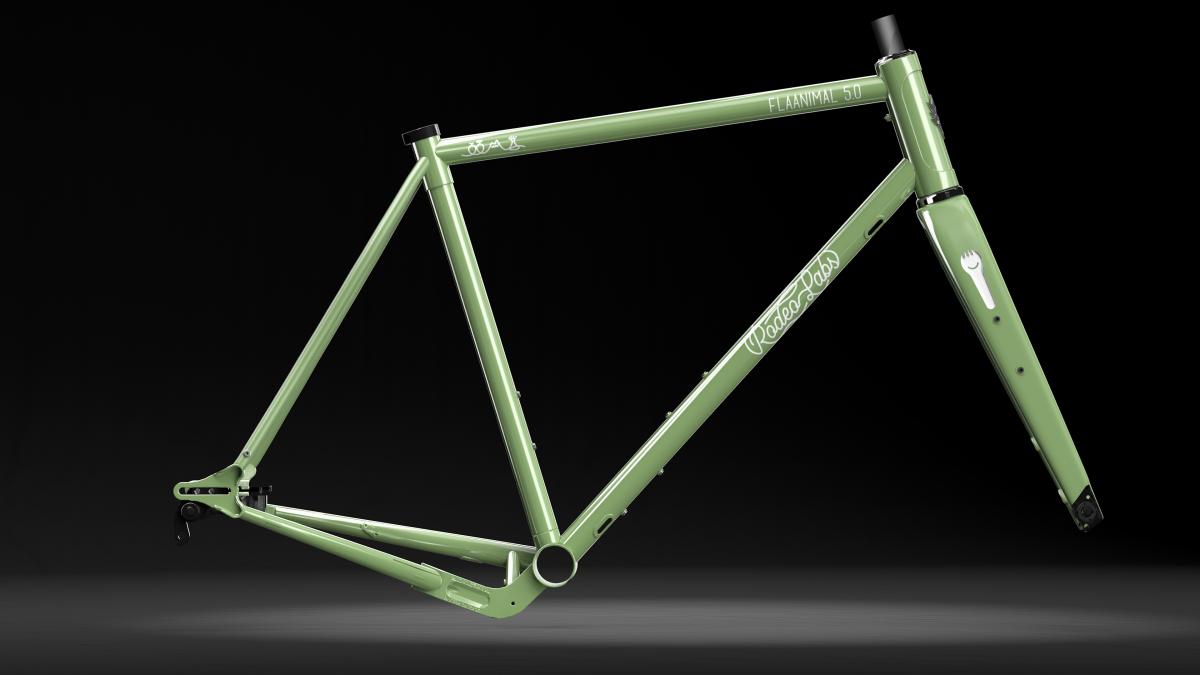 While we waited (a long long long time) for Jason's frame to arrive we all went about gathering parts. Small revisions were made all the way up to the point that the bike was in the build stand. For instance the lovely matte dark grey Chris King headset didn't quite compliment the other polished silver parts on the bike so we exchanged it for a polished White Industries instead. Little details like that really helped bring all the accents into harmony for that final effect.
The Di2 shifting on this bike has been a staple of Rodeo Labs builds for many years and it works no less well today than it did when it was first released. Shifts are precise and perfect seemingly every time. Battery life is fantastic, often lasting three months or more. We paired the Di2 derailleur with TRP Hylex RS hydraulic brakes which are available with tan hoods and have incredible polished / drilled levers. So good! Shift buttons come via Di2 climbing shifters mounted to the inside of the TRP hood via a mount made by TRP. The net effect is super stealth and very functional.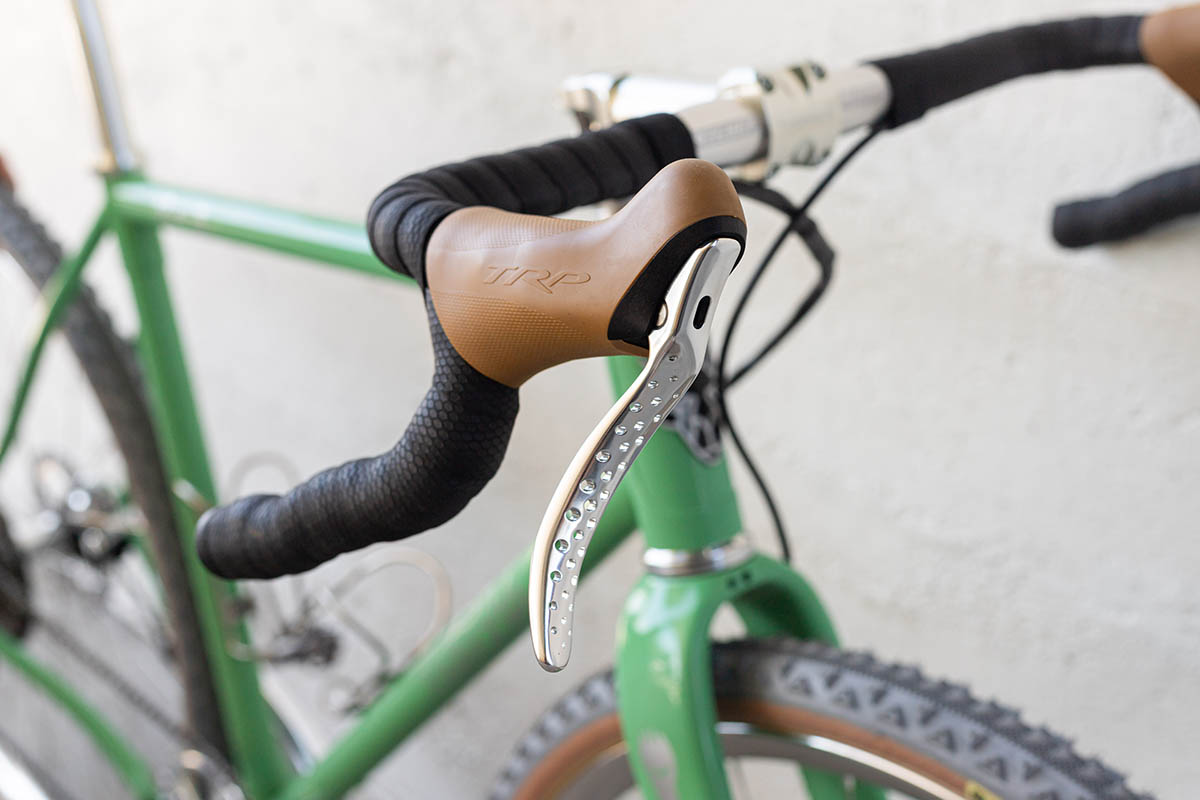 Jason has two wheelsets for this bike each to suit different purposes. One is a standard Rodeo 2.0 carbon set, and the flashy pair are HED aluminum wheels mounted with Ultradynamico tires that perfectly match the rest of the classic polished aesthetic.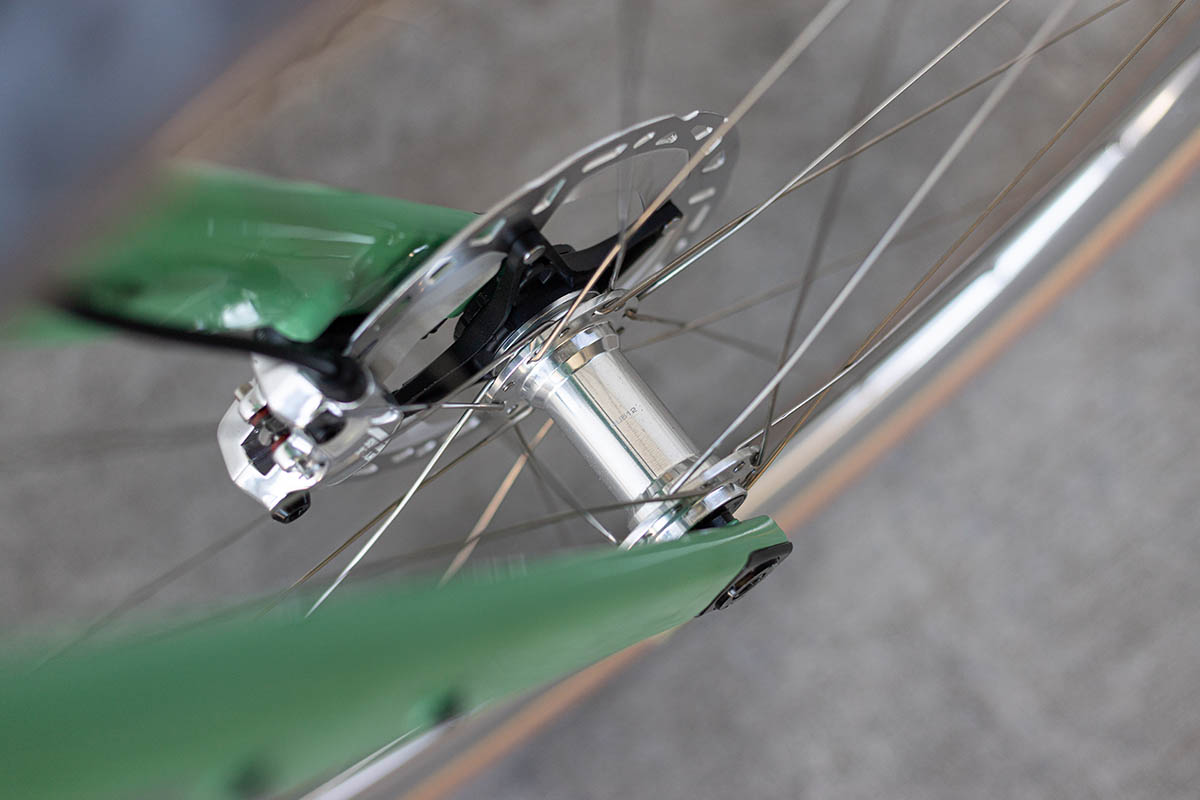 Thompson seatpost and headset continue the theme and have a reputation for being indestructible. Ritchey Venturemax Classic bars are a polished aluminum version of our favorite flared gravel bar and have class leading ergonomics.
Having ridden with Jason at the Rodeo Campout this summer we know this bike is bound to get ridden. It's so stunning in its current form that it is difficult to imagine it dirty, but we're happy knowing that dirt will be its ultimate fate.