The big mountain, the big city.
I've never done research on a place I'm traveling to. I've never read the top 10 lists and taken notes or looked into the history or geography or culture. I've always followed my gut and shown up jet-lagged and blind and let the bike and whoever I meet along the way lead me through discovering a place. I don't often regret not making it to the most known places. I've found stumbling through a place is how to really get to know it's charm.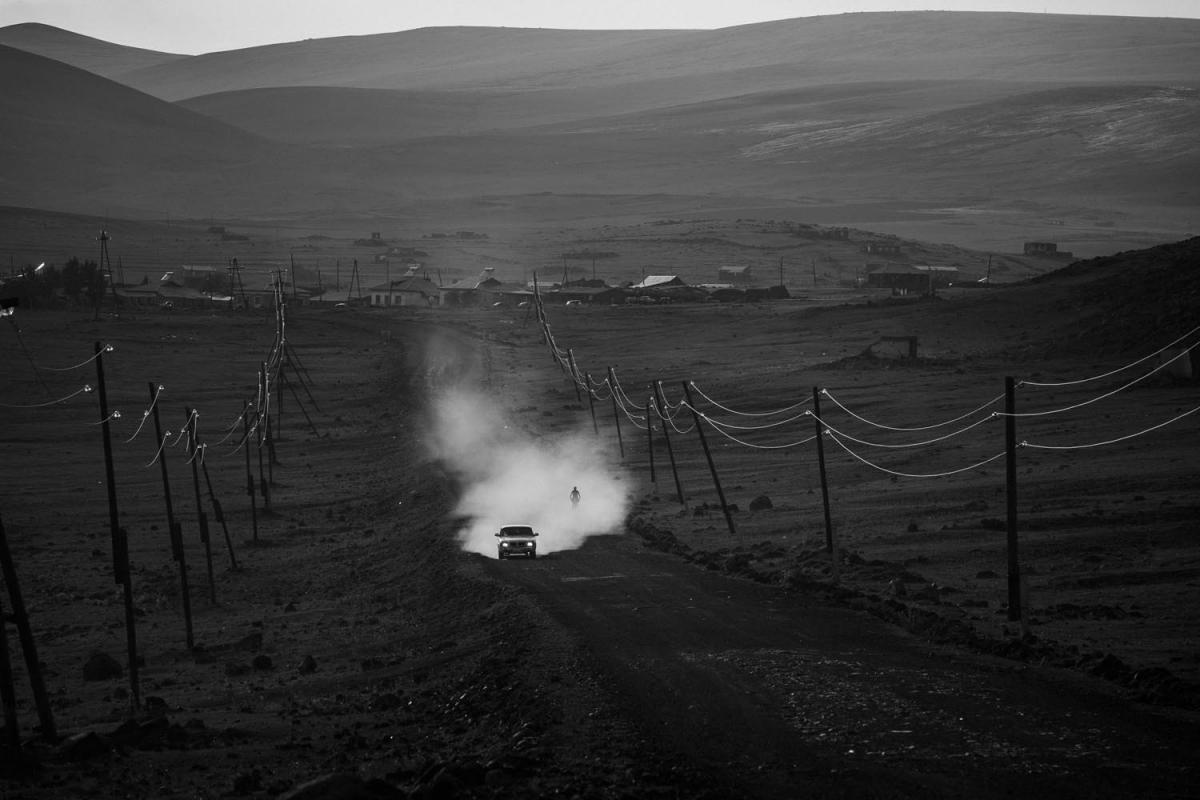 But this trip it's been different. With the assignment came pressure- to shoot good photos and make an interesting route and find gold where it may or may not lie. I read up. I studied maps. I interviewed people who had lived in Armenia and watched films and read travel blogs and my life became obsessed with Armenia. I had dreams of Armenia. I lived there vicariously and then I put it all on the backburner while we rode for two months to get here. We raced through Turkey and stumbled through Georgia and got to the Armenian border crossing and this wave of emotion came boiling over from that back burner and it was all real. Armenia is real and two months begins just as we get our passports stamped and everything I've learned from afar is now being put to the test. I cross reference it all. Nothing makes sense. Studying a place is nothing like being there. Armenia is everything I expected and yet still, everything is new. I'm nervous and excited and happy to be here finally. To put my knowledge to the test and see if any of that was valuable. Now I can determine if my previous way of traveling was a waste or not. So far? Not sure. Is traveling ever a waste?
I have a dirty, tangible finger on the pulse of this country finally, and two weeks in Armenia has brought us so much already. We've been learning and laughing and having some tough conversations. Armenia, full of beauty and love, is a country that has suffered. It has scars and relics of its sad story around ever corner. From it's inception and early indoctrination into Christianity, Armenia has been despised by it's neighbors. It suffered conquest and 500 years of rule from the Ottomans that ended in a brutal genocide. Then it was absorbed by the Soviet Union and lived under communist rule for 80 years. And now, Armenia has been dealing with lingering war with bordering Azerbaijan over disputed territory. In the capital Yerevan are memorials for the genocide, for those that died in both World Wars, and graveyards full of Armenians fighting for their country. In small towns murals are painted for the soldiers lost in last years Nagorno-Karagakh war. Soviet era abandoned factories speckle the landscape. The Armenian identity is that of a survivor. And yet? They persist.
I learned so much about all of this before we arrived, but after we sat down one night with our Warmshowers hosts the gravity of their struggle started to land. The hosts had become our friends by then. They're well educated and traveled and interesting. They make little money as tour guides but they're happy to be outdoors in the country they love and giving something back to it. When the war erupted last year they said they were all consumed by it. "There's no going home at night and watching a movie and forgetting about it. We all banded together. We weren't all fighting, but we were all at war." Armenia, with political corruption scandals and a slow economy has been a tough place to live. Their friends and family are leaving, part of the 8 million diaspora Armenians around the world, and our hosts are pleading with them to stay. Armenia needs its people now more than ever. It has strong national roots but the soil has been poisoned. Armenia is a country trying to prosper but being held down by both it's history and it's neighbors. Lady Armenia wants to soar, and I think one day soon she will.
Our time here though, in the wake of the pandemic and the war and a very recent recall election sparked by mass protest, has been full of love. Our first full day in Armenia we were brought into three different homes for coffee. The third home was owned by the ranger of the national park we were riding in. We were there for two hours and ate and laughed. The wife of the ranger stuffed Bo's pockets with candy when she tried to walk out. And the kindness just kept coming. Armenia is known for it's hospitality, it was one of the first things I read when I started studying, but experiencing it was so much more dramatic than I expected. Multiple times that day and almost every day since we are pulled off our bikes and fed until we rolled away. They give us food and a shot to go. A guest is a gift from god is the saying here. To us, Armenians are the gift. I'm humbled by them.
Five days into our ride here we got to the base of Mount Aragats, the highest mountain in Armenia. We left the small towns at the base and followed grass paths and vague GPS directions up the backside. After a couple hours we were surrounded by shephard camps and it was too cold to carry on. We braved the barrage of dogs and approached one of the camps to ask if we could stay with them. The shepherds were Yazidi, yet another persecuted minority in this part of the world, and they too let us in and kept us warm with tea and vodka and blankets. We watched them eat stew from their cow pie powered stove and took in yet more gentle culture shock. They live under tarps at 10,000 feet and herd their cattle and sheep all day. The men work until they're too old. The women take care of the property. It felt like we stumbled into the 15th century. I shot some photos and then the younger man asked for my Instagram and that 15th century feeling got a little funny. Technology is impossible to escape nowadays.
We made it up Aragats and then descended into a hot, smoggy valley through brutal winds and into Yerevan, the capital and the only real city in Armenia. The outskirts are a mess of abandoned factories and junkyards and soviet bloc apartments. The drivers are crazy and it's hectic and buzzing and exciting. Riding into Yerevan felt like riding through the Soviet Union. But then we got to the center with it's third wave coffee shops and Bentleys and designer clothing stores and it all changed again. Armenia is a diverse country developmentally speaking. I've never seen a place with such discrimination between rural communities and cities. Downtown Yerevan is just like being back in Los Angeles. The rest of Armenia is absolutely not. The word some would use is…corruption.
I didn't come all this way to feel like I was back home though, so we were excited to get back on the bikes and head into the mountains. We're now in the Lori region, the forested and mountainous northeast, and riding the tail end of the bikepacking.com Caucusian Crossing route. It's a phenomenal route that traverses some very remote mountain passes to connect religious holy sites and small villages. The route is well done, and so far, I really recommend it. We're going to ride this back to the border with Georgia and then hitch-hike back to Yerevan because a special guest or two are arriving to ride with us next week. Until then, we'll continue stopping when people invite us in and looking around the corner for a good photo. Armenia has been nothing like I expected and yet everything like I expected. The landscape is beautiful and the food is fresh and organic and delicious. But the real reason we're in love with Armenia has been the people. I feel so lucky to get to be here and ride for another month and a half.