Rider / Author: Joe Perry
Event: The Rift
Location: Hvolsvöllur, Iceland
Date: July 27, 2019
Just over 10 years ago I remember watching the film Heima by the band Sigur Ros, this was my first exposure to Iceland and I knew immediately I wanted to visit there. Fast forward to the Fall of 2018 and my good friend was telling me about a new gravel race that was going to happen in Iceland in the summer of 2019, he was going and I knew I wanted to get in on it as well. Gravel riding and racing is pretty popular in my area so I had been doing it for a while and had lately really enjoyed exploring by bike on more fringe roads and longer rides to get a better feel and understanding of an area and its landscape.

Knowing that this event was coming up I wanted to upgrade my bike to something that would maintain a more aggressive gravel bike geometry yet fit larger tires for handling more diverse terrain. A friend of mine built up a Flannimal and I thought that was a cool bike so started looking into Rodeo Labs. As soon as I saw information on the TD3.0 I knew it was the bike for me. The ability to ride everything I enjoy by just having multiple wheelsets while not giving up much to a dedicated CX, road, gravel, etc rig.
We are lucky to have a lot of great shops in the Grand Rapids area and the folks at Grand Rapids Bicycle Company were fantastic to work with to get the frame and the components together to build this bike.
My primary build would focus on the needs for The Rift. From experience I knew I wanted a 2x set up to allow for wider gear range and flexibility during longer events. Since Shimano had just come out with a clutch rear derailleur that worked with 2x the Ultegra 2×11 di2 set up was an easy choice. I went with a 650b wheel size using Schwalbe's 2.1 Thunderburt tire. I like that it is a lightweight and fast rolling tire so you don't compromise too much for its larger width.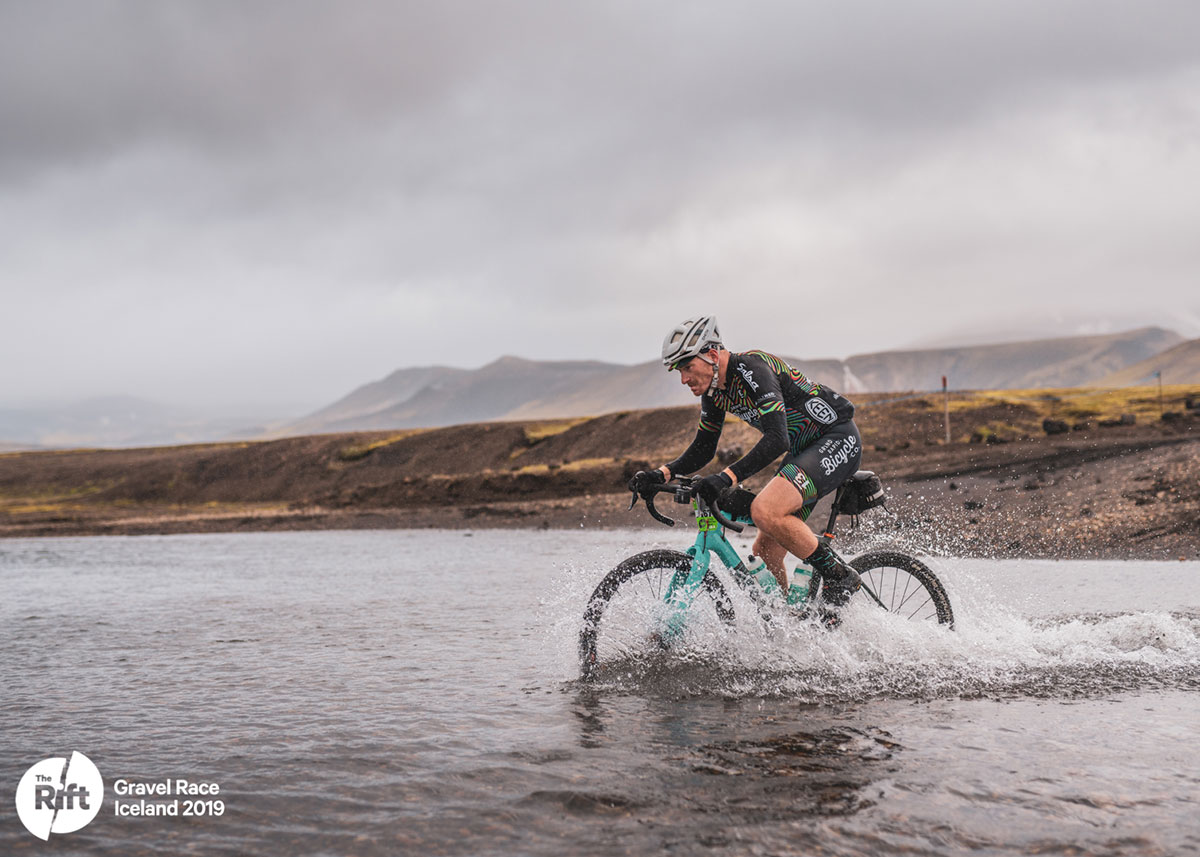 The day before the event we did some pre riding in the area, the gravel was large stone and the wind would build as the day went on but the excitement was growing as it was clear this was a special place and we hadn't even gotten into the highlands yet. The day started sunny but the clouds had rolled in by the time we ended our ride. If anything these weather changes during the pre ride provided some foreshadowing of what would come during the race.
The morning of the event it was clear it had rained during the night and would probably be wet again at some point during the 200km ride. It was cooler, maybe in the low to mid 50°s at the start. After a few miles of riding out of town on pavement the roads became chunky with stone. The pack of riders soon split up as it does and it didn't take long to get away from civilization where there was nothing in view except the vast landscape. The terrain was very rocky and I was concerned about tire punctures but had
good luck on the day, the wheel and tire choice was perfect. The first 40km of the course had much of the climbing and after about 20km the weather really picked up. The wind was a consistent 30-40 mph with rain and hail and temperatures dropping to the low to mid 40°s as we climbed further into the interior. It was easy to not focus on these conditions though because the scenery was nothing short of amazing. Everywhere was volcanic stone and rock so it was very black but there was this green moss against it that was a shade of green that is hard to describe, just like neon against this black background. The lack of trees gave way to expansive landscapes, you could see forever and there were no manmade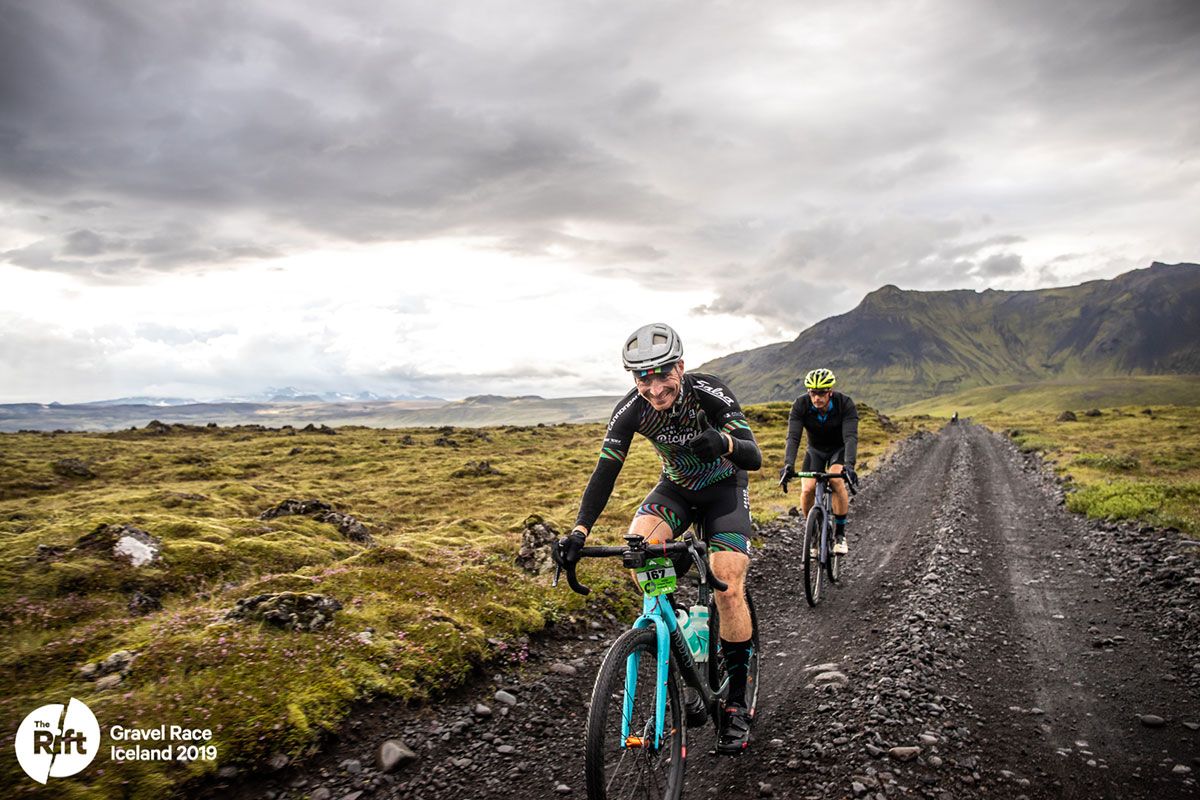 structures visible. After leaving the second aid station the course had a few changes, the wind was now at our back, we were heading down, and the temperature was climbing quickly and reached near 70°F. It seemed like this was going to be a big payoff for the climbing and head wind earlier. Unfortunately, this section of the race was about 20 miles of straight washboard gravel. There was no good line and it was very rough on the bike and the body. In order to avoid the washboard you had to ride the edge
which was very loose. The bike was great through this section with no issues and the larger volume tires helped absorb some of the washboard as well as track well through the loose gravel on the edge of the road. Following this there was a fast pavement section where I was joined by some other riders who were from England. They were on skinnier tire gravel bikes and I quickly left them again once we were reacquainted with the gravel. At this point the wind became a factor again as either cross wind or head wind and it was just a grind to the finish through large stone gravel roads. There were 5 major river crosses on the event and the bike handled great through those. Honestly I can't think of a better setup or anything different I wish I would have had in terms of equipment for the race. The Rift was the most amazing event I have done on my bike, we were thrown epic landscapes, weather, an amazing course and it was one of those times where you just have everything dialed in for the ride. For the distance it was a pretty hard ride and I would love to do it again but I know there are so many other amazing places to go. This was my first time flying with a bike to an event and it has opened my horizons to the types of events I plan to do in the future. I look forward to future travels to explore new places on the Trail Donkey.