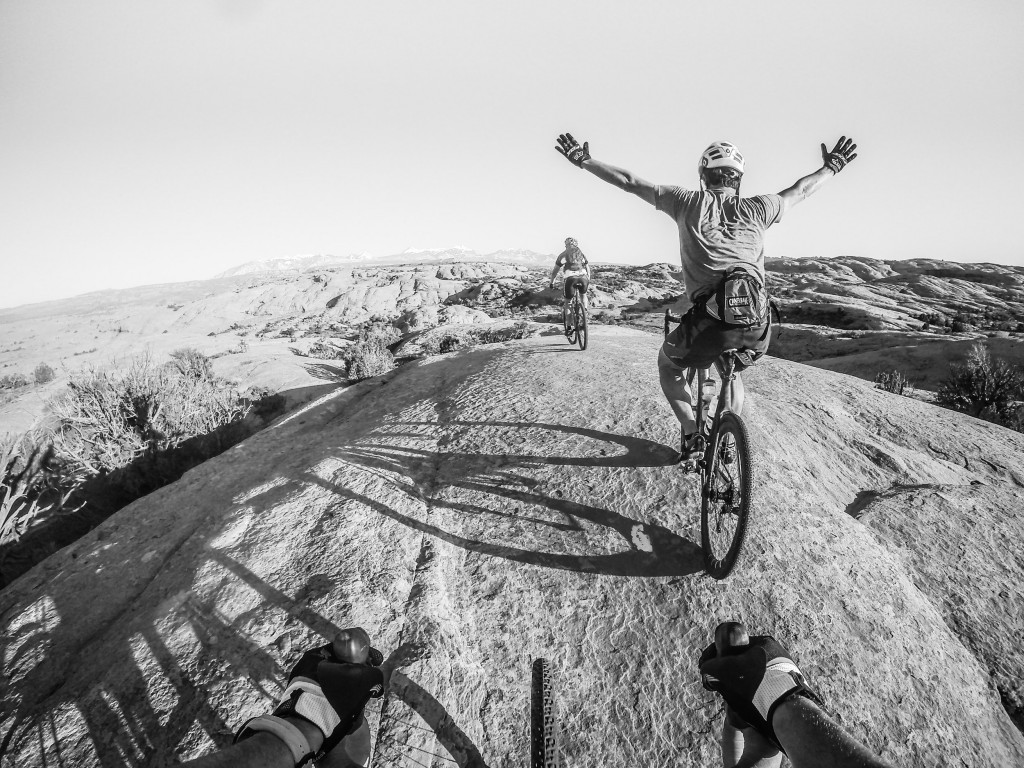 Sometimes as a cyclist there is a particular ride that calls your name relentlessly. For some it's an almost mythic European climb like Le Alpe D'huez, for others it could be a right turn onto a dirt road that they've never had the chance to take. Over the last year one ride has been calling my name like a record stuck on repeat. That ride is Slickrock Trail in Moab, Utah. I had ridden it once a number of years back and the experience left me laughing at the hysteria and fun of the place. It was unlike any ride I had ever done. Slickrock Trail is almost completely without peer on planet Earth. The frozen dunes of sandstone take on forms that seem drawn by Dr. Seuss. The way it undulates up and down begs you to explore every nook and cranny. The traction of the rock surface is like velcro, and it would seem that there is no grade too steep to climb so long as your legs can spin the cranks. If you aren't up to the challenge you can just as easily stall out and tumble back down the hill (or cliff) to whence you started.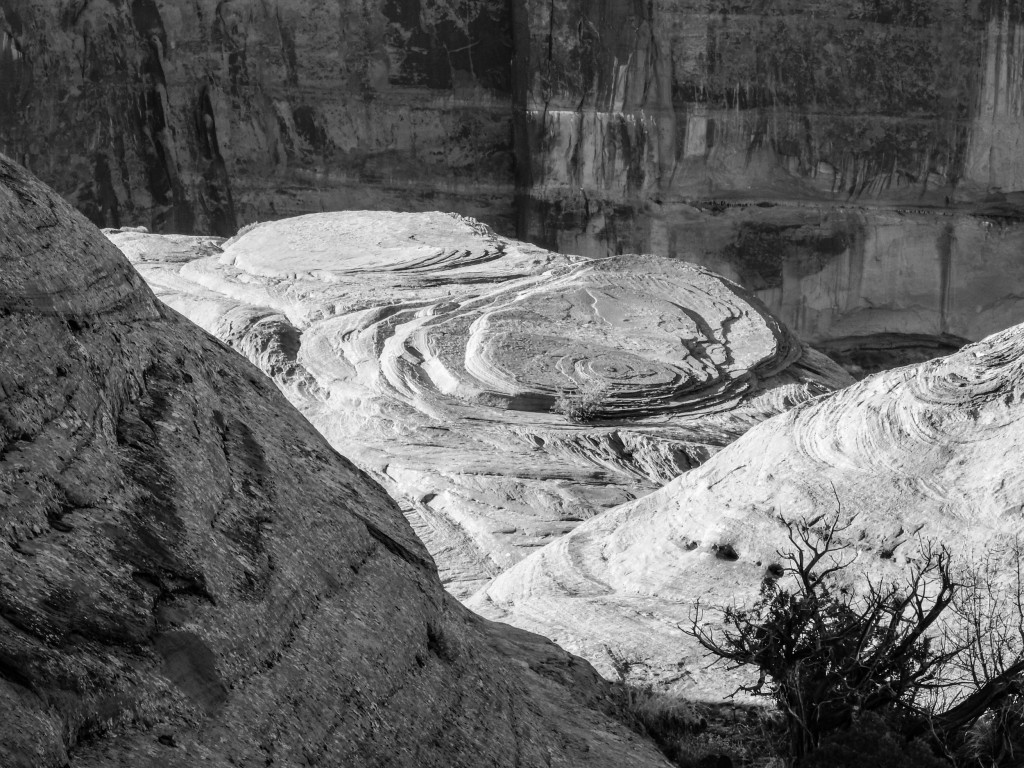 Many people have been to Slickrock Trail. It's been a true cycling Mecca for decades. For some people it's even a bit of a yawn at this point. Not for me. The trail is tough and fun enough on a regular mountain bike, but ever since starting to tinker and develop the Traildonkey last year, it's always been the number one destination I wanted to take the bike to. Traildonkey, it would seem, makes all things new to me. Any trail I've already conquered on a plush suspended MTB rig is now up for re-conquering on my non-plush, non-suspended pack animal of choice. A lot of people don't get that. Why would anyone knowingly and willingly ride a "lesser" bike on a trail when they could ride something masterfully engineered and adapted to it? For me the answer is that it isn't about speed and comfort at this point in my cycling life. It's about challenging myself in new ways and finding novelty on paths that would otherwise be well worn and tired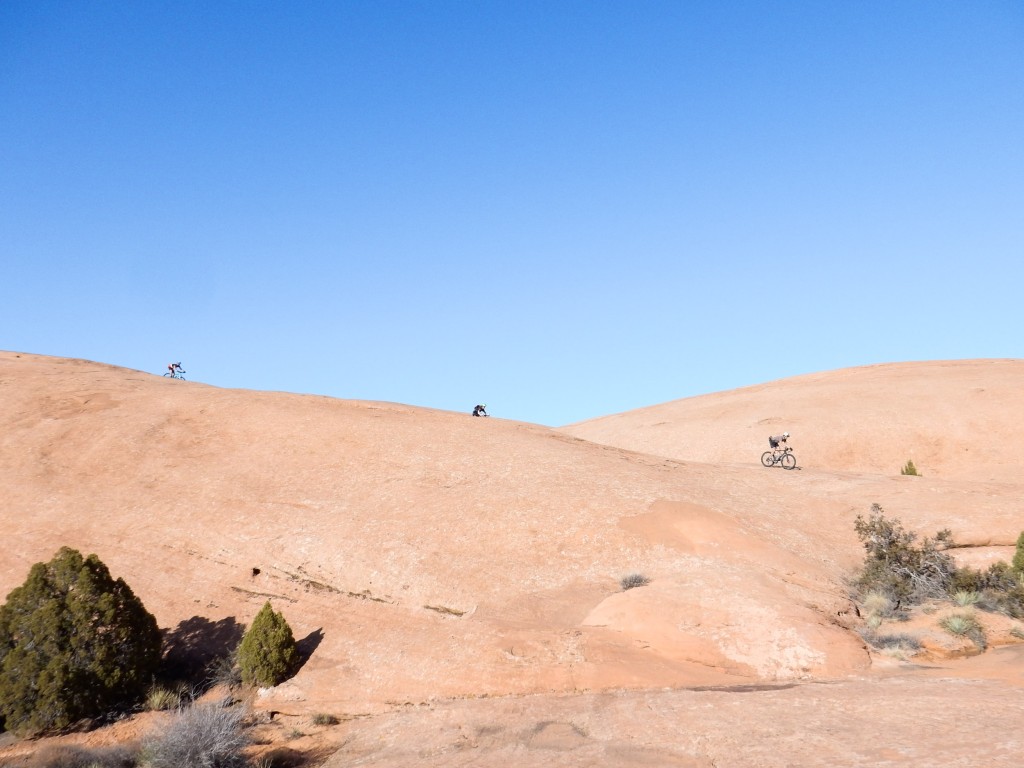 My opportunity to return to Slickrock came via an invite from my friend Derek, who I've also only just met over the last year through the great scrolling image circus that is Instagram. We started swapping comments online and in a story line that has repeated itself many times recently, it was decided that we should probably go riding in the real world as well. We'd done some knobby snow riding together over the winter, and now it was time to tackle something more substantial. The invite that appeared was actually for a Moab road trip for the purpose of riding the White Rim trail. We would leave Sunday evening, camp, ride the Rim the next morning, then drive back Monday night in a mad dash for adventure probably familiar to other guys like us: Dads with jobs and families that very much need our attention. As soon as I heard the word "Moab" though, I knew that we had to elbow for a bit more time on the trip to do Slickrock. The thought of visiting Moab and skipping the trail that I desperately wanted to ride was a non-starter. Derek agreed. It was decided. We would leave earlier Sunday morning and tack some sandstone adventure onto the trip.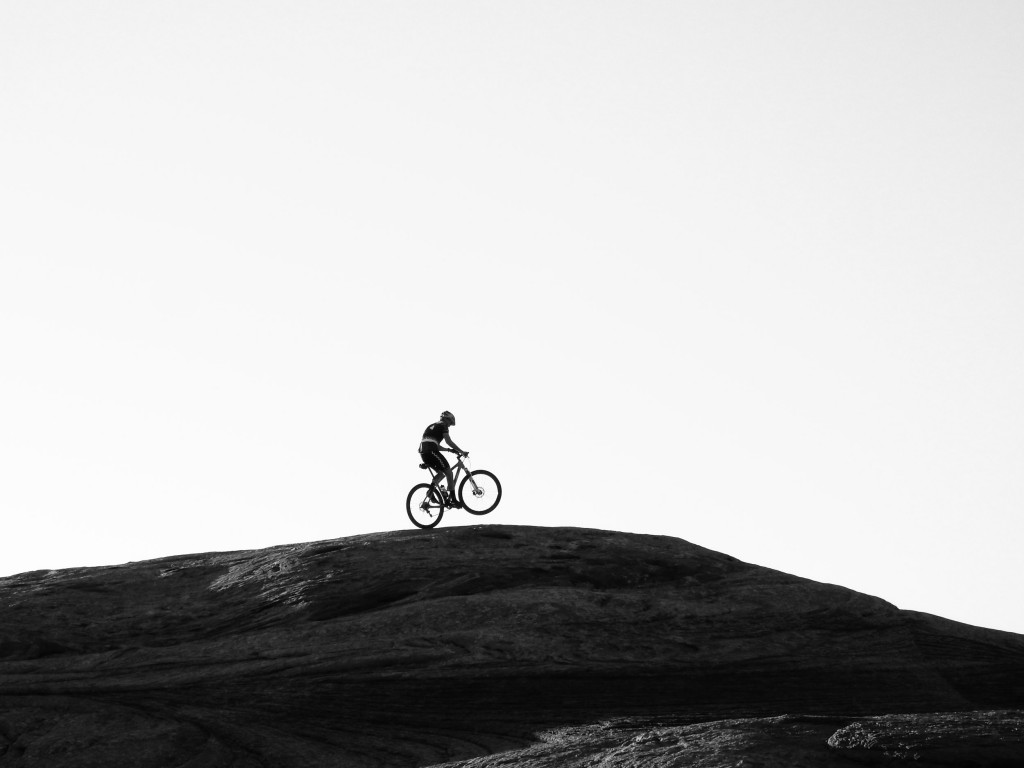 As the plan came together our group grew, and when go-time arrived we were five of us gearing up in the Slickrock parking lot, ready to have at Nature's playground. Derek and Jim and Scott would be rolling on their mountain bikes and Chris and Myself would be rolling on Donkeys. Everyone was curious how the day would play out. We all suspected that the ride was do-able on our chosen equipment, but we all probably wondered if Chris and I would regret our steeds of choice once the trail had beaten some sense into us.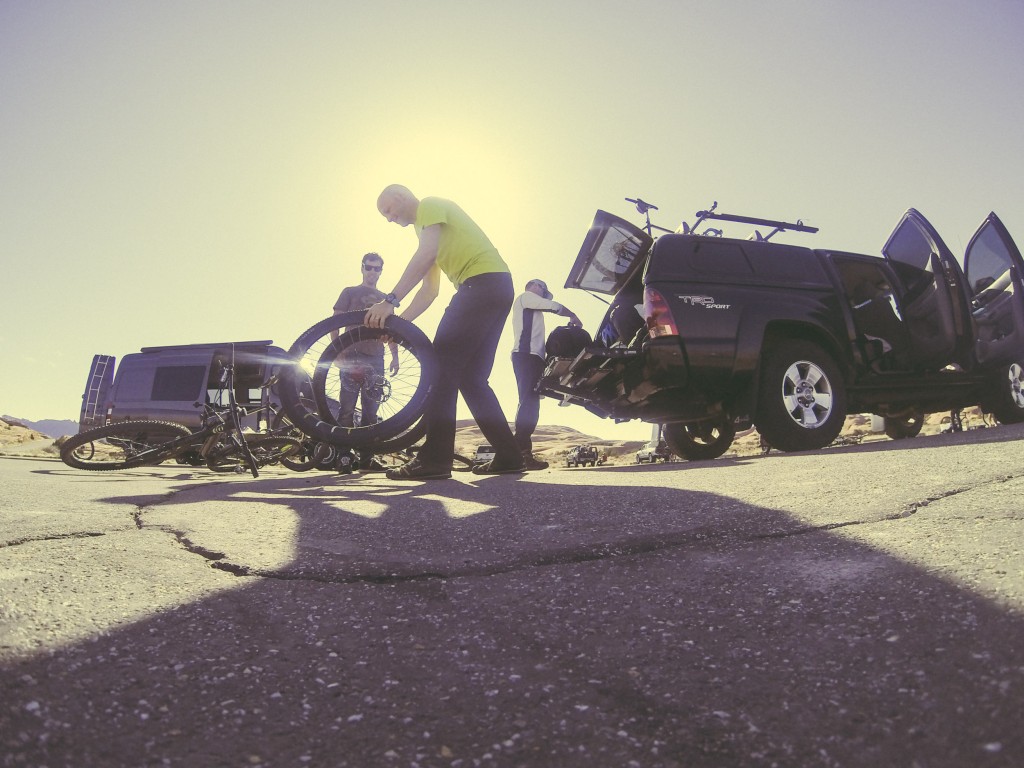 Slickrock is not a long trail at all. It totals out around 10 or 11 miles but the distance doesn't tell the true extent of it. Slickrock is a never ending series of quick descents followed by ultra steep mini climbs that slowly but surely wring your legs into submission. You don't really realize it at first, but after a few miles you begin to feel the intense efforts add up in a way that is unfamiliar, especially to someone who spends so much time spinning lightly on a road bike like me.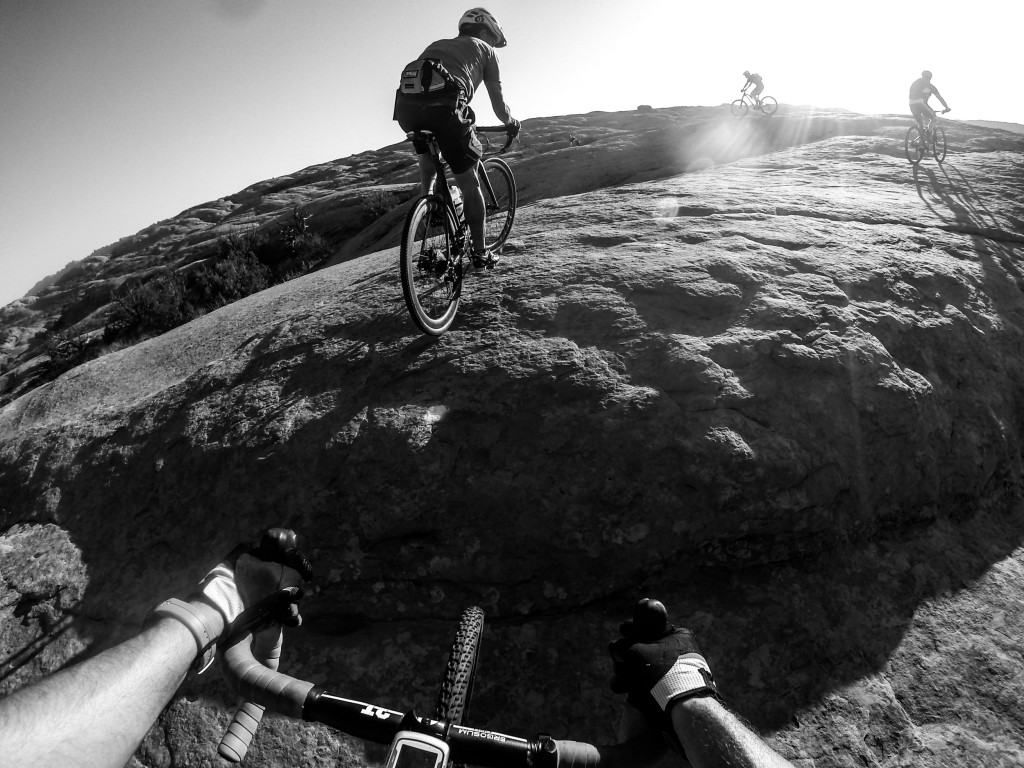 When you have a front or full suspension rig you may also not realize how bumpy the trail is. In photos the surface looks very smooth but in reality the 99% rock surface amplifies and emphasizes every single irregularity and telegraphs their full force into your body. Slickrock doesn't just wring you out, it beats you to a tidy, grinning pulp.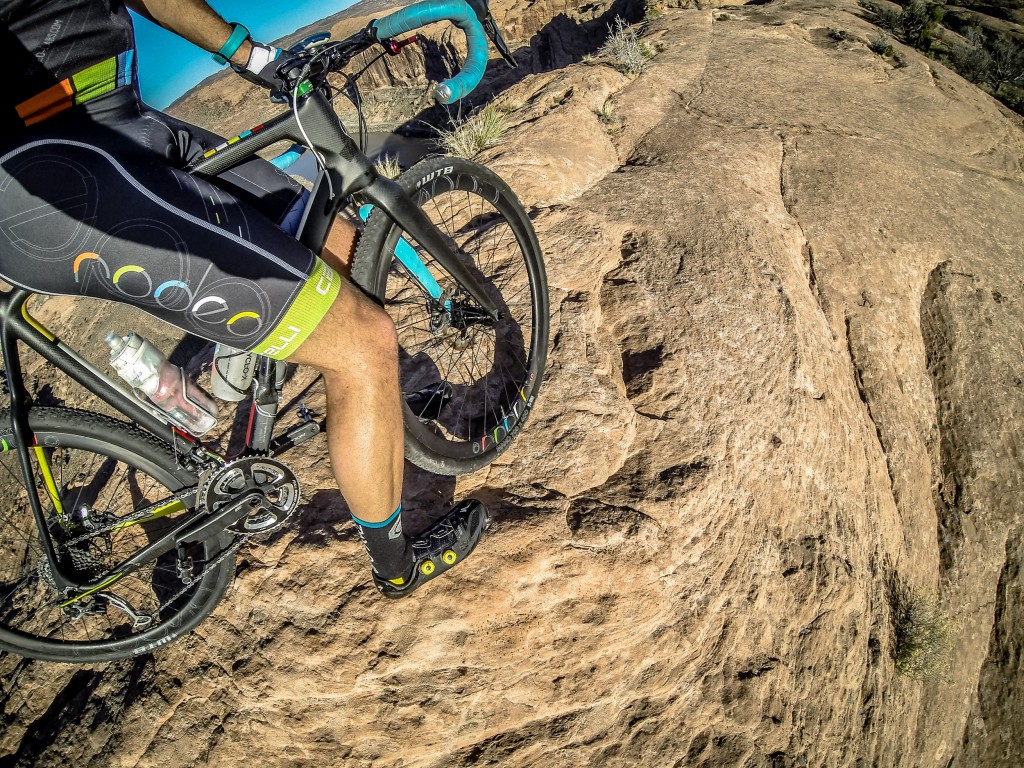 As we launched out onto the trail brimming with enthusiasm we let out whoops and yells as the sheer fun and beauty of the place hit us fresh. Derek and Scott and Jim took off quickly, and Chis and I spent the first mile or so adapting to the bumps and rumbles of the terrain. Initially I was concerned with my bike choice. Pretty much any ride is theoretically passable on any bike with enough discomfort and/or walking, but neither Chris and I were there to walk our Donkeys, we wanted to ride them. We wanted to be ably to fairly say we'd gotten the better of the trail, not the other way around. As we bounced along on 35 and 40mm WTB tires, a funny thing happened. Our bodies started adapting to the terrain. Our brains took note of the features, relayed better and better line choices to our arms, and instructed our arms and legs both to relax more and suspend us from the impacts. Chris in particular is an absolute charger on a mountain bike, so much so that there are times I can't even watch him descend certain lines because he goes so fast it gives me vertigo. On his XC or enduro MTB he usually just points the bike and lets the shocks do the talking as he floats down incredible terrain features. At the start of the Slickrock trail he was pointing Trialdonkey similarly and the effect was not surprisingly very jarring. As he and I changed our technique and methodology we stopped fighting the trail and… soon it all began to flow: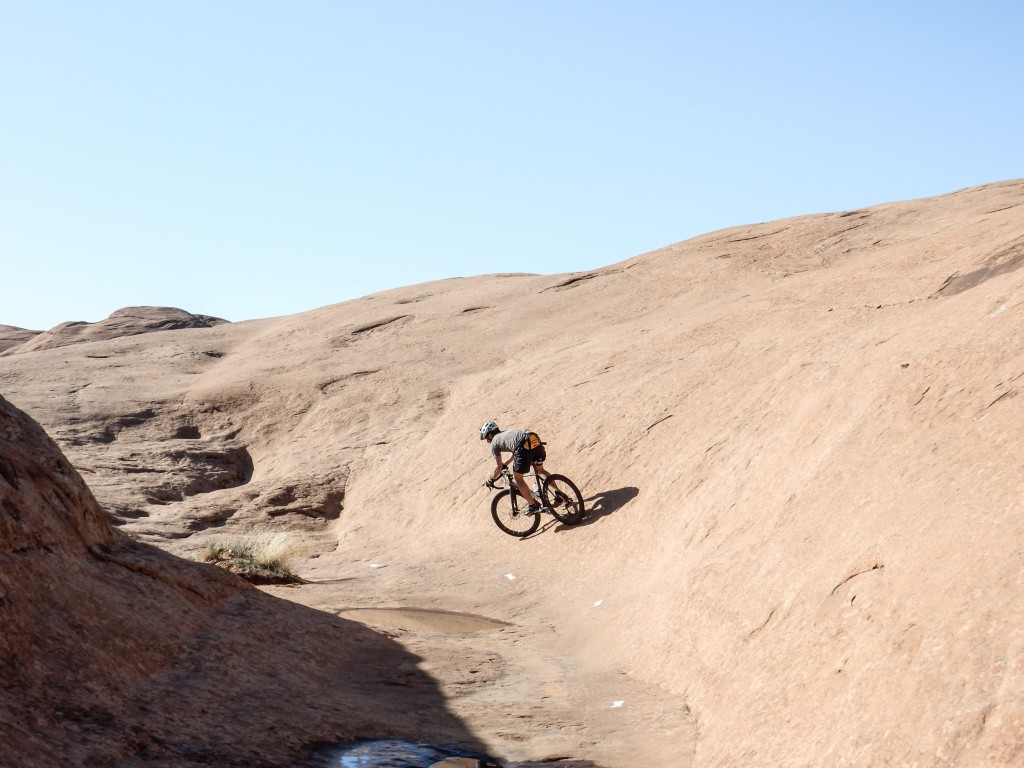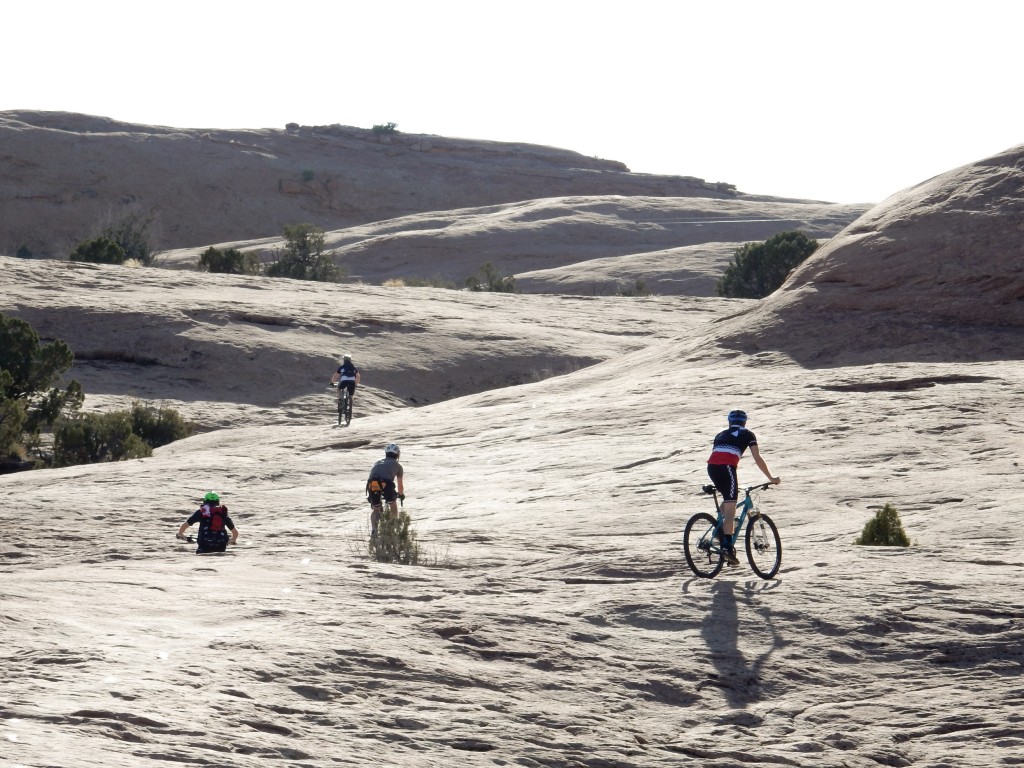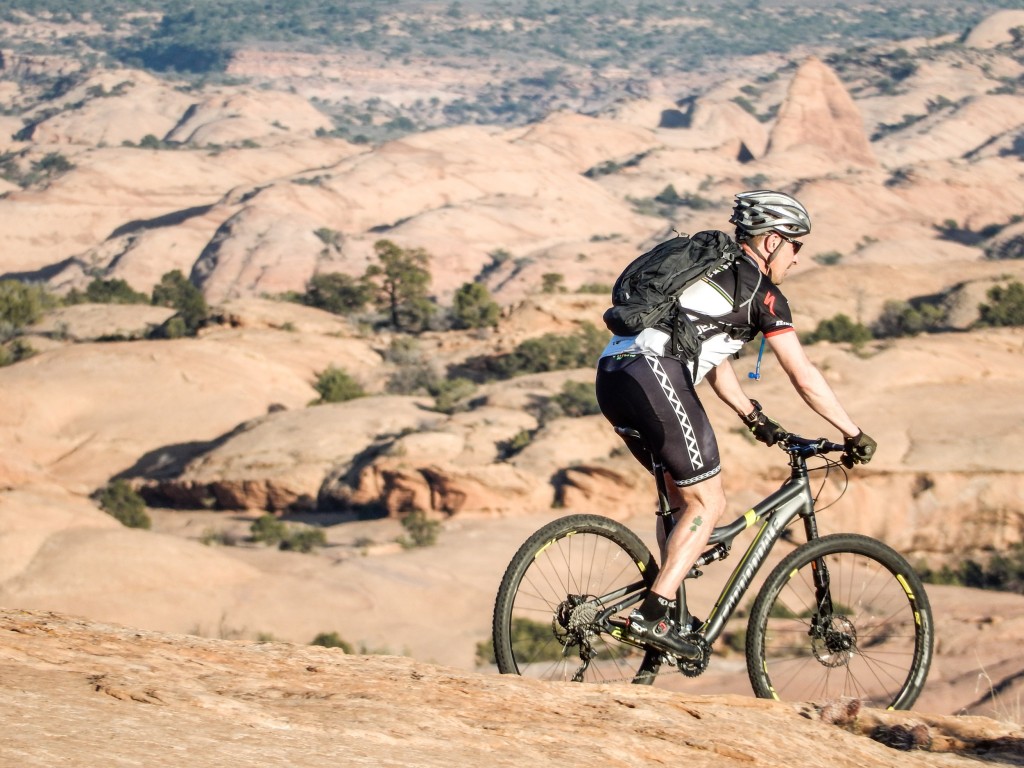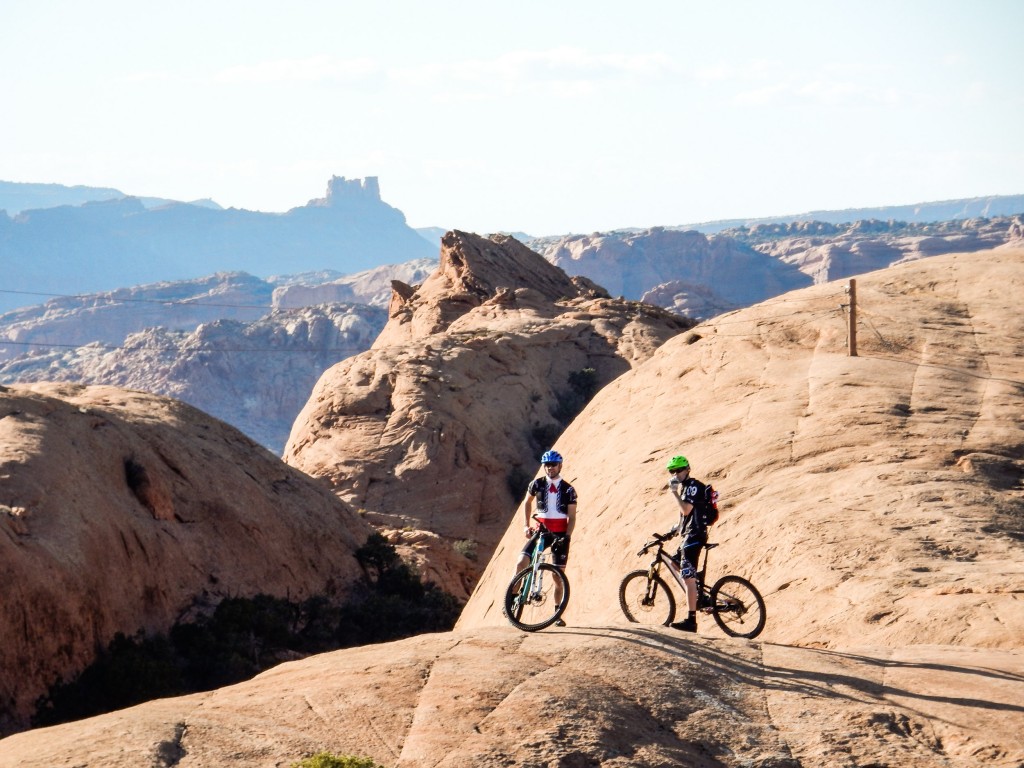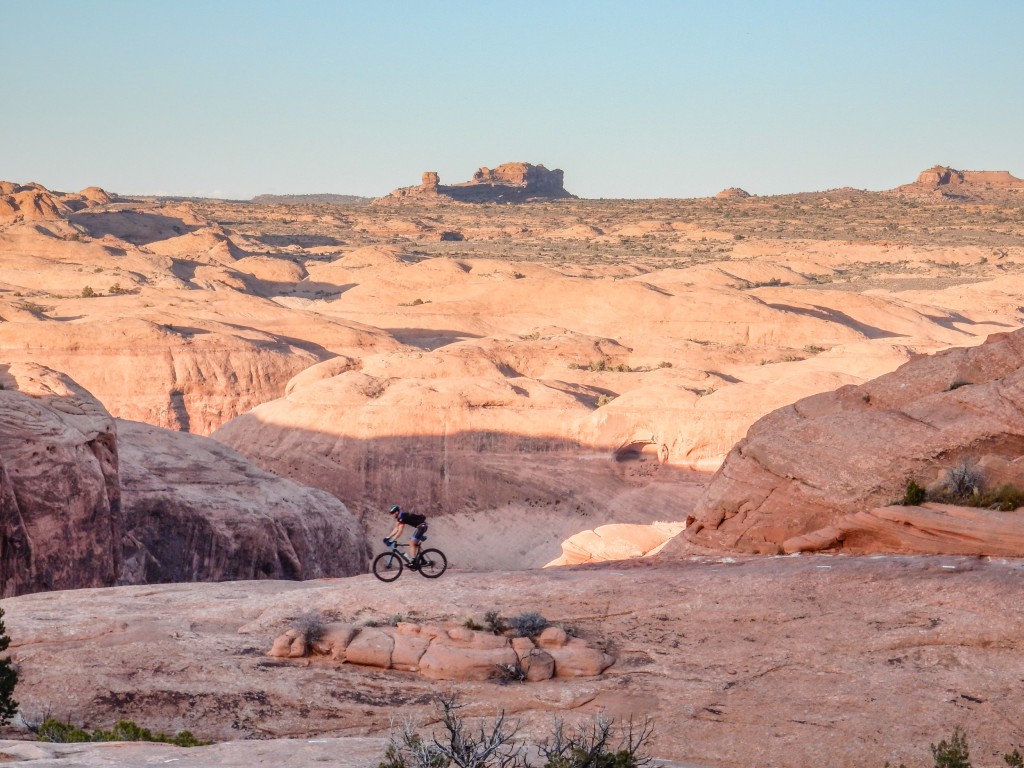 There is no doubt that tremendous fun and satisfaction come from riding Slickrock on a proper mountain bike. More than any other style their geometry, suspension, breaking, tires, and gearing are perfect for tackling this iconic trail. As the ride went on though it became clear that for riders like me, people looking for the novelty and intensity of "solving" a complicated trail, a Traildonkey or any properly set up cyclocross bike can be incredibly rewarding on Moab's premiere playground. There is something special that comes from gutting out and cleaning a tricky technical climb OR descent on skinny tires and shorter gearing. The razor thin margin of error engage the senses in such an incredible way. I would even dare say the heightened requirements of focus and intent during line selection give the rider a more intimate relationship with the trail. Is either style or bike type better? No way. Saying something like that is the equivalent of  Rodeo heresy. We don't believe elevating any specific style or gear choice above another. Every rider has the right to experience and interpret this sport any way they see fit. That day on Slickrock trail, Derek, Chris, Scott, Jim, and myself all had a truly memorable ride on the rocks. We celebrated each other's clean lines, we coached each other's mistakes, and we tried in vain to soak up the incredible view. An enduro bike, a hardtail, an XC lefty, and two Donkeys. We pretty much nailed bike selection that day.