Consumerism is undeniably woven into the fabric of modern society. However, its expansive reach may not be as innocuous as flashy advertisements would have us believe. Now, it might seem contradictory to start a blog discussing the pitfalls of consumerism while intending to funnel visitors to Rodeo's website, hoping they'd invest in a bike. But this juxtaposition is what sets Rodeo apart. I think I speak for everyone here when I say that Rodeolab's fan's are here for the culture not just the bikes. As adventure cyclists, our brand of consumerism is geared towards not just healthier choices, but also more meaningful experiences. What I'm driving at is, while traditional consumerism, particularly the American variant, often leaves a trail of depletion, there exists an alternative that can enrich rather than exhaust.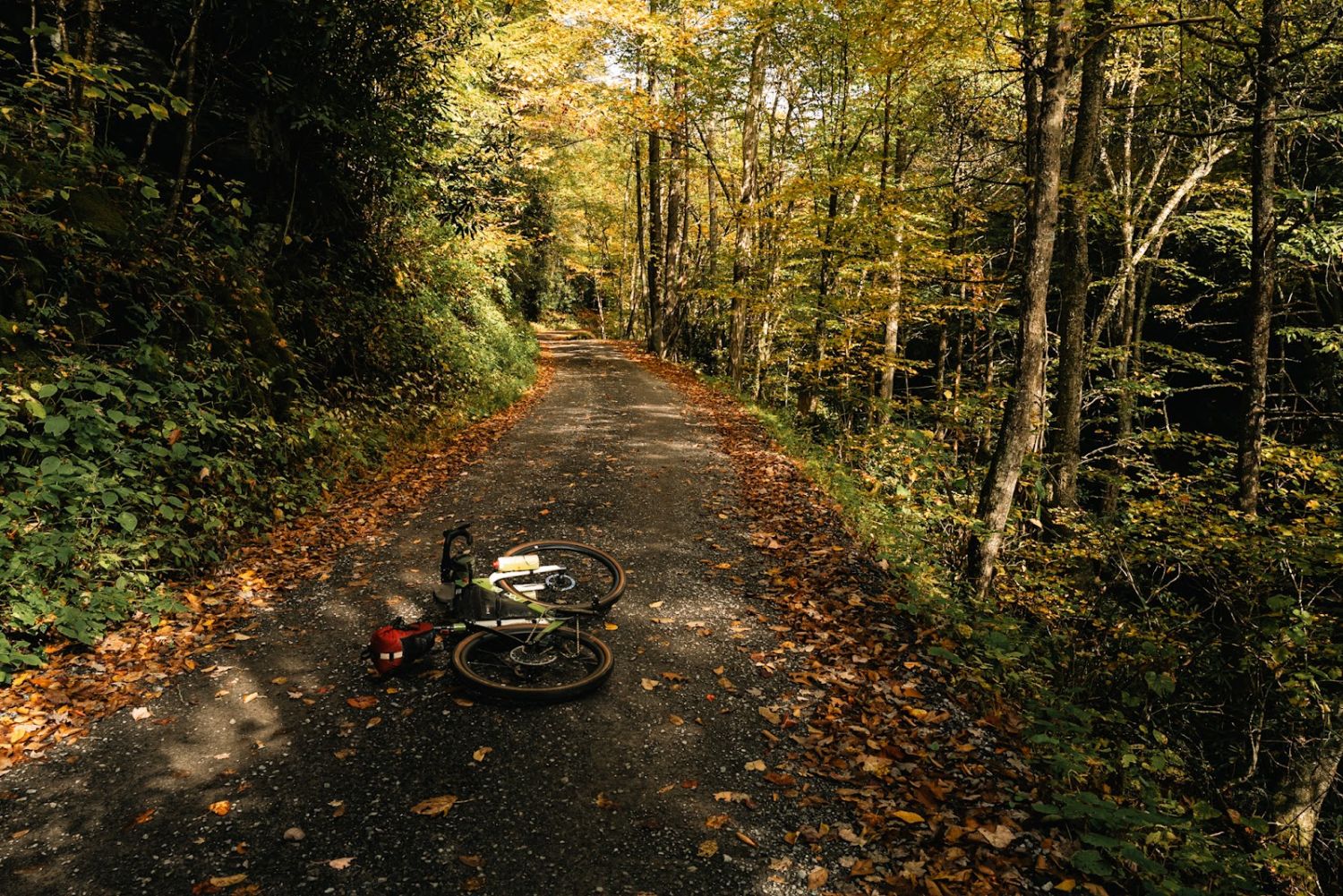 I recently embarked on an excursion in Grayson County, VA for the pure reason of enjoying the route and capturing the experience behind my camera. A nice departure for adventure racing and intervals. David Landis, famed for crafting numerous standout bikepacking routes in Virginia and internationally, extended an invitation. I was to join him and a select group on the "Grayson Gravel Traverse," a path he'd compiled a few years earlier. To be honest, I felt somewhat overshadowed amidst such a distinguished group of athletes, writers, and adventure cycling aficionados.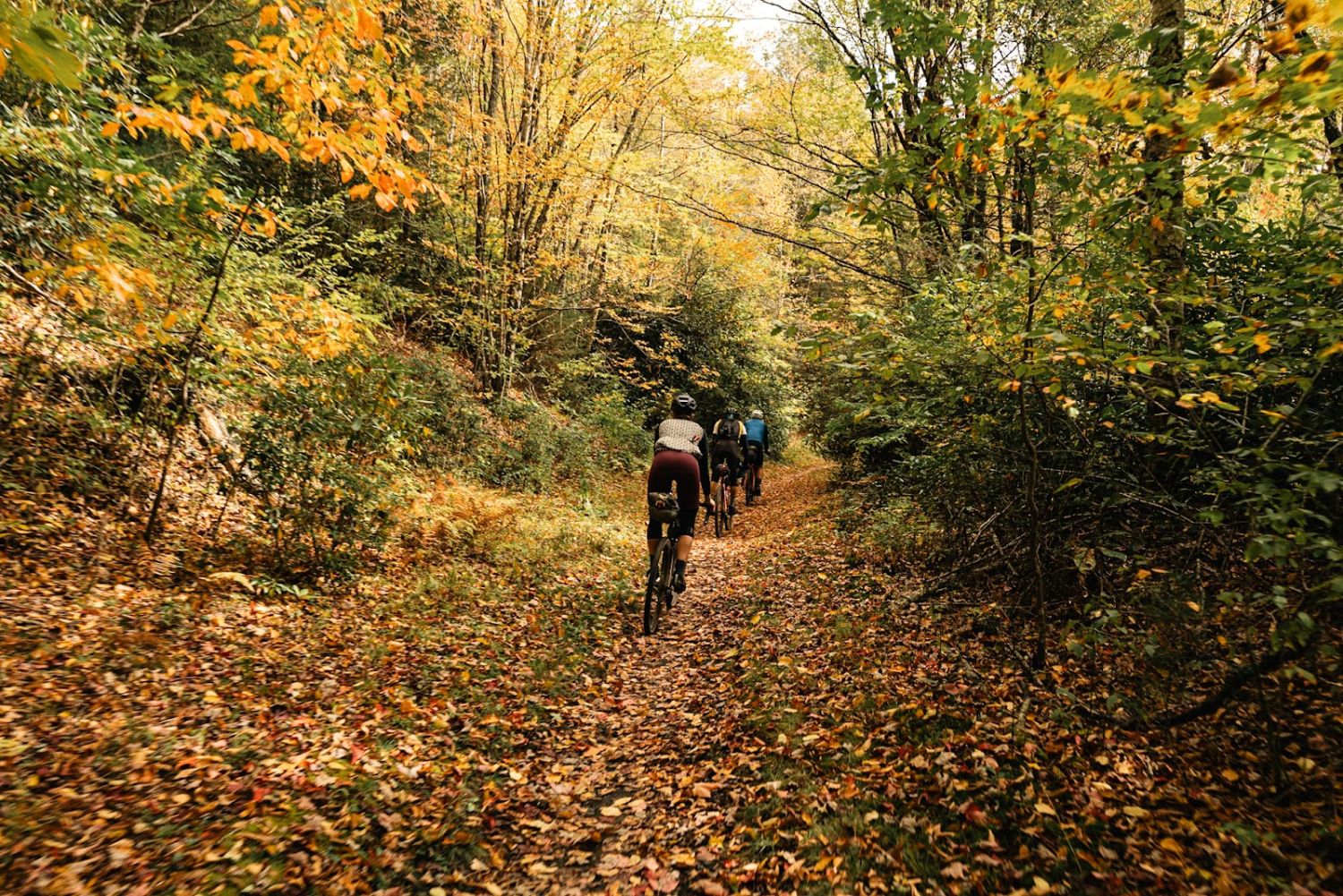 My journey began with an unplanned detour. Prior to joining the group in Fries, VA, I had envisioned a day of solo exploration and a night in a motel. But, fate had a hiccup in store. Just 25 miles in, my bike suffered a broken rim (and for record, it wasn't a Rodeo rim!). This hiccup saw me gently nursing my bike 25 miles back to my starting point in Damascus, VA. Though initially disheartened, I was grateful for the ability to return home, fetch a new wheelset, and reconviene with the group as scheduled. My determination to see the route through would prove worthwhile.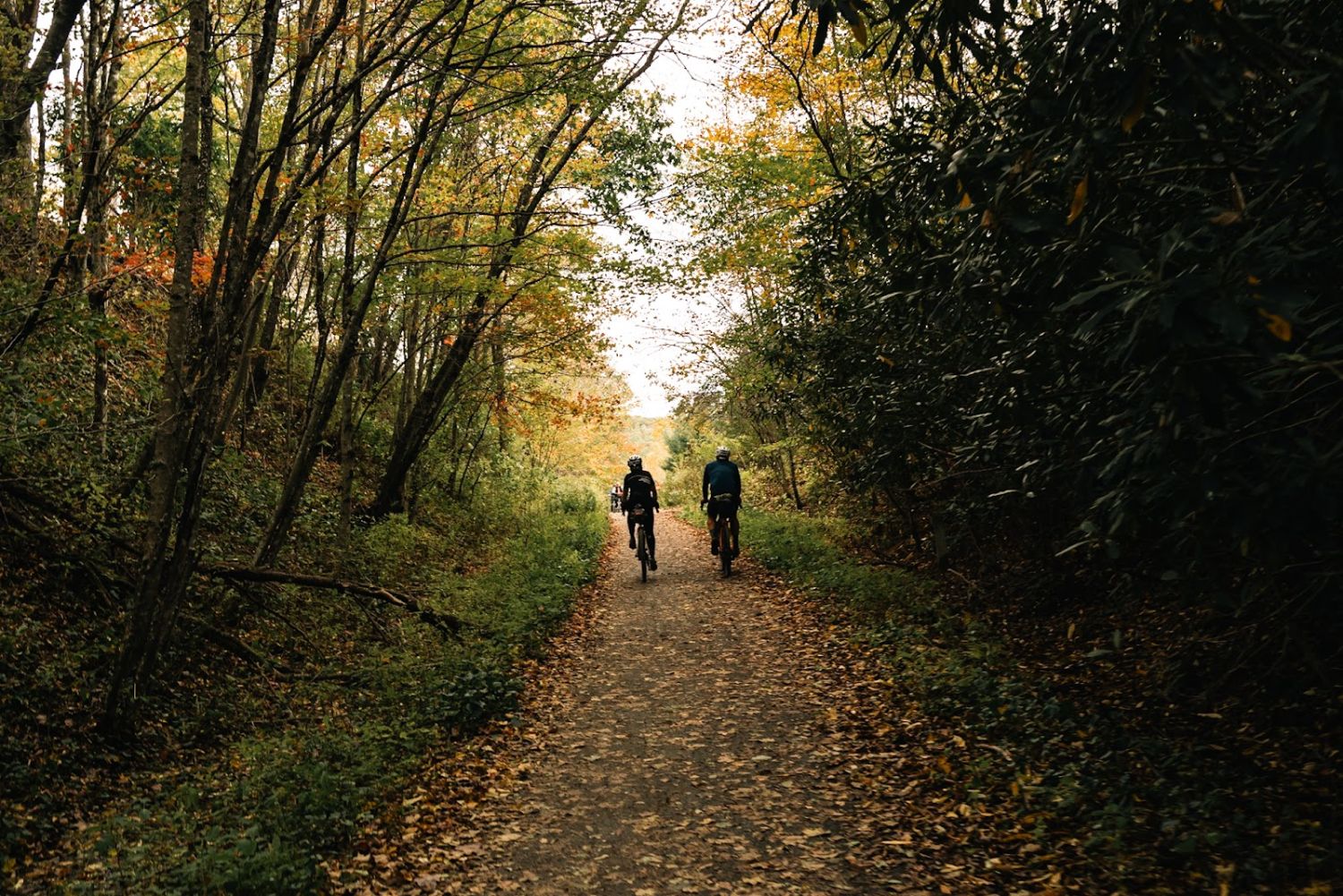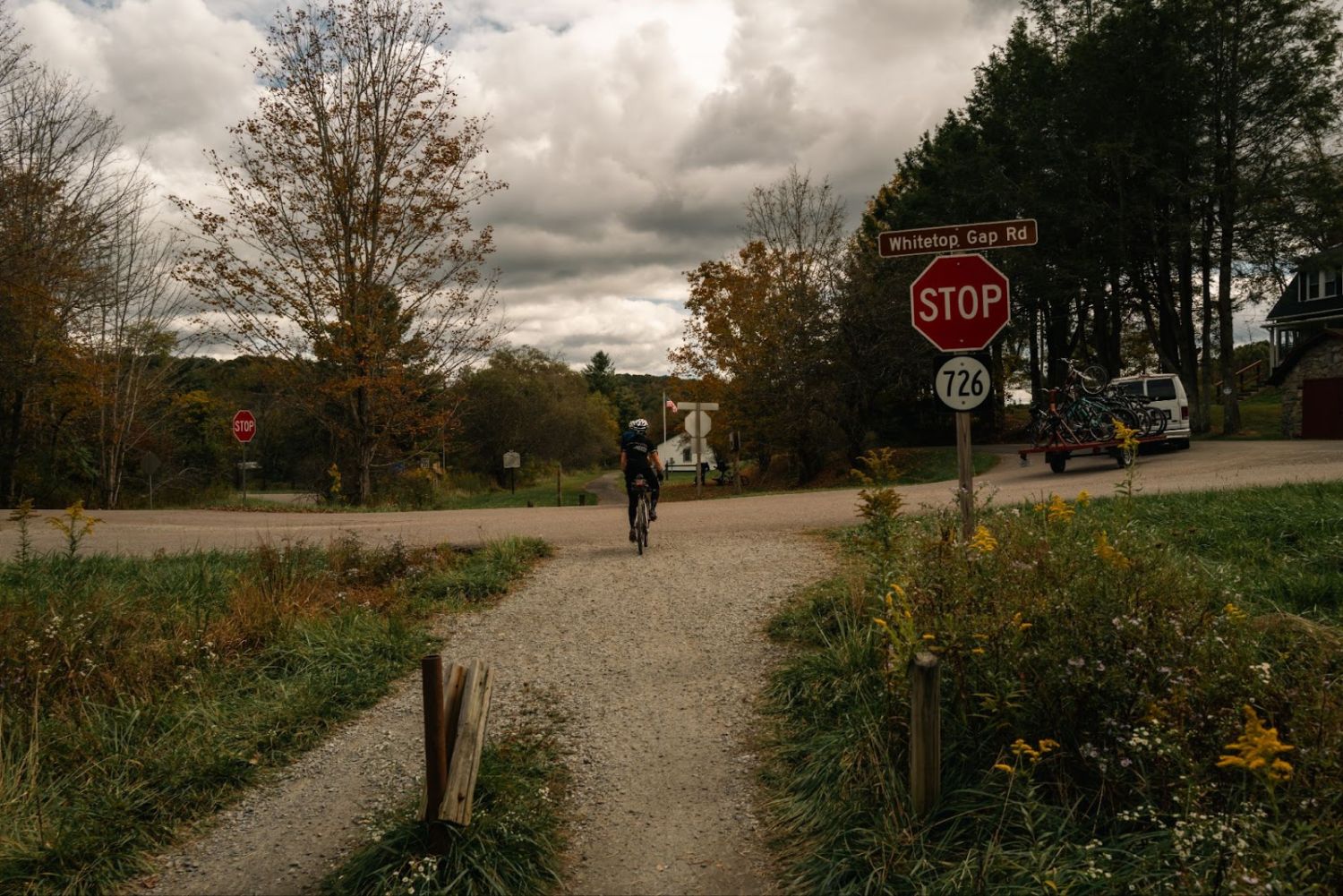 The Grayson Gravel Traverse is a scenic pathway that connects Damascus, VA, to Fries, VA. It meanders along well-maintained, lightly-traveled gravel roads, showcasing the picturesque rolling hills and valleys of Grayson County, VA. Grayson County connected with David Landis after seeing his TransVA route, which I experienced earlier year. Grayson County's ambition was to seamlessly link two phenomenal rail trails: the Creeper Trail, located just beyond the county's boundaries, and the New River Trail which starts in Fries, VA. While these trails boasted miles of breathtaking dirt roads between them, a connecting route was notably absent until the birth of the Grayson Gravel Traverse.
The route offers multiple ways to be tackled. One can opt for a point-to-point journey, starting at Damascus, VA, going up the Creeper Trail, and concluding at Fries on the New River Trail. Alternatively, like we did, begin in Damascus, ascend the Creeper Trail, and then loop through the county before returning. See the link below for more technical routing explanation.
Learn More About the Grayson Gravel Route's particulars Here
What piqued my interest is Grayson County's enthusiasm for cyclists to traverse their region, linking the two rail trails. Why this eagerness? With a modest population of just 15,000, Grayson County experiences minimal tourism. Bike tourism presents a golden opportunity for outsiders to discover and revel in the county's beauty, simultaneously invigorating local businesses and the economy.
Tracy Cornett, Grayson County's Director of Tourism Economic Development stated,
"Originally Grayson County pursued bike tourism because we already have an existing presence with bikers. The Virginia Creeper Trail on the western end of the county is one of the most popular bike trails in the U.S. providing an easy downhill ride from Whitetop to Abingdon. On the opposite end of the county is the New River Trail State Park, another easy rail to trail biking experience. Both of these highly visited trails are on the outskirts of the county. We wanted to encourage economic activity by connecting the two and giving visitors a reason to spend time inside the county. While meeting that goal, we were able to provide an authentic experience suitable for all types of cyclists. Adventure cyclist can enjoy the challenge of the Grayson Gravel Traverse while kids or those not quite up for such a challenge could enjoy an easier ride on either side of the route. Those riding the Grayson Gravel Traverse get to see and experience the untouched beauty that is Grayson County while participating in our cultural heritage."
Map from Library of Congress showing Grayson County – Note the end of the Creeper Rail Trail to the West and Begining of the New River Trail to the East.
Interestingly, Grayson County is strategically situated with prime bike infrastructure at its borders. Yet, these structures seem to halt abruptly at the county line. This isn't a deliberate choice but a byproduct of Grayson's small population—only 15,000 residents within its 448-square-mile boundary. This sparse population ensures that the gravel and back roads, such as those on the Grayson Gravel Traverse, see minimal traffic. During our three-day excursion, we encountered just a smattering of vehicles, primarily delivery trucks. This lack of traffic, coupled with breathtaking landscapes, welcoming people, and a culture devoid of haste, amplifies the allure of the route.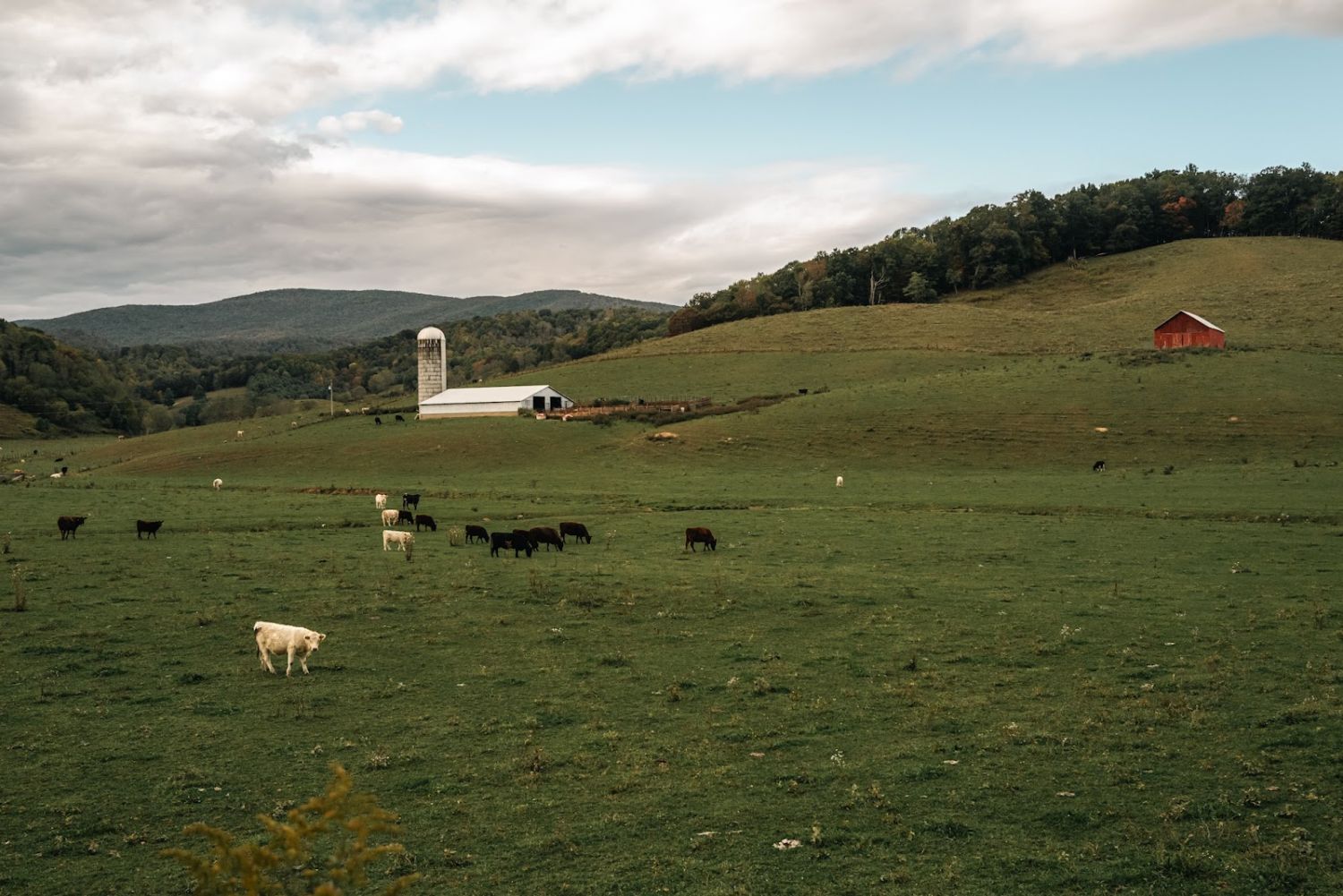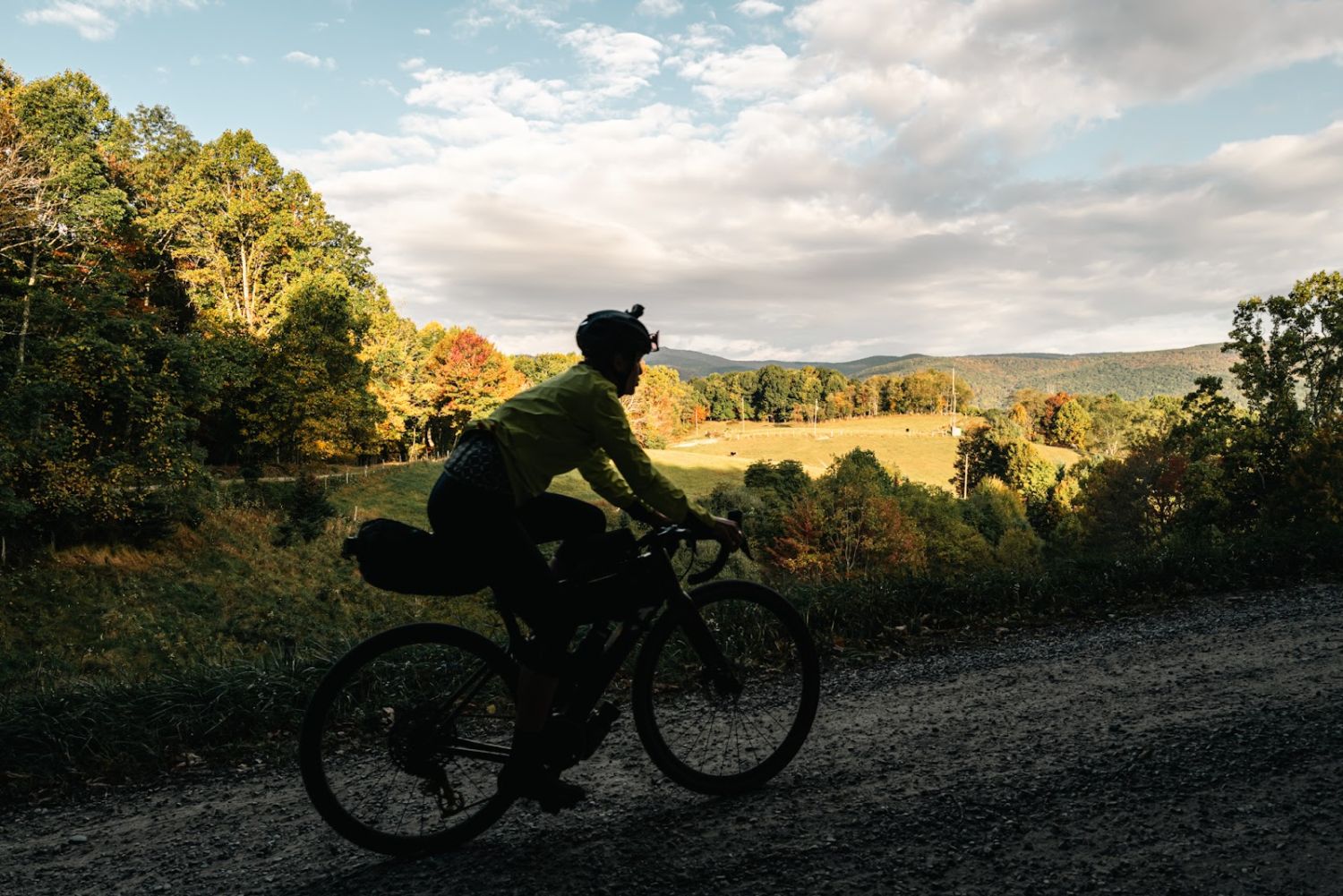 An undercurrent I sensed during the journey was the locals' pride and contentment in their serene setting. They cherish the idyllic scenery, tranquil roads, and their modest community embedded amidst rolling hills adorned with quaint farms and homesteads.
Grayson County is an adventurer cyclist's paradise. Park your car at the county's edge, embark on the Creeper Trail, and immerse yourself in some of the East Coast's most stunning rural vistas. The beauty of this is twofold: You stimulate the local economy by patronizing small businesses while leaving a minimal footprint.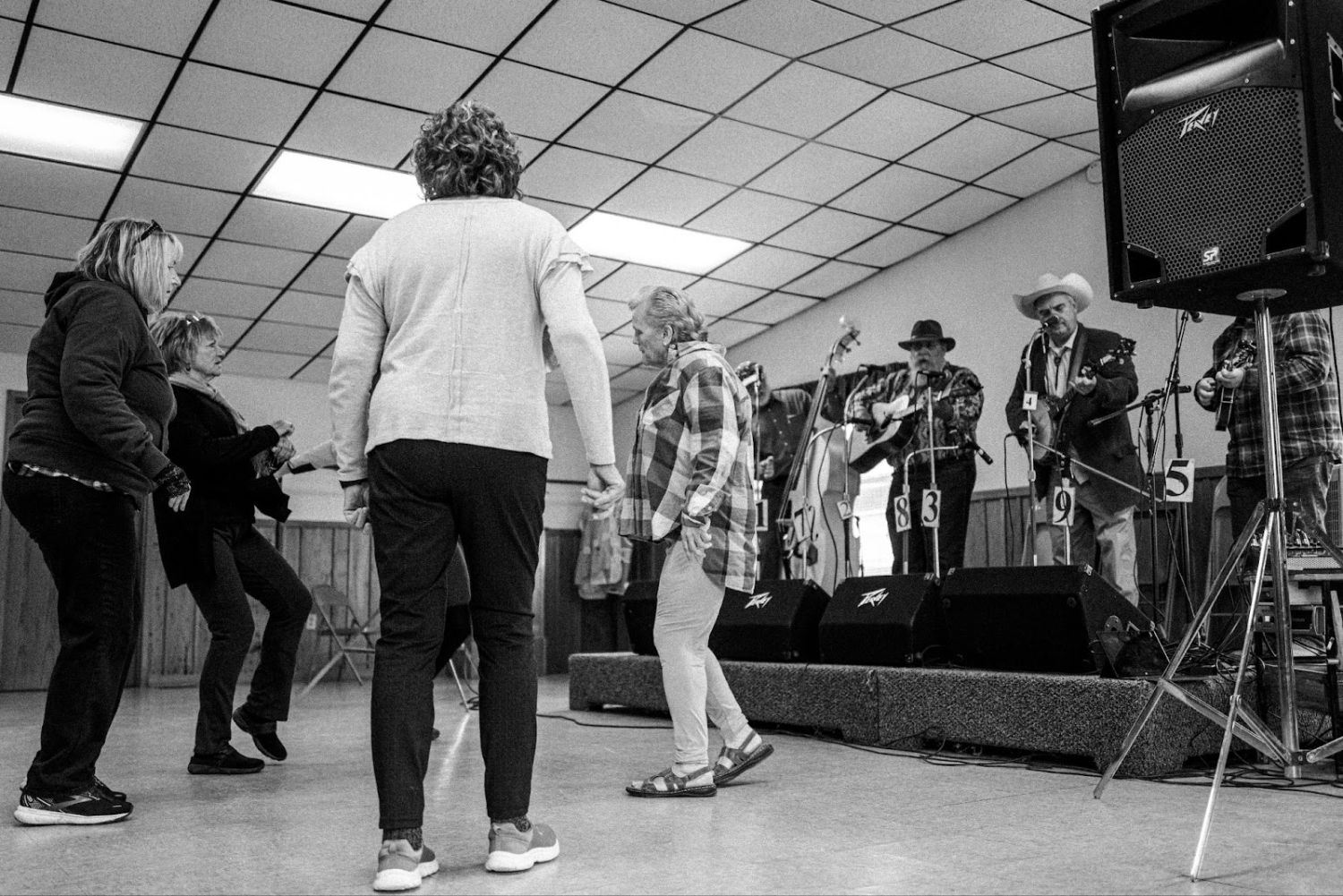 After navigating the Creeper Trail—a 10-mile stretch originating from Damascus, VA—we stumbled upon the Molasses Festival in Whitetop. As a fan of Appalachian folk music, I was captivated by the authentic, heartfelt tunes echoing from the community center.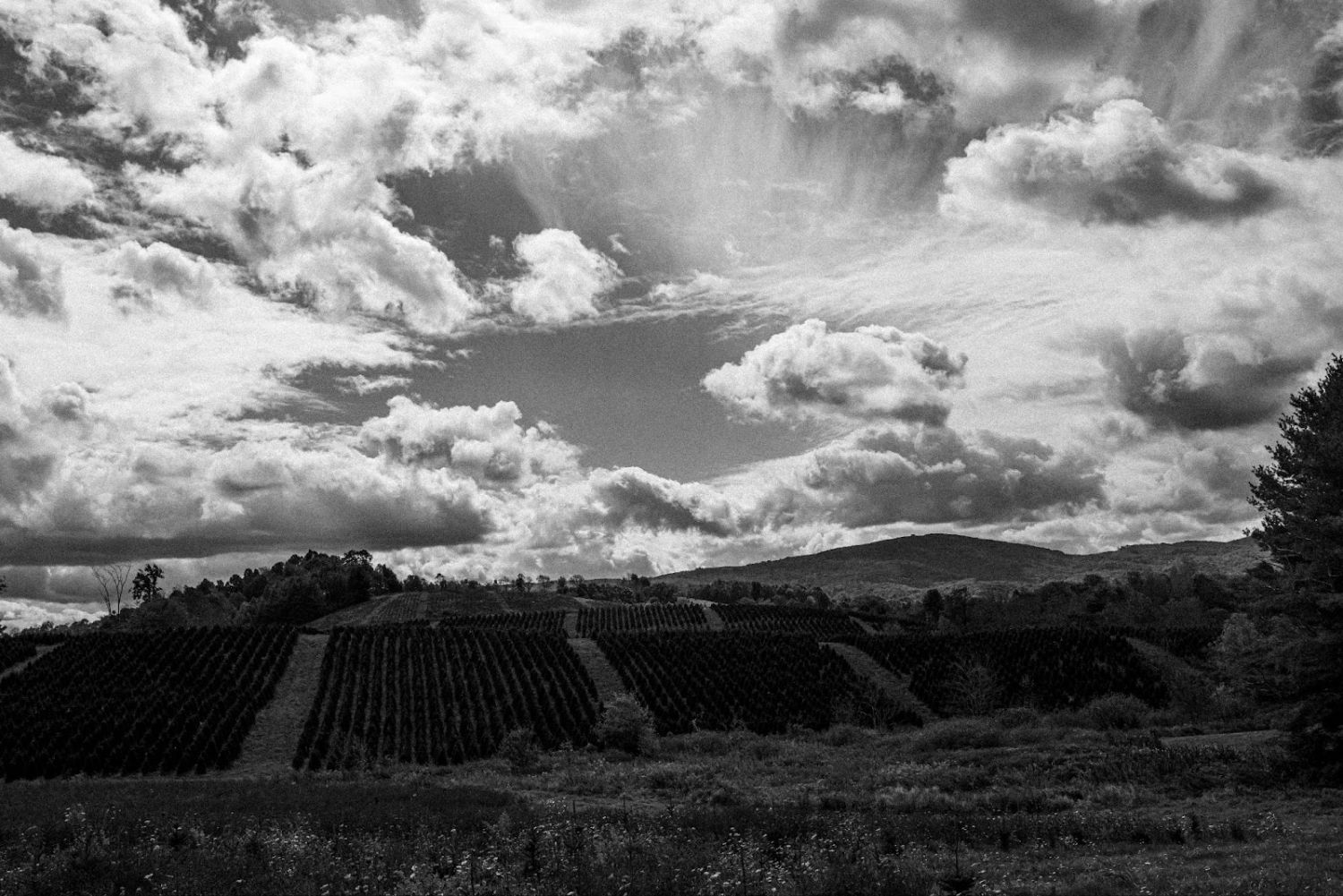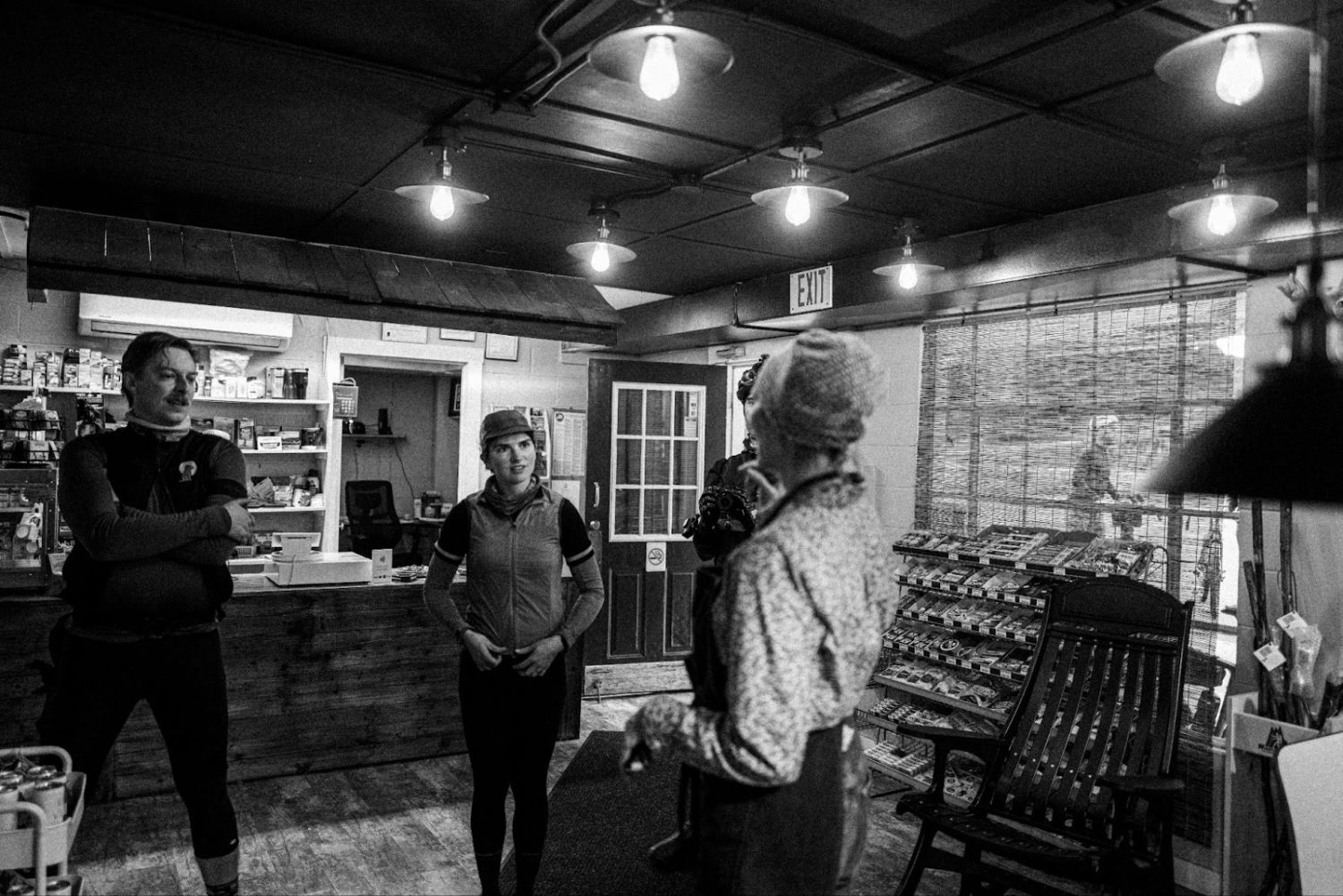 That evening, we made our way to the Grayson Highlands Inn, a charming property recently acquired by Paula. While she had relocated from Miami, her husband remained there, wrapping up his career before joining her in retirement. Drawn by its allure, Paula envisioned herself managing the inn's general store and attending to its few apartment style accomodations, as well as a small room out back for AT hikers.
After freshening up, we headed downstairs for a sumptuous dinner prepared by Paula herself: veggie enchiladas, gumbo, assorted sides, and a delectable cinnamon roll bread pudding for dessert. It was an unprecedented feast compared to the usual bike trip fare I was accustomed to, like 7-Eleven pizza and chips. The Grayson Highlands Inn stands out as a prime example of Grayson County's small businesses, driven by passionate individuals who pour their heart into their work. For adventure cyclists like us, patronizing such establishments means directly contributing to the local economy, consuming their offerings, and ensuring we leave the place better than we found it. Interestingly, while the inn had gas pumps that were out of order, the inn was brimming with the right kind of fuel for adventure cyclists and basic maintenance necessities for bikes.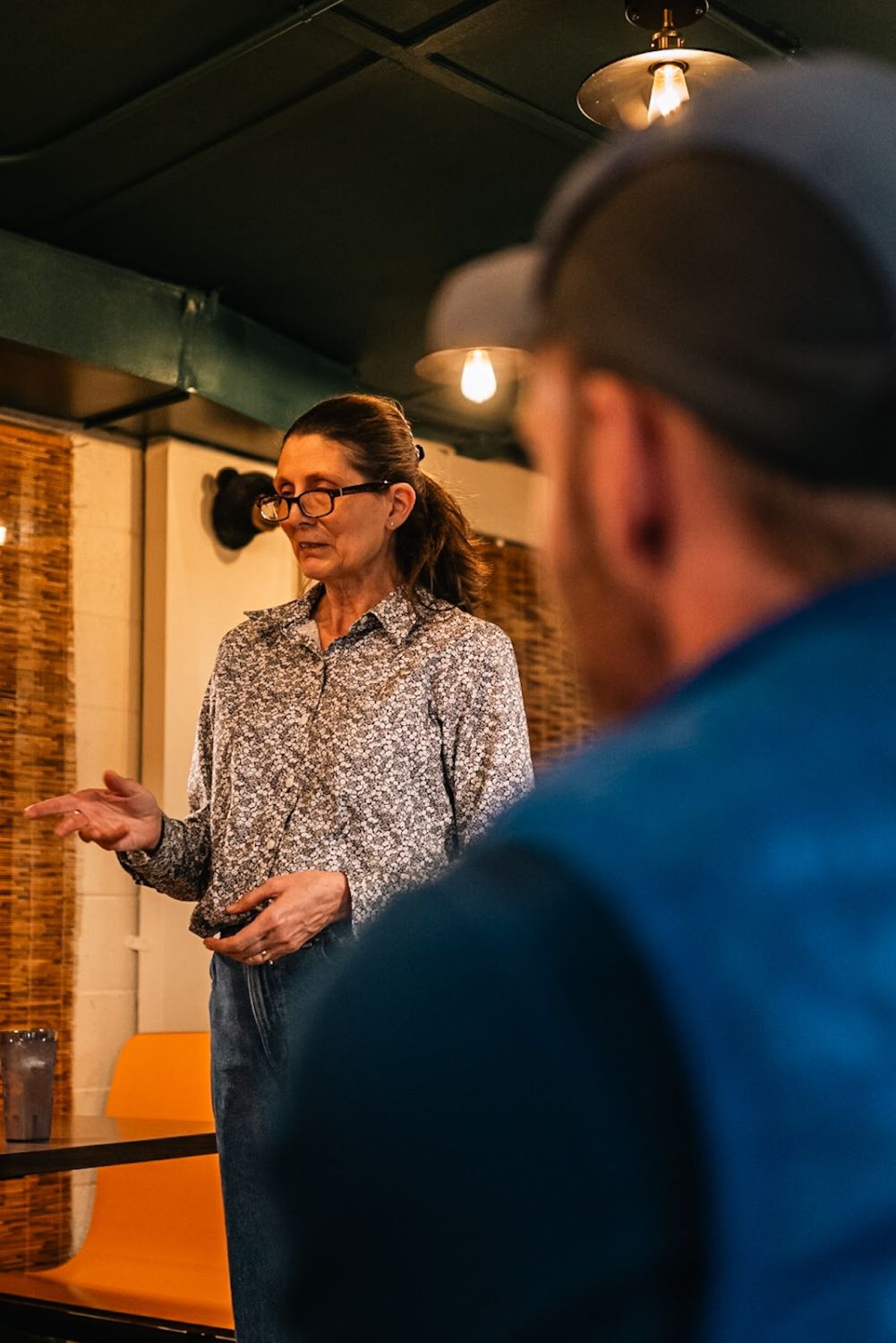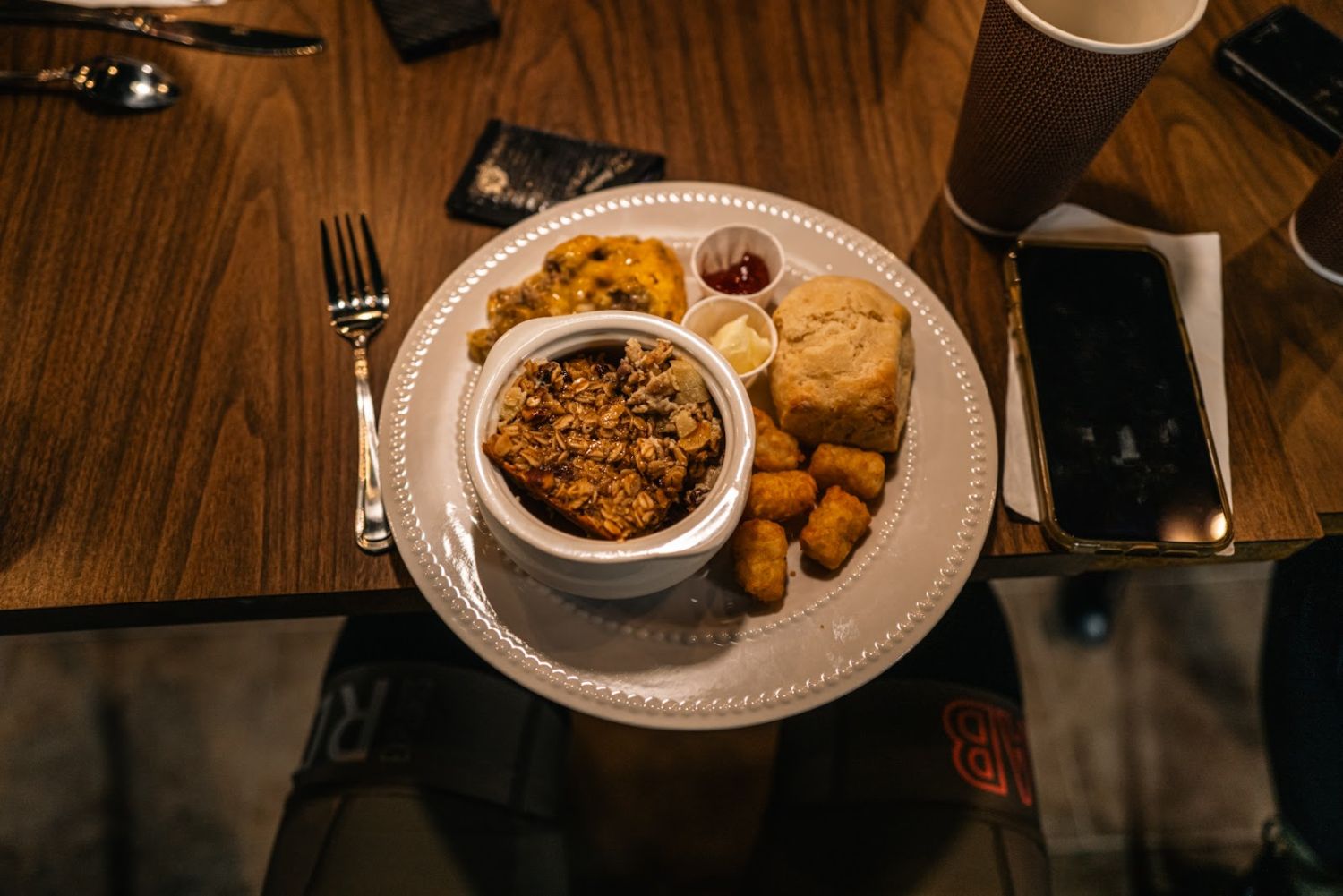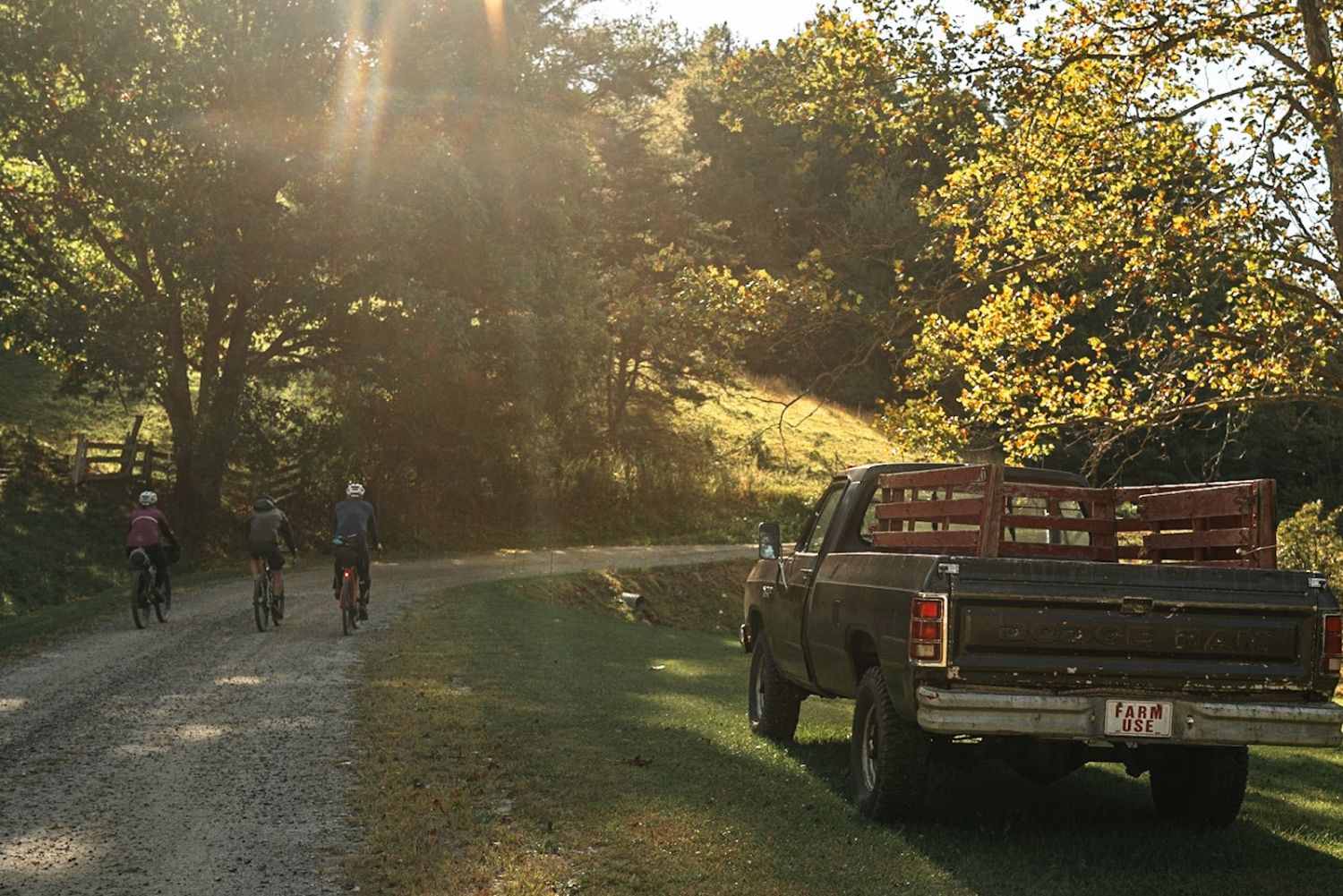 We continued on our journey, aiming to conclude in Fries, a quaint milltown situated at the distant edge of Grayson County, alongside the New River. That morning was particularly splendid, leading us through some of the route's most scenic stretches before we broke for lunch. With minimal vehicular traffic, our ride was peaceful until we reached our mid-point in Independence. There, we met Tracy at the historic courthouse, a structure dating back to 1908, adorned with a myriad of artifacts that trace Grayson County's past.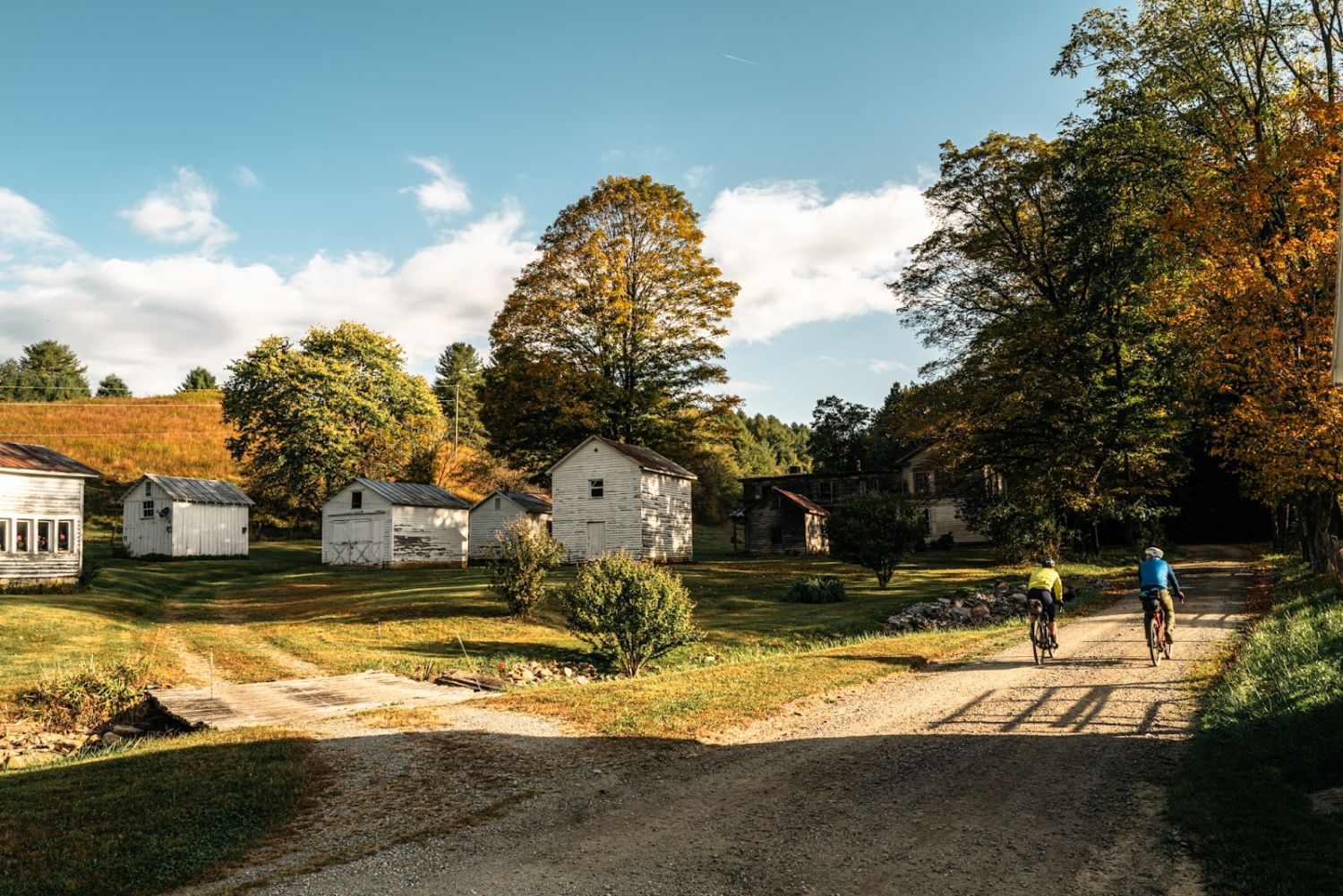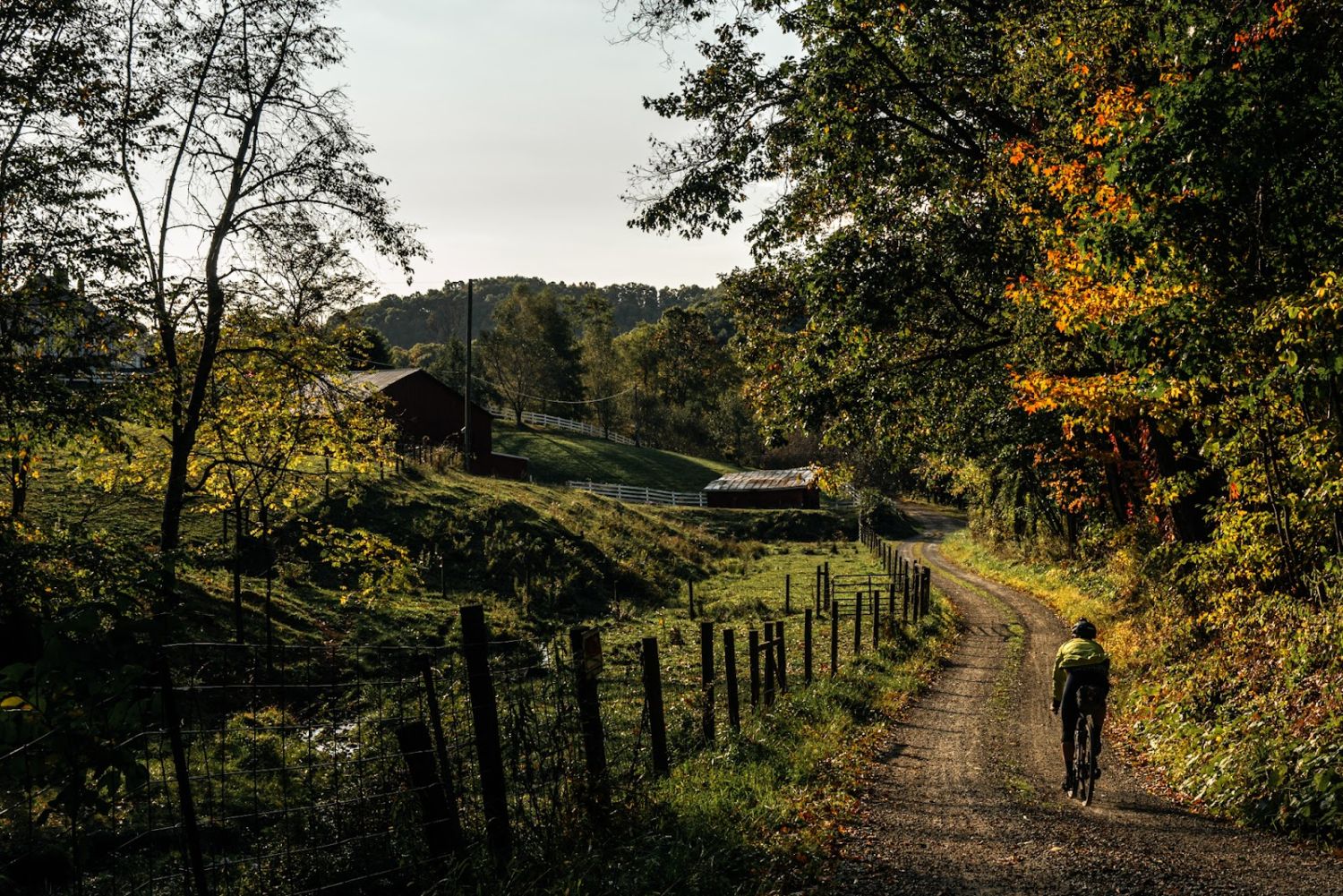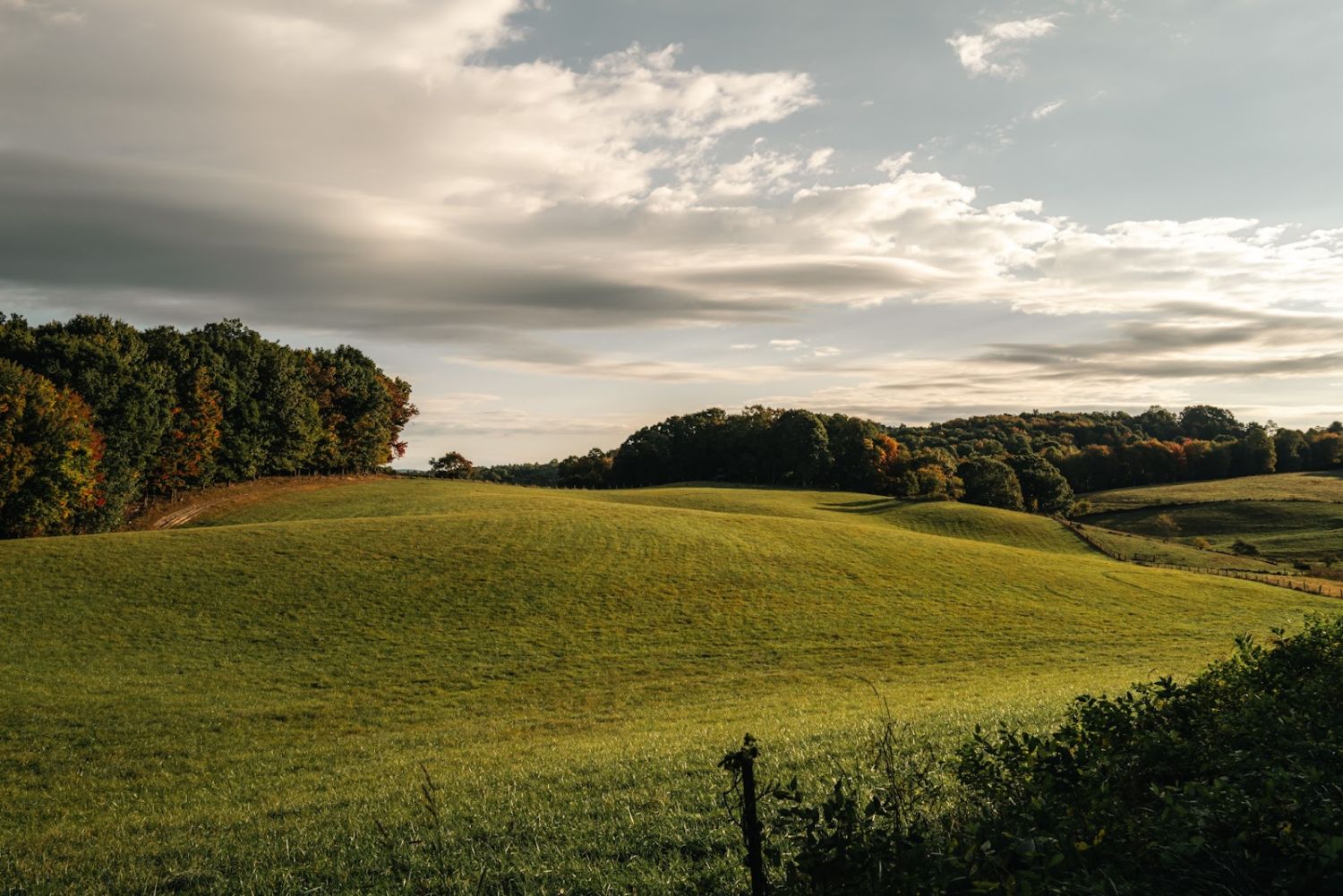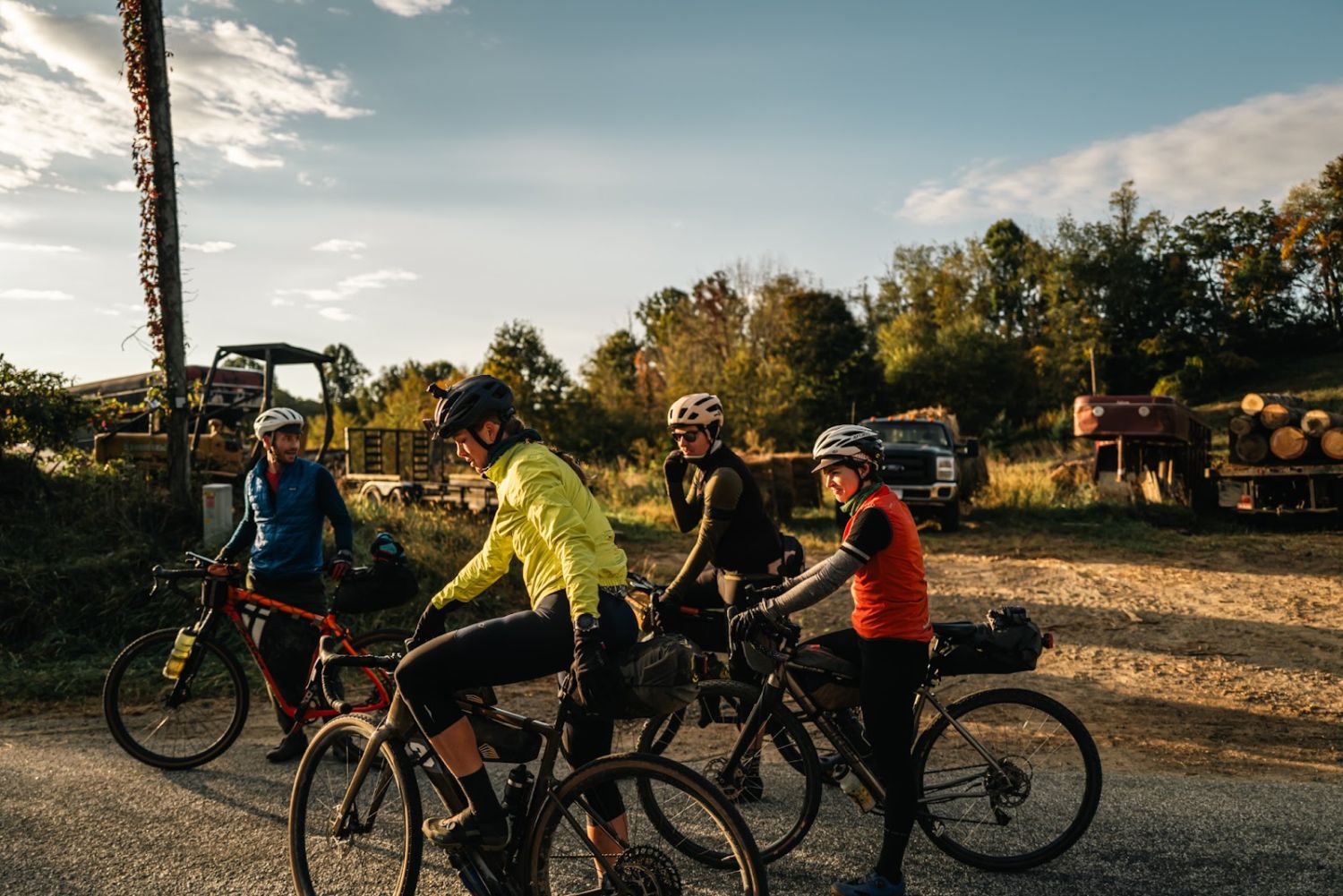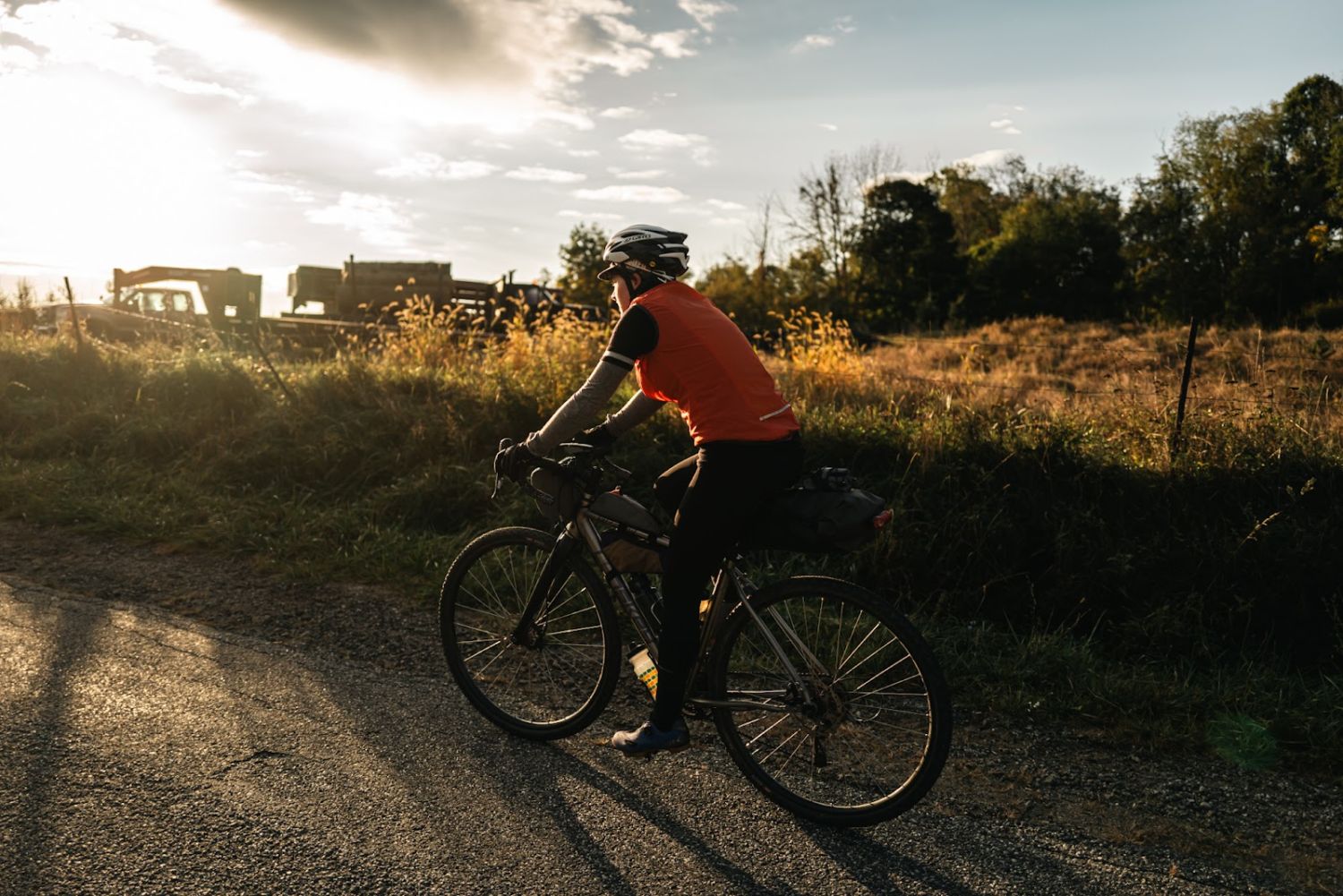 It became evident that, much like other towns in Virginia, Grayson County thrived on industries such as timber and mills during the early to mid-20th century. However, with time, these industries waned, leaving behind few economic reasons for people to stay, save for some agricultural pursuits and a handful of small businesses.
Post our courthouse visit, we gathered our bikes and headed to Ciro's Pizza. Welcomed by an abundance of delicious food and excellent service, we left a tad heavier but satisfied. With our spirits high and bellies full, we pedaled onwards to Fries.
Fries, VA marks the end of the Route for those going point to point but the beginning of the New River Trail. Fries serves as an ideal conclusion to the Grayson Gravel Traverse, offering various accommodations and eateries. Our team opted for a cozy camper by the river.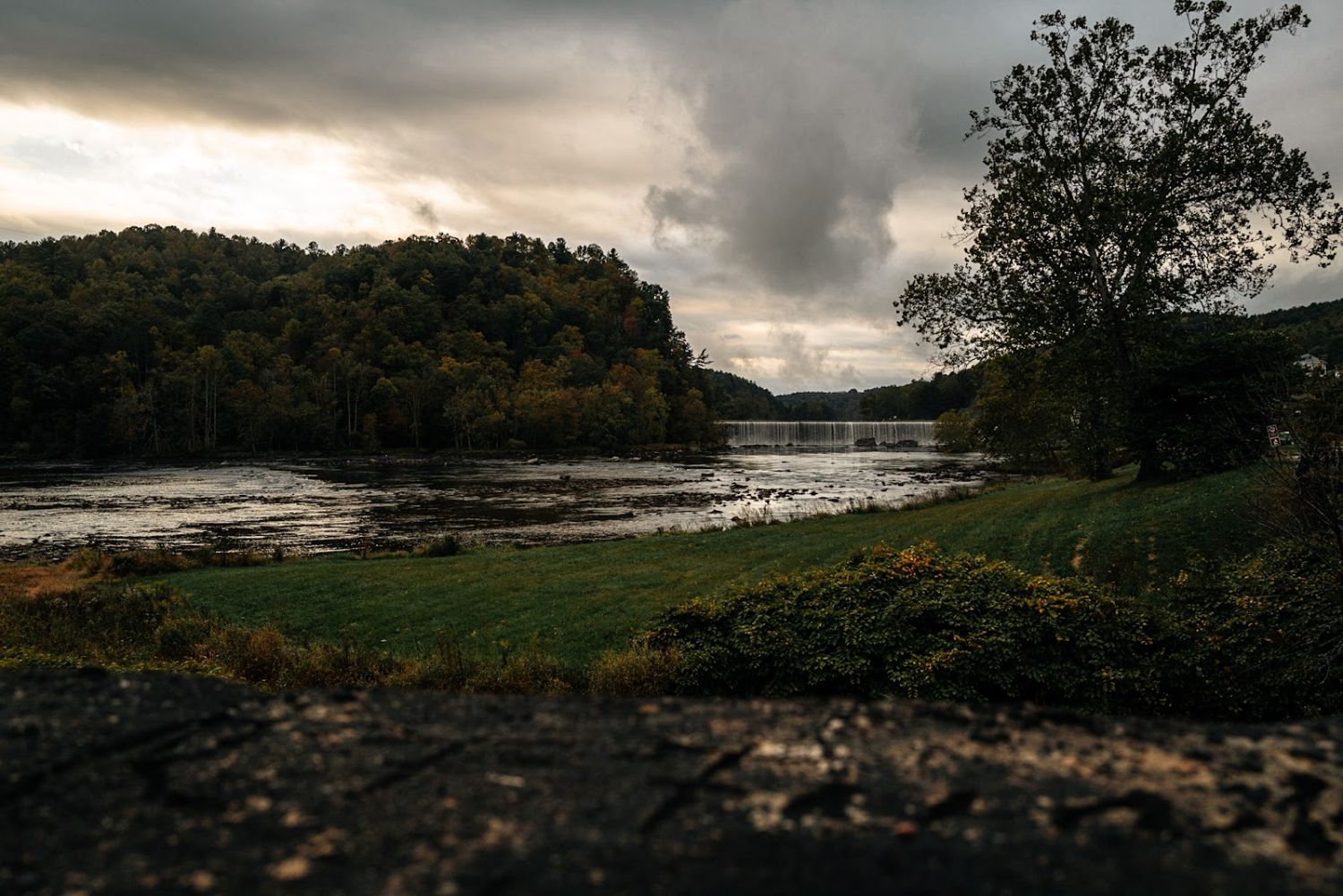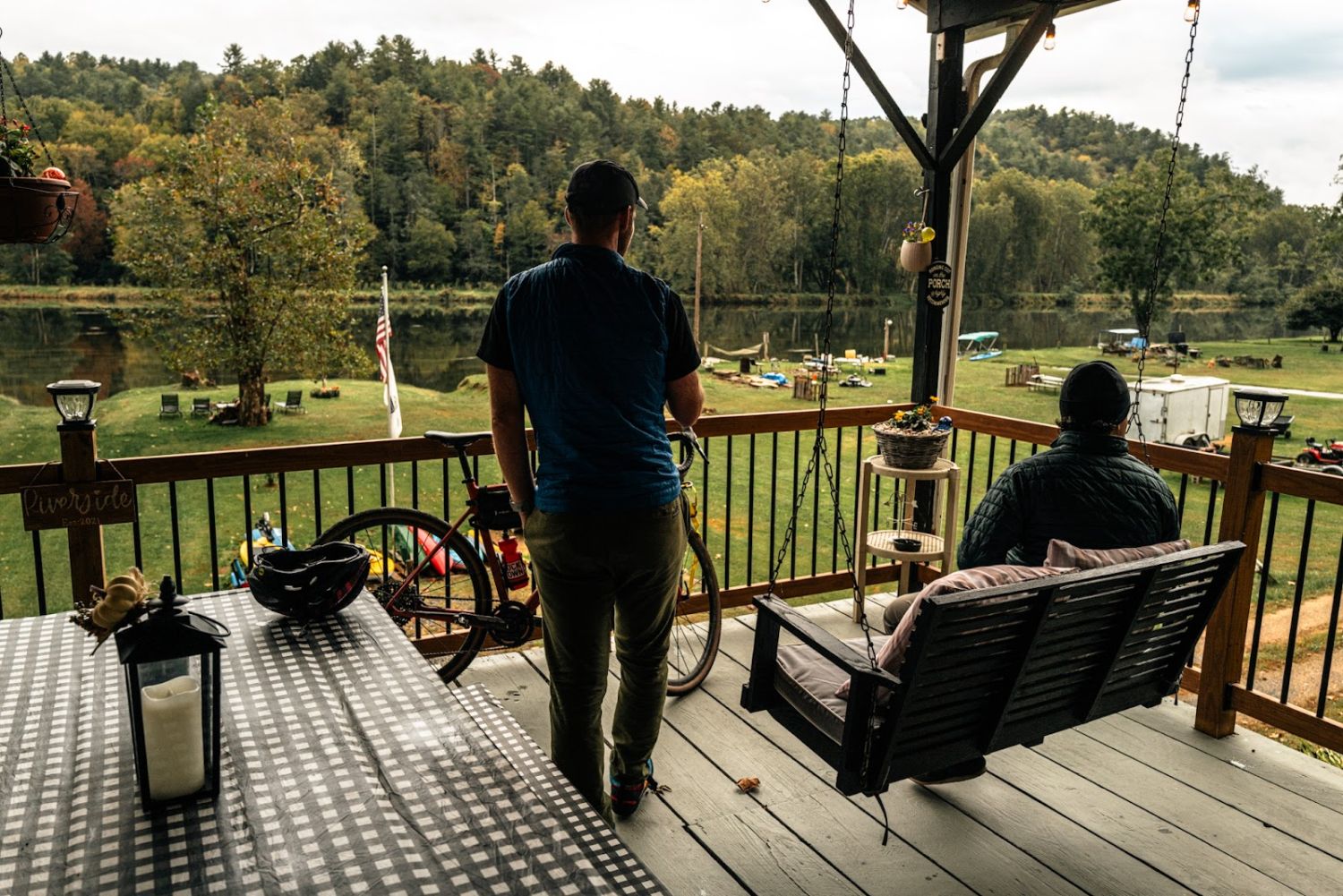 On the final day, we chose an extended route back to Damascus. Though surrounded by gorgeous vistas, I found myself smitten by a fatigue, a fatigue of taking too many pretty pictures. I found that the true essence of adventure cycling isn't just about the views. It's about the experiences encountered, cultures observed, and people one meets, which are often missed when speeding down highways or having transient hotel stays of the exits.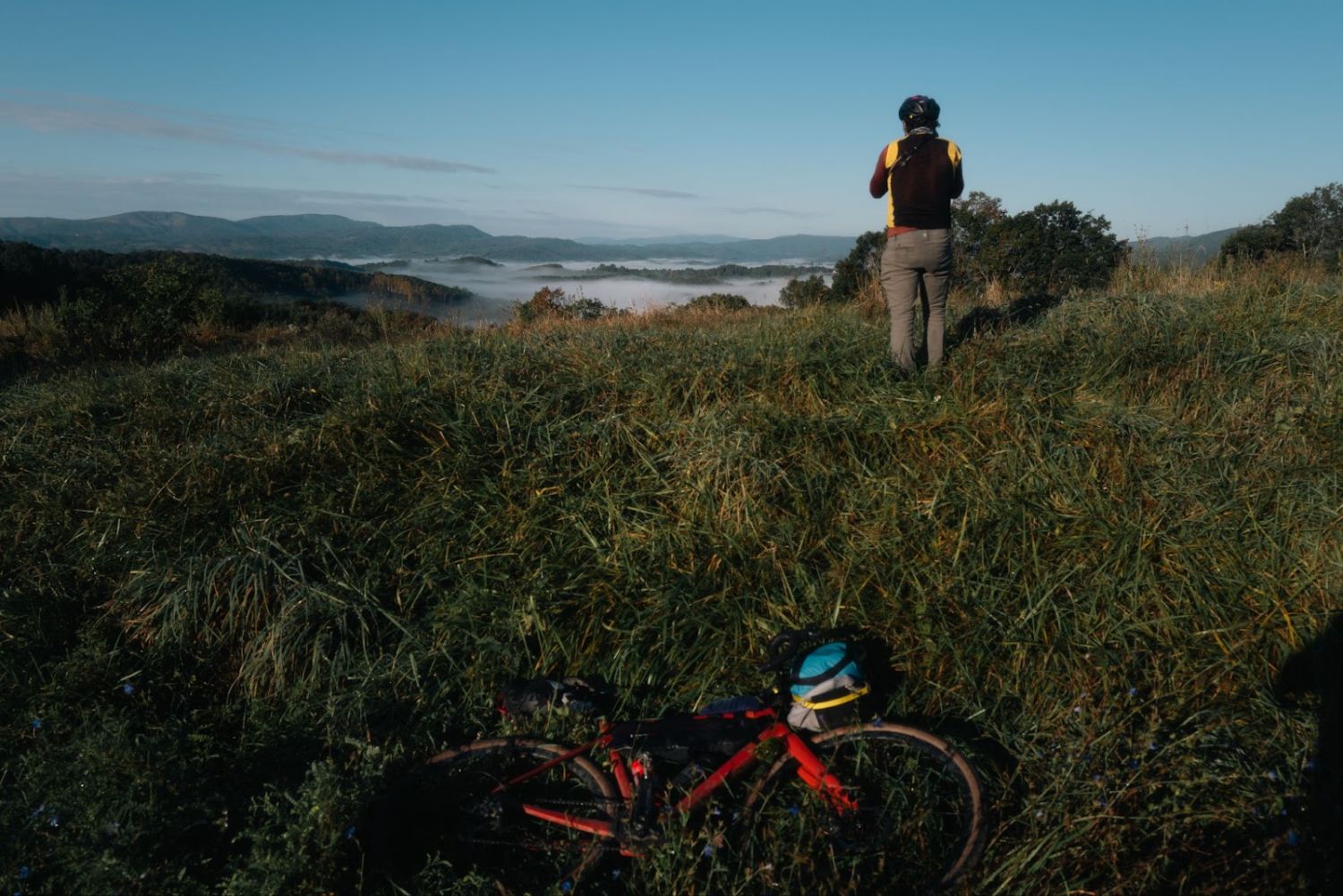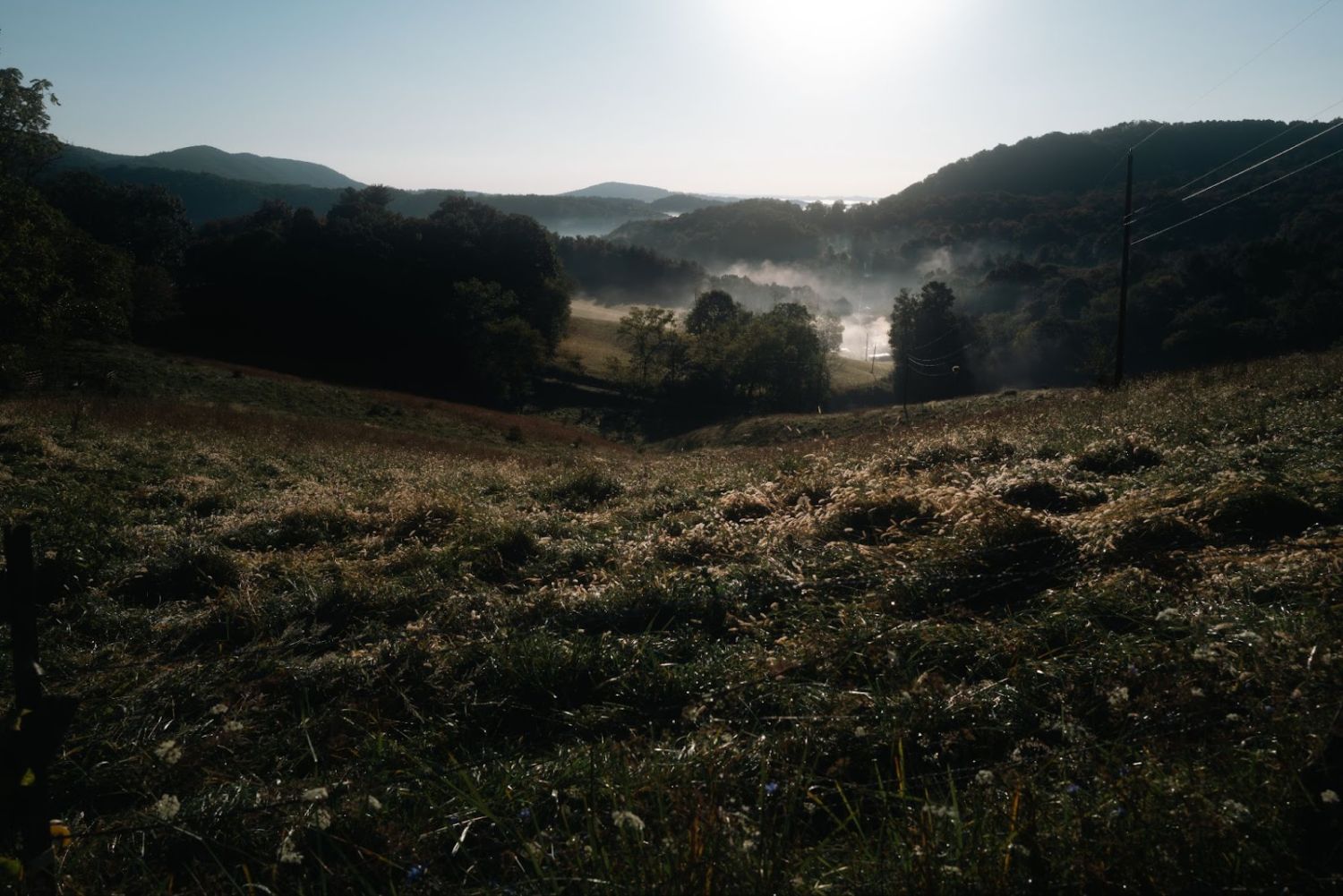 To me, bikes are the ultimate touring vehicles, as reaffirmed by my experience on the Grayson Gravel Traverse. This aligns perfectly with Rodeo Lab's mantra: Ride. Explore. Create. Rde far or ride… not so far. Explore new places, new people, cultures and communities and create thriving local economies with your patronage and leave places likes Grayson County better than you found it.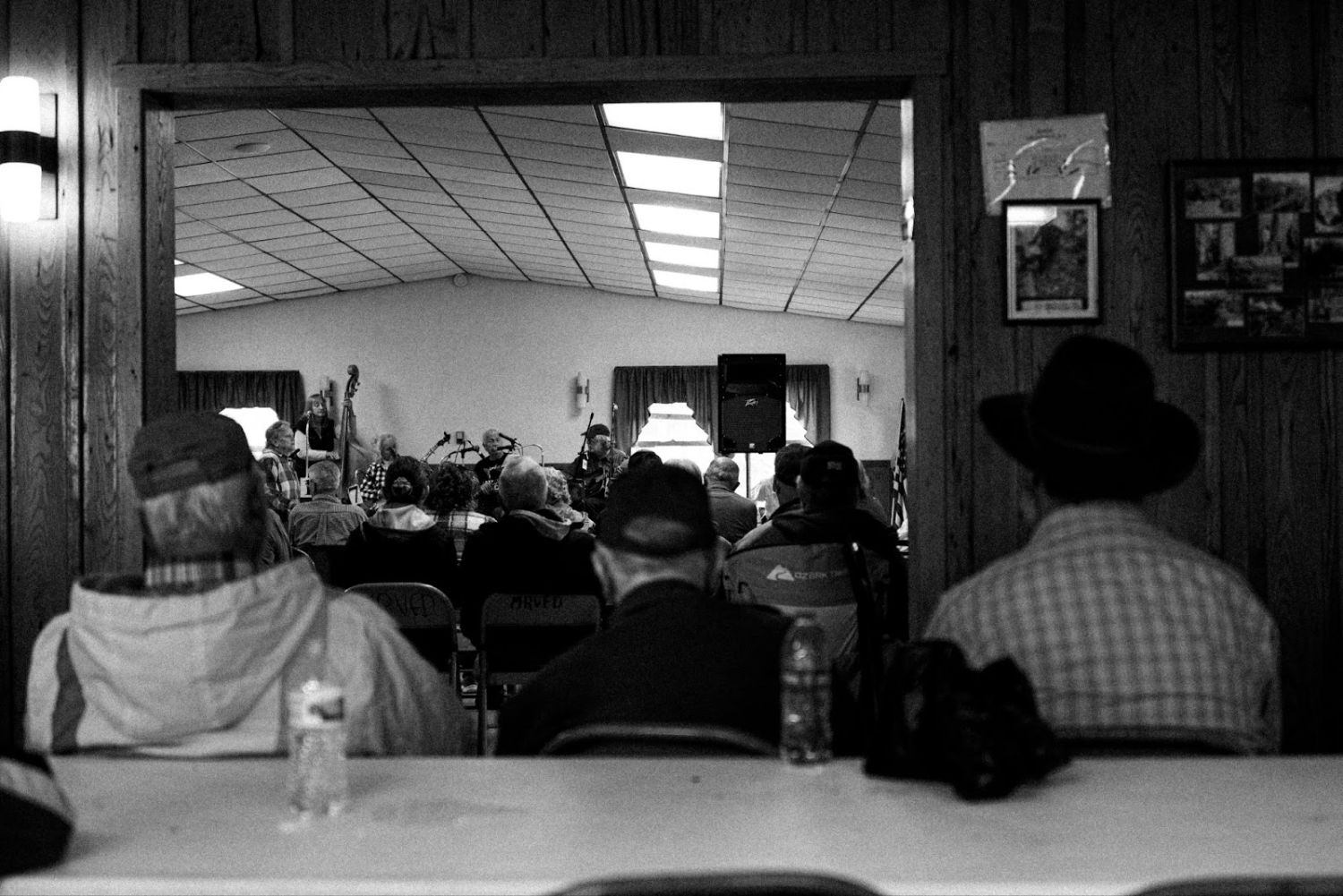 Special thanks to David for the invite on the trip. I highly encourage anyone who has not experience the Grayson Gravel Traverse or any of the Virginia Routes such as the TransVA to check them out. Special thanks to Tracy, and the Grayson Country tourism department for having our group make their way through their lovely county, and to all the friends made a long the way for the unforgettable memories that come with each and every bike adventure.
Photos are by Ben Carpenter with selects from a small body of work entitled The Highlands available for viewing at www.bvcarpenter.com
____________________________________