By Chris Joseph
Kokopelli Trail May 1-3 2014
136 total miles (218 km) in 22 hours ride time, 50 hours Total time
Lessons learned:
Good people and water are very, very valuable
Bike shoes are not made for hiking
Garmin doesn't always know the way
Cliff bars make a good adhesive for gluing teeth back in
Taking photos requires energy. Less energy = less photos
The comfort of sleeping on the ground increases exponentially depending on how tired you are
When very dehydrated and hallucinating rocks can sometimes look like boxes stacked neatly on the trail in front of you
The words "man up" can be humorous or humiliating depending on the point of origin
Chainring wounds look similar to shark bites, only with a little grease mixed into the blood
As a person who enjoys biking and hiking the canyonlands has a compelling allure. It is a place of beauty. (Sometimes, a harsh beauty) I have been making trips to the Moab area for many years and have been on most all the trails. One trail I had not been able to traverse was the Kokopelli trail. Much of the route is very remote. The only way I could ride the whole route is with support over multiple days. I signed on to go with the Bikerpelli group May 1-3 2014. Bikerpelli runs a really good outfit and I highly recommend them for anyone who wants to experience that part of the world.
We began our adventure in Mac Colorado and began our Kokopelaton of about 20 riders to the entry of the Kokopelli trail in Frutia Colorado. Mary's loop and Lions loop are some of the finest mountain bike riding I have ever experienced. Super nice trails and killer views. It's important to stop the bike to take in the views otherwise you could go over the edge. Like I said "killer views". I know this because it happened to me my 1st time to Moab on the porcupine rim. (that is another story in itself) No worries, I was not injured and the bike was a rental!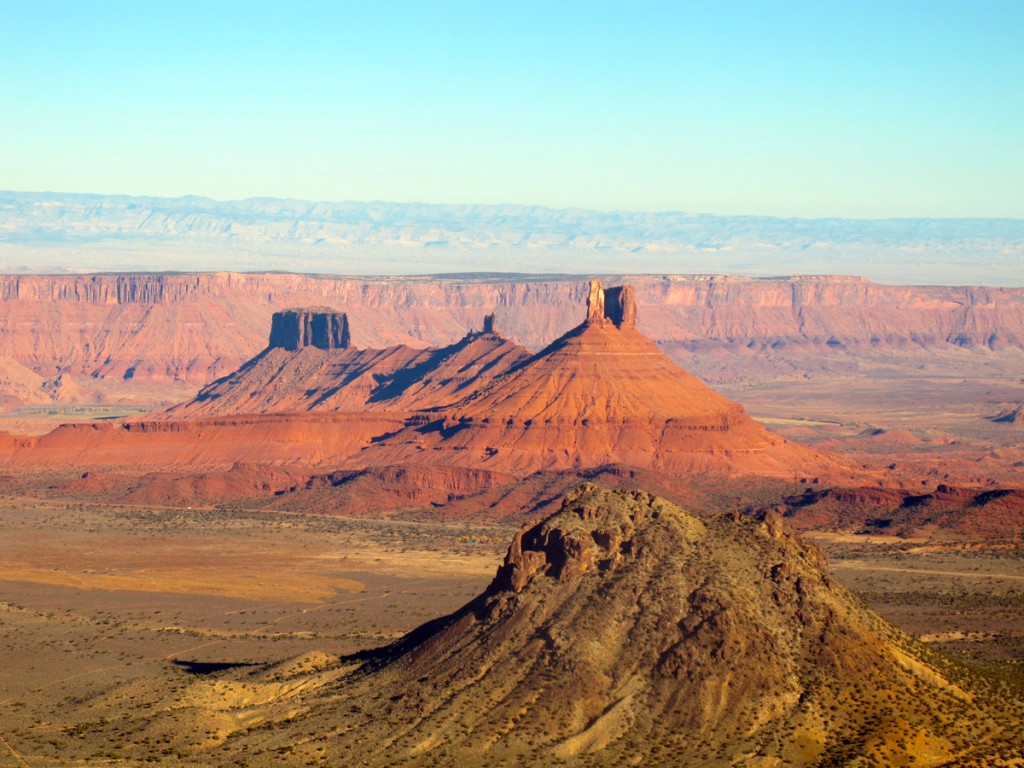 After the Frutia loops the ride progressed into Rabbit Valley and across the Colorado / Utah border. During one decent the GPS beeped and warned us we were off track. We stopped backtracked and eventually The GPS beeped again. It seems the Kokopelli trail route has changed in the last year and I had the old route. Looking down several hundred feet I could see the trail we needed to be on. So we back tracked once again to the trail we originally started on. I learned right away not to always trust the GPS. Rabbit valley was mostly smooth with double track and smooth dirt roads. The day's ride ended with a super steep up hill to Bitter creek overlook. Most riders choose to hike-a-bike (WALK) up the steep incline. Although there were two riders behind us that did the entire climb! Super impressive! The sight of the La Sal mountains came into view at the end of day one. Those mountains are BIG! And they looked very small and distant from here. All in all I was tired but generally felt good. Still some gas in the tank.
Day 1 stats:
44 miles (70km) in 8.5 hours. One rider with a broken arm who rode back out to Frutia and drove himself to the hospital. Ouch.
At camp that evening I began to notice a common theme. These people are at another level of fitness above where I am. Maybe several levels! Some were x-pro athletes / cyclists, (not golfers) I heard the word Leadville thrown around casually as many of the people had done it multiple times. What have I got myself into? This is just a hobby to me. I do this just for fun. I thought I knew what I was getting into with all the experience I had in the area. I began to understand very quickly I did not fully understand what that many hours on a bike would feel like. I would know soon enough.
Day 2
Beginning at ~9:00 am we started west on some fun single track and double track. After the big climb at the end of yesterday there was only one way to go.. down. Weeeeeee! After this we rode many, many miles of rolling dirt roads and eventually made it to the middle checkpoint around mile 43 (68km). This part had a rhythm where we would even draft to help each other get through the miles. It was done before we knew it. I was feeling pretty good and ready to start the next section. This next section from Dewey bridge to Fisher valley is brutal. (Understatement of the year) It starts with a tough 11 mile climb that never seems to end. Not sure how many times after a false summit I utterd "you got to be (insert explicative here), kidding" The climb is followed by a very technical decent. I was so fatigued from the climb I could not trust I had the strength to not slip up and get injured so I walked a lot of the tough stuff. We arrived at the rose garden. It felt like I was in the bolder field on Longs Peak, no place for a bike. Once at the bottom another 400ft climb was waiting and then a few miles along dirt roads into camp. We were cheered in and the first comment I hear is "Great job Chris! What did you think? I thought it was a ??!" Nothing like a little validation about this sufferfest! The snow topped La Sal mountains now fill the entire western landscape. Four of us struggled to get there just before the sun was setting. We quickly set up our tents, choked down some food. (Even though I did not feel like eating at all.) Sleep came quickly. It is surprising how sleeping on rocks can be comfortable when you are so tired you can't move. I had dreams of sabotaging my bike so I would have an excuse to not continue.
Day 2 stats:
56 miles (90km) in 10 hrs
Severely dehydrated
Raw feet from all the hike-a-bike. Mountain bike shoes are not made for hiking through boulders much less walking!
Day 3
There were a few options on day 3. You could ride the traditional route into castle valley and then up to the Upper porcupine and then follow the road down past slick rock into Moab. Adding on the Porcupine rim if inclined. Another route was to follow the 36 mile (58km) route on Onion creek road through fisher valley and then on into Moab. In the condition I was in I had no choice. I Had to take the less strenuous route. My body was hurting. We again started around 9:00am. The trip down through fisher towers area was a lot of fun and the rocks are a very deep red. We splashed through the creek several times as the road followed the creek. About an hour into the ride I noticed my camel back was dry. How could this be? I just filled it. It seems my water had leaked out completely. Now I understood why I felt so bad yesterday afternoon. I thought I had consumed 3.5 liters of water. I didn't. The 2.5 litters in the bladder just leaked out and I had not noticed because I was sweating so much. Yesterday afternoon I only drank a little over a liter that was in my water bottles. That explains why I felt so bad yesterday afternoon! The ride was finished when we rode into Moab along the Colorado river. The rest I the day was spent swimming in the pool, eating a giant double hamburger and watching bike rodeo. If you don't know what a bike rodeo is you will need to go on a Bikerpelli trip to find out.
Will I do the trip again? That is a tough question. Maybe? It was really tough and I met some fantastic people with whom I will most likely ride with again.
Next up is the Dirty Kanza on may 31st. The Kokopelli trail was a great precursor and a start of the 2014 season!