Flat Tops Roundup, Steamboat Springs CO.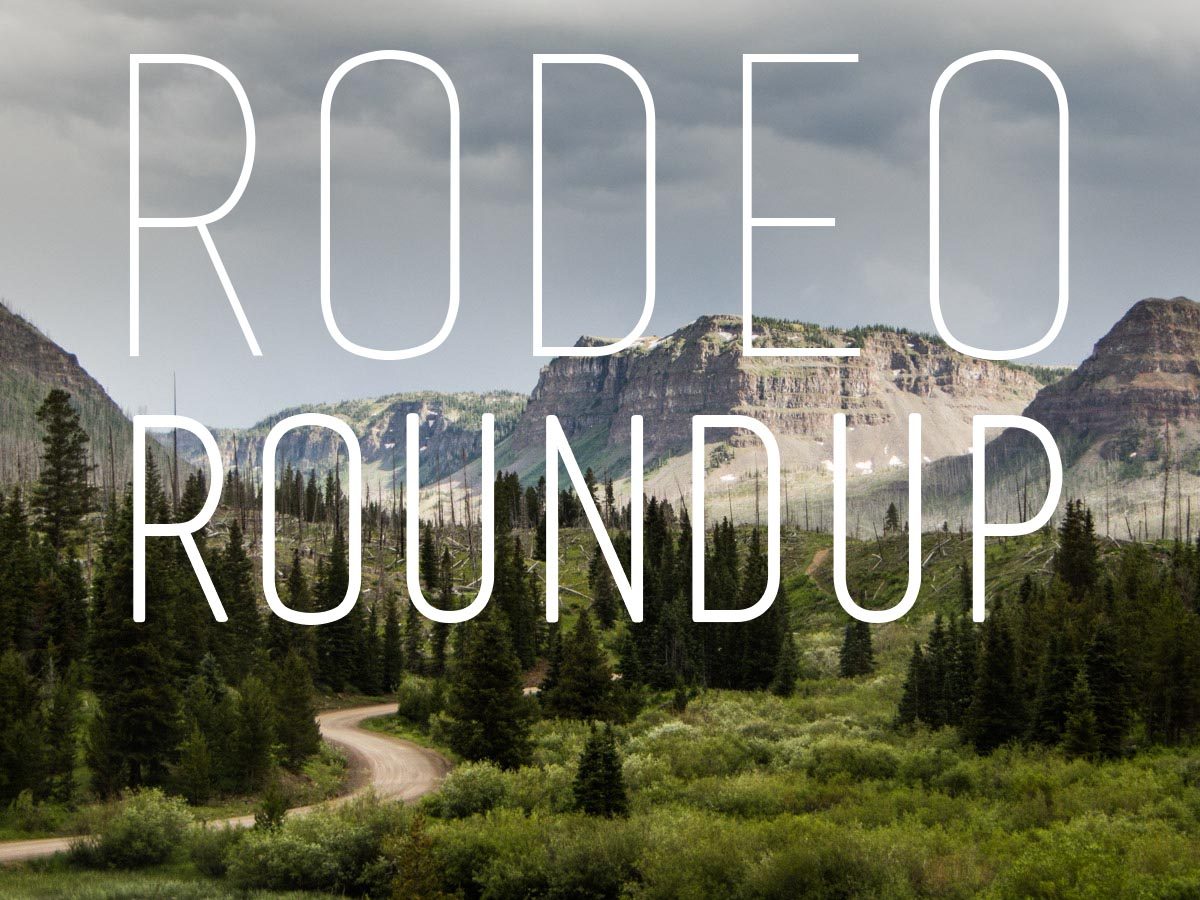 Mark your calendars for July 21-23, 2017. We're working up something new.
Traditionally an organized Rodeo ride is a Rodeo Rally, but for 2017 we want to do a couple of longer, more adventurous multi day events. Thus, the term Rodeo Roundup has been coined. A Roundup is intended to share the beauty of our state and build community.
Registration for Flat Tops Roundup has closed. Registrants stay tuned for updates on logistics, route, gear, etc. It's going to be amazing!
Registration will cost $170 and will be first come, first served. With that fee we are hoping to only cover costs. Roundups are not about profit. Read on to see what is included in the Roundup.
We're planning our first Roundup as a three day supported adventure ride. We will have two support vehicles ferrying supplies, providing sag, and topping off food. The first night we will lodge in cabins, and on the second night we will lodge in our own tents.
(Routes subject to modification, but let's dig in!)
---
---
---
---
Nitty Gritty:
The Flat Tops Roundup will be a supported event, but not a race of any kind. We will cap attendance at 30 people in order to keep the group manageable and personal. We want to encourage a good mix of Rodeo team members to come along but also invite anyone from any team or non-team to attend. For this reason we are going to start off assigning 15 entries to Rodeo members and 15 entries for non-rodeo people. Entries will be first come first served. If it sells out it sells out, and if it doesn't it's ok for the Roundup to be a small event. If Rodeo spots fill up but non-rodeo spots do not fill up then we'll reshuffle the allocation.
Difficulty: We would classify the Flat Tops Roundup as an advanced level event. The routes vary between 80 and 100 miles per day which in itself is a challenging distance, but we will also be riding on non-paved roads over routes that feature significant elevation gain. If you don't usually ride gravel or dirt or haven't previously ridden multi-day rides, please proceed with caution before you sign up.
Support: We will have two SAG / Support cars roving the course. The primary task of these vehicles will be ensuring rider safety, providing access to technical assistance, and resupplying riders with food. The vehicles will be transporting camping gear, coolers for meals, and food for riders on the road as well. Vehicles will also transport one bag of clothes / supplies per rider. If there is any room left in the vehicles then they will be available to pick up tired / dropped riders but should not be considered rider shuttles. If a rider cannot continue the ride we will do our best to help get you to the end of the day, but riders need to be as prepared as possible to get back to camp grounds or civilization under their own power. There are no time limits on each day's ride, so if you are comfortable starting at 8am and finishing at 8pm then that is completely fine (although you may miss dinner). We would hope that riders of similar speeds will cluster together and form small packs for mutual support and camaraderie along the way.
Bikes: You should have a fairly robust bike setup for this event. The ideal bike would probably be some sort of drop bar cyclocross or adventure bike with room for 30-40mm tires. You may be able to complete this route on a mountain bike but we would not recommend it. You want an efficient, comfortable, sturdy steed, and you should have some good rides under the belt on it to make sure it fits well and rides optimally. All bikes should be fully tuned before the event. Don't show up with a bike that shifts poorly or has bad brakes!
Recommended gear:
Adventure steed (bike)
Helmet
Bike Shoes
Clothing for 3 days and all conditions (sun, rain, and even late July snow is possible!). You can probably do some laundry on day 2 if needed…maybe…
Backpack or bikepacking bags for carrying gear, food, and water on the route. (3 bottles and / or CamelBack recommended + iodine or life straw just in case you run out).
Rider specific food / bars. We will supply Trailnuggets and carry water in the support vehicles but if you like sports drinks, etc then be sure to bring.
Riders with specific diets may want to bring food. Riders with dietary restrictions may be able to be accommodated at dinners but we will need advance notice.
Tent for night 2. Please consider sharing a 2 man tent in order to save space. We can help coordinate if people need to pair up.
Sleeping bag / pad for night 2.
Lights (front and rear) just in case you get caught out after dark
Maps of the route / cue sheets (we will provide downloadable cue sheets)
GPS / Garmin /etc with routes loaded. Recharging will be available the first night (until 7pm!) but on night 2 you may need a personal recharging strategy or 2nd Garmin, etc.
Camera! Batteries? Memory Card?
Notepad? Small Journal?
If you have a camp chair that could be great for campfires both nights.
If you want to bring your own food that should be OK. We will try to bring along sufficient extra coolers.
Expect updates to this page as we refine.
Giddyup!
-Rodeo