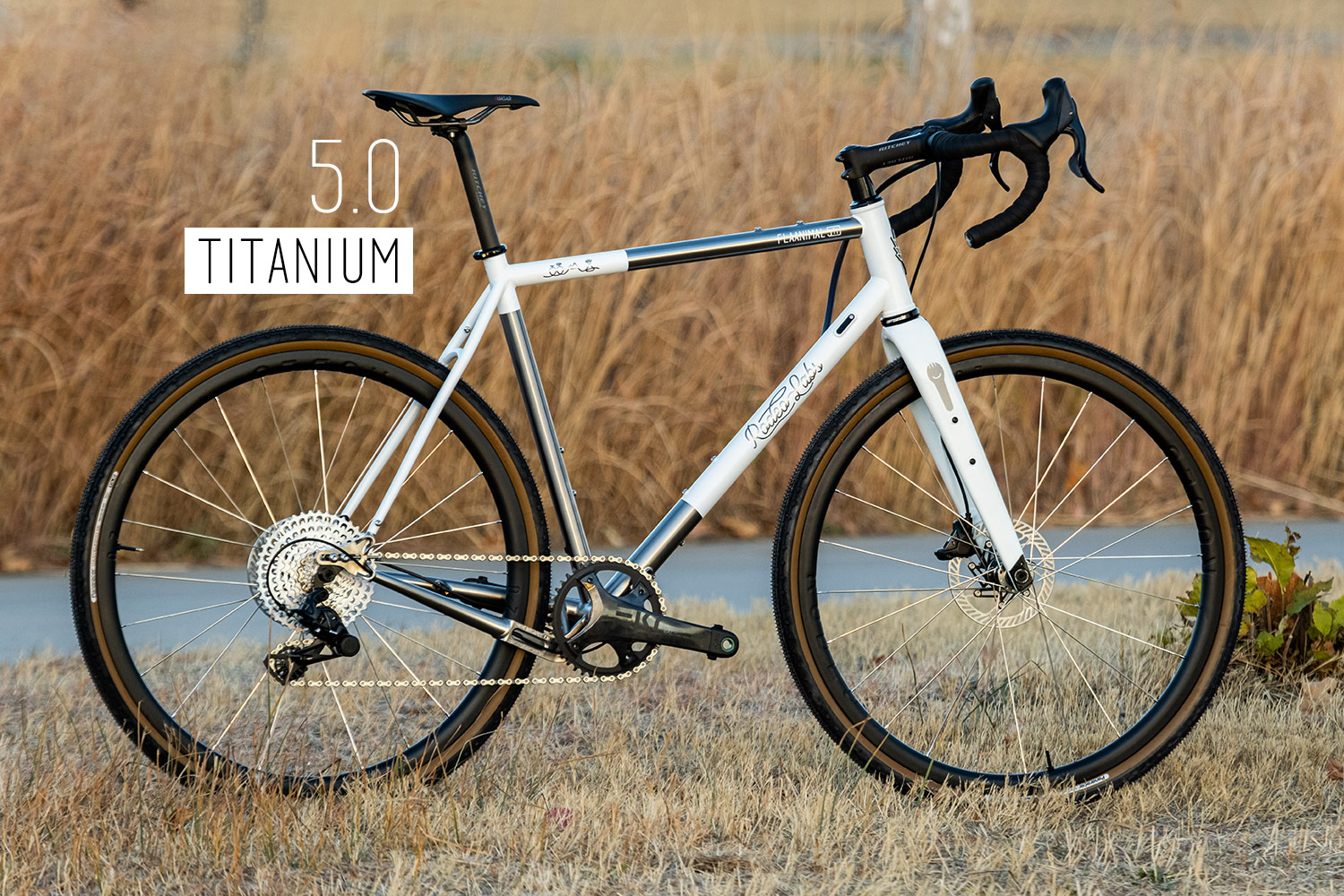 Now accepting orders for November 2022 framesets as well as any remaining in-stock framesets.
The Flaanimal 5.0 Titanium takes the features of our category leading Flaanimal 5.0 steel / carbon frameset and carries them over to the legendary titanium framebuilding material. The 5.0 titanium represents the pinnacle of our efforts at Rodeo Labs to create the most versatile, enjoyable, and capable adventure frameset possible. Flaanimal 5.0 has been proven capable in road, gravel, racing, and bikepacking situations. It is truly one of the most versatile framesets on the market today.
To arrange a fully custom Flaanimal Titanium build configuration please use our build form to tell us about the bike you would like us to build for you.
COVID parts availability advisory: The bike industry is currently having trouble keeping up with demand in these strange times. It can take 30-60 days to build certain builds based on current parts availability so feel free to check with us on your preferred spec before ordering. Standard builds purchased here may include currently unavailable parts, at which point we will replace them with equal or superior parts from a different brand. Please reach out if you have any questions or would like to ensure your build includes any specific parts:
Contact Us
See this page for additional custom finish info and pricing.
Flaanimal 5.0 Titanium
The Flaanimal 5.0 Titanium is the next step of the Flaanimal story that began in 2015. No product we make has seen more rapid and constant revision and improvement than this platform, and it is one that has always been about supreme adaptability to different riding styles and conditions.

2020 saw the release of the steel Flaanimal 5.0, and the more time we spent on the bike the more we knew that we had truly created something special. The generous tire clearance, modular frame design, and refined ride quality of 5.0 have left us wondering what we would ever change to make it better, so we've changed nothing for 2021, save for expanding the material that we now offer the bike in.

Rodeo first prototyped the titanium Flaanimal in 2016 and the results were fantastic, but as a small company we chose to focus our energy on the more broadly attainable steel Flaanimal frameset while we iterated the design. Now, almost five years later we've returned to titanium in our quest to build the finest and most versatile adventure bicycle that we can.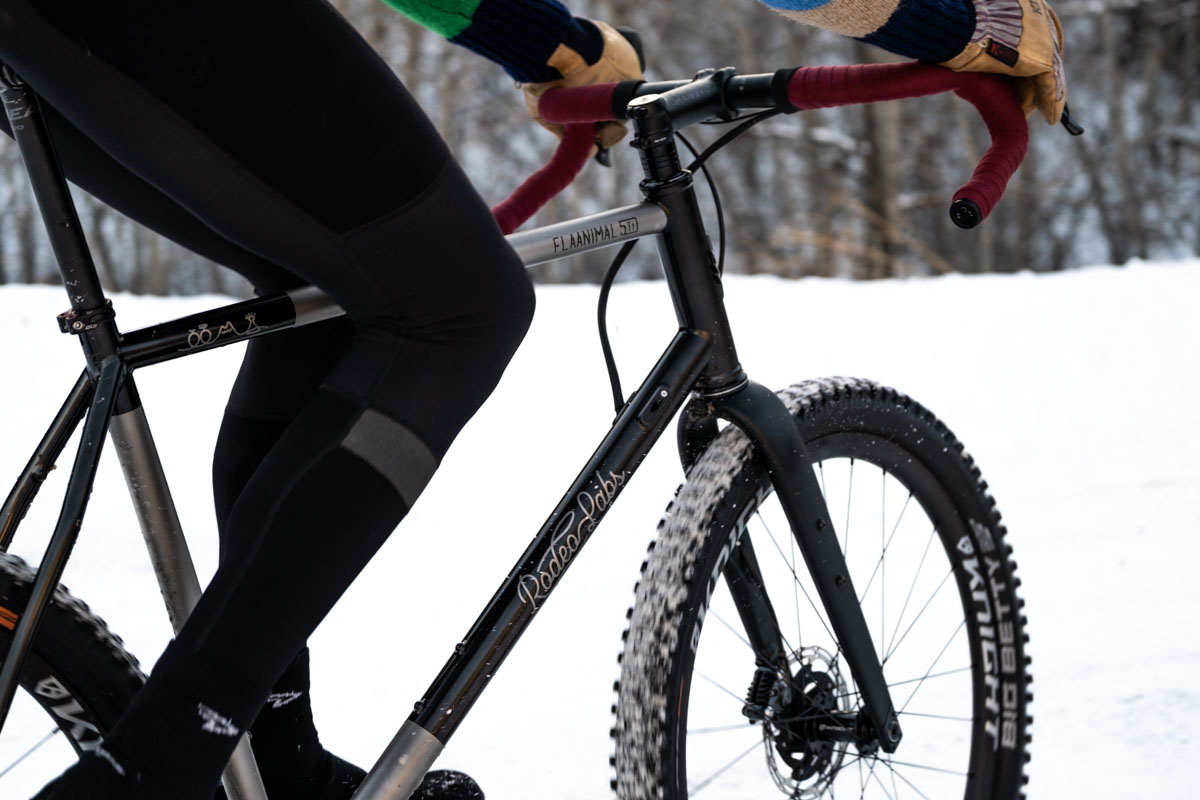 FL5 Ti is feature-identical to FL5 Steel. Everything from the yoke design, the sliders, the bottom bracket spec, and routing configurations carry over from the already successful steel bike design. Small adaptations in construction that are specific to titanium can be noticed if looking closely.

Flaanimal Ti does not use the integrated carbon seat and head tubes that are integrated into the steel frame because those clever weight saving measures are not necessary when working with titanium. Side by side the titanium 5.0 frames are on average 500 grams (just over a pound) lighter than their steel counterpart. Ride quality of the steel and titanium frames is quite similar due to careful tuning and butting although the titanium frameset offers a bit more of that lively, playful, compliant feeling that Titanium is known for.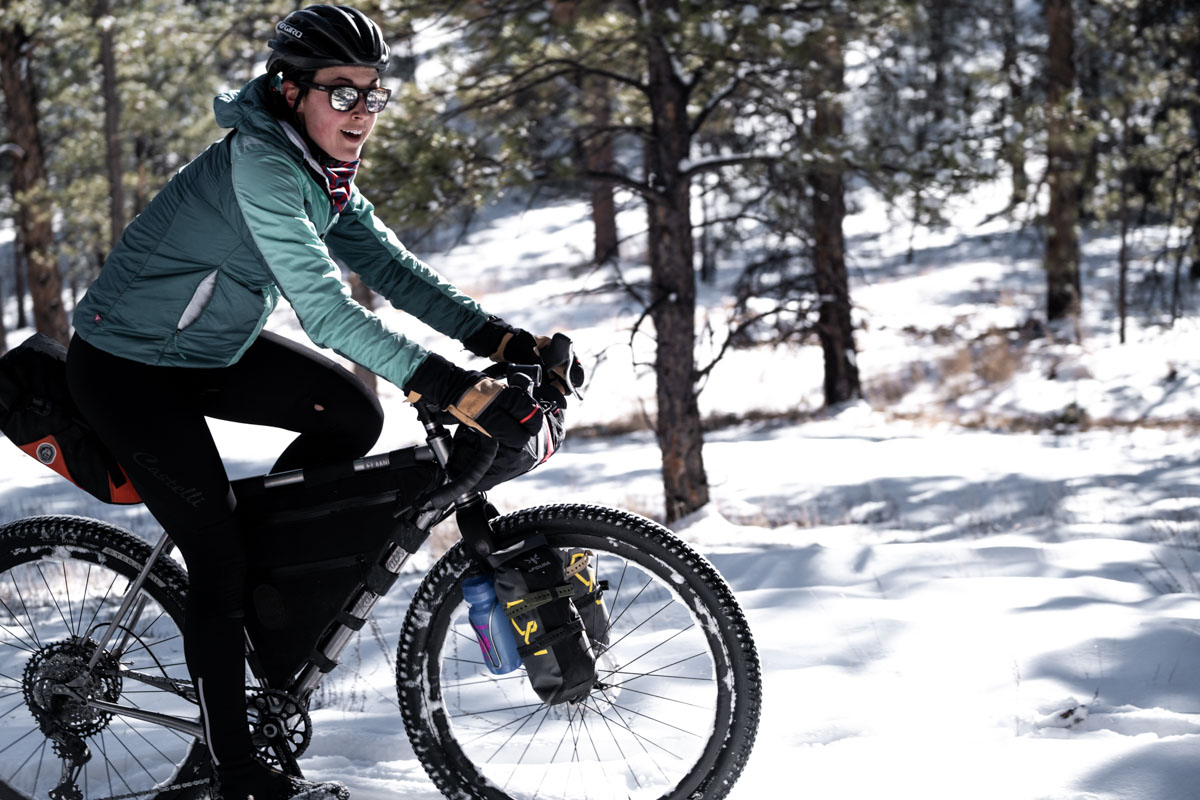 People often refer to titanium as the material to make the "forever bike" out of, and we certainly agree. It is incredibly strong, light, resistant to damage, and impervious to corrosion. When combining those factors to the massive spectrum of capabilities of the Flaanimal platform we think Flaanimal Ti is a do it all bike that can be owned and ridden for a lifetime of adventure in almost any conditions.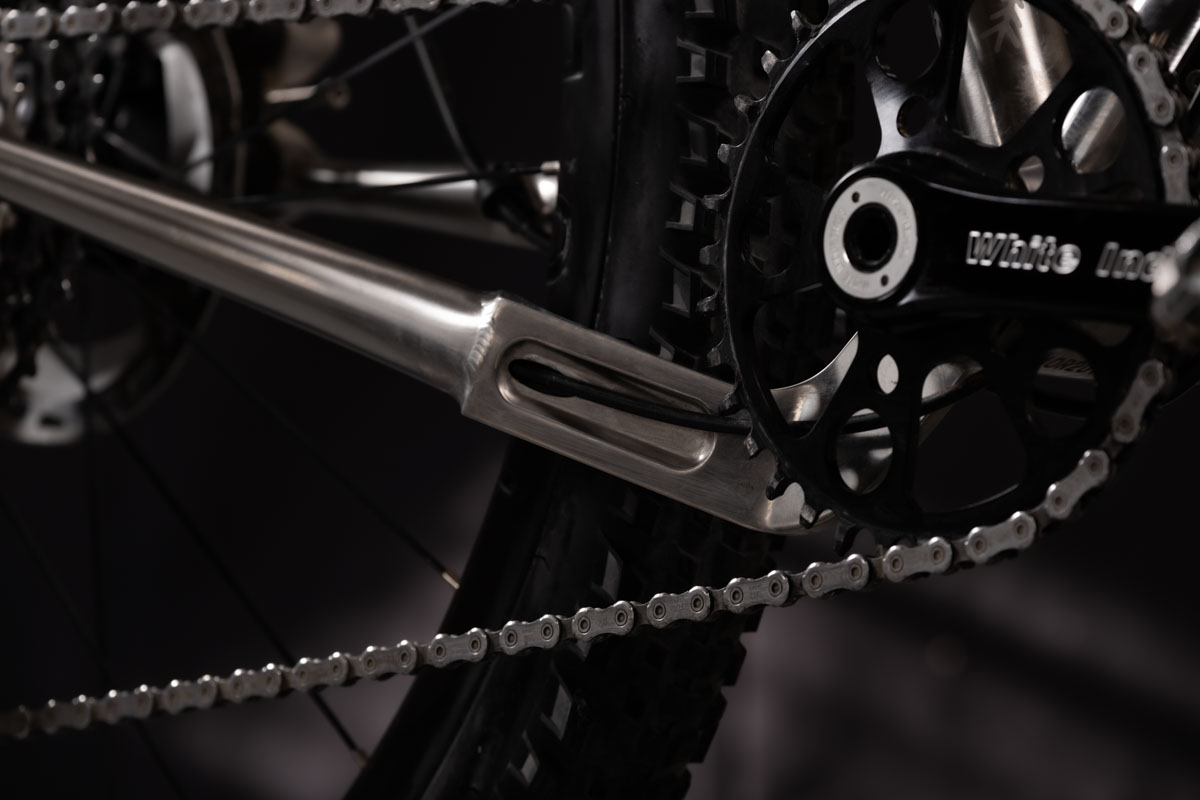 Availability
The first allocation of 2021 Flaanimal 5.0 titanium frames have already been scheduled for production. Of that fixed quantity of framesets we are now offering pre-orders of either framesets or complete bikes. 
Due to the huge demand that the bike industry is experiencing the wait for these frames will be a part of the price of admission. We expect the first batch to touch down in Denver during the month of August 2021. With that in mind you may want to hold off on selling your current bike while you wait for Flaanimal Ti so that you have something to continue riding during Spring and Summer months.
If our first pre-order allocation sells out we will begin accepting orders for the next wave of frames and will post information about that timeline when it is determined..
Road. Gravel. Trail. Bikepacking.
Flaanimal is explicitly designed to be as versatile as possible. People often ask if our bikes are truly suitable for the wide range of conditions that we state that they are. The answer is a resounding yes.
We've spent untold thousands of paved miles on each of our bike platforms on both slow solo cruises and fast, competitive group rides. We've even road raced our bikes in the quest to answer the question "can one bike really do it all?"
We've also gravel raced, cyclocross raced, mountain bike raced, and bikepack raced our bikes and have proven them with podiums and / or victories in each discipline. We've proven for ourselves how versatile our bikes can be, and the Flaanimal Titanium takes that track record into a new arena.

Standard Brushed Finish
Our standard Flaanimal Titanium finish offers the classic look that many have come to expect from the material. The frame is hand brushed to an even finish and graphic details are lightly sand blasted onto the frame itself resulting in a durable, ultralight, corrosion proof finish.
Seat Tube Graphics (+$200)
Our two seat tube graphic options are added to-spec and are sand blasted onto the classic brushed frame here in Denver, Colorado. The O.G. Pine trees are a throwback to our incredibly popular Flaanimal 4.0 layout. The Crystalline Ti hexagonal graphics invoke the crystalline structure of the base titanium element.
Candy Dark Tint + Blasted (+$400)
For this finish the frame is blasted to a matte finish at Flux Customs here in Denver, Colorado. A dark tinted Cerakote clear layer is then applied over the top with masked graphics applied on positive and negative. Cerakote is a ceramic polymer coating with excellent durability, abrasion resistance, and adhesion to bare Titanium. Cerakote is also the most ultralight coating we offer, a perfect companion to Titanium itself.
White Cerakote + Blasted (+$400)
For this finish the frame is blasted to a matte finish at Flux Customs here in Denver, Colorado. A classic solid white Cerakote clear layer is then applied over the top with masked graphics applied on positive and negative.
Full Custom (+ $ Quote)
We are happy to collaborate on all full custom finish options and have a strong relationship with the finest custom painter in the industry for executing our designs. Titanium is a unique material and we are excited about an expanded palette of unique opportunities to sand blast, Cerakote, liquid paint, and anodize new and unique designs. To start a full custom project please check out on your frameset or build, add the Custom Deposit while selecting options, and we will get in touch to start the process when your order comes through. Custom projects range from $150 for simple blasting well into and past the $1,500.00 range depending on the complexity of the project.

Frame Material
Custom butted 3/2.5 titanium tube set
Country of manufacture
Taiwan
Design / Tooling
100% proprietary
Tire clearance 650b
Max width: 2.4″ | Min. recommended width: 40mm | Varies by tire / rim / conditions
Tire clearance 700c
Max width: 54mm / 2.1″ | Min. recommended width: 28mm | Varies by tire / rim / conditions
Frame weight
1890g for 61cm. 1820g for 58cm. 1790g for 56cm.
1750g for 54cm. 1700g for 52cm. 1680g for 49cm.
Fork
Rodeo Spork 3.0 / Full carbon adventure fork
Fork weight
Average 600g
Cable routing
Mechanical, Di2, eTap. Convertible or cappable modular endcaps.
Dynamo routing
Internal fork. Front and rear light, USB stem cap, dynamo hub compatible.
Brake Standard
Flat Mount, 140mm front & rear
Bottom Bracket
T47 threaded, 85.5 mm width
Seat Post
27.2 mm post
Dropper post
Internal, cable routing through BB shell.
Seat Clamp
31.8 (6066 aluminum clamp included)
Thru Axles
12 x 142mm rear. 12 x 100mm front.
Front optionally convertible to 15 x 100mm.
Headset
44mm head tube, 1-1/8″ to 1.5″ tapered.
EC44/40 lower, ZS44/28.6 upper.
Headset not included.
Chainring compatibility
2x: max 50/34, min 36/24.
1x: max 46t, min 32t (smallest tested).
Singlespeed: max 46t, min 42t, half link chain recommended.
Front derailleur mounting
31.8mm band clamp, requires braze-on FD.
Additional housing stop clamp required for FDs without an integrated housing stop (available by request).
Rear derailleur hanger
Aluminum, replaceable
Di2 battery position
N/A
Fender mounts
Frame and fork. Removable seat stay bridge. Max 65mm outer fender width at 700c.
Bottle cage mounts
3 inside main triangle. 1 on outside lower down tube. 2 on fork, one per leg.
Rack mounts
Frame and fork. Optional offset eyelet kit available for fork, for additional cargo options including low rider racks.
Fork mounts
Two mid-leg eyelets per fork blade, spaced for a water bottle cage (M5 x 0.8mm).
Two eyelets near axle per side (M5 x 0.8mm). Optional offset eyelet kit available.
Fork crown bolt
Not included. 75mm length typically needed for lights / racks.
Not compatible with recessed brake nuts.
Fork cargo capacity
27.6 lb / 12.5 kg total cargo weight, evenly distributed
Headset spacer max height
4cm between headset and stem
Frameset rider weight limit
280 lb / 127kg
Chainstay length range
Thru axle slider: 415 mm – 435 mm  |  QR / IGH slider: 420 mm – 440 mm
Frameset specific component notes
Flaanimal 5.0 maximizes tire clearance at the chainstay via careful tube shaping. This results in limited clearance between the non-drive side crank arm and chainstay which is not compatible with some crank based power meters, such as Stages. A 4iiii power meter can work on a Praxis crank if a 2mm spacer is used on the non drive side of the spindle. This installation method has been approved by Praxis. Other cranksets have not been tested so proceed with caution.
The dropped chainstay design also results in tight clearances with some singlespeed chain / chainring setups. 38T chainrings will cause the chain to hit the dropped yoke. 40T is very close and not advised. 42T, 44T, and 46T offer good clearance.

Size

49 cm

52 cm

54 cm

56 cm

58 cm

61 cm

Virtual Seat Tube (C-T)

490

520

540

560

580

610

Seat Tube (C-T)

445

488

508

528

548

578

Top Tube (effective)

520

535

545

560

580

605

Chain Stay (actual)

425

425

425

425

425

425

Seat Tube Angle

74.5

74

74

73.5

73

73

Bottom Bracket Drop

65

65

65

65

65

65

Head Tube Length

90

107

132

147

162

197

Head Tube Angle

69.5

70

70

71

72

72

Reach

377

382

386

390

399

414

Stack

514

532

556

574

592

625

Fork Length

396

396

396

396

396

396

Fork Rake

45

45

45

45

45

45

Front Center

597

604

616

616

621

645

Wheelbase

1013

1020

1032

1033

1038

1063

Stand over height, at center of top tube,
700 x 38mm or 650b x 2.1″ tire

747

765

790

803

827

849

Stand over height, at center of top tube,
650b x 48mm tire

737

755

780

793

817

839

Lengths listed in millimeters, angles in degrees.
t

Flaanimal 5.0 can be ordered either as a frame and fork module (at the top of this page), or as a complete bike. Soon we will add online purchasing for any of the complete bikes detailed below. In the meantime, we recommend pre-ordering a frameset to stake your claim and we will follow up with you directly to work through the details of your Flaanimal's build. Feel free to send in a build form in addition to your pre-order to get the ball rolling: BUILD FORM
Every complete bike is built to order in-house and, because we can source from a wide range of components, we are proud to offer a huge range of pre-configured and fully custom builds. One of the build configurations listed below might suit your needs exactly. Or, it could be the starting point for further customization if you have specific components you'd like to see on your Flaanimal.
The GRX-600 2x listed below is different in that, at this price listed online, it is a special value build we created for maximum performance at lowest cost. This exact GRX-600 2x build cannot be customized beyond a choice of basic component dimensions and wheel size.
Click any of the sections below to collapse / expand for easy spec comparison.
COVID-19 notice: we are continuing to see disruption to availability of specific components within the U.S. As a result, the exact specs and price may vary from what are listed below, but we will always get your approval on any necessary substitutions prior to beginning your build. 
SRAM Rival AXS Mullet 1x12
When it comes to dream Flaanimal 5.0 Ti builds Sram Eagle is tough to beat. Previously, you would need to go big with AXS to pair your road shifters with your huge capacity 12speed Eagle drivetrain. Our Force1 + Ratio 1x mullet build provides ultra wide range 1×12 mechanical shifting with lightweight Ritchey cockpit and Rodeo 2.0 carbon wheels to create a build spec that can go anywhere and do anything you set your eyes on.
$7004 complete bike with Standard Brushed finish. Other options additional.
| | |
| --- | --- |
| COCKPIT |   |
| Handlebar | Ritchey Butano WCS |
| Stem | Ritchey Toyon WCS / 6deg |
| Headset | FSA EC44 |
| Headset comp. plug | Included |
| Headset spacers | Carbon |
| Seatpost | Ritchey 2-Bolt Carbon / 27.2 |
| Seatpost clamp | Rodeo 6066 |
| Saddle | Rodeo / WTB Volt |
| Bar Tape | Black EVA |
|   |   |
| DRIVETRAIN |   |
| Front Shift / Levers | SRAM Rival AXS HRD |
| Rear Shift / Levers | SRAM Rival AXS HRD |
| Rear Derailleur | SRAM GX Eagle AXS 52t |
| Crankset | Praxis Alba X |
| Chainring | Praxis DM 1x / 42t |
| Bottom Bracket | Praxis T47 / 85.5mm / internal / M30 |
| Chain | SRAM GX Eagle 12s, silver |
| Brake Caliper Front | SRAM Rival HRD / flat mount |
| Brake Caliper Rear | SRAM Rival HRD / flat mount |
| Brake adapter Front | Included |
| Brake adapter Rear | Included |
| Brake Lines / Hydro | SRAM hydro |
| Axle Front | Rodeo Thru Axle / 12 x 100mm |
| Axle Rear | Rodeo Thru Axle / 12 x 142mm |
|   |   |
| WHEELSET 1 |   |
| Rim Front | Rodeo 2.0 Carbon / 700c or 650b / 28h |
| Rim Rear | Rodeo 2.0 Carbon / 700c or 650b/ 28h |
| Hub Front | Rodeo 2.0 / 28h / 12×100 |
| Hub Rear | Rodeo 2.0 / 28h / 12×142 / XDR |
| Spokes | Sapim CX-Ray bladed, black |
| Nipples | Sapim brass, black |
| Build | Magnetic Wheel Co. / Rodeo 2.0 |
| Valve | Tubeless, black |
| Rim Tape | WTB |
| Tire Sealant | Orange Seal |
| Tire front | Panaracer GravelKing SK |
| Tire rear | Panaracer GravelKing SK |
| Rotor front | SRAM Centerline XR centerlock / 160mm |
| Rotor rear | SRAM Centerline XR centerlock / 160mm |
| Cassette | SRAM Eagle 10-50t |
SRAM Rival AXS XPLR 1x12
SRAM Force1 + Ratio 1x12
Campagnolo Ekar 1x13
Shimano GRX 815 Di2 2x11
Shimano GRX 817 Di2 1x11
SRAM Force AXS Mullet 1x12
SRAM Force AXS XPLR 1x12
SRAM AXS 2x12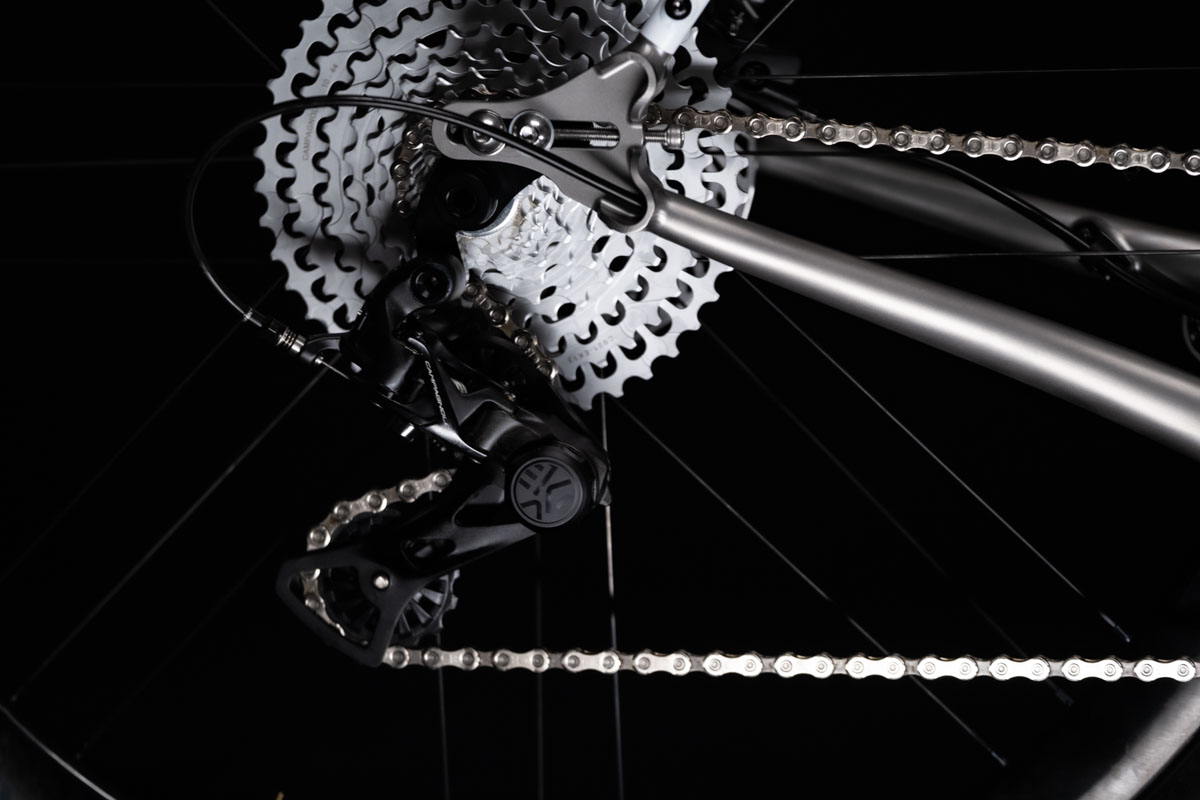 Flaanimal 5.0 frame bag templates:
If you are working with a custom bag designer to create perfectly fitted bags for your Flaanimal 5.0's main triangle, please send the designer one of the frame size specific PDF templates linked here. PDFs are to scale in millimeters so measurements can be taken from the file or a printout of the file.