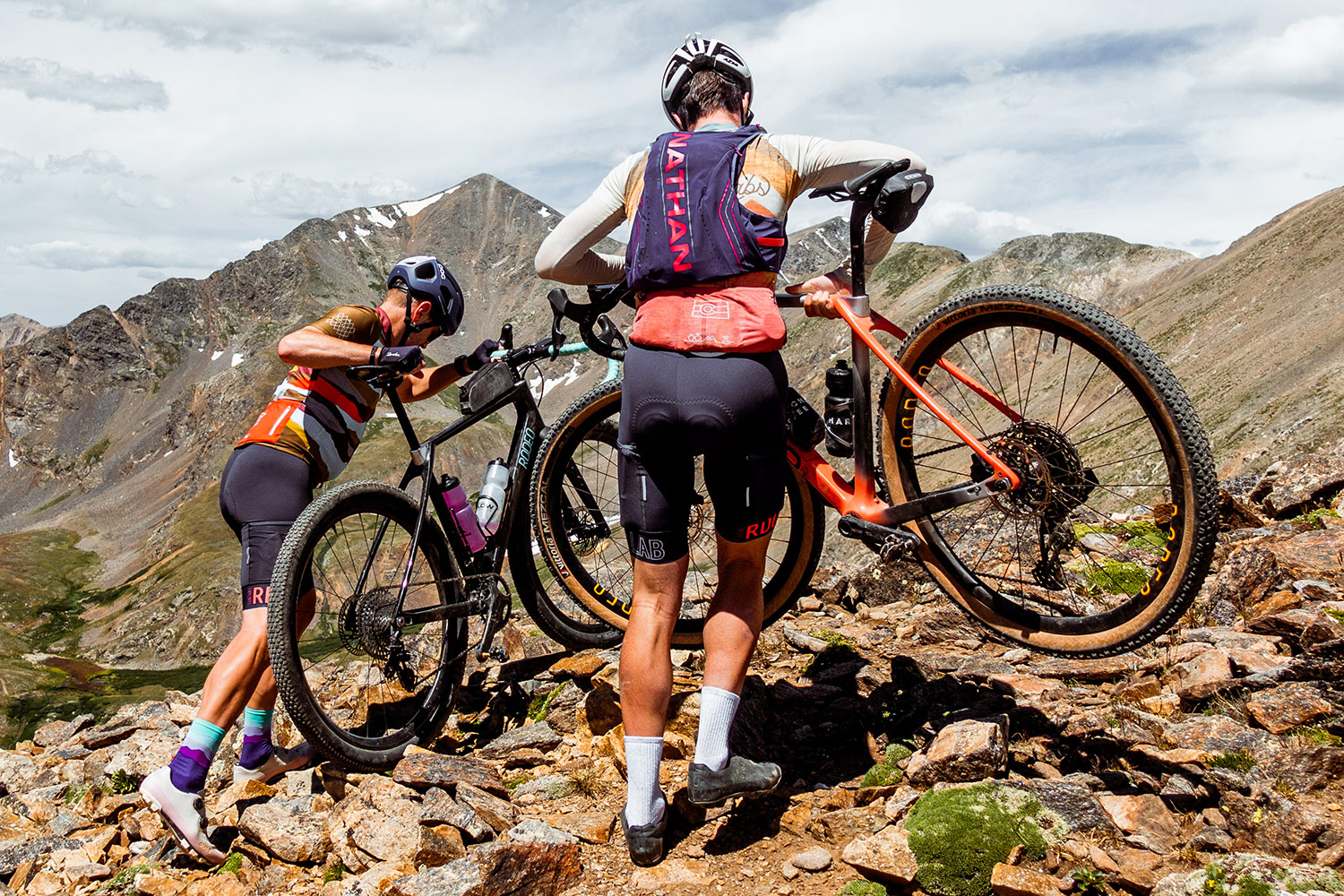 For the latest revisions of our Explorts bibshorts we focused even more on refinement. One of the more notable revisions is the creation of a new "SL" version which deletes the bib strap buckles and simplifies the overall construction. The SL version is available in a new dark green olive fabric which is softer to the touch and slightly more elastic than the black versions of the bibshorts. A new Deep Blue colorway uses the same ultra soft fabric of the green SL version. The black Explorts from this 1.2 batch retain the strap buckles which are a feature oriented towards multi day endurance cyclists wanting to minimize downtime when on the go, and are made of the lightest weight fabric of the bunch, ideal for hot weather conditions.
We have also slightly modified the position of our endurance EIT chamois on the men's bibshorts from this 1.2 batch for better sit bone placement and front coverage.
Women's 1.2 bibs have modified cuff sizing for improved fit as well as modified bib strap lengths on L and XL bibs for better fit
---
All RDO LAB cycling clothing is designed and developed in-house from scratch. Cut, fit, materials, and function are all entirely home brewed. Each design and revision is rigorously tested in real world riding before being put into production. We work directly with a sewer to combine rigorously selected fabrics, chamois, zippers, and other components into a high quality and functional final garment. Our fabrics and chamois are sourced from Europe and our sewing is completed in Asia.
Our fabric on the green and blue Explorts is a softer fabric that does not pair well with saddles with rough surface textures such as Brooks C series saddles. If used with such saddles or rubbed / chafed continuously, the fabric may become damaged and will not be subject to warranty.
Our black Explorts 1.2 feature our upgraded quick release bib straps. One improvement is a simple bartack stitch where the shorts cross which allows the straps to remain within reach when re-buckling them. We also added detail stitching and revised fabrics where the straps attach to the clips which prevents bunching and twisting at the connection. These tiny details make the quick release strap system vastly more useful.
Don't think you need quick release straps? Our Dark Olive Explorts SL offer a clipless, more traditional bib strap in both men's and women's bibs.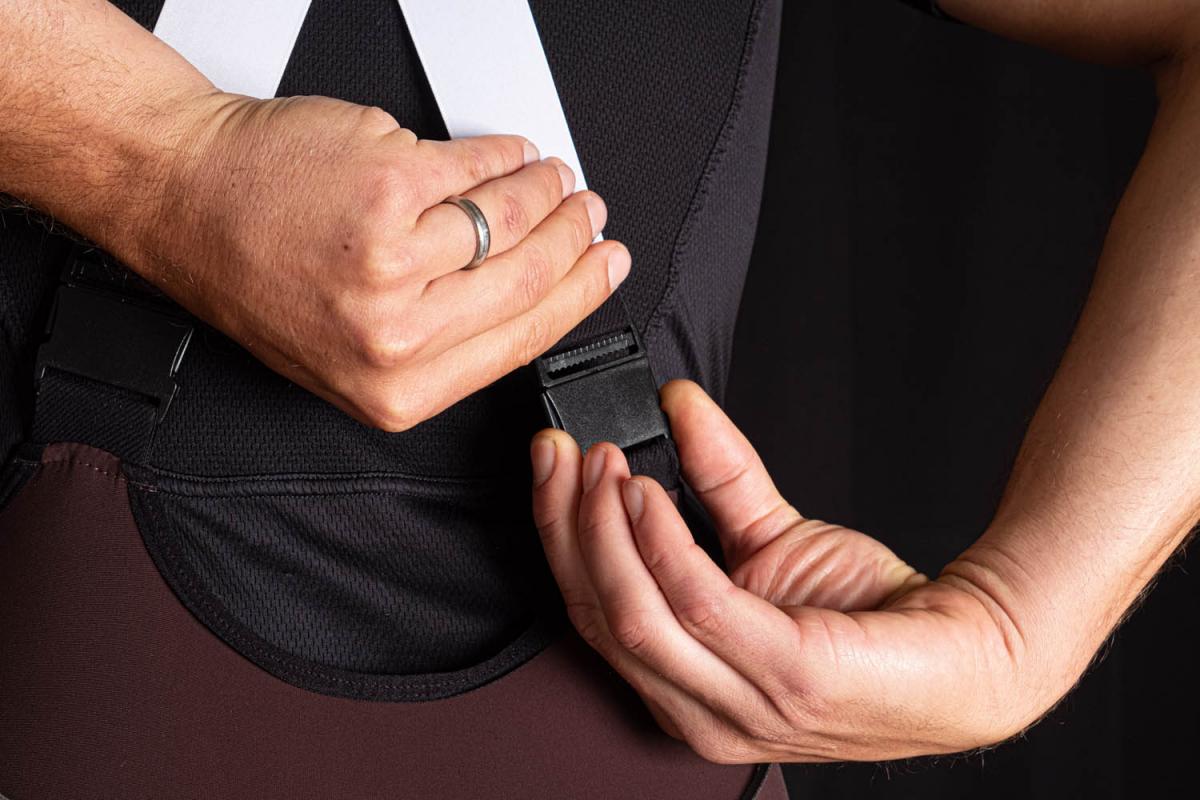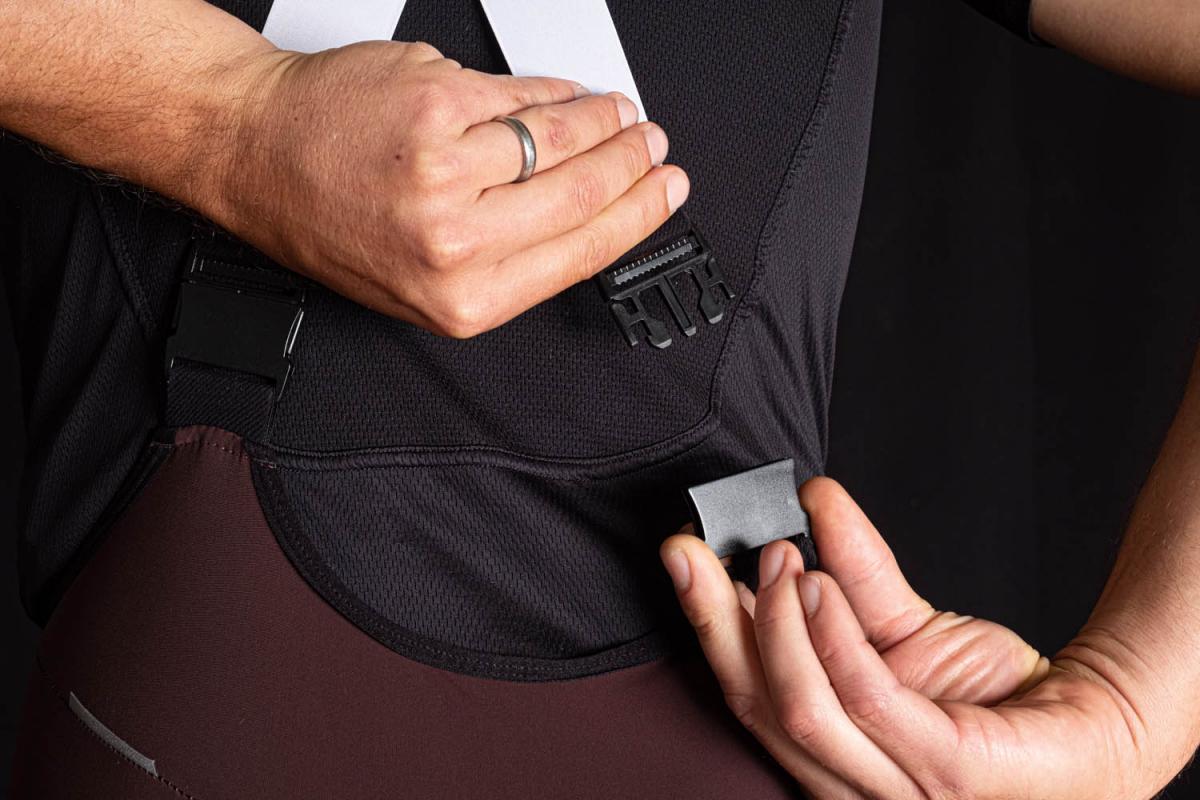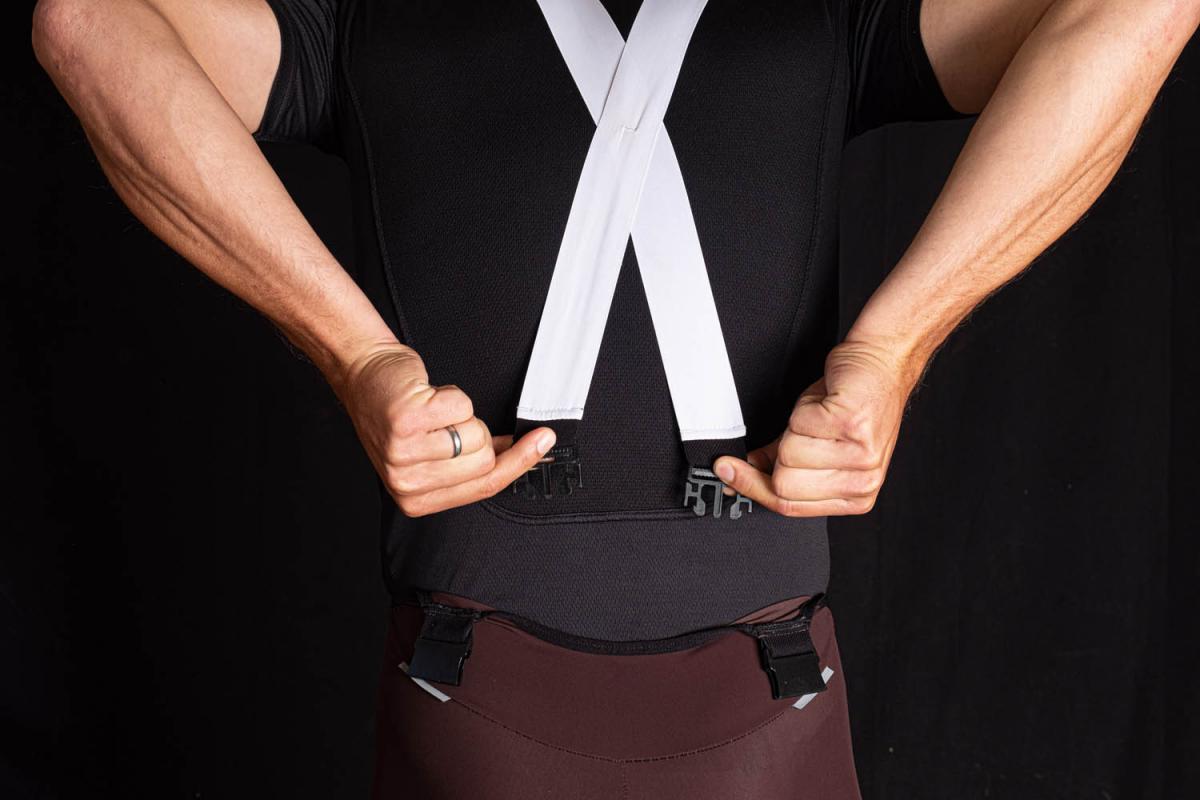 Explorts 1.2 carry over the ultra comfortable EIT chamois that we began using in the 1.1 revision of the shorts, but we've shifted the chamois forward approximately 4cm on the men's version of the bibs for better sit bone comfort and front coverage. Women's bibs remain unchanged from 1.1.  We tested a large number of chamois from a wide range of manufacturers for six months and zeroed in on a market leading medium thickness chamois that isn't overly padded but provides comfort long into a 10+ hour day or even across an extended multi day bikepacking journey. This isn't just hyperbole as our bibshorts have been used with great success in ultra distance events the world over. Our women's and men's chamois are gender specific.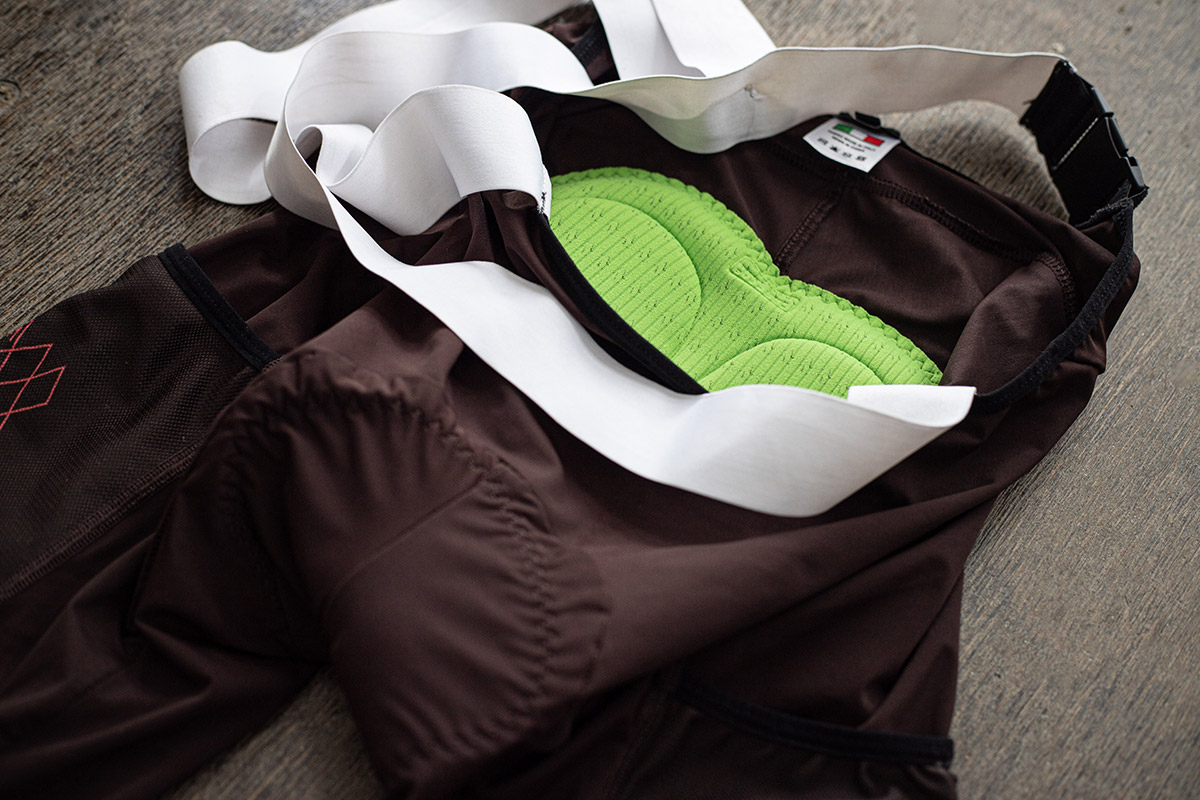 Dark Olive fabric (Explorts SL)
Our 1.2 Explorts SL feature an ultra soft Dark Olive fabric which we are using in production for the first time. We've got nine months of test riding in this fabric and have found it to be ultra soft, comfortable, and appropriately supportive in all types of riding. Dark Olive has slightly more stretch than the fabric we are using in our black 1.2 bibs.
The fabric that we selected for the our black 1.2 Explorts is a more traditional, more compressive fabric than our Dark Olive option. Whereas Dark Olive is a more muted fabric, our black fabric has a brighter sheen. The final fit of both fabric options is essentially the same, with no sizing considerations to keep in mind between the two shorts, but people coming from a traditional road background will find our black fabric to be slightly more traditional in feel.
Fit, sizing, returns, and exchanges.
We've designed our sizing to be as similar to the sizing of other major brands as possible.
Generally speaking our shorts have a mid to long length on most riders but are designed not to extend past your quads. See photos for fit reference before ordering.
Fit is also highly personal and there will always be variances in fit from person to person. We advise measuring and checking our sizing chart carefully before ordering. If you order the wrong size, we can exchange the shorts for another size if they are brand new / unridden as long as we have your desired size in stock and available. We reserve the right to deny refunds or exchanges for any shorts that appear to have been ridden or worn beyond trying on for fit. We will, at our discretion, repair, exchange, or refund any shorts that are found to have incorrect construction or flaws in materials.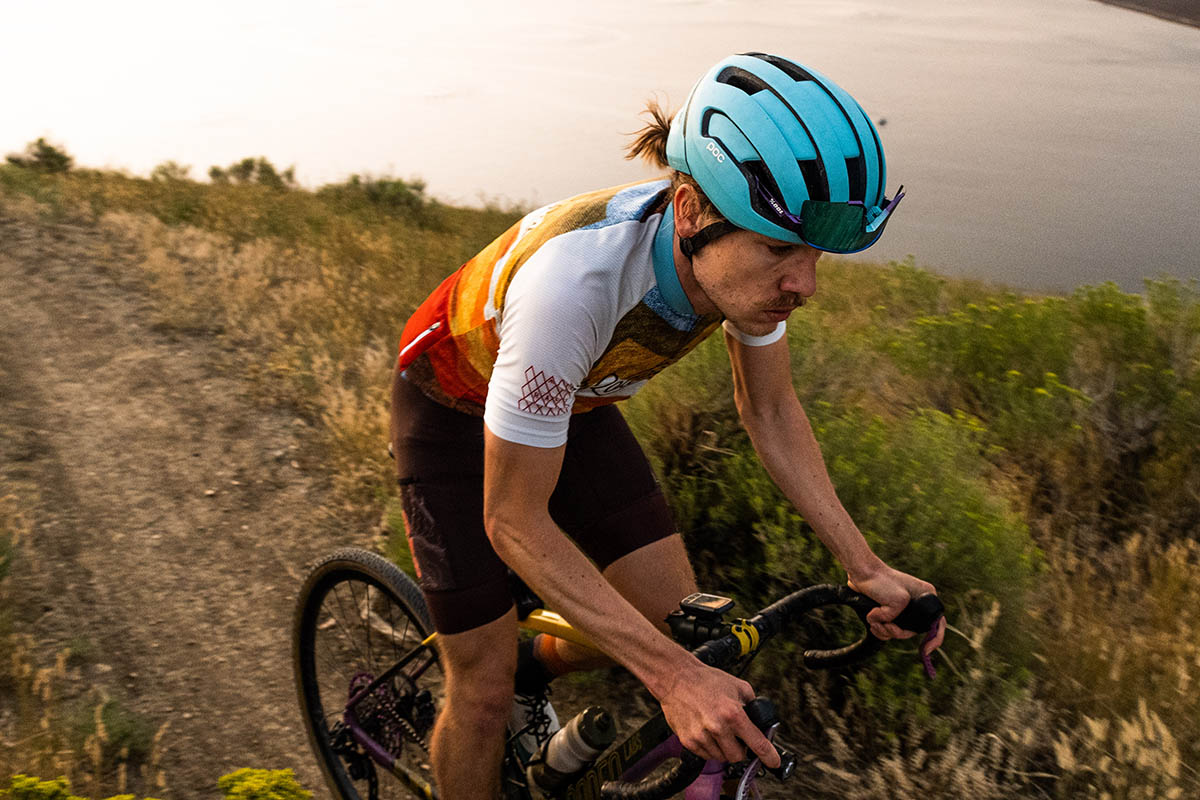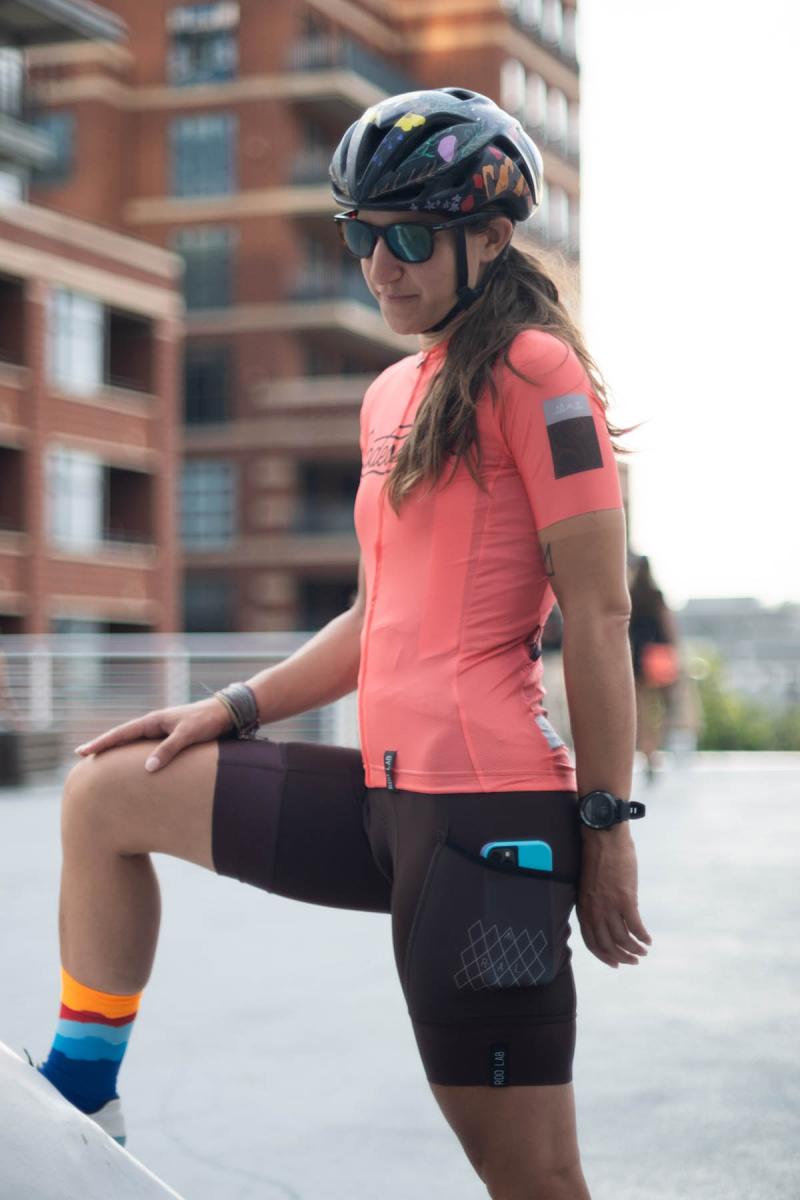 Details
 Explorts feature an adventure tested EIT Italian chamois. For 1.1 we went with a medium padded chamois that is superior for long and ultra distance riding compared to thicker chamois that are not ideal for long distance riding.
Explorts have four reflective accents on the lower back and behind each cargo pocket for added night time visibility.
Our laser-cut, siliconized grippers have a mildly compressive fit without cutting off circulation.
Explorts are made from European sourced fabrics. The 1.1 Explorts primarily feature Italian materials and chamois.
Explorts are sewn and constructed in China. Our patterns and designs are proprietary and are the result of over three years of development and revision.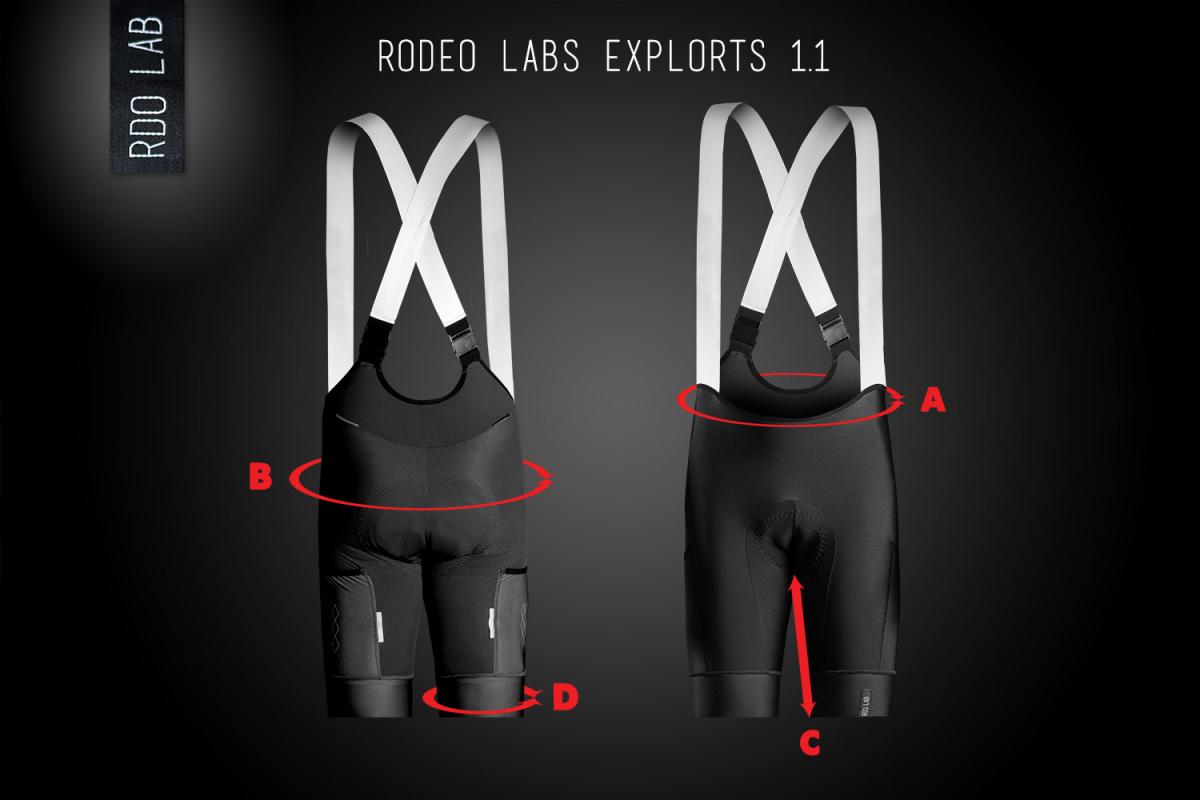 Men's size grid
All lengths are body dimensions measured in inches.
| | | | | | | | | |
| --- | --- | --- | --- | --- | --- | --- | --- | --- |
|   | Inches | 2XS | XS | S | M | L | XL | 2XL |
| A | Waist | 24-26 | 26-28 | 28-30 | 30-32 | 32-34 | 34-36 | 36-38 |
| C | Inseam | 9.25 | 9.75 | 10.25 | 10.75 | 11 | 11.5 | 12.25 |
| D | Leg Cuff | 14-15 | 15-16 | 16-17 | 07-18 | 18-19 | 19-20 | 20-21 |
Women's size grid
All lengths are body dimensions measured in inches.
| | | | | | | |
| --- | --- | --- | --- | --- | --- | --- |
| | Inches | S | M | L | XL | 2XL |
| A | Waist | 28-30 | 30-32 | 32-34 | 34-36 | 36-38 |
| C | Inseam | 8.25 | 8.75 | 9 | 9.5 | 9.75 |
| D | Leg Cuff | 16-17 | 17-18 | 18-19 | 19-20 | 20-21 |