Dirty Kanza cometh, and five Rodeo guys will be heading east from Denver to test ourselves against the 200 mile course.
Recently I had posted a journal entry lamenting the fact that I hadn't ever really ridden east of Denver before. On Saturday that was remedied. We road East with a capital E.
Patrick was the mastermind behind our outing. As an invite he had shown me a screen grab of our intended route. It was more or less a simple rectangle heading east, then north, then west, then south. The lines of the rectangle were so long that a sense of scale was impossible to determine. He advised me that our route would be 130 miles. I was in.
Later I mentioned the ride to Geoff, and he too was in.
On the morning of the ride as we rode south for a few miles with the local Denver PHP group ride. I noticed that Tom was riding a Salsa Warbird with file tread tires.
It turns out that Tom was also in.
It was time to head East.
We started on a six lane road which soon turned to a four lane road, then a two lane road, then, arguably, a single lane dirt road. As each set of lanes disappeared our sense of anticipation built. Even though the roads were achingly long and straight, the promise of doing something we hadn't done and seeing things we hadn't seen were enough to keep us enthusiastically charged.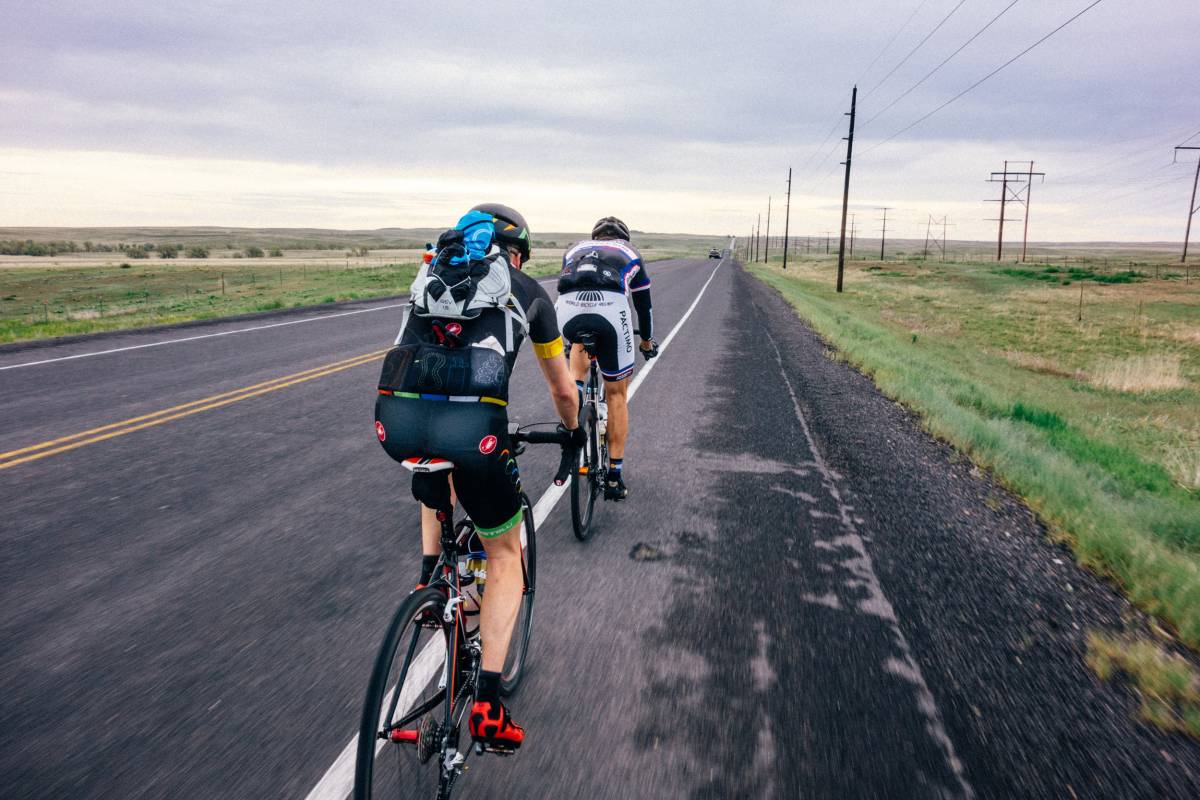 Pavement turns to gravel. I turn to Geoff and remark that for some reason gravel just puts me in a better mood. Gravel is also interesting because speed seems less important after the transition. When you hit the dirt the ride changes character, it becomes something more wild.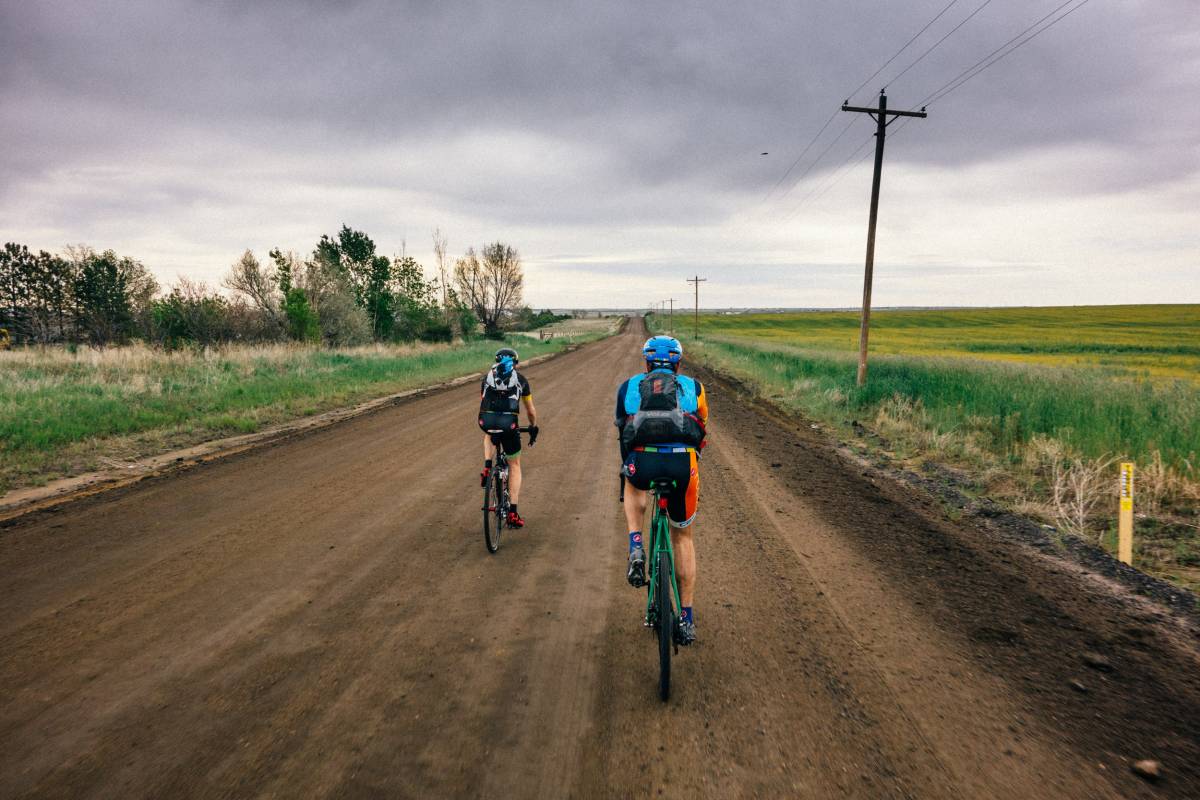 The plains feel utterly strange. My entire riding life in Denver has been defined by riding west for the hills, searching for high mountain overlooks and vistas around the next bend. There are no bends in the east, there are no high vistas. There is only prairie, and it feels infinite.
Dirt. Grass. Sky.
Dirt. Grass. Sky.
It seems that it should be repetitive. But just like wine, coffee, art, music, or any other thing, the plains and prairie have tremendous diversity and nuance. They will reward you if you slow down enough to consider them. For me it is a lesson on life: We can find beauty in even the most mundane things if we resist the urge to rush through.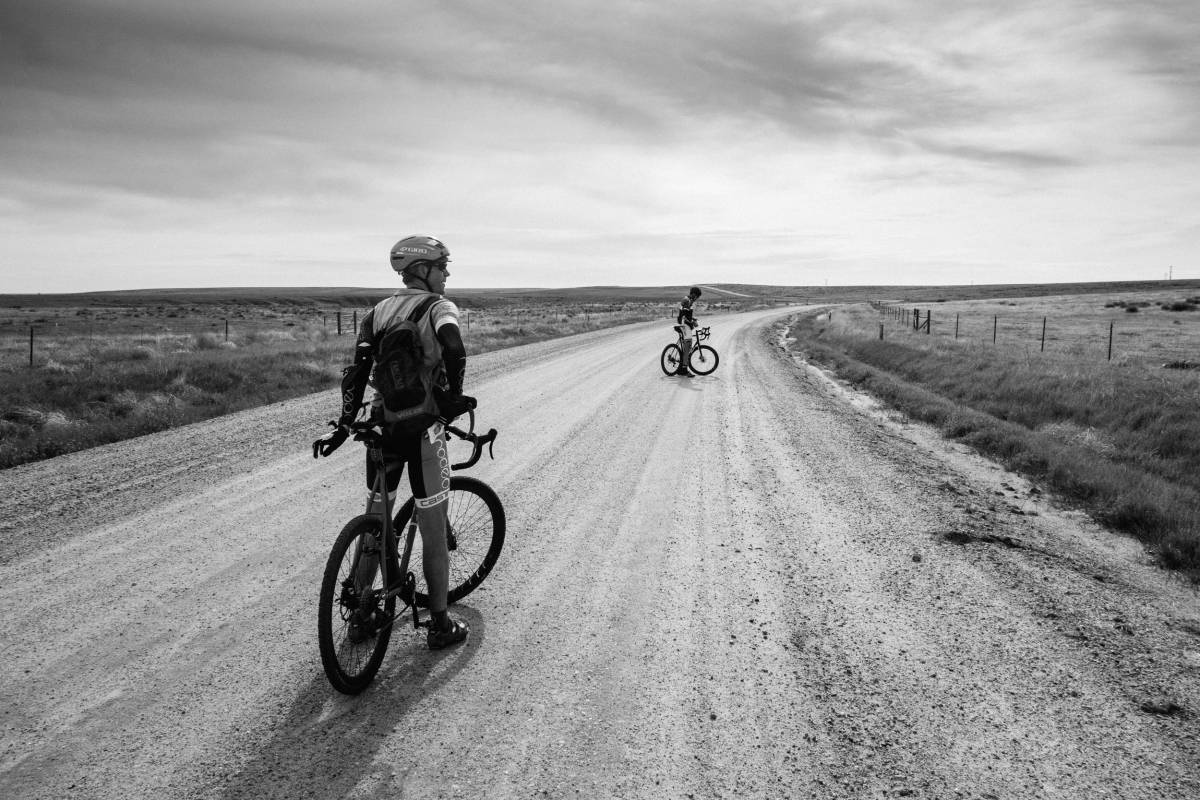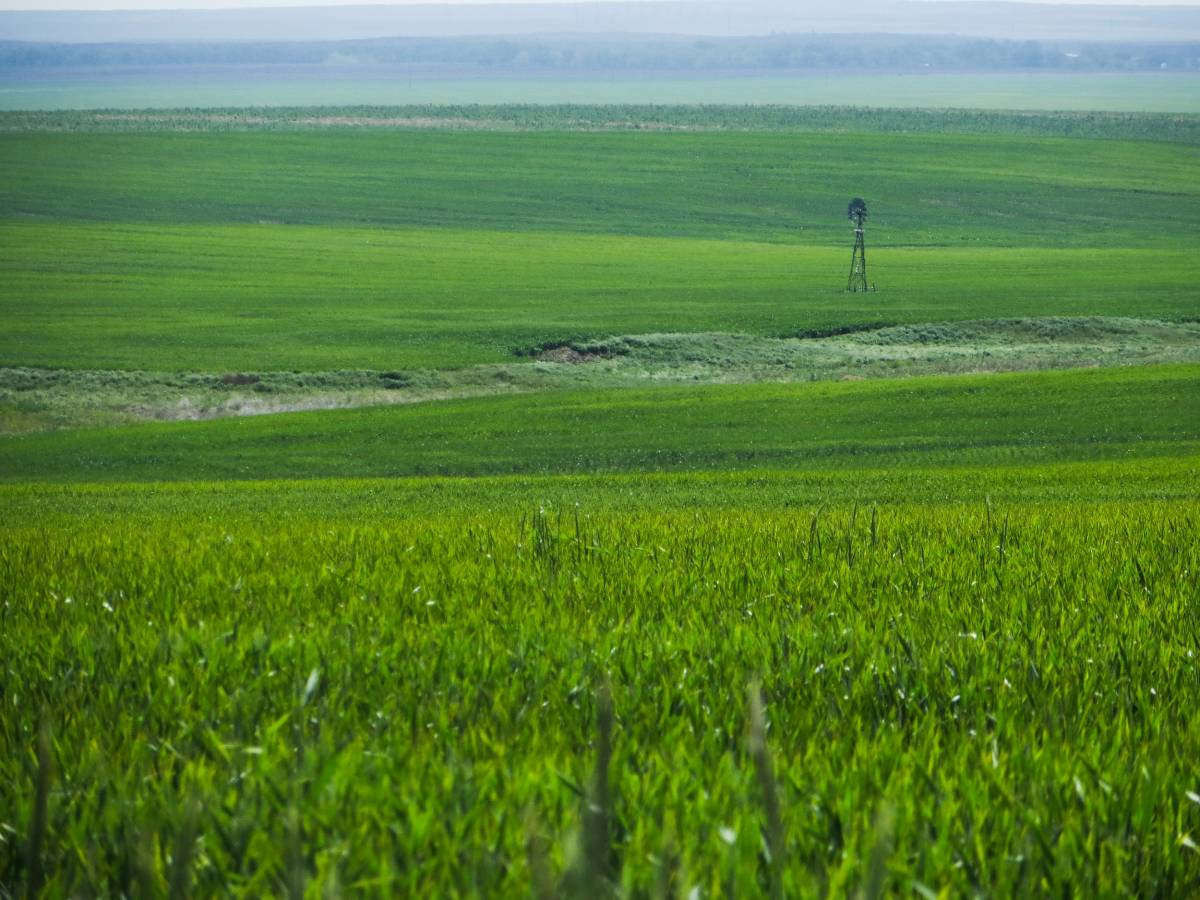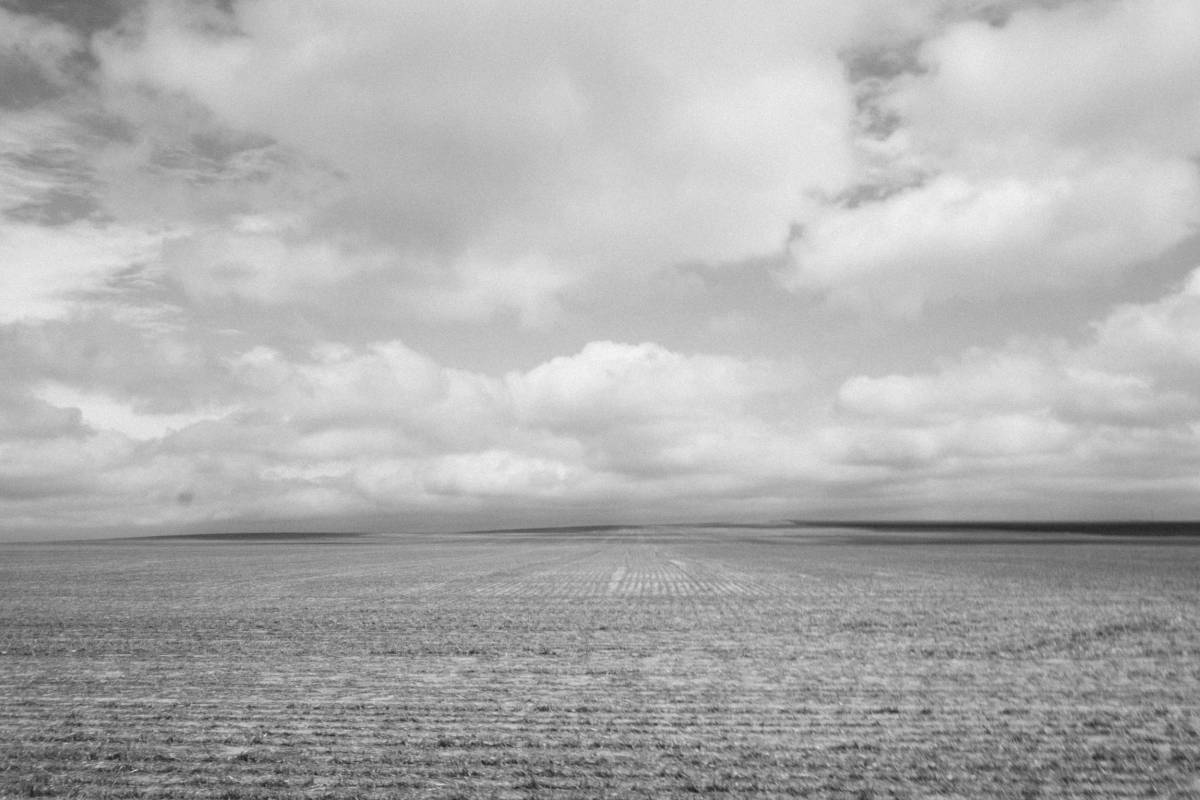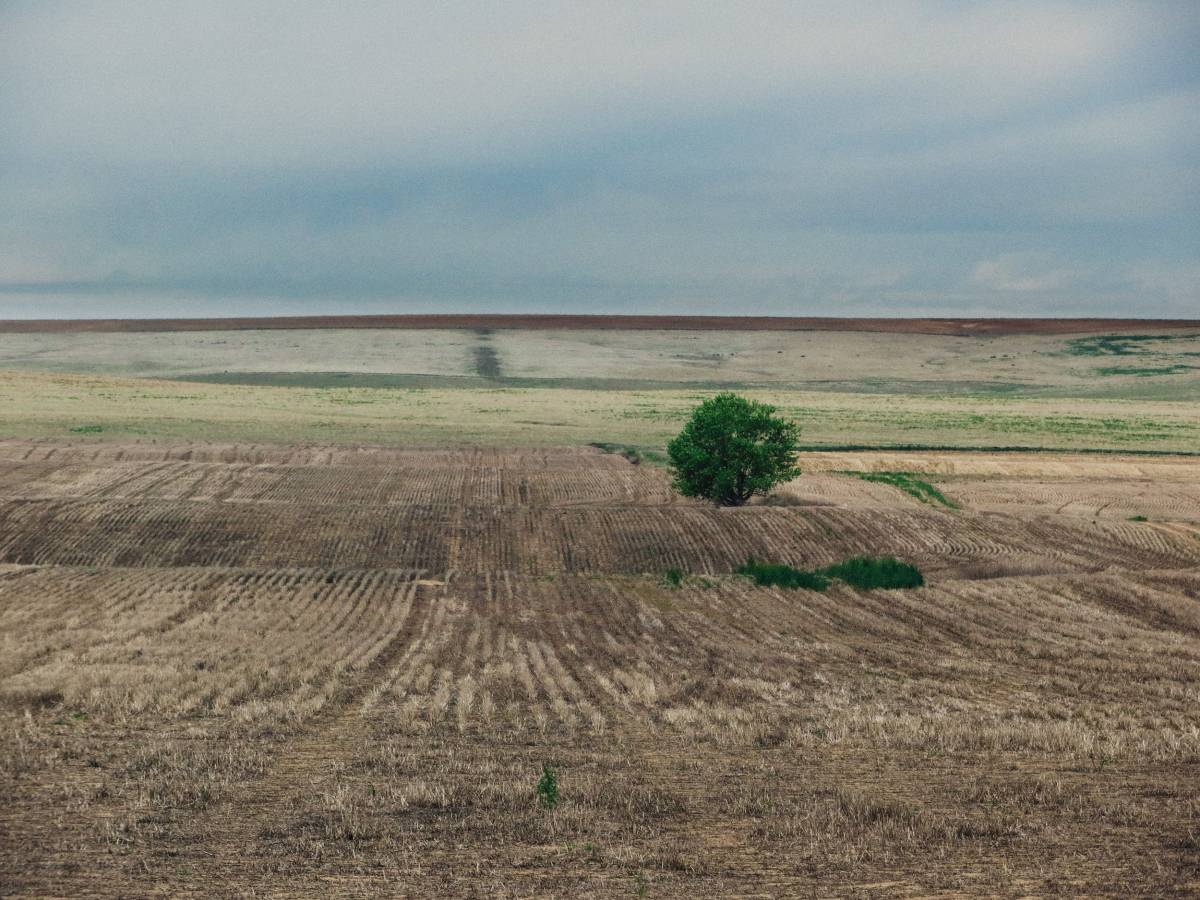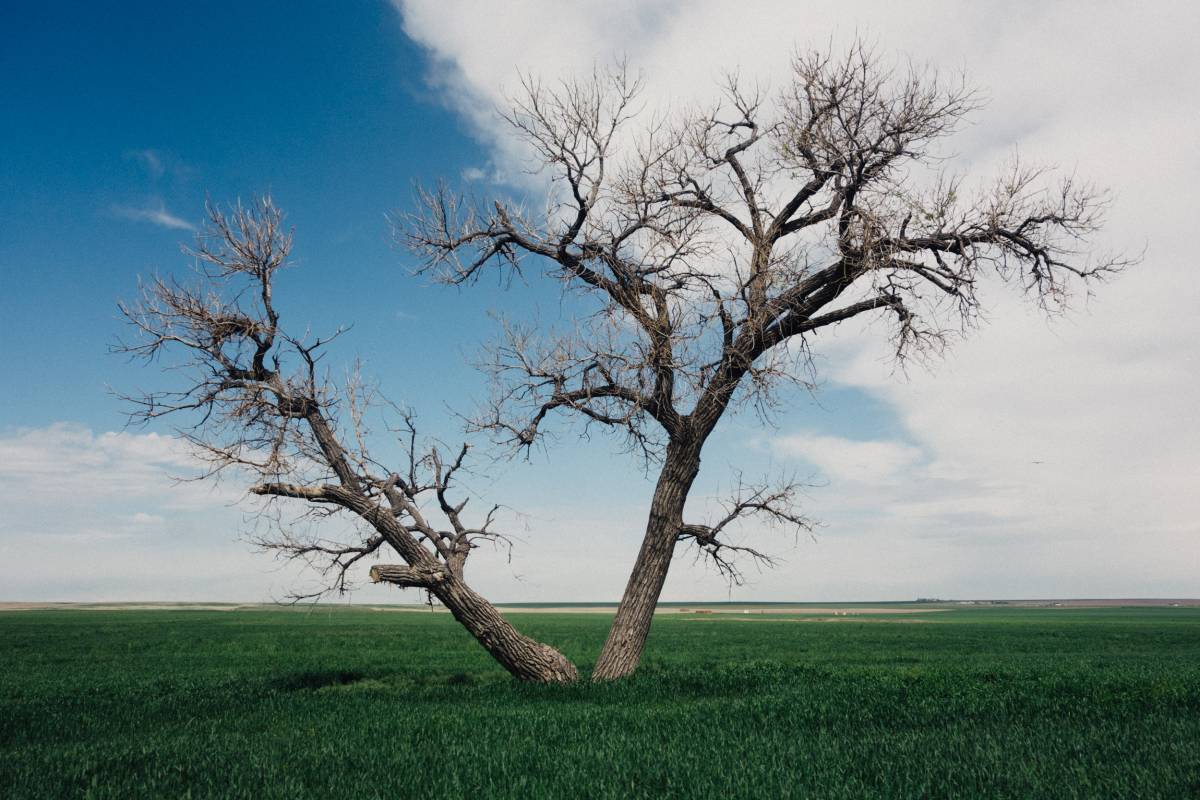 Suddenly we spot movement. A trio of pronghorn antelope leap across the road and into the field. Pronghorn! Those are one of the five Rodeo animals. They are the fastest long distance runners in the world. Indeed, after they disappear from sight we continue on only to see the same group of three again just up the road. It seems impossible that they could already be so far up the road. They cover distance much more quickly than we do.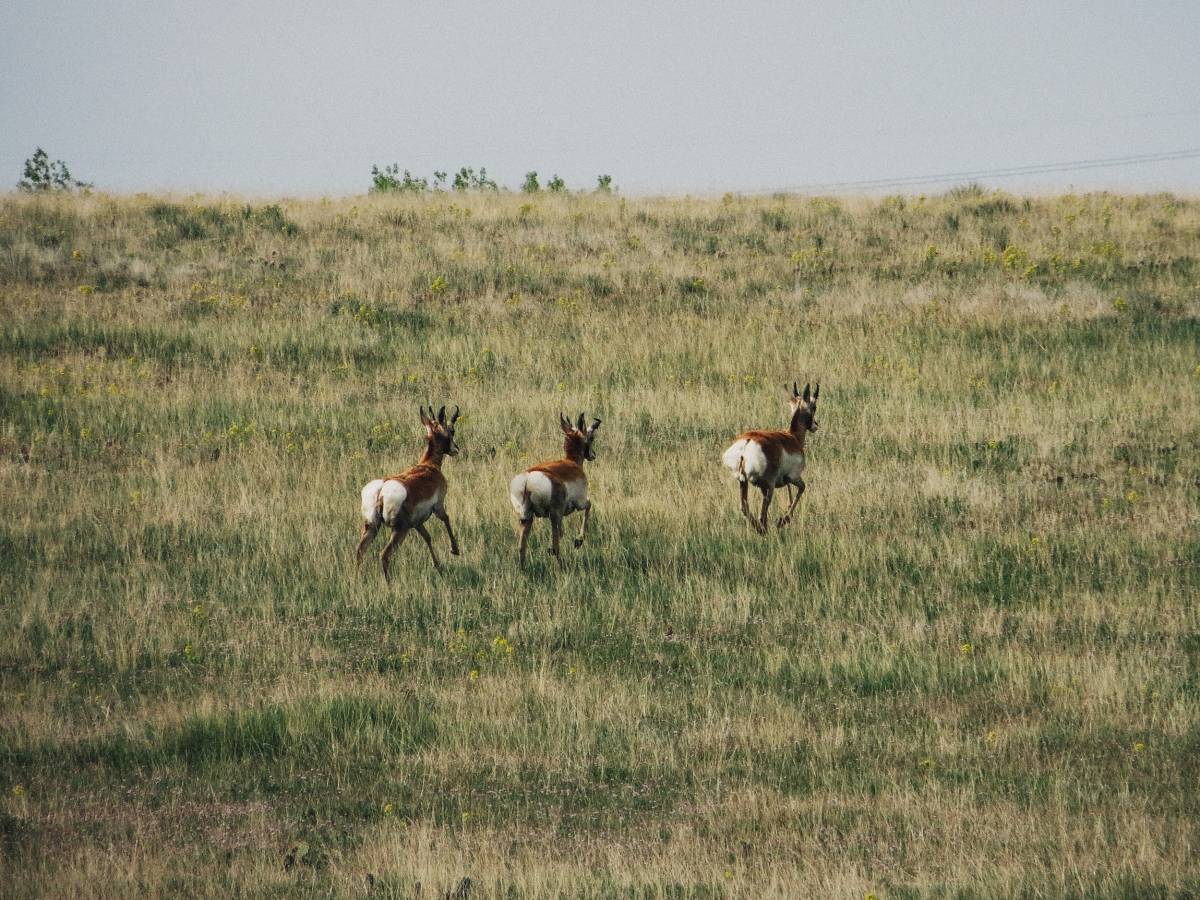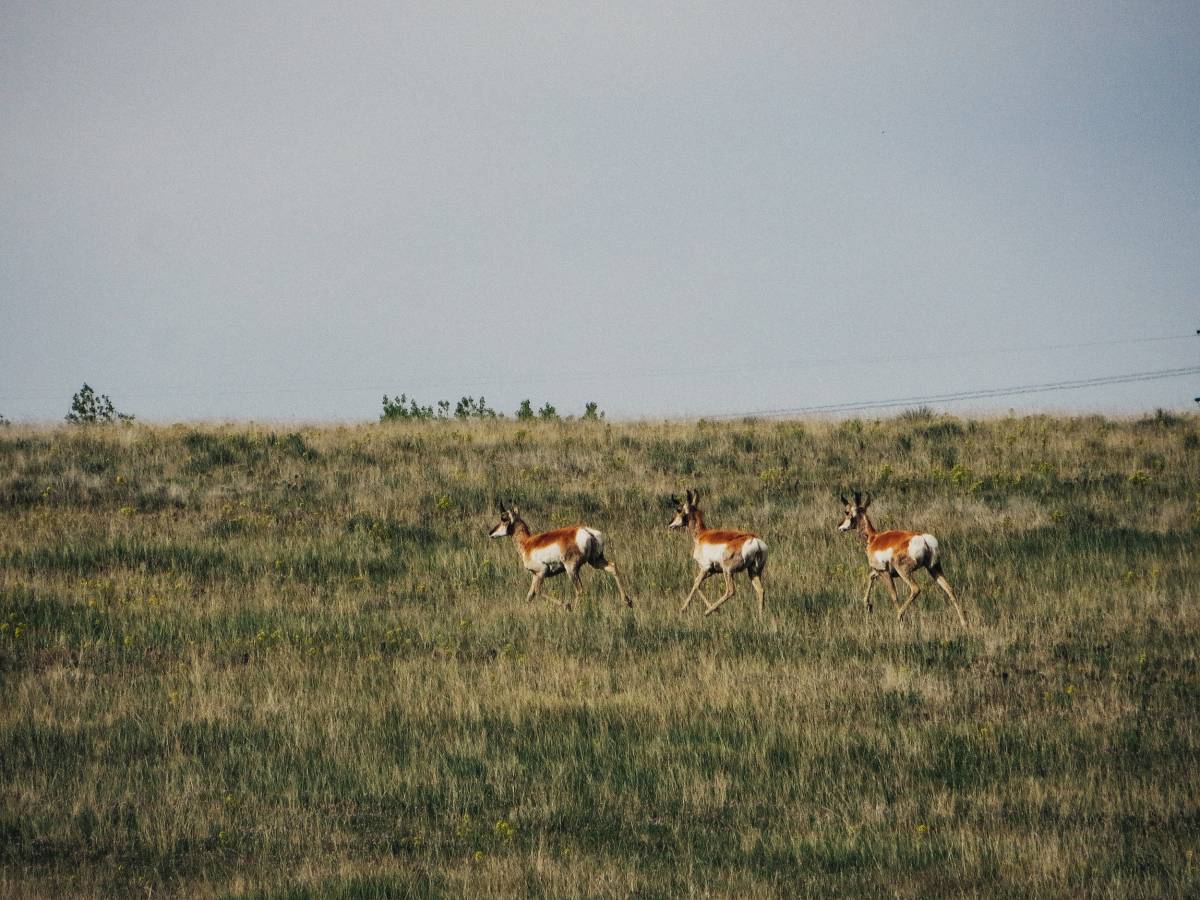 Soon our eastward journey takes a turn north. Turns are a big deal on this ride, this one being our first in about 25 miles.
Our ride resumes. We stop in Byers for replenishment. The town is so quiet that we struggle to find an establishment that is open for business. Thank goodness for dinosaurs. Tom considers the size of the Brontosaurus and is unimpressed. Largest land animal indeed. If Tom had been alive in the Jurassic period… I would watch that movie.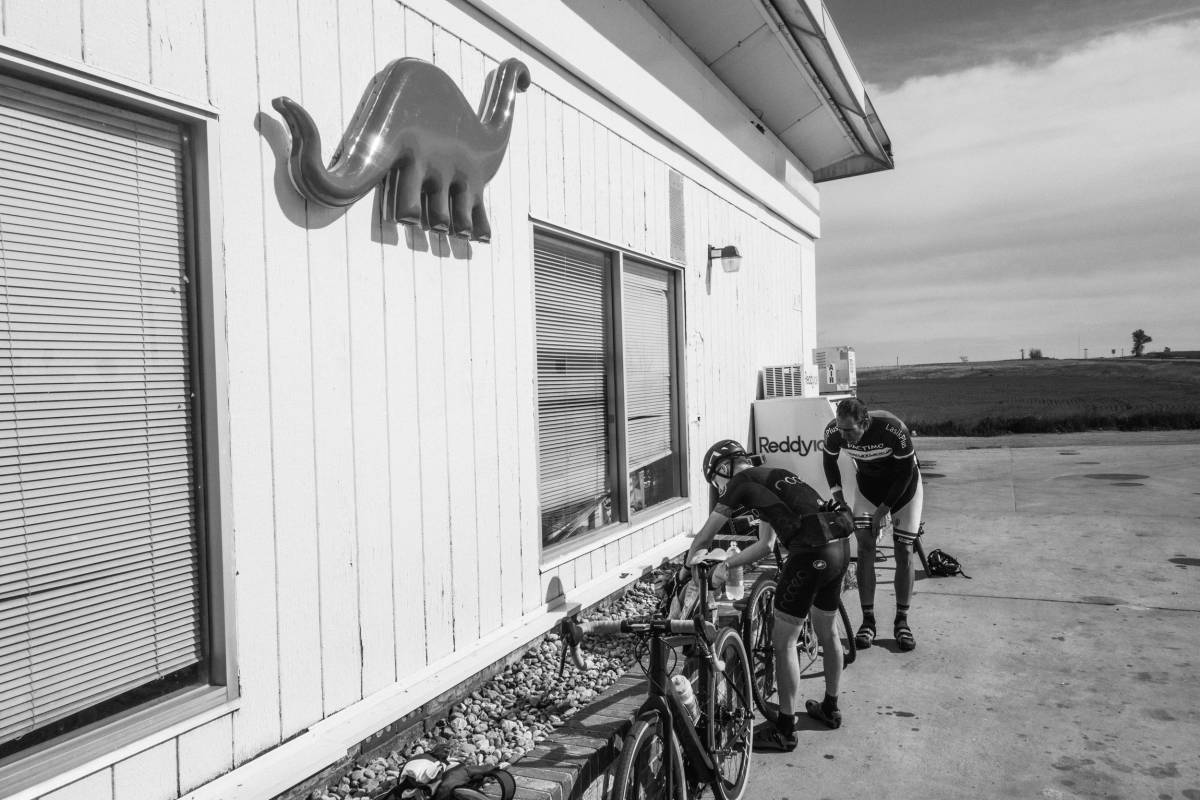 North is something new. It is a lot like east, but it feels longer. Every time I look at the horizon I see endless rolling hills. When we finally top out on a hill and see a new vista we see only more hills, and more hills after that. North takes a long time to traverse.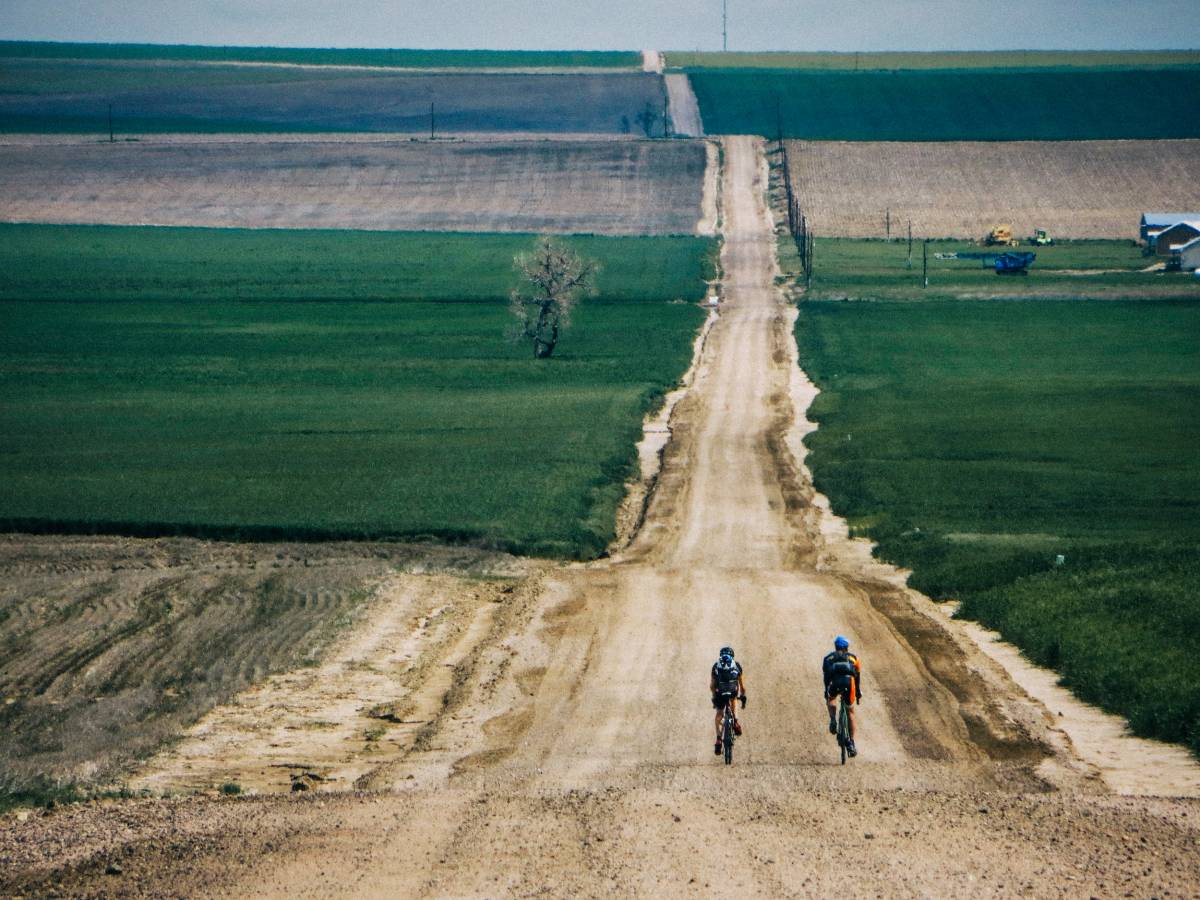 Occasionally we pass an east/west road. Each one feels like an event, but all are empty of traffic. Occasionally we see a stop sign and laugh.
I live near 1st street in Denver and on this ride we finally turn west on 160th. We are very far from home.
When we do finally turn west I find it disorienting because every time I've ever looked west from Denver I've seen mountains. Today there are no mountains, there is no Front Range. There is only prairie, farm land, and our road cutting directly and precisely through it.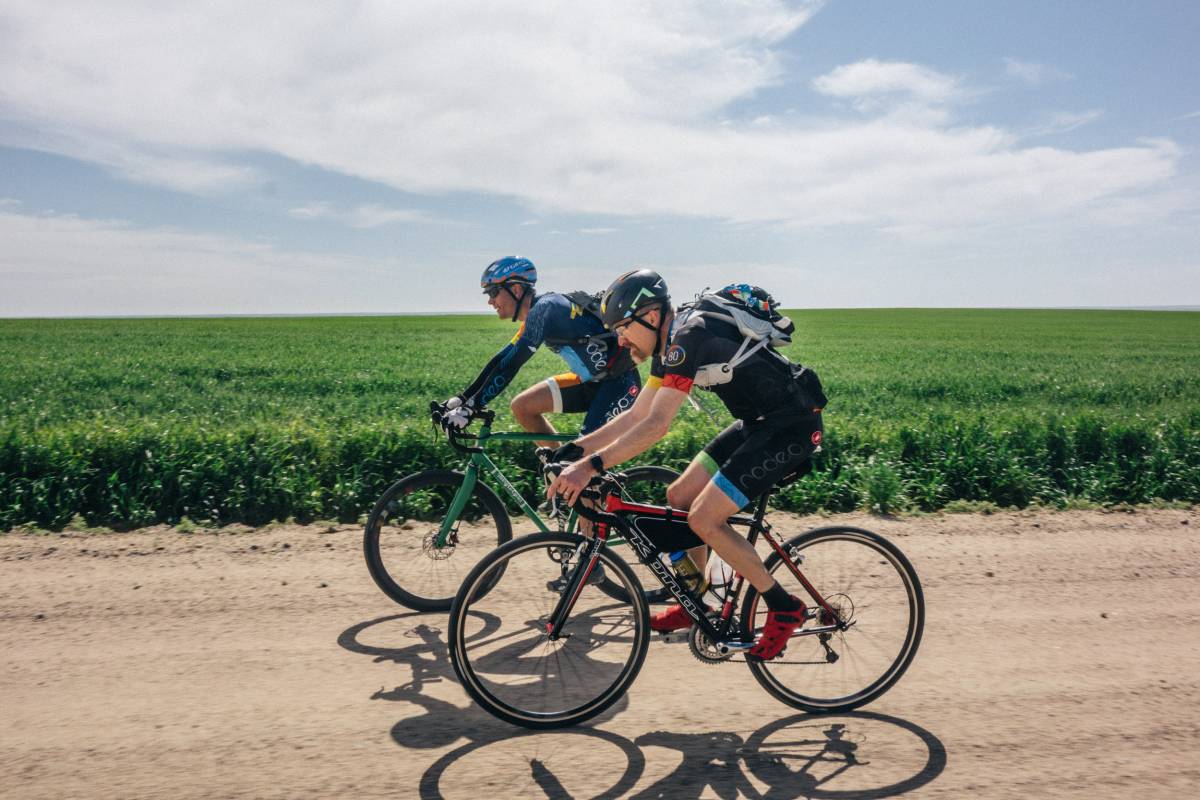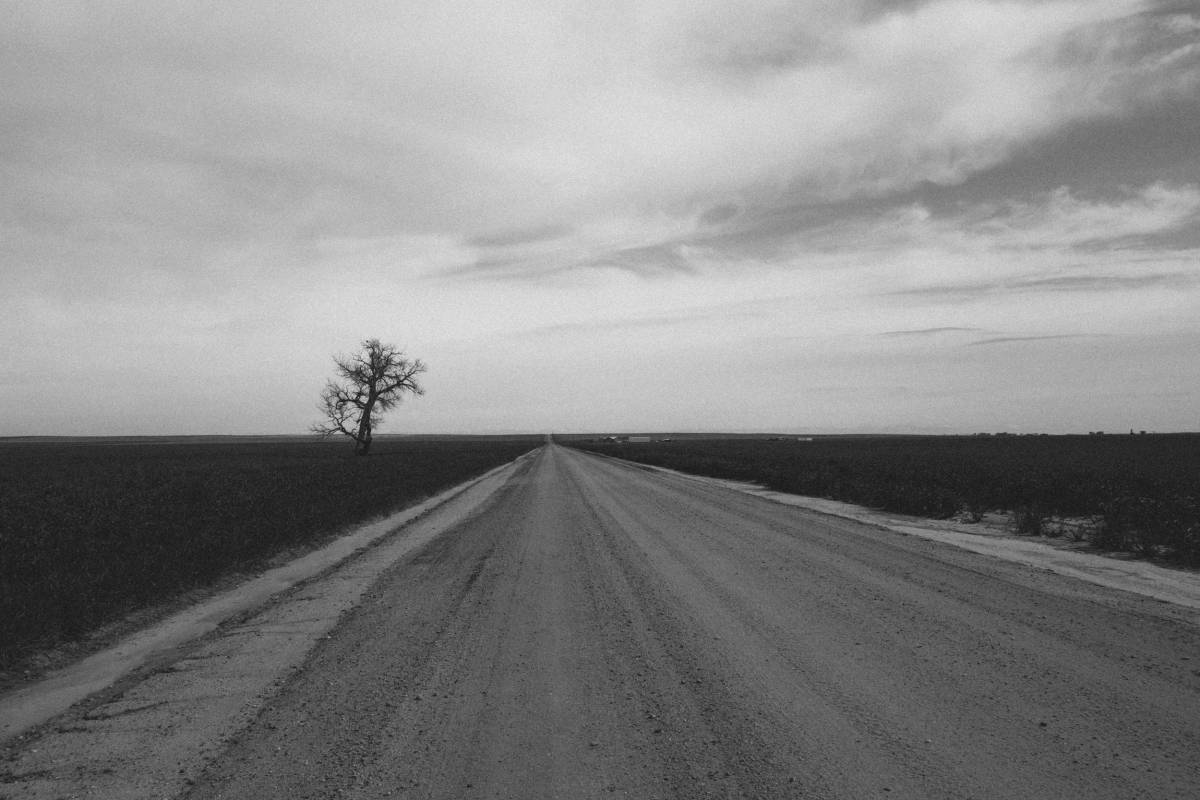 Slowly but surely "civilization" begins to reappear. We go from a house every ten minutes to a house every five. Some dogs chase us. We brace for impact but they only bluffing. The ride is henceforth named "Patrick's Wild Dog Hustle".
Denver International Airport appears on the horizon but from an angle I've never before seen it from. Even though we now feel close to Denver we are still very very far away.
Tom and Patrick appear to have infinite energy reserves. Geoff and I find a different pace off the back. It's ok though. This isn't a sprint, it's a marathon.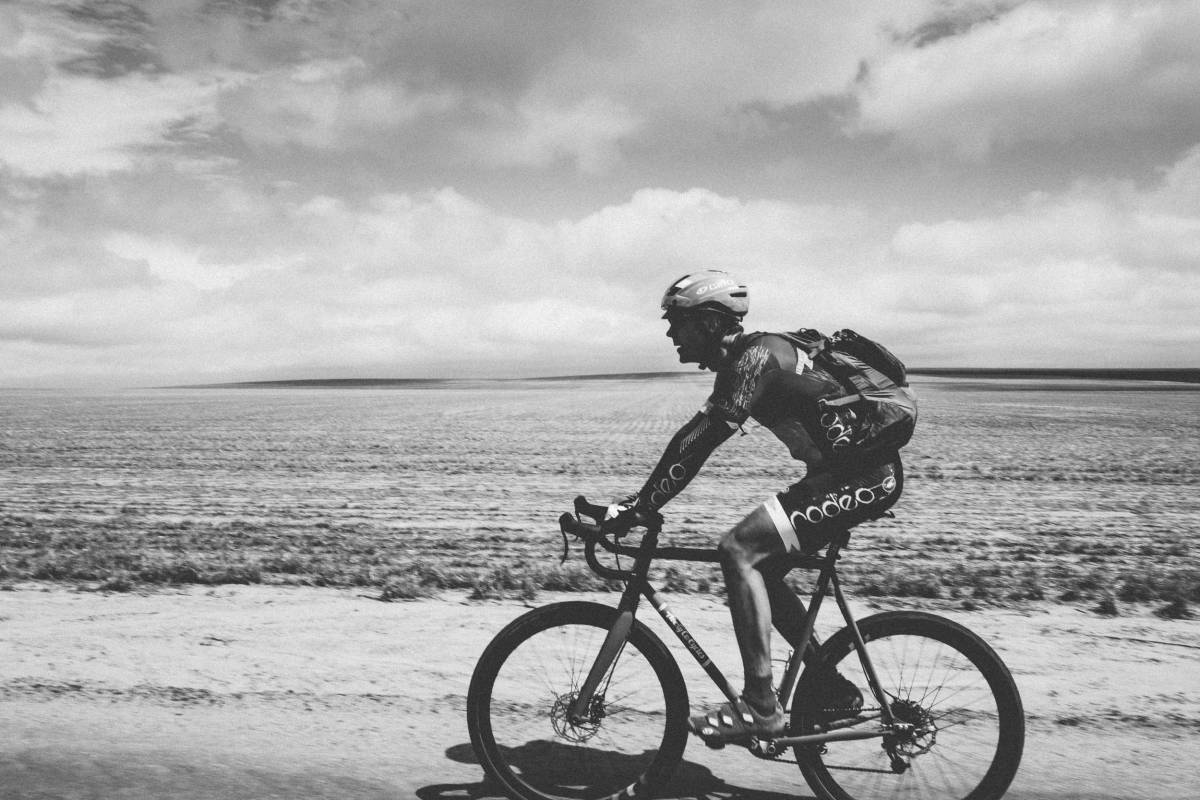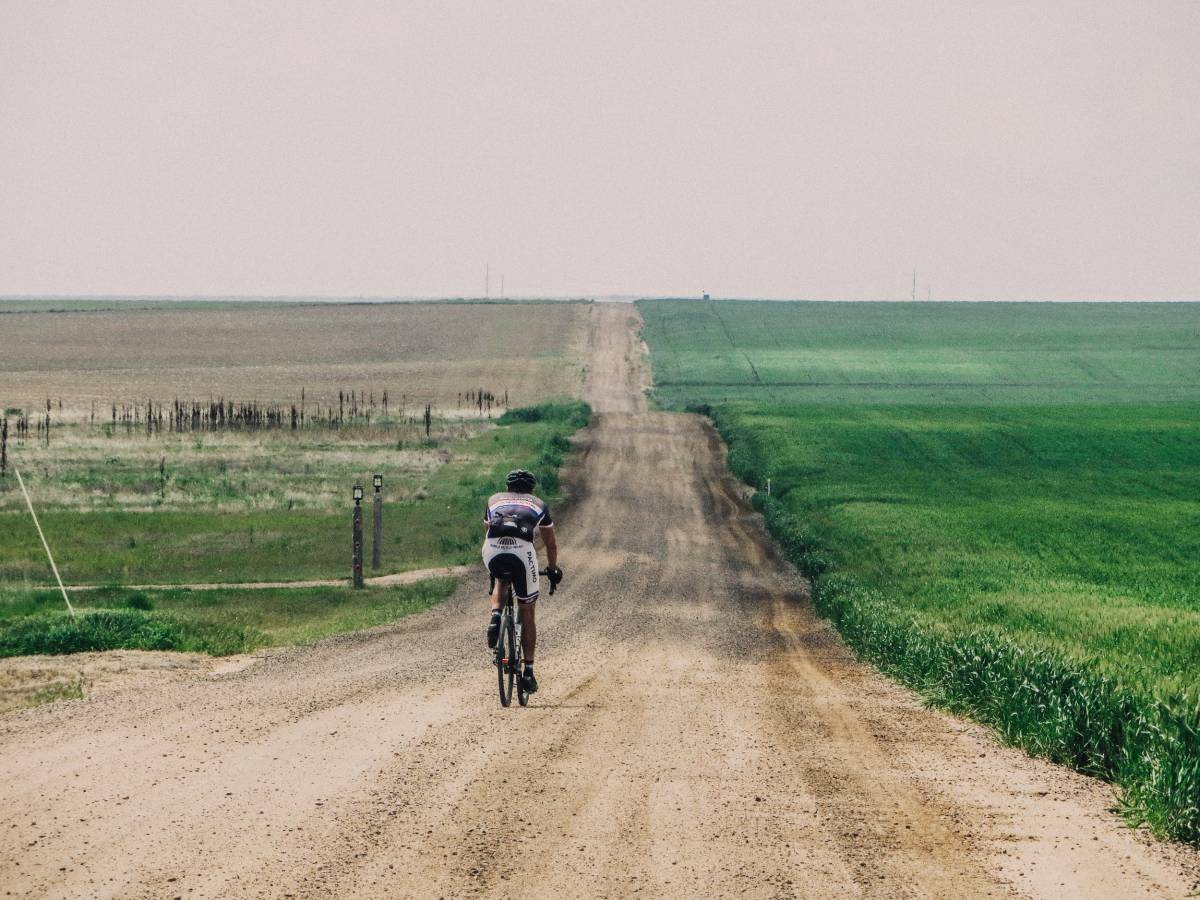 Our ride nears the city.
Roads and paths become familiar.
Traffic signals assert their wills upon us. They are unwelcome intruders. Don't they know how far we've come?
They don't. It's Friday. Everyone in the real world is rushing to end their week and start their weekend. We are just a bunch of calypso cyclist clogging the roads and getting in the way.
I feel especially privileged today; To have completed such a huge ride, to have seen new things, and to have good friends to do it with.