Written, shot, and ridden By Benjamin Carpenter
Changing plans is an enevitable element of life I find myself in constant confrontation with be it the weather, my body, my family or my work life. It's a constant flux, and maybe probably for good reason. Change keeps me on my toes, and constantly adapting, but  the same is true about bikepackng, or any long ride that covers many miles in a prolonged amount of time. Dealing with change and adapting is how I flourish.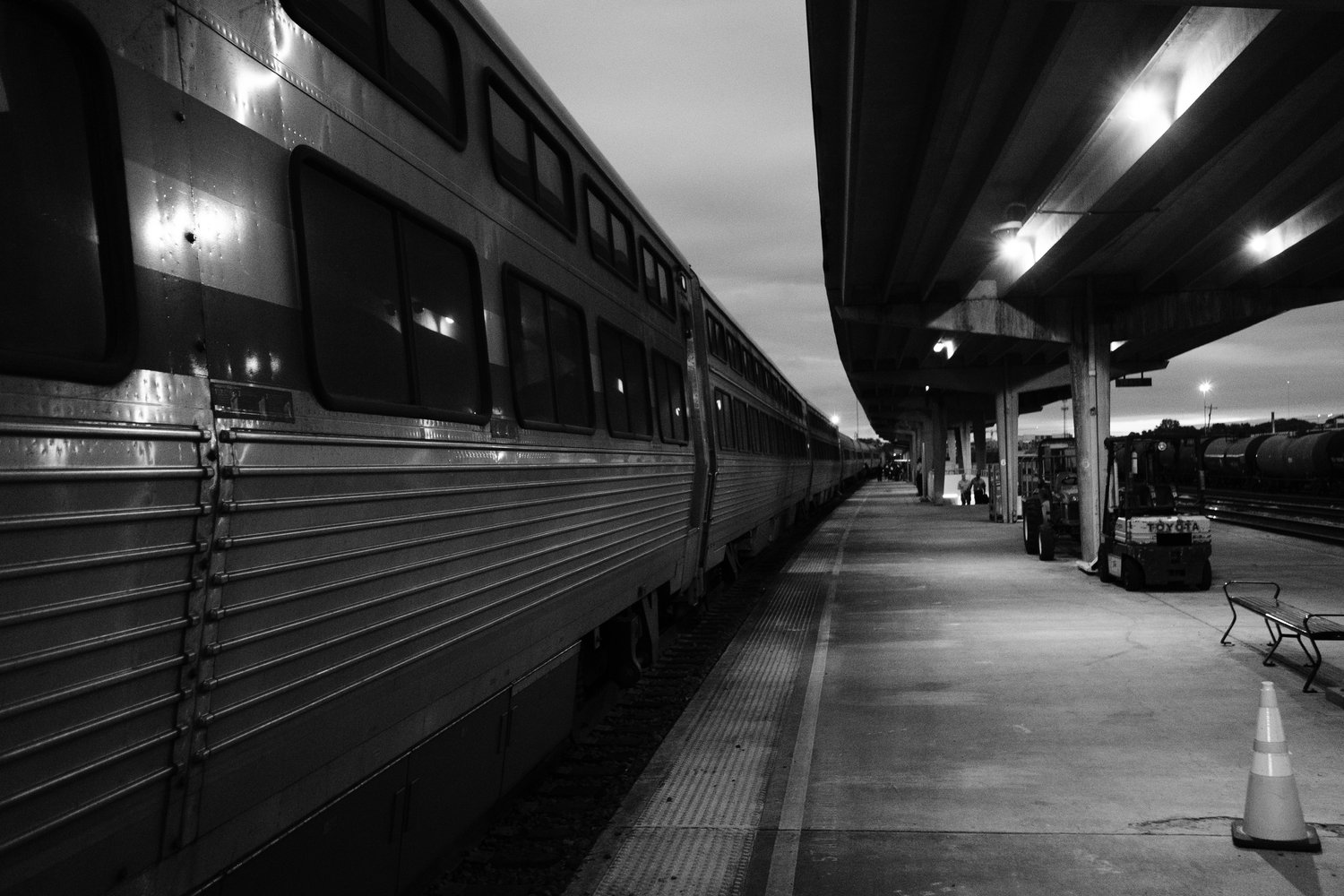 As 2023 began, my wife and I planned our year as we always do, scheduling vacations, important dates, and my adventure or race itinerary. One event that piqued my interest was David Landis's Trans Virginia 550 route due to its proximity to my home and the new experiences it promised. However, unexpected work responsibilities disrupted these plans, prompting me to withdraw from the grand depart. Despite this setback, my interest in the TransVA route remained, so I revised my strategy, planning to undertake the route solo, and at my own pace, a week after the grand depart. With no other participants to rely on in case of trouble, I committed to riding only during daylight hours to enhance safety. I packed a full camping system, determined to experience the route and the landscape, and rolled the dice on this solo adventure.
---
Day 1 – The trip there & start
I woke at 1:50 AM at my home in Greenville, SC, preparing to catch a 5:30 AM train in Charlotte, two hours away, as the local Greenville station was unmanned and thus unsuitable for checking in my bike. My wife and I drove to Charlotte, where we found the train was running 40 minutes late. The station attendant explained the procedure for boarding and disembarking the bicycle at the DC station. I prepared my bike, removing all additional equipment like bottles, lights, GPS, and bags before handing it over to the cargo car attendant. This process proved straightforward, making both the boarding and retrieval of the bike in DC a simple task.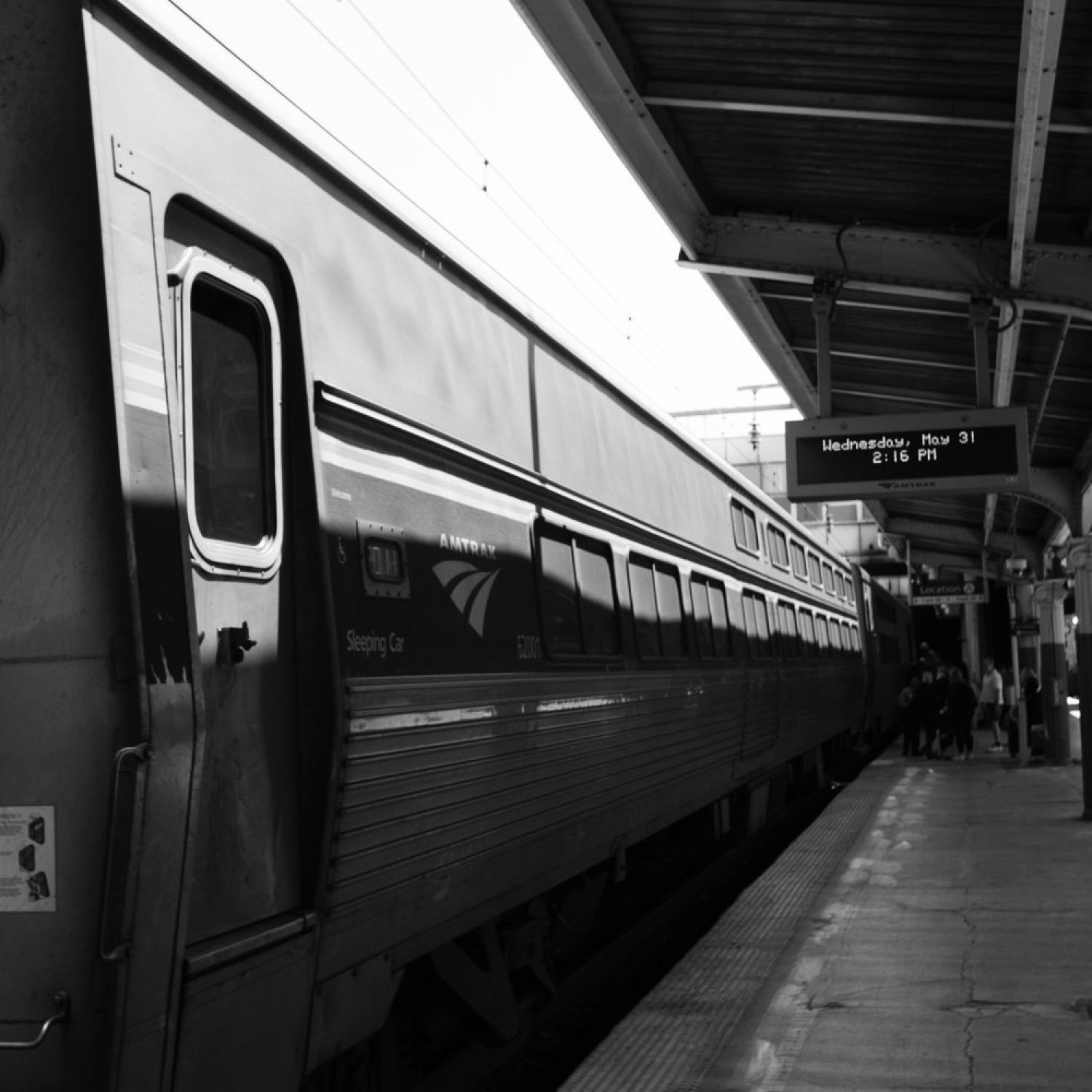 When the train reached Alexandria, VA, I realized we were only 15 minutes from the DC station, so I quickly changed from my travel clothes into my kit in the train's restroom. Upon arriving in DC, things took a little longer than expected to fall into place. After retrieving my bike and affixing all the bags and gear, I finally exited Union Station. My first stop was at the Post Office, located in the Post Office Museum and Headquarters, adjacent to the DC station. I packed my travel clothes and other items that I didn't need for the 565-mile journey to Damascus into a flat-rate box and shipped them back home. Then, I popped into the nearby REI to pick up a tube, some hydration tablets, and a pocket knife, which I couldn't carry on the train.
After about an hour, I was ready to cycle down to Independence Mall and start my route at the Lincoln Memorial steps. I paused on the steps for a quick FaceTime call with my wife and a selfie before commencing the route at 3:45 PM on Wednesday, May 31st.
I began the route aware that there were hiker/biker campsites along the C&O canal trail up to mile 50. I anticipated that if I started later than expected, I could camp at one of these sites before venturing further. Luckily, I made good time and decided to call ahead to the Bear's Den Hostel to reserve a site for the night. Glen, the hostel's manager, assured me that arriving after 9 PM, when they closed, wouldn't be an issue. I quickly traversed the Canal trail and ventured into the countryside, awed by the stunning vistas. I cycled through beautifully manicured landscapes during the golden hour, just as the sun was setting, on my way to the hostel.
I was forewarned about a steep road leading up to the hostel. Fatigue had begun to set in, having cycled 85 miles since 2 AM. I pressed on, following the signs that said "bear's" and made a left turn. However, I ended up at a large, brightly lit building, realizing I had taken a wrong turn and was at a brewery, not a hostel. The bartender, who was closing up, thought I was delirious because I was asking where to set up my tent, thinking I was at a hostel. Eventually, we figured out that I had mistaken the "Bear Chase Brewing Company" for "The Bear's Den Hostel" because of the similarity in names. Unfortunately he did not offer me a beer. I returned to the road and found the turn for the hostel on the right just up the road. I arrived to find a perfect tent spot in the yard and friendly faces in the lodge. I quickly set up camp, got my things charging, and at some food before crashing hard in my tent.
---
Day 2 – Heat Adaptation by Fire
I woke up later than I had intended, at 6:30 am, sending me into a flurry of activity, spurred by the fear that I had overslept. Hastily, I packed up camp and headed into the lodge.
A couple of gentlemen hiking the AT trail were rustling up pancakes and had a pot of coffee brewing. I took a moment to remind myself why I was here. "I am here to experience the route," I reminded myself, before diving into a hearty stack of pancakes and a large cup of coffee. After swiftly finishing breakfast, washing up my dishes, and gathering my gear, I set off around 7:15 am. My goal for the day was to reach Matthias by lunchtime
However, I was slowed down by a challenging single track section which, albeit short, was mostly unrideable, and hence, time-consuming. Following this, I tackled my first substantial gravel climb, heading up to Matthias. The sun was high in the sky by then, and the heat was intense, especially for someone unaccustomed to such conditions since last year. The warmth quickly sapped my strength, my power dwindled, and my heart rate spiked.
Reaching Matthias was a struggle, and I was filled with apprehension – if all the climbs were going to be this strenuous, I was in trouble. Once in Matthias, I hurried to the nearby Deli/Gas Station, ordered a couple of sandwiches, and replenished my snacks and fluids. However, something I ate, or perhaps the heat, didn't agree with me, and by the time I reached Camp Run area, I was frequently having to stop due to an unsettled stomach.
My progress significantly slowed, grinding almost to a halt. My original plan was to make it to Switzer Lake, at mile 225, for the night. But as darkness fell and my condition worsened, I decided to set up camp at an old hunting site around mile 206. This location had a somewhat eerie vibe. Once I had set up camp, I attempted to eat some food and focused on hydrating as much as possible to counteract the day's toll.
---
Day 3 – The Rebound to Reddish
I awoke around 4:30 am the following morning, gauging how my body was feeling and attempting to hydrate before setting out. I felt somewhat sluggish, resulting in a slow pace while packing the camp. Once ready, the sun was just dawning, and I embarked on the remaining rough double tracks before descending to Switzer Lake. Next, I made my way toward the ascent to Reddish Knob. Feeling considerably better at the foot of this steep climb, possibly the most challenging one on the route, I capitalized on the cool morning air and my revived appetite. Before tackling the climb, I took a break to refill my bottles and enjoy some snack bars and a honey bun I'd picked up in Mathias.
Throughout the day, I contemplated why I hadn't brought a mountain bike, considering the rough, remotely accessed hunting roads and the grueling climb up to Reddish Knob, battered by 4×4 vehicles. Fortunately, my body responded positively during the ascent on the challenging and eroded 4×4 path, and I found myself enjoying it. I reached Reddish Knob, enjoyed some pizza combos before a thrilling downhill ride down hill to West Augusta for lunch at the local General Store.
As I left the General Store, the temperature started to rise again. I needed a solution to mitigate the heat. I stopped by a stream and soaked a kerchief I'd received from the folks at Cantoment, placing it under my helmet before continuing on. This strategy worked like a charm. It not only prevented my neck from burning but also kept me cool during the warm climbs.
The journey to Burnsville went quite smoothly. However, upon arrival, I discovered that Roberts Grocery was closed, and I was out of water with no available spigots at the church, grocery store, or school. Fortunately, I found a stream outside the town and refilled. The gravel roads from there into Douthat were astonishing. Bath Alum Ridge Road might be my favorite part of the entire course; I felt invincible!
Arriving at Douthat State Park during the last hours of light, I paused for photos. While there, I tried booking a room at the Holiday Inn in Covington, only to find they were fully booked. The same was true for several other places. Finally, I found "M Star Hotel" online and hastily booked a room before covering the last 20 miles to Covington. The route included a delightful stretch of single track in Douthat, which I thoroughly enjoyed before ascending the final climb of the day. I arrived in Covington around 8 pm, just as the sun was setting.
I realized my hotel was roughly half a mile off course and downhill. Being "smart," I ordered a pizza from Cucci's at the top of the hill and picked up some Gatorade and water from a nearby gas station while waiting for my pizza. However, upon arriving at the M-Star hotel, I discovered there was no receptionist. I had to go back uphill to another hotel to check in before returning to my initial hotel. All I wanted was to eat my pizza! After finally checking in, I prepared for the night, took a shower, and savored most of my pizza before turning in for the night.
---
Day 4 – Taking It all In
Awakening at 5 am in my motel room, I quickly packed up to depart. I quickly stopped for coffee and hydrating fluids on my way out of Covington. I felt great, and wanting to maintain this energy, I decided to keep a slow pace. Consequently, Day 4 turned out to be my slowest. I savored the day, taking in the sights. I had attempted to secure a camp spot the previous day and that morning, without success. My aim was to make it past Pulaski and camp on the New River Trail, but the lack of available reservations led me to find a quaint Airbnb cabin right on the New River Trail at mile 31.8 (a big thanks to Peggy for the late check-in!). This spot, not listed on David Landis's sheet, was perfect.
Around mile 373, the rough 4×4 tracks had me pondering again why I hadn't brought a mountain bike. I still managed to make good time through this challenging section before hitting a road through a small valley. As the heat intensified, I took a break to soak my kerchief and place it back on my head for relief, before continuing my journey. I met a man leisurely biking under a tree in the valley, fully equipped for a shaded lunch. After a brief chat, I moved on towards a beautiful climb up to Mountain Lake Lodge, where I stopped for lunch and to replenish supplies.
Descending into Eggleston, I noticed ominous clouds gathering. There, I met a friendly group of bikepackers journeying from Abbeville to Blacksburg, who had decided to stop at the newly opened Eggleston Store for its summer hours. They invited me to join them for a burger, but had I known the store was open, I wouldn't have stopped at Mountain View Lodge (the Lodge from Dirty Dancing). I pressed on, only to be caught in a summer thunderstorm before reaching Pulaski. Pulaski, a town resembling Lenoir, NC, that I know quite well, had an abundance of buildings marked for sale, foreclosure, or rent. The sight was somewhat disheartening. I paused briefly to finalize my evening plans before embarking on the 31-mile rail trail leading to my Airbnb cabin. Realizing I needed to get dinner in Pulaski before heading down the trail, I stopped at a Dollar General store to pick up supplies for making bean burritos at the cabin. Easy!
While the New River Trail was beautiful and the pedaling easy after the epic climbs and descents earlier in the route, the flat rail trails were somewhat monotonous. The prospect of 31 miles of rail trail before a warm shower, hearty burritos, and bedtime seemed daunting. However, I continued down the trail, taking breaks for photos and stretches. I finally reached the tiny cabin located right on the trail around 8:30 pm. After a quick bike prep for the next day and a much-needed shower, I relished in the most crucial part of my evening routine – eating my burritos!
---
Day 5 – The Finale!
The first minor road climb began, and my body sluggishly complied. I made my way up at a snail's pace and descended with ease. But as the second ascent up a dirt road approached, my body suddenly sprung into action. The subsequent climbs leading to the day's one pitstop, a Dollar General in Sugar Grove, were easily conquered. There, I downed a Naked Smoothie, rehydrated, and grabbed another smoothie for the road. I knew I had two major climbs ahead – one gravel, one paved. Upon reaching the top of the paved ascent, I'd be home free, cruising downhill into Damascus where my wife, daughter, and dogs awaited.
Savoring every moment, I navigated up the final gravel climb of the route, reflecting on how these long gravel ascents had grown on me throughout the journey. What had initially been a struggle, evolved into an almost love affair with the challenge. To my surprise, I reached the top faster than expected. Forgoing caution and pacing, I attacked the road climb with the same vigor, eventually arriving at the top where the Appalachian Trail intersected. After a brief pause to snap a photo of the route's last vista, I descended onto the Creeper Trail.
I finished at 2:30 on June 4th just a little under 4 days time.
---
The Trans Virginia Mountain route did not disappoint. It struck a perfect balance between pushing hard to cover ground quickly and savoring the journey in all its grandeur. Several times, I found myself exclaiming out loud, "David Landis is a genius!" Indeed, crafting routes like this is an art form, and very few individuals in the world possess the talent to do so. Now, I invite you to enjoy the accompanying photos, and if you get the chance, experience the route firsthand. It's worth every inch.
More of Benjamin's adventures can be found at
Instagram: @bvcarpenter
Website: www.bvcarpenter.com
A Final Note: A special thanks to those who enable me to undertake adventures like this. First, to my wife, who woke up at 2 am to drive me to Charlotte to catch a train, when I could have easily driven, and then graciously picked me up in Damascus. Also, to Rodeo Labs, who assisted in getting me on wheels this year and have done a tremendous job fostering a community around bikes and promoting unique adventure cycling experiences, and building bikes that can easily take on all the challenges and adaptations needed for backpacking and underbiking.
All photos were taken with a Fujifilm X-Pro2 and 23mm f2 WR lens. This combo is my absolute favorite for riding…I only hope it survives the rigorous use I put it through!
*Bike Setup:
Rodeo Labs Traildonkey 3.1
Royal Terra C Wheelset w/ 700cx47 Pathfinder Pro Tires
SRAM Rival Mullet 40T with Garbaruk 10-52T cassette (Should have gone with better gearing a 38T or even a 36T would have been ideal)
Fizik SMC Core Saddle
Zipp XPLR 42cm Bars
Revelate Ripio Frame Bag (the Medium fits the 58cm like a custom bag)
Swift Industries Olliepack Seat Pack
76Projects top tube bag in the front
Revelation top tube bag in the rear
Sea To Summit Compression Dry Bag 5L with DIY harness
Down Tube can with mostly repair stuff
Fenix Lights (no Dynamo this trip since I slept every night)
Garmin 1040 (the bain of my existence… I still can't get over how buggy this thing is!)