The planning for the May Rodeo Rally began serendipitously back in January, when, as you might recall, I took advantage of a warm winter Colorado day and set out on a solo dirt adventure south of Denver. The beautiful route and photos must of stuck in the craw of one Matt Deviney to such a degree that he worked tirelessly on finding a way back to Denver so as to avoid the treacherous no-shoulder/pucker-inducing-death-ride segment of Santa Fe north of Sedalia, between the small town of Louviers and Titan Road. We both recon'd different routes over the ensuing months, but neither could completely pre-ride the route and were skeptical we could find a better way back to Denver.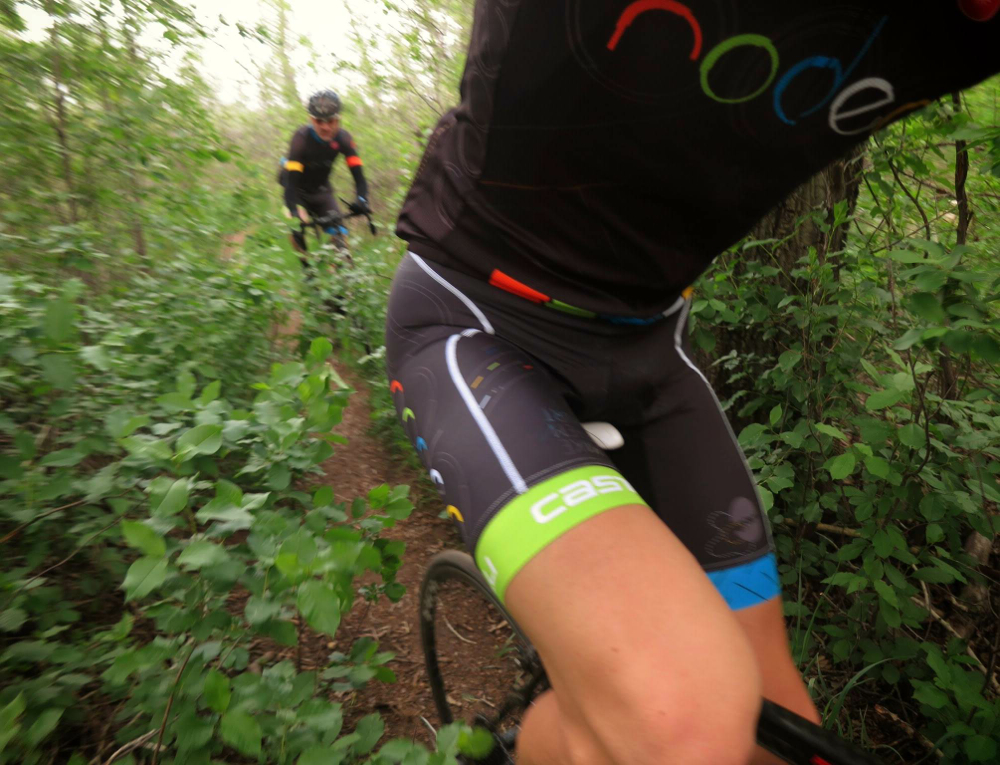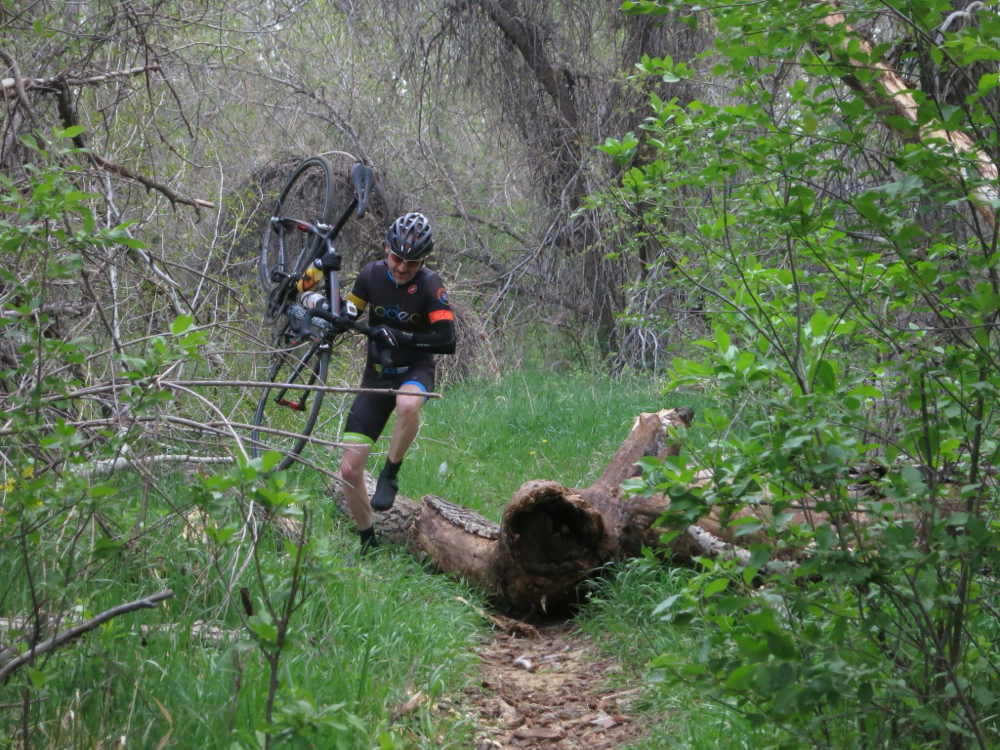 We cobbled together GPS waypoints from online fora (mtbr.com) members, STRAVA segments, Google Maps satellite images, and general hearsay and speculative comments from the locals. We'd tried and failed to find easier more straightforward routes, and we were left with the unsettling final options of: 1) taking the Indian Creek double and single track from Jarre Canyon up to Waterton Canyon (uncharted on road bikes but a GREAT hard MTB race) or the treacherous no-shoulder/pucker-inducing-death-ride segment. So, like any well-educated middle-aged males, we threw our hands in the air and resolved to proceed with the ride and reassess when forced to do so.
We finally agreed upon a date, 17 May 2014. We knew some could not be in attendance (Stephen was in Italy/Austria with his family, others would be racing the Morgul-Bismark Classic), but we chose a date that seemed most agreeable to the most people and publicized it. Would anyone come besides Matt and myself? Would we have fifty riders? Would people bring single speeds? We didn't know. There was no RSVP. There was no pre-registration. We decided to meet at 0800 at the Denver Highland Rise 'n Shine Biscuit Cafe for an 0815 rollout. I sent a couple last-minute reminders and ride status updates, turned out the lights, crawled into bed, kissed my wife good-night, and dropped easily into a deep restful sleep.
Ring ring, 7 am. I showered, started the Bob's Red Mill steel-cut Golden Spurtle oatmeal, brewed the coffee, and kitted up quickly. Breakfast was quick, and I'd have more coffee at the biscuit cafe. The biscuits there are fantastic, but I knew I needed a long slow burn- hence the oatmeal (flax and brown sugar for extra calories).
When I rolled up, there were already 8 other riders, mostly Rodeo (Chris M, Tim, Patrick C, Harvey, and our leader Matt D), but a gaggle of others – Doug M, a great friend from Colobikelaw.com, was fired up and ready to go. We also had Doug F and Kelly N from Cycleton with us. It was going to be very good.
We rolled out west to Golden, poached some trailer park vistas on the "parcours de Deviney" then up past the dinosaur tracks at Dinosaur Ridge, dropped into Morrison to let Tim visit the bike shop to fix a rear derailleur gone rather bad, bidding him "have a great ride!", thinking we wouldn't see him again.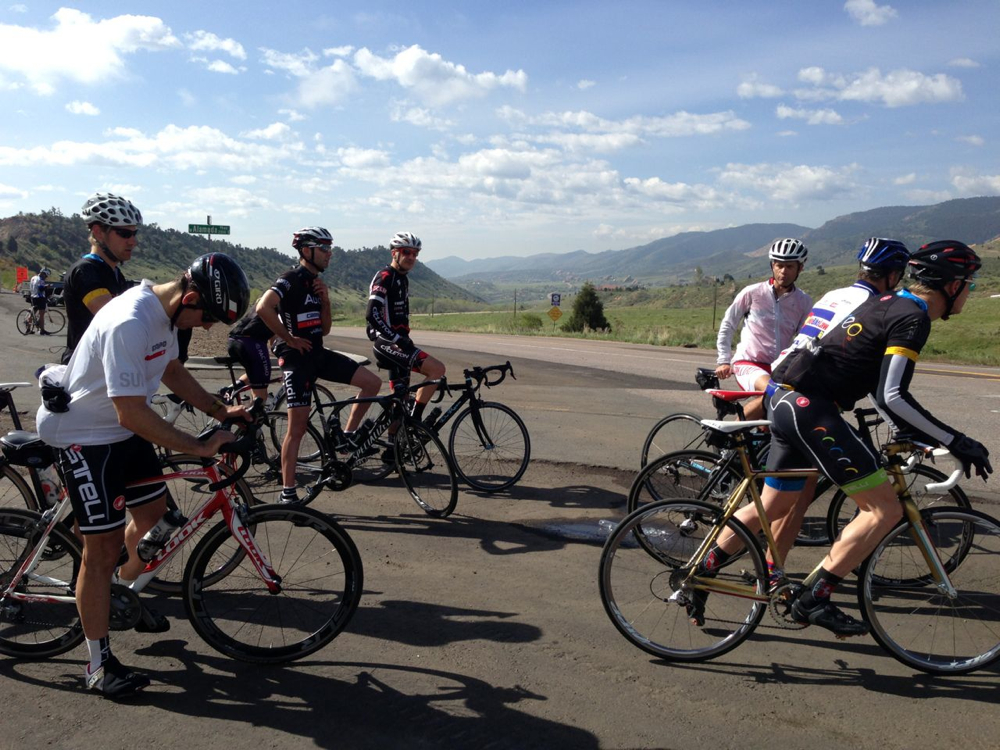 We then hopped up and over through Ken Caryl, North Ranch, then kicked up Deer Creek Canyon and High Grade, both classic long road climbs in the foothills southwest of Denver.
At the top of High Grade, the typical route used by 99.9973% of cyclists is to continue up the canyon along Pleasant Park Road to the grange, where the kind locals stock a half dozen large coolers with water, electrolyte drinks, homemade cookies, and energy bars. Just to prove cyclists are good folk, there is an "on your honor" donation receptacle where lycra-clad (often ill-fitting) men and women stuff sweaty folded dollar and 5-dollar bills to extend their recreation just a little longer.  We didn't go that way, at least not yet.
Instead, Matt took us up some secret new stash dirt climb of his, S Kuehster Rd, a gem of an out-and-back seldom used nicely graded road. Mid-way up, we stepped back 100 years: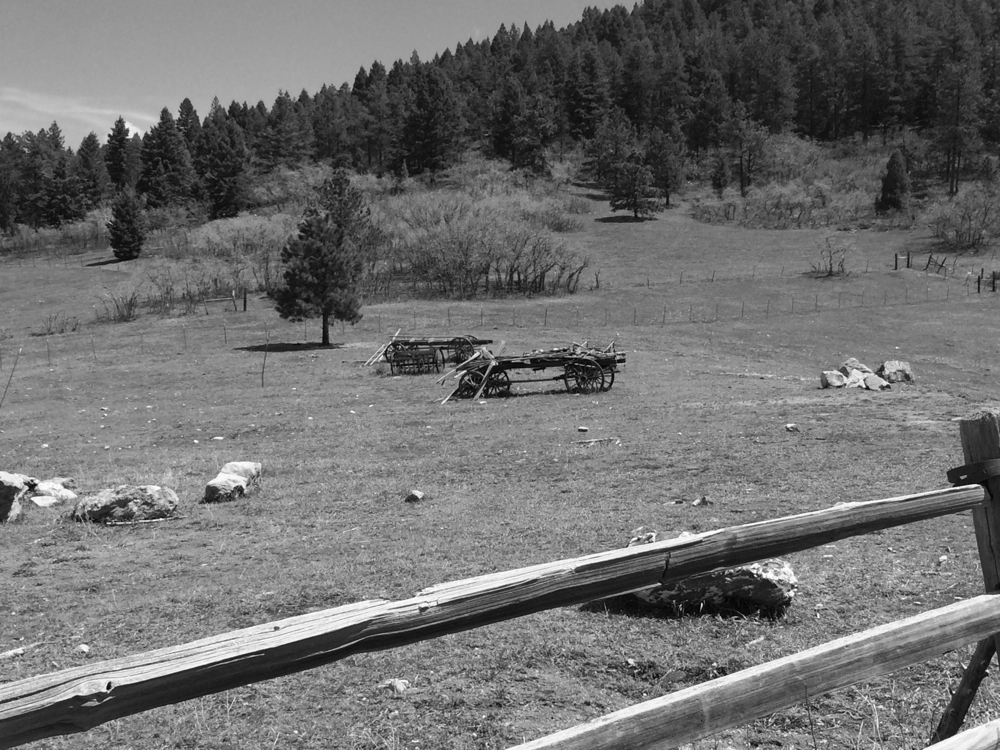 It tops out with an expansive view of Pike's Peak to the south, a truly glorious sight to behold.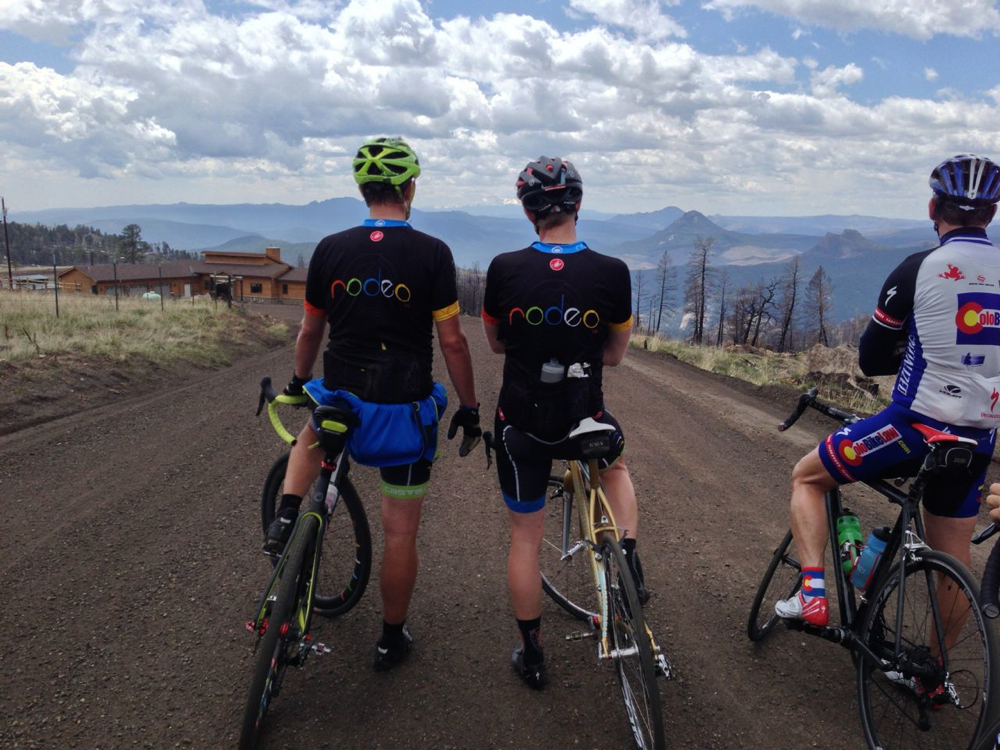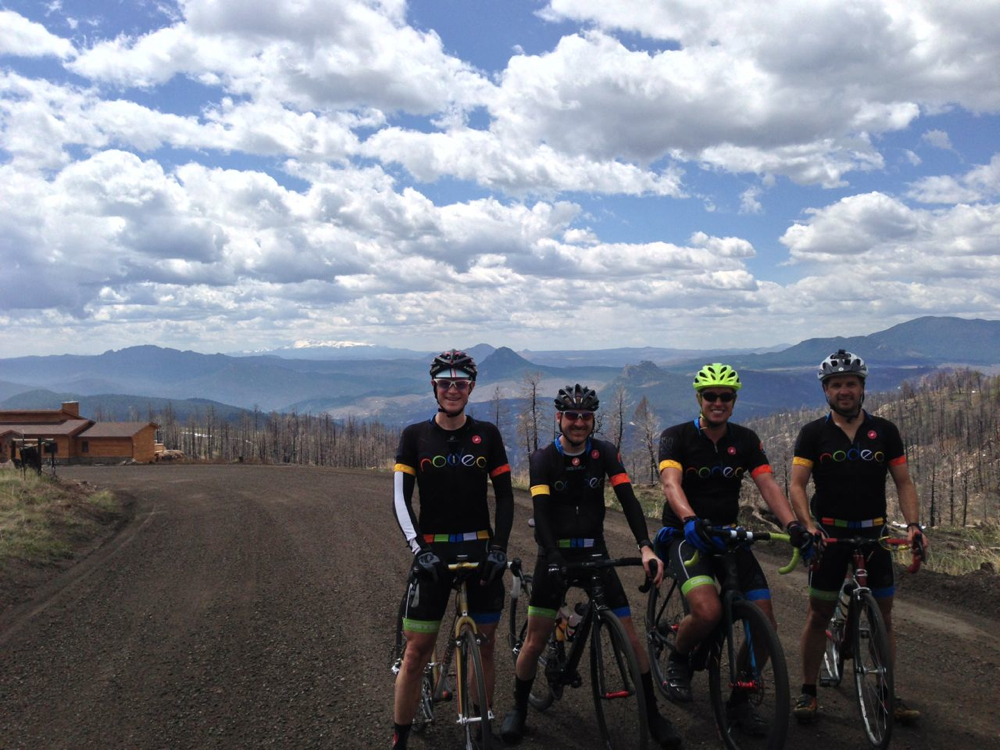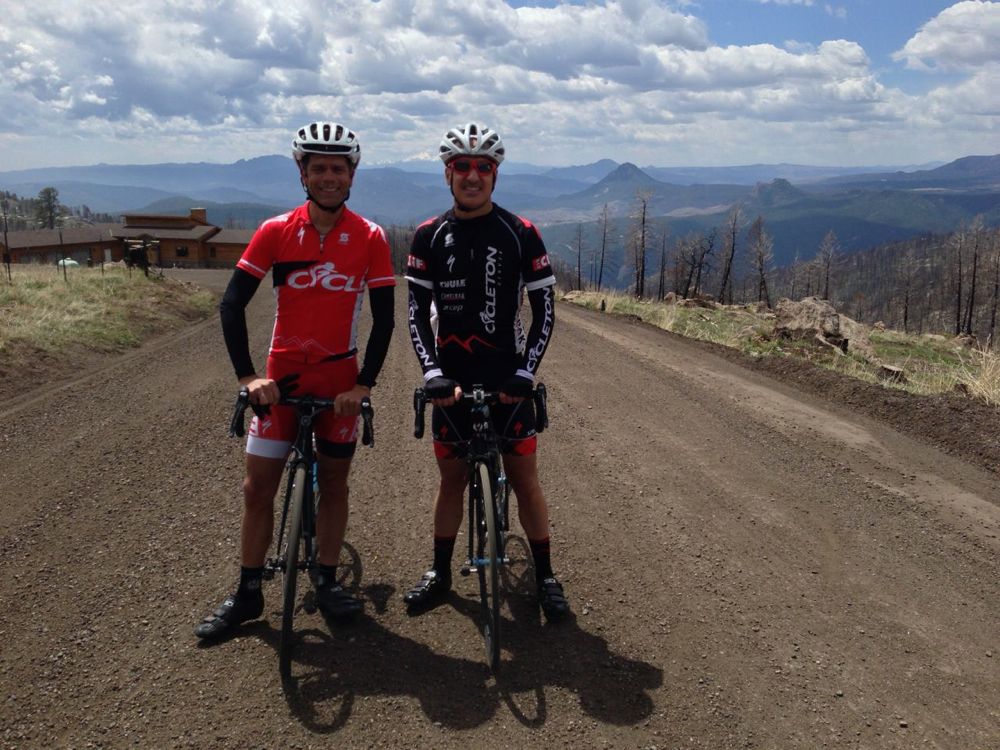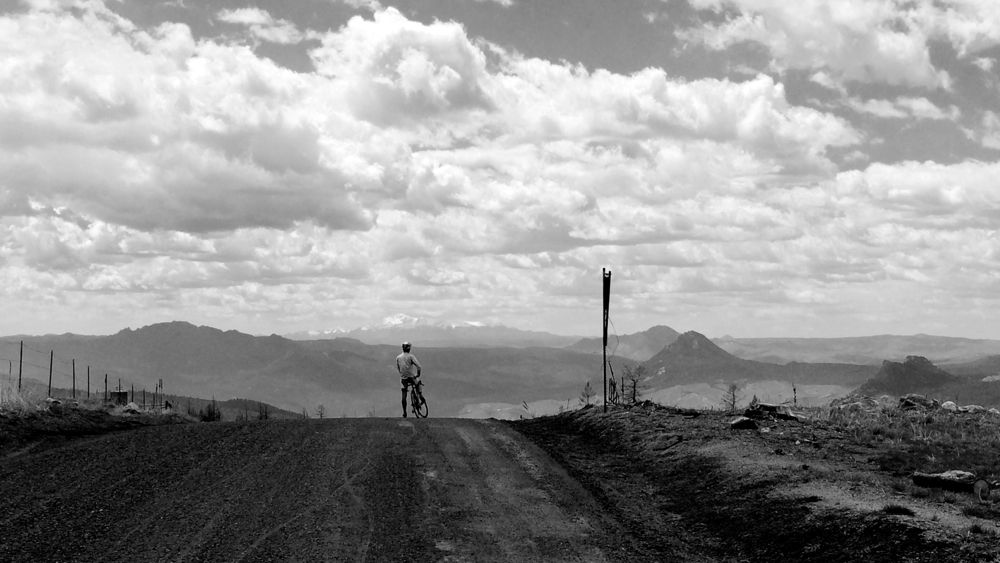 We snapped some photos, thanked Matt for the surprise branch-line climb con vista gloria, then headed down the quick, oft off-camber descent to Pleasant Park Road and up to the Grange for some water. This was a desperately needed stop, as I was with only one large water bottle for the whole day, in my back centre jersey pocket (Speedvagen cross machines don't come with water bottle bosses.)
Turned out, Tim had gotten a quick fix on his derailleur and rode like a mad man the "short" way up to the Grange. He rolled up shortly after we arrived, with a big smile on his face and some disbelieving looks from us. The fellowship of Rodeo, broken asunder earlier, had been re-formed at the top of Mt. Doom. A quick bit of amateur meteorology, statistical whimsy, and flipping of coins, led us to the decision to proceed with the route as planned, to heck with the small grey clouds to the south, where we would point our bikes and venture further. Here, however, the remaining non-Rodeo crew splintered off and finished their day, no less than great already.
So, we headed westward another 1 km or so, then took the left and descended very quickly through the hairpin sanded turns of Broken Arrow to one of the best kept secret asphalt roads SW of Denver, Foxton. This ripping gently cornered descent to the S. Platte River is an absolute riot. Put it on your "must do" list. Presently. Pulling hard on the brakes, we come to the T intersection at the S. Platte River and turn left. We stopped for a minute to hoot and holler about the descent we just had and the road in front of us.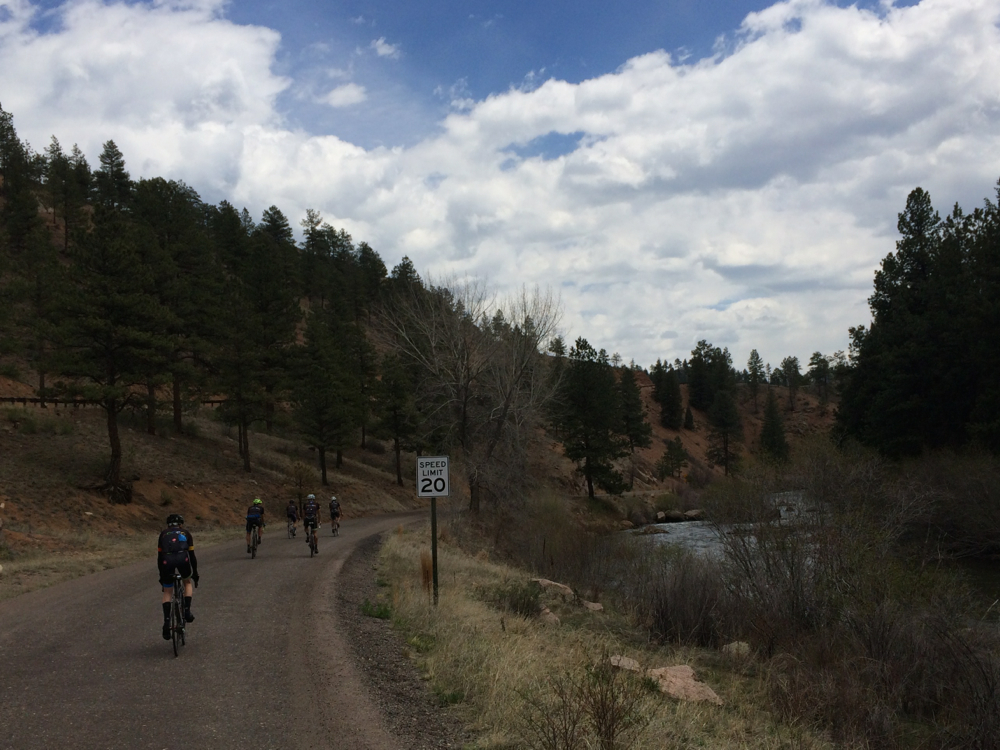 This gentle, curvaceous riparian dirt road is a pure joy to ride, especially in a group. The sights are spectacular – rapidly moving river water cut through a red sandstone-bouldered canyon. There are but a few homesteads, but most of the rare traffic we saw were anglers, with their flies and hopes for the next "big one" on their taciturn faces. Pictures were taken. Heart rates fell, and shoulders relaxed. Hands moved from the drops to the top of the bars. Conversation mellowed.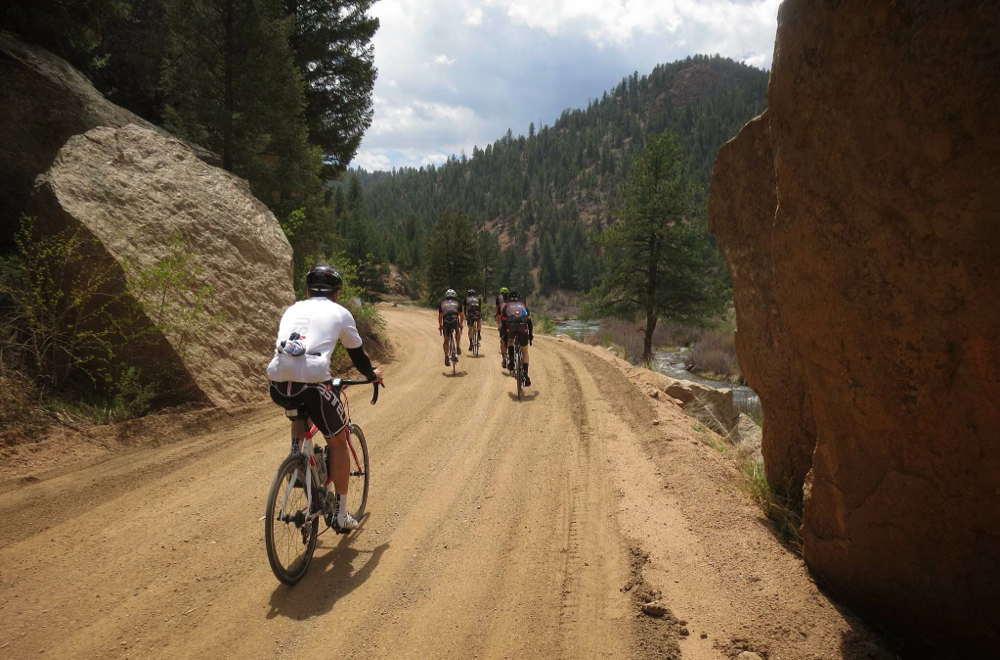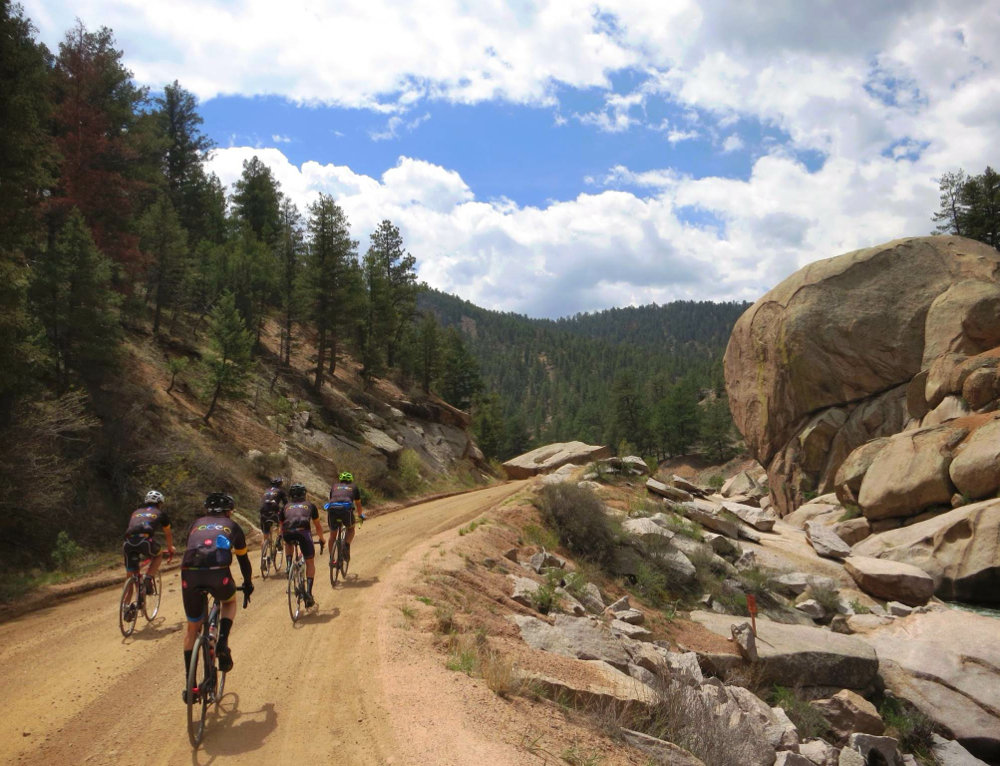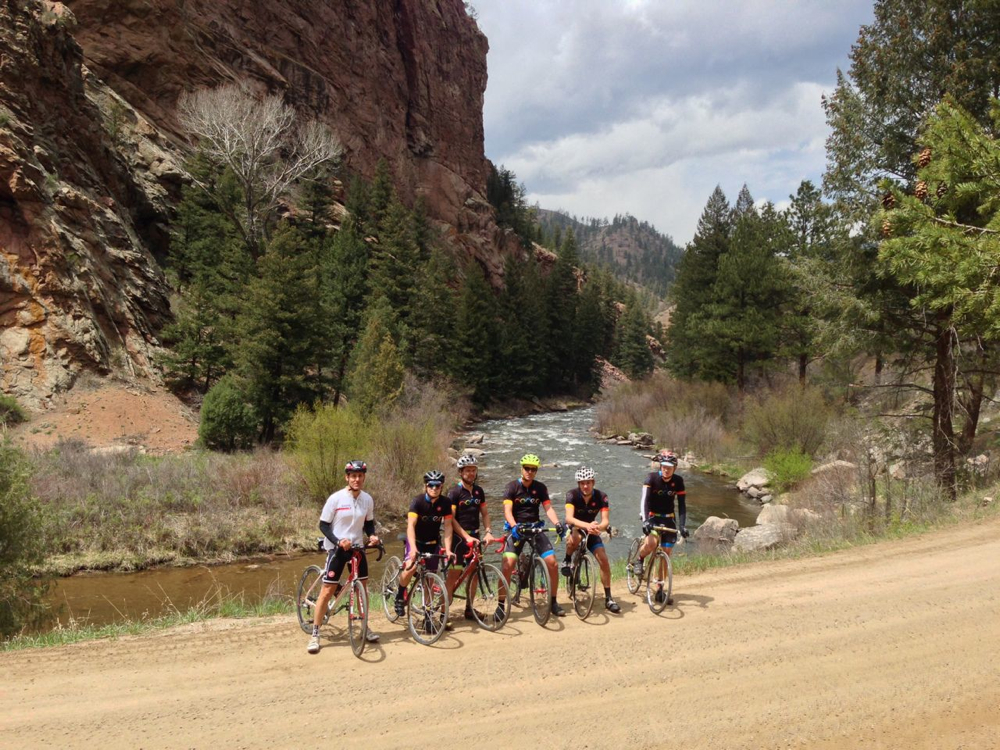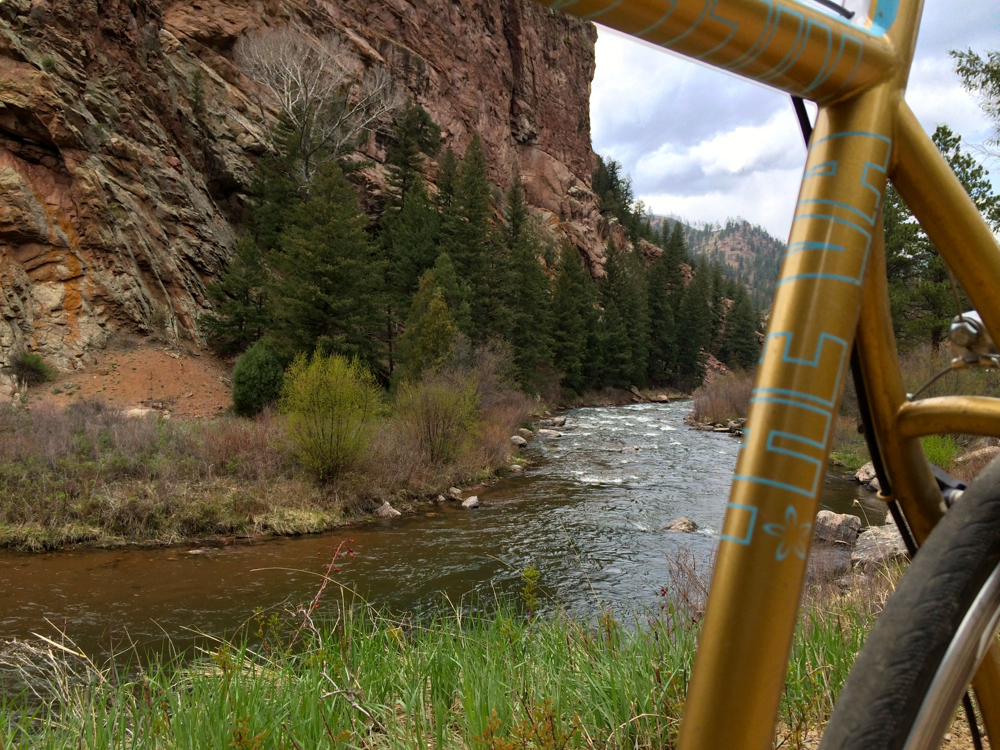 Then, it was over. The Pine Creek Road climb had begun.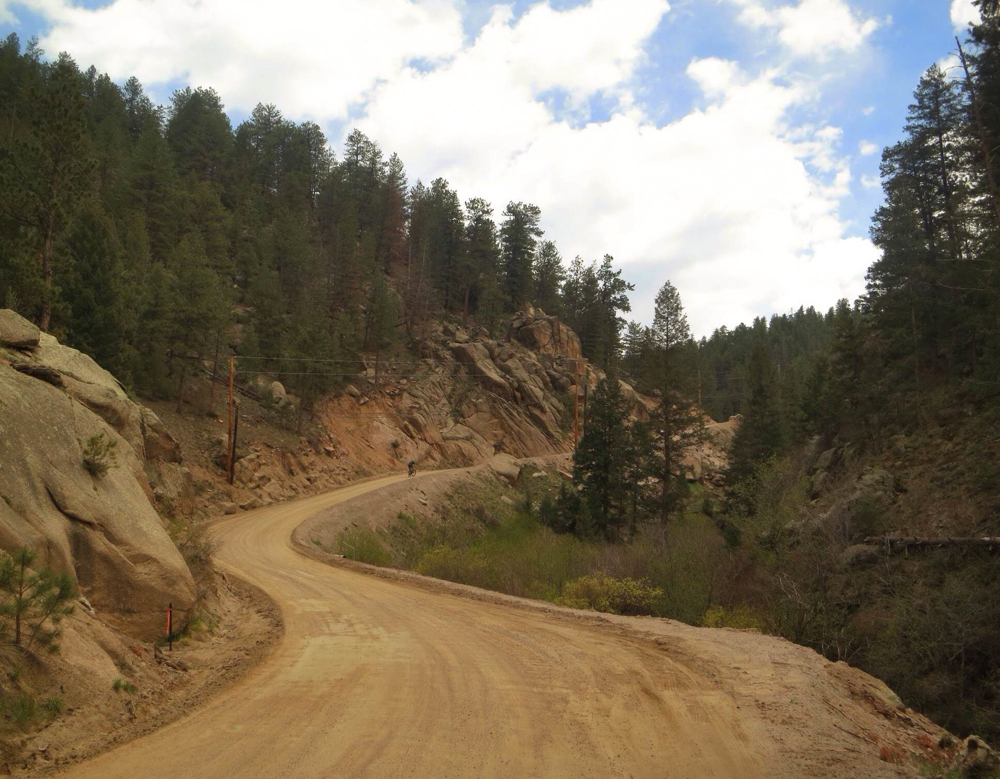 This 4 mile stretch is a real grunt, but the beauty of the place negates the searing pain in your legs and lungs. Tim, our pure climber from Fort Collins, took off and flew up the hill, with Chris not too far behind. Nobody was slouching today. We re-grouped at the top of the hill then climbed MORE 8-10% asphalt up to the Indian Creek trail head, where our biggest decision of the day would be made.
It was here that we were tested. There were dark clouds to the west and south, a gentle SW breeze, but no rain. We were still at least 40 miles from home. The "safe way" was to continue down the raucous Jarre Canyon switchbacks and long slow drop to Sedalia or to risk it and take the Indian Creek double and single track back north to Waterton Canyon/Roxborough Park. There were a little discussion, then we were back at it again, waving and making niceties towards the camouflaged teenagers scurrying about in their paint gun war. We joked that "wouldn't the Rodeo kit look great with some extra paint", shuddered at the thought, then soldiered on, route and trail finding along the way.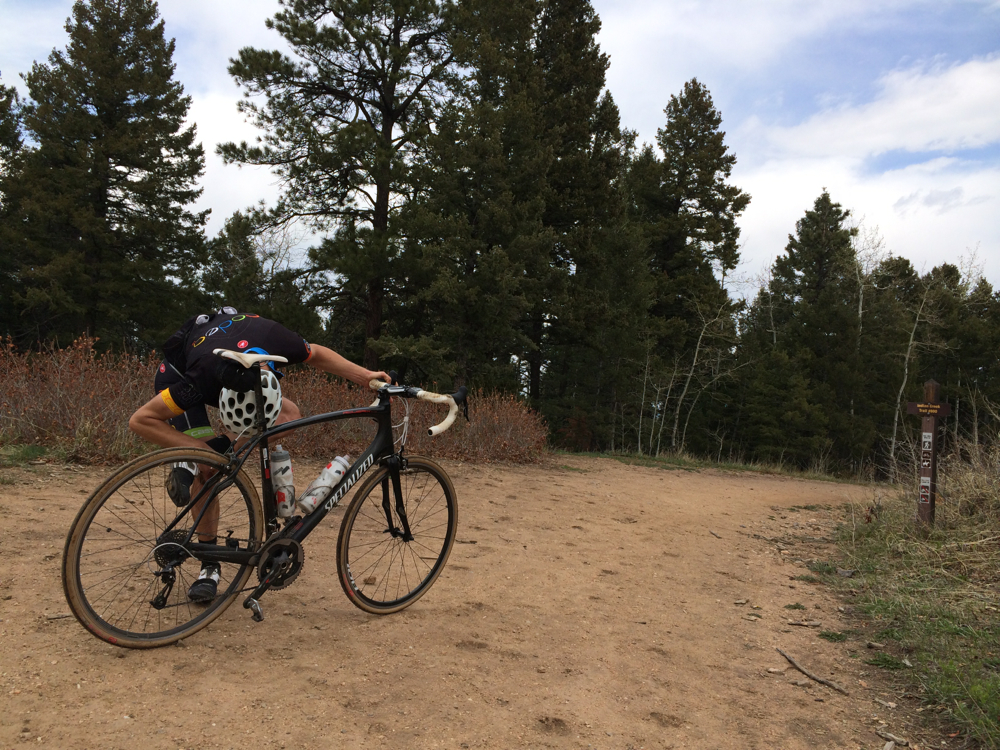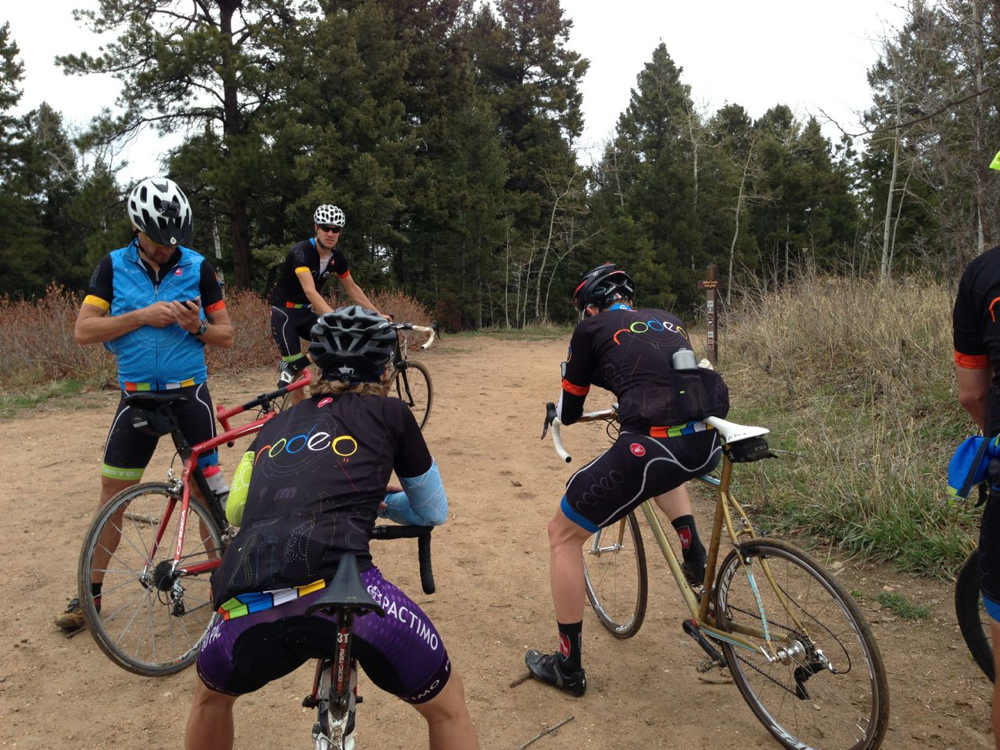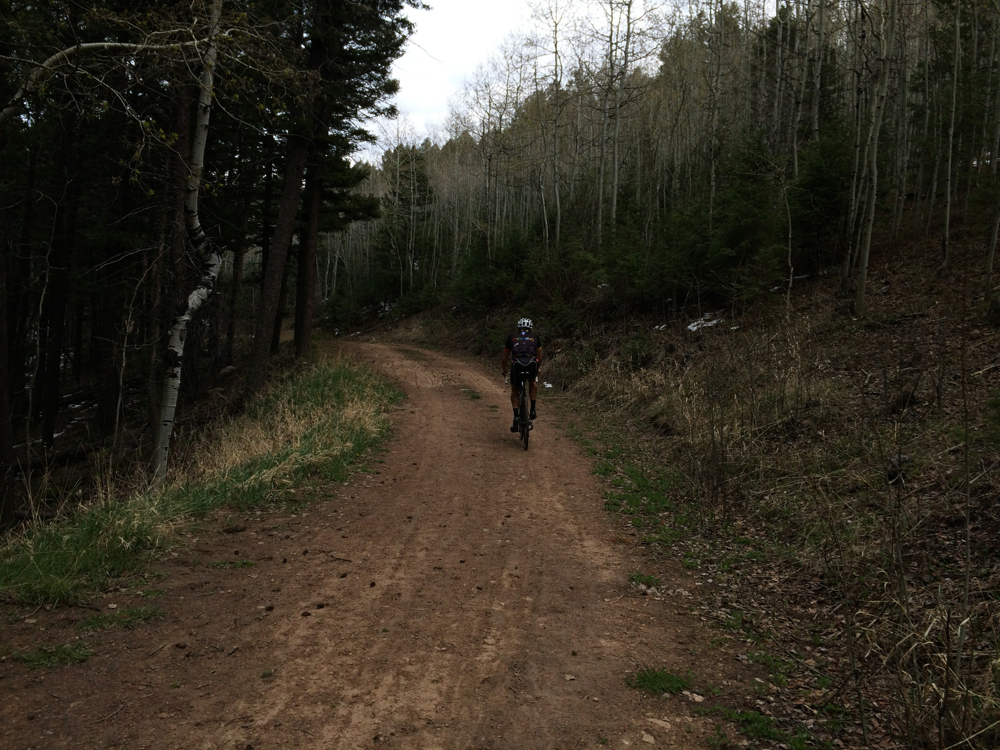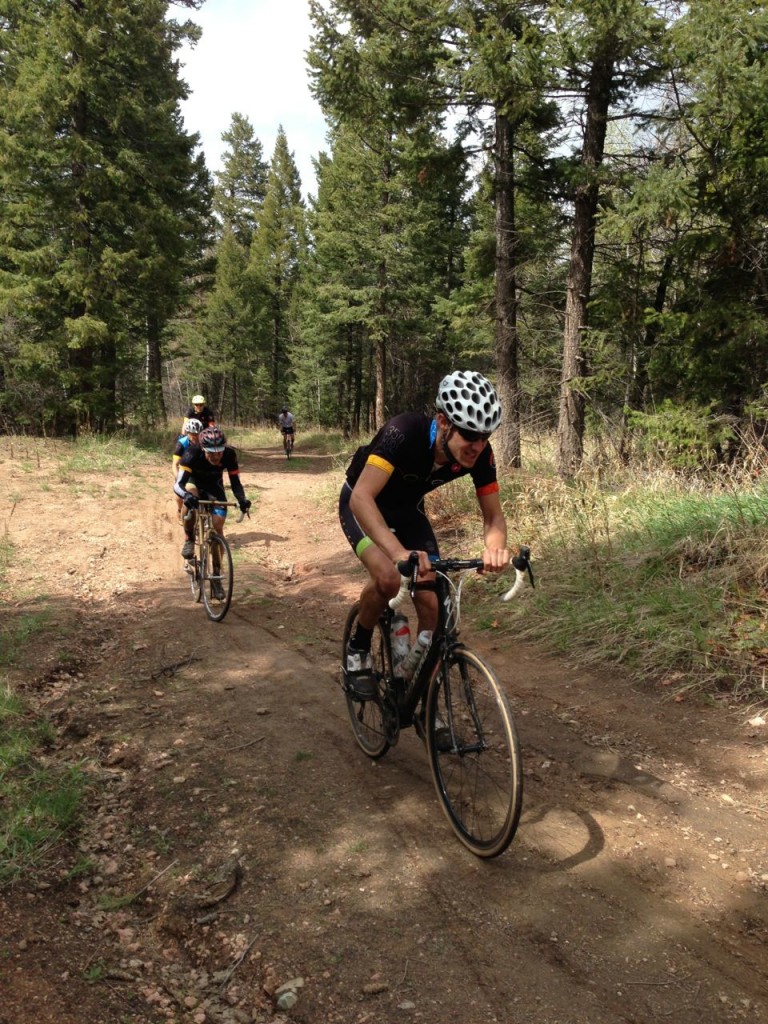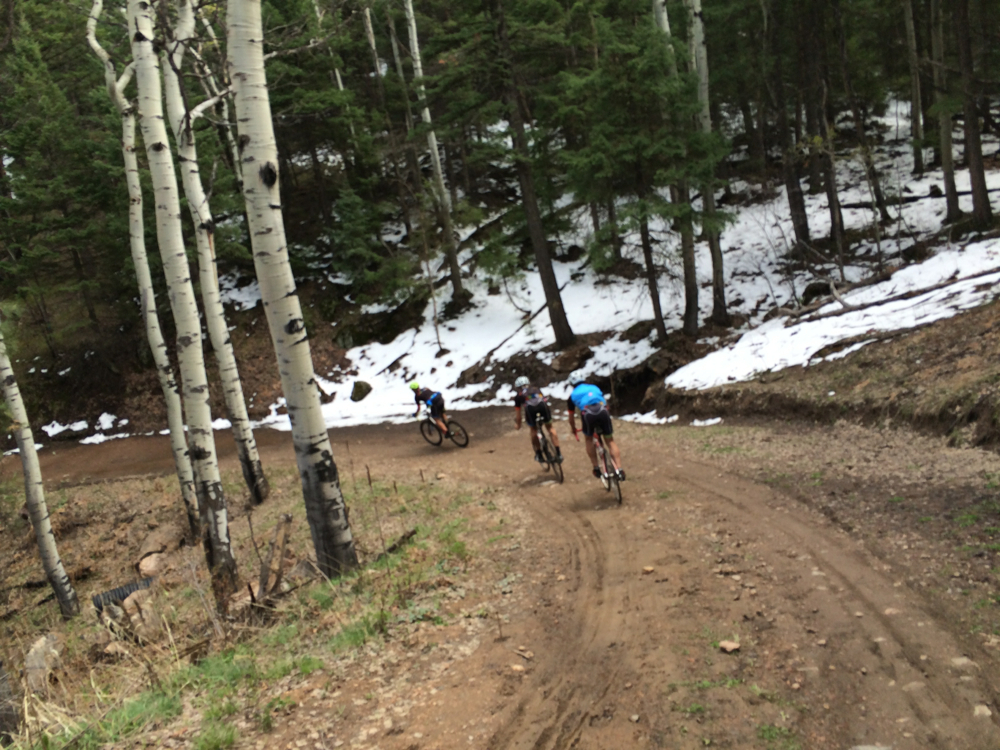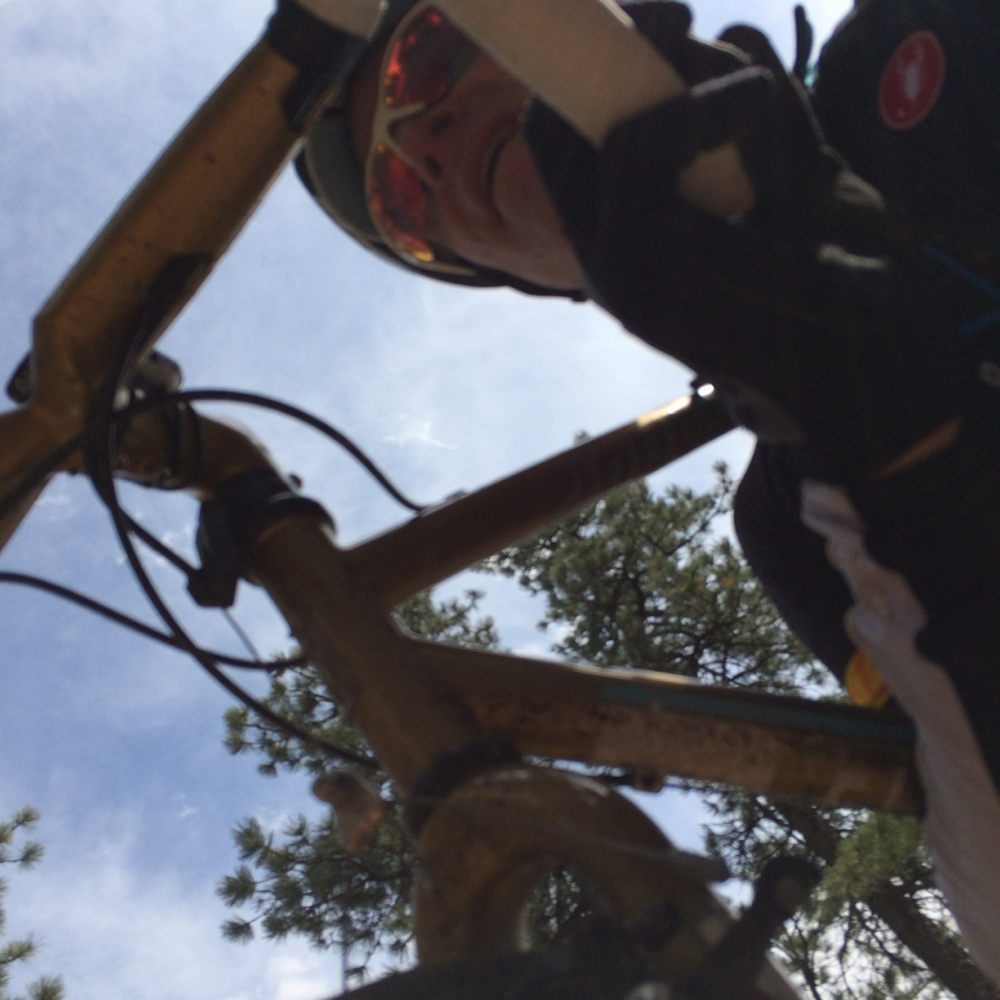 I would be lying if I said it was a straight-forward trail, for it took some time and route finding with the limited maps we had available. We had mobile service (Shocking!) but no reliable data. "We were really out there man!" Two track climbs gave way to damp, wet, and even snowy single track at times. There was hooting. There was a lot of hollering. There were high-fives. There were "I'm glad we took this way." There was, "I'm not so sure about this guys…" et cetera, et cetera.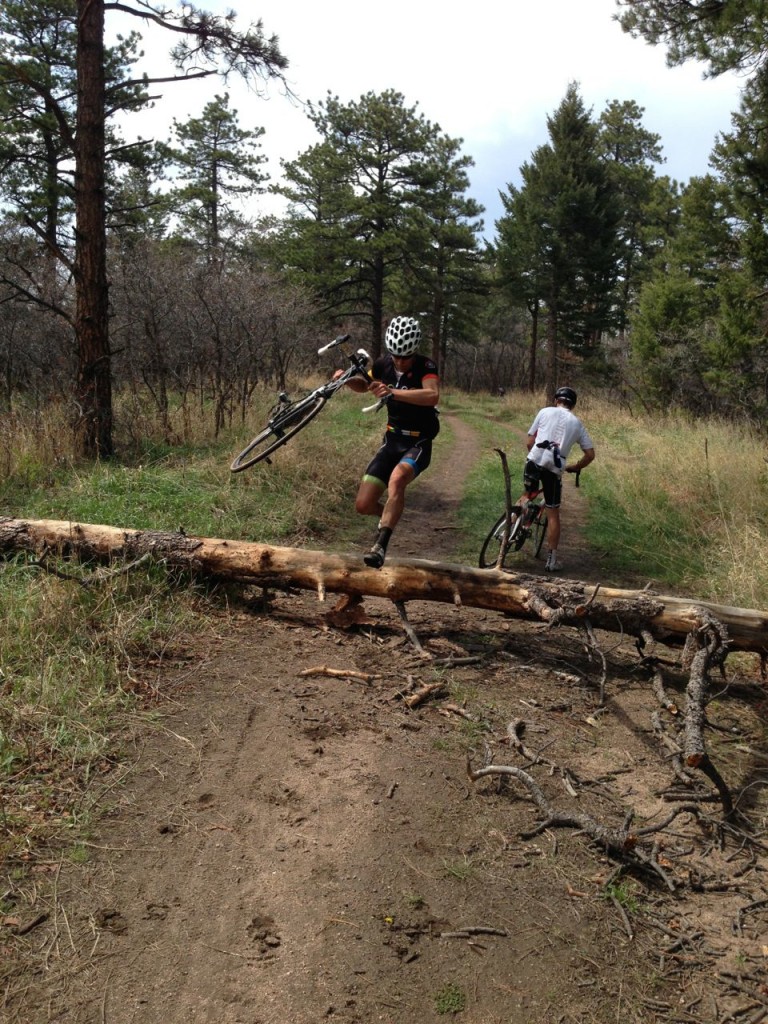 On some quick double track, I was able to grab a quick movie of the Trail Donkey 1.0 in action. M Feyen was ripping!

We found the Indian Creek single track and had a ton of fun. Here are some shots: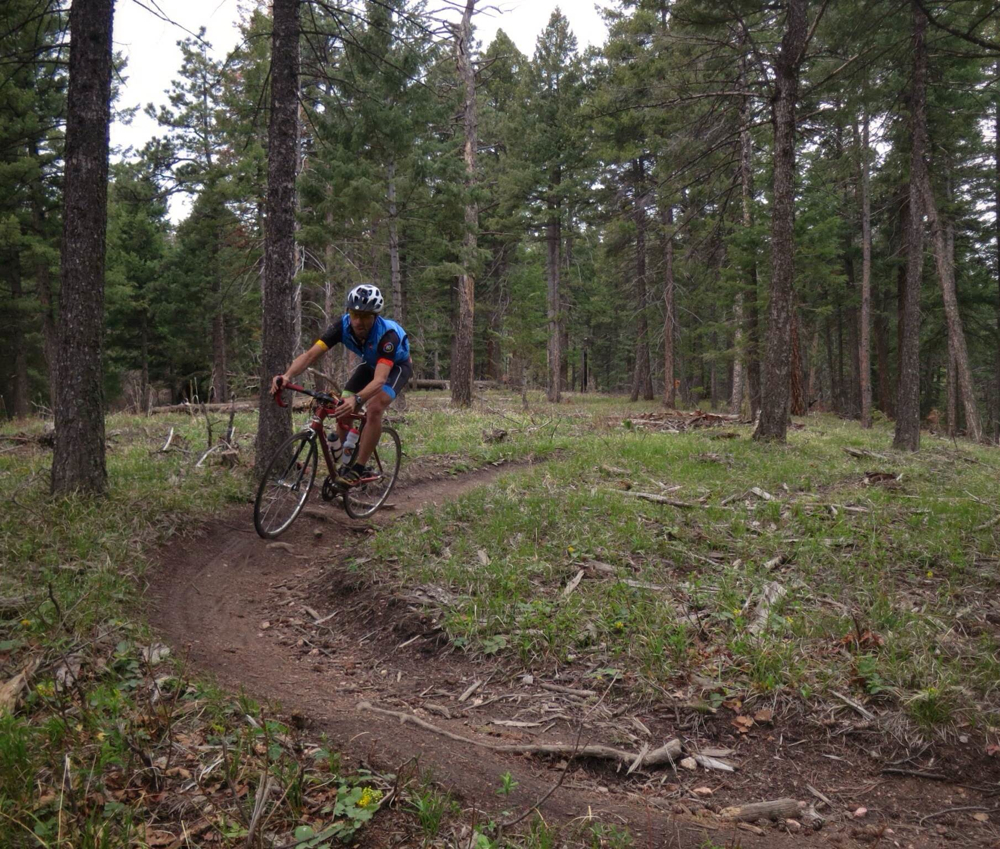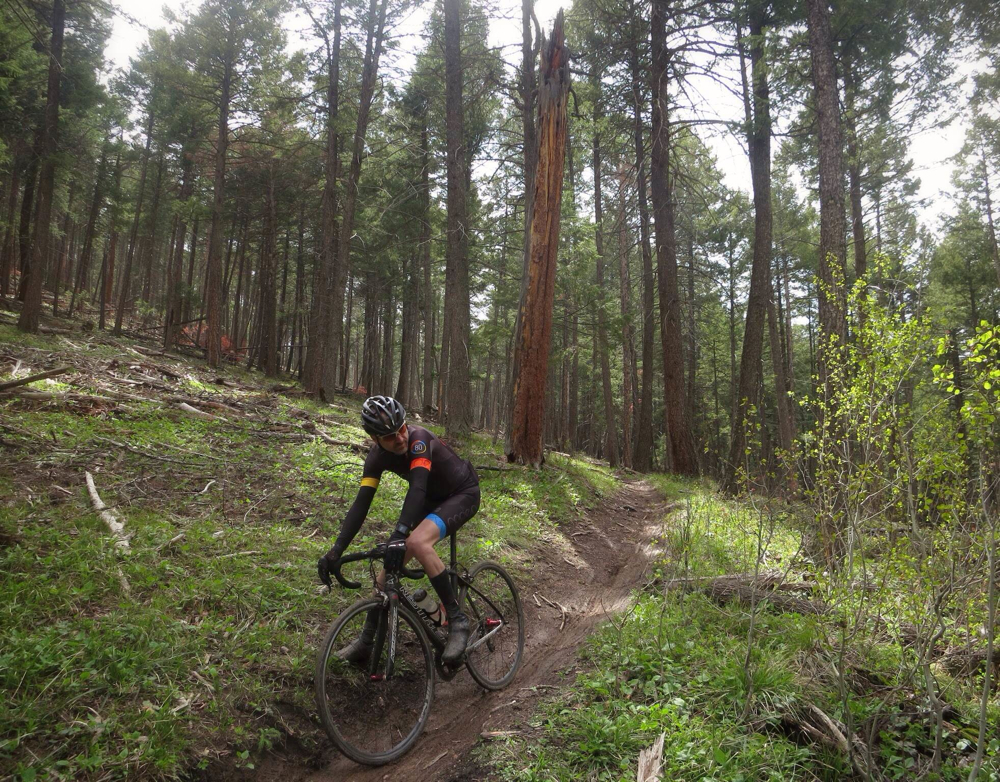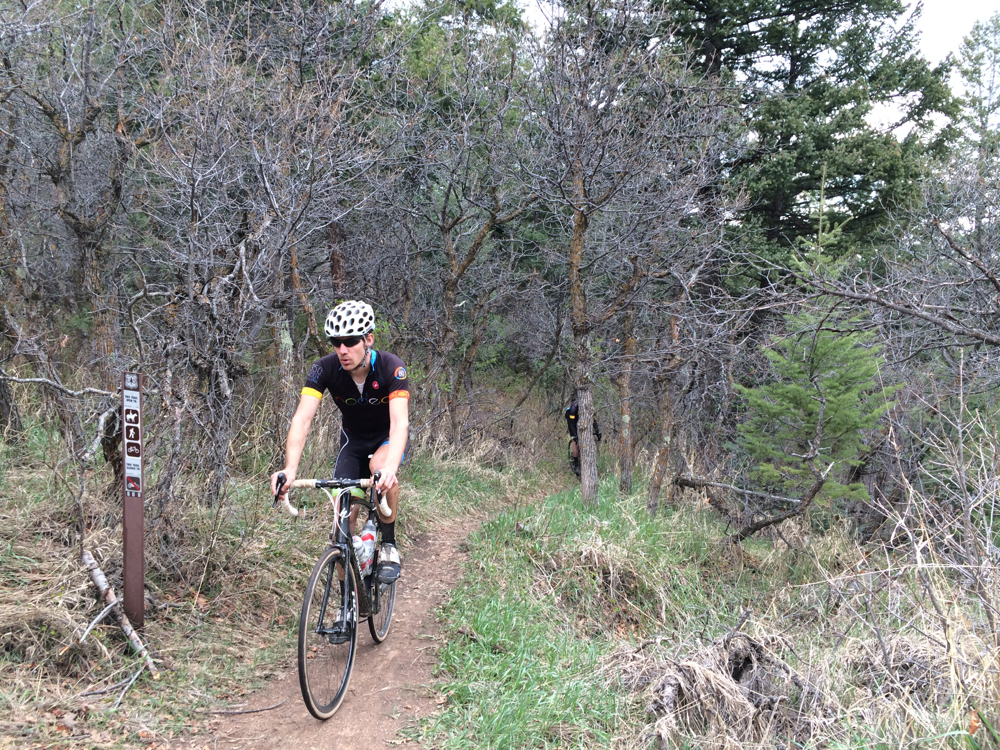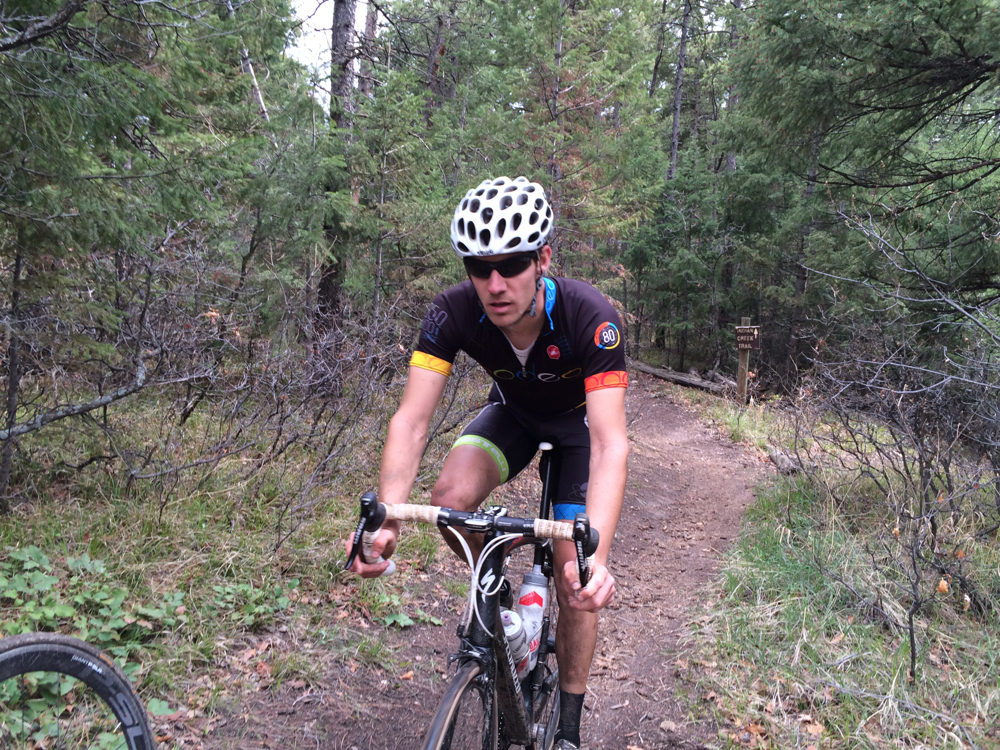 Once out of the single track, we made our way across some meadow and then entered Roxborough Park proper for yet another brutal 20%+ dirt climb.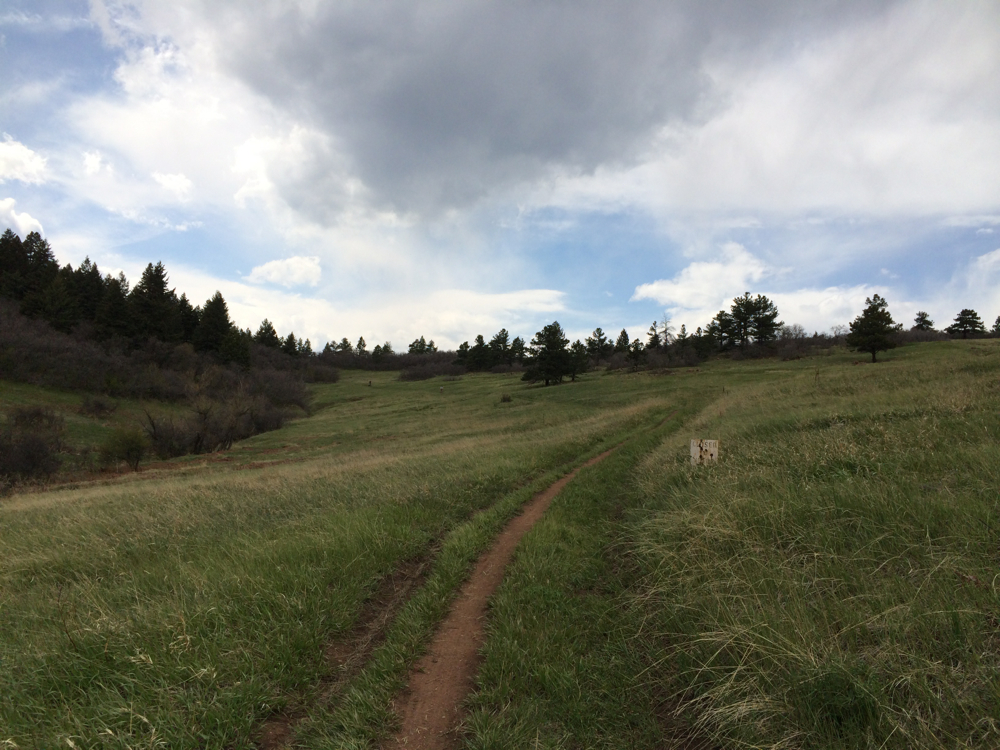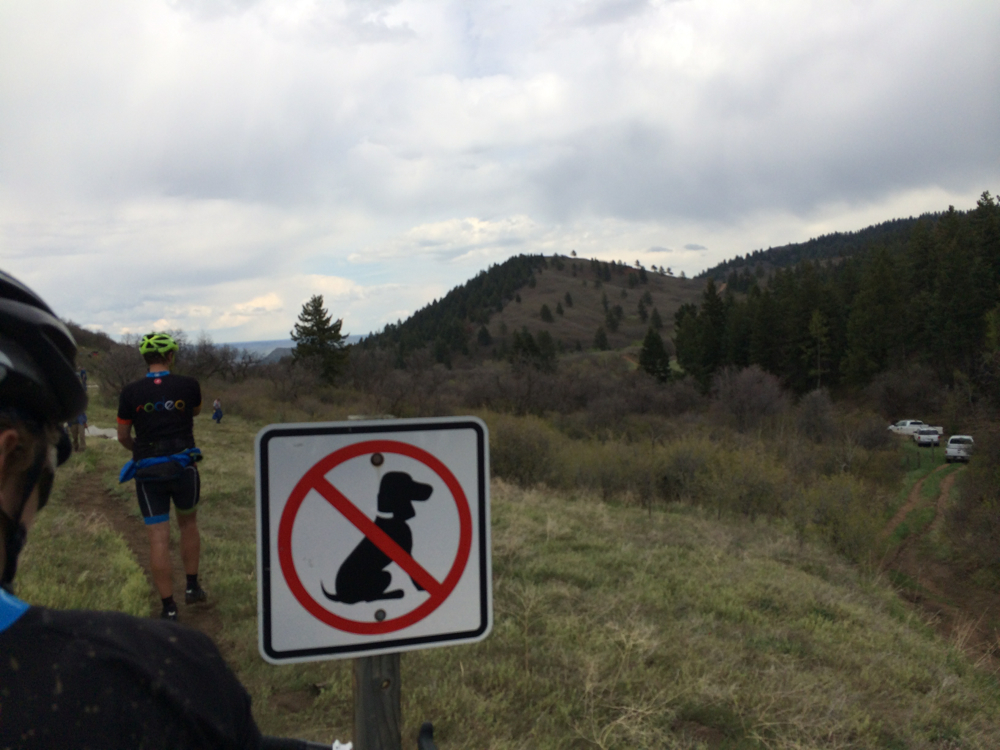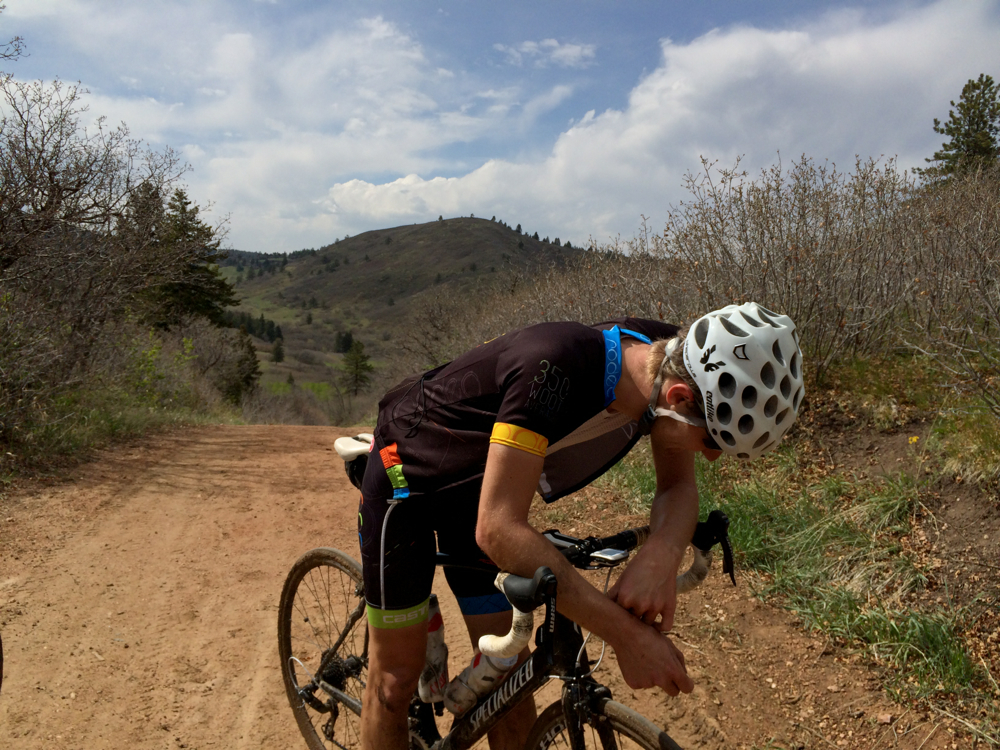 From here, we would descend into Roxborough Park and ride, awe-struck, through the giant red sandstone rock formations and an exclusive suburban division.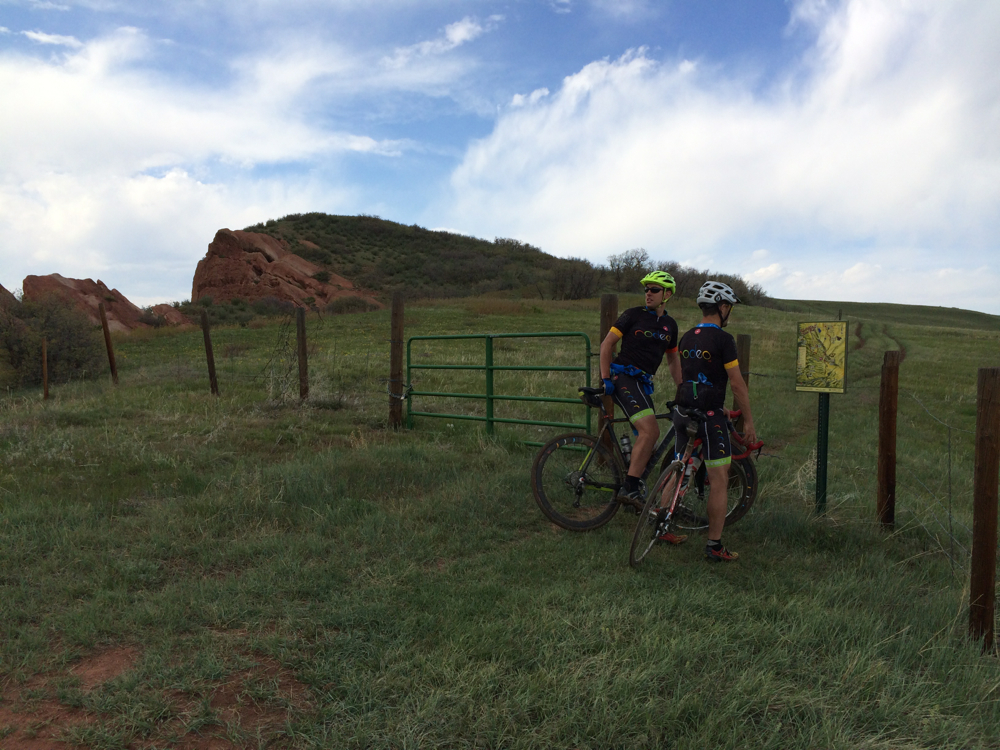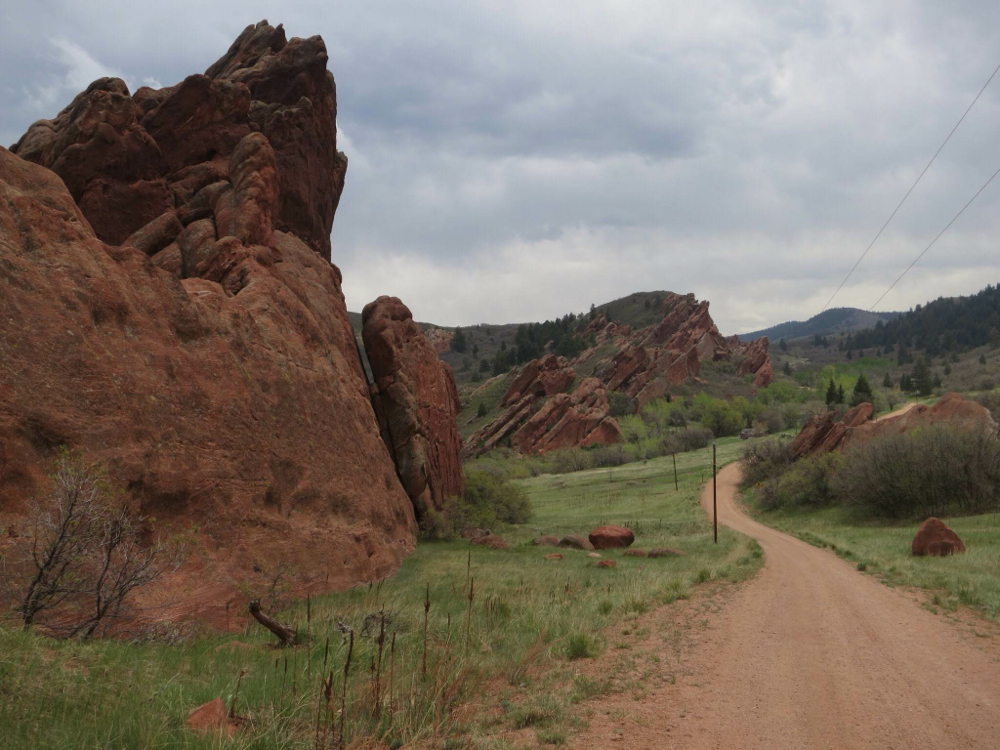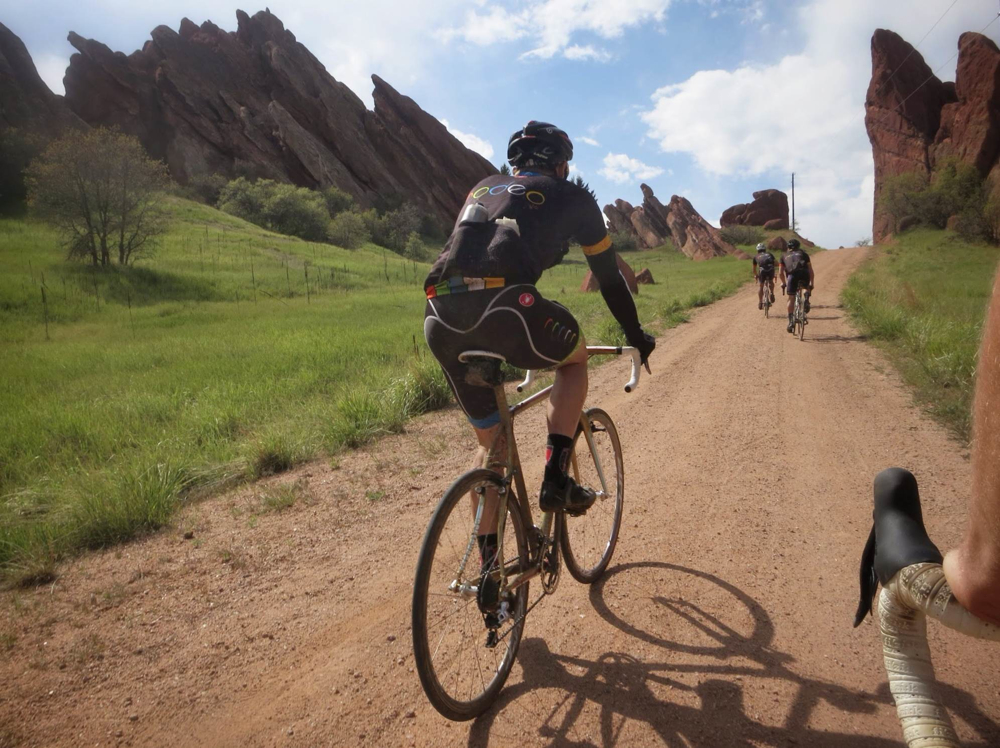 At this point, we were certainly a tired bunch. We headed for the closest super market and fueled up on sandwiches, cokes, and other nutritious fare: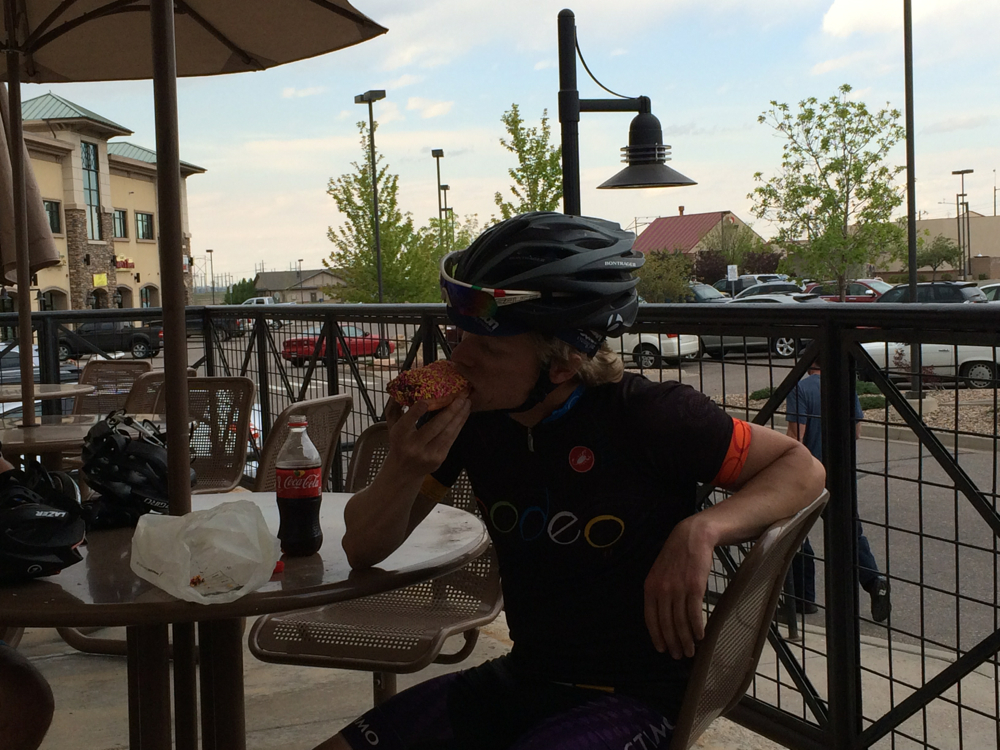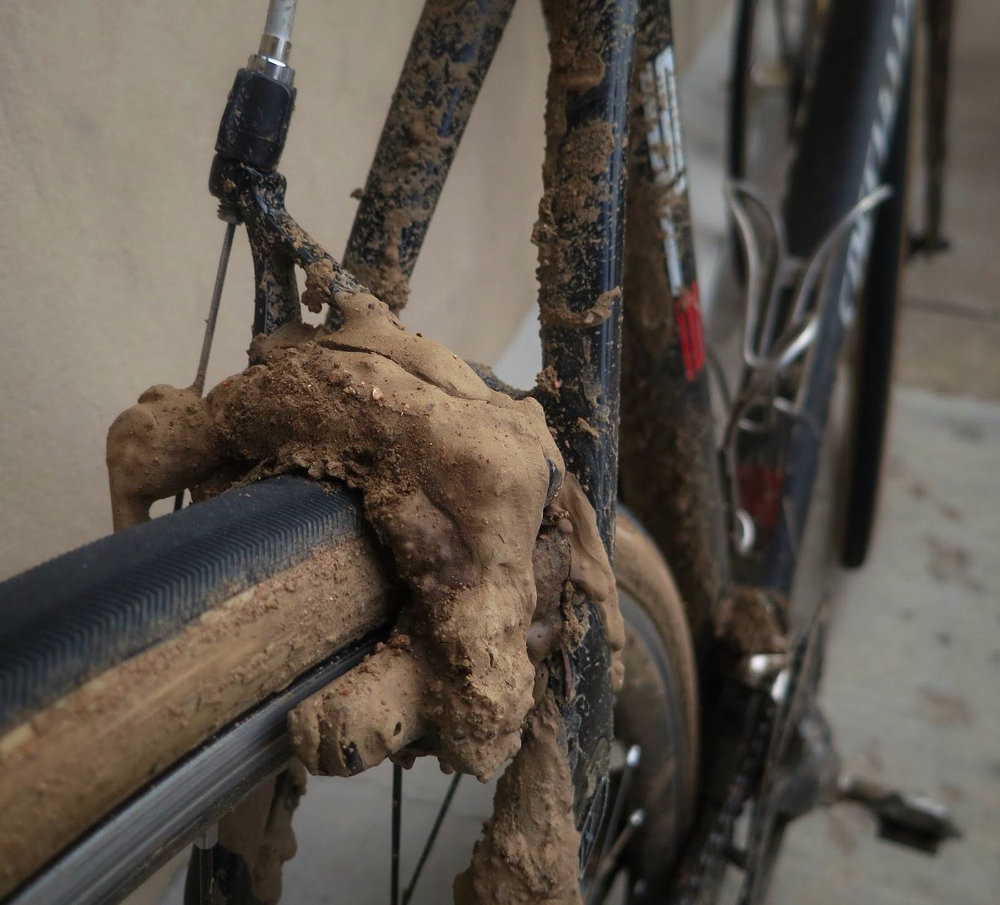 From here, rejuvenated (a little), we quickly rode home via roads and bike paths (gasp!) back to central Denver. It was a fantastic day in the saddle with an amazing group of strong friends. We may have set the bar high on this one. Come join us for the next rally!
Peder (@denvercx)
Parting shots: