Why did I say yes in the first place?
In January my buddy and I rode Gravelman Paris – a 350 km gravel race around Paris with start and finish close to l'Arc de Triomphe. They call it a race but that's not really what it is. Riders can start from Thursday 5.30 am and have until Sunday 11 am to finish. A little 200 km is gravel, the other 150 km is asphalt. One rider actually approached it as a race, and finished within 25 hours, including 4 'inactive' hours. He rode an average of 16.8 km/hr.
We took it 'easy'. Our hotel was 1 block from the start on Avenue de la Grande Armée. With a couple of other riders we left around 6 am. The first hour was super rad – riding through a quiet and dark Paris, ignorant of red lights, a completely empty Place du Tertre, le Sacre Coeur, we rode along Bassin de la Villette, giant switchyards, clochards still asleep under viaducts, quietly leaving the city.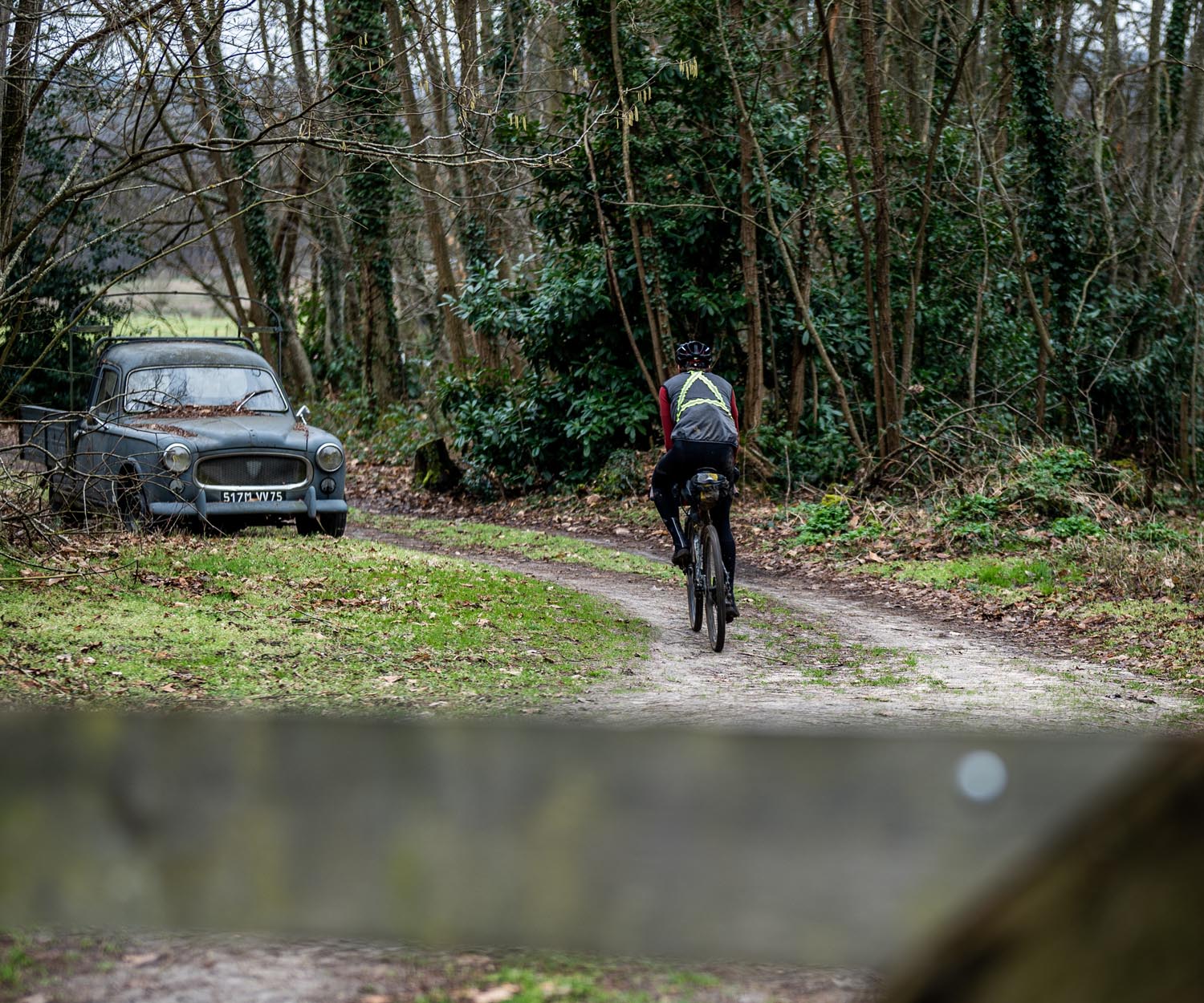 During the race we needed to collect photos of iconic checkpoints. The first one was parc forestier de la Poudrerie, on km 25. That was also the point where road conditions started to get worse and where my buddy and I separated. If I knew by then what was coming I'd have happily taken these conditions for the remainder of the course. Unfortunately it got worse.
The French farm fields and forests are continuously wet in the winter months. Agricultural and forestry machinery leave deep and muddy tracks. MTB riders further contribute to the deterioration of the trails. 'Gravel' during this race is a collection of basically everything that's not asphalt or cobble stones. It includes horseback riding trails, hike-a-bike segments, steep rocky downhill parts, stepping stones, grassland, crossing fallen trees and everything else you can (barely) imagine.
On Friday I had difficulty enjoying the day. At 4.40 pm – after 200 km with a tarmac short cut here and there – I called it a day. My buddy booked a hotel in La Roche-Guyon. A super friendly and mellow French host (m) in his seventies showed me the rooms. He had no issues parking the super muddy Rodeo Labs Flaanimal gravel bike in the hallway. He asked me if this bike was 'electrical'. "Yes sir". At some point I actually thought he was kind of proud hosting two Dutch gravel riders at his place. I took a shower and performed the daily riders routine (cleaning the bike and chain, charging the electronic devices, editing and deleting photos and uploading the ride to Strava).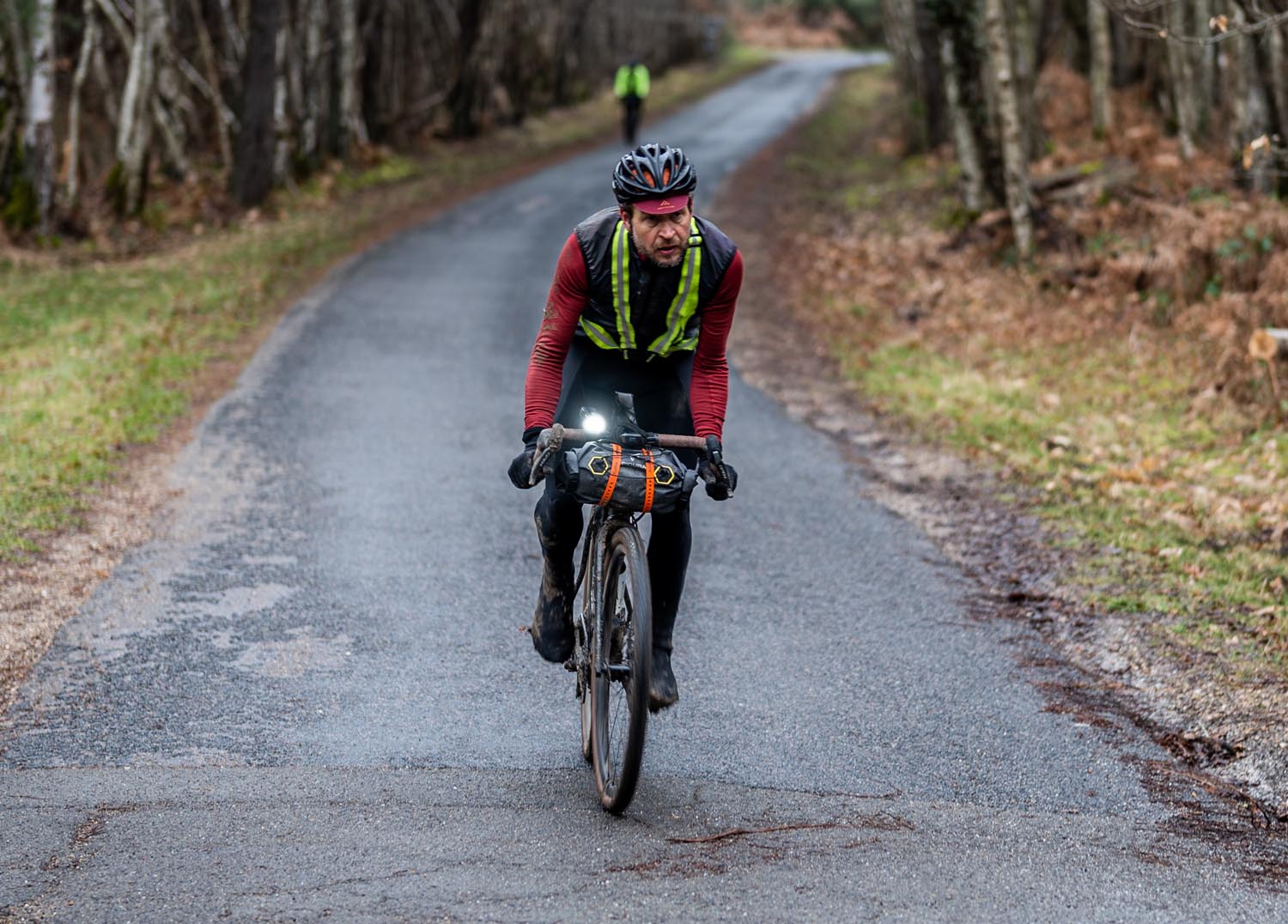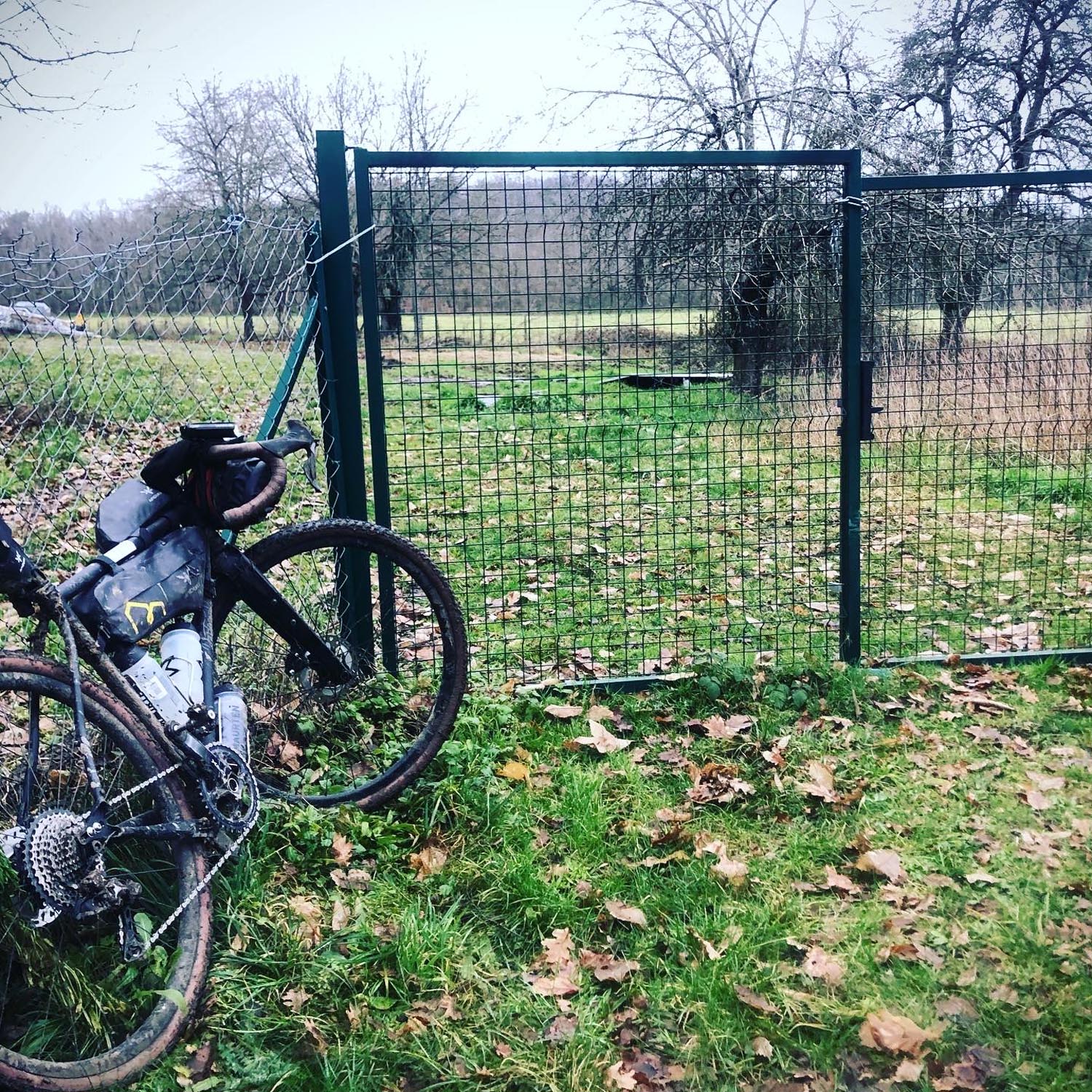 I could have ridden another 30-40 km more but I luckily let go of that idea pretty fast: the next morning proved I made the right decision. My buddy did not arrive until 7.15 pm that night. We had a quick pizza, exchanged stories and got to sleep early. We had a pretty good night.
The following morning (Saturday) we left an hour later than the previous day. Soon I found out that the gravel segments between km 200-240 were pretty challenging. It would have taken me at least another 4 hours to get to Rambouillet. That is where my initial plan was to spend the night. I consider myself a backpacking and gravel rookie so in hindsight I'm so extremely lucky that I didn't push it that Friday.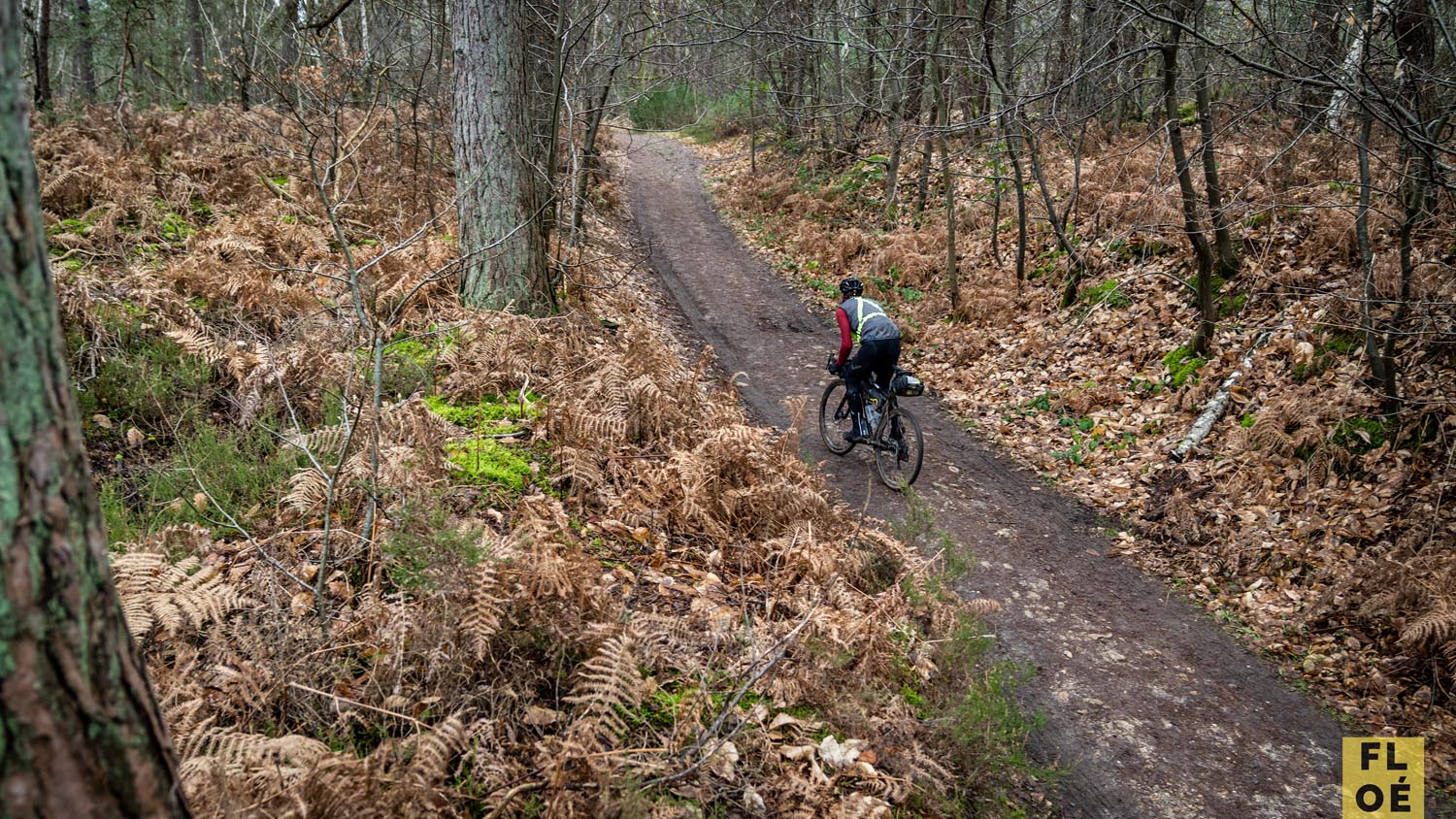 The Parisien suburbs are beautiful. I mean not the banlieues, they're awful but towns like Chantily, Versailles and Saclay. Amazing houses, wide streets and beautiful parks. The amount of forests is quite astonishing. I'm pretty sure you could get lost easily in some of Ile-de-Paris' largest forests.
I had a much better day on Saturday. The gravel segments were better, I felt stronger, and the closer I got to Paris, the faster I got. Music helped.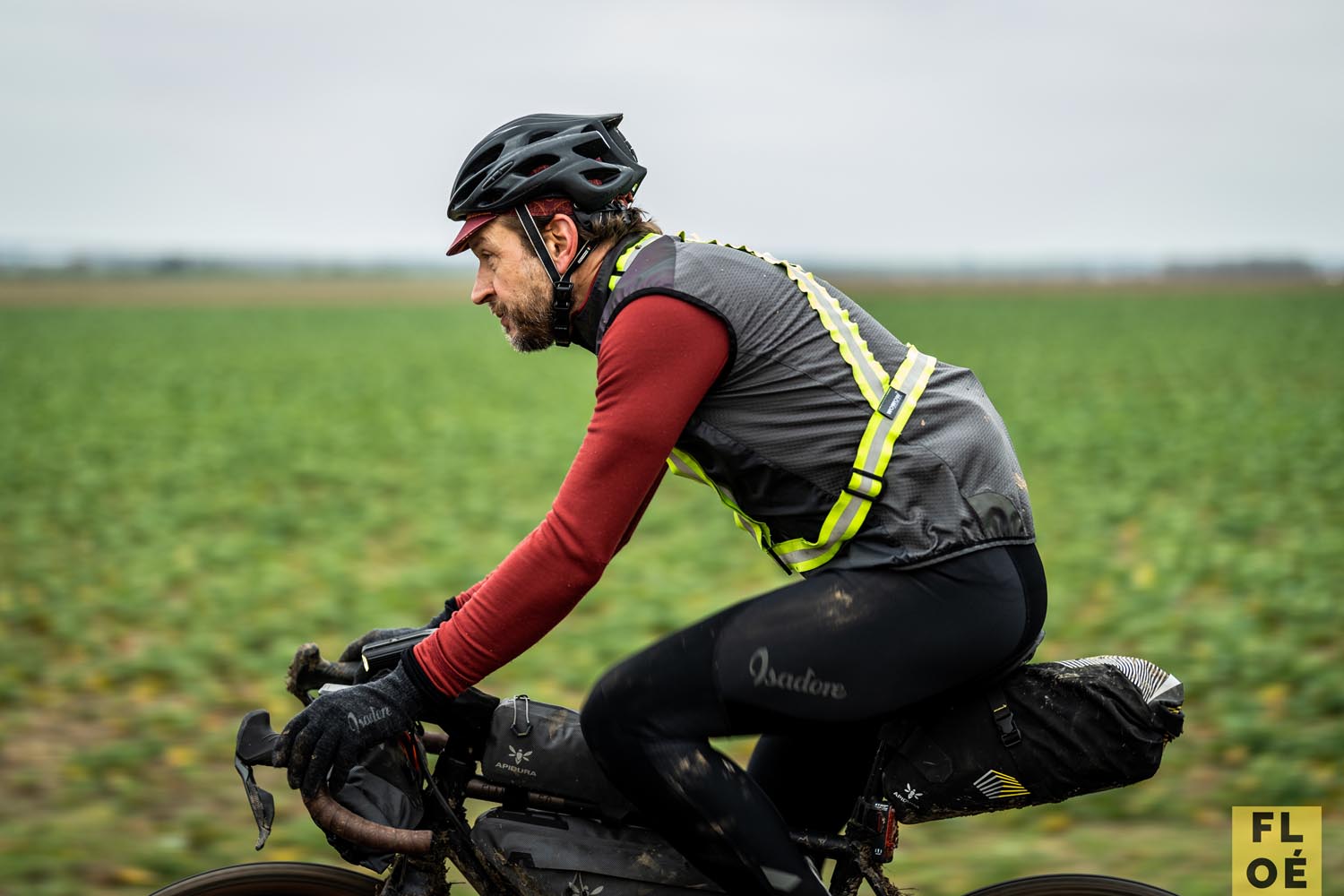 My setup was: a 7L Apidura saddle back where I stored extra pants and underwear, some lube and an old cloth. My 9L Apidura handlebar pack carried my warm ARc'teryx down jacket, some toiletries and a tuque. A small top tube bag I used for stowing my battery pack, some cash money, an extra car key, cards and mask. My energy tablets, food, tie rips, vaccination booklet and cords I kept in my half (6L) frame bag. Furthermore I carried 3x 500ml water bottles and two Voile straps. I was quite happy with this setup, and I felt this was a great preparation for my bike trip through the United Kingdom later this year (Land's End -> John O' Groats).
Finally we reached Paris on Saturday afternoon around 3.30 pm. 20.7km/hr on average. I look back on a tough but fun event. I think I'd do it again, but would prefer summertime when trails are much dryer. Or mount wider tires. For example 50mm, compared to the 40mm I rode this edition.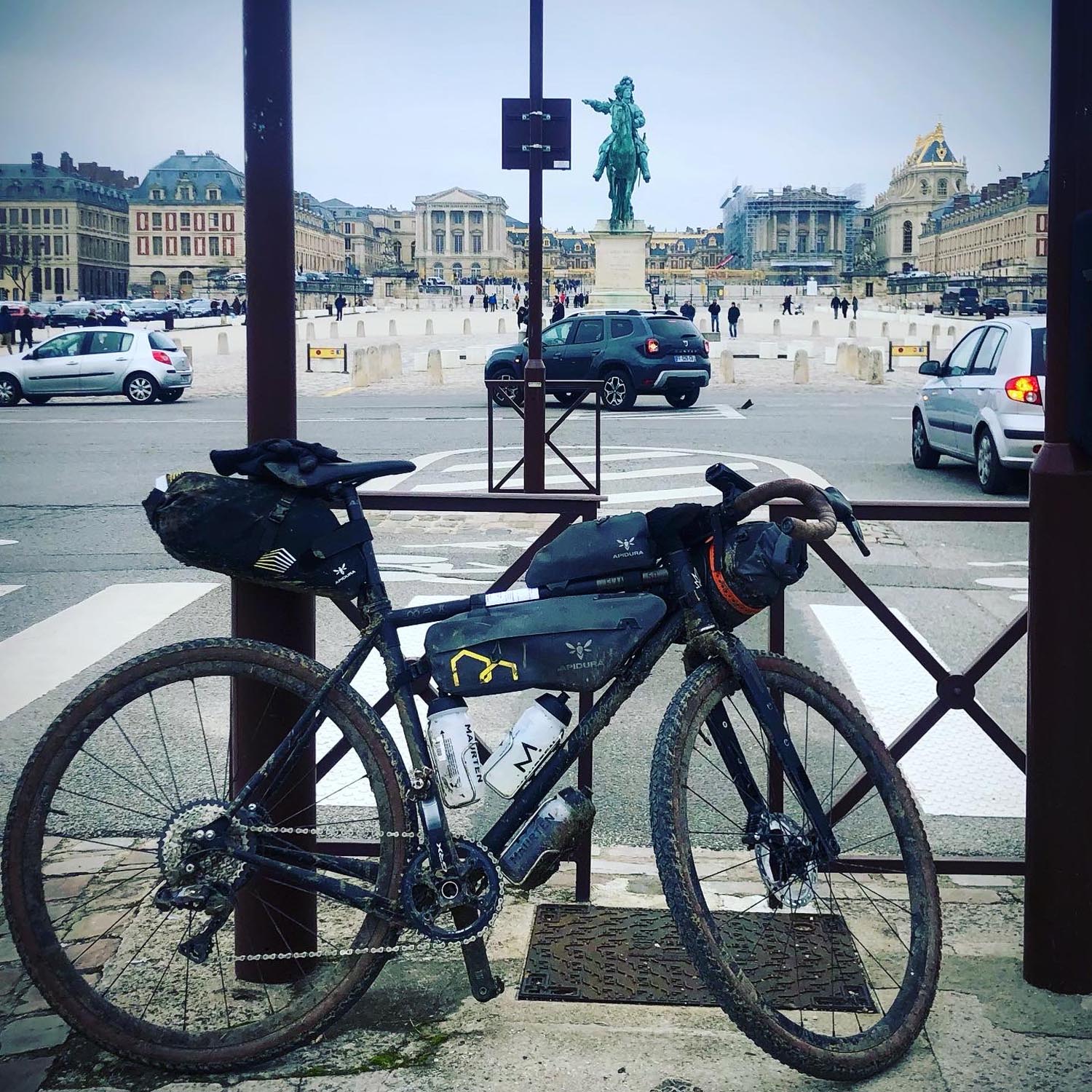 See the full route on my Komoot. Tip for next time: bring vaseline 😜
Merci et à bientôt!
Text by Albin Bronkhorst (@albinrene)
Photos by Albin Bronkhorst and Floé (@floe_reporter)
*disclaimer: this is a copy of my initial story on https://gravelocity.exposure.co/