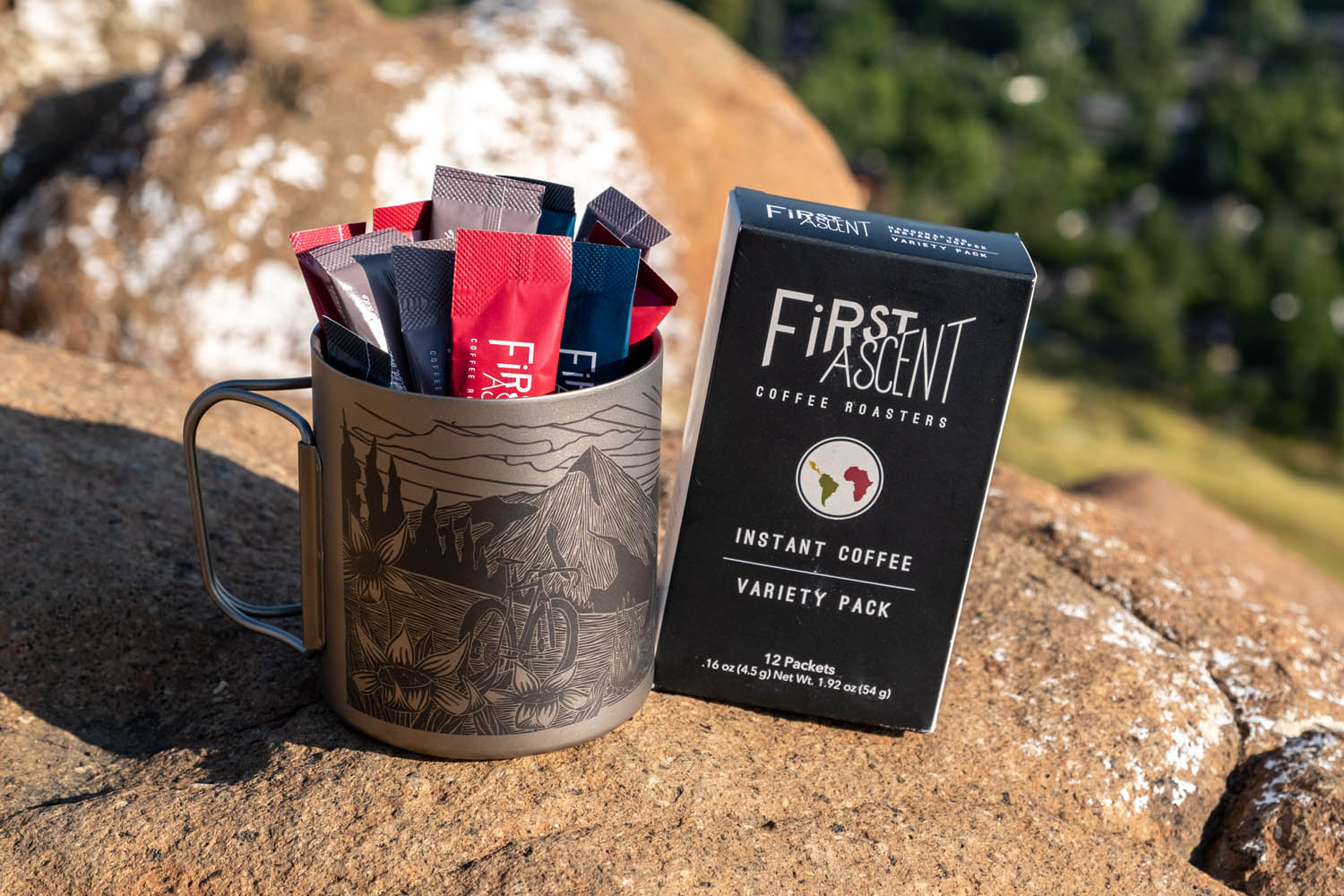 Rodeo Ti Coffee Mug Bundle
Not since 2014 have we offered a Rodeo Labs coffee / mug collab, and we are so excited to bring you this fresh collaboration, a result of working with great artists and great craftsmen.
This Rodeo Labs x First Ascent Coffee x Dispatch Bike x Tarek Penser collaboration brings you a finely crafted hollow double wall titanium mug, wrapped in unique hand-cut art, filled with the finest small batch instant coffee we could get our hands on.
The set includes:
Vacuum-sealed hollow double wall titanium mug with collapsible handles and mesh drawstring carrying case.
12 pack of First Ascent Instant coffee featuring 3 each of their Ethiopia (light roast), Guatemala (light roast), Hero Day (medium roast), and Dawn Patrol (dark roast) coffees.
Hand printed then laser-etched full wrap mug artwork by Tarek Penser. The artwork features Mount Crested Butte, the Boulder Flatirons, and of course a Flaanimal out camping.
The double wall vacuum insulated titanium mug will keep your coffee hot quite a bit longer than a single wall mug, and the folding handles stow away to make packing easier when the mug isn't use. The mug is supplied in a mesh drawstring bag which can both protect the mug and also helps make it into a surprisingly capable storage component in your overall bikepacking setup.
First Ascent coffee starts by sourcing specialty-grade coffees that are in season from small farms and co-ops. They then roast it in-house in Crested Butte, striving to highlight natural flavors and sweetness. Finally, they brew for quality and proper extraction, making sure that the final result is balanced — it is neither bitter nor sour.  A hand-crafted instant coffee that is lightweight, convenient, and delicious.
Shipping now
We've been huge fans of First Ascent Coffee for years here at Rodeo Labs. When we first met this Crested Butte roaster and brewer they were still developing and perfecting their instant small batch premium coffee offerings, and we took initial samples on our bikepacking trips to Kokopelli Trail, Armenia, and everywhere else we wanted to have great coffee on the go.
This year after visiting their facility and watching them roast, brew, and create their instant coffee on site, it hit on us that we wanted to share our affinity for this great brand with more people, so we decided to (no pun intended) brew up a collab!
Not content to stop with just the coffee, we decided that we wanted to pair it with a super functional and unique mug that we could use on bikepacking trips, or honestly one that we could use whenever we feel like it, even at work answering emails. We rang up Dispatch Bike just north of us near Boulder, Colorado, and asked him to help us source and create a titanium camp mug that would be both light and also keep our coffee warm on chilly mountain mornings. Dispatch creates all manner of custom and laser etched cycling accessories, so we knew we were in great hands with them.
The last part of the project was to find an artist who could help us create truly unique artwork that showed off the natural beauty of the Crested Butte area, the unique geography of the Colorado Front Range, and an idyllic scene of a sunrise out bikepacking on a Rodeo Labs bicycle. Luckily, a great artist from Whitefish, Montana named Tarek Penser had recently reached out about collaborating on a project using his unique hand cut printing style. We sent him our thoughts on what we wanted to see in the artwork and he worked up and hand cut this beautiful design while out on a bike camping trip to Utah.
The end result is exactly what we were looking to create: A high quality camp mug combined with a sampling of phenomenal on-the-go coffee, dressed in unique art. It was fun collaborating on this one with people and brands from up and down the Rocky Mountains, and we're finally excited , after six months of work, to share the results with you now.