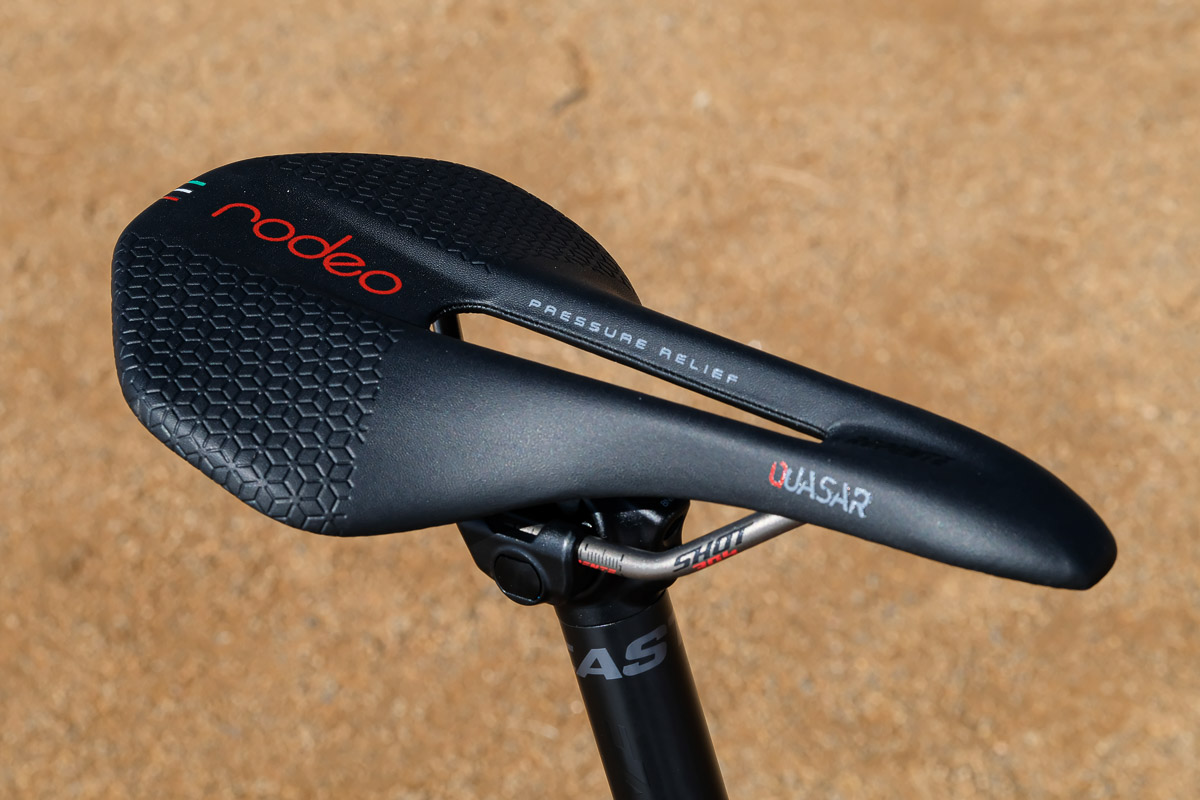 Rodeo x Repente Quasar saddle
Everyone is picky about saddles and we are no exception. For years we've been riding Selle Repente saddles on personal bikes and talking to Repente about what we think would make their saddles best for our customers. We've sampled and ridden almost every one of the hand made Italian saddles that they make and we love them all, but to offer a saddle as a standard option on our bikes it needed to tick a LOT of boxes.
A Rodeo standard saddle needs to be almost universally comfortable
A Rodeo standard saddle needs to be very durable.
A Rodeo standard saddle needs to be light.
On all these points Repente has nailed it with their newly released Quasar saddle. The saddle falls into the emerging category of wider, shorter nosed saddles which makes it incredibly comfortable both on and off road. The Quasar is the first metal rail saddle from Repente which we think is important for durability in off road conditions. The build quality of the saddles is phenomenal as any Italian made saddle would be expected to be. Lastly, the Quasar comes in at a very feathery 170g (we weighed ours at 164g) which should satisfy anyone looking to keep their bike as light as possible.
We're big fans of giving a personal touch to everything we do, so we worked with Repente to have custom Quasars made with our original Rodeo logo as well.
This is the saddle we were waiting and hoping for and we're very excited to offer it on our bikes and a-la carte to existing owners.
Read on below for more features and information.
Quasar, aesthetics and performance, combined
Features
Top-class materials and technologies for a saddle that weighs less than 170 grams, designed and developed by Repente on the basis of feedback from professional athletes and the many enthusiasts who use Repente saddles on and off the road. The first saddle by the Italian brand to have a steel rather than a carbon fibre rail.
Description
Quasar stands out both for the gritty appeal of its design and for its excellent cost/effectiveness. Painstaking care has been applied to every single detail – both in the design phase and in the product manufacturing process, all exquisitely Italian-made in the best Repente tradition.
Design, comfort and functionality come together in Quasar – to meet the needs of both racers and amateur cyclists.
Saddle Details
The saddle shape is characterised by a 142 mm "flat" design seat and central opening, integrated in a wide channel designed to relieve perineal pressure.
The comfortably sized rear support surface has been modelled according to anatomical and ergonomic requirements – a typical feature of all Repente saddles. The "close fit" effect produced by this particular shape makes the seat comfortable without having to use thick layers of padding and allows users to immediately find their most effective riding position.
The shell is made of PA12 reinforced with long carbon fibres (LCF technology), the same solution adopted by Repente to increase the strength of its Prime 2.0, Spyd 2.0 and Artax GL models.
The padding is in polyurethane, while water-based non-slip polyurethane microfiber has been chosen for the cover.
The rail is made of Aisi Stainless Steel, a type of steel with highly advanced mechanical properties. Repente has further strengthened it by submitting it to a special process called Shot 304, which hardens the metal surface and makes it more resistant.
Specifications
COATING Water-based microfiber
PADDING  Polyurethane
SHELL PA12 Long Carbon Fiber (LCF)
RAIL Aisi Stainless Steel – Shot 304
DIMENSIONS 260 mm (10.24 in) x 142 mm (5.59 in)
WEIGHT (± 5%) 170 g (5.99 oz)
GRAPHICS Black