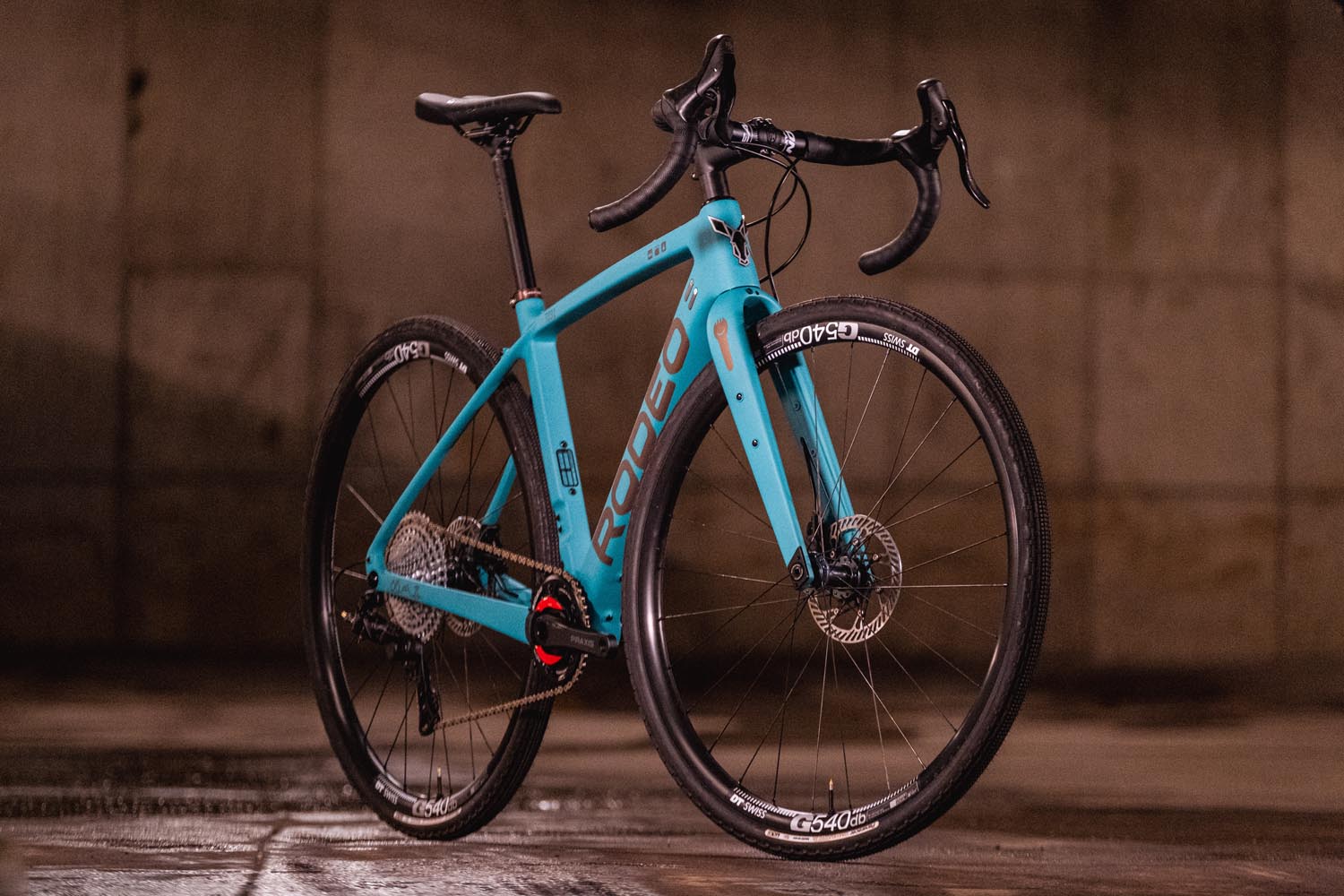 Traildonkey 3.1 // 52cm // Custom Cerakote // Factory refurb
We believe strongly in keeping each and every Rodeo bike on the road and trail as long as possible, so when one comes through HQ needing some TLC, we go to town on it. This Traildonkey 3.1 frame had some localized and minor repair done to the seat stay / seat tube junction. We then took the frame, prepped it for a repaint, and gave it this lovely one-off blue / bronze layout with Cerakote coatings. (Just this repaint alone retails for $800). Everything else on the bike is new, including the Ekar 1×13 speed drivetrain (which is the lightest production gravel drivetrain). DT Swiss rims were hand laced to 2.0 Rodeo hubs. The Praxis Alba crank is married to a Power 2 Max power meter and a Ratio Technology 13 speed chainring. An Easton / Ritchey cockpit handle the controls. A Wolf Tooth seatpost clamp keeps things snug out back.
The retail value of this build comes to $6,644.88, but our goal with refurb frames, once again, is to keep them on the road and trail, so we use these bikes as an opportunity to lower the price and put them within reach of someone who might not otherwise be able to home one.
Ships immediately. Build specs below.
Parts covered by individual manufacturer warranties. Frameset covered by two year warranty.
Build Specs
| | |
| --- | --- |
| FRAMESET |   |
| Model | Traildonkey 3.1 + Spork 3.0 |
| Size | 52cm |
| Finish | Custom |
| Frame Decals |   |
|   |   |
| COCKPIT |   |
| Handlebar | Easton EA50 AX / 42cm / 16D |
| Stem | Ritchey 4-AXIS 44 OE 90mm / 6D |
| Headset | FSA Orbit ITA |
| Headset comp. plug | Compression – add on |
| Headset spacers | Carbon |
| Seatpost | Easton EA70 / 0mm SB / 27.2 |
| Dropper lever | None |
| Seatpost clamp | WolfTooth Clamp |
| Saddle | Rodeo / WTB Volt |
| Bar Tape | Black anti-slip |
|   |   |
| DRIVETRAIN |   |
| Shift / Lever – Front | Campagnolo Ekar / 13s / Left |
| Shift / Lever – Rear | Campagnolo Ekar / 13s / right |
| Shifter only – Front |   |
| Shifter only – Rear |   |
| Front Derailleur |   |
| FD band clamp |   |
| Rear Derailleur | Campagnolo Ekar / 13s |
| Crankset | Praxis Alba X / 170mm |
| Chainring | Ratio 38t 13s |
| Powermeter | Power2Max NGeco for Praxis / 110 BCD |
| Bottom Bracket | Praxis T47 / 68mm / external / M30 |
| Chain | Campagnolo Ekar / 13s |
| Brake Caliper – Front | Campagnolo Ekar / flat mount / black |
| Brake Caliper – Rear | Campagnolo Ekar / flat mount / black |
| Brake adapter – Front | Campagnolo Ekar / rear / 160mm |
| Brake adapter – Rear | Campagnolo Ekar / front / 160mm |
| Brake Line – Front | Campagnolo hydro |
| Brake Line – Rear | Campagnolo hydro |
| Shift housing / cables | Campagnolo, black |
| Axle – Front | Rodeo Axle 3.0 / 12 x 100mm |
| Axle – Rear | Rodeo Axle 3.0 / 12 x 142mm |
| Axle – Lever | 3.0 Lever / 6mm hex |
|   |   |
|   |   |
| WHEELSET 1 |   |
| Rim Front | DT Swiss G 540 Rim – 700c |
| Rim Rear | DT Swiss G 540 Rim – 700c |
| Hub Front | Rodeo 2.0 / 28h / 12×100 / light gray |
| Hub Rear | Rodeo 2.0 / 28h / 12×142 / XDR / light gray |
| Spokes | Sapim Race, 2.0/1.8, black |
| Nipples | Brass, black |
| Build | Built by hand at Rodeo Labs |
| Valve | Tubeless, black |
| Rim Tape | WTB |
| Tire Sealant | Orange Seal |
| Tire front | Panaracer GravelKing SK / 700 x 38 / black |
| Tire rear | Panaracer GravelKing SK / 700 x 38 / black |
| Rotor front | Campagnolo Ekar / centerlock / 160mm |
| Rotor rear | Campagnolo Ekar / centerlock / 160mm |
| Cassette | Campagnolo Ekar / 13s / 10-44 |