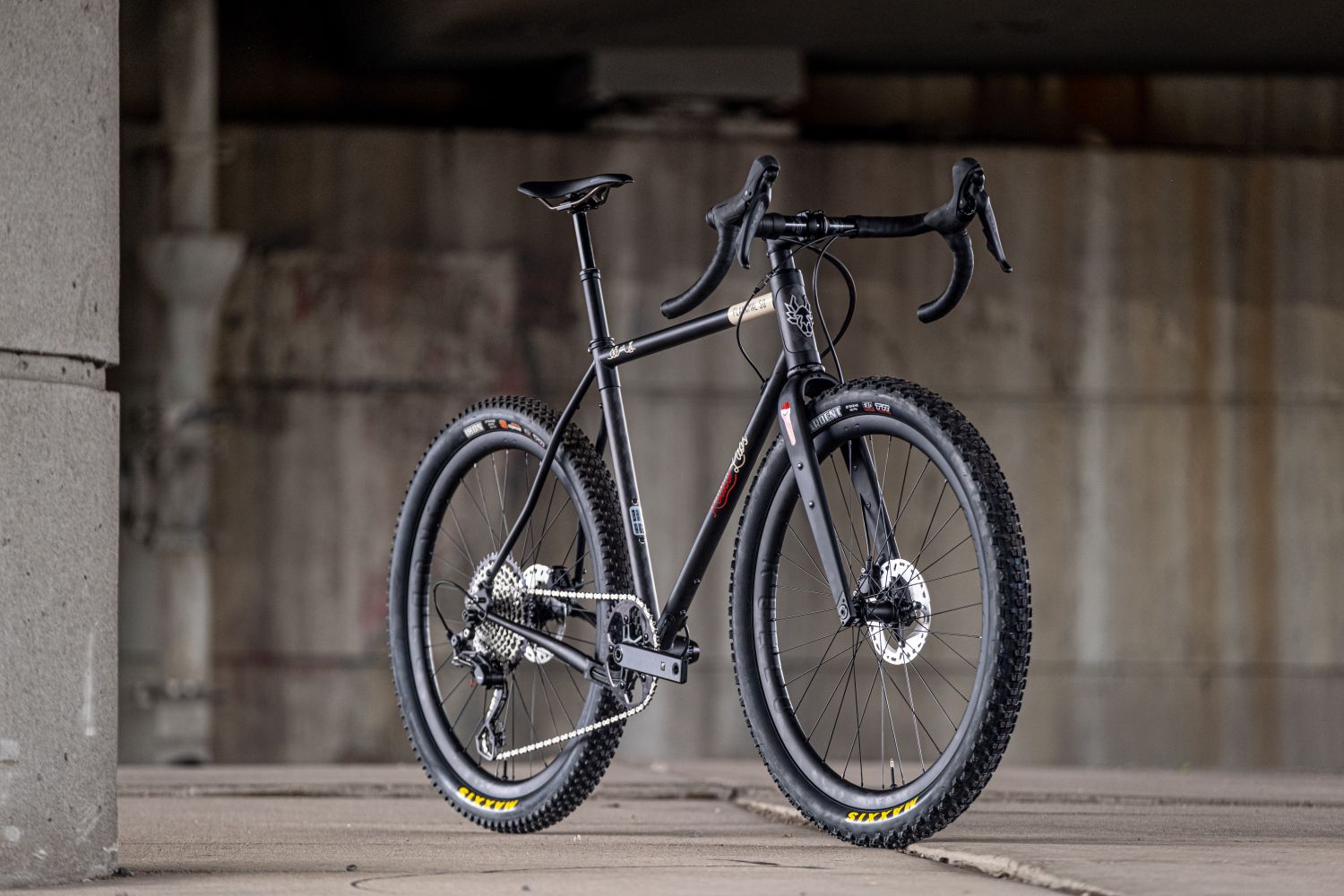 Flaanimal 5.0 // 56cm // The Ripper
More and more gravel bike brands are edging into the trail end of the gravel bike space these days, but we've been there since our beginning in 2014. And while some brands stage a photo shoot of their gravel bikes out on trails, we've tested our ideas ourselves constantly over the last decade with great success. Along the way we've entered and finished races like Leadville 50 and 100 more than a half dozen times. We've shown up to weeknight short track and endurance XC races and have taken the win on our steeds on many occasions. Like minded owners of our bikes routinely take on local MTB trails and race events themselves, and keep the grand experiment going month in and month out. The fact of the matter is, before we even knew we were developing a gravel bike, we were developing drop bar bikes that would take on any terrain, including trails, with style and grace. To celebrate that idea, Chef Coco cooked up this very trail-oriented Flaanimal 5.0 build, and he kitted it out with details that made us at the office all want to stop what we were doing, grab the bike, and head for the hills.
Highlights on this build are of course the extremely capable 650×2.4 Maxxis tires. In a nod to traction and control, Coco went with more aggressive tread profiles to make sure the rider testing their drop bar limits has as much fun as possible. The OneUp dropper post isn't something we tell every gravel rider they need, but for those that do like to get rowdy, nothing instills more confidence on a drop bar bike than the ability to get that saddle out of the way on the twisty, technical descents. The bike's GRX 1×11 shifting is made massively more capable by a Garbruk drivetrain upgrade which allows for the use of an 11-50 cassette. The Garbruk chainring up front is paired to an absolutely gorgeous Ingrid Components crankset, which itself features integrated crank-end bash guards. Decals on this build are rootbeer-cream / red-tan scheme, which is something haven't previously tried but are quite chuffed with. Handlebars and stem are Easton, and the saddle is Repente Quasar. Wheels are our very own hookless, bombroof Rodeo 2.0 carbon rims laced to our upgraded 3.0 hubs which have excellent engagement and the durability you need if you take this rig bikepacking.
All Chef Coco builds are discounted off standard pricing. This build's standard price is $5,779.21, and it is available now at $5315.00
This build can be swapped to 700c x your preferred tire if you don't quite want to slay with these lovely 650b tires / wheels and would like something more standard gravel oriented.
| | |
| --- | --- |
| FRAMESET |   |
| Model | Flaanimal 5.0 + Spork 3.0 |
| Size | 56cm |
| Finish | Naked |
| Frame Decals | Red |
|   |   |
| COCKPIT |   |
| Handlebar | Easton EA70 AX / 42cm / 16D |
| Stem | Easton EA50 / 7D / 90mm |
| Headset | RODEO EC44 |
| Headset comp. plug | RODEO Comp. Plug |
| Headset spacers | Carbon |
| Seatpost | OneUp Dropper Post – V2 27.2 / 90 |
| Dropper lever | Shimano GRX |
| Seatpost clamp | Rodeo 6066 |
| Saddle | Selle Repente Quasar 1.1b / Rodeo / 142mm / SS |
| Bar Tape | Black anti-slip |
|   |   |
| DRIVETRAIN |   |
| Shift / Lever – Front | Shimano GRX-600 / ST-RX600-L / 2x / lever only |
| Shift / Lever – Rear | Shimano GRX-600 / ST-RX600-R / lever only |
| Shifter only – Front | None |
| Shifter only – Rear | None |
| Front Derailleur | None |
| FD band clamp | None |
| Rear Derailleur | Shimano GRX-812 11s |
| Crankset | Ingrid CRS-R2 Long, Black, w/ 110-Spider |
| Chainring | Garbaruk Melon 110 5bolt Oval 42t |
| Powermeter | None |
| Bottom Bracket | Praxis T47 / 85.5mm / internal / 30mm thru |
| Chain | Shimano HG701 11s |
| Brake Caliper – Front | Shimano GRX-400 hydro / flat mount / caliper only |
| Brake Caliper – Rear | Shimano GRX-400 hydro / flat mount / caliper only |
| Brake adapter – Front | Included |
| Brake adapter – Rear | TRP / flat mount front |
| Brake Line – Front | Included |
| Brake Line – Rear | Included |
| Shift housing / cables | Black |
| Axle – Front | Rodeo Axle 3.0 / 12 x 100mm |
| Axle – Rear | Rodeo Axle 3.0 / 12 x 142mm |
| Axle – Lever | 3.0 bottle opener / 6mm+4mm hex |
|   |   |
|   |   |
| WHEELSET 1 |   |
| Rim Front | Rodeo 2.0 Carbon / 650b / 28h |
| Rim Rear | Rodeo 2.0 Carbon / 650b / 28h |
| Hub Front | Rodeo 3.0 / 28h / 12×100 |
| Hub Rear | Rodeo 3.0 / 28h / 12×142 / S11 |
| Spokes | Sapim Race, 2.0/1.8, black |
| Nipples | Brass, black |
| Build | Built in the USA |
| Valve | Tubeless, black |
| Rim Tape | WTB |
| Tire Sealant | Orange Seal |
| Tire front | Maxxis Ardent 27.5 2.4 black exo |
| Tire rear | Maxxis Ikon / 27.5 x 2.2 / black 3C Maxx EXO |
| Rotor front | Shimano MT800 / centerlock / 160mm |
| Rotor rear | Shimano MT800 / centerlock / 160mm |
| Cassette | Garbaruk 11-50t S11 |
|   |   |
|   |   |
|   |   |
|   |   |
|   |   |
|   |   |
|   |   |
|   |   |
|   |   |
|   |   |
|   |   |
|   |   |
|   |   |
| Dropout Sliders |   |
| RD cage | Garbaruk Der. Pulleys 11t + 16t |
| RD pulleys | Garbaruk GRX Rear Derailleur Cage |