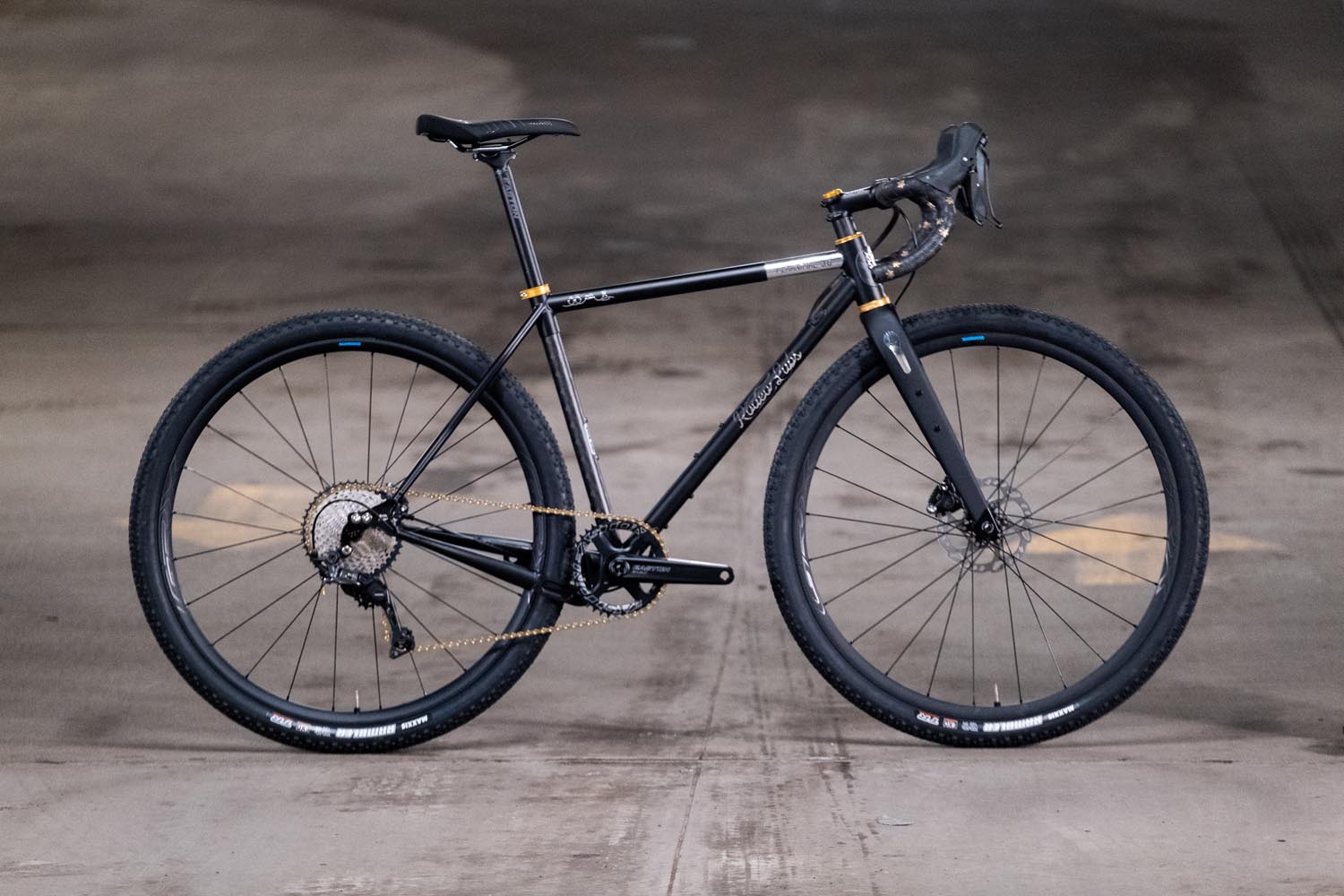 Flaanimal 5.0 / 52cm / GRX
This 52cm Flaanimal 5.0 packs a serious visual and functional punch with its GRX 1x drivetrain and 700×50 wheels / tires. We worked to tightly balance function and cost on this build, so it comes in below the price of any standard Flaanimal 5.0 on offer, but still retains the ability to take its rider anywhere and everywhere. With its Kawasaki Japanese steel and carbon tube construction, Flaanimal 5.0 is one of the most advanced metal gravel frames on the market in terms of construction, and it matches that with features that allow a huge range of riding versatility. You can put on slicks and road ride this bike, and you can use the supplied tires to gravel or bikepack on this bike.
The build kit (detailed below) features a solid mix of hand selected parts, with the Wolf Tooth headset and seat clamp adding just a bit of visual pop to the build in combination with the silver frame decals.
This bike is in stock and ready to ship within 24 hours of ordering. Ships globally.
| | |
| --- | --- |
| FRAMESET | |
| Model | Flaanimal 5.0 + Spork 3.0 |
| Size | 52cm |
| Finish | Naked |
| Frame Decals | Gold |
| | |
| COCKPIT | |
| Handlebar | Easton EA50 AX / 40cm / 16D |
| Stem | Easton EA50 / 7D / 80mm |
| Headset | WolfTooth Premium EC44 Headset |
| Headset comp. plug | RODEO Comp. Plug |
| Headset spacers | Carbon |
| Seatpost | Easton EA70 / 0mm SB / 27.2 |
| | |
| Seatpost clamp | WolfTooth Clamp |
| Saddle | Rodeo / WTB Volt |
| Bar Tape | Supacaz Super Sticky Kush |
| | |
| DRIVETRAIN | |
| Shift / Lever – Front | Shimano GRX-600 / ST-RX600-L / 2x |
| Shift / Lever – Rear | Shimano GRX-600 / ST-RX600-R |
| | |
| | |
| | |
| | |
| Rear Derailleur | Shimano GRX-812 11s |
| Crankset | Easton EA90 172.5mm / 30mm |
| Chainring | Easton EA90 Cinch 42t 1x |
| Powermeter | None |
| Bottom Bracket | Praxis T47 / 85.5mm / internal / 30mm thru |
| Chain | YBN Ti Gold |
| Brake Caliper – Front | Included |
| Brake Caliper – Rear | Included |
| Brake adapter – Front | Included |
| Brake adapter – Rear | Included |
| Brake Line – Front | Included |
| Brake Line – Rear | Included |
| Shift housing / cables | Included |
| Axle – Front | Rodeo Thru Axle / 12 x 100mm |
| Axle – Rear | Rodeo Thru Axle / 12 x 142mm |
| Axle – Lever | 3.0 bottle opener / 6mm+4mm hex |
| | |
| | |
| WHEELSET 1 | |
| Rim Front | Shimano GRX 700c Wheelset |
| Rim Rear | Included |
| Hub Front | Included |
| Hub Rear | Included |
| Spokes | Included |
| Nipples | Included |
| Build | Included |
| Valve | Included |
| Rim Tape | Included |
| Tire Sealant | Orange Seal |
| Tire front | Maxxis Rambler / 700 x 40 / EXO / black |
| Tire rear | Maxxis Rambler / 700 x 40 / EXO / black |
| Rotor front | Shimano RT70 / centerlock / 160mm |
| Rotor rear | Shimano RT70 / centerlock / 160mm |
| Cassette | Shimano SLX CS-M7000 11s / 11-42 |