Traildonkey 3.1 Pre-Order
Reserve your Traildonkey 3.1 frameset by pre-ordering now.
For complete bikes, select that checkbox below and we will know to get in touch with you to discuss specs and pricing in the coming weeks. We will then invoice for the remainder of your bike's price closer to frameset arrival in mid April.
If you plan to have us design a custom finish for your pre-ordered Traildonkey, choose the "Naked" finish option. See this page for custom finish info and pricing.
Traildonkey 3.1
What if there were no bicycle categories? What if nobody had told us that we needed a different bike for each day of the week and every different riding surface?
What if a bike was neither good nor bad at anything? What if, instead, it was merely a capable tool for testing yourself and proving your own mettle?
To Rodeo Labs these are not abstract questions. They are the inspiration by which we design and engineer our premiere bike: Traildonkey 3.1.
TD3 is a platform on which a rider can build a bike of supreme function and versatility. The spectrum of its abilities ranges from pavement to singletrack to gravel, and everything in between.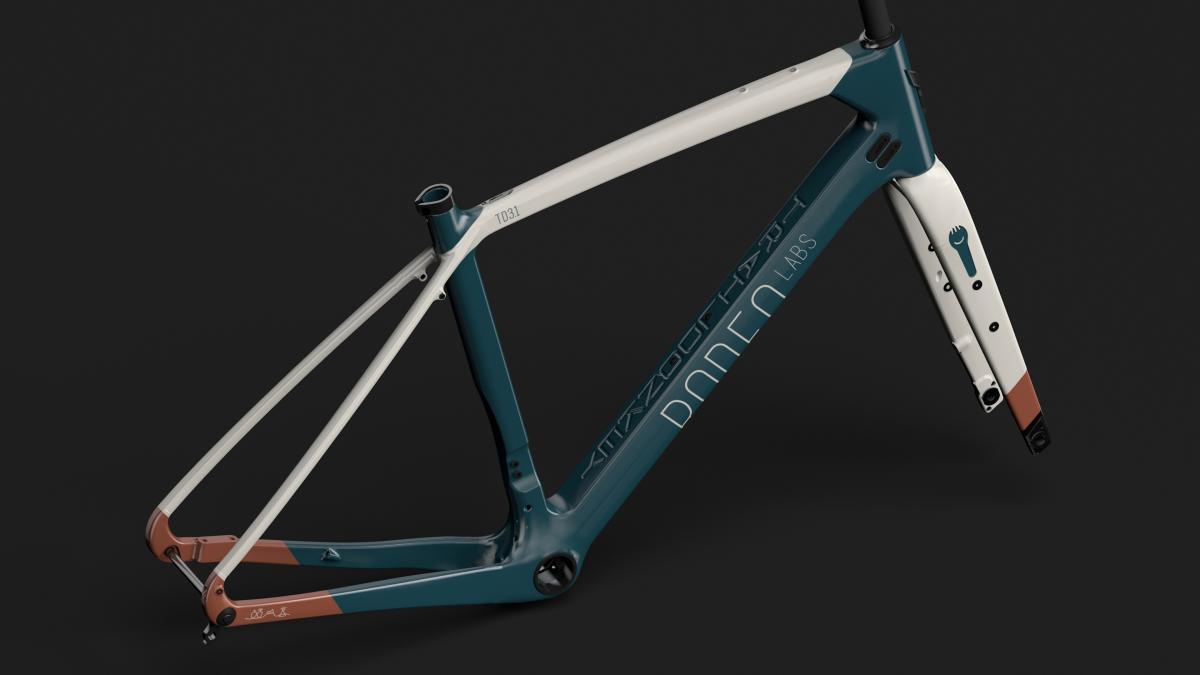 The Traildonkey Story
Now in its third major iteration, Traildonkey has upped its capabilities to match our ever growing ambitions. Since 2014, our eyes for rugged conditions have only gotten bigger and the punishment we've subjected the bike to has only gotten more severe. While we wanted to create a more capable bike, we did not however want to turn Traildonkey into an overbuilt, drop bar mountain bike. We wanted to stay true to the original principles of the bike which required that it feel at home in the intensity of a competitive road group ride, a 200 mile gravel race, a winding ribbon of singletrack, or a multi-day bikepacking trip.
TD3 is not only an exercise in increasing capabilities, it is also an exercise in restraint. The lines of the frameset have become more elegant and the execution of the details has become more focused.
The entire 3.0 rear triangle, from the seat tube back, has been completely redesigned. Over the years we've formed some strong opinions on what makes a great bike. We've woven those ideas into this frameset. High on our list of improvements for TD3 was increased tire clearance. Our newest Donkey has that in spades. On Rodeo 650b rims with a 24.5 mm ID a 2.25″ (57mm) tire will fit on TD3. On Rodeo 700c rims with a 24mm ID a 2.0″ (50mm) tire will fit on TD3.*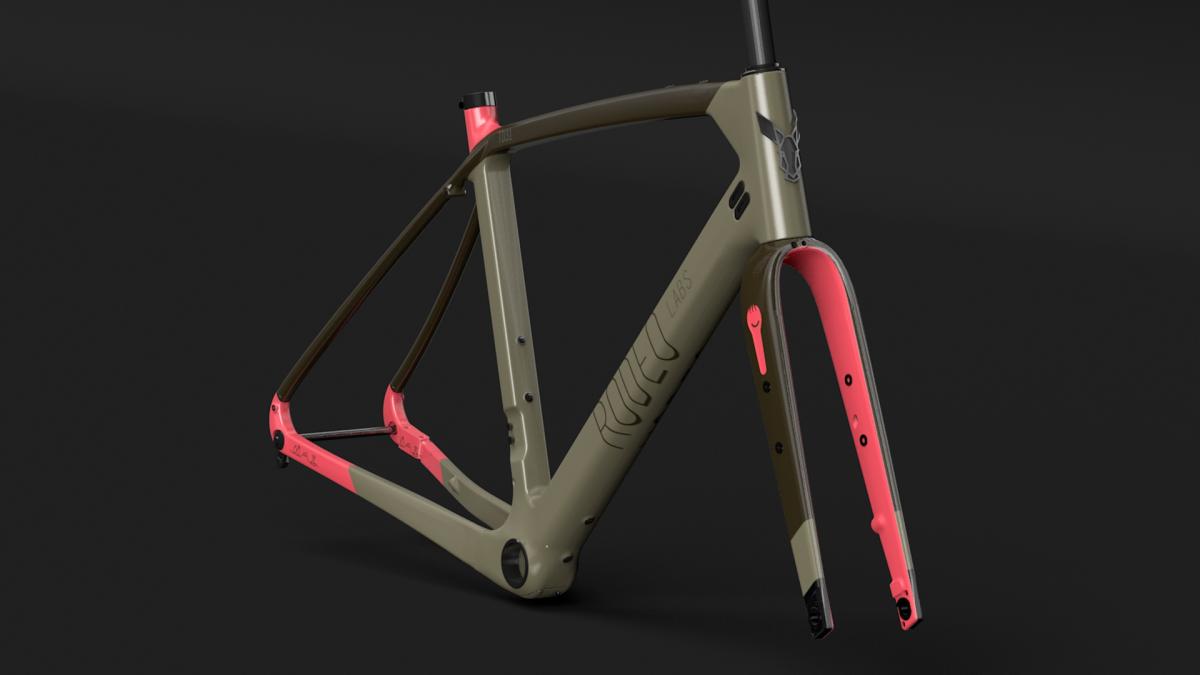 More Capable, Just as Sleek
In order to achieve greater tire clearances, extensive and careful shaping was required in the design of the rear triangle. Pronounced asymmetry between drive and non-drive side stays can be clearly seen in our design. We also took the opportunity to refine and simplify the dropout design, brake housing routing, flat mount brake mounts, and derailleur housing routing. When wireless eTap shifting is used on TD3, no residual housing protrusions are seen on the frame. This results in a beautiful, minimal aesthetic. Both 2x or 1x drivetrains work equally well on TD3 and when 1x drivetrains are used the front derailleur mount can be removed. Rack and fender mounting eyelets are once again standard on TD3 on both the frameset and fork and now feature larger clearances for fender / tire combinations.
TD3 features extensive mounting options for long-distance travel and bikepacking. On the rear triangle we include eyelets on the upper stays and just above the rear thru axle dropouts. On the main triangle, the frame features two bottle mounts on the main triangle as well as one mount beneath the lower down tube. The top tube includes two mounting points for top tube bags or a standard water bottle cage.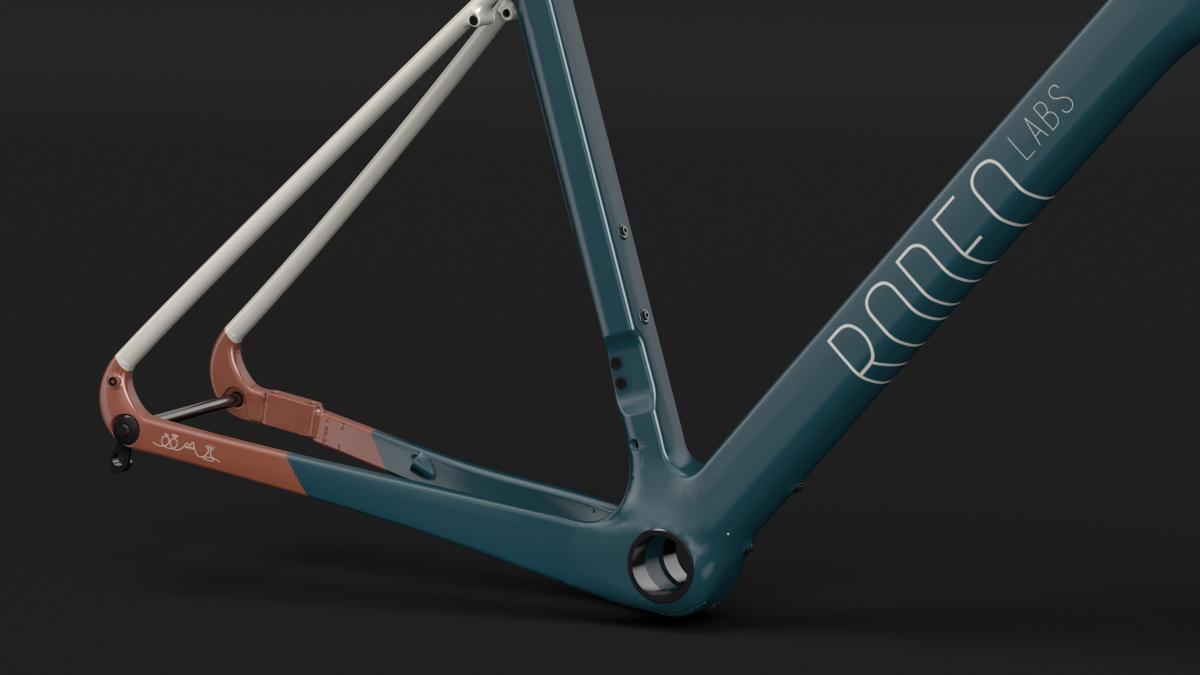 Built for the Long Haul
TD3.1 doesn't pay lip service to strength and durability. When we upped the technical capabilities of the bike we were careful to also increase strength in critically stressed areas. In both lab and real-world testing TD3 is leaps and bounds stronger than any previous Traildonkey frameset. So many modern bikes are engineered with a disproportionate emphasis on light weight. We believe that the arms race to shave grams has resulted in a reputation for carbon framesets as fragile, almost disposable. With TD3 we have created a frameset that will reliably serve its owner over the long term and we back it with a lifetime warranty. Our engineering culture is to integrate an excess of strength into the frameset; to create a frameset that will stand the test of time on road, gravel, and trail.
Traildonkey is constructed with Toray T800 carbon for high strength and high performance in real world use. Each frame is constructed entirely by hand in Taiwan by a manufacturing partner with over 30 years of high-end carbon manufacturing experience.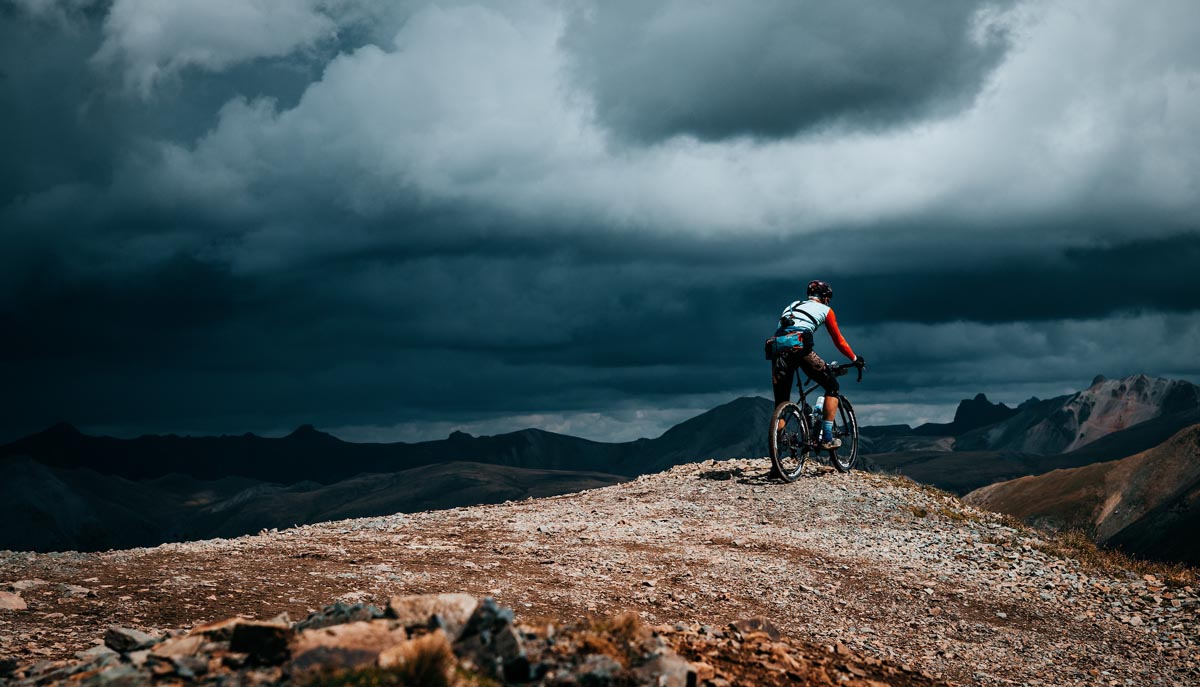 T47 Bottom Bracket
Rodeo was one of the first bike manufacturers to standardize all of our framesets around the threaded T47 bottom bracket standard. The removable bottom bracket cover on TD3.1 features a drain hole which allows water to escape the frame in wet conditions. The result is a quiet, low-maintenance bottom bracket experience for every owner. It was one of the best spec decisions that we've ever made. The threads allow reliable, quiet operation over the life of the bike, and the 47mm shell allows compatibility with all crankset spindle diameters while also leaving room for internal Di2 and dropper post routing.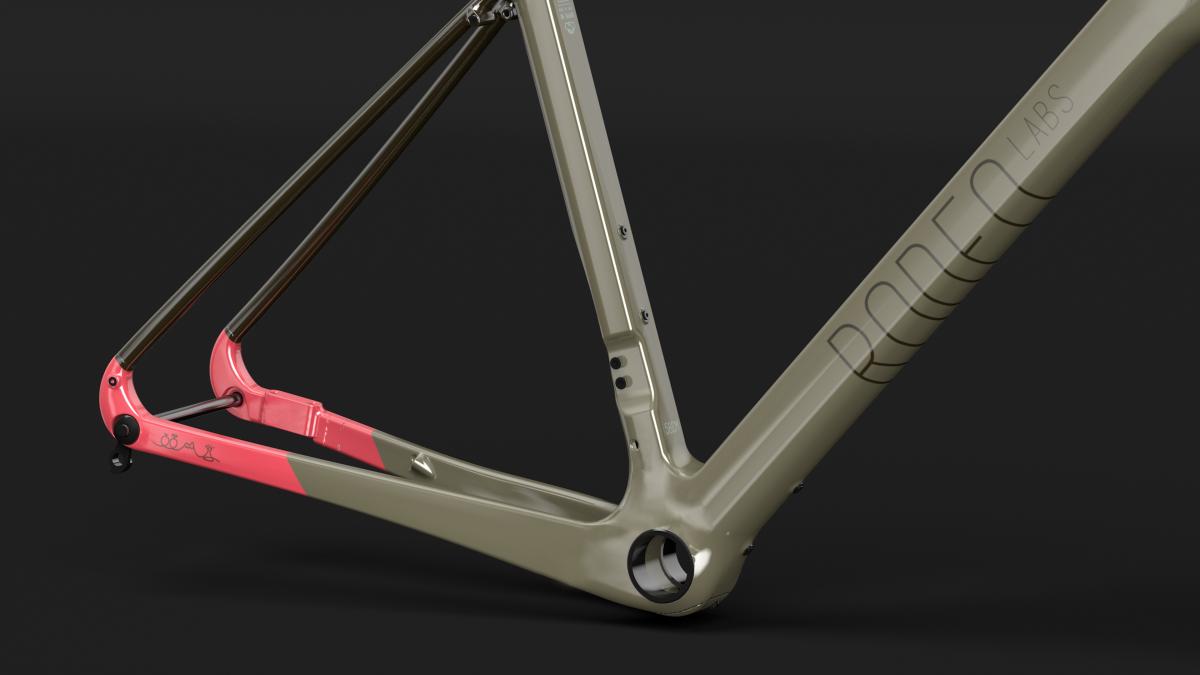 Spork 3.0
The Traildonkey 3.0 used the 2.0 series Rodeo Spork fork. Spork 2.0, which we designed for Traildonkey 3.0, checked all of the functional boxes, but the visual profile of the fork was out of balance. Enter Rodeo Spork 3.0. Spork 3.0 carries forward the key features of Spork 2.0 such as full carbon construction, internal dynamo routing, adaptable axle spec, and configurable eyelet options, and brings it all together in a slimmer, lighter package. Traildonkey 3.1 will change to 12×100 front thru axles but retain the ability to convert to 15×100 if your build requires it.
Traildonkey 3.1 and Spork 3.0 were developed in tandem to work together as a single system. Spork 3.0 matches TD3.1 tire clearance and adds additional versatility in the form of integrated dynamo hub, headlight, and USB stem cap integration. Spork 3.0 features mid-leg eyelets allowing expanded water and 12.5kg of gear carrying capability. Spork also features two axle eyelets on the end of each leg and an optional offset eyelet hardware kit, which allow for a massive range of rando racks, low rider racks, fenders, and combinations therein.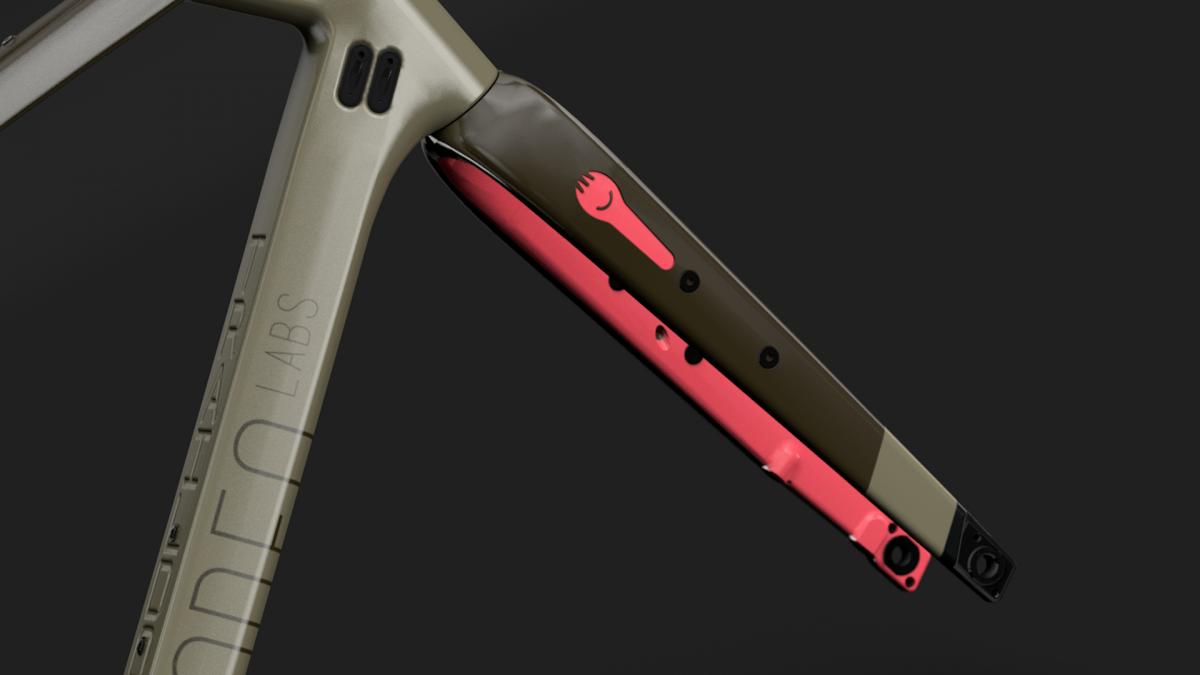 Lifetime Warranty
Traildonkey's lifetime warranty covers the performance and durability of the frame and fork and warrants them against deficiencies in design, engineering, and construction to the original owner of the frameset as long as they own the bike. Our owners are family and we take care of them long term.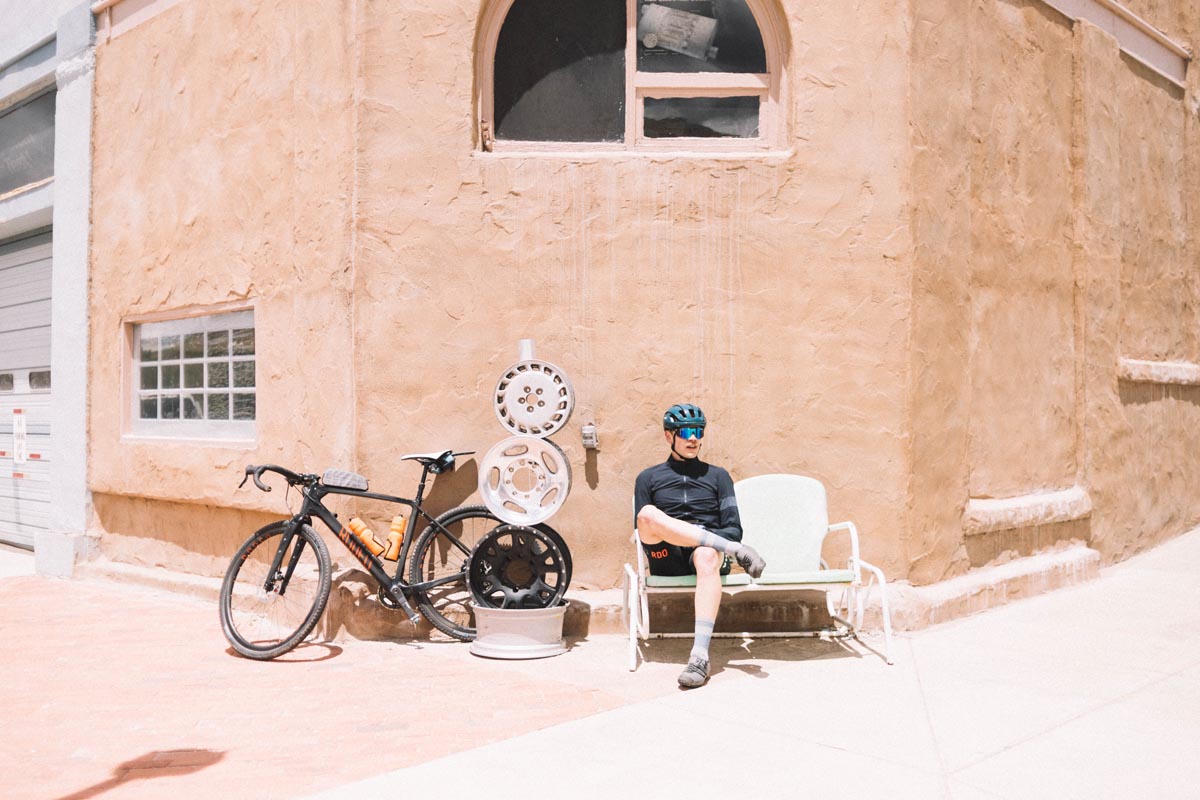 Specifications
| | |
| --- | --- |
| Frame Material | Toray T800 carbon fiber |
| Country of manufacture | Taiwan |
| Design / Tooling | 100% proprietary |
| Frameset rider weight limit | 250 lb / 113 kg |
| Frame weight | 58cm 1350g raw, 56cm 1300g raw, 54cm 1250g raw, 52cm 1200g raw. Hardware 70gr. |
| Routing options | Mechanical, Di2, eTap. Convertible or cappable endcaps. |
| Brake Standard | Flat Mount, 140mm |
| Bottom Bracket | T47 threaded, 68mm width |
| Seat Post | 27.2mm |
| Seat Clamp | 31.8mm (6066 aluminum clamp included) |
| Thru Axles | 12mm x 142mm rear. 15mm x 100 front. Front convertible to 12mm with optional conversion kit. |
| Headset | 1-1/8″ to 1.5″ tapered integrated cups (FSA Orbit IS included) |
| Fork | Rodeo Spork 3.0 / Full carbon adventure fork |
| Fork eyelets | 2 mid leg eyelets per fork blade. 2 eyelets on each blade near axle. Optional offset eyelet kit. |
| Fork crown bolt | Not included. 85mm length typically needed for lights / racks |
| Fork cargo capacity | 27.6 lb / 12.5 kg total cargo weight, evenly distributed |
| Fork weight | Average 600g |
| Dynamo routing | Internal. Frame and fork. Front and rear light, USB stem cap, dynamo hub compatible. |
| Dropper post | Full internal routing for both internal actuation and external collar actuated posts. |
| Drivetrain | 2x or 1x drivetrain compatible. Removable front derailleur mount. |
| Crankset | Max 50t / 34t 2x chainring. Max 53t 1x chainring. Micro compact 46 / 30 compatible. |
| Tire clearance 650b | Min recommended tire 40mm. Max recommended tire 57mm / 2.25″. Varies by tire / rim / conditions |
| Tire clearance 700c | Min recommended tire 25mm. Max recommended tire 50mm / 2.0″. Varies by tire / rim / conditions |
| Derailleur hanger | Aluminum, replaceable |
| Di2 battery position | Downtube, custom mount (supplied) |
| Fender mounts | Frame and fork. Removable seat stay bridge. Max 65mm outer fender width at 700c. |
| Bottle mounts | 2 on inside main triangle. 1 on outside lower down tube. 1 on upper top tube. 2 on fork. |
| Rack mounts | Frame and fork |
General Sizing Guidelines
| | |
| --- | --- |
| Frame size | Rider height |
| 52 cm | 5'4"-5'6" |
| 54 cm | 5'6"-5'9" |
| 56 cm | 5'9"-6'0" |
| 58 cm | 6'0"-6'2" |
| 61 cm | 6'1"-6'4" |
Traildonkey 3.1 Geometry
Frame size
52 cm
54 cm
56 cm
58 cm
61 cm
Seat tube (C-T)
460
480
500
520
610
Top tube length (effective)
535
545
560
580
605
Chain stay length
435
435
435
435
435
Seat tube angle
73
73
73
72.5
72.5
Bottom bracket drop
65
65
65
65
65
Head tube length
120
145
160
175
207
Head tube angle
69.5
70
71
72
72
Reach
366
374
384
393
409
Stack
529
558
576
594
622
Fork length
396
396
396
396
396
Fork rake
45
45
45
45
45
Front center
595
604
611
615
641
Wheelbase
1020
1031
1037
1041
1067
Stand over height, at center of top tube, 700x40mm tire
750
780
810
820
865
Dimensions listed in millimeters and degrees unless otherwise indicated.