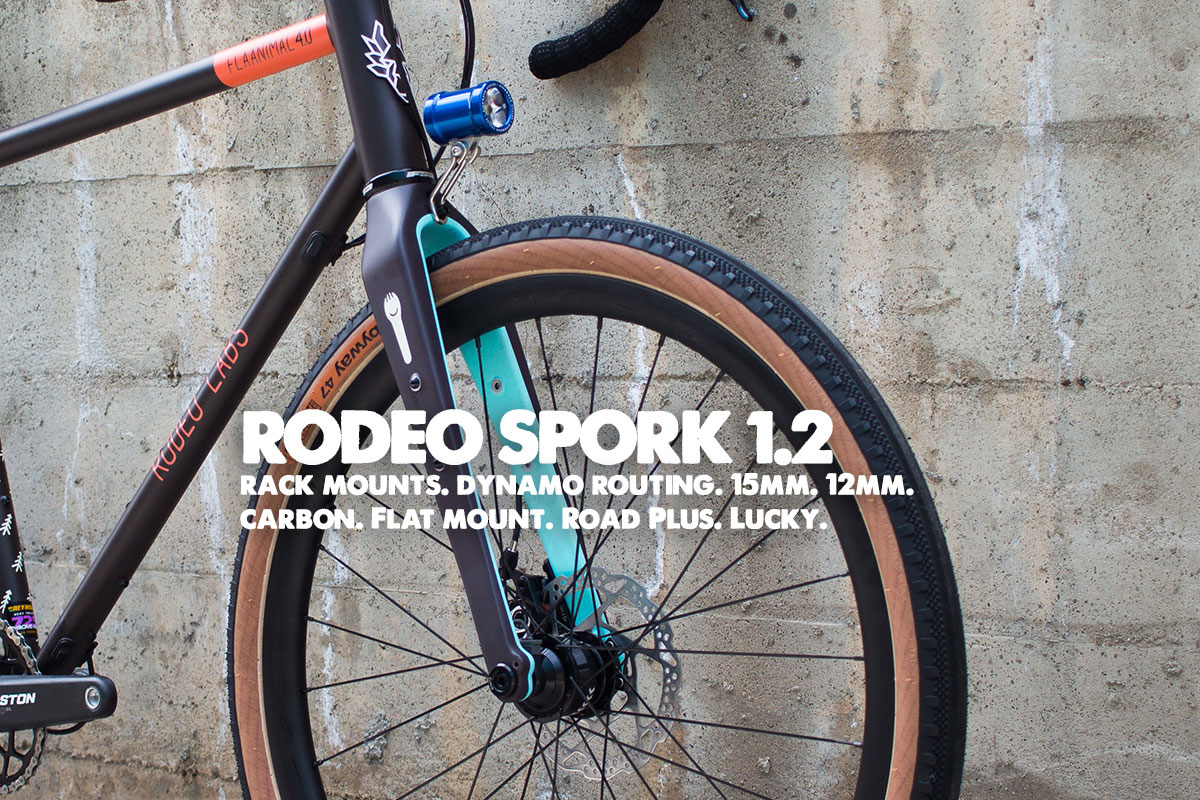 SOLD OUT!
The Rodeo Spork is a highly versatile fork that Rodeo Labs developed for our Traildonkey and Flaanimal bikes. It's stout design, large clearances, internal dynamo routing, and plentiful rack mounts allow it to be adapted to a variety of uses.
Our standard fork is painted matte black and has our Spork logo in white.
Our Gloss 3k / RTP fork has a high gloss clear coat and a visible carbon weave. The carbon weave will sometimes be irregular due to molding and is completely structurally correct. We will not accept returns for gloss / 3k forks due to visual appearance as the forks are originally intended for scuffing and painting.
Spork 1.2 is available in 15mm and 12mm axle specs via included adapters. If you need to convert your axle after the fact, a 15mm to 12mm step down adapter is also available and is compatible with all existing Spork 1.x versions. The adapter is not compatible with other brands or models of forks. See this page for details.
A 15mm x 1.5mm thread pitch swappable insert is also available for older Spork 1.x forks. This upgrades all forks pre-Nov 7th, 2017 with a more common axle thread specification making it easy to use third party axles. See this page for details.
A Spork purchase includes a fork and through axle. Compression plugs are not included in a Spork purchase but are available as an add on option.
All sales FINAL on sale priced forks.
Objective
The Rodeo Spork bike fork is a solution to a problem that we came up with when developing the Traildonkey 2.0. There are a LOT of great forks out there, but nobody made a full carbon – high clearance – rack mountable – fender mountable – thru axle – flat mount disc brake – tapered steertube – trail ready fork. So we made it ourselves.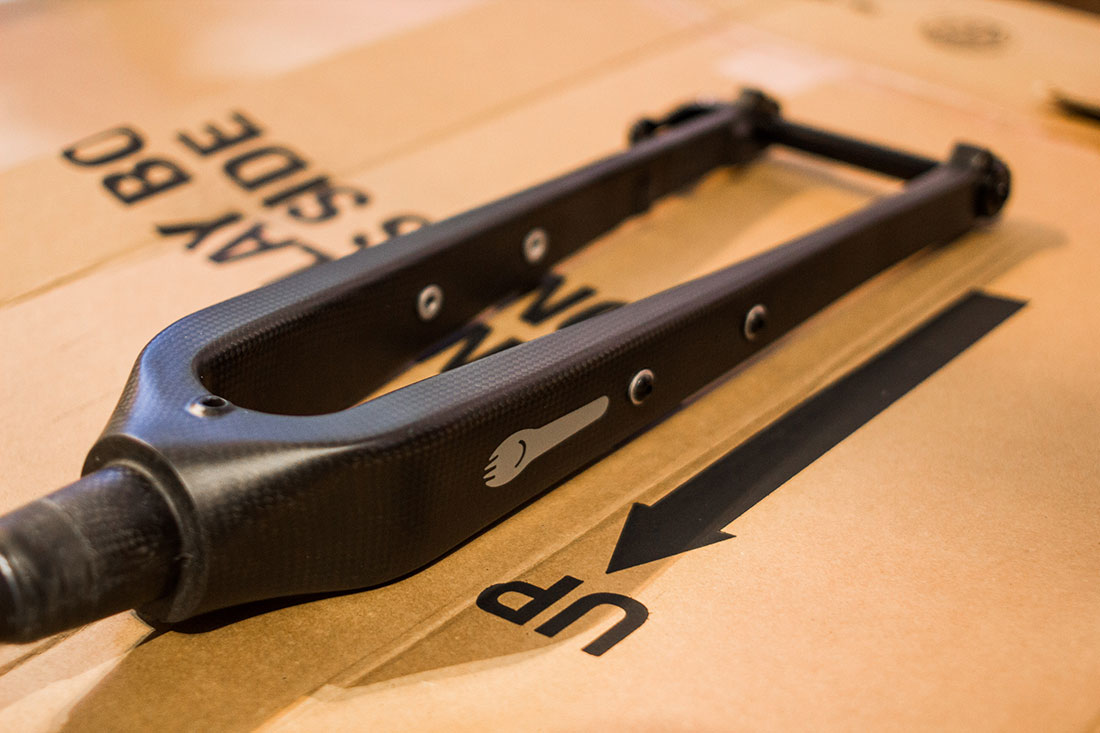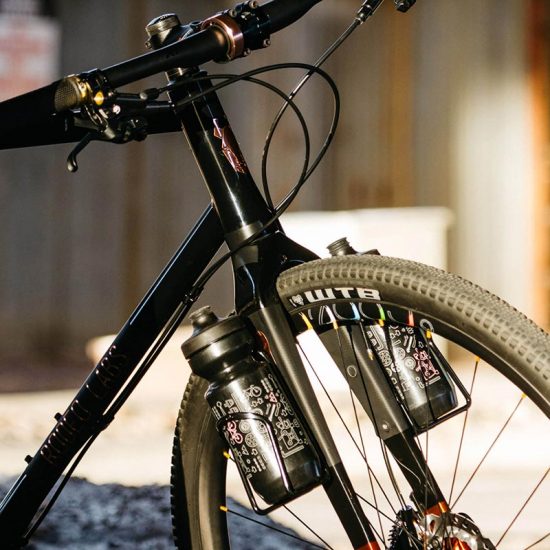 Racks & Fenders
There are quite a few excellent adventure fork options on the market, but if you want to start bolting things onto these forks the options rapidly narrow. The Spork features a robust crown mounting point molded through the crown for use with racks and fenders. It is designed to accept male/female threaded hardware instead of threading into the fork itself. The dual mid leg mount hardware have an increased radius crimp/bonding area for a more durable connection between metal and carbon. The mid mount hardware also threads through both walls of each fork leg, not just one. This distributes the load across more material thus making your mounting point stronger and more reliable.
Dynamo Routing
In its 1.2 revision, the Rodeo Spork becomes the first carbon road-plus adventure fork to feature internal dynamo hub routing. Dynamo hubs have been around for a long time, but are now a staple in the adventure bike market thanks to their ability to power headlights and tail lights non-stop while also powering USB charging systems for GPS, phones, cameras, tracking equipment, etc. to provide safety during long rides. Our dynamo ports are discreet when not being used thanks to swappable rubber hardware which can accommodate wires and seal your Spork from outside elements. One cannot simply and safely tap holes into a carbon bike fork, so Spork 1.2 was completely re-engineered and re-certified with this new design to ensure safety and durability.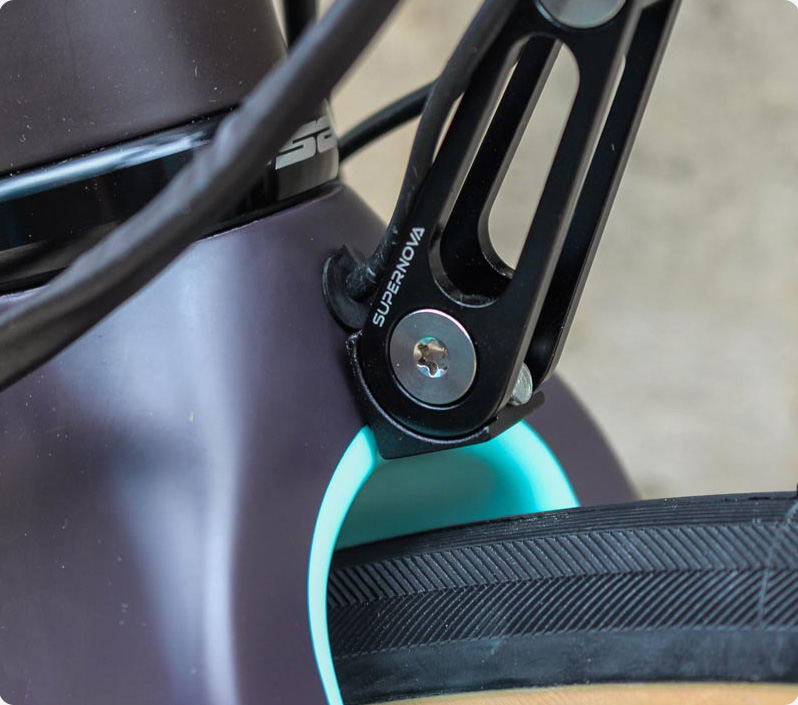 Tire Clearance
Spork 1.2 can fit 700x42mm or 650x47mm tires.
More and more modern drop bar bikes demand bigger and bigger tires clearances. However, you don't just need room for your tires. Mud clearance and wheel flex are real world elements and because of this we don't state our maximum tire clearances and the biggest thing we could fit into the fork while it's in a bike stand. At 700c, Spork 1.2 has 56mm of clearance and we have reliably ridden 42mm tires many miles in real world conditions comfortably without any problems. 
Built for Trail First
The Spork isn't a delicate utensil to be used only for carving up pavement. First and foremost it's a sturdy instrument built for surviving the use and abuse of trail riding. At 515 grams (average weight), we didn't milk every bit of weight in search of gossamer heights. We left meat on the bone and tested the fork to mountain bike standards, not pavement standards. The result is all carbon main fork and steer tube that will revel wherever you take it, and we hope that you take it to some crazy places. Can you take it on the road? Of course! Our layup assures great handling and road manners on anything from slow cruises to fast descents.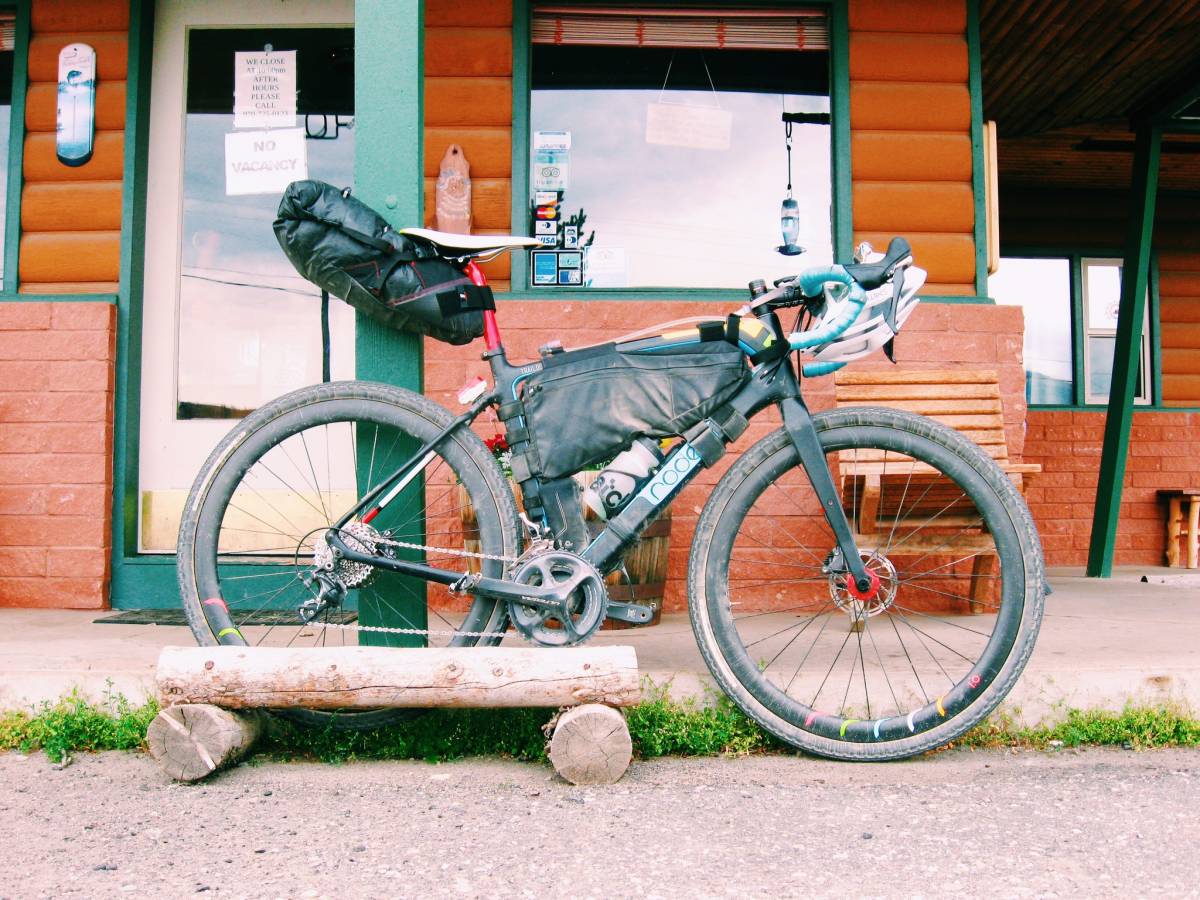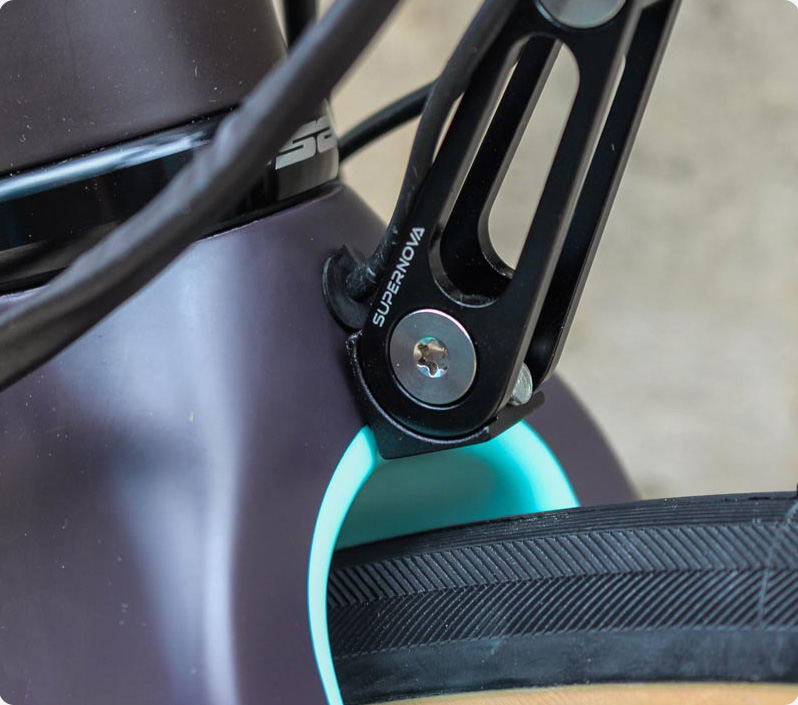 Tapered Steer Tube
For the sake of maximum stiffness, Spork 1.2 is built with a 1-1/8″ to 1-1/2″ tapered steer tube (SHIS 28.6 | 40). A variety of different headtube / headset configurations can accommodate this size steer tube, including the Traildonkey and Flaanimal.
If you're unsure of the Spork's compatibility with our frame, have a look at Cane Creek's SHIS sizing chart or get in touch with us for assistance.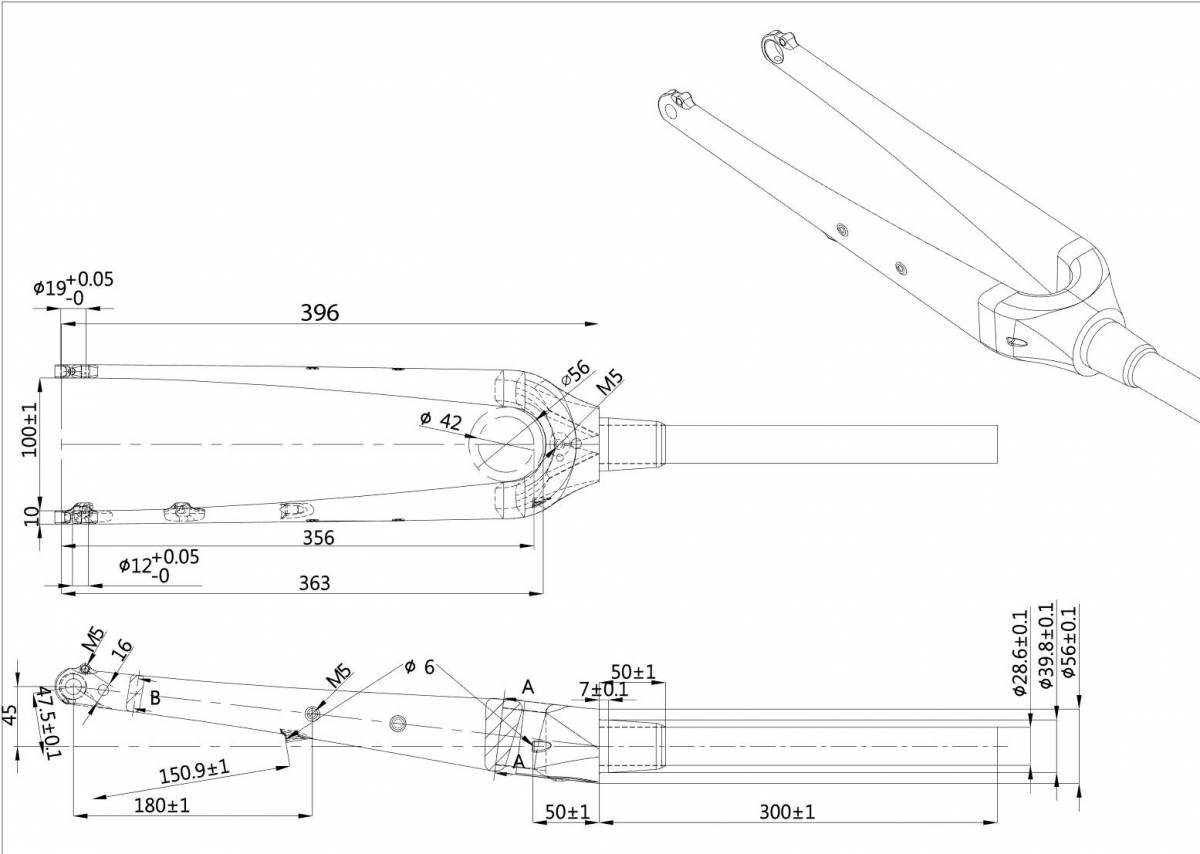 Fork Geometry
Rodeo Spork has a 396mm axle to crown and a 45mm rake allowing for compatibility with a wide range of existing gravel and adventure framesets.
Additional info
Max Rider Weight 270lbs
Max loaded additional weight 12.5kilos
Steer tube taper: 1-1/8″ to 1.5″
Inner steer tube diameter: 23.4mm
Lower crown race: Supplied split race for easy installation. Compatible with non split crown races, proper installation tools should be used.
Compression plug: Required, not supplied. Use of a star nut voids warranty.
Axle length 127mm total length
Axle thread pitch 1.5mm
Axle inner dimension: 100mm
Axle diameter: 12mm or 15mm convertible. Conversion kits are available for purchase.
Brake Mount: Flat Mount native. 140mm / 160mm rotor with standard flat mount caliper mounting plate. Post mount 160mm possible with adapter.
Internal brake routing through fork leg. No sleeve. Guide line pre installed.
Maximum stem spacer height is 40mm/4cm. Never exceed the use for 40mm of spacers under your stem.
Testing / Certification: ISO 4210 MTB racing
Warranty: Lifetime to the original owner against defects in design / workmanship. Damage due to wear and tear, abuse, or neglect not covered by any warranty.
Crash replacement pricing: Yes. Please contact us for pricing.
Builders and Dealers
We are very excited to work with third party builders and dealers who are interested in offering the Spork either as a part of bike builds or independently as an aftermarket purchase. We offer industry pricing to builders and dealers which will vary based on quantity needed. Please get in touch with us.