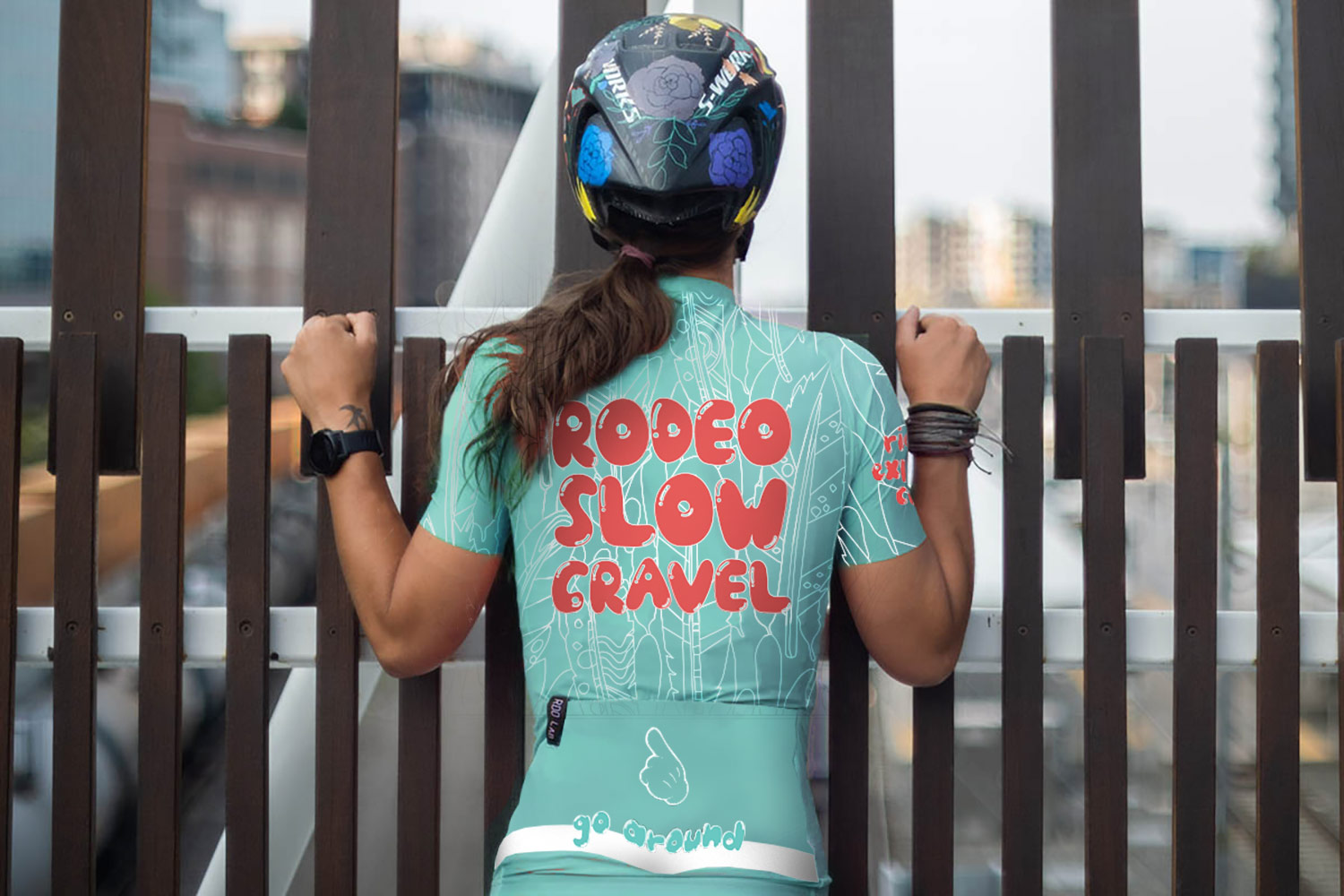 RDO LAB // Rodeo Slow Gravel Jersey + Mystery Schwag Box
Fresh off of two seasons with the Rodeo Pro Gravel racing team we knew it was time to do something fresh in our relationship with bikes and speed. Pro Gravel had been a fun and successful relationship with "fast", but "fast" represents a small subset of the entire Rodeo community and a small pro team didn't really leave everyone feeling invited to the bike party.
For 2022 everyone is invited, no matter what speed you ride. Introducing Rodeo Slow Gravel.
We don't really believe in membership dues and team rosters. When we started in 2014 the Rodeo Adventure Labs project was open to all, and so is the Slow Gravel project. Whether or not you own a Rodeo bike, you are invited to sport this jersey in any race or not race you feel like participating in. Slow Gravel is just as at home on a roll with your friends as it is in the pack of a mega race in Kansas.
In order to keep this project as inclusive as possible we're also opening Slow Gravel up to riders who identify as fast. Because no matter how fast you are on a bike, you're slow compared to a cheetah. If you accidentally end up on a podium we'll try to look the other way, and we'll probably also celebrate your questionable achievement by making fun of you in the most loving way possible.
The Slow Gravel jersey will only be available by pre-order so that we can offer the most options for the most riders possible. Below you will notice that we offer a number of different jersey styles and cuts which you can tune to your exact preference for slowness.
But wait… that's not all: The Rodeo Slow Gravel jersey will not be the only item that team members will receive. Included in this jersey purchase will be a mystery stash of Slow Schwag that you can use to broadcast your slow vibes anywhere you go on or off the bike. We're not going to tell you what is in the mystery stash yet, but we can promise that none of it will be fast.
Slow Gravel pre-order will wrap up January 15th, and will arrive mid to late March depending on the overall production process.
---
Garment notes:
"Slim cut" jersey is the most form fitting. It is quite stretchy and lightweight for those hotter temp rides. It is made of synthetic breathable fabric.
"Lightweight Merino technical tee" is a cycling specific t-shirt, made of natural lightweight merino wool. We've been developing it for over a year and this will be the debut of that garment. This fabric breathes less well in very hot temperatures, so we recommend a max of 75-80f for max comfort. There are two mini pockets on the rear of this jersey but they don't interfere with style if you want to wear this as a normal tshirt off the bike.
"Unisex Standard Weight Jersey" is a less fitted, slightly less lightweight cycling jersey which is identical in cut and fit to many of the inline RDO LAB jerseys we have offered in the last two years. It is not a gender specific cut and is worn comfortably by many women and men. Being a bit heavier fabric this jersey is more resistant to snags and tears than the other two jersey options.
---
Of note: We will allow exchanges / refunds for unworn garments. Because this is a pre-order we will not order a large amount of extra jerseys so our ability to exchange for different sizes will be limited.
Please pay close attention to our sizing chart when ordering. Our sizing chart applies to both women's and men's cuts. Generally we feel like our sizing guidelines are pretty similar to the large mainstream brands. But the human body comes in an infinite variety of sizes and proportions so please forgive us if our size Medium doesn't match a Medium from a different brand you own. If you order a size that doesn't end up fitting you may mail it back to us and we will swap it for a different size provided that size is in stock. If it is not in stock we can offer you a swap for a different style / color that is in stock. If you require a refund because a fit cannot be found we are happy to issue refunds minus the shipping costs.