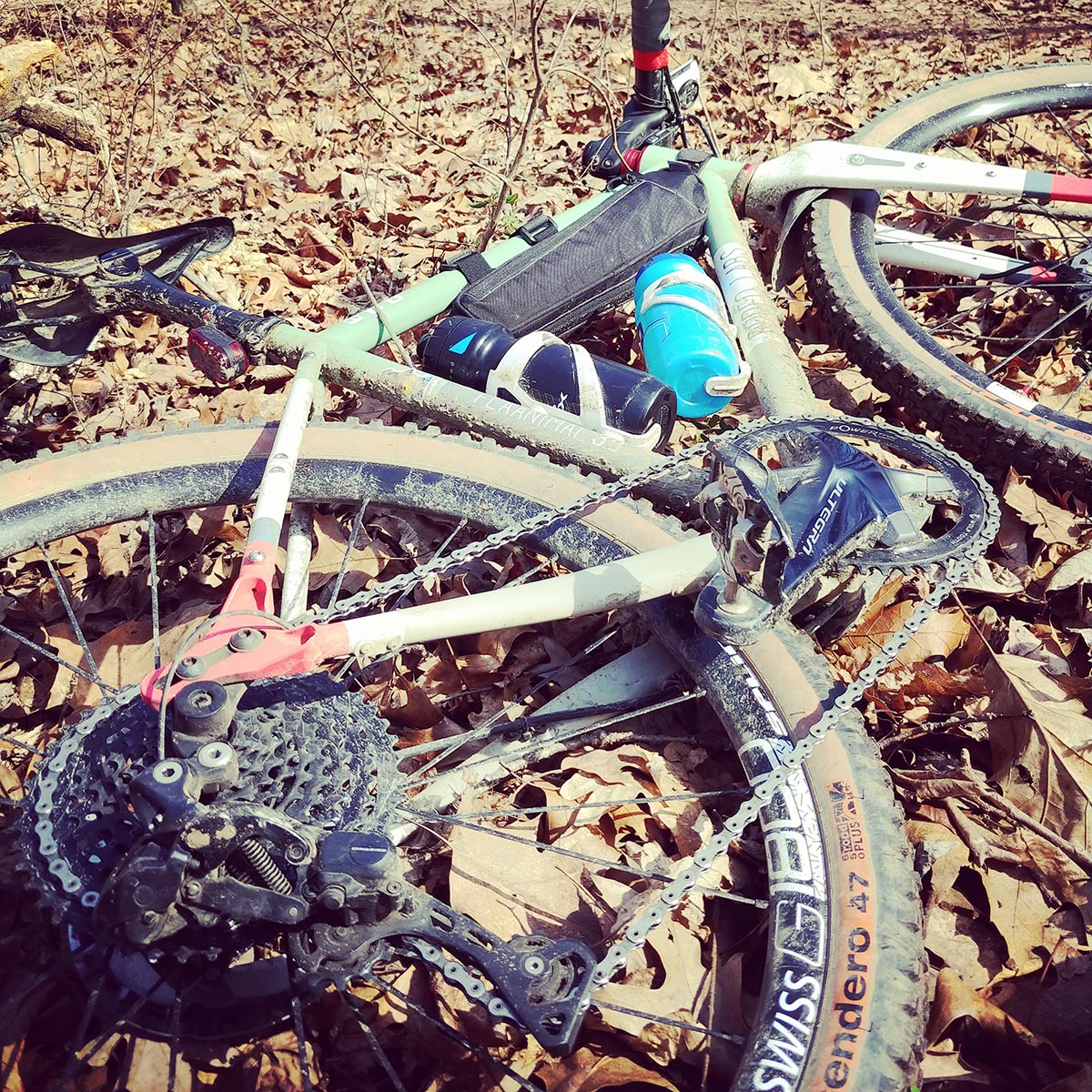 This Journal entry was sent to us by Jason Riddle. We've invited our community to send in submissions for the Journal in an effort to keep telling stories and showing our collective excitement for cycling even during this Covid epidemic. If you would like to send in a journal entry please do get in touch through our contact form.
—————————
3/22/2020Haymarket, Virginia

     This morning I approached the tenth tee feeling slightly guilty. Last night I had told my buddy I was staying close to home today. I wanted to give my wife a day to chill. She had been entertaining our daughter, walking our dogs, going to the grocery stores and farmer's markets, while I spent most of the weirdest week ever working at the shop. But this morning she said "It's going to rain the next two days, you need to get out." 

     What an awesome partner.

     So out I get. To play bikes, not golf. Living on an abandoned golf course makes for a nice way to start a multi surface ride. Cart paths, maintenance roads and deer trails are welcome amenities these days (and the overgrown sand traps provide some nice jump lines).

     My Flaanimal and I cover most of the back nine, ducking off the course to exit the neighborhood. Up an overpass and into our small town, we are headed for the gravel roads surrounding Bull Run Mountain. 

     Things are unusually quiet, even for a Sunday morning. The churches are empty, the cafe is closed, but the town cop is out. We roll by the small bike shop I've wrenched at for the last few years. Not yet open, I wonder how busy the boys will be today. I wonder if I was right to stop going in during business hours. I wonder how long we will stay open.

     I hit a section of singletrack that eventually leads to gravel and immediately head for my favorite road, ready to get lost in a long rolling descent. It's perfect, I push, screaming through the washboard so fast my bouncing eyeballs lose focus of the surface. I want to go harder, risk a bit more, but I suddenly remember what's going on in our world…

     So we dial it back and begin to make our way back home to my family and my dogs. Town is still sleepy but there are already people waiting for the shop to open. Again I begin to wonder.

Stay well.
J
@riddlewithnoanswer